The 2015 sf|noir Wine & Food Festival was a tremendous success! From February 25 to March 1, 2015, the five day culinary event honored the region's best in Black cuisine, showcasing top chefs in the Bay Area and their interpretations of African American-inspired classics to close out Black History Month in style.

Our Shrimp, Grits & Greens opening night brought a new focus to the table with a fusion of sf|noir's signature "Shrimp & Grits Taste-Off" and Hub Oakland's acclaimed speaker series, "Grits & Greens," highlighting the intersection of food, art and technology. The centerpiece of the show, the shrimp & grits dish – a staple of African American cuisine – was in fine form at the event thanks to the culinary stylings of our acclaimed artists: Chef Sarah Kirnon (Miss Ollie's), Chef Robert Sapirman (Pican Restaurant), Chef Romney Nani Steele and Steven Day (The Cook and Her Farmer), Chef Lala Harrison (Flora Restaurant and Bar) and Chef Michele Wilson (Gussie's Southern Table and Bar, opening later this year). Local vintners poured hand-crafted wines to round out the flavor profiles that evening, an elegant pairing for our vibrant program that evening.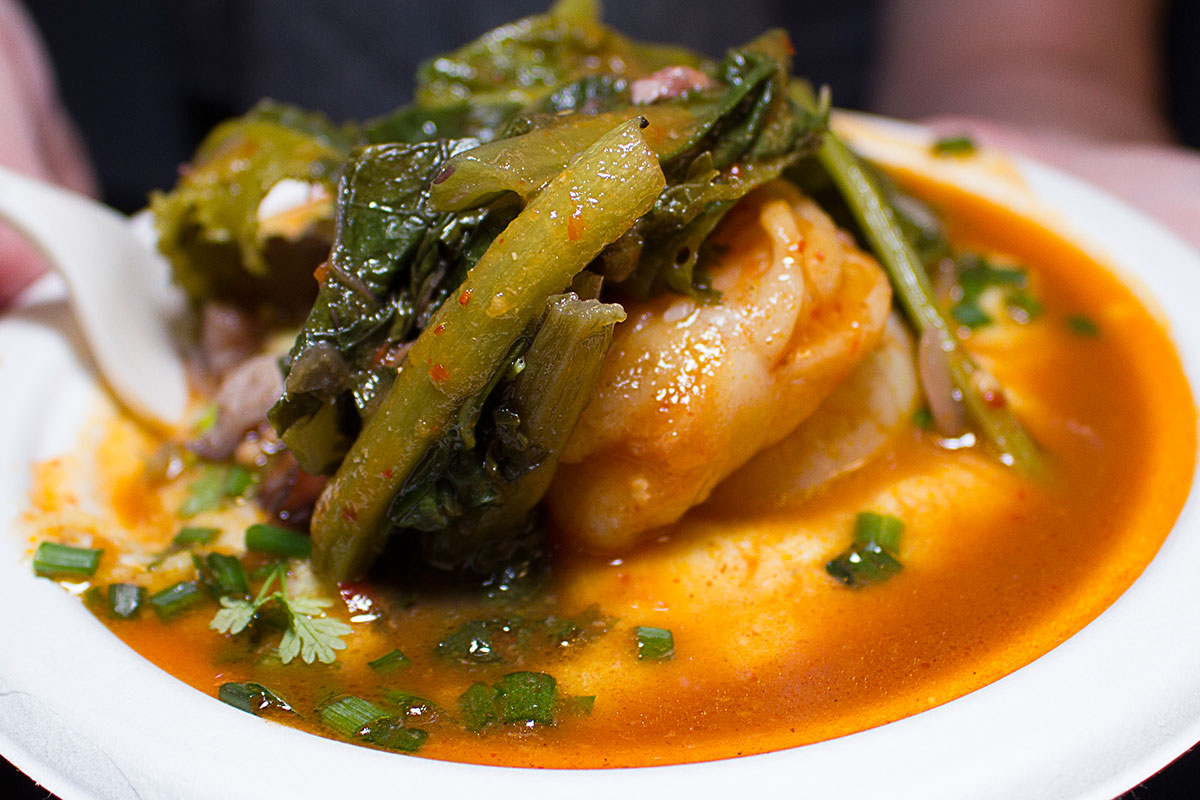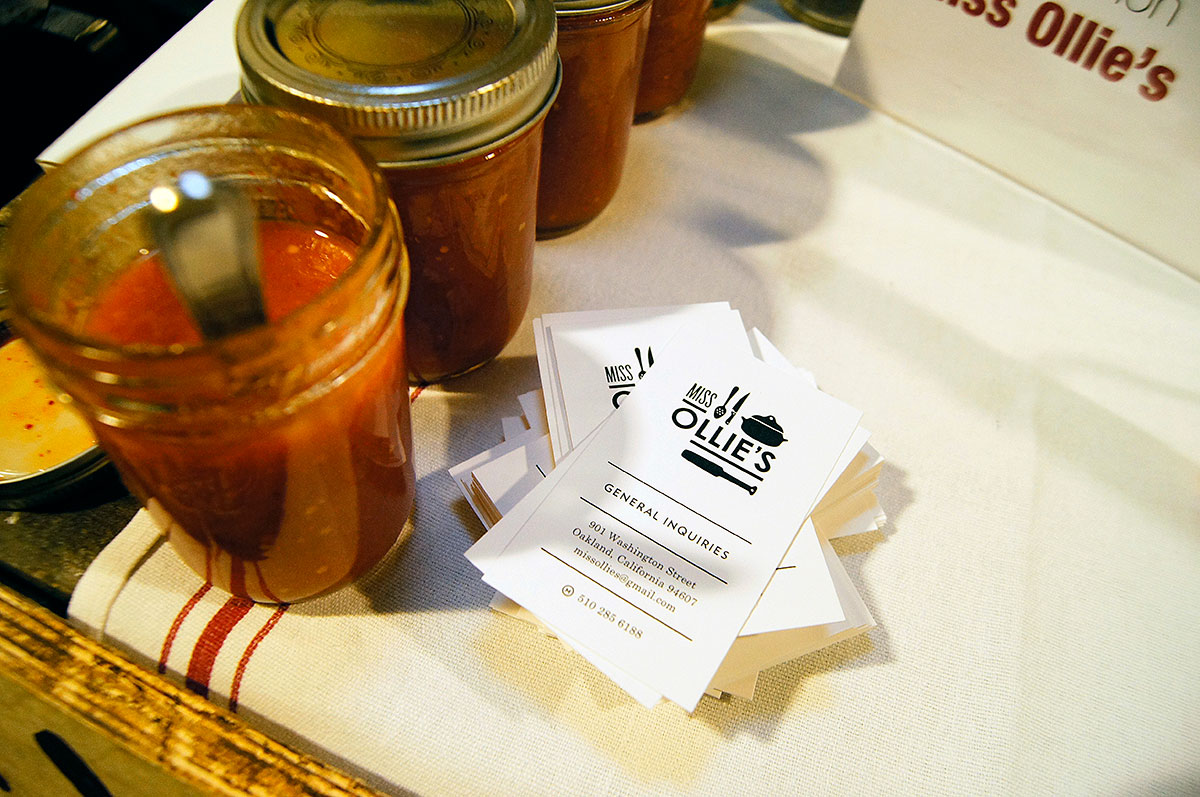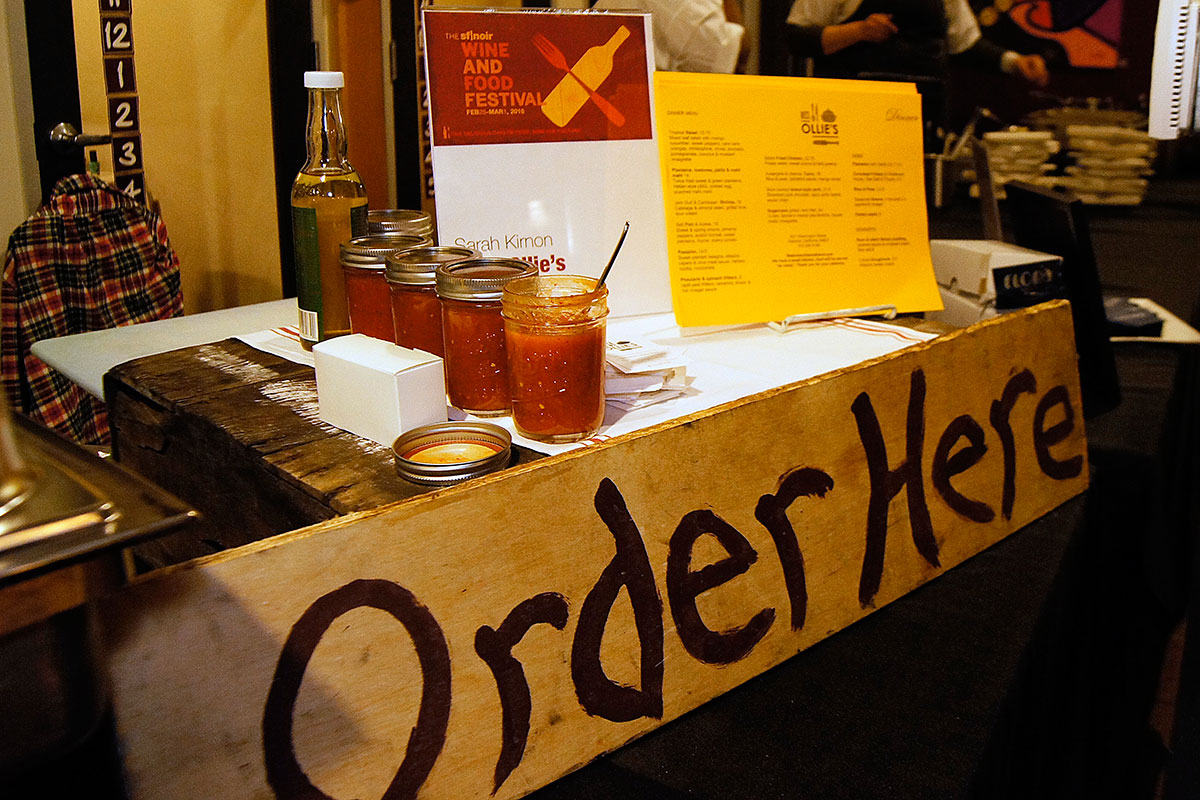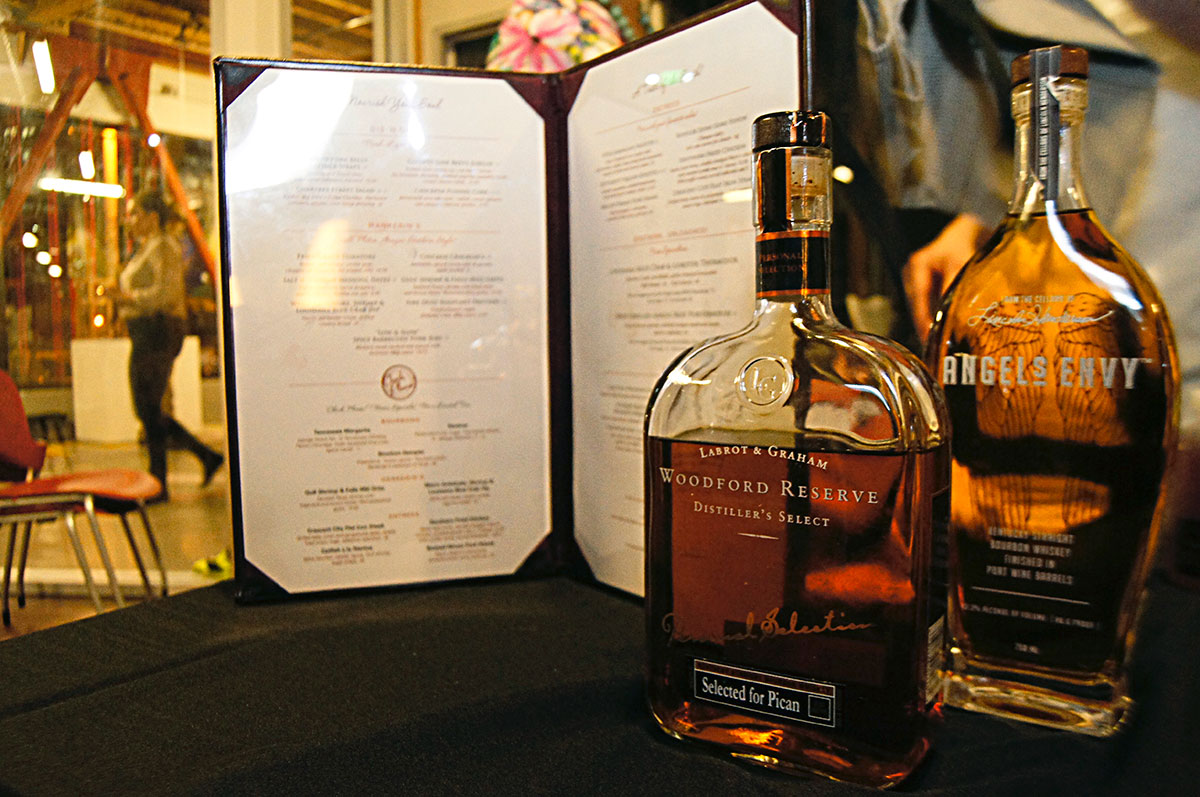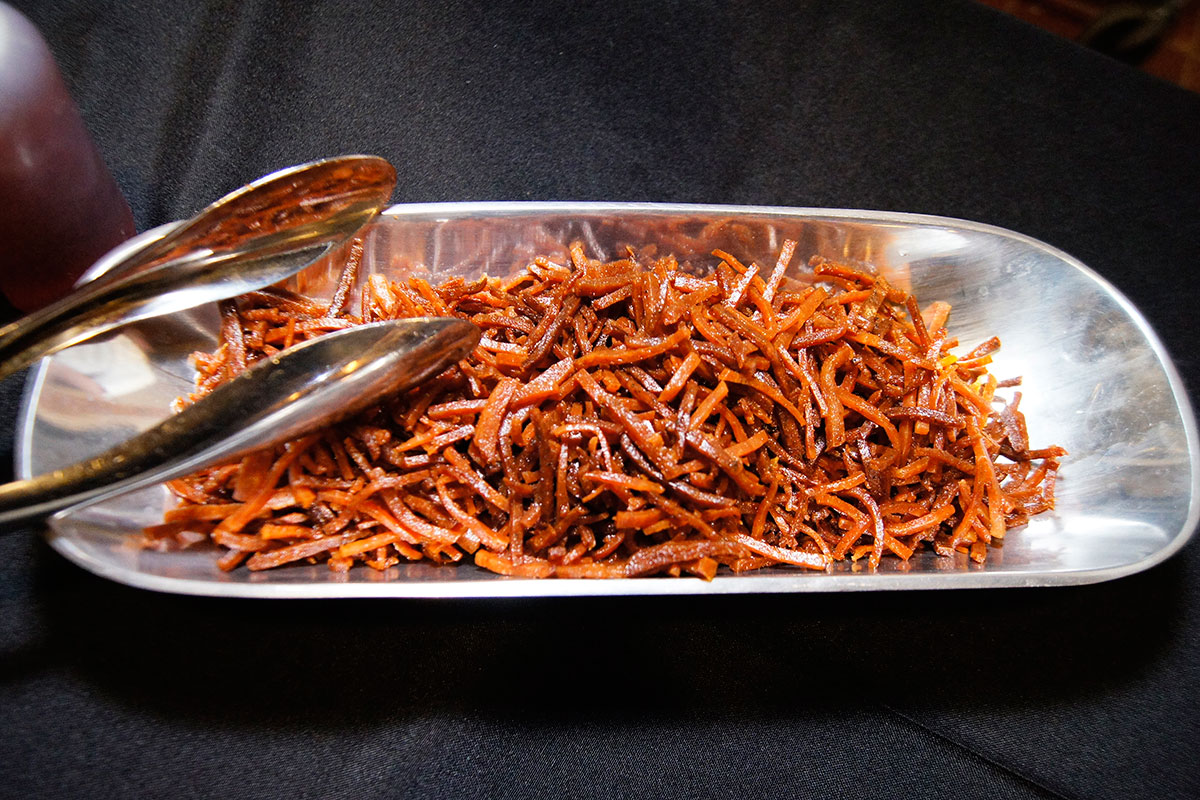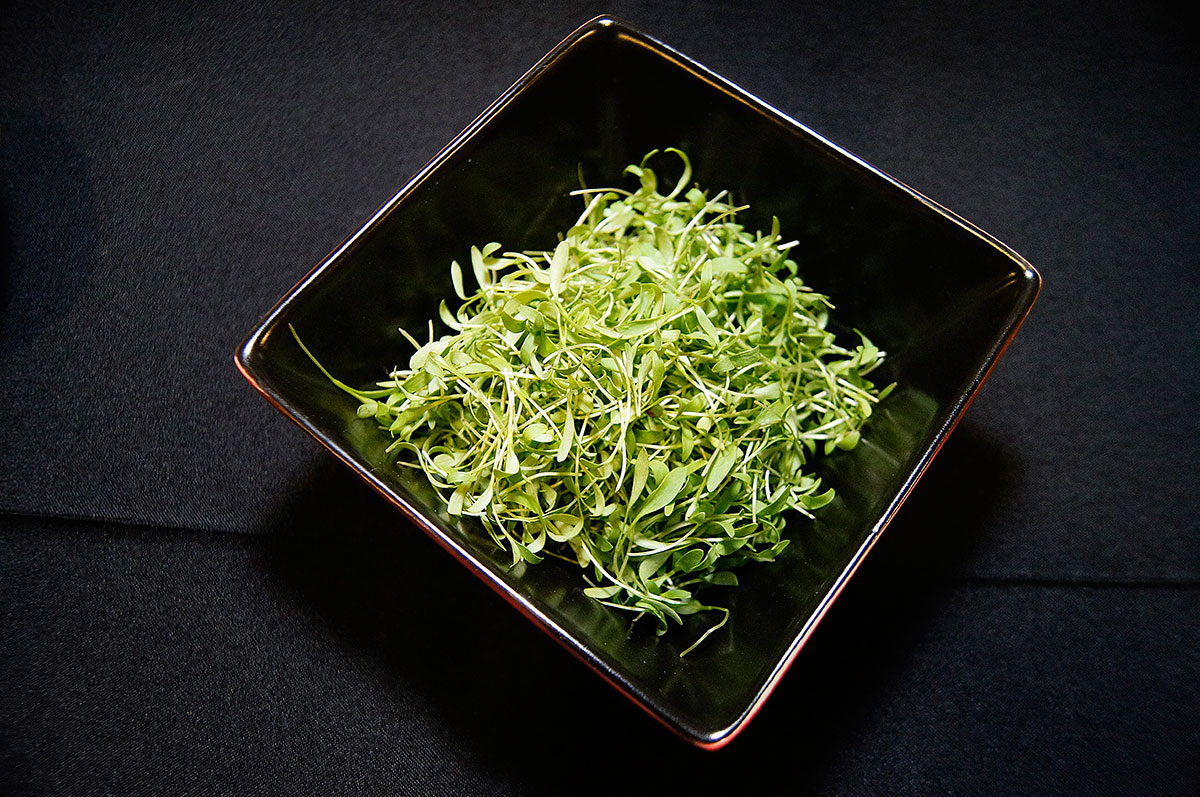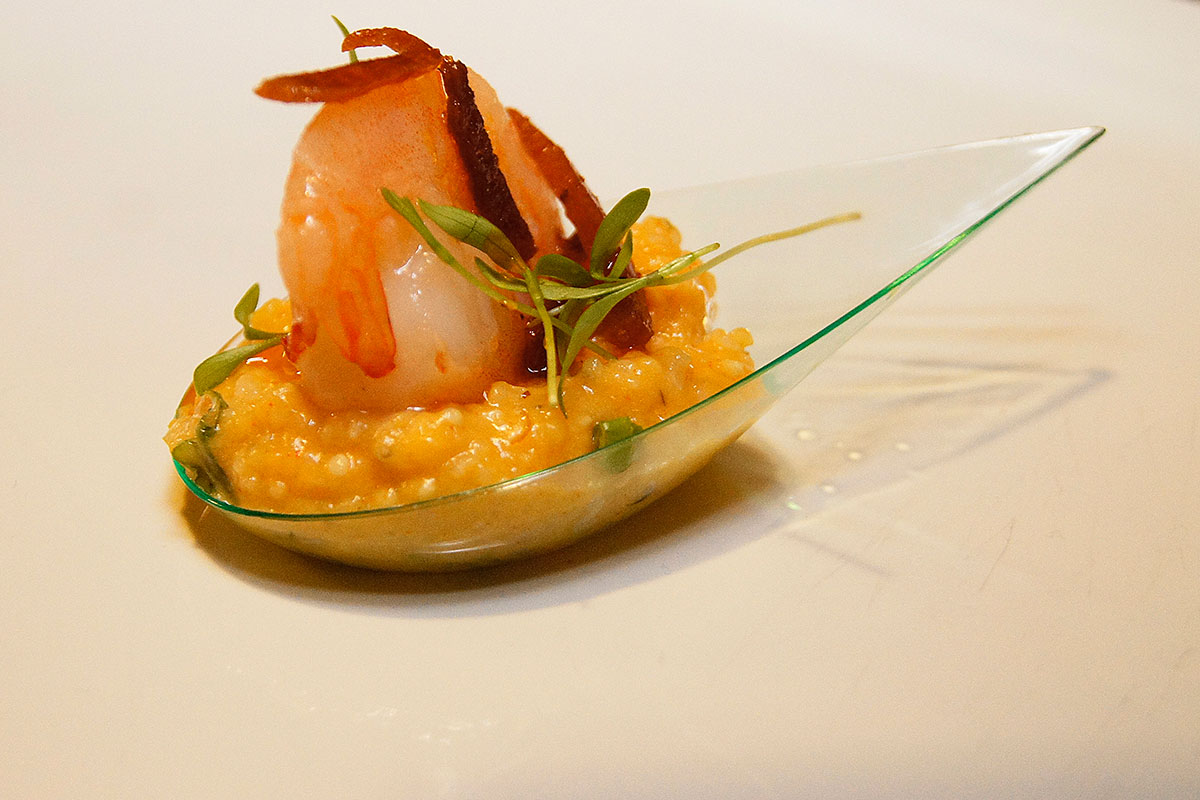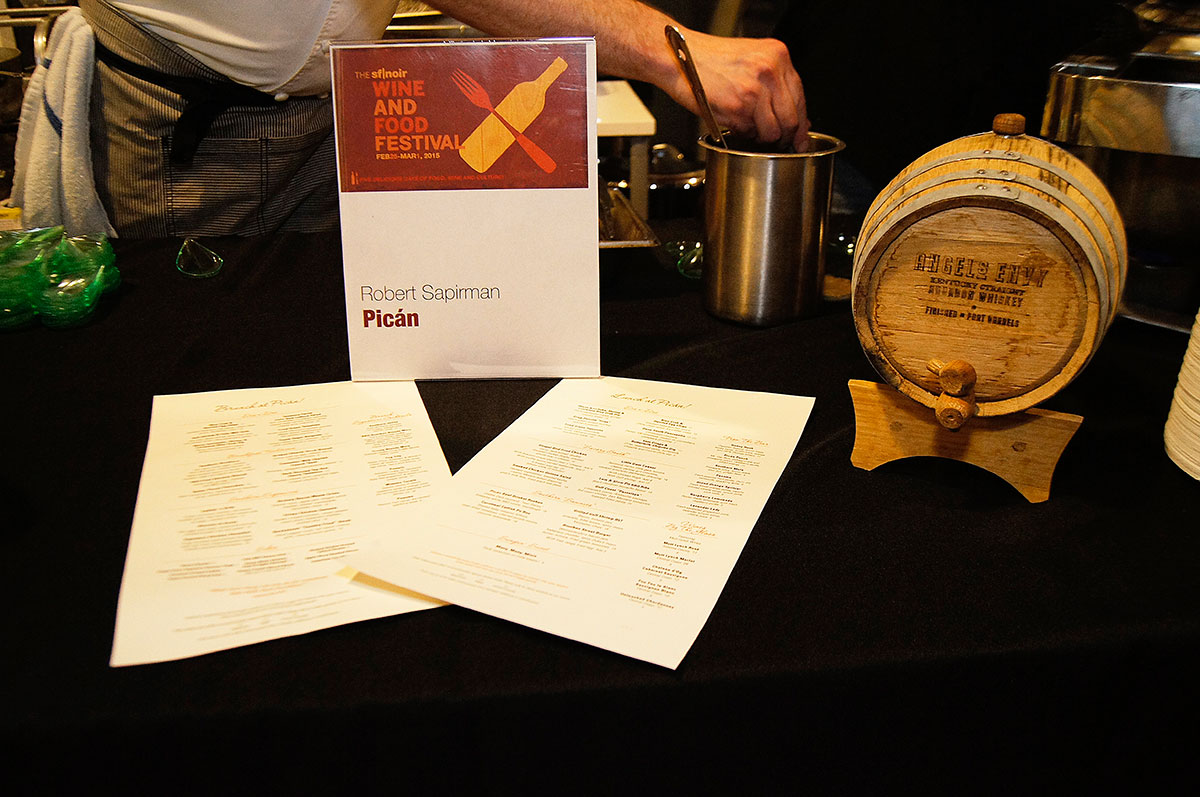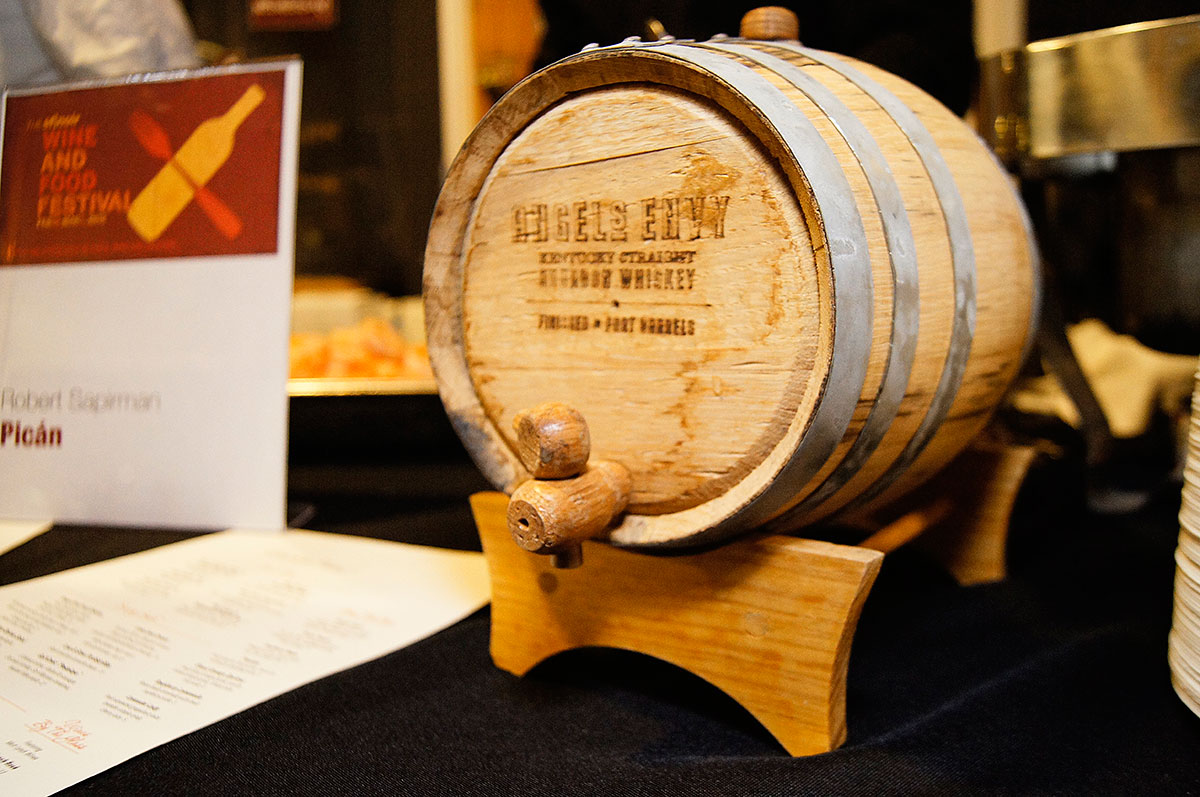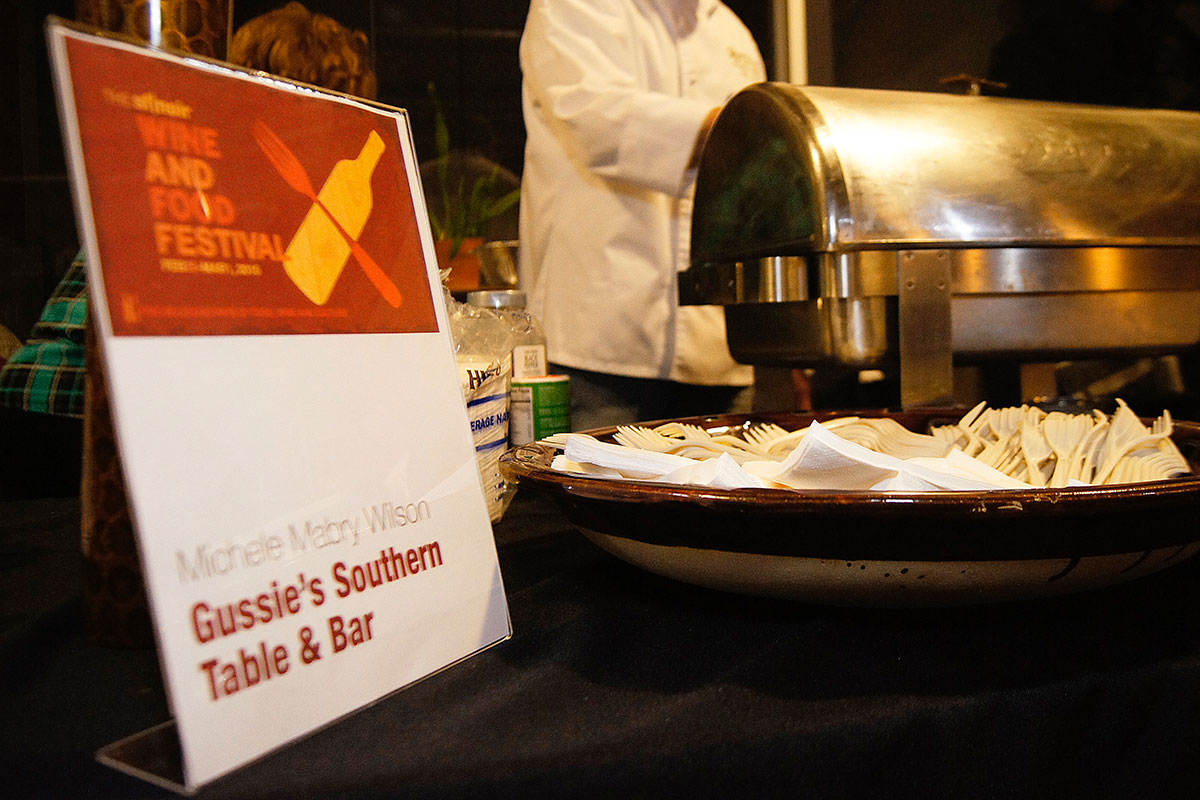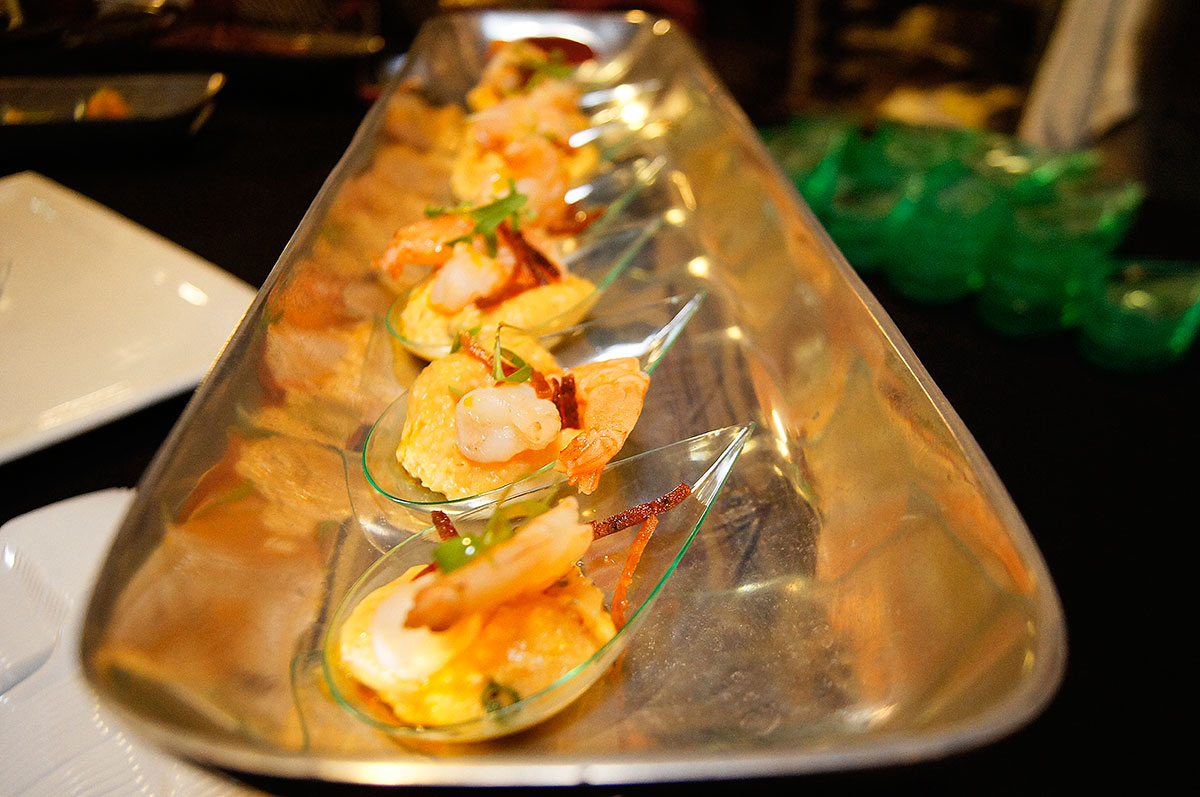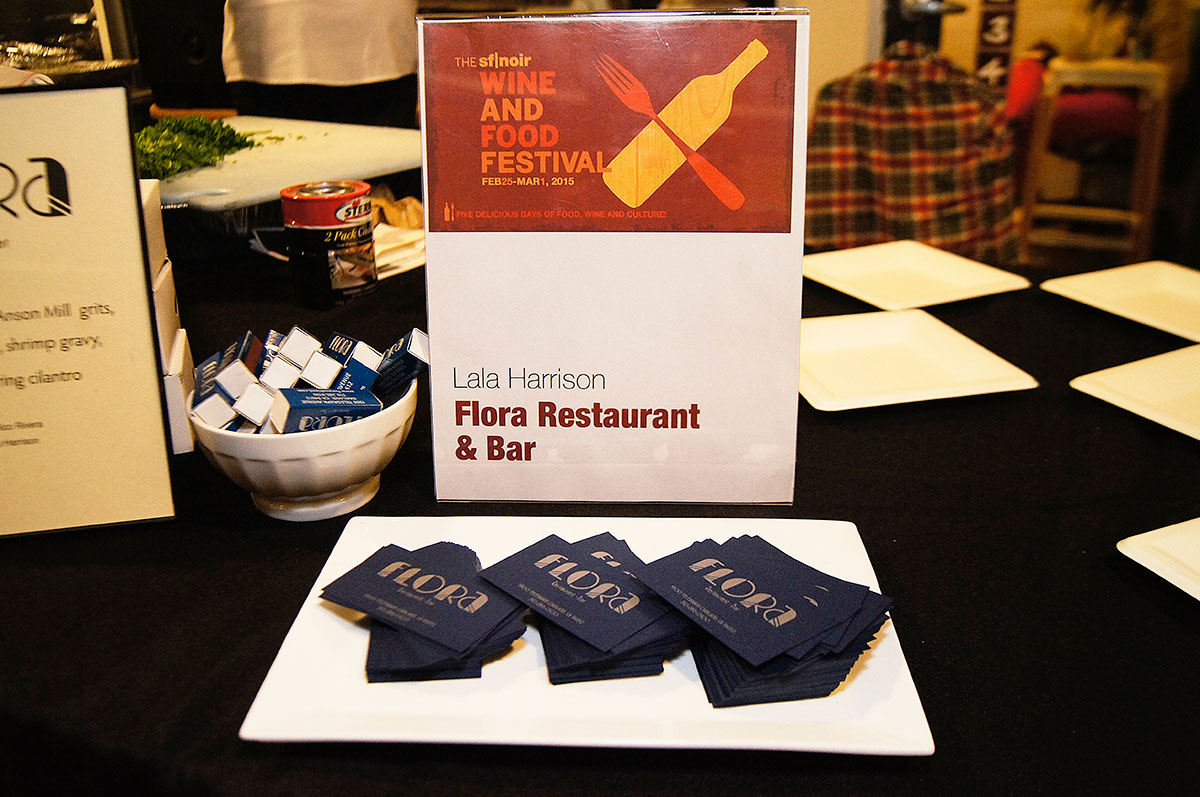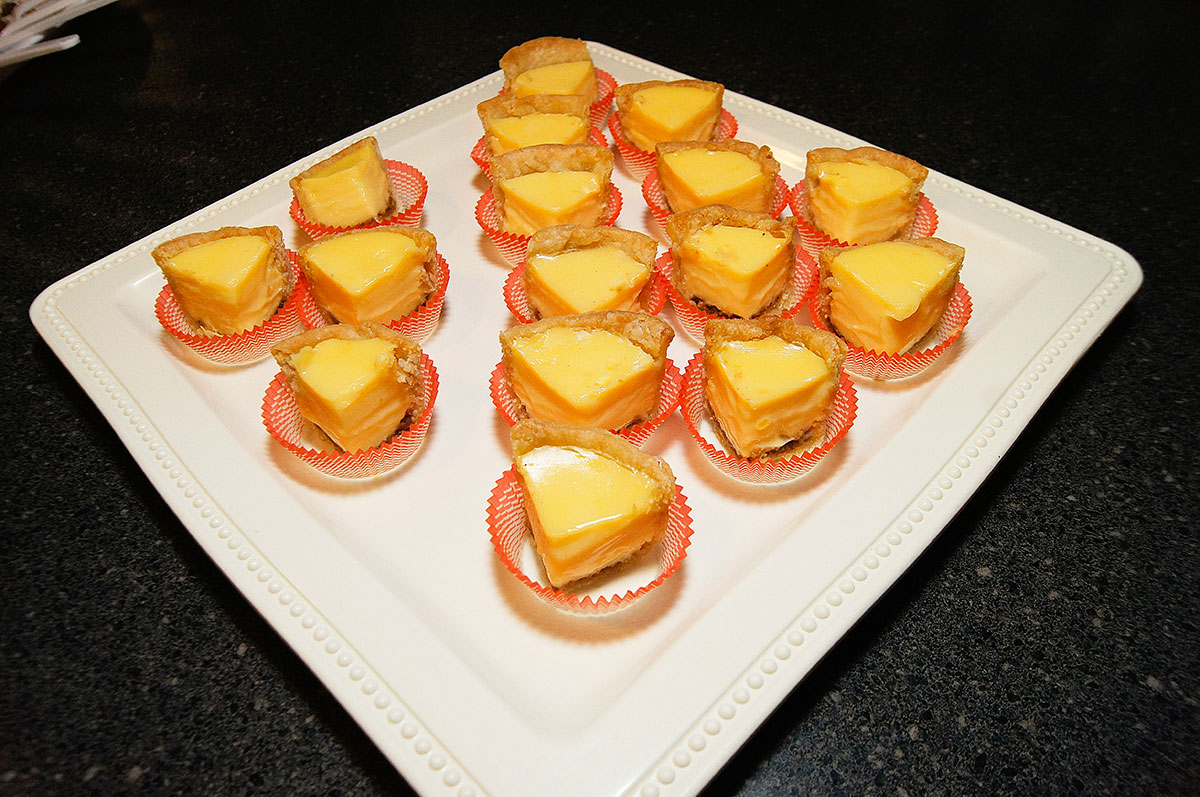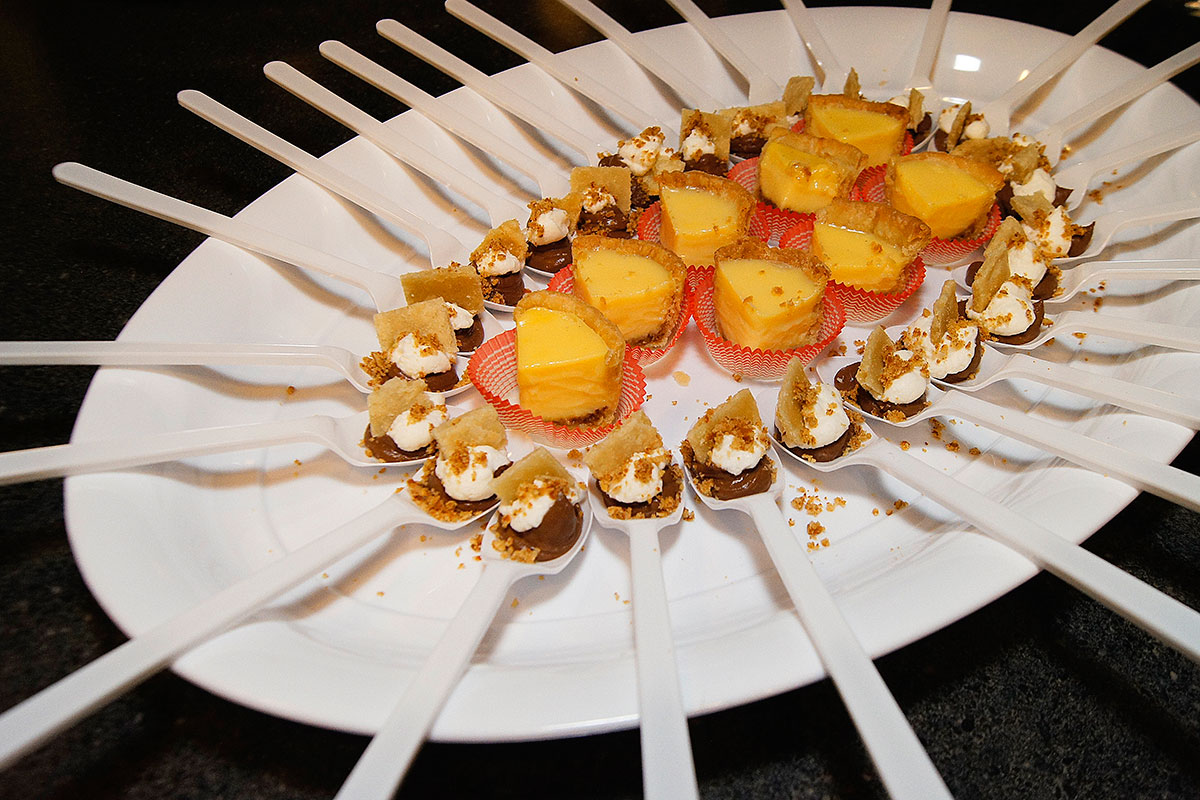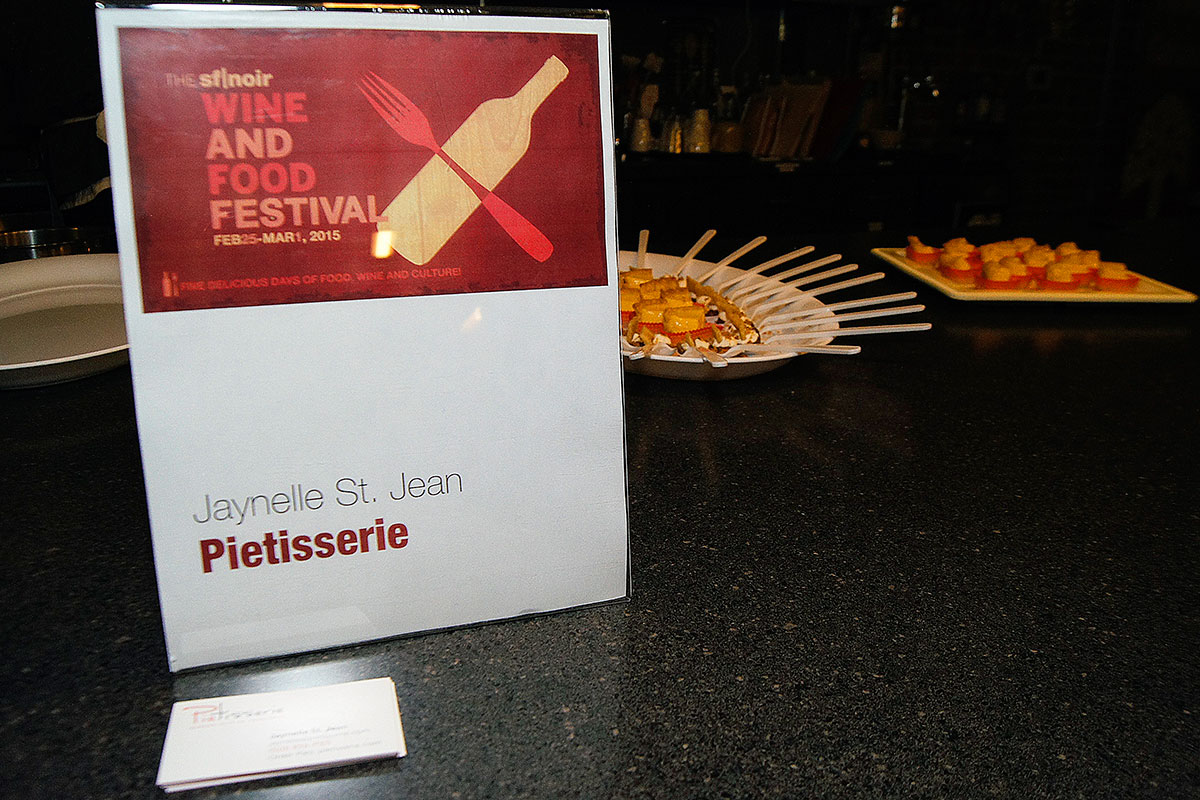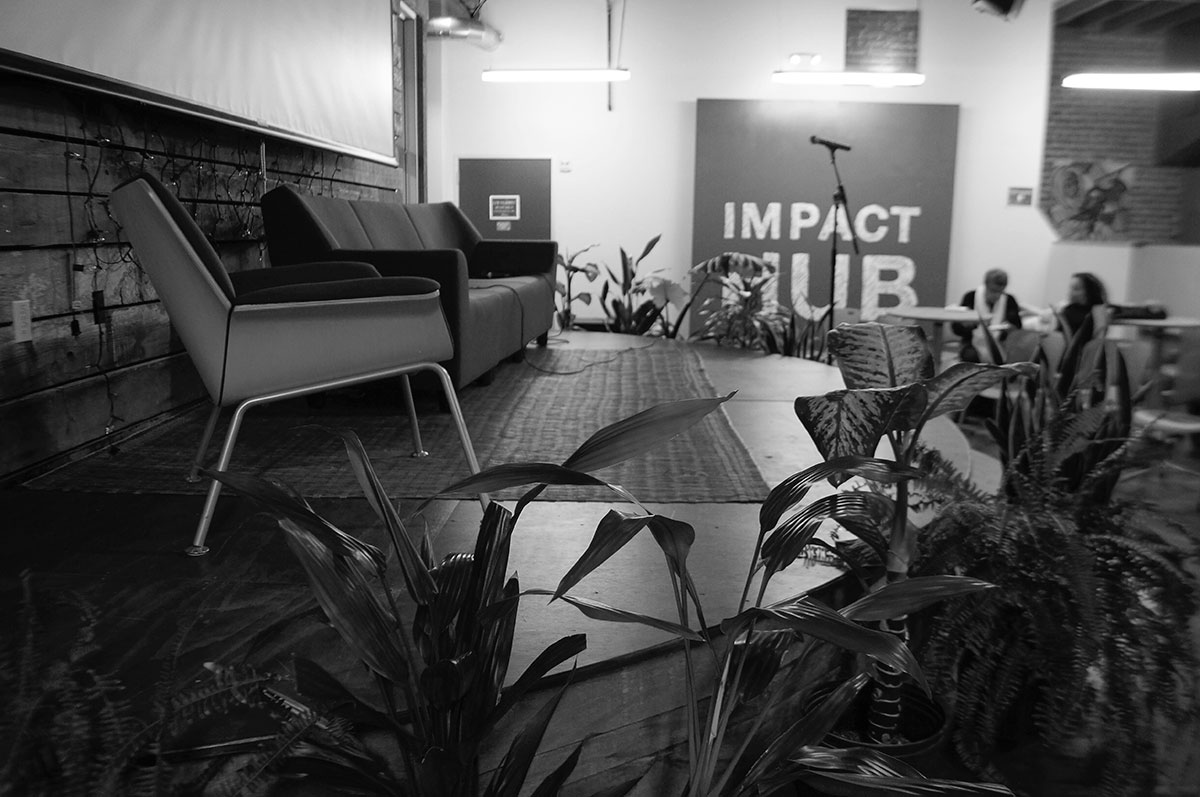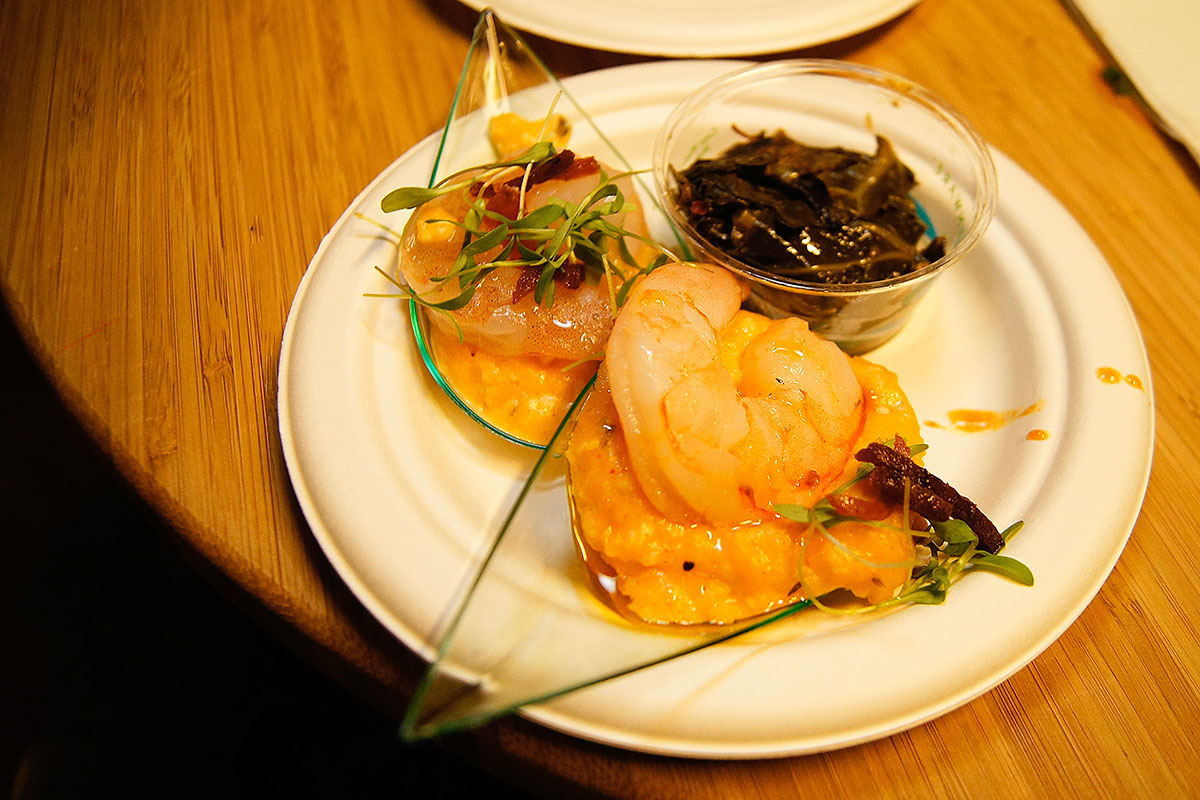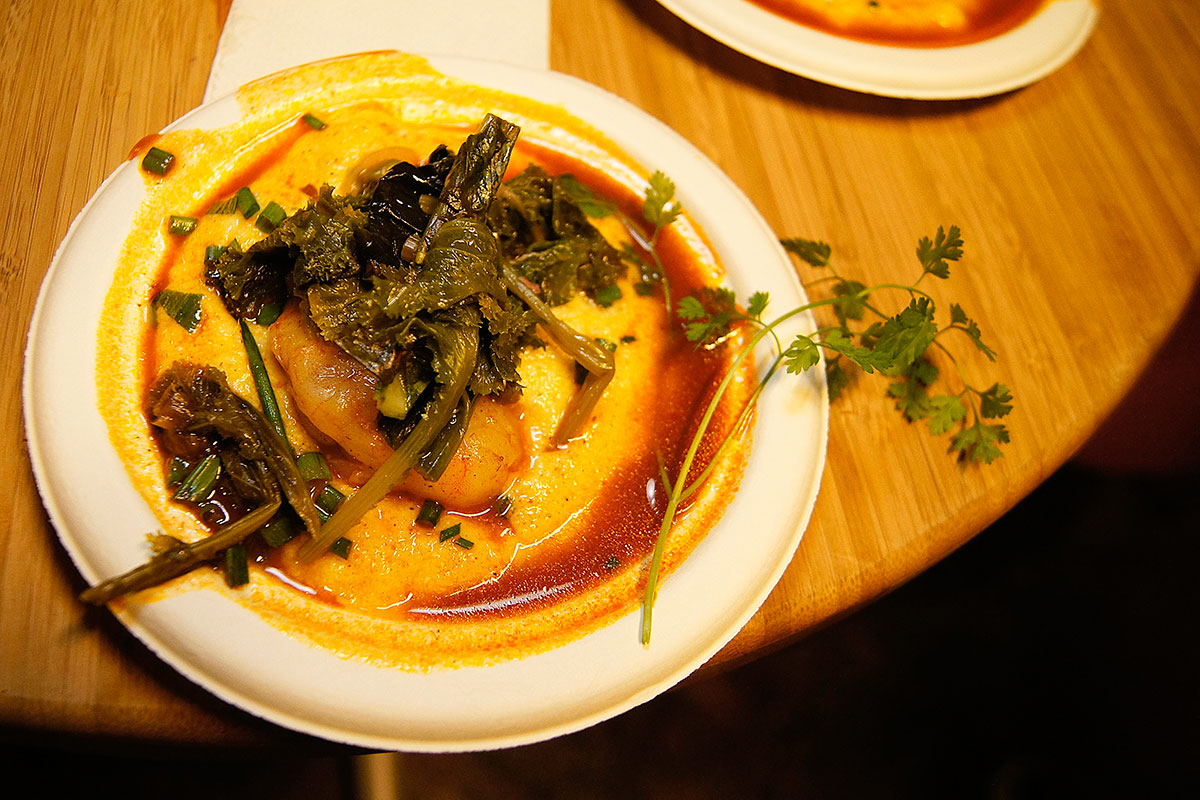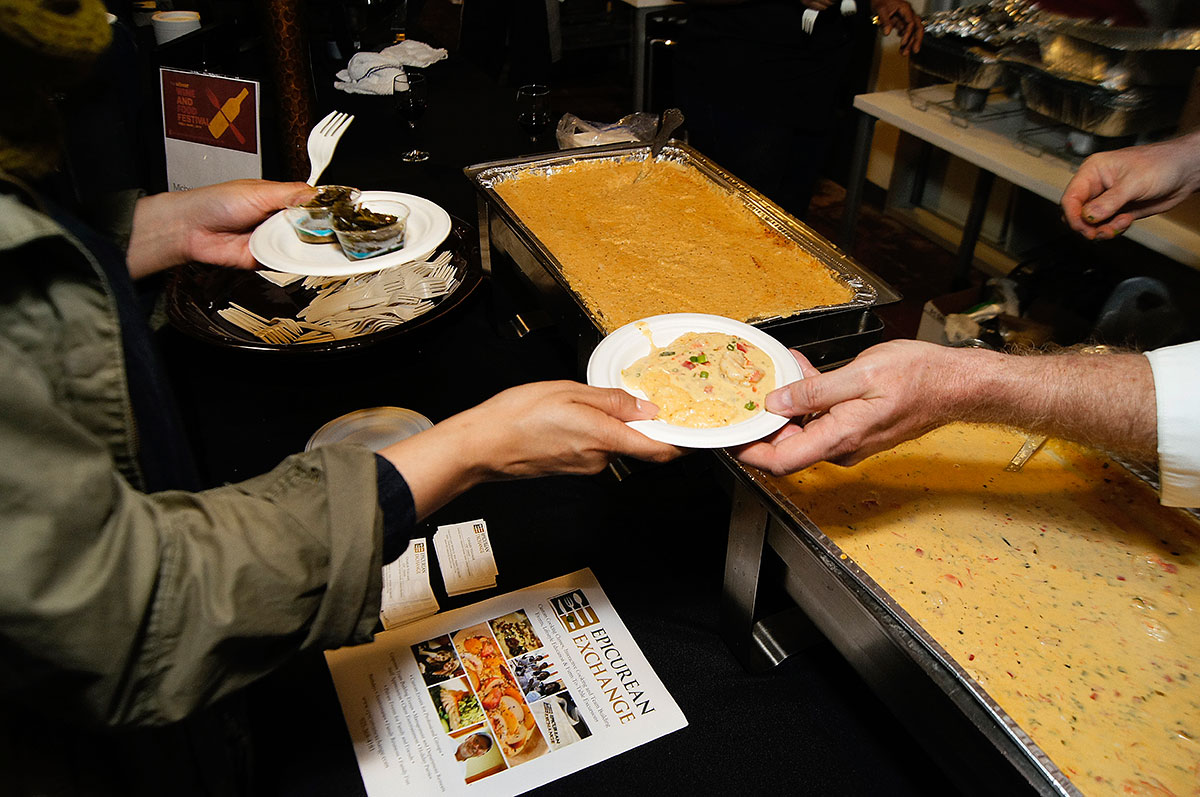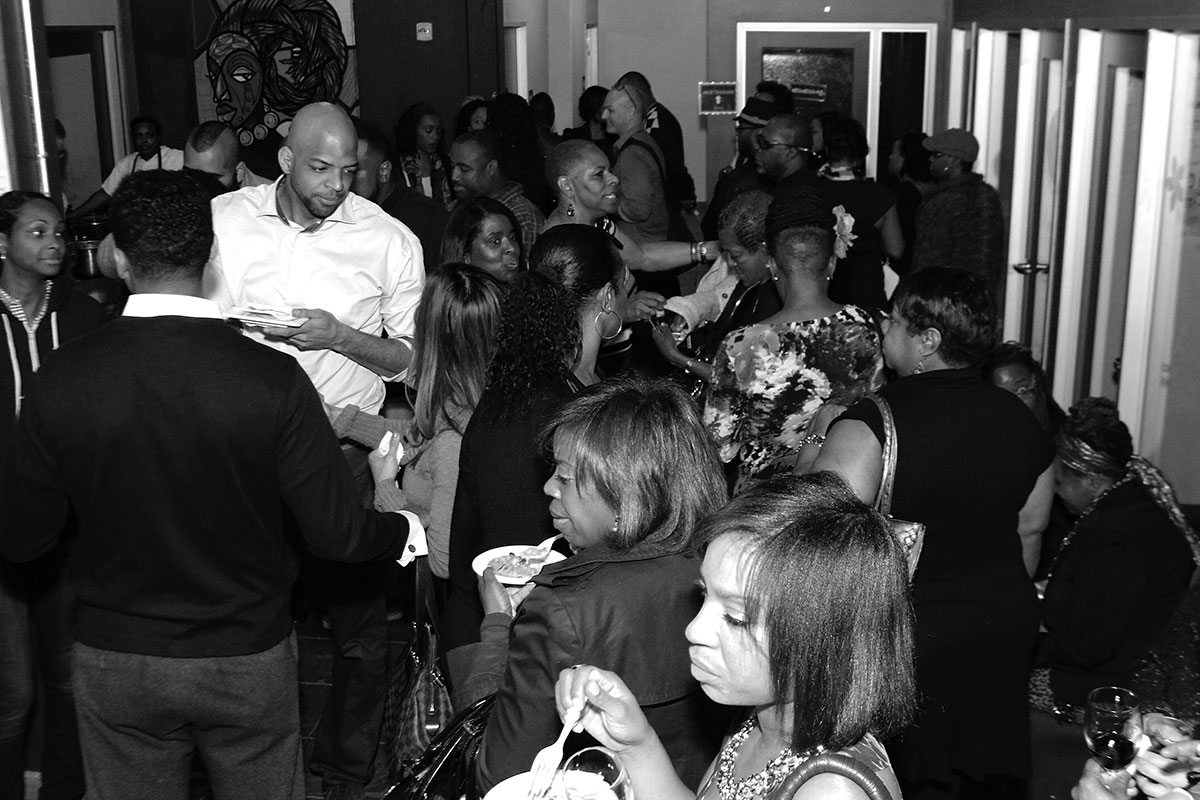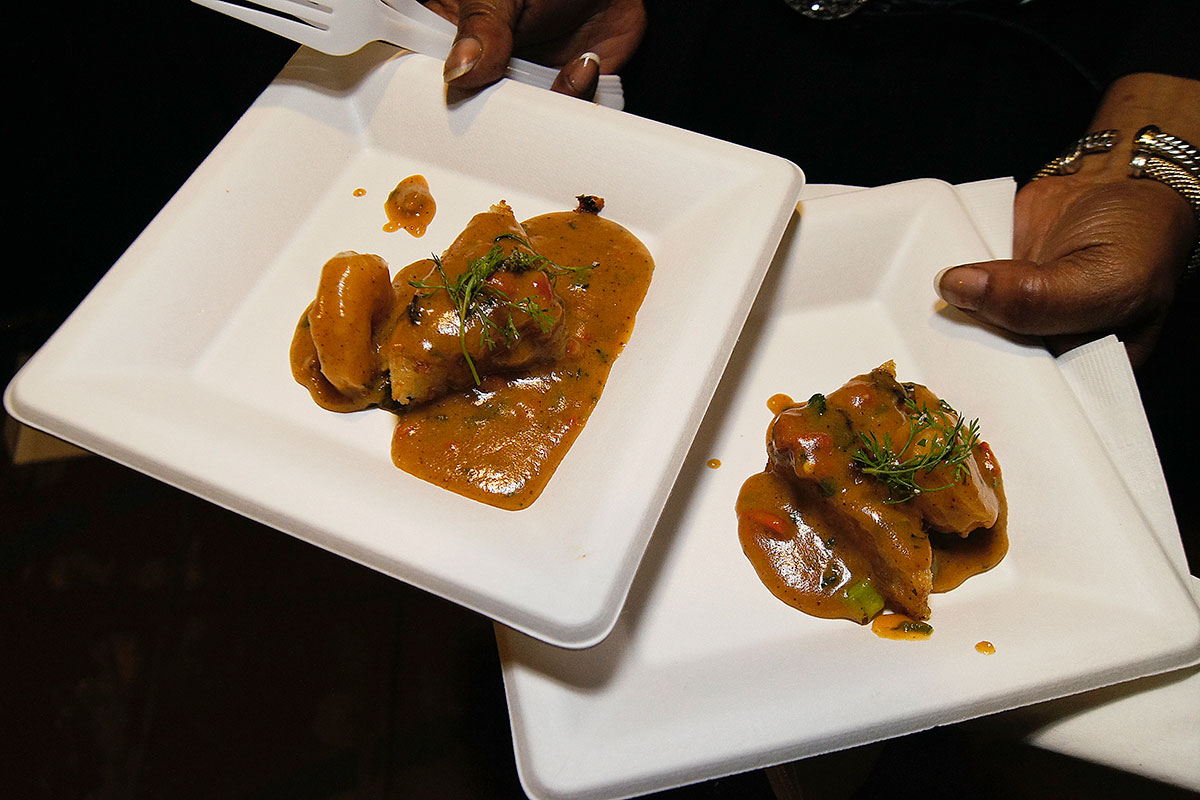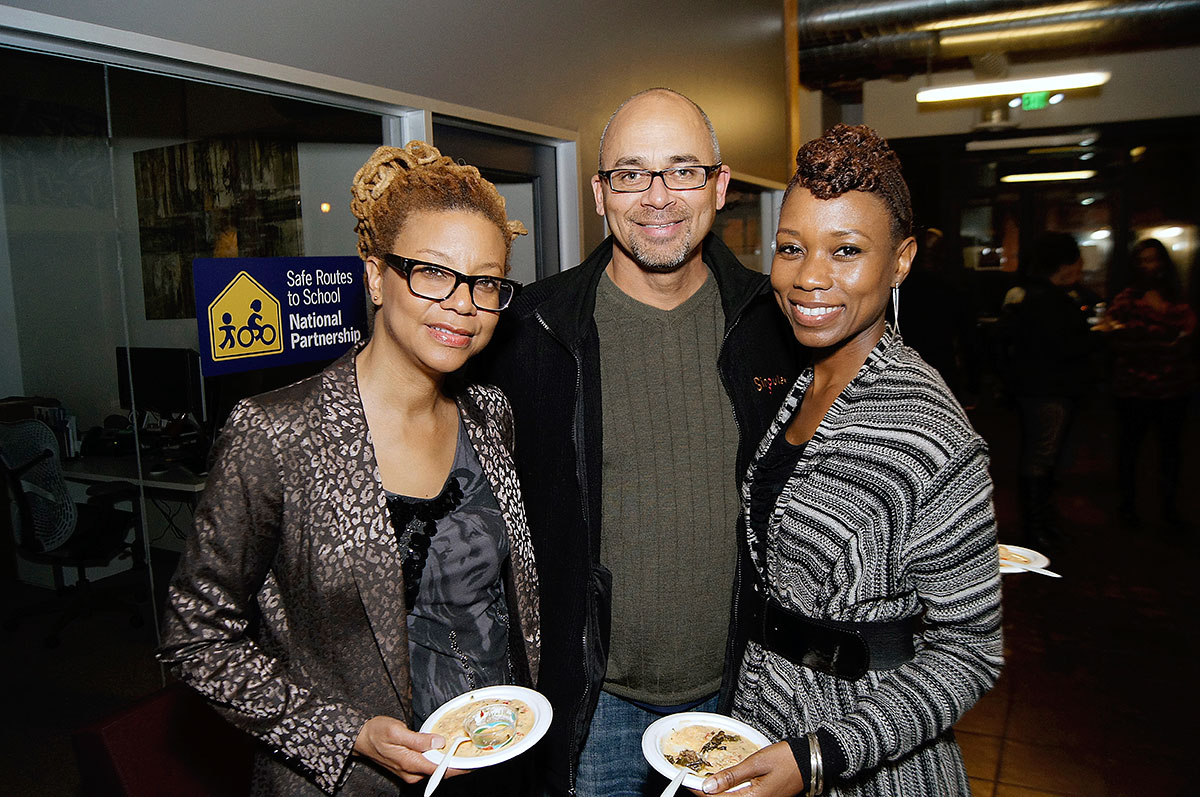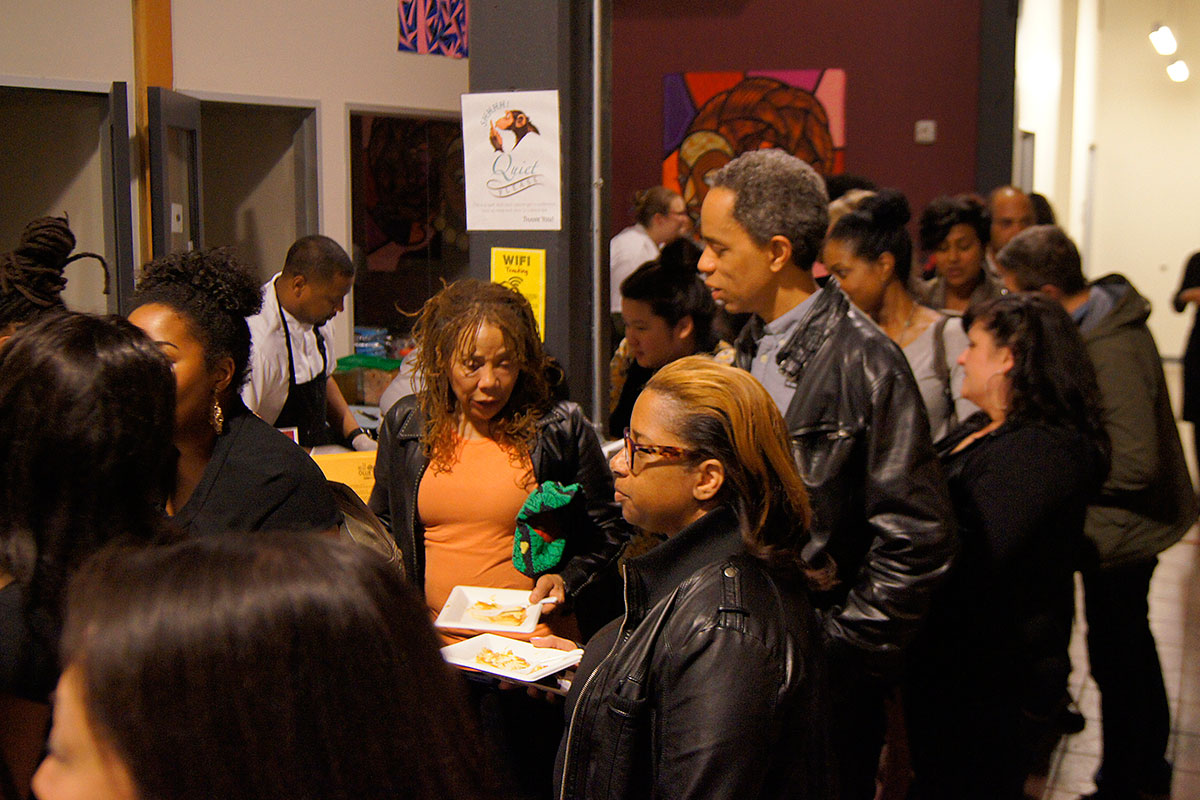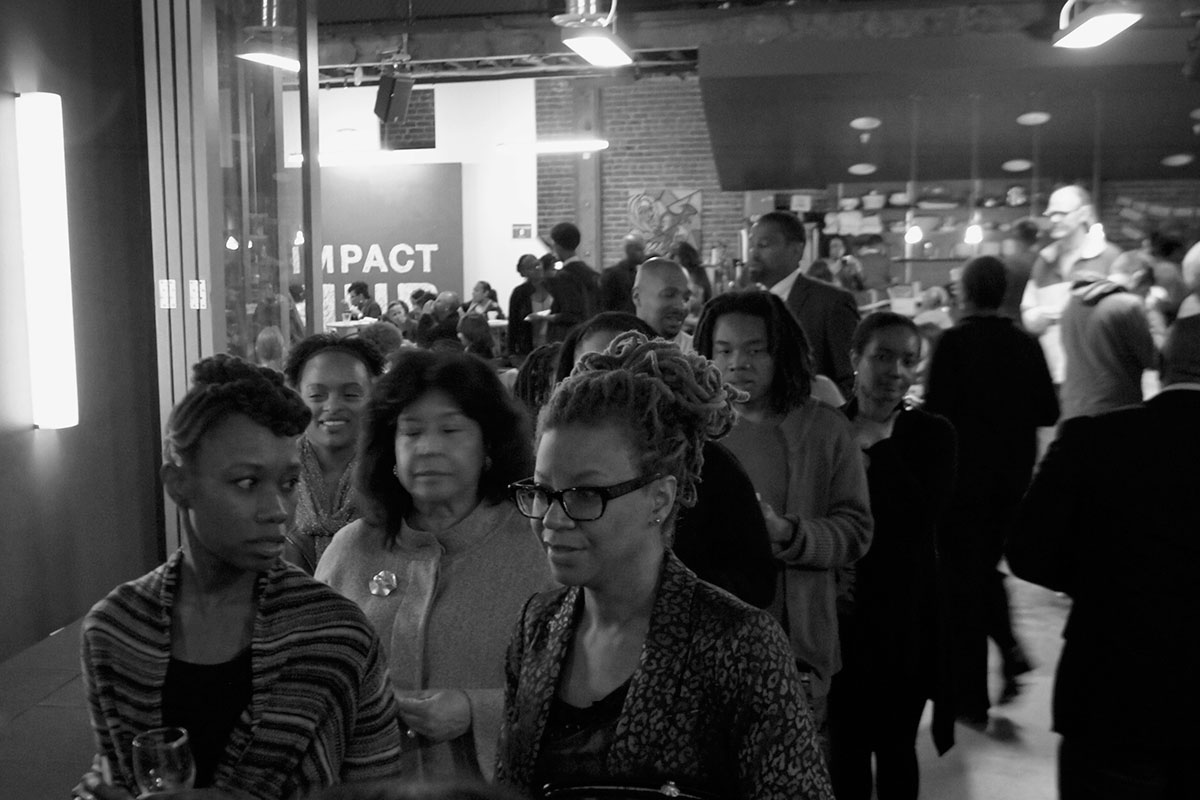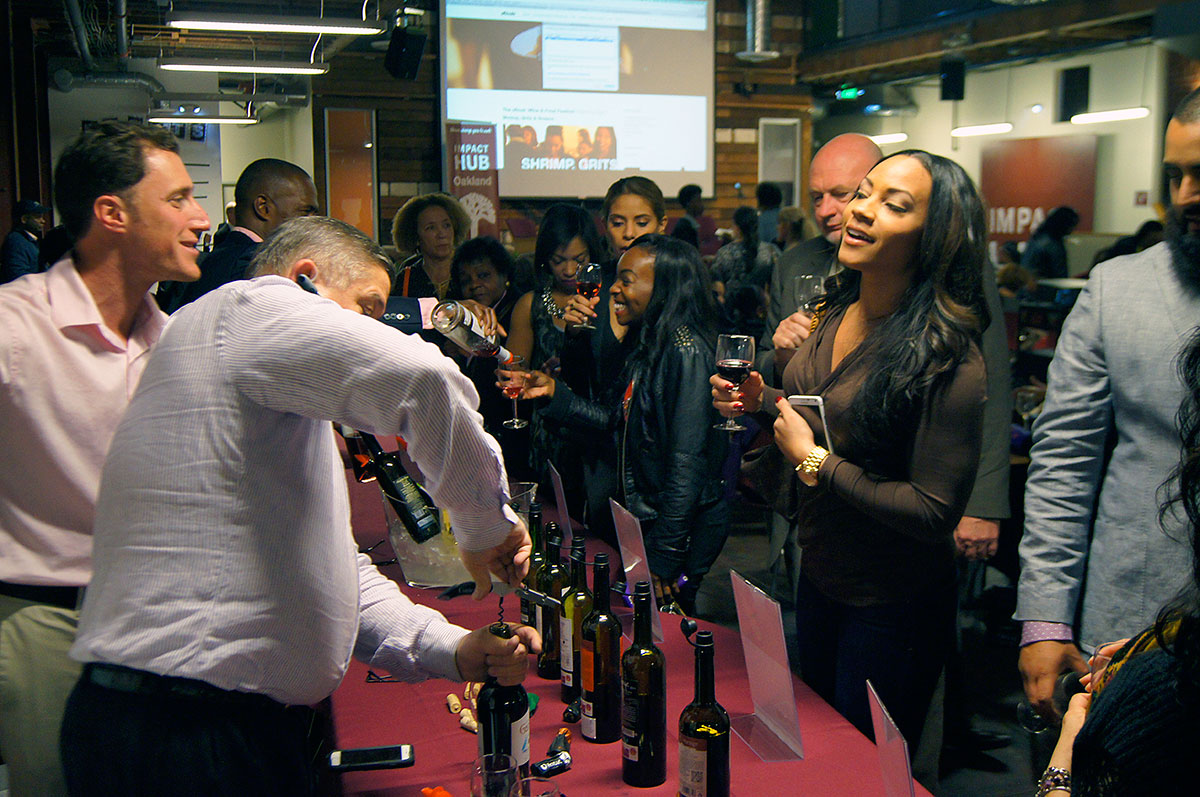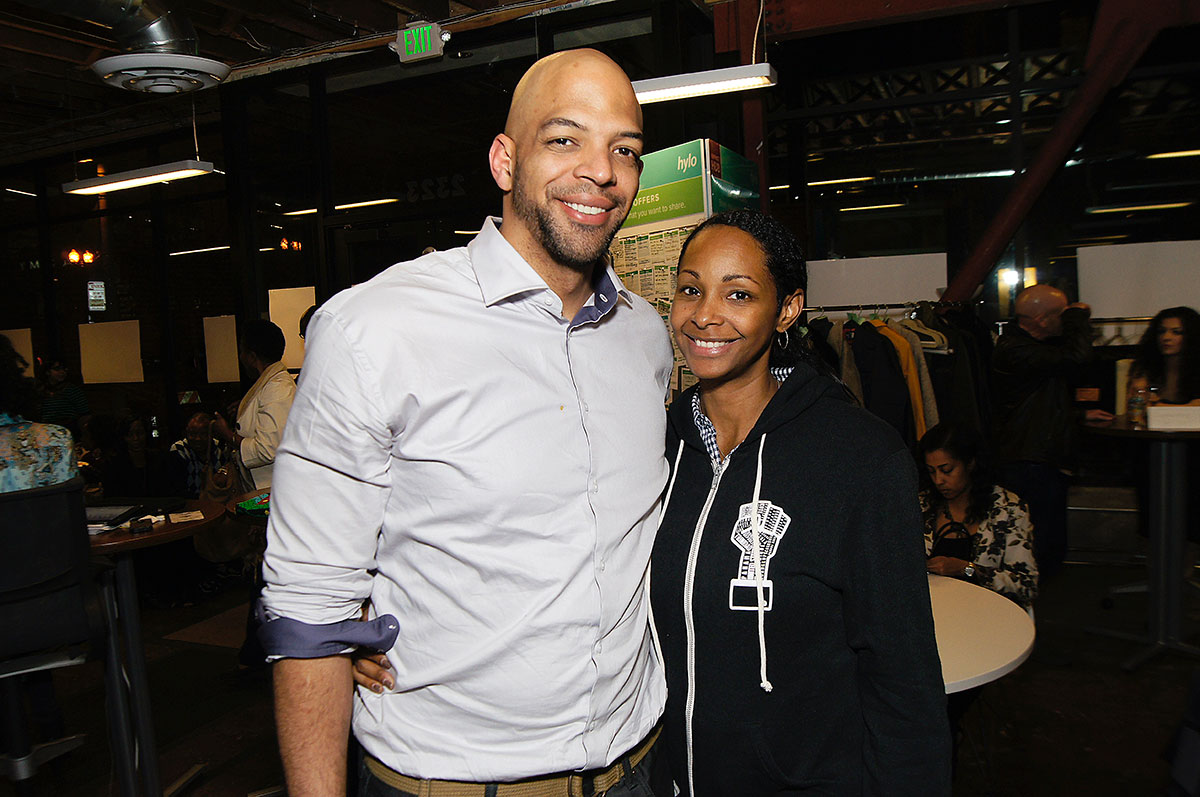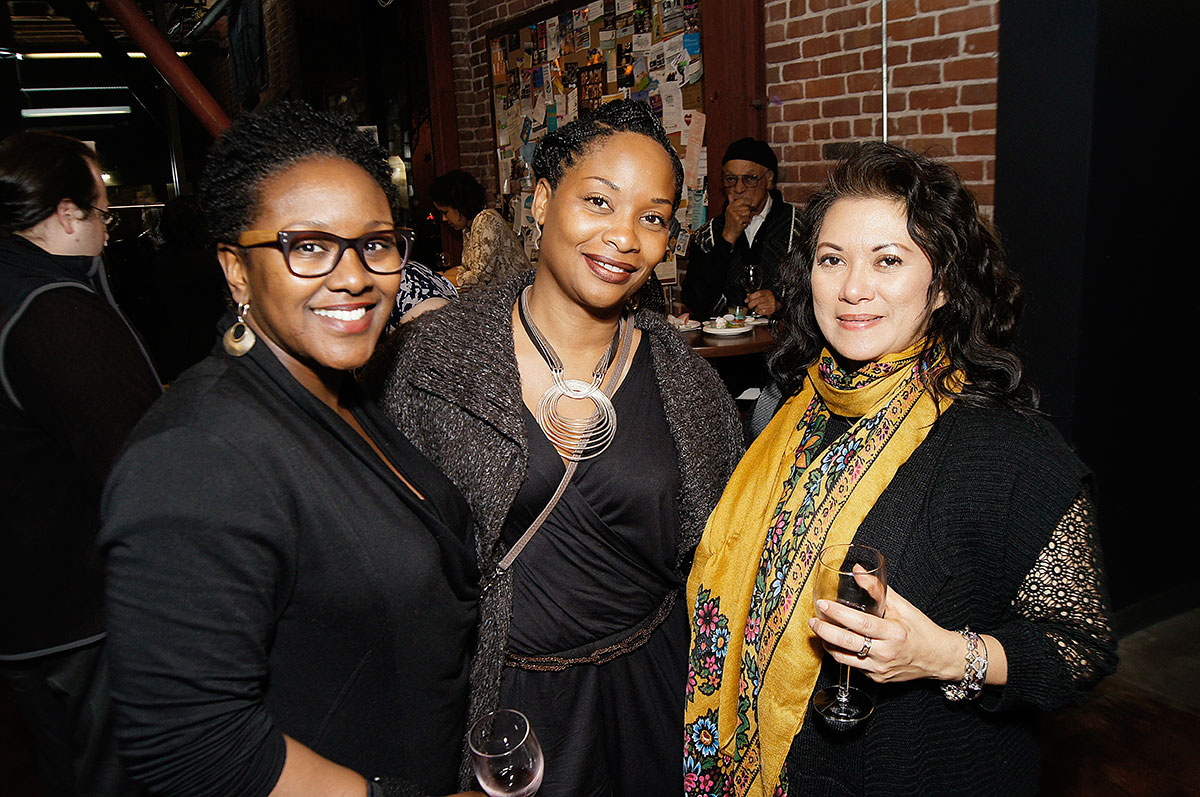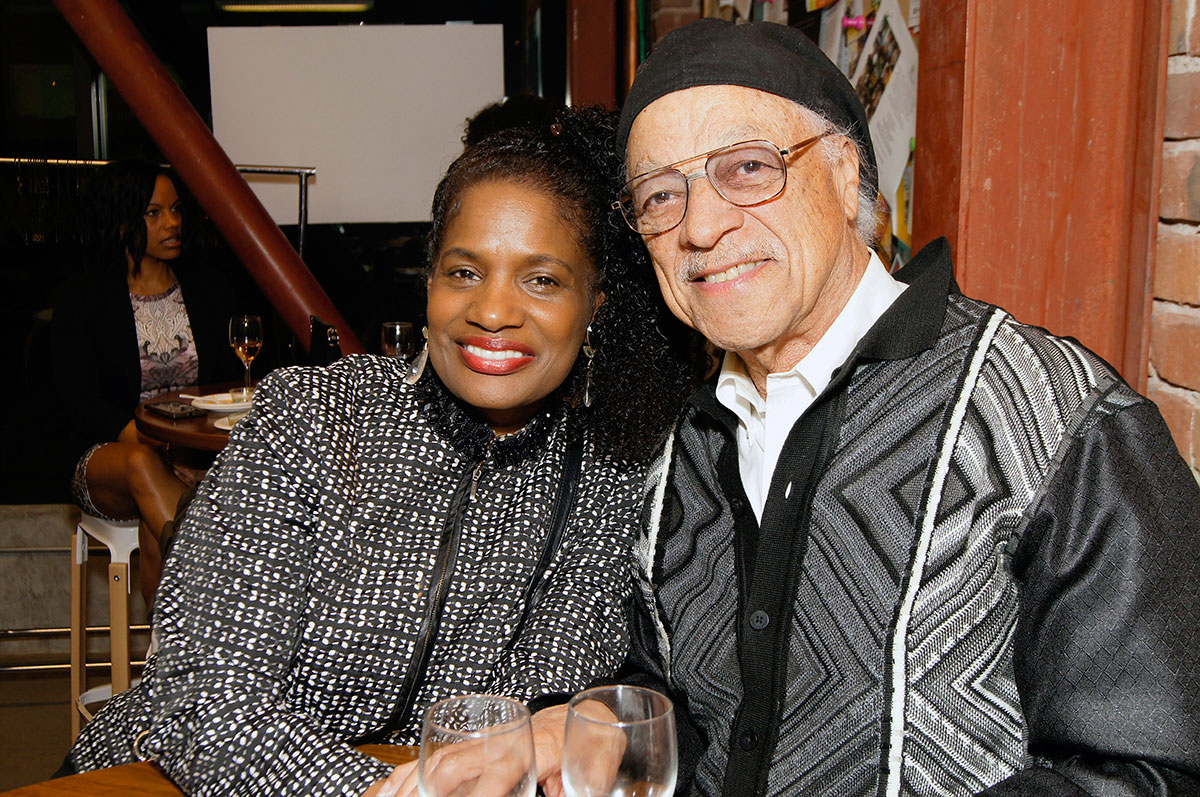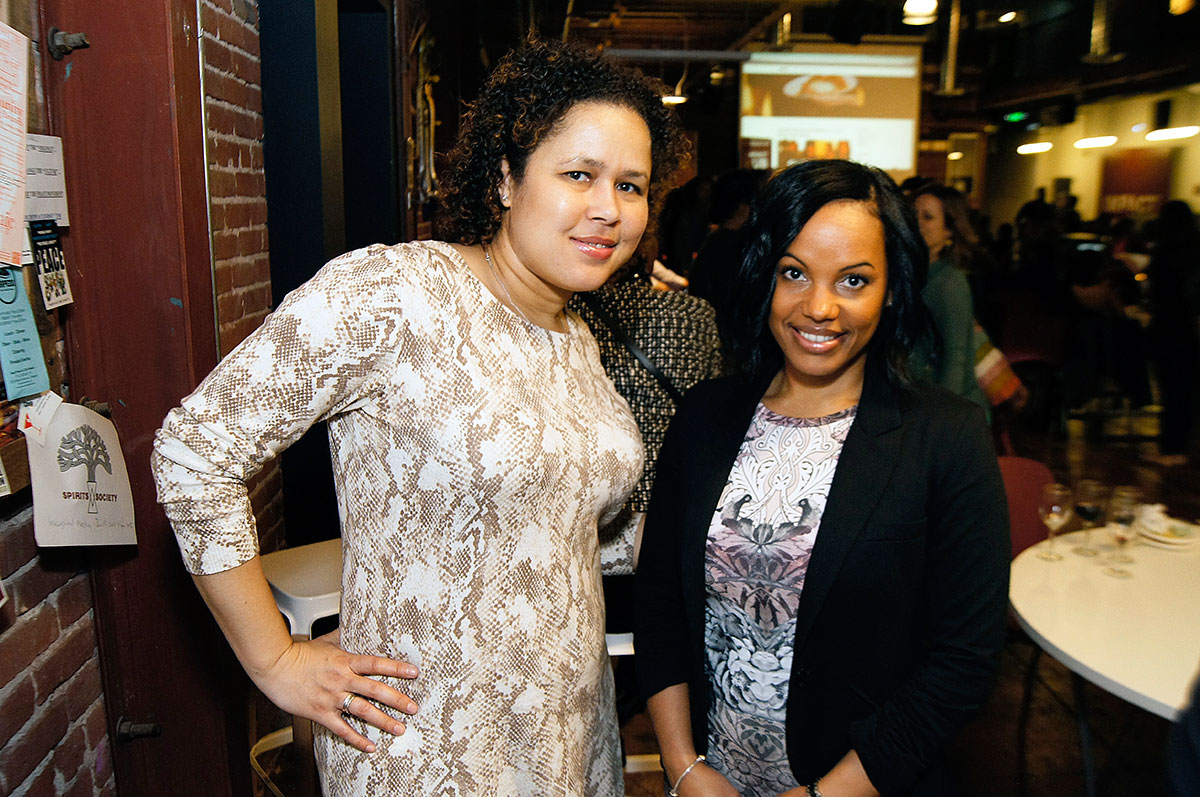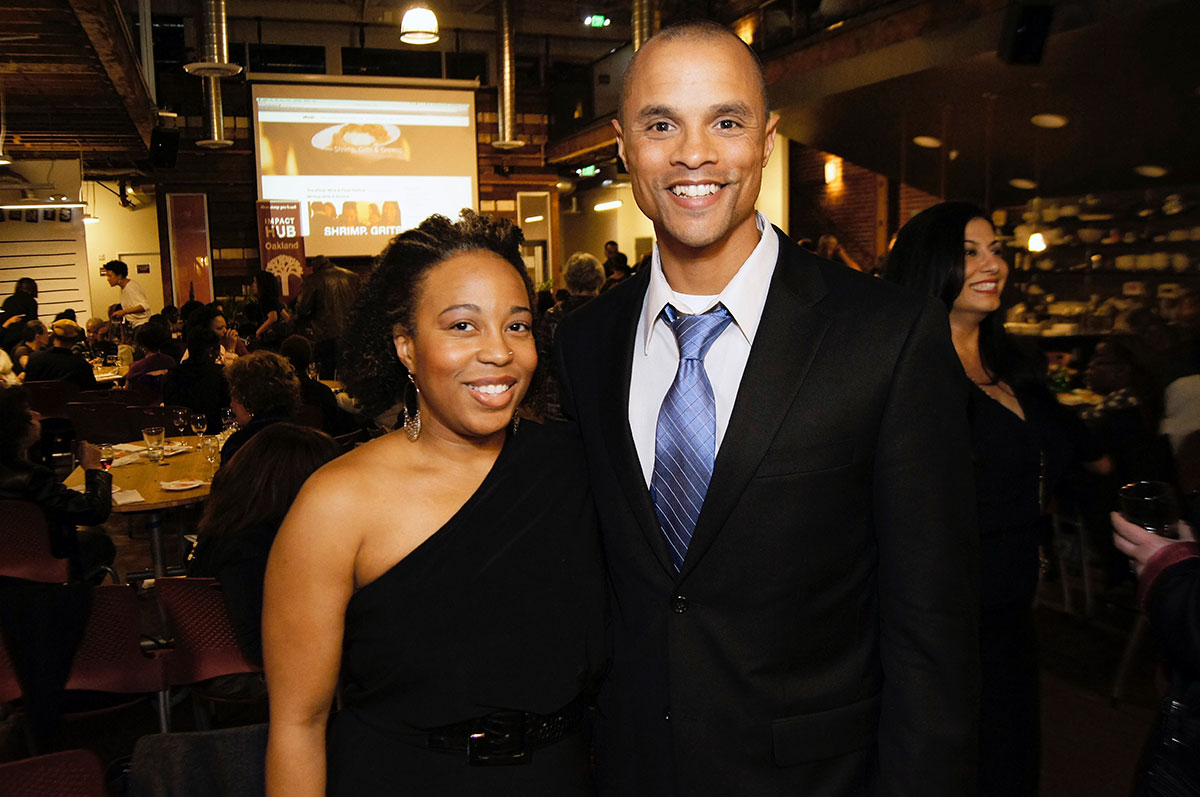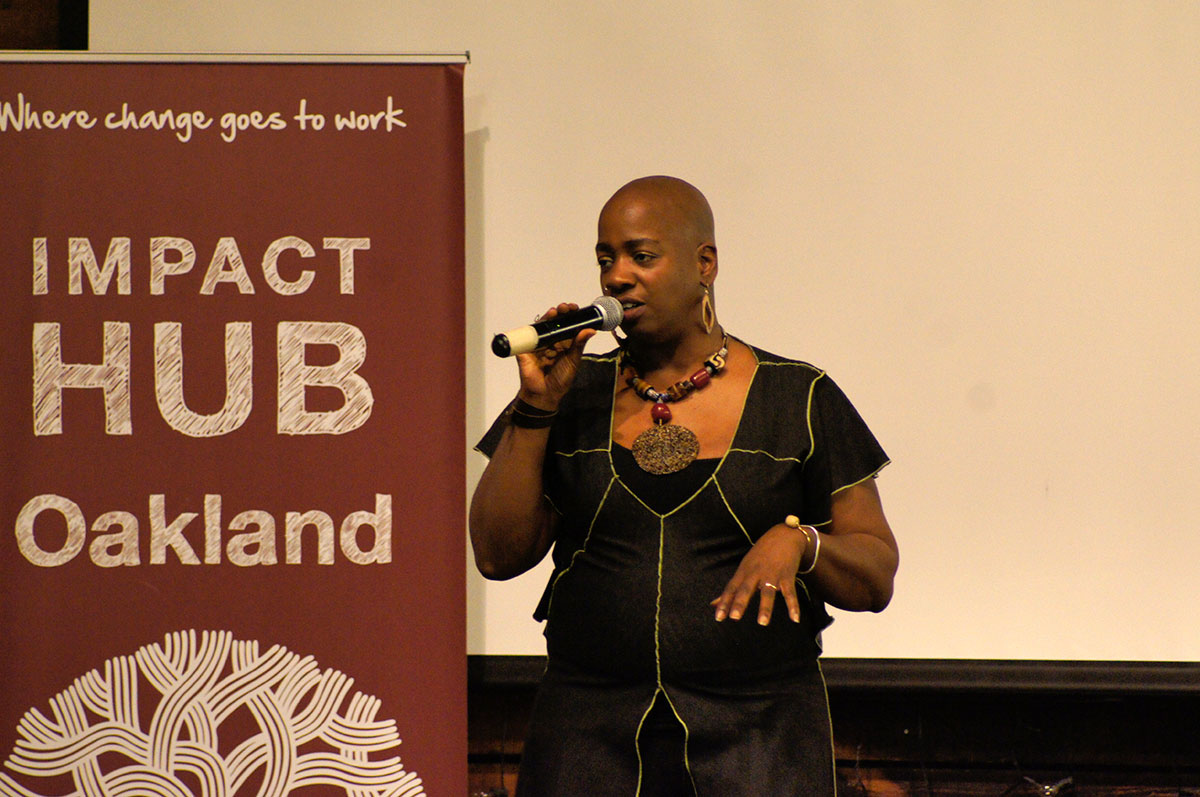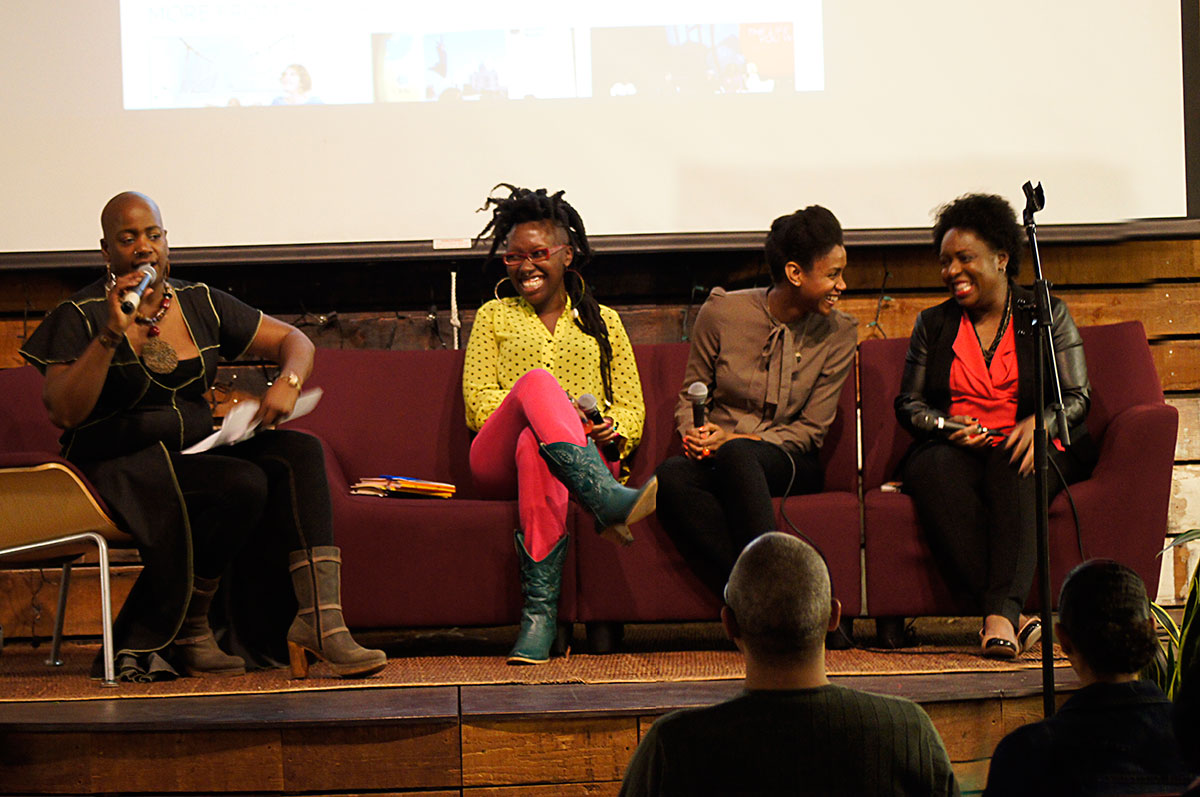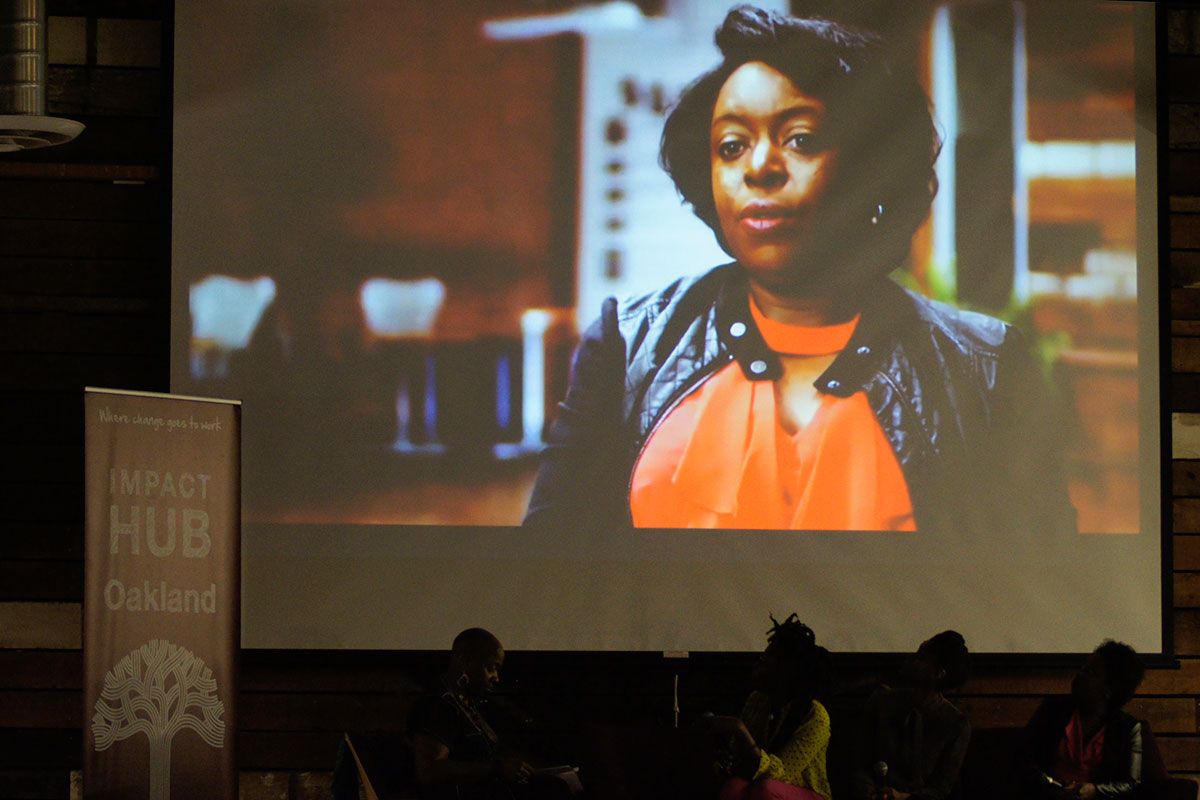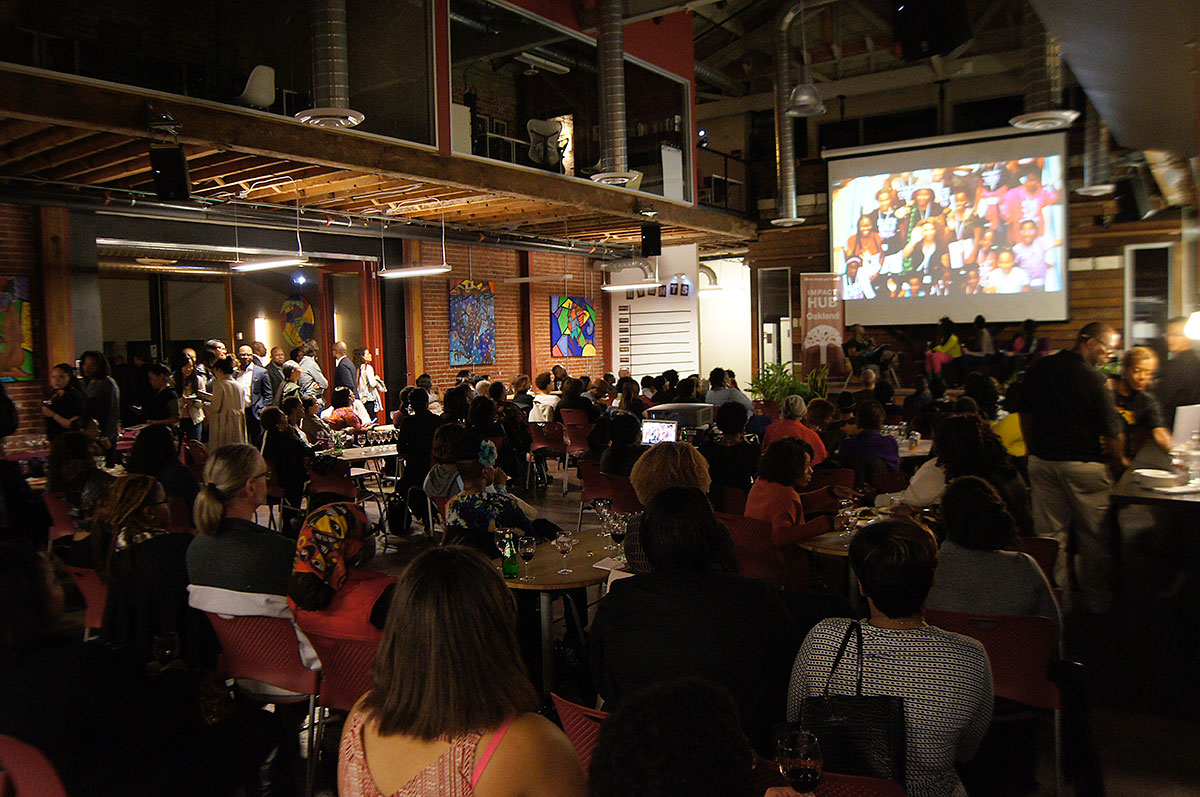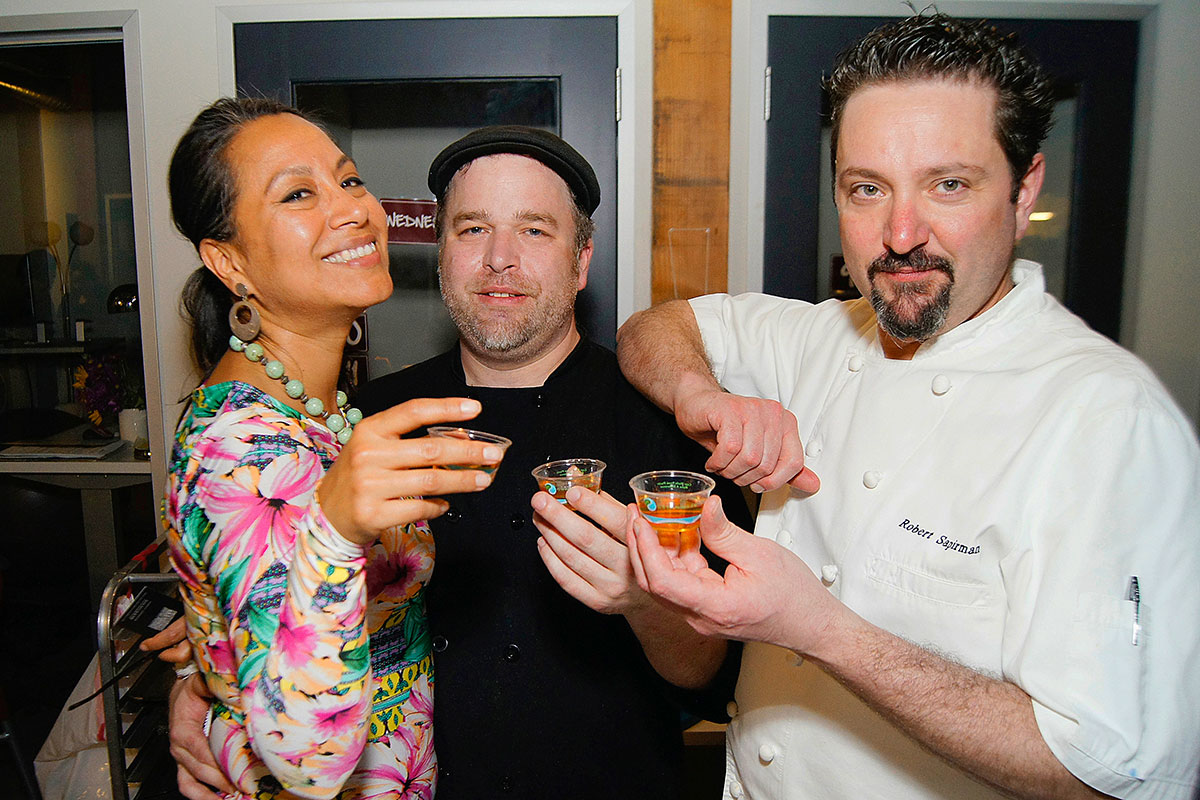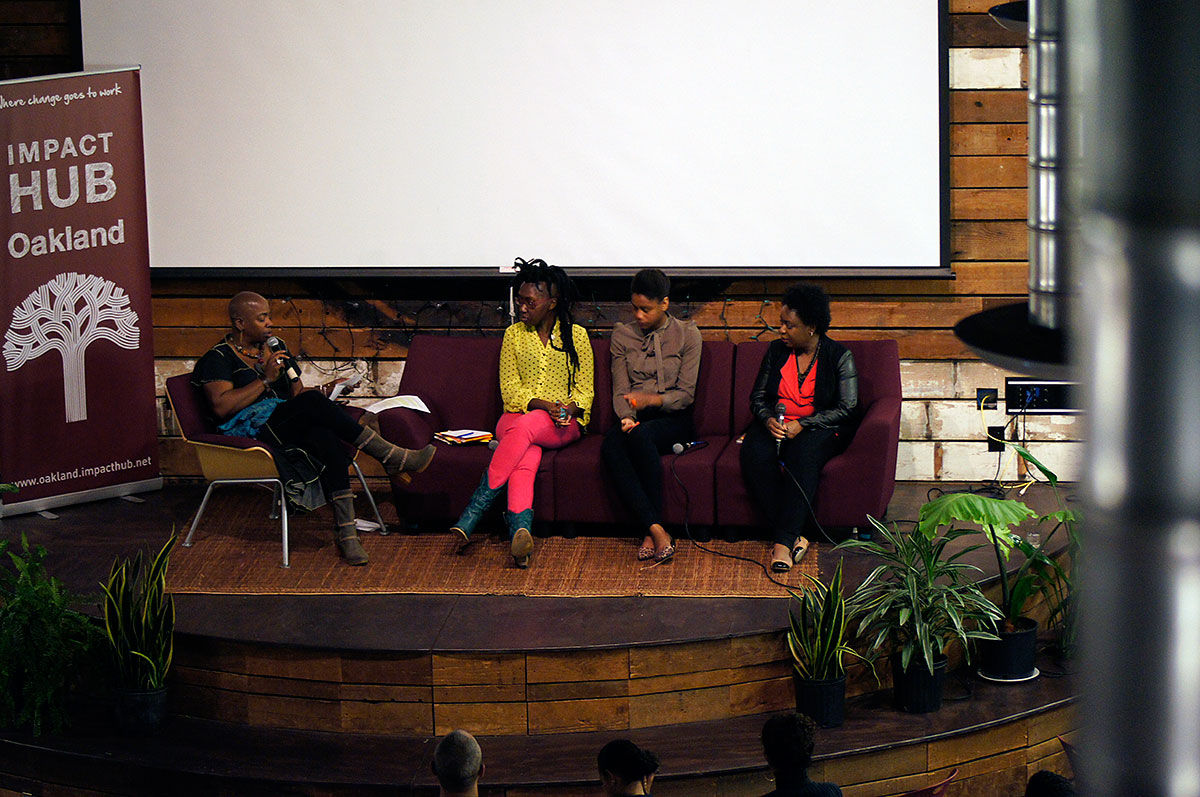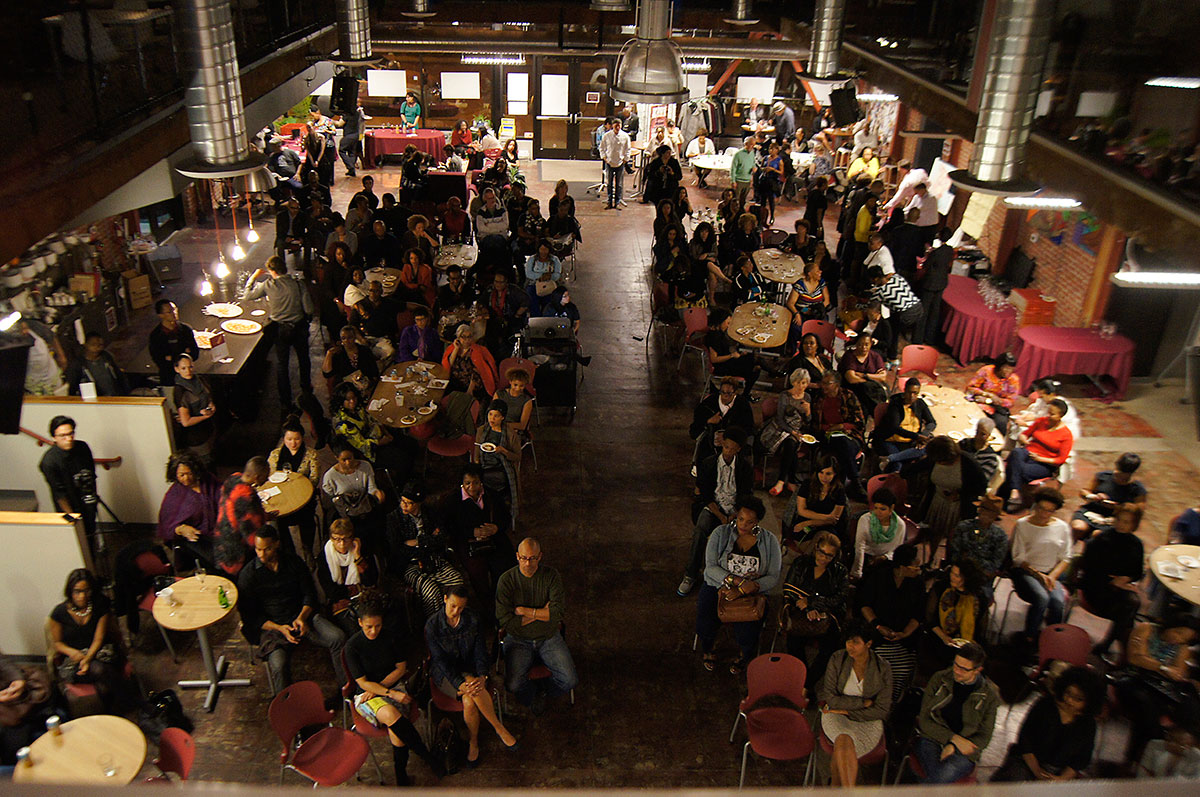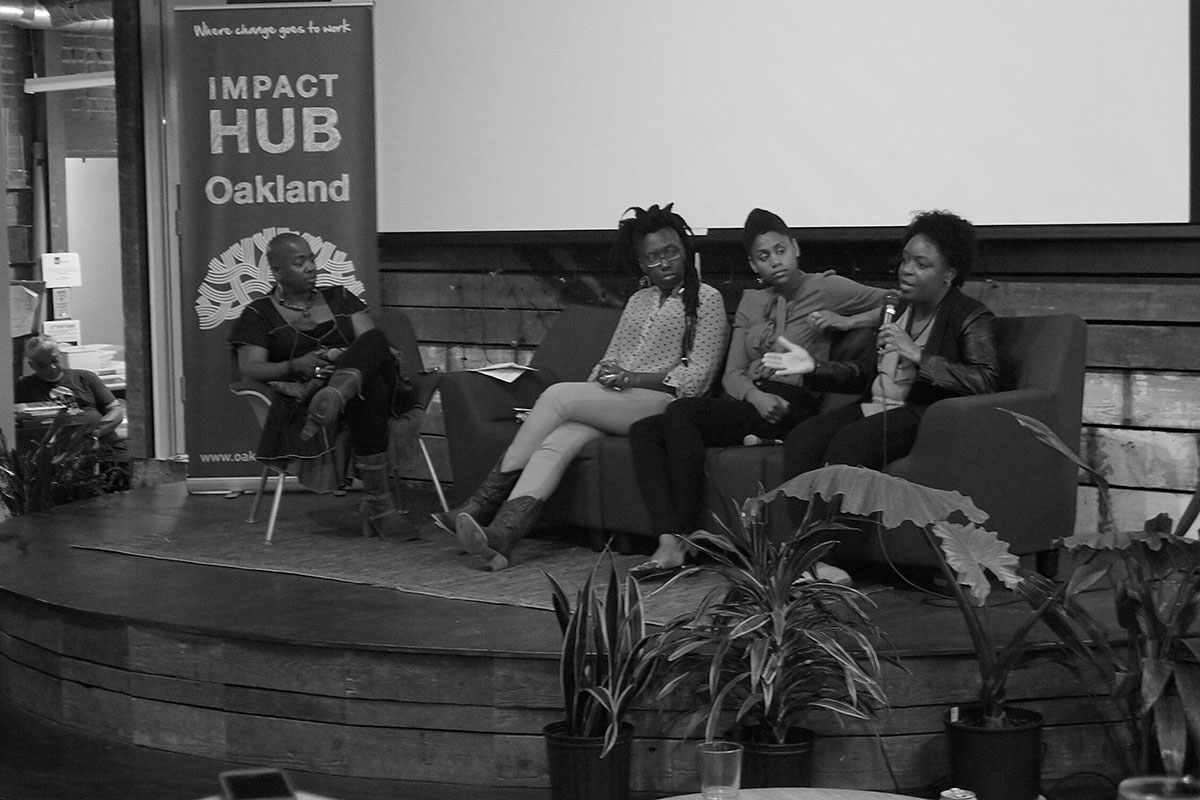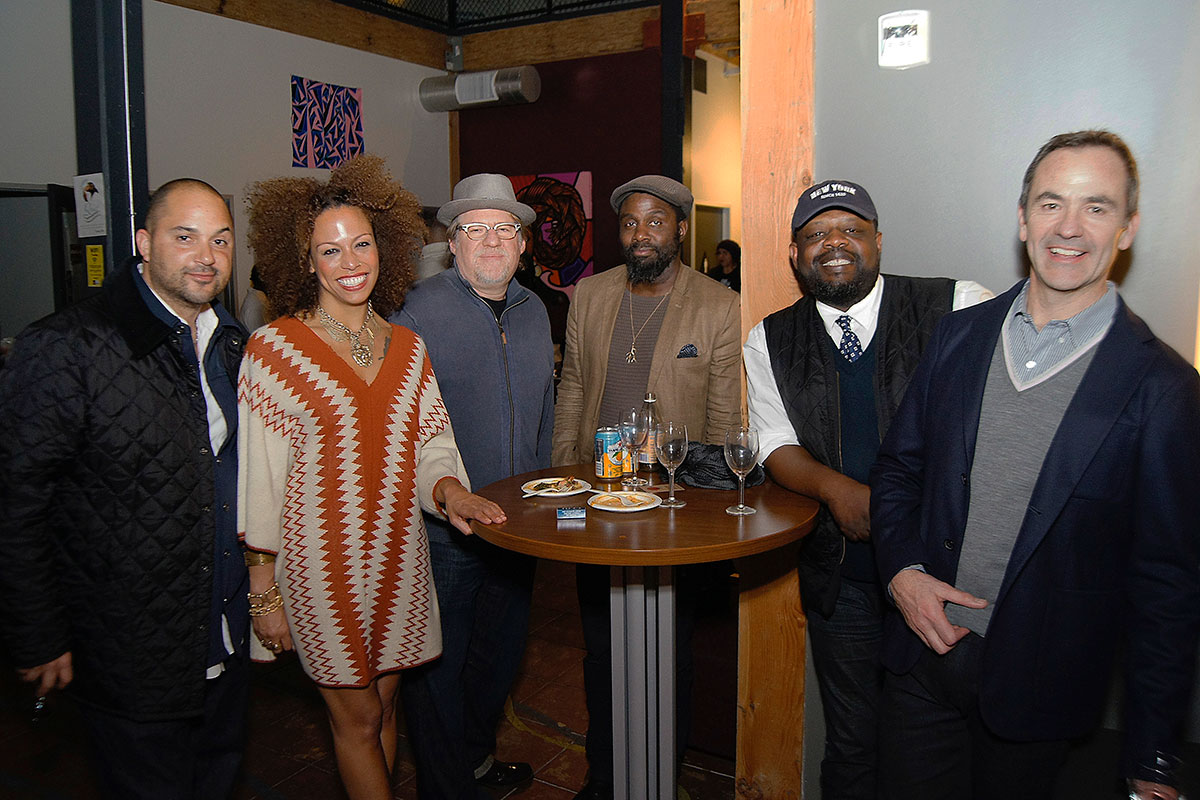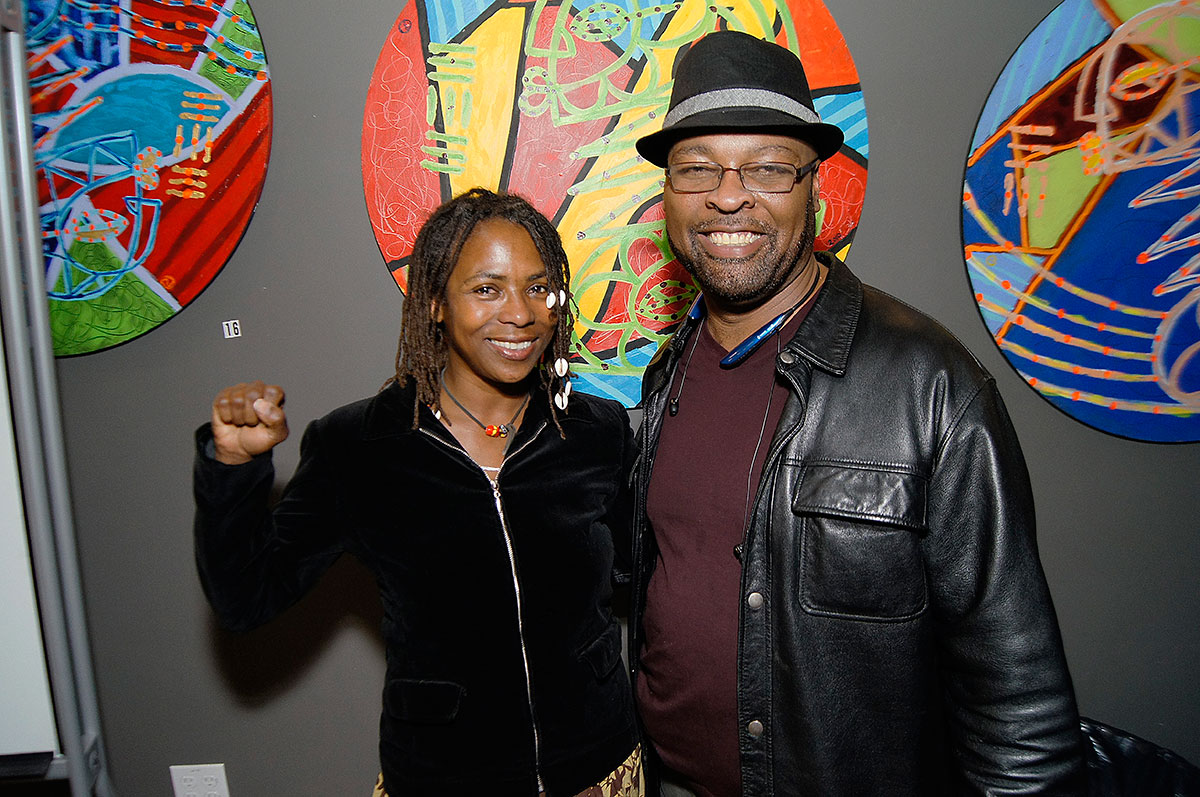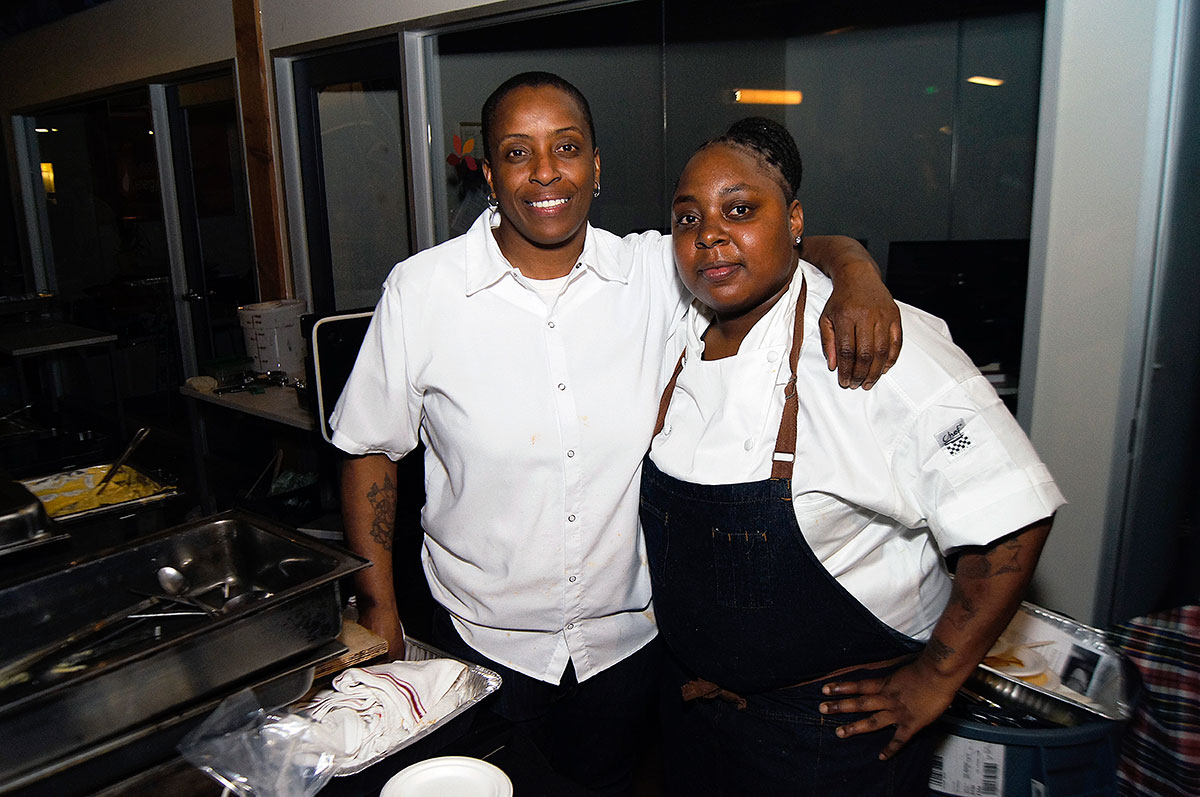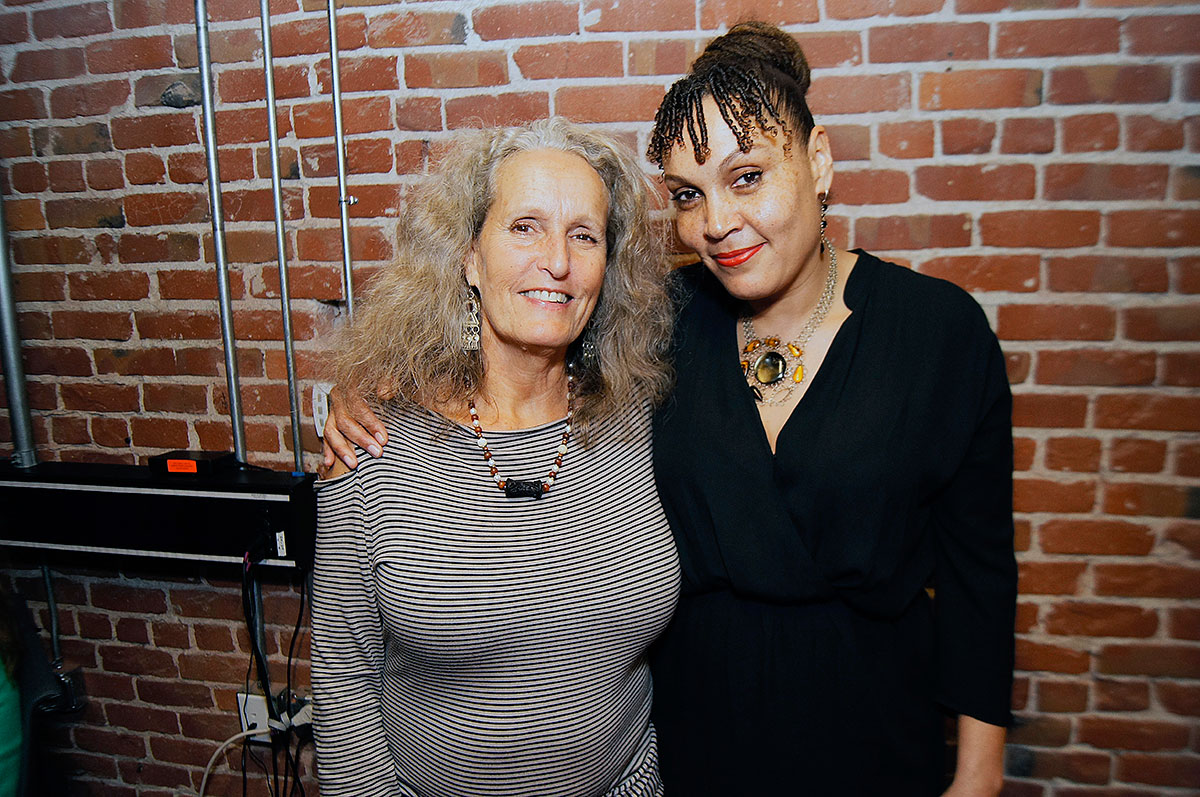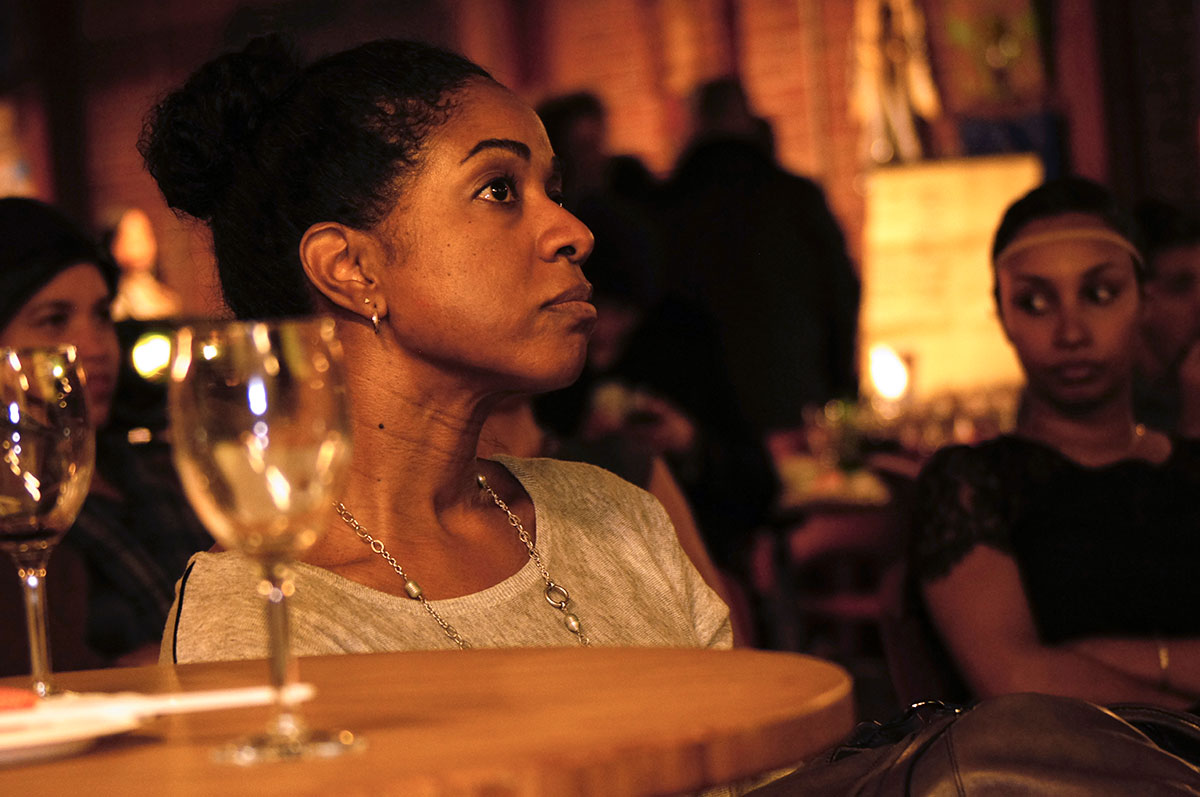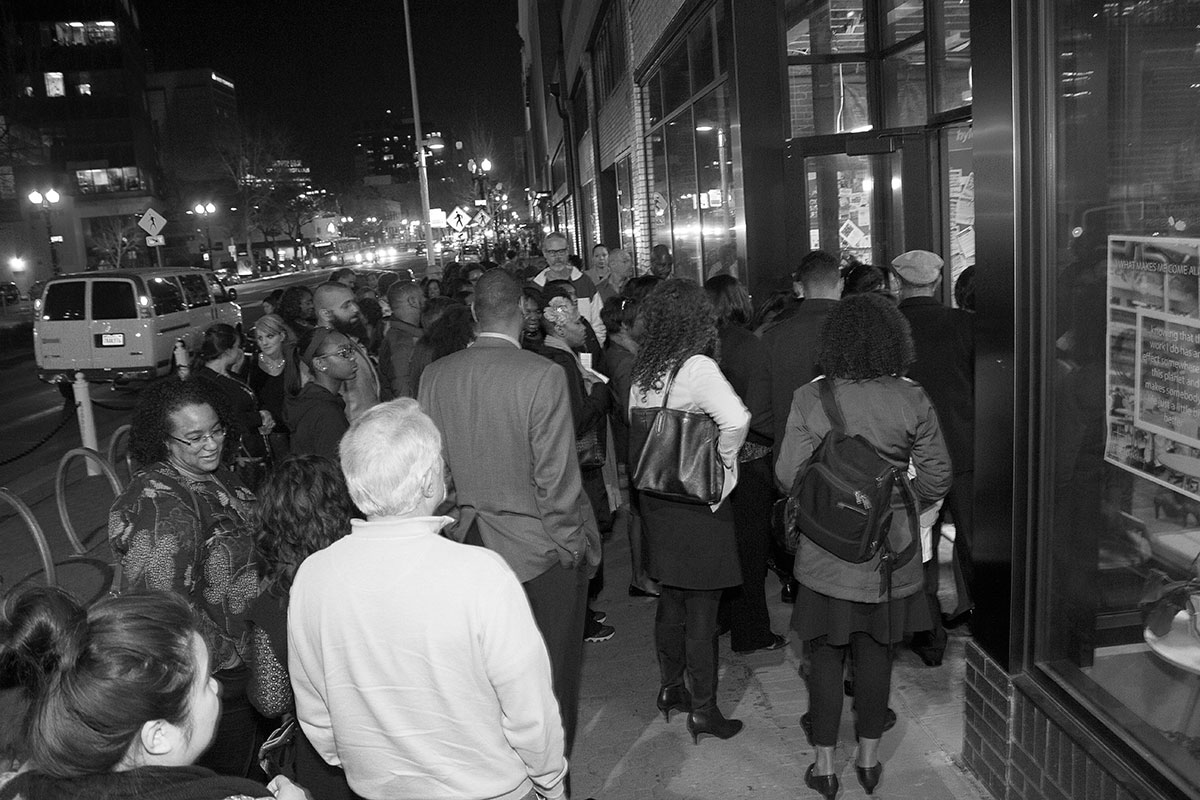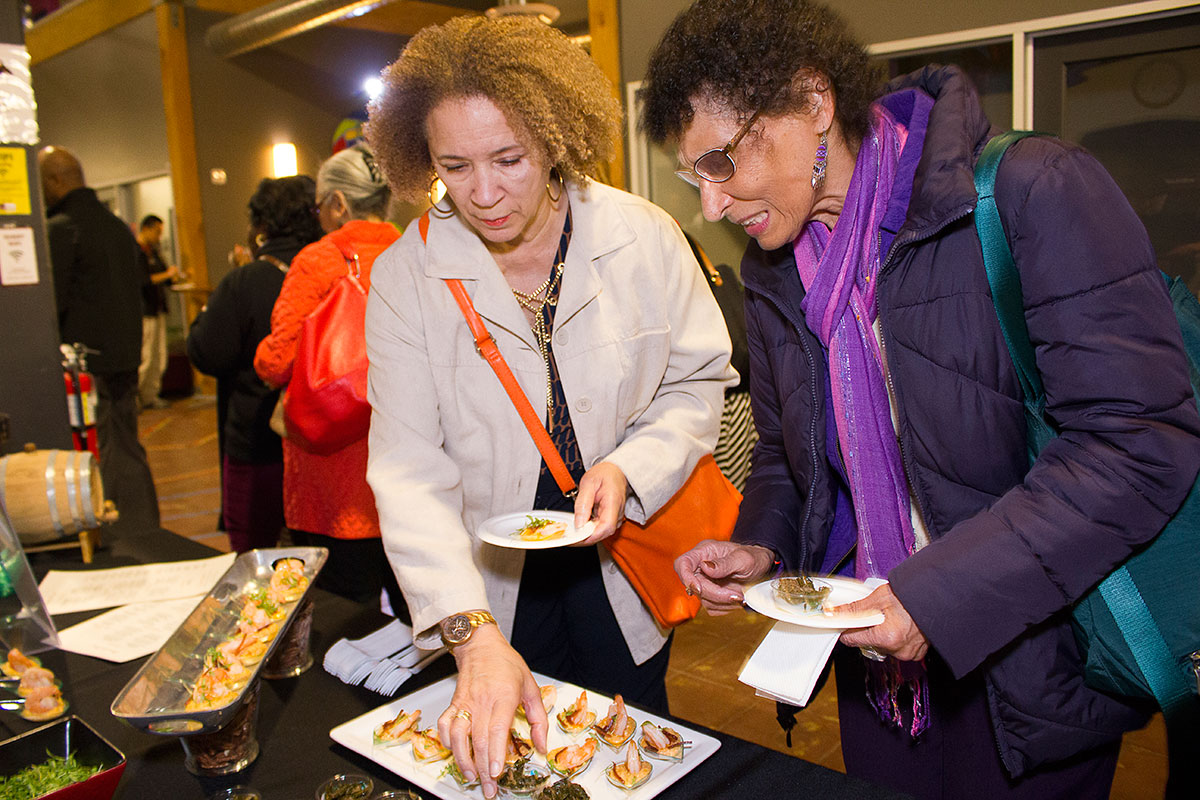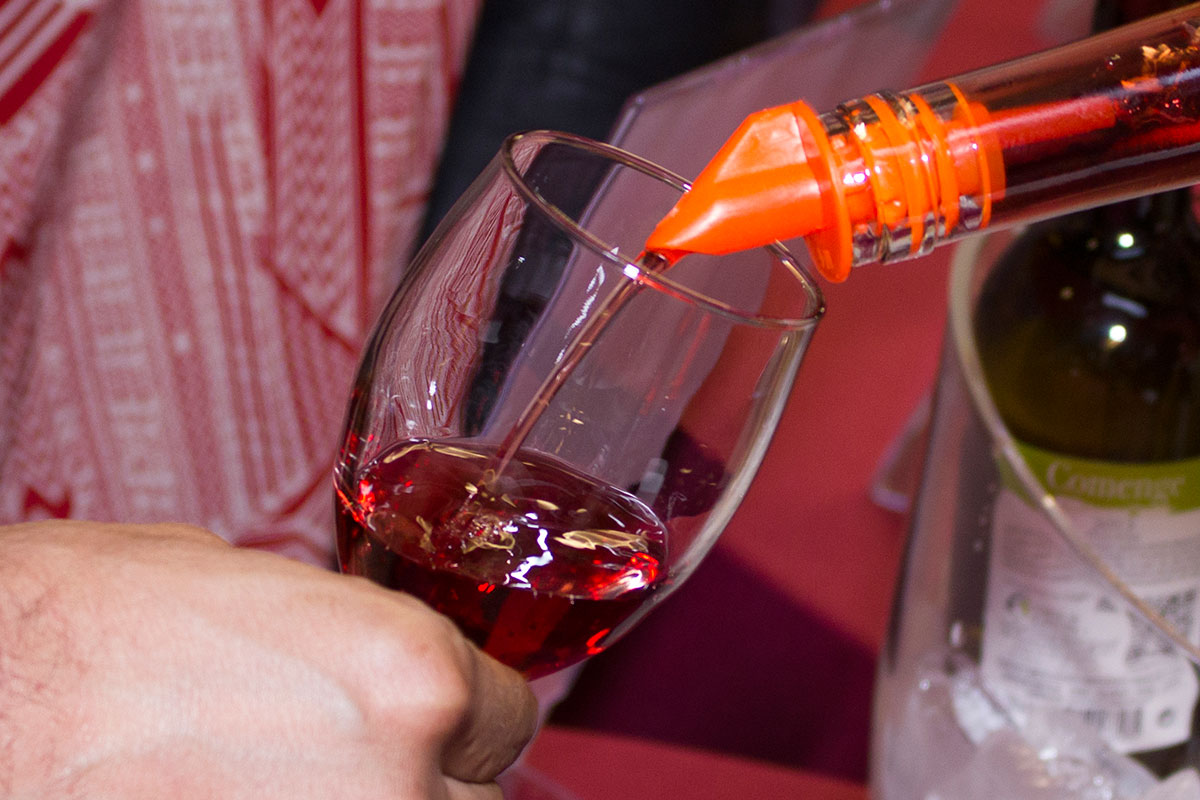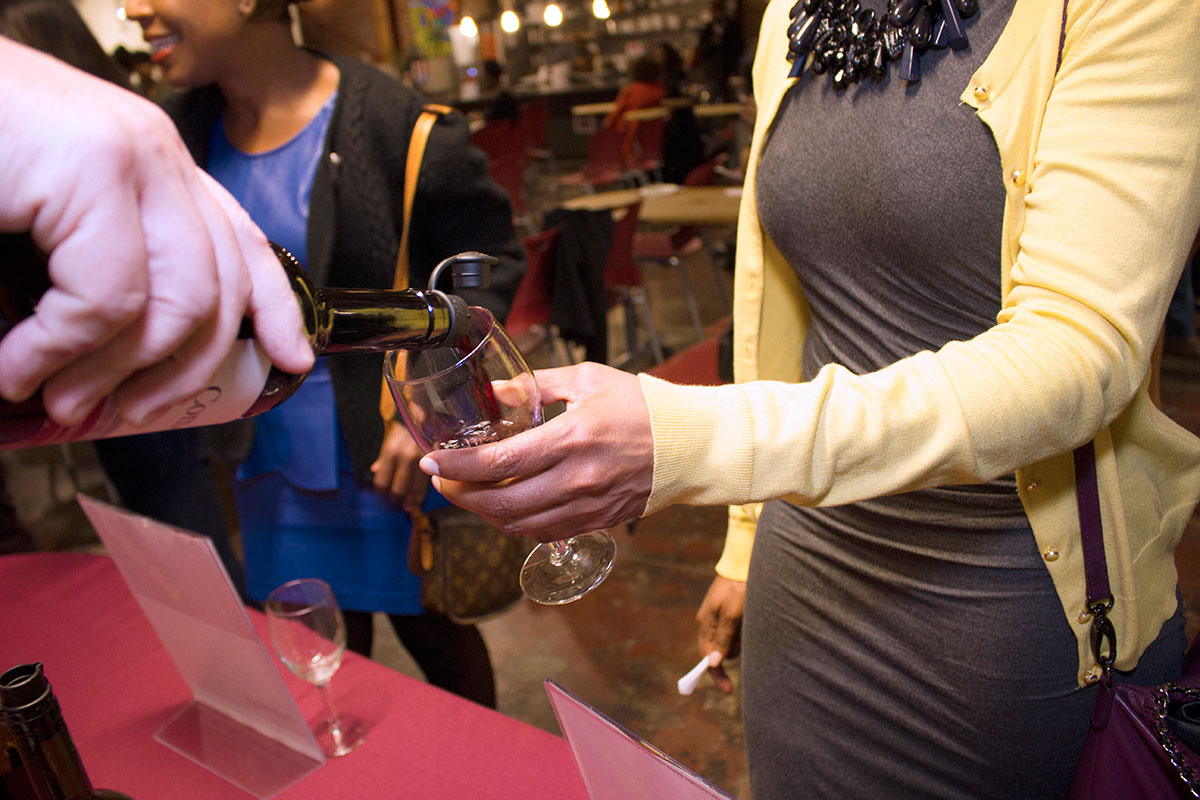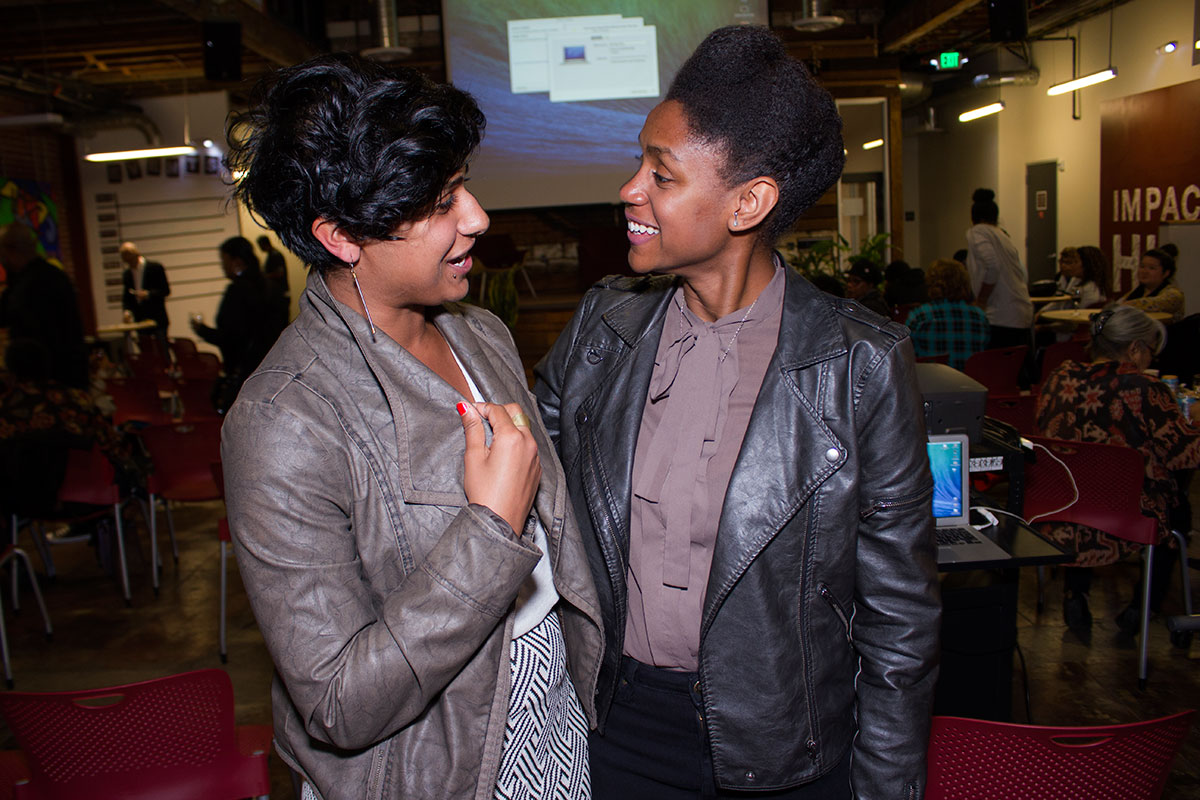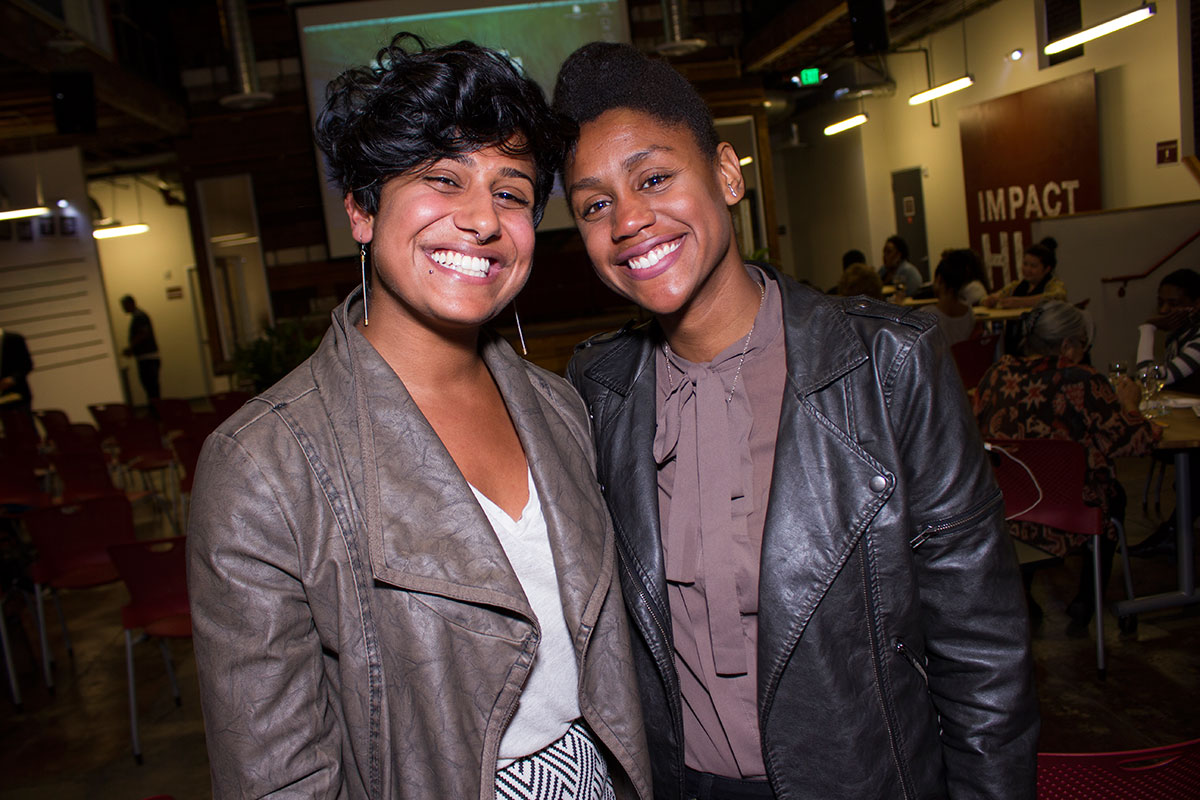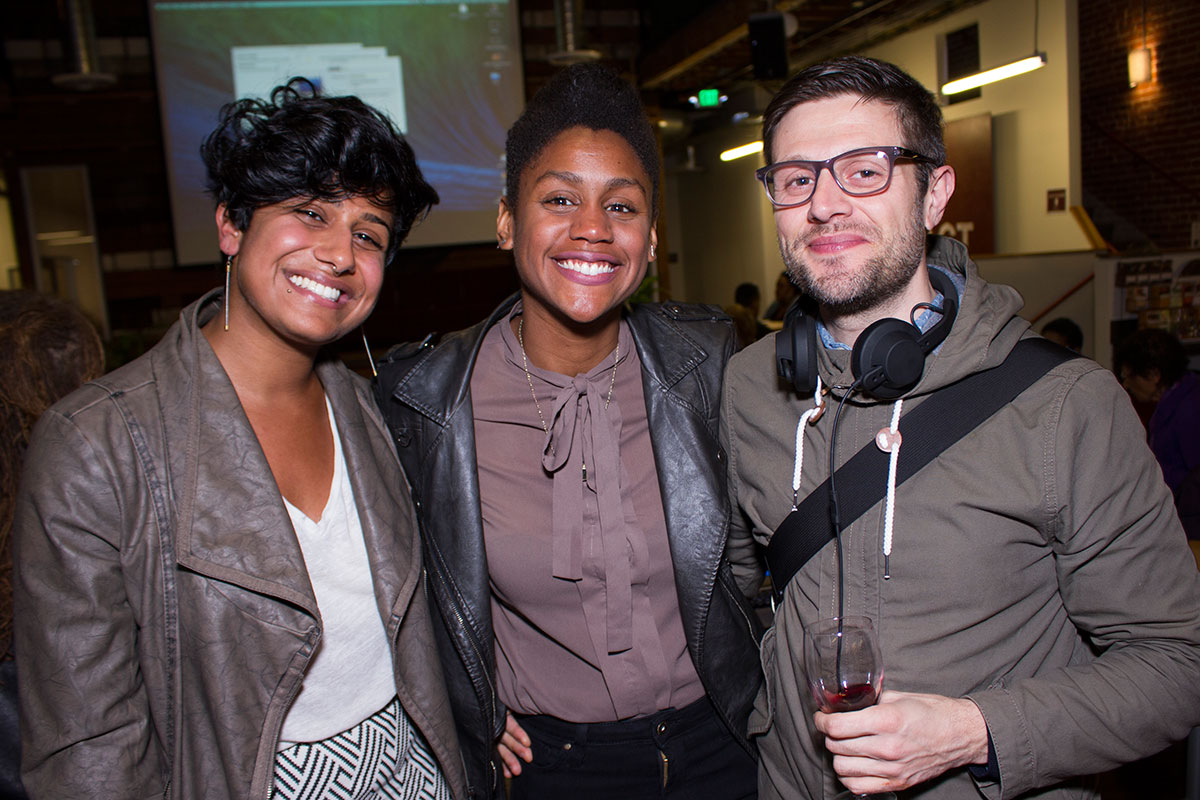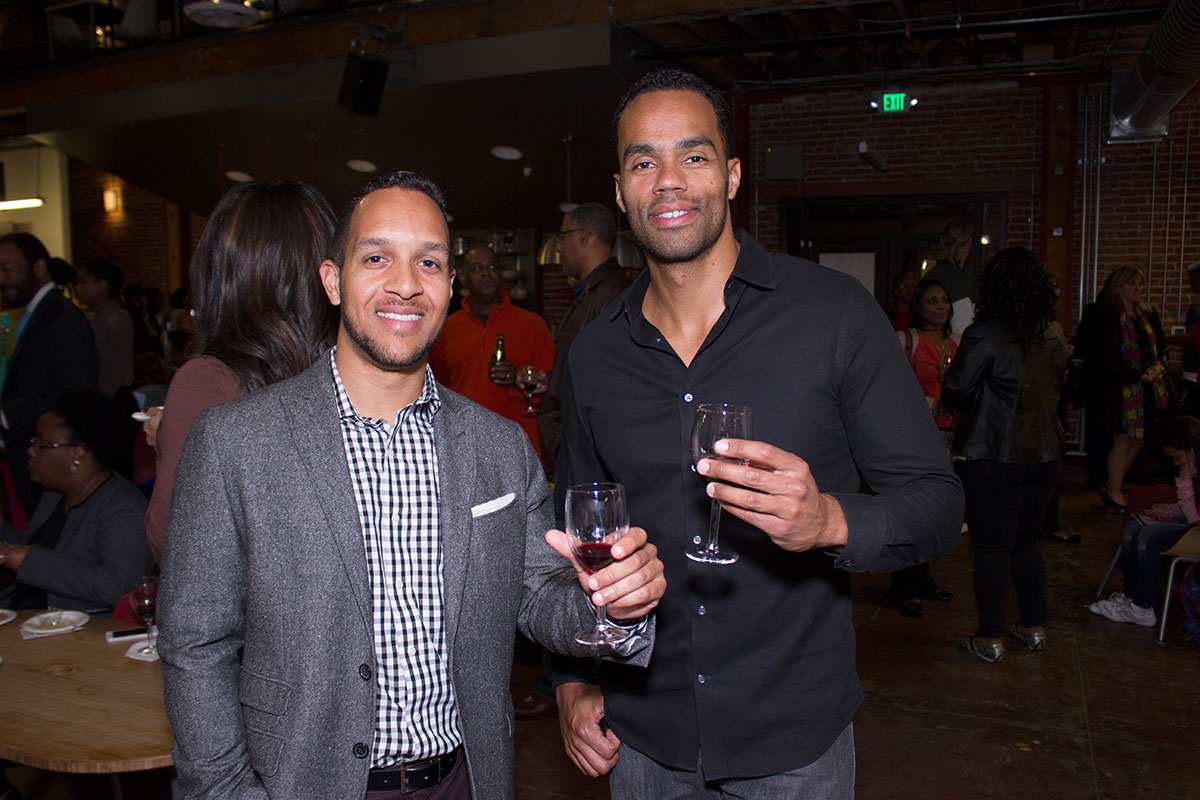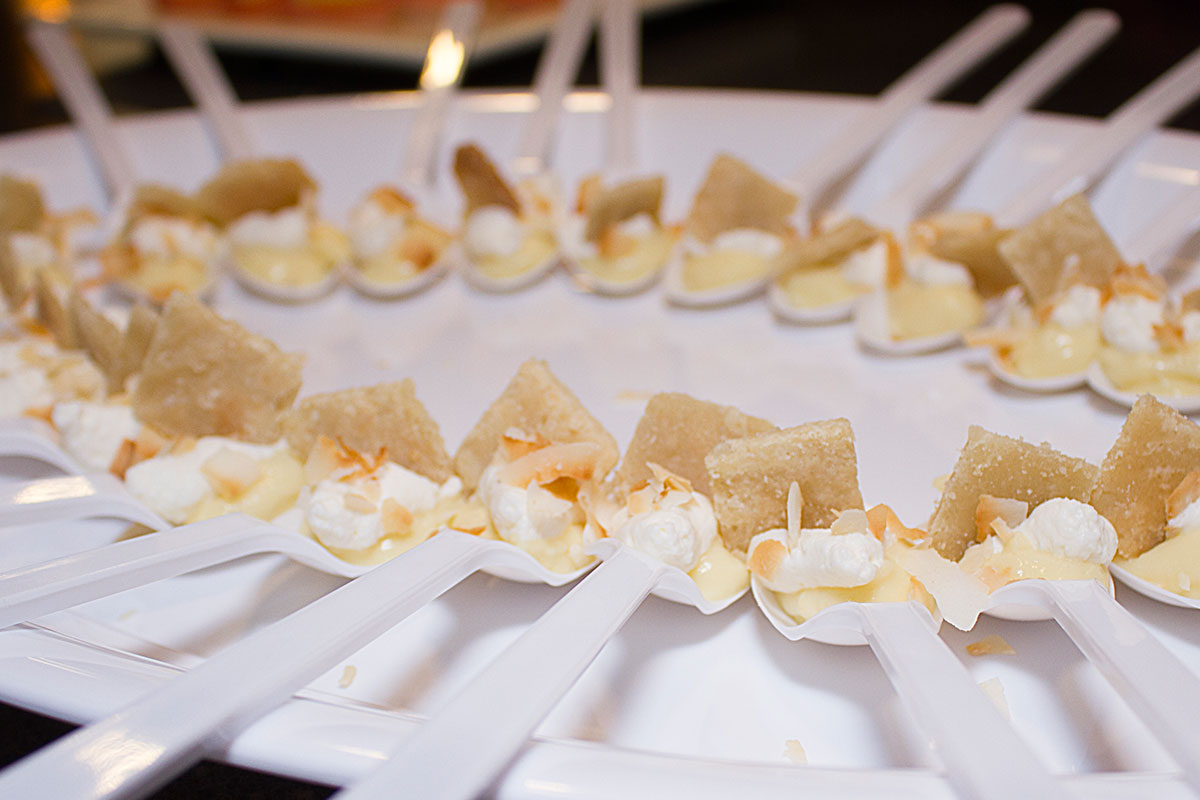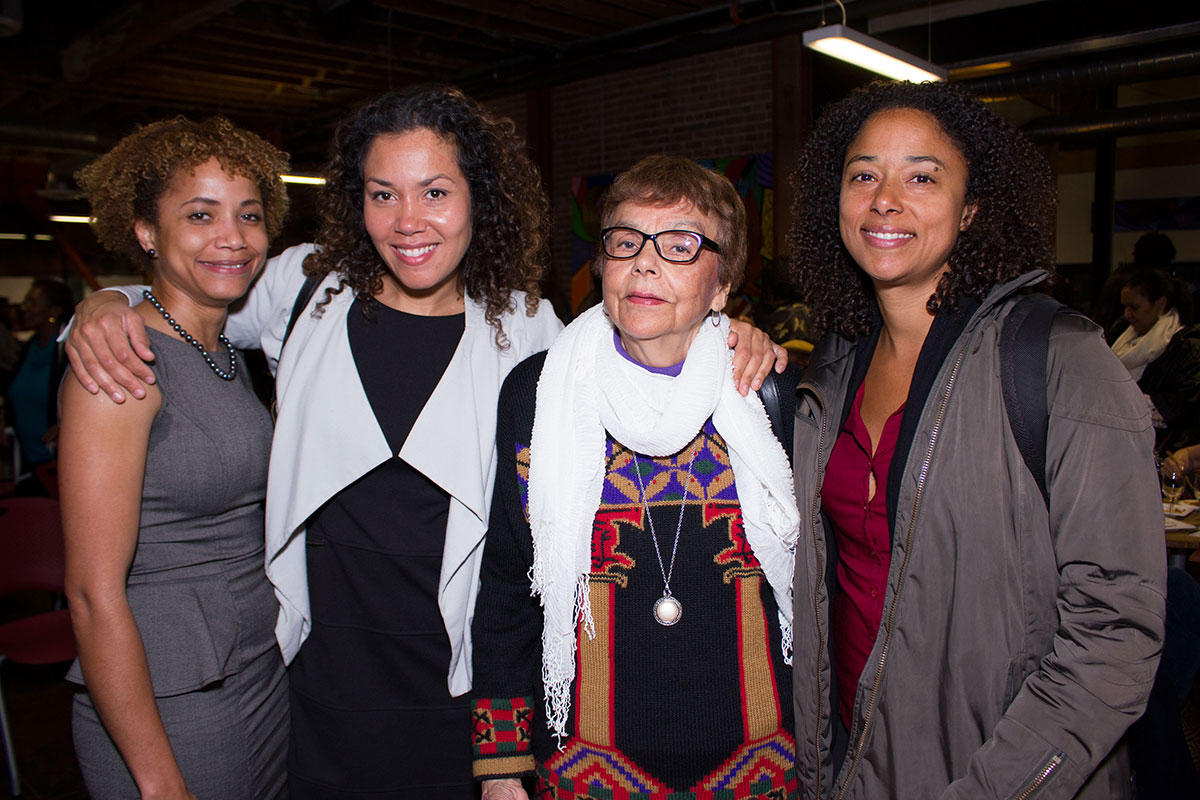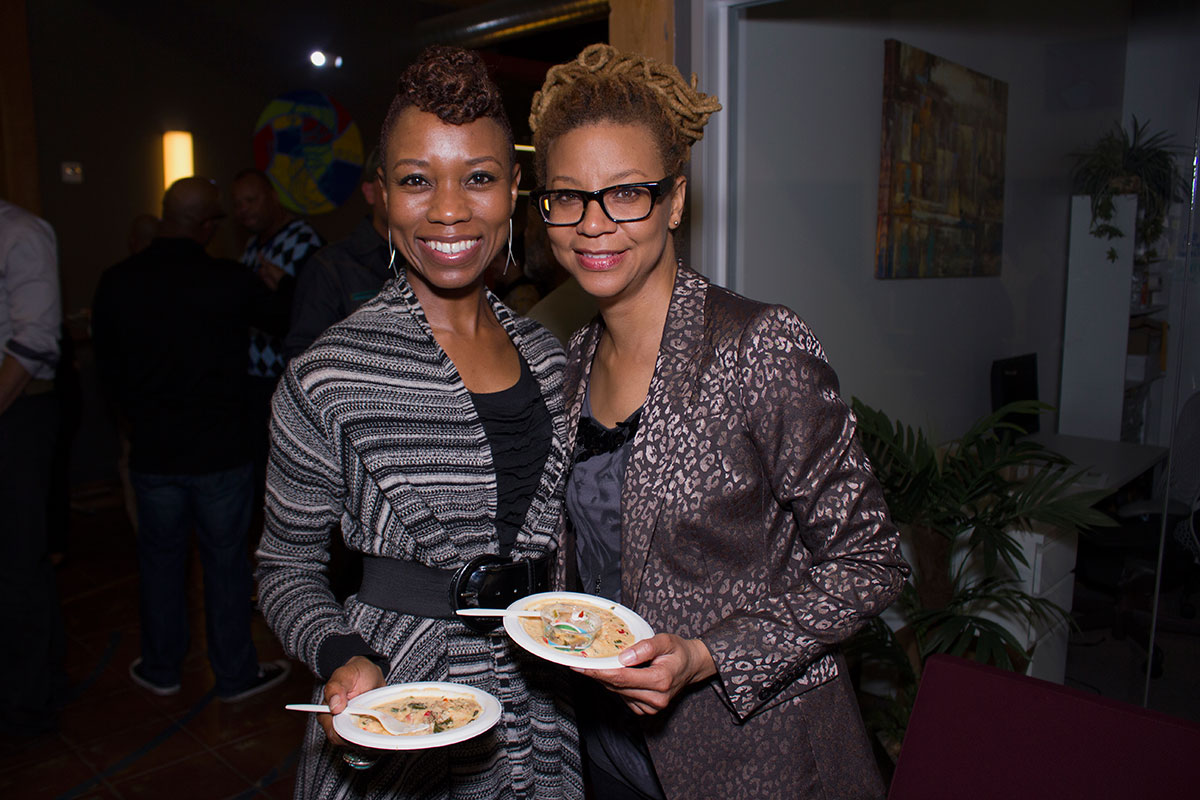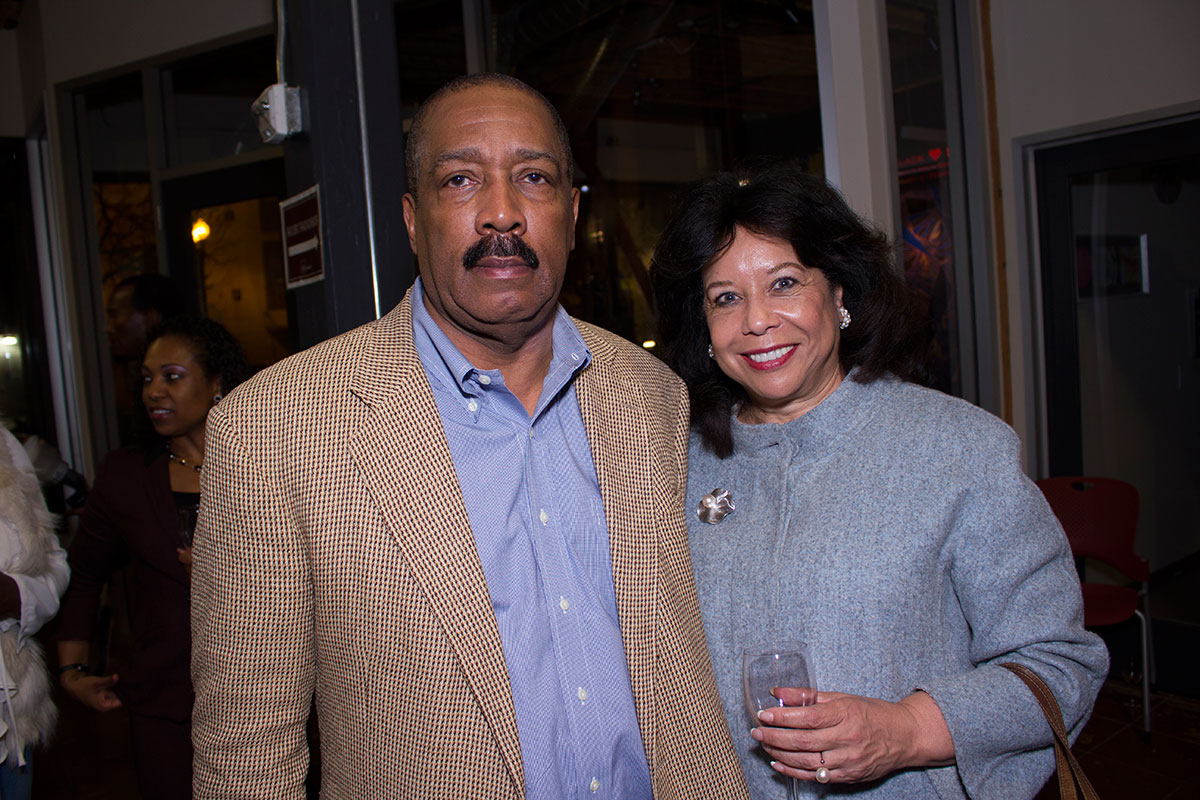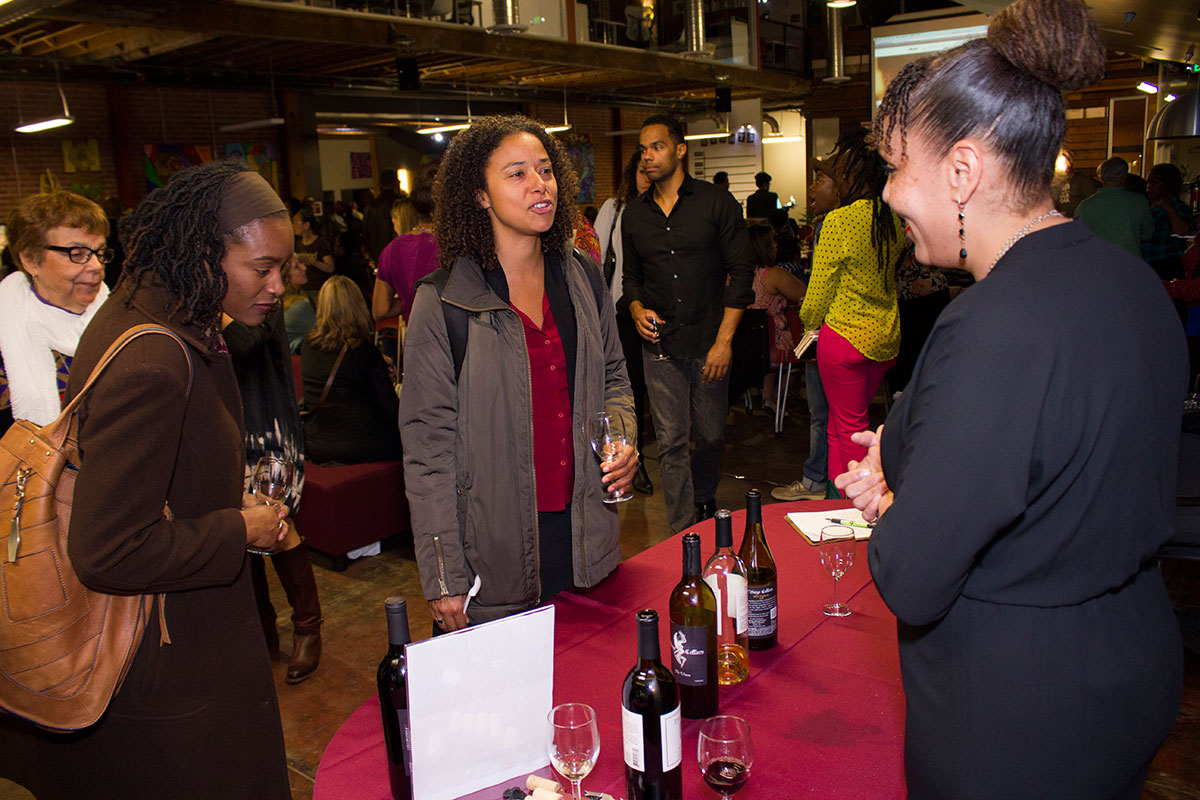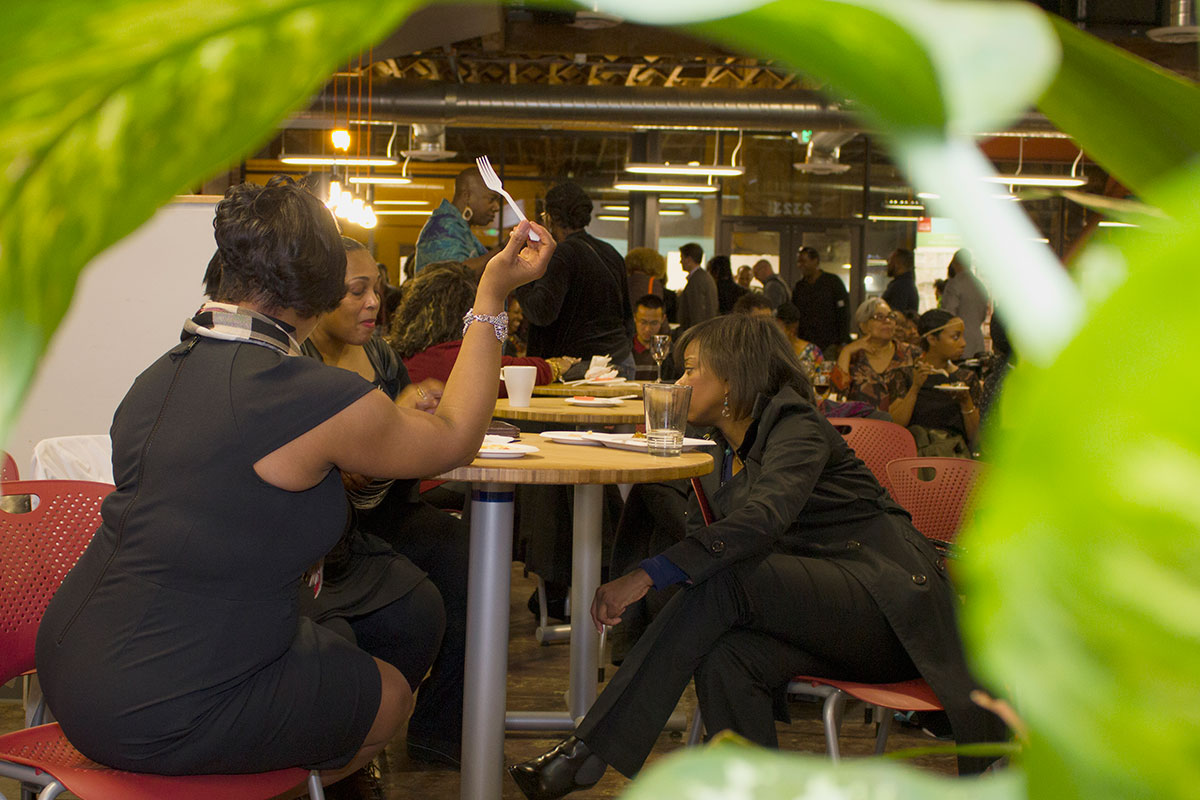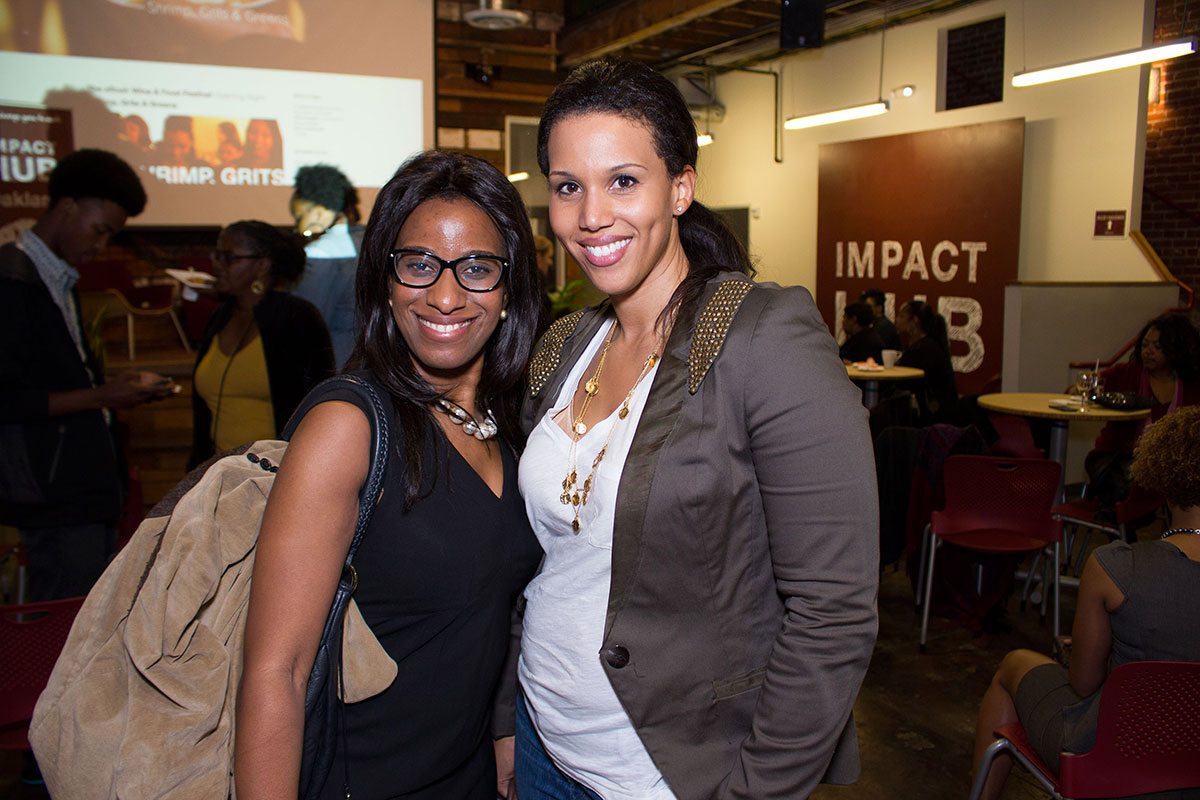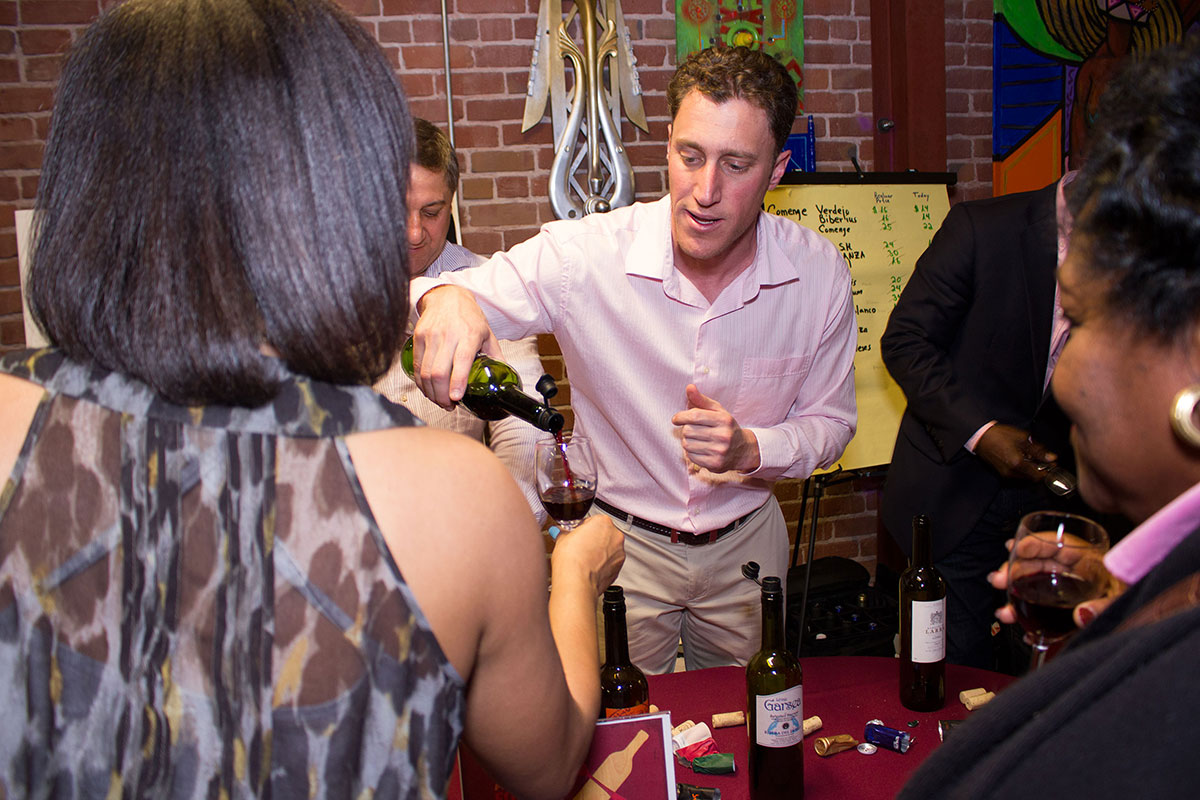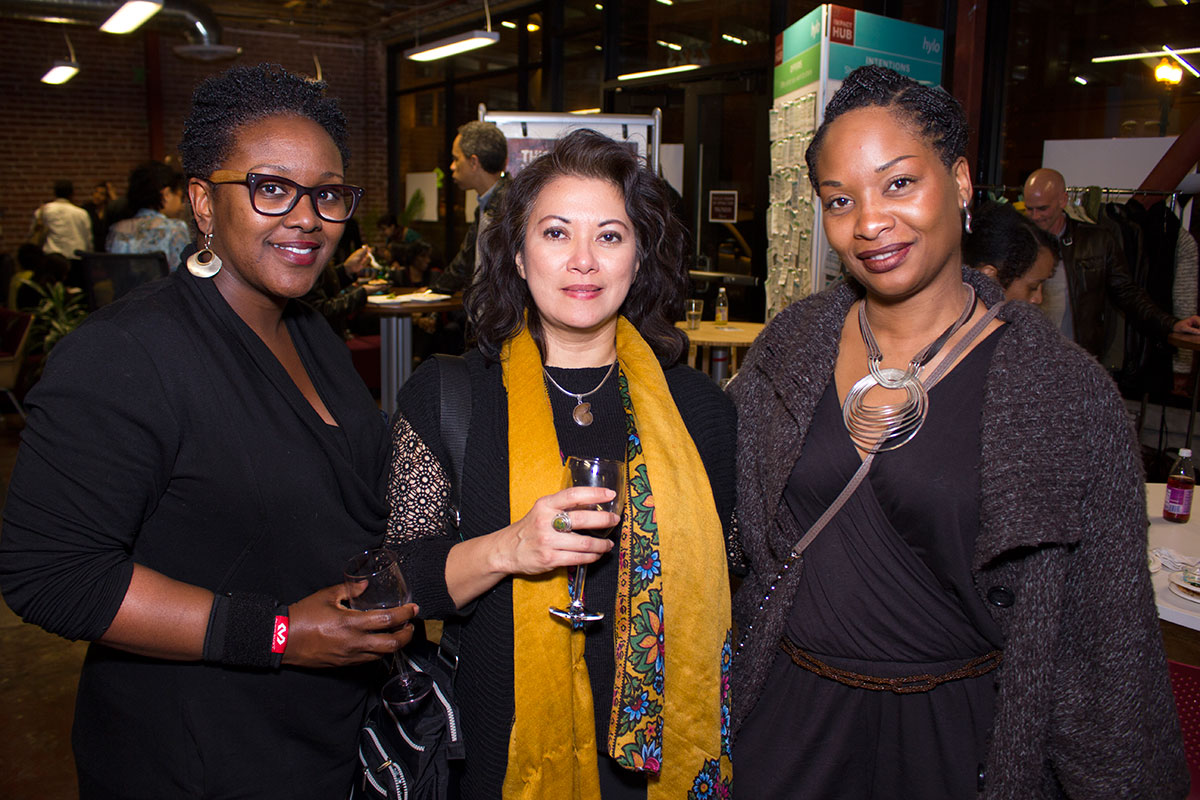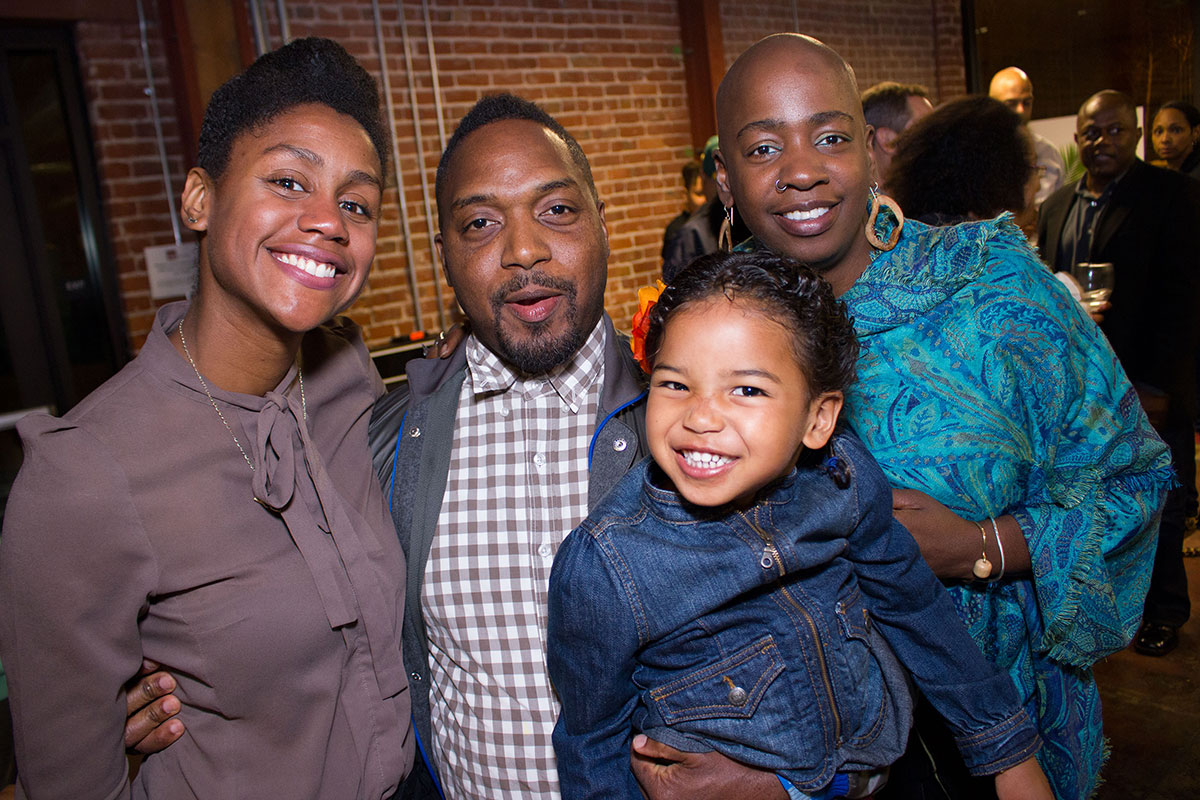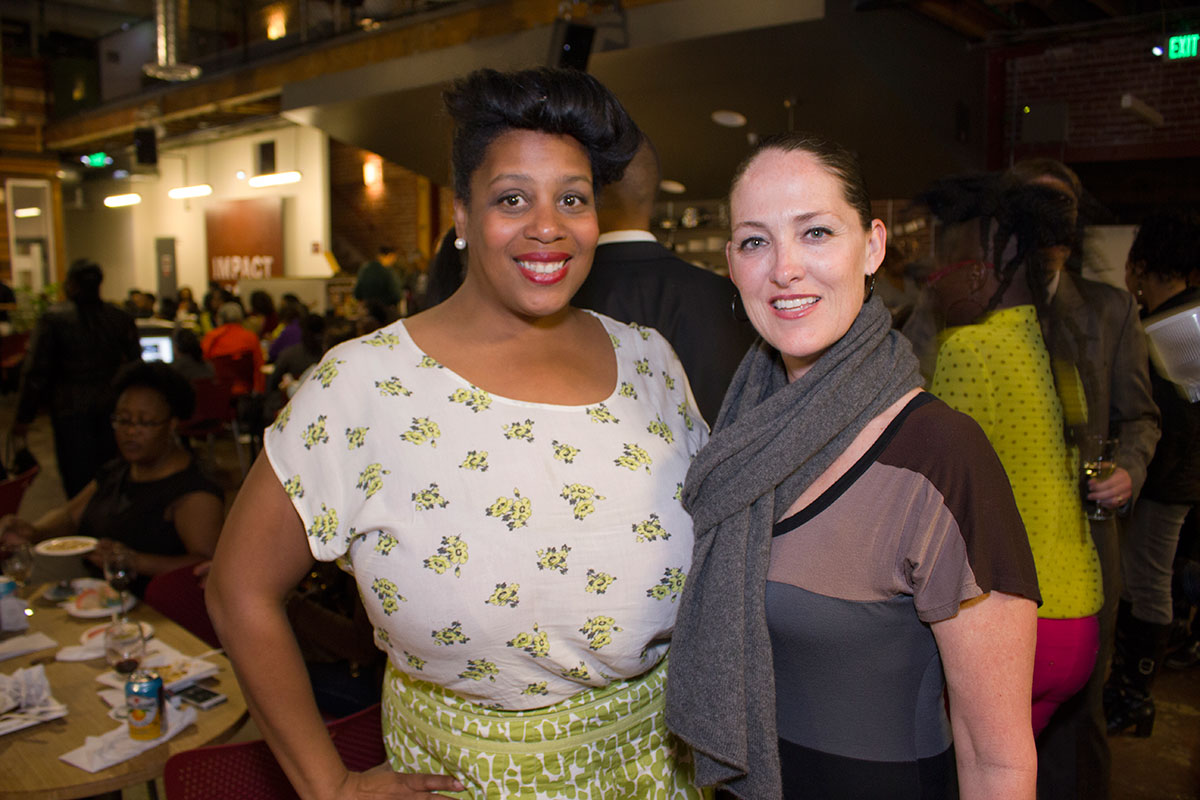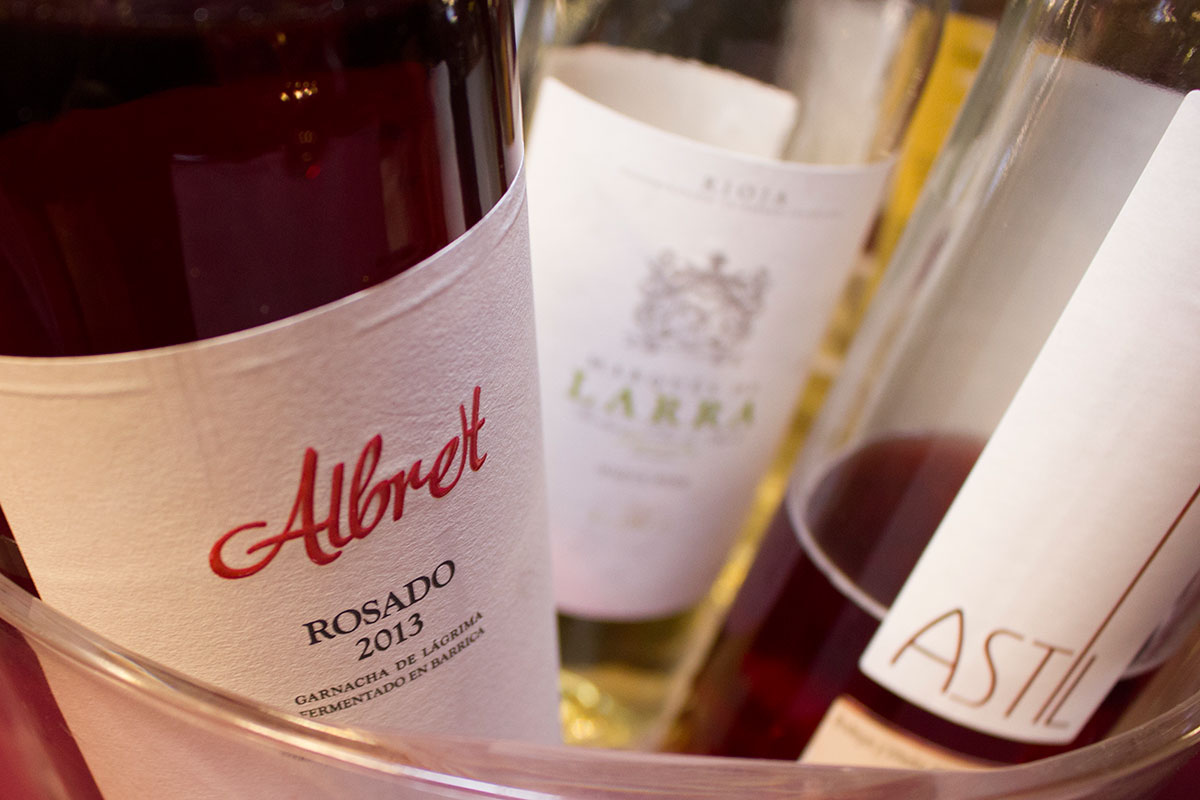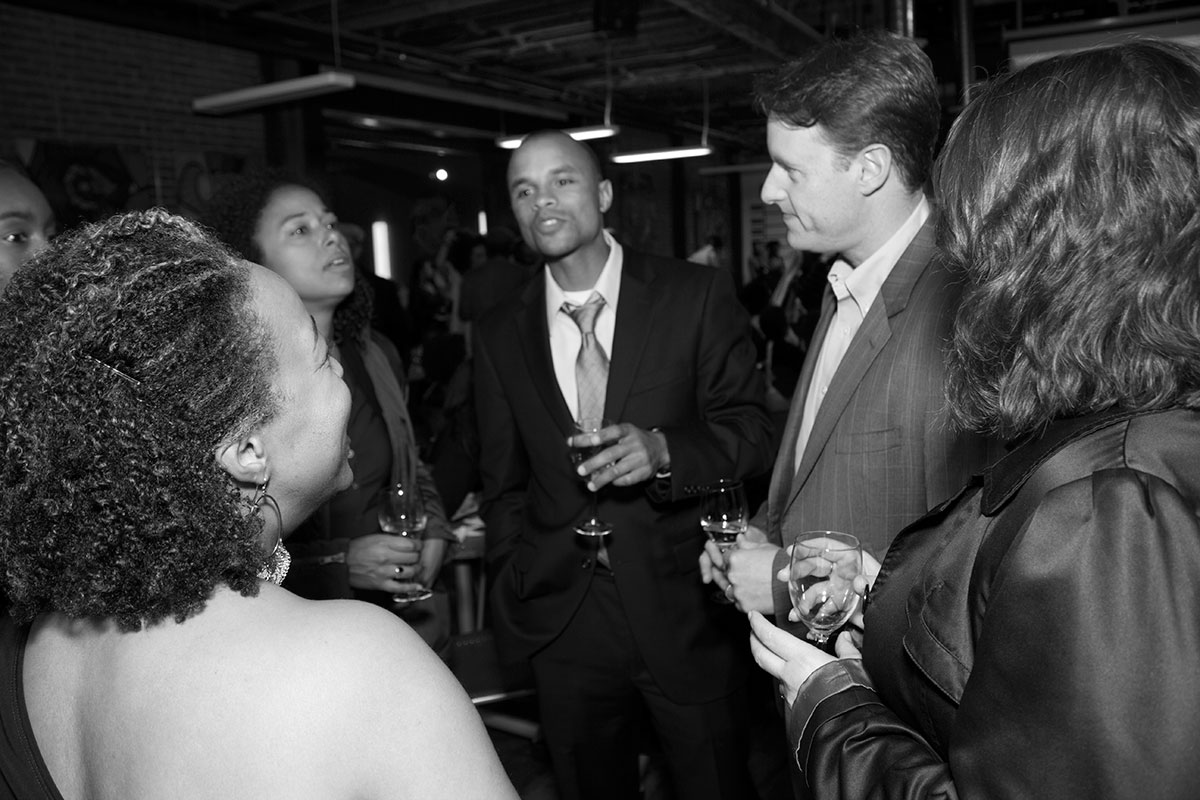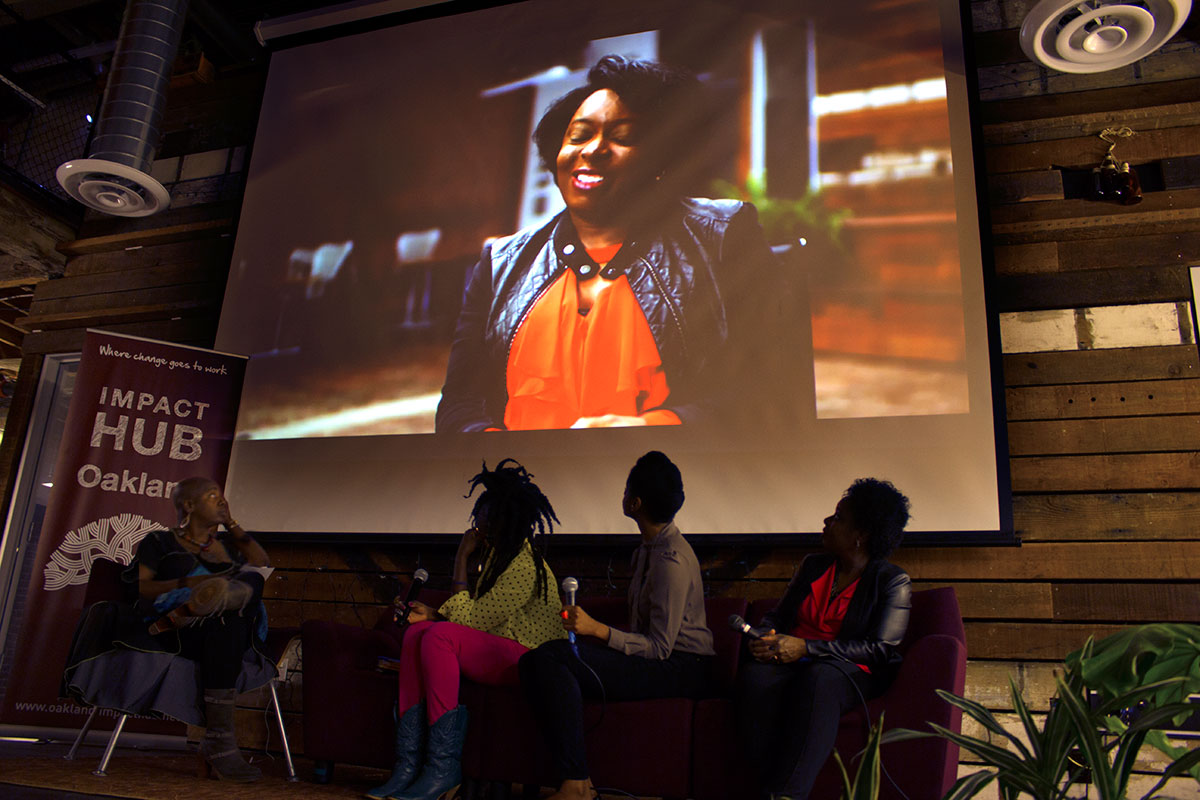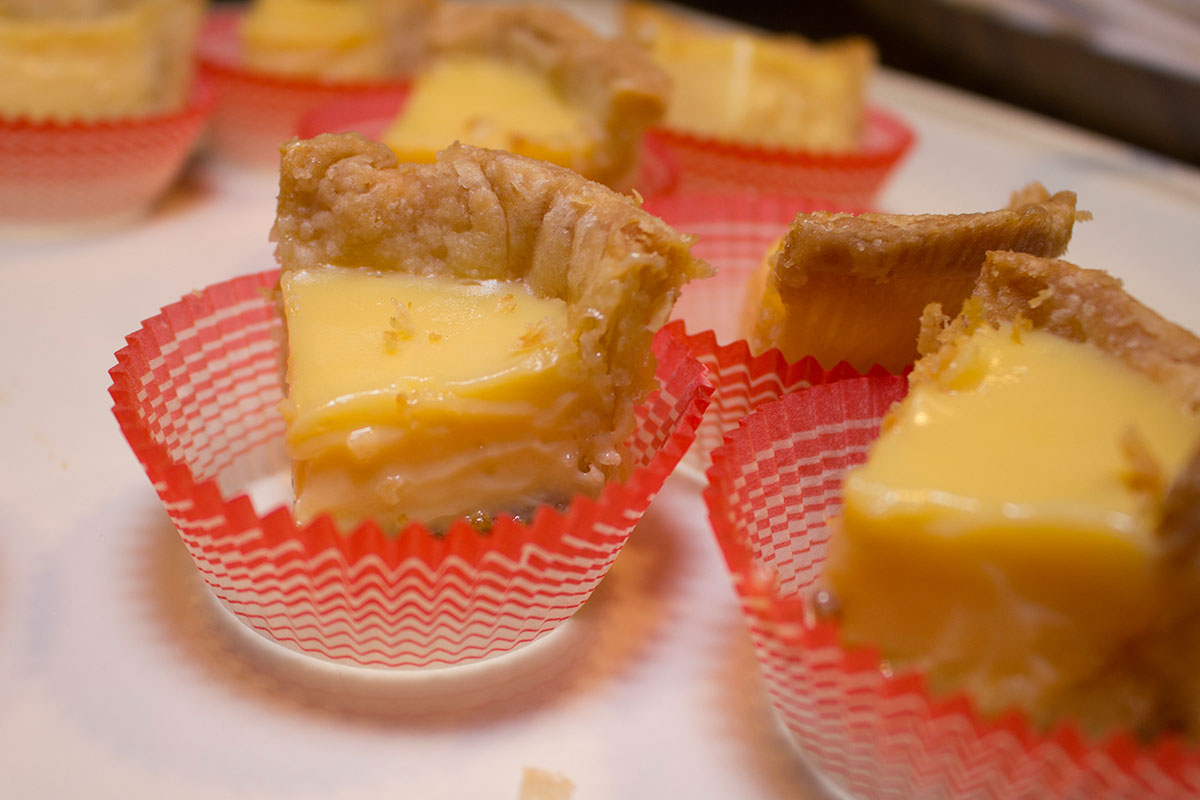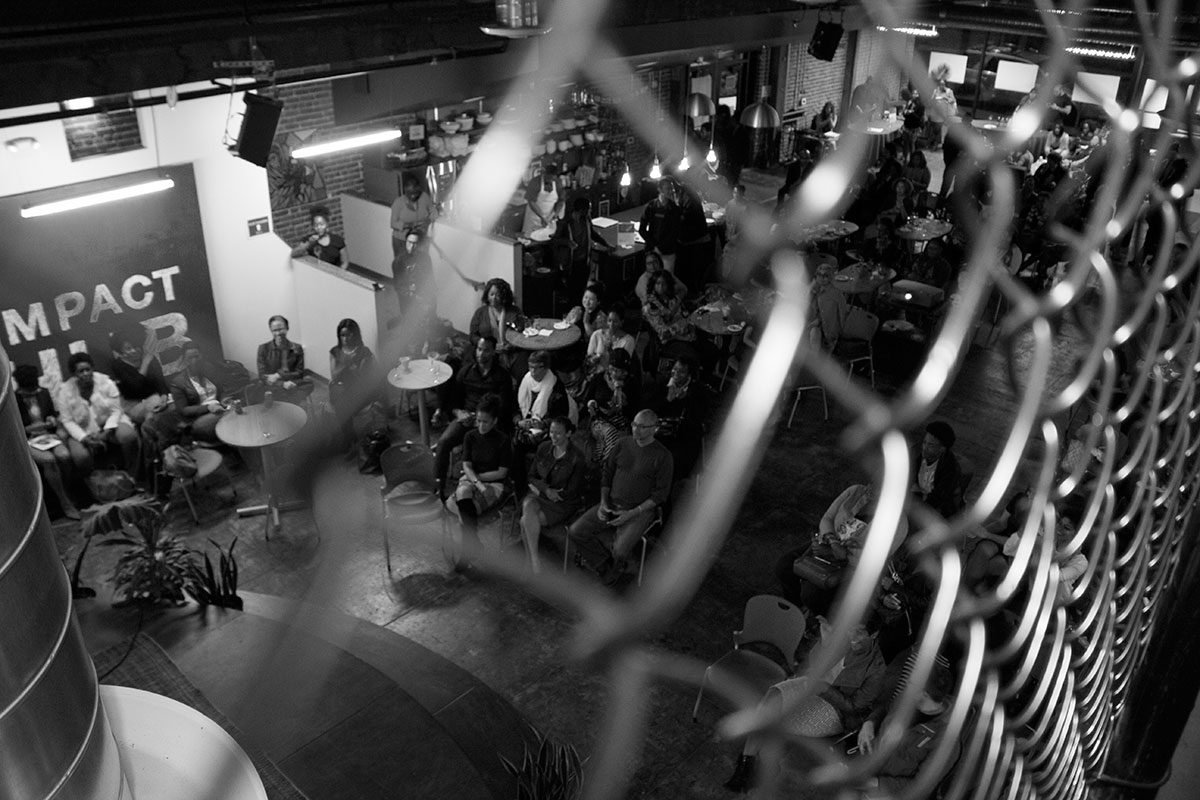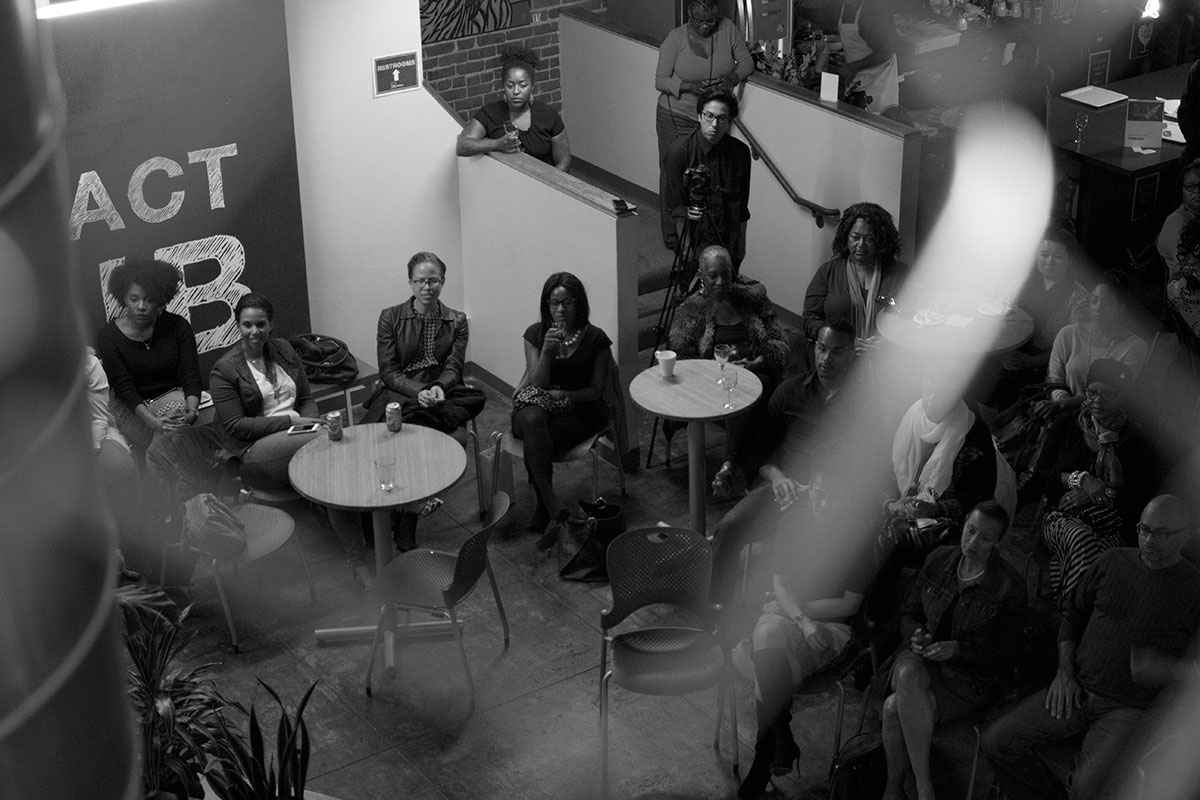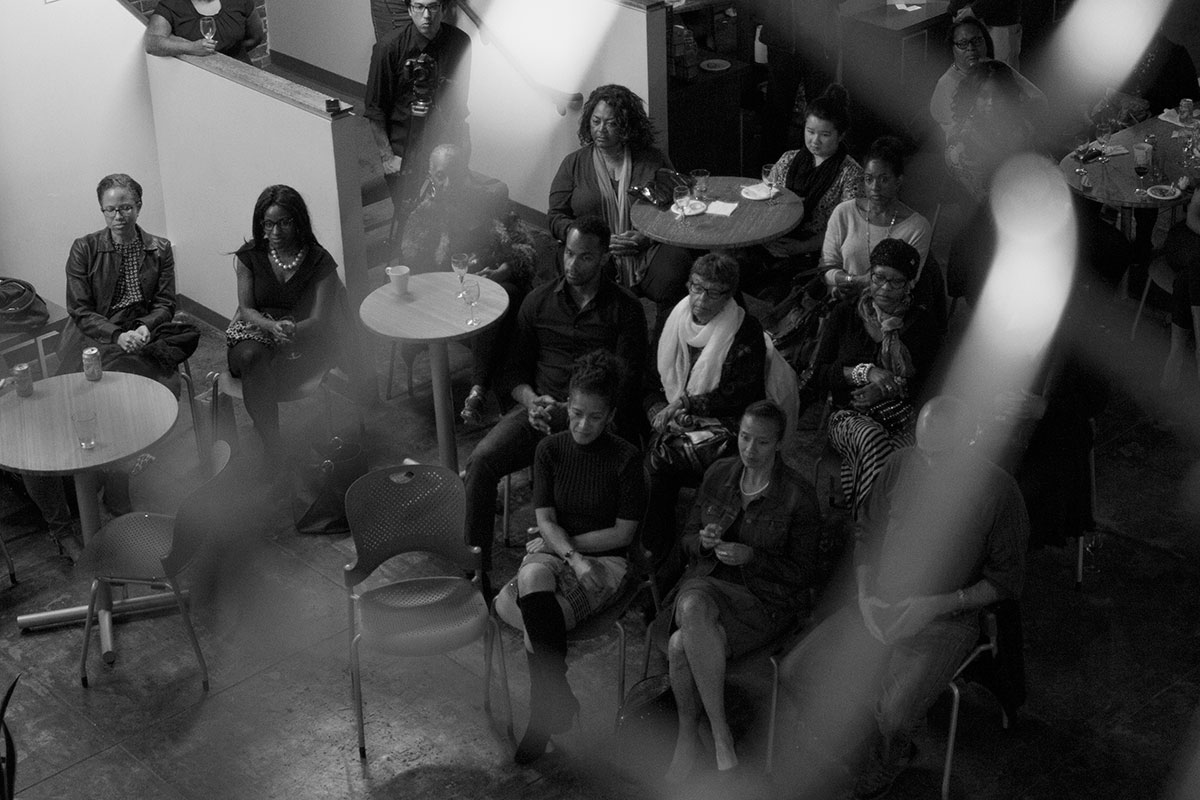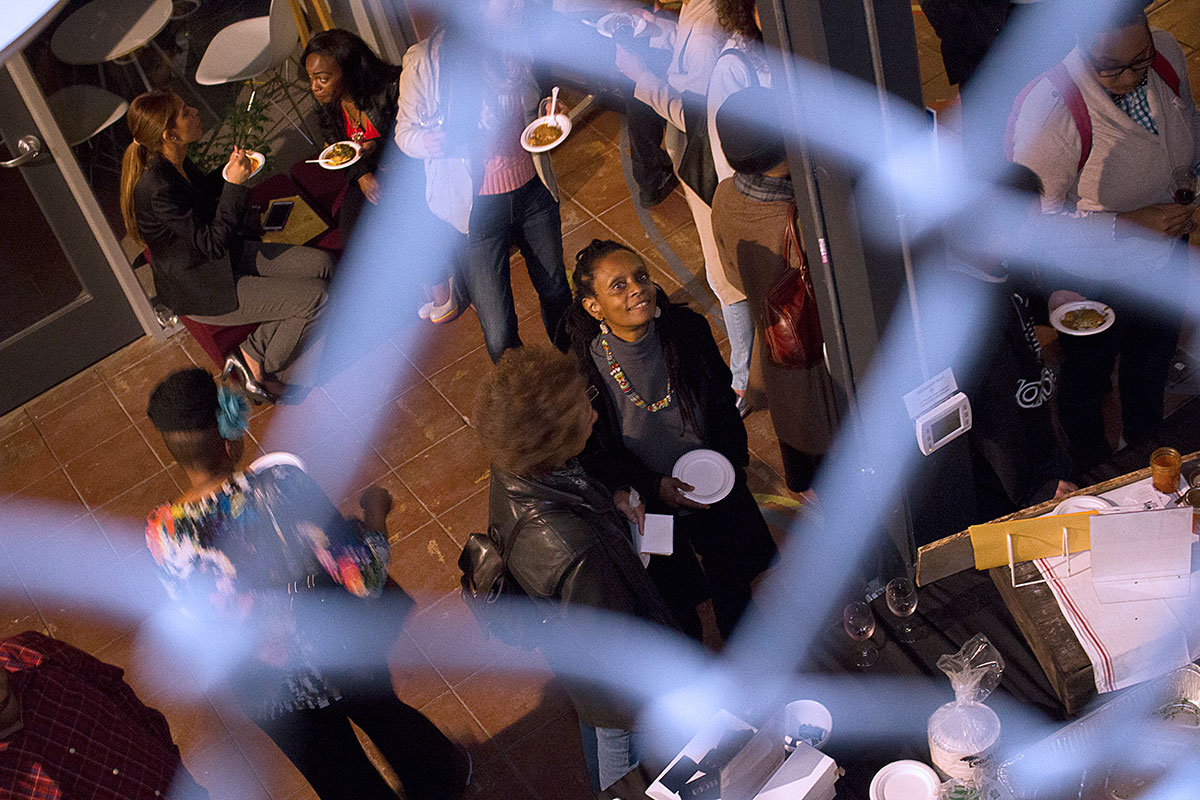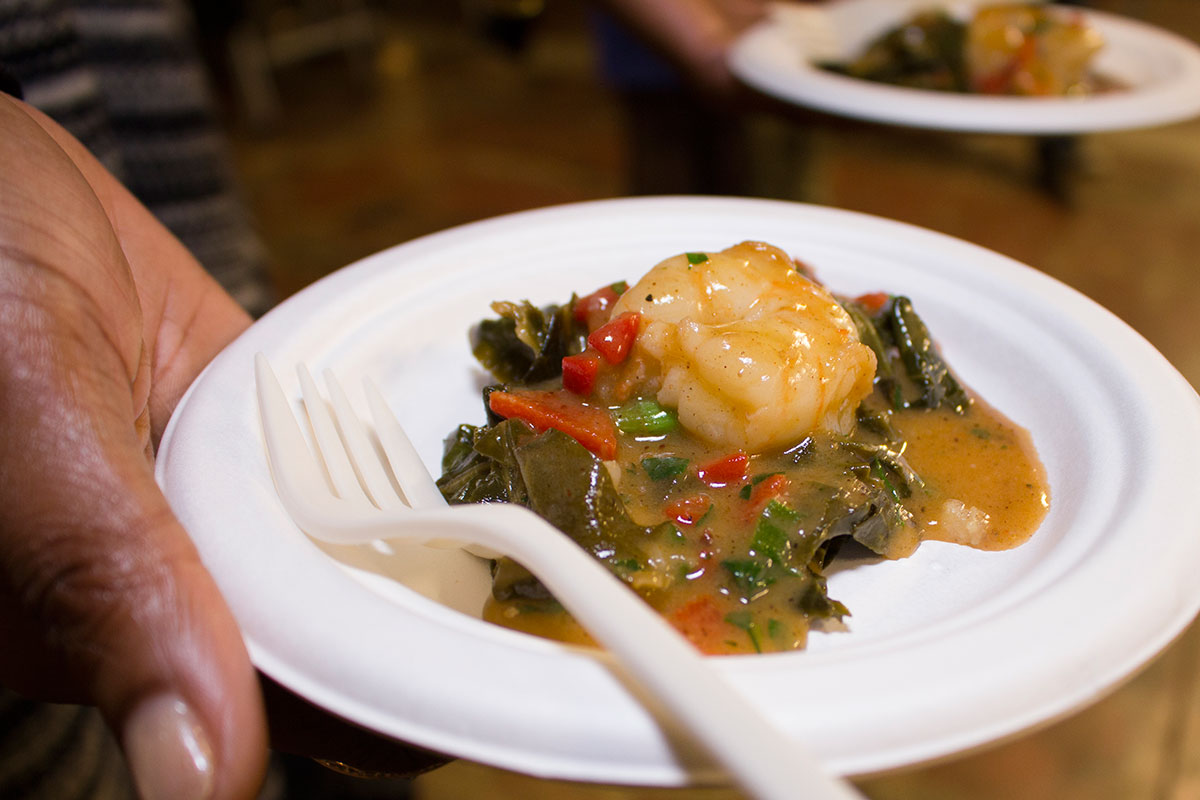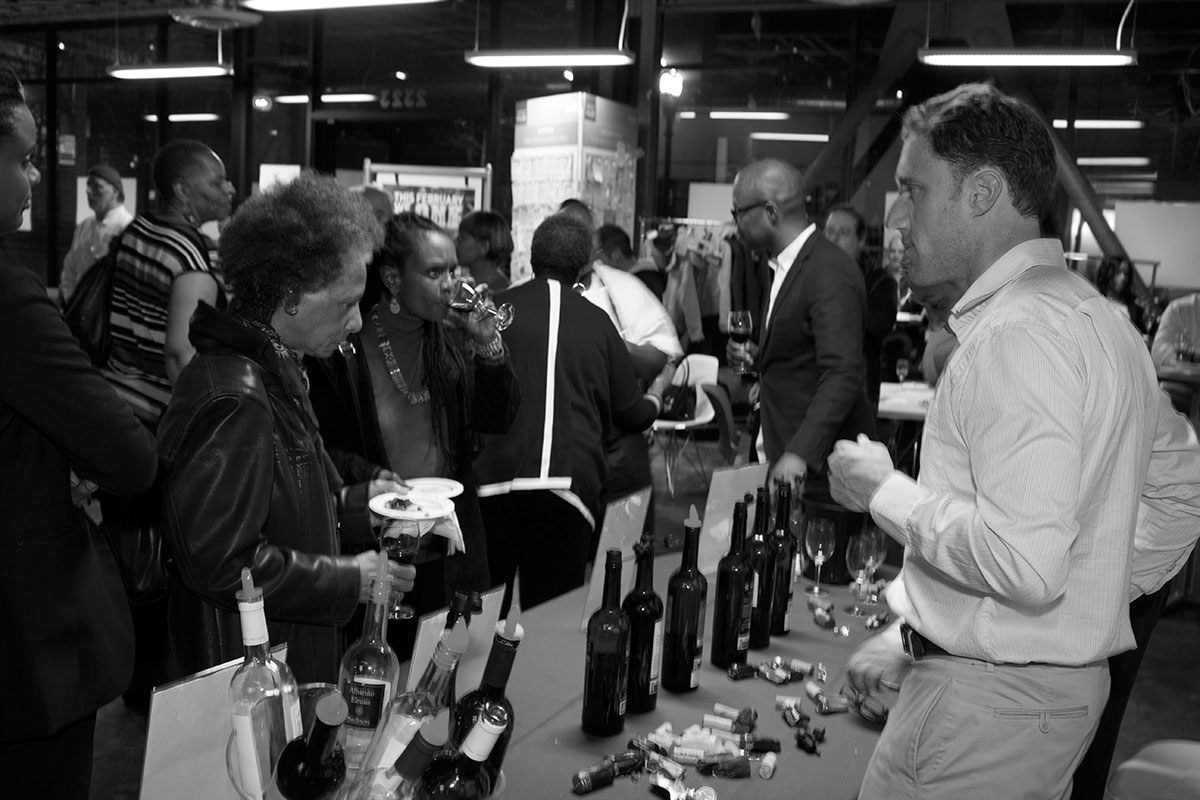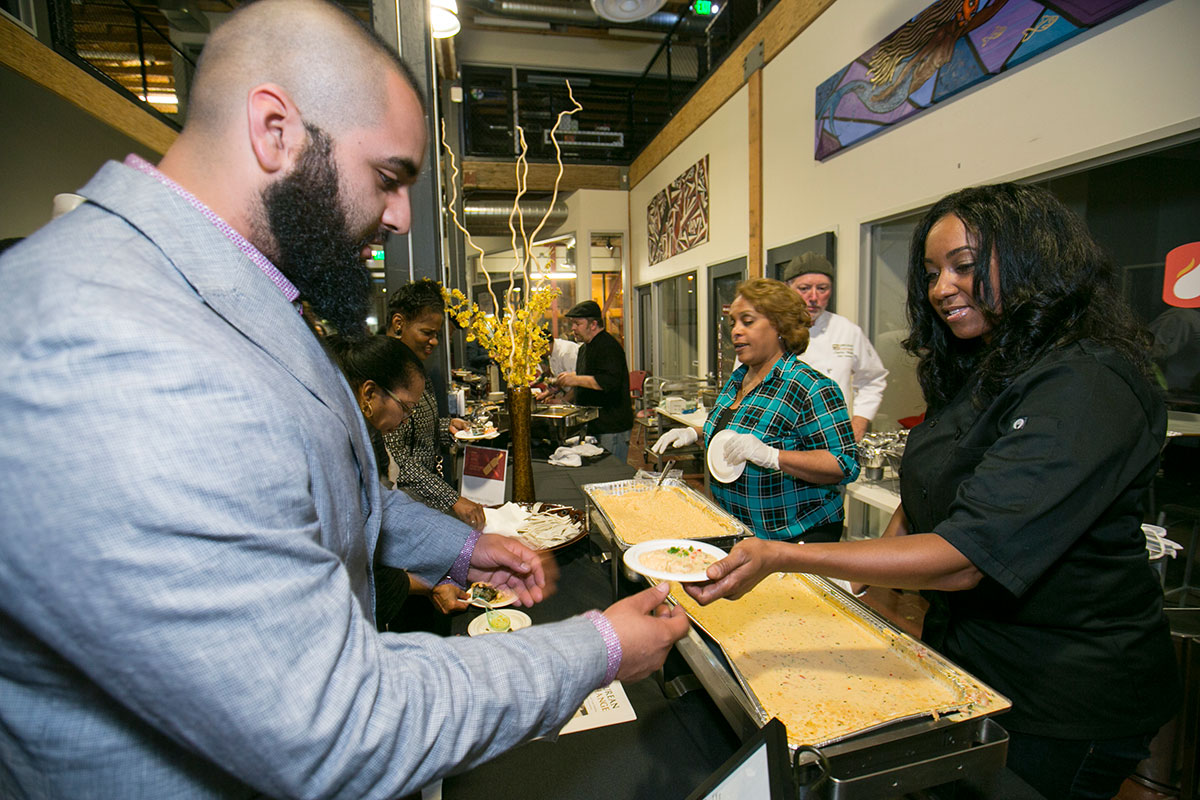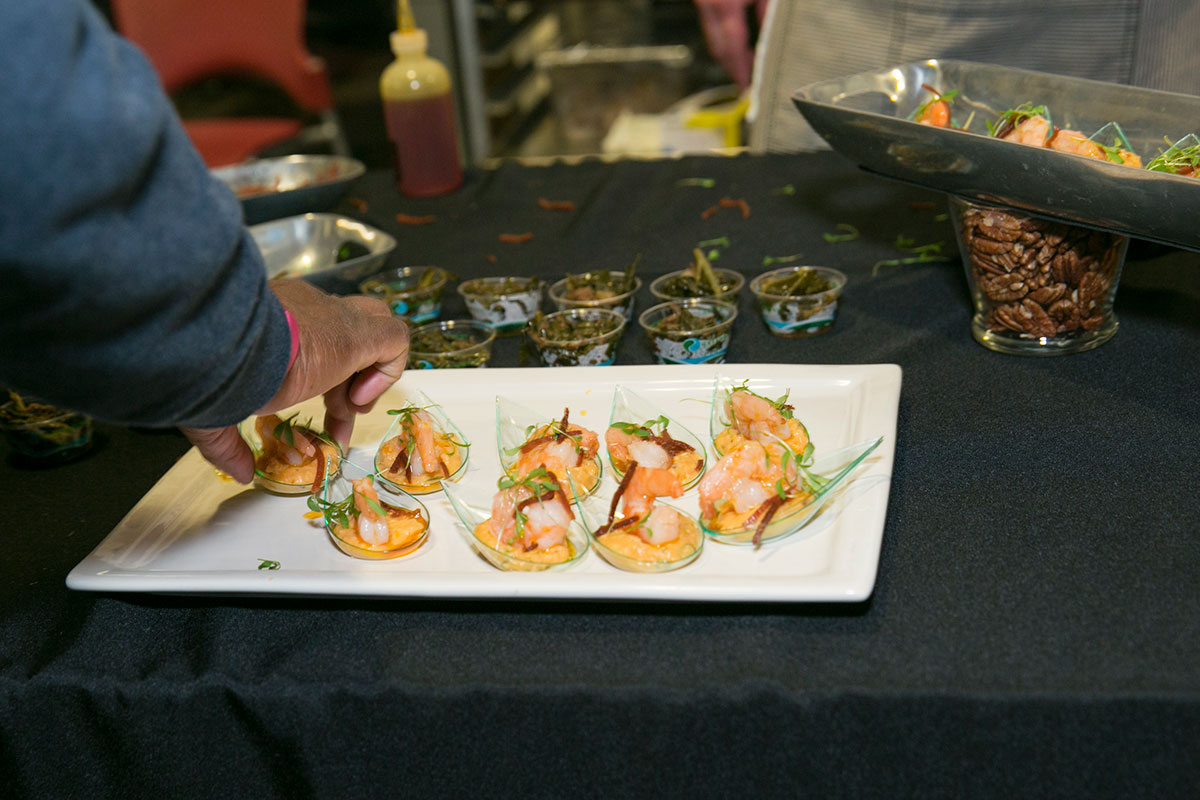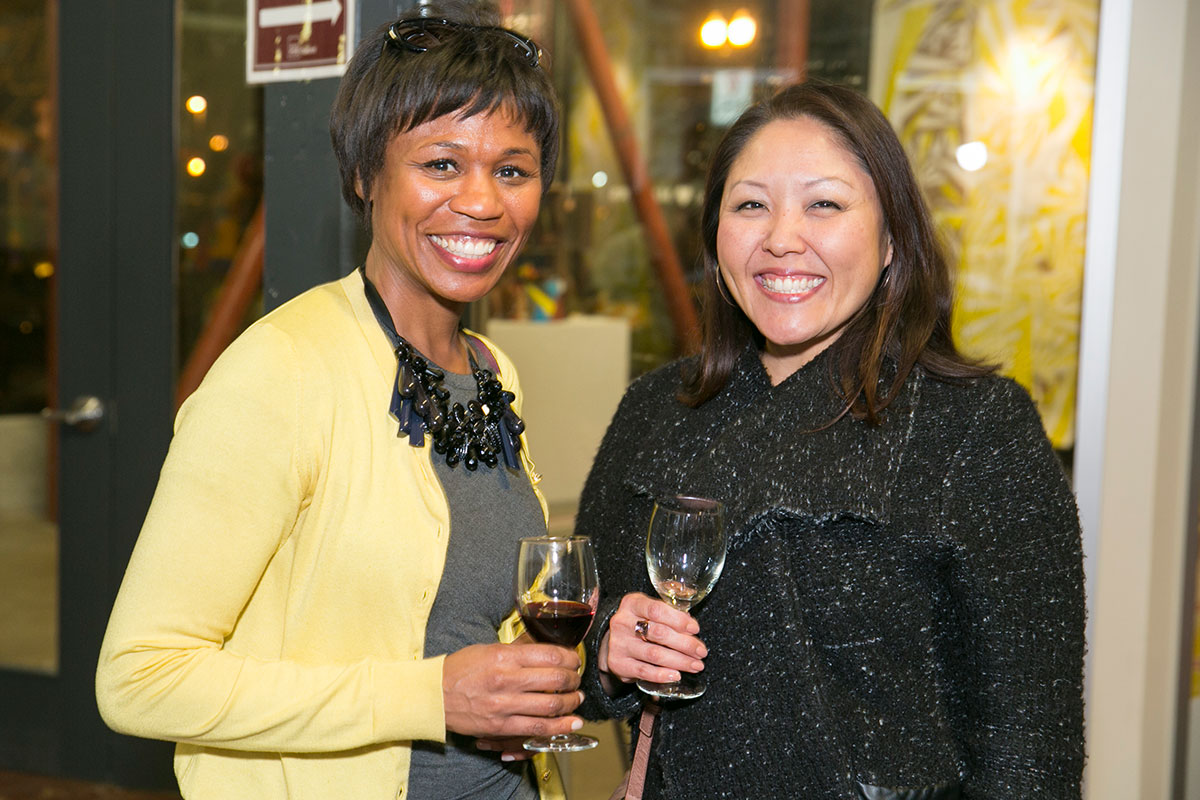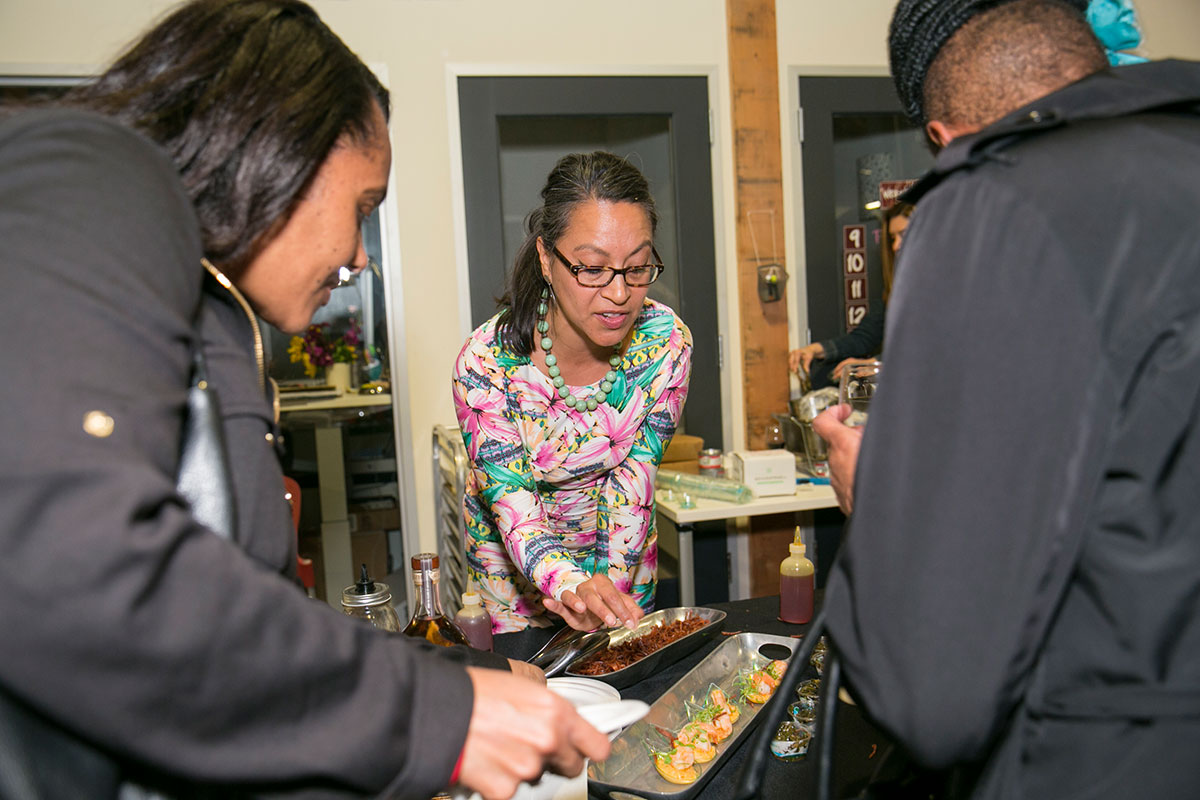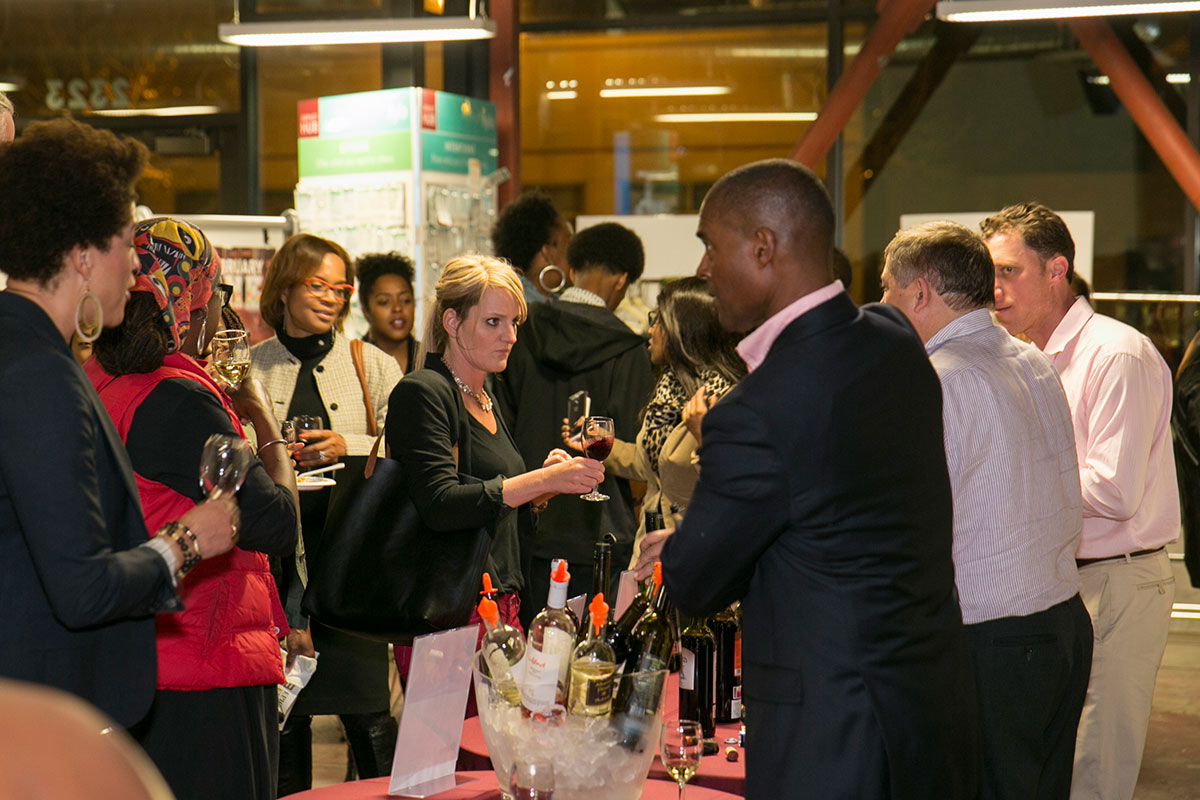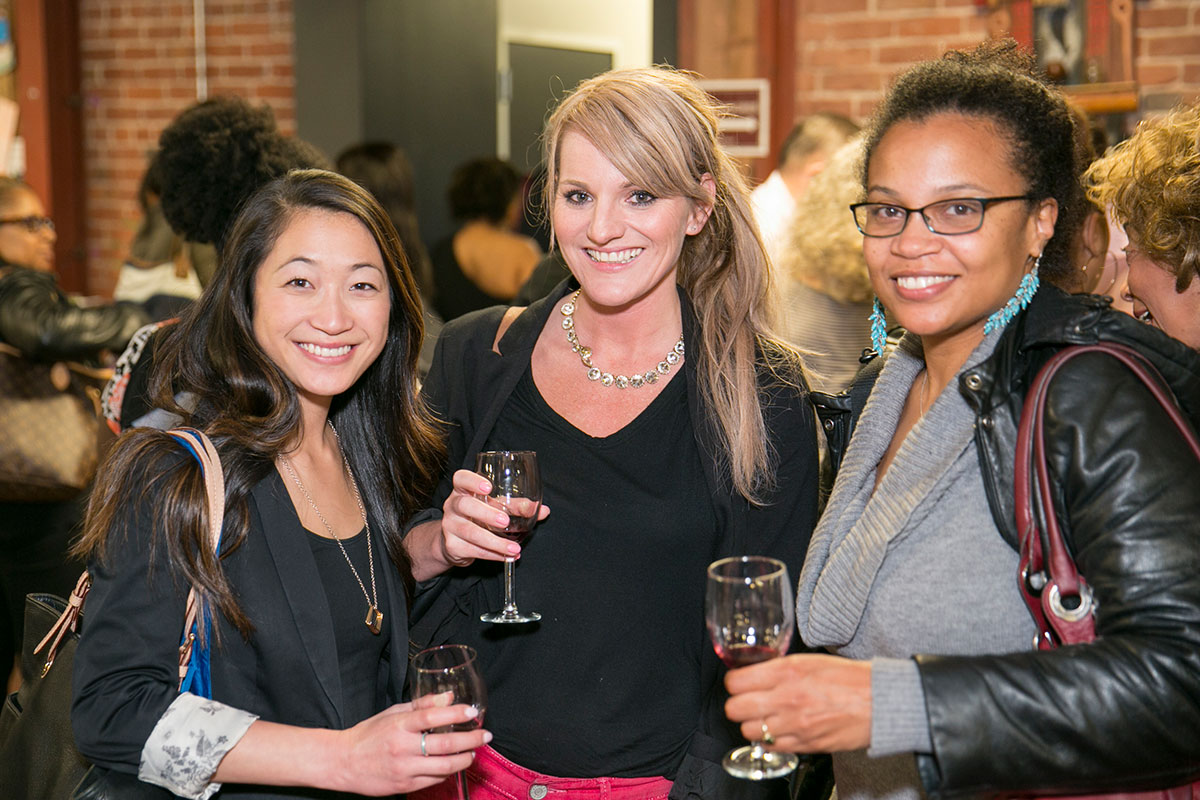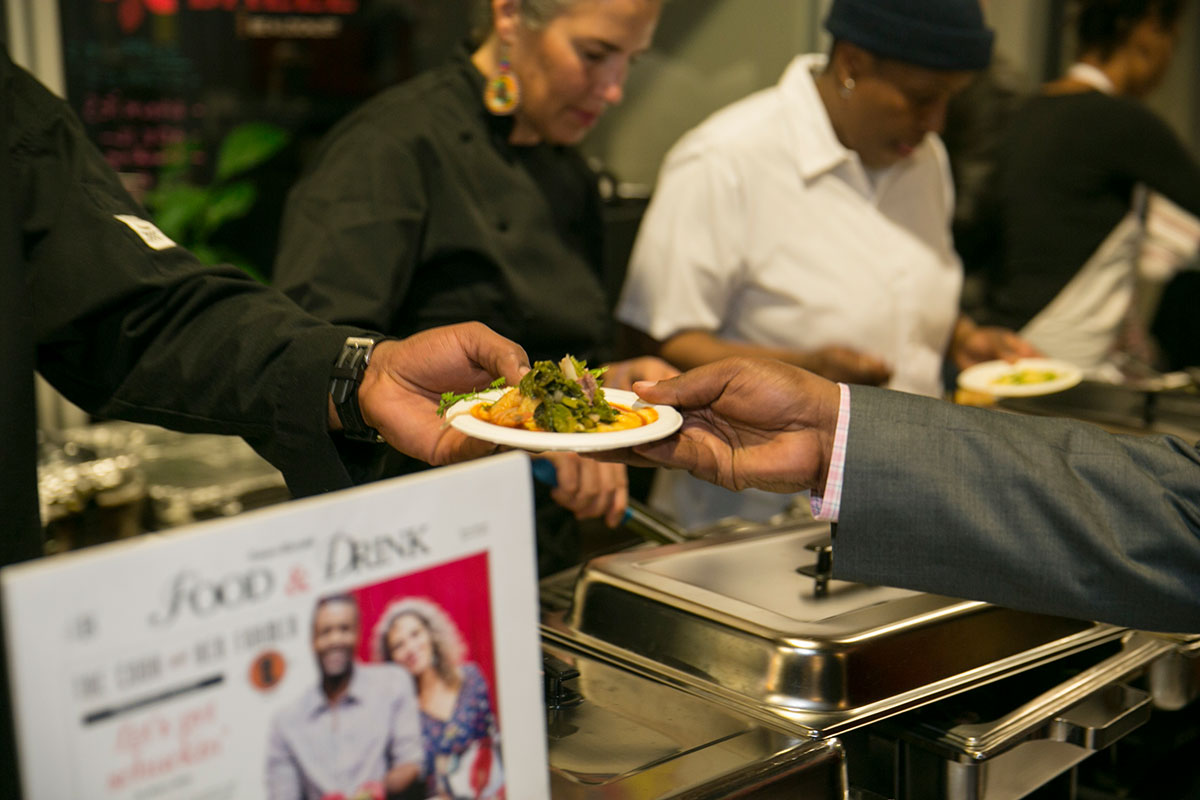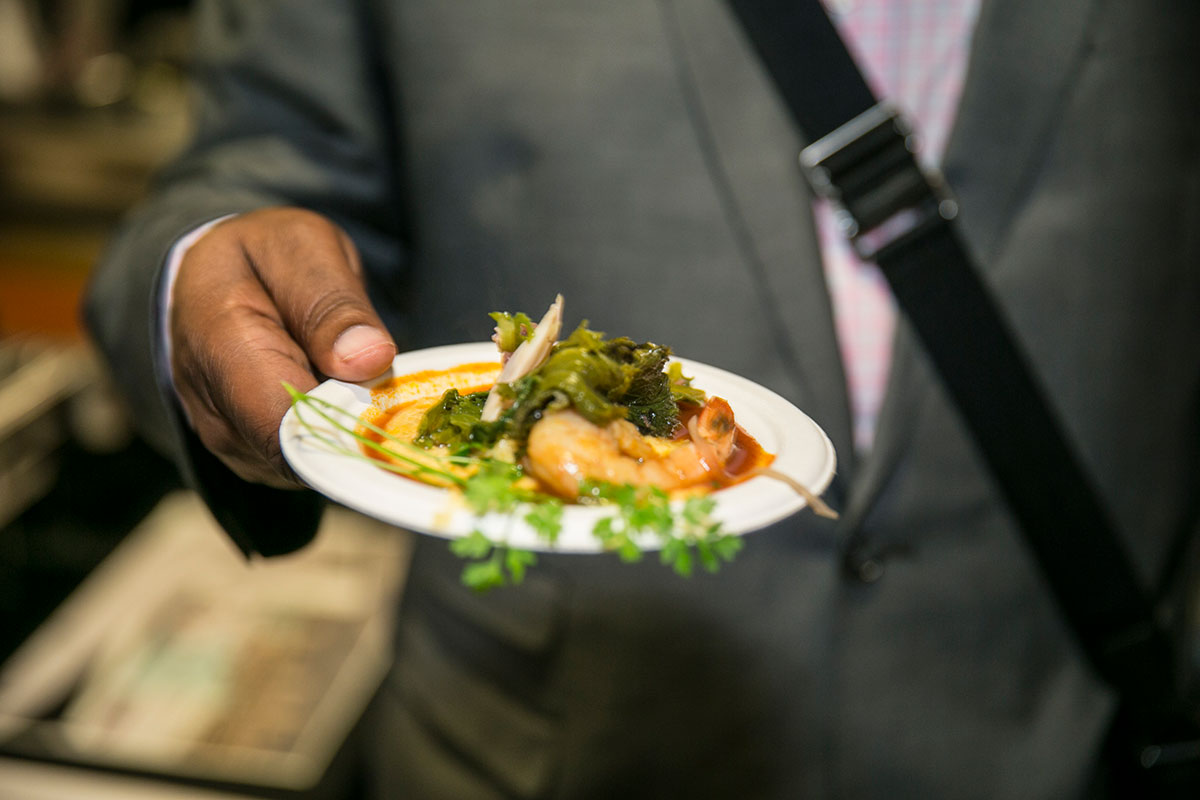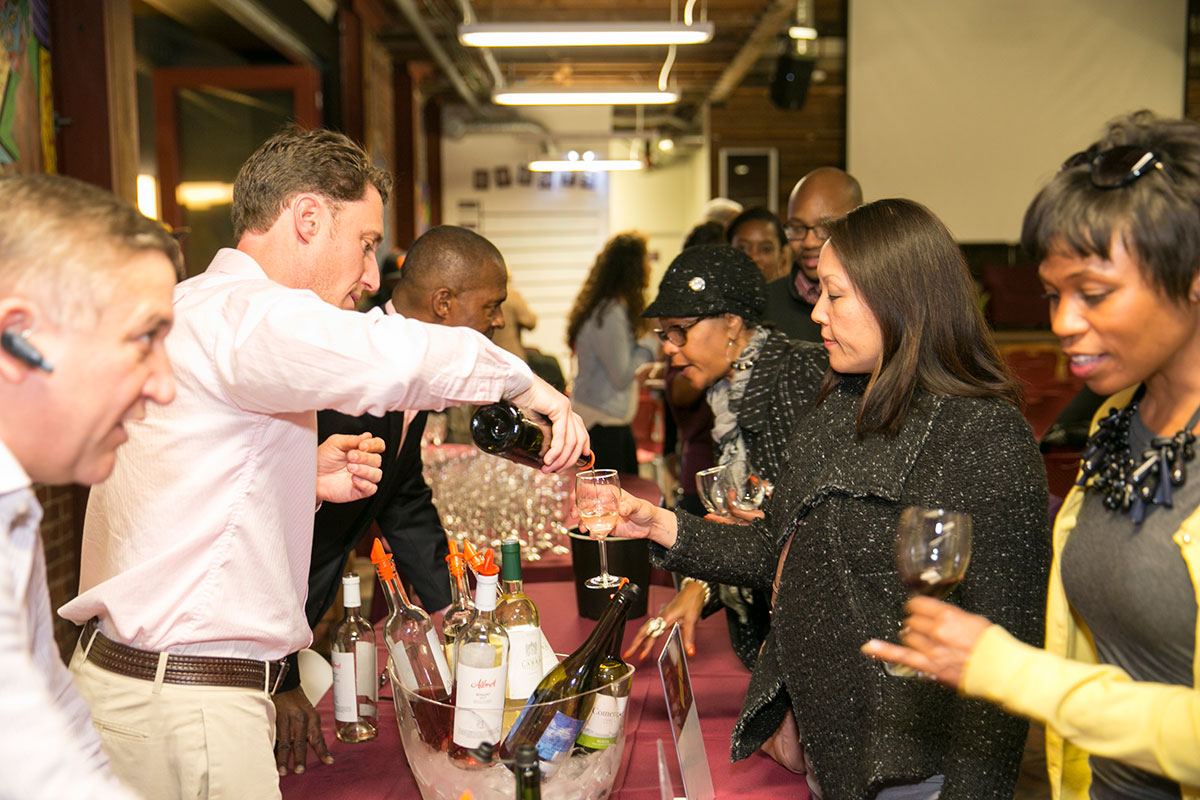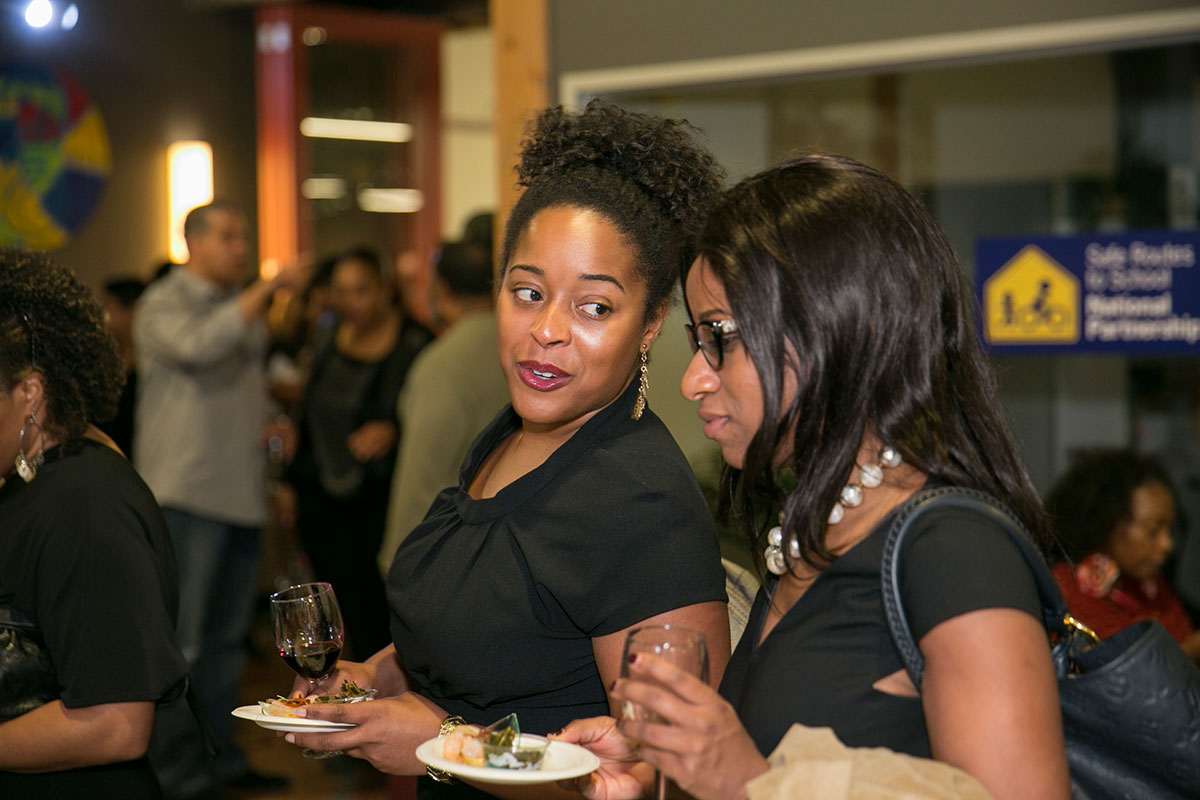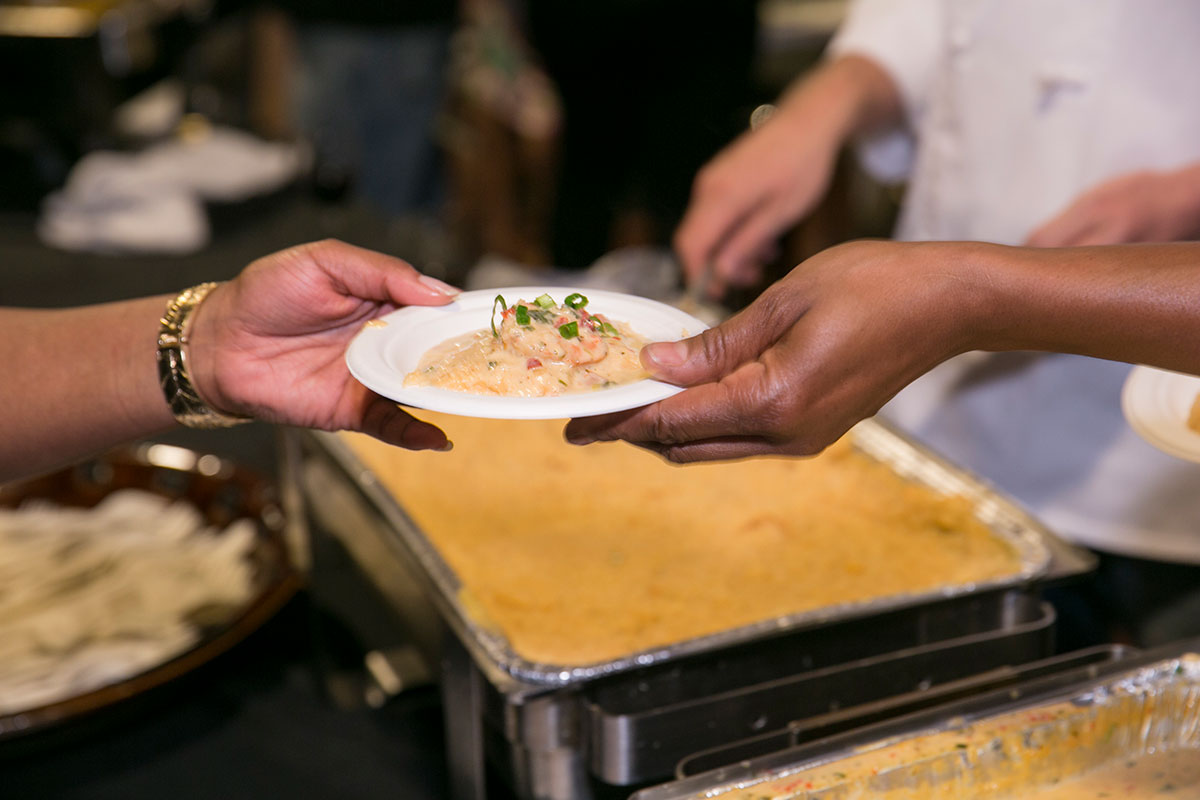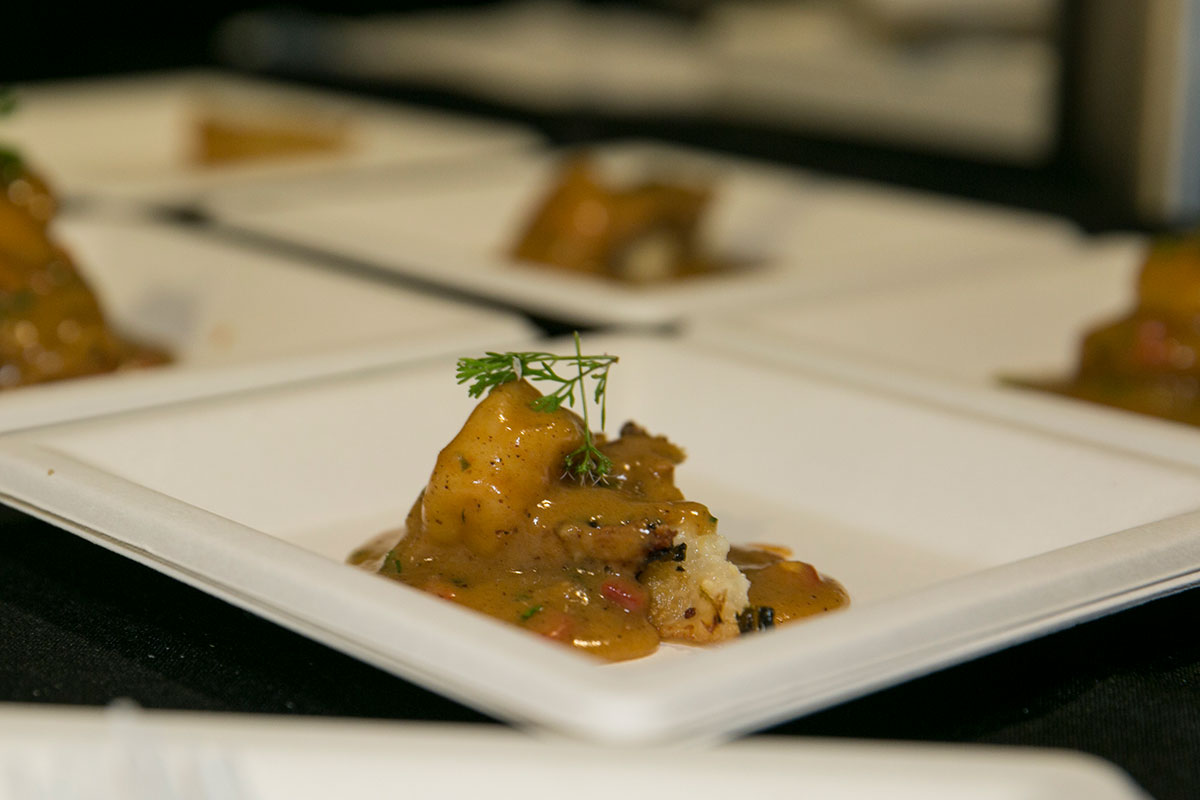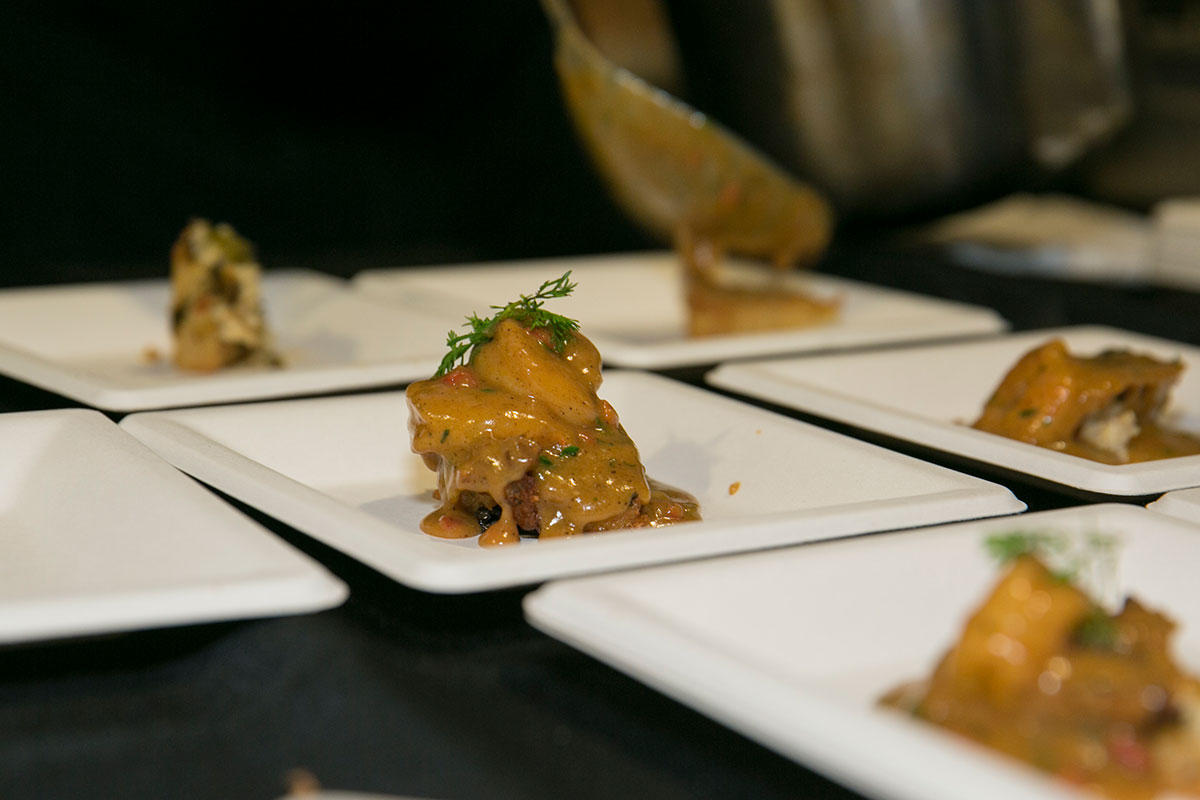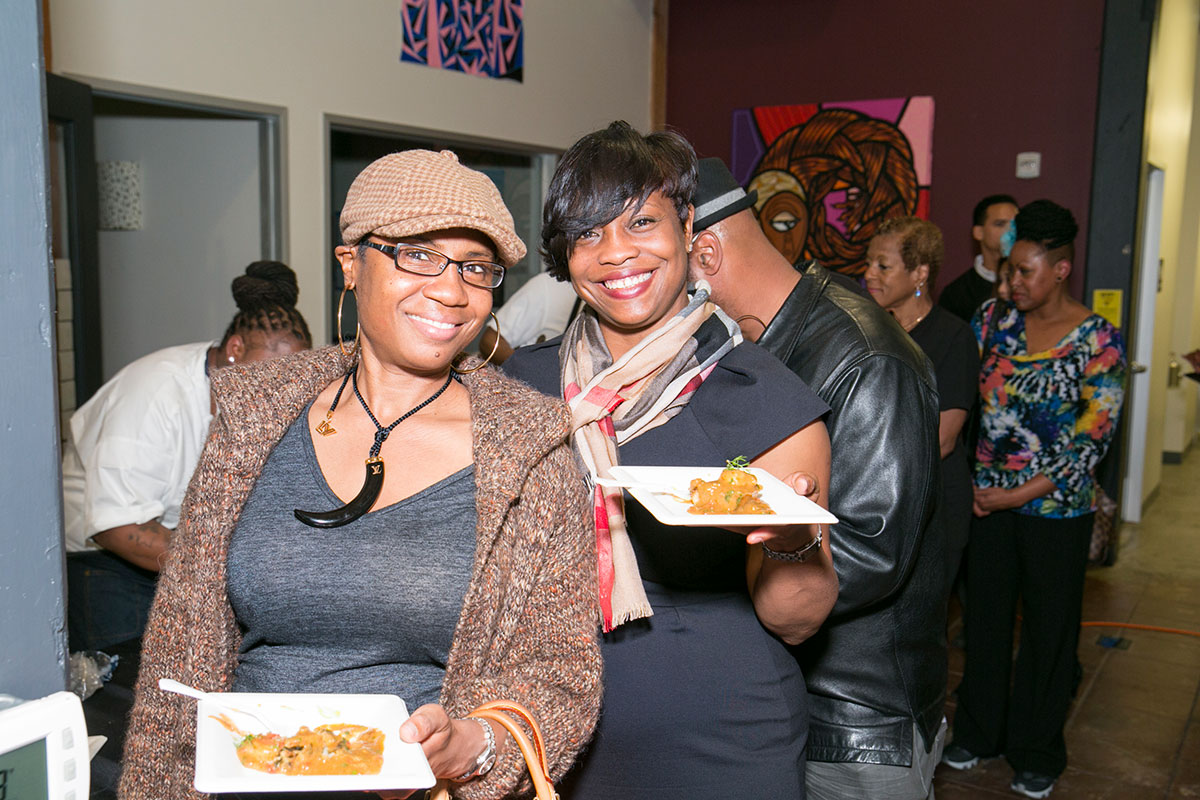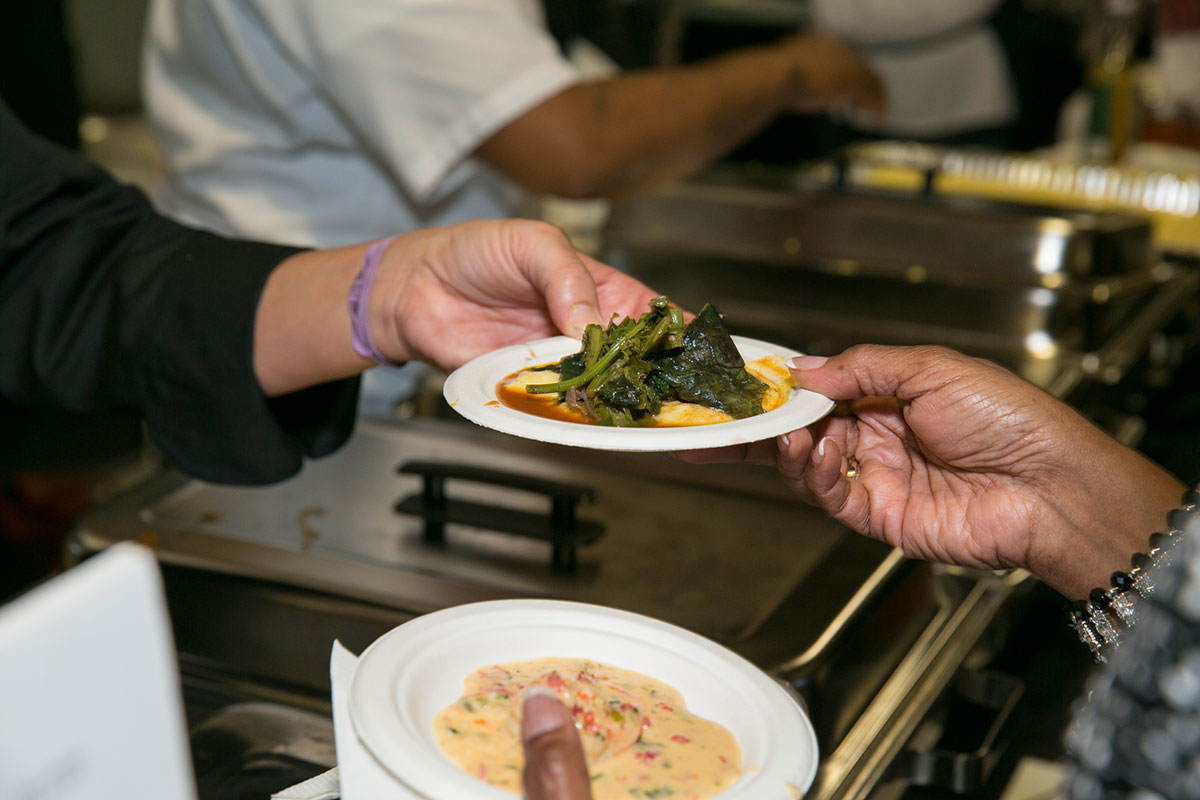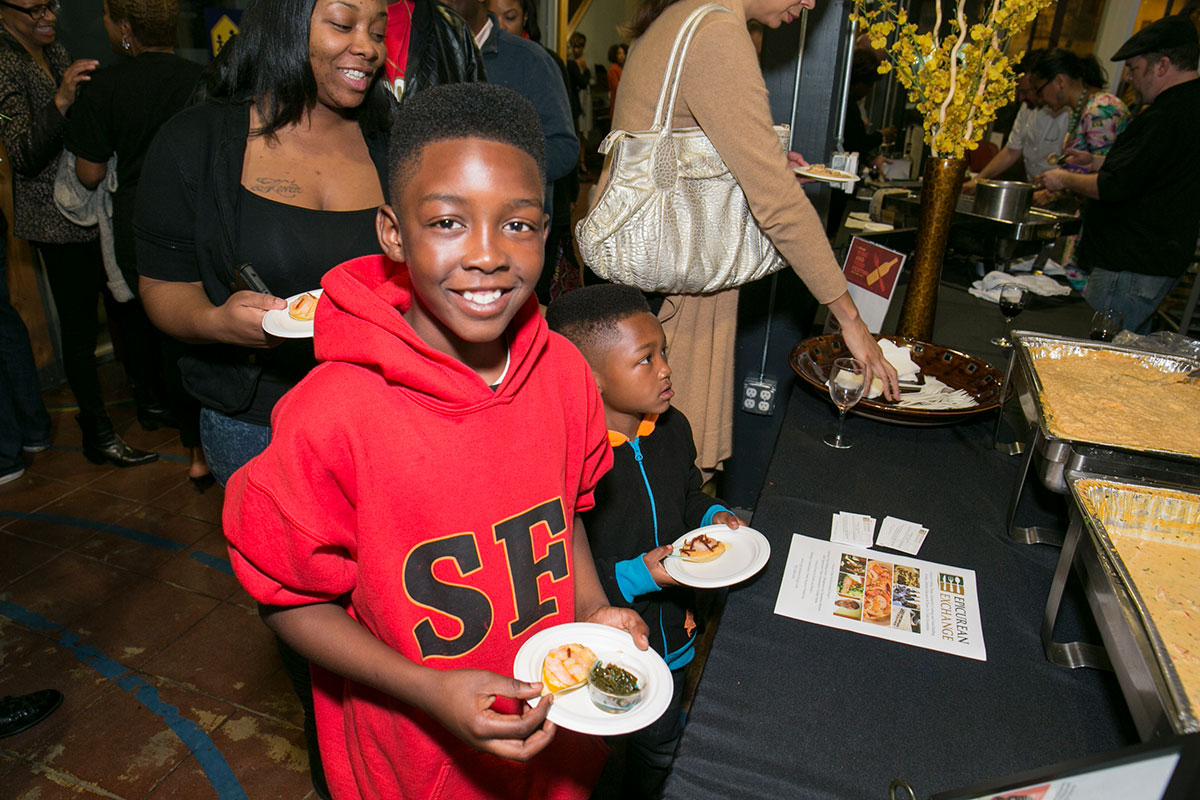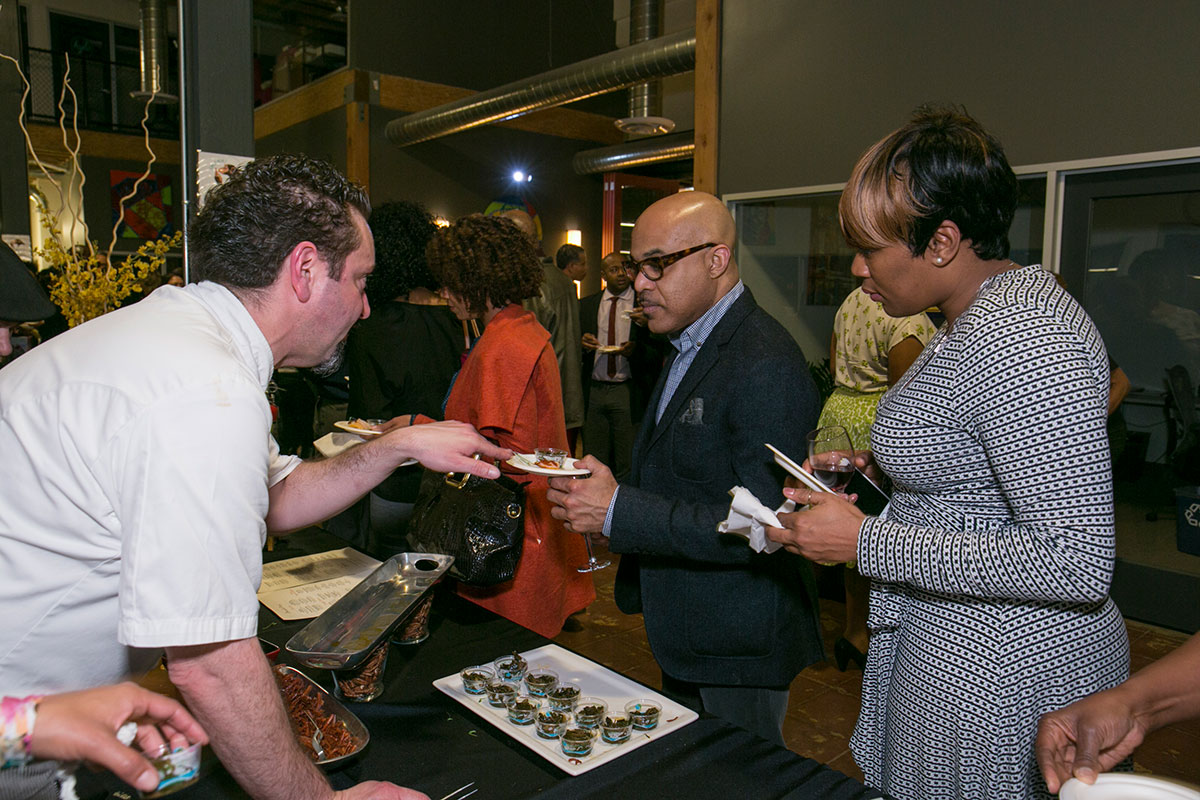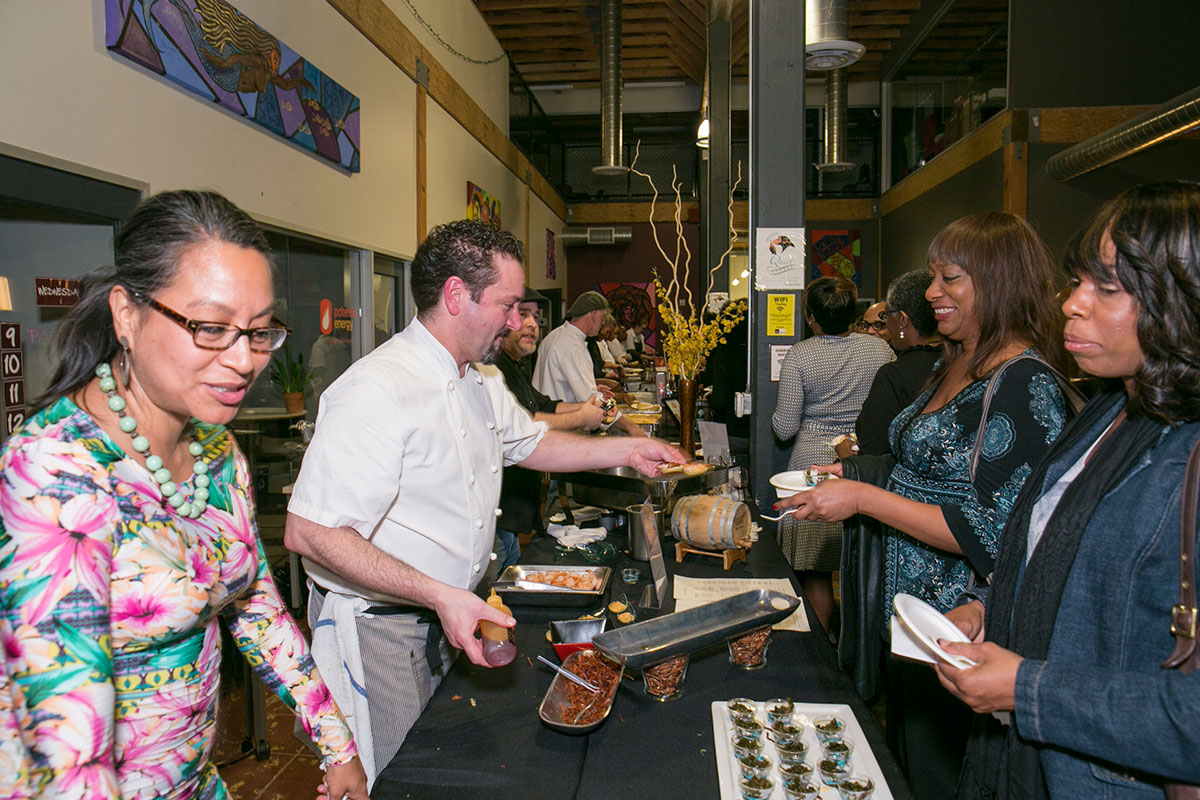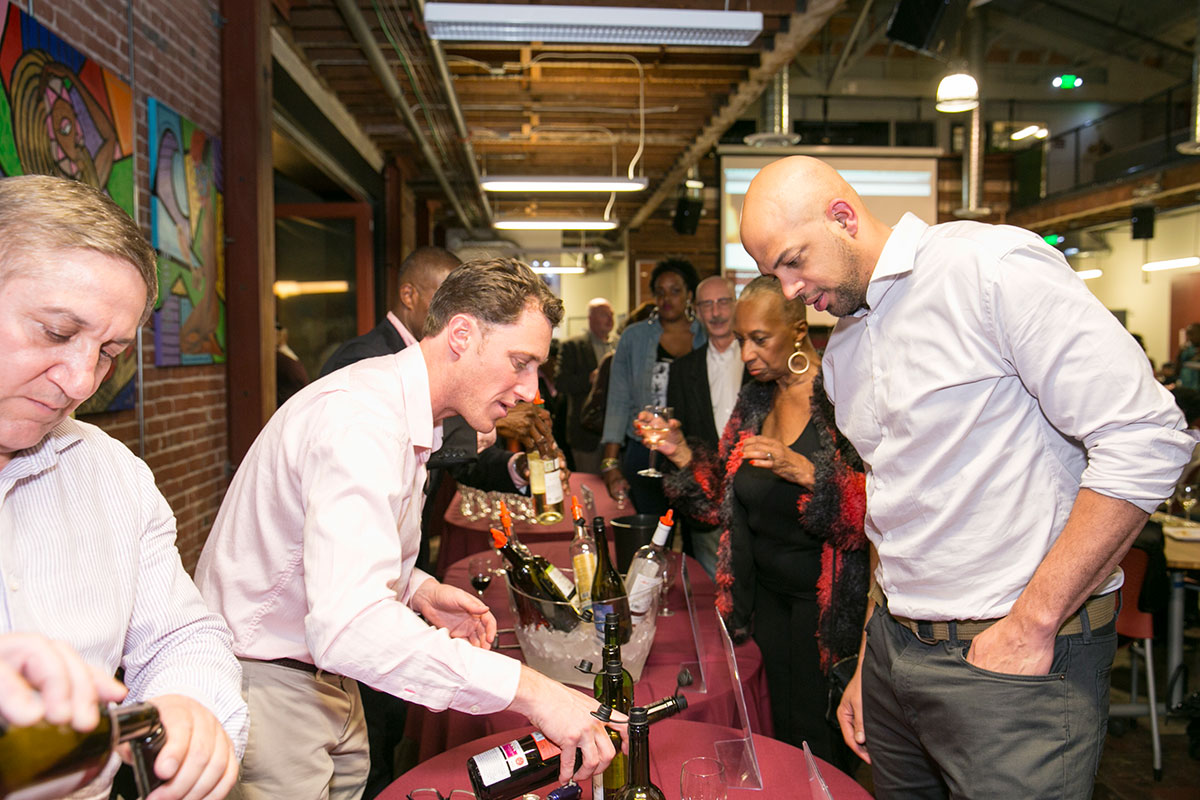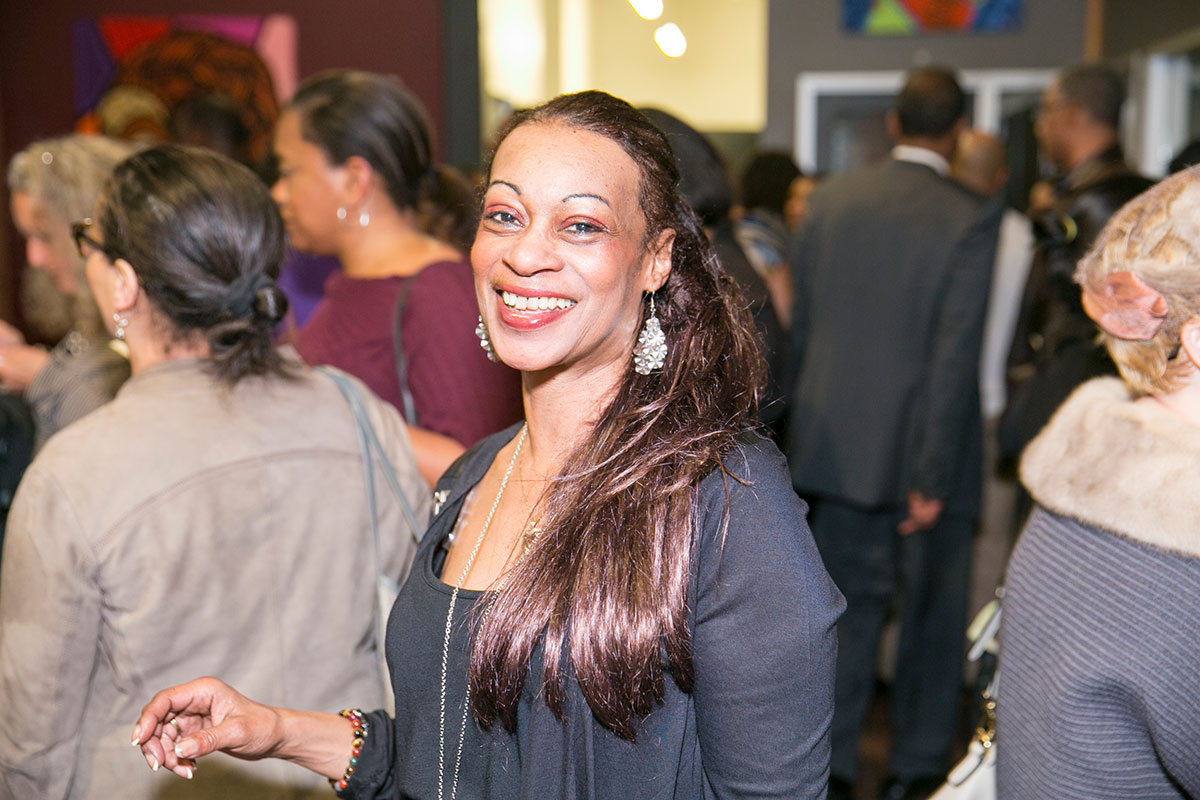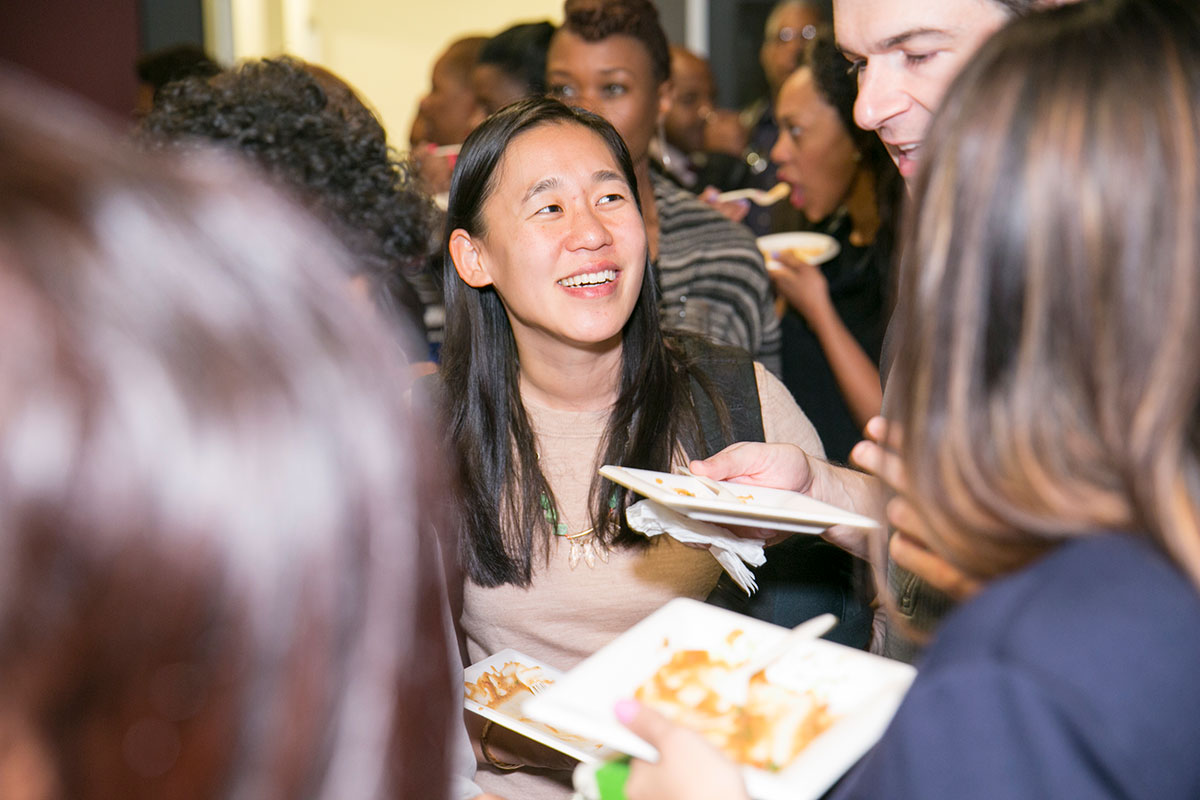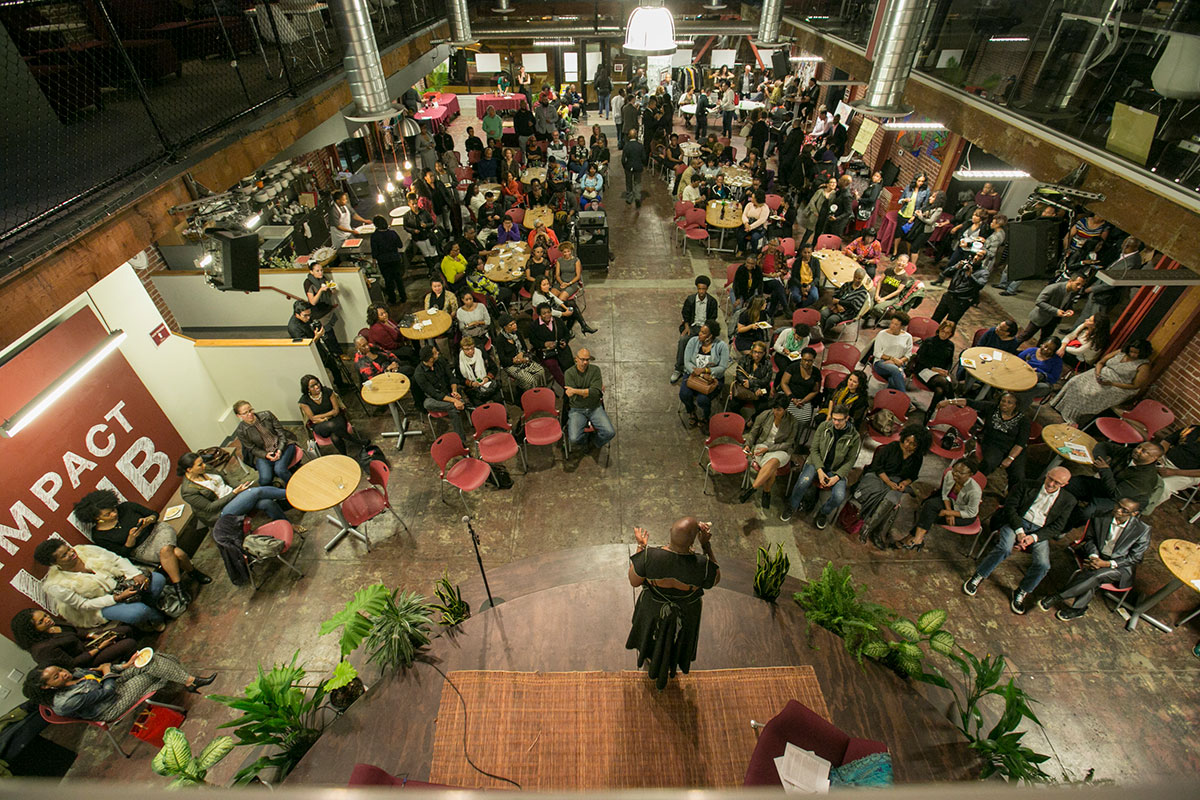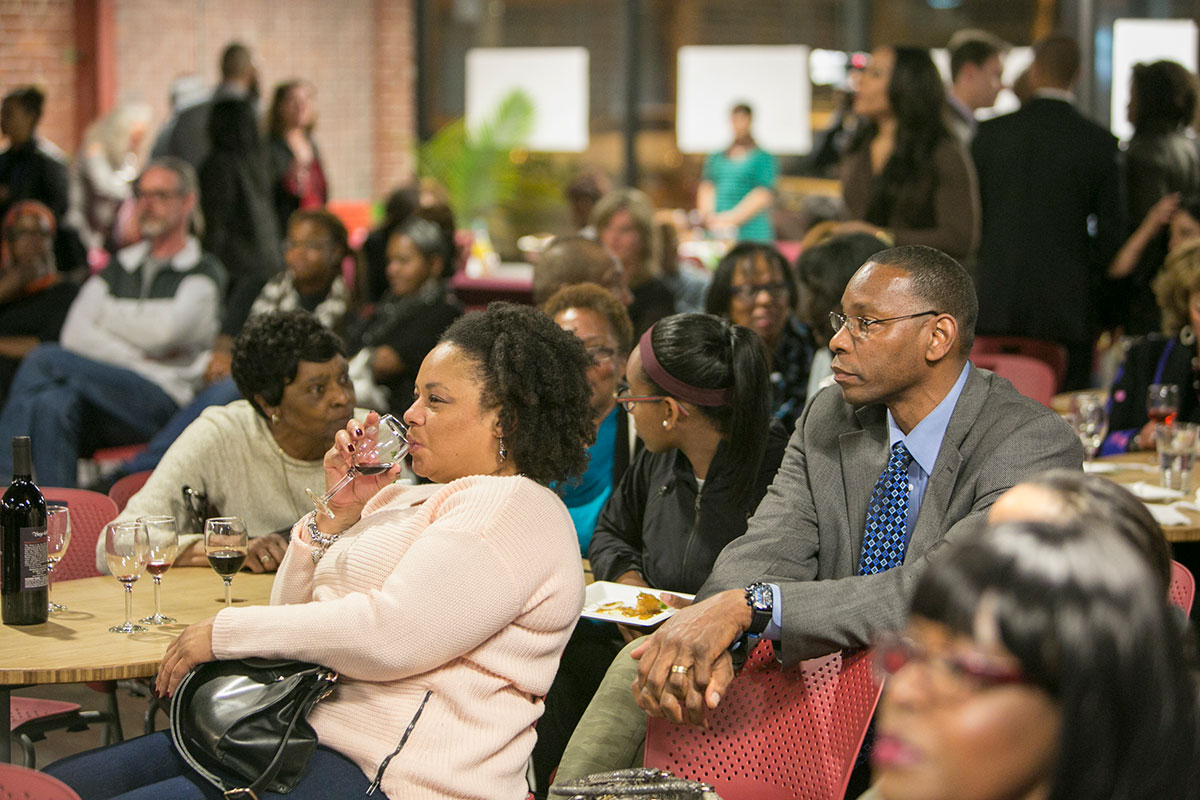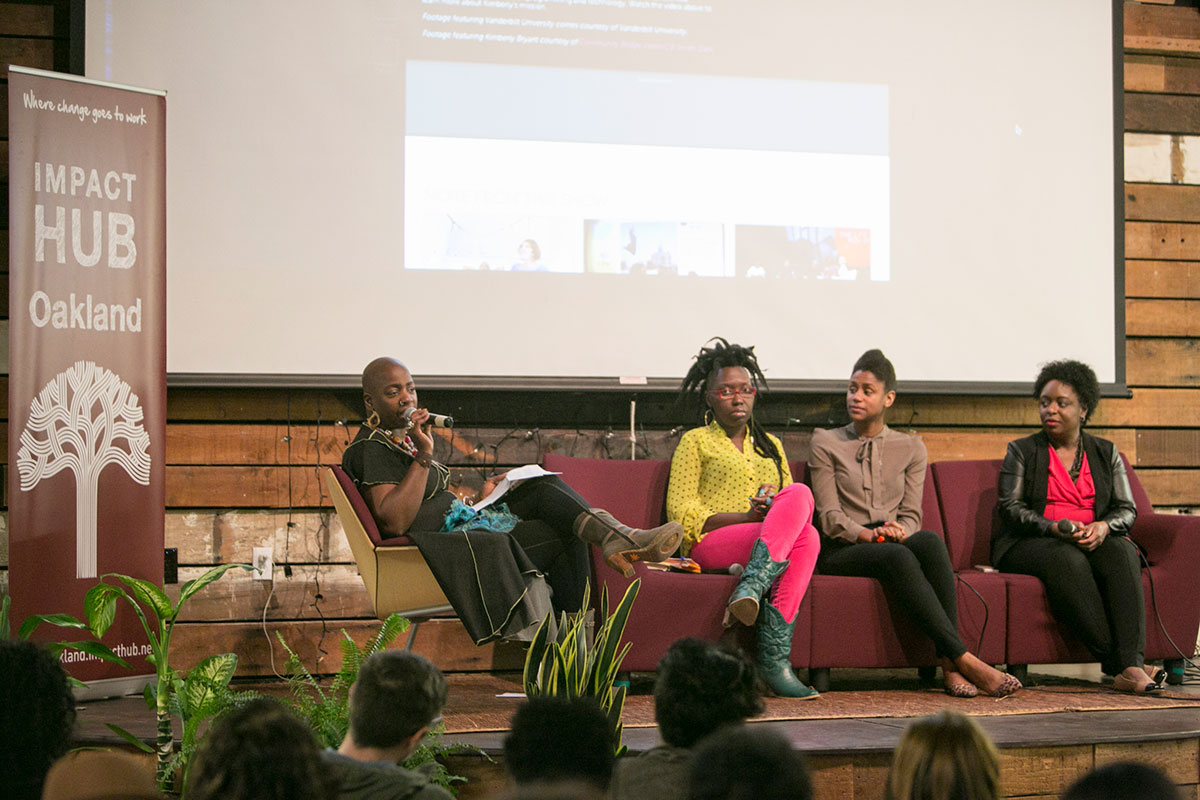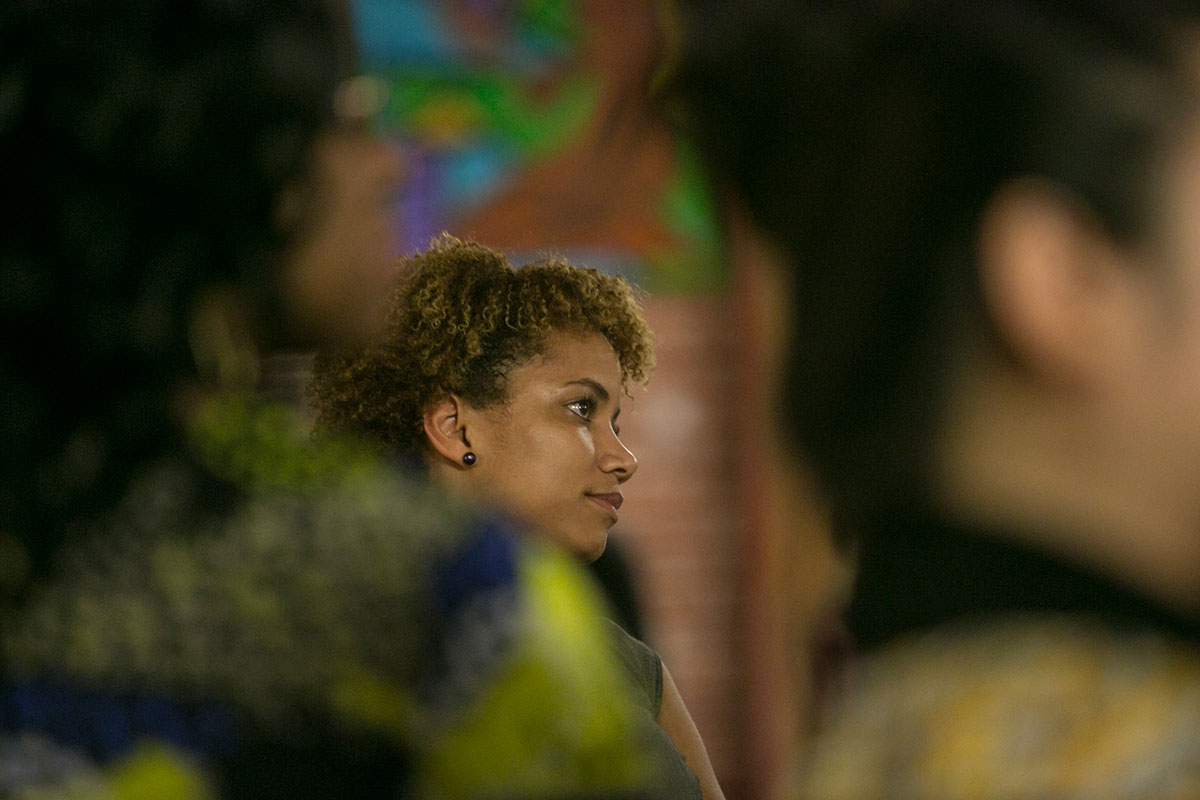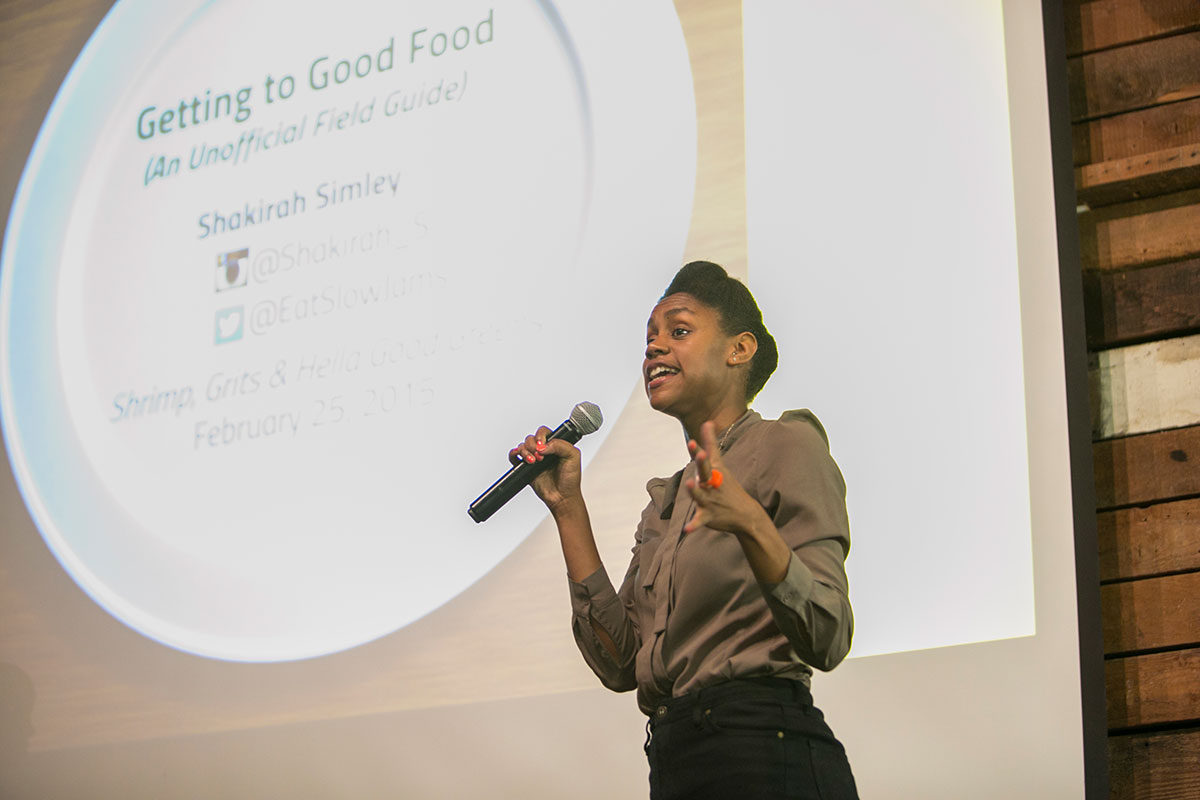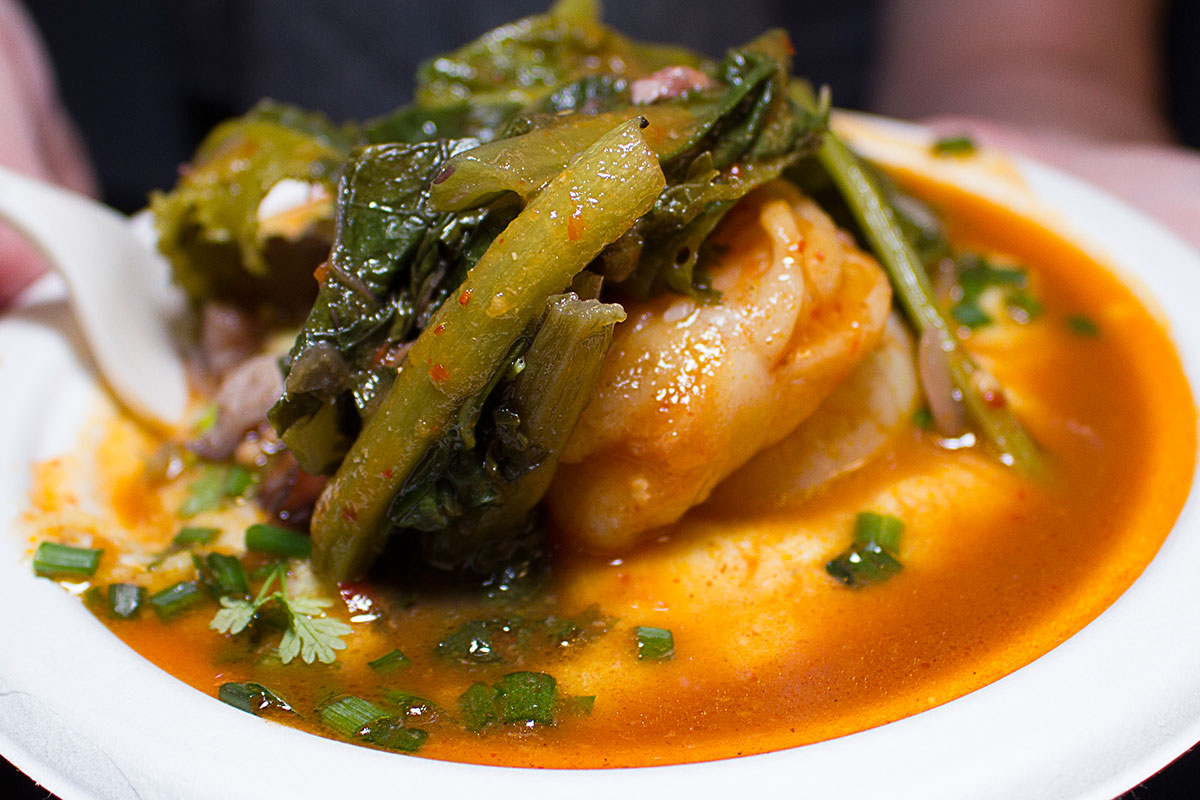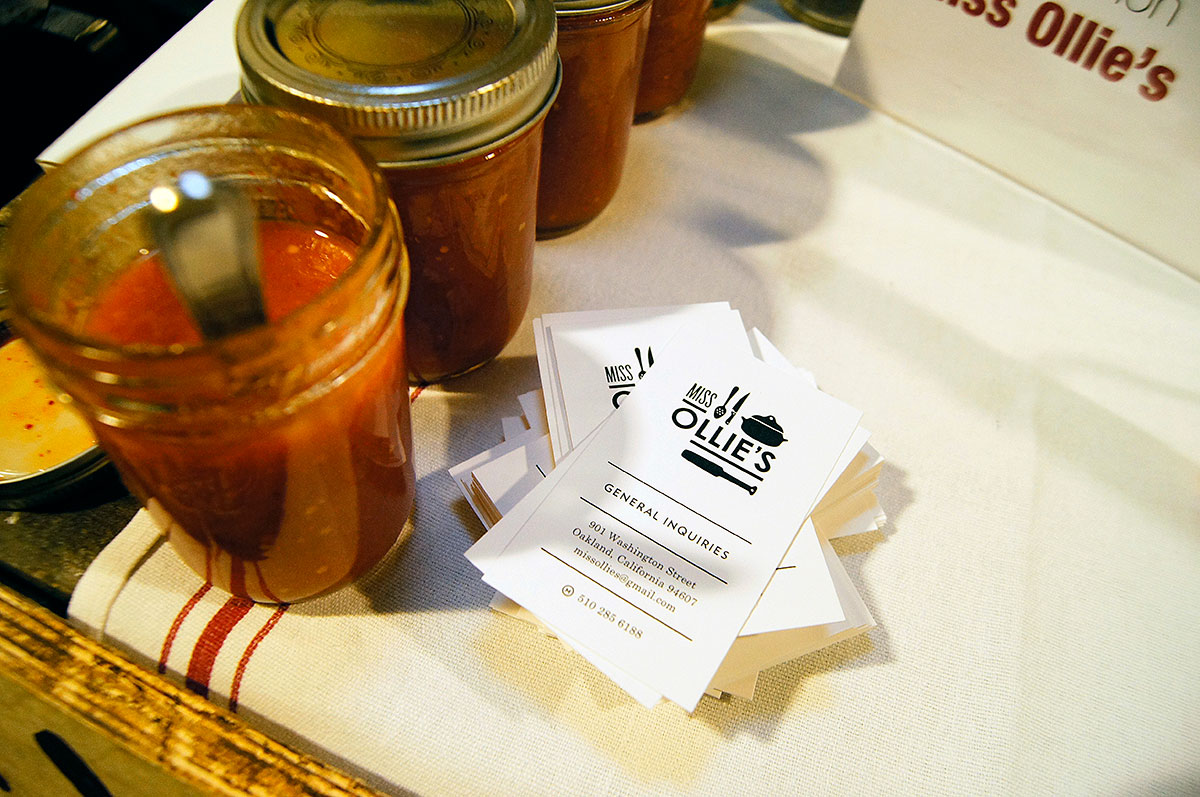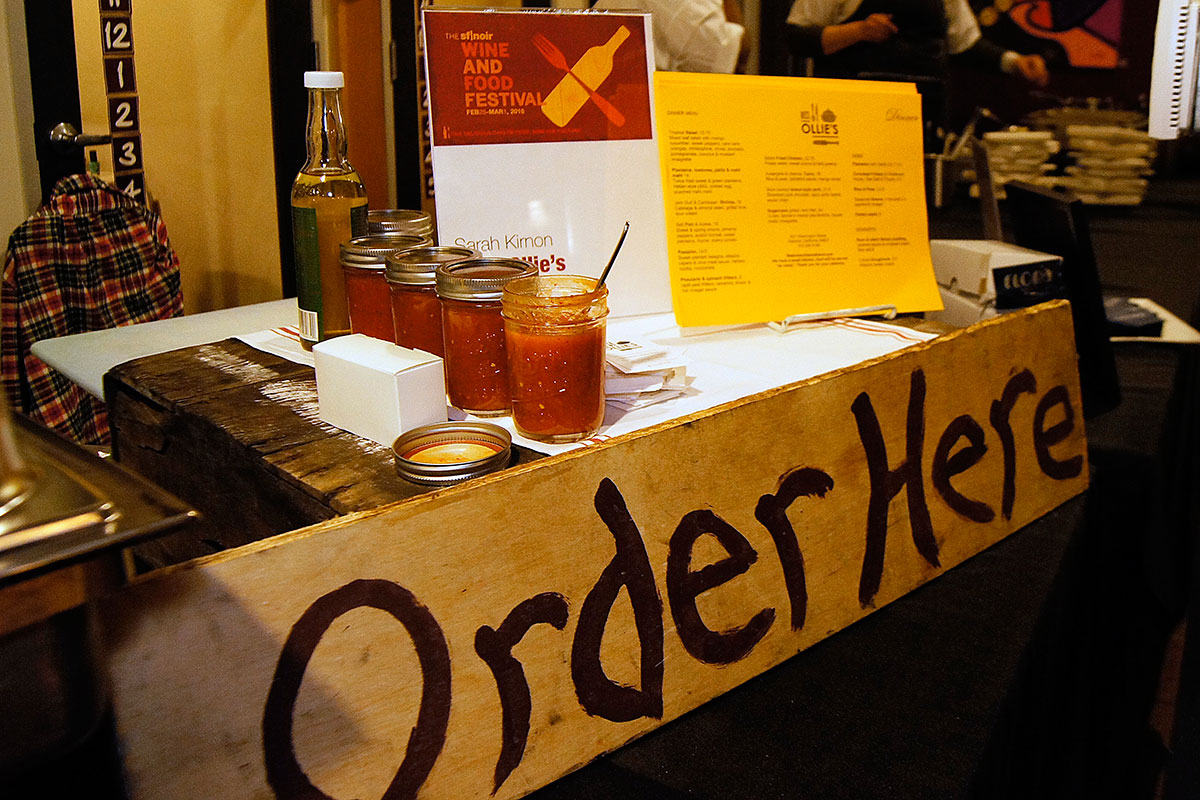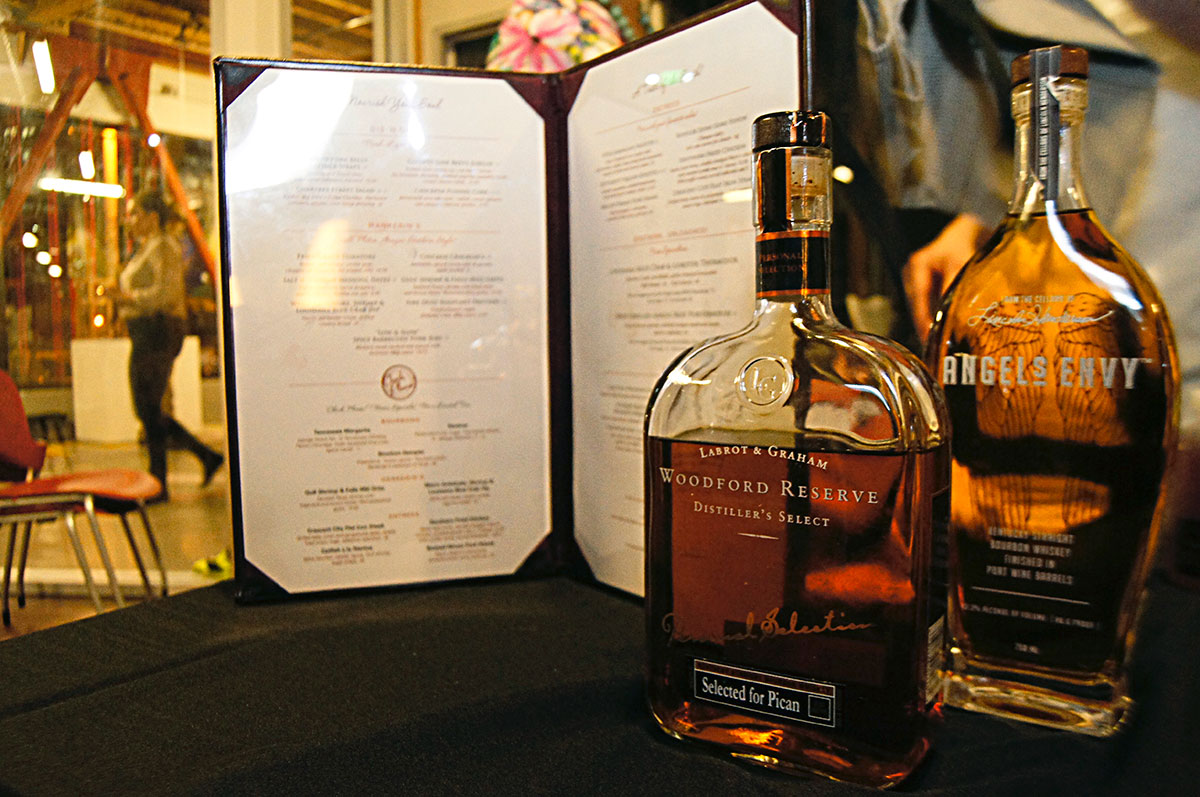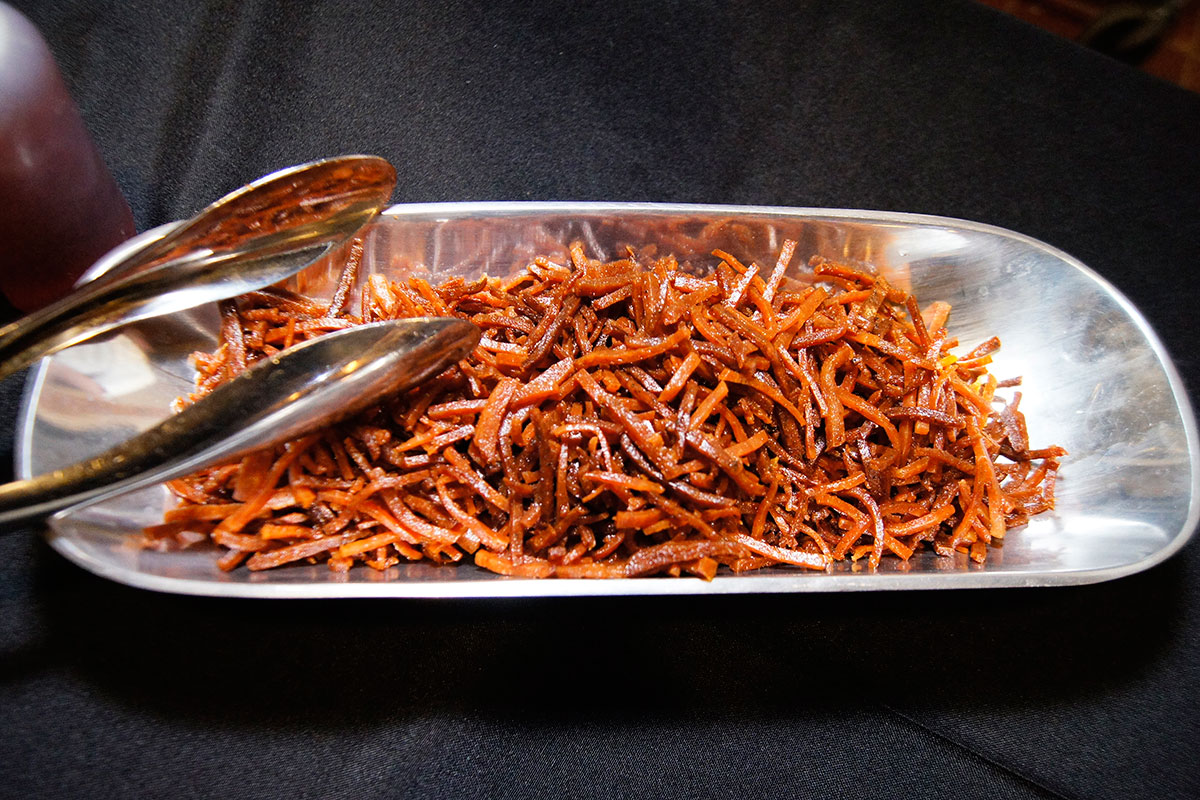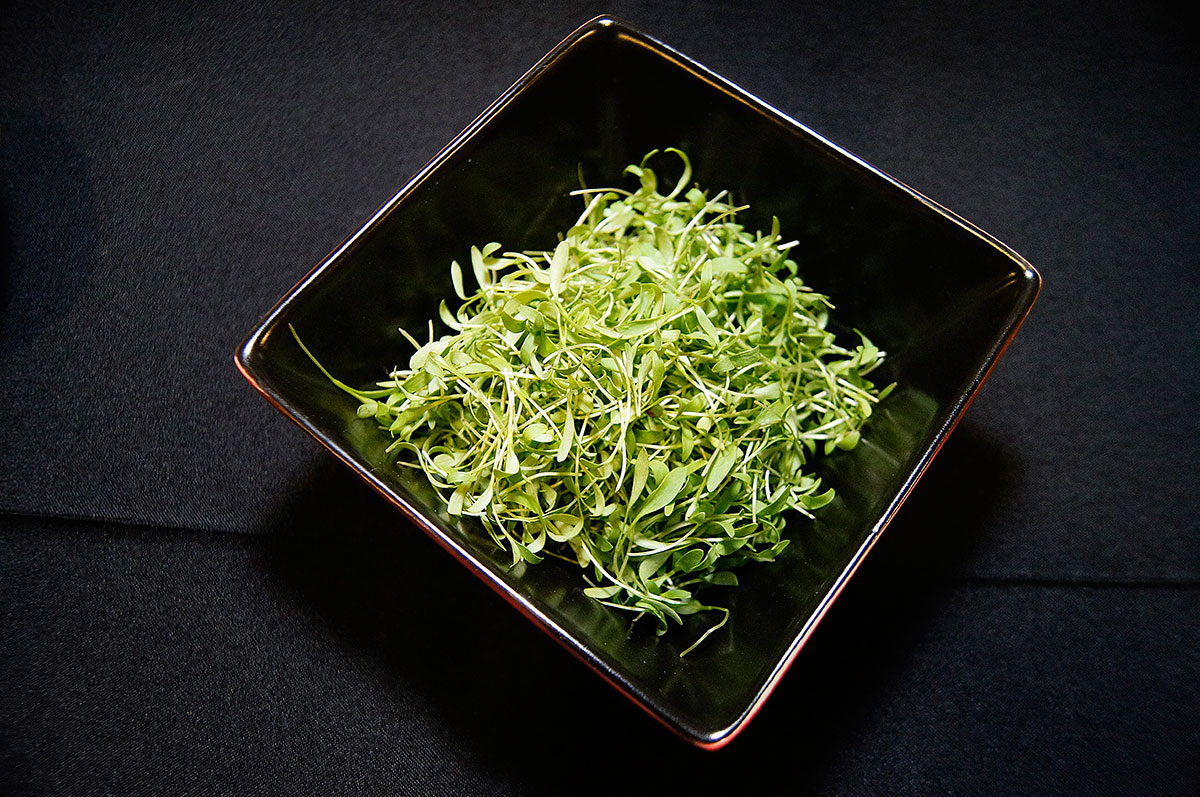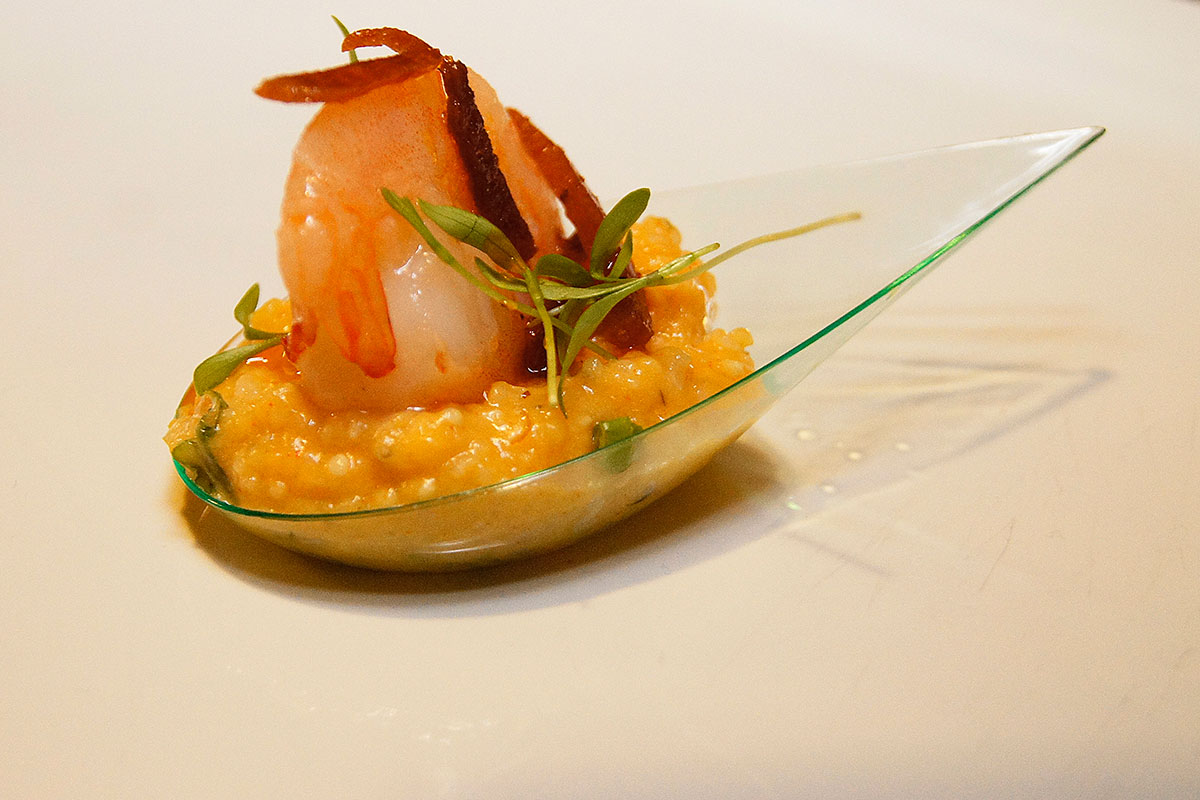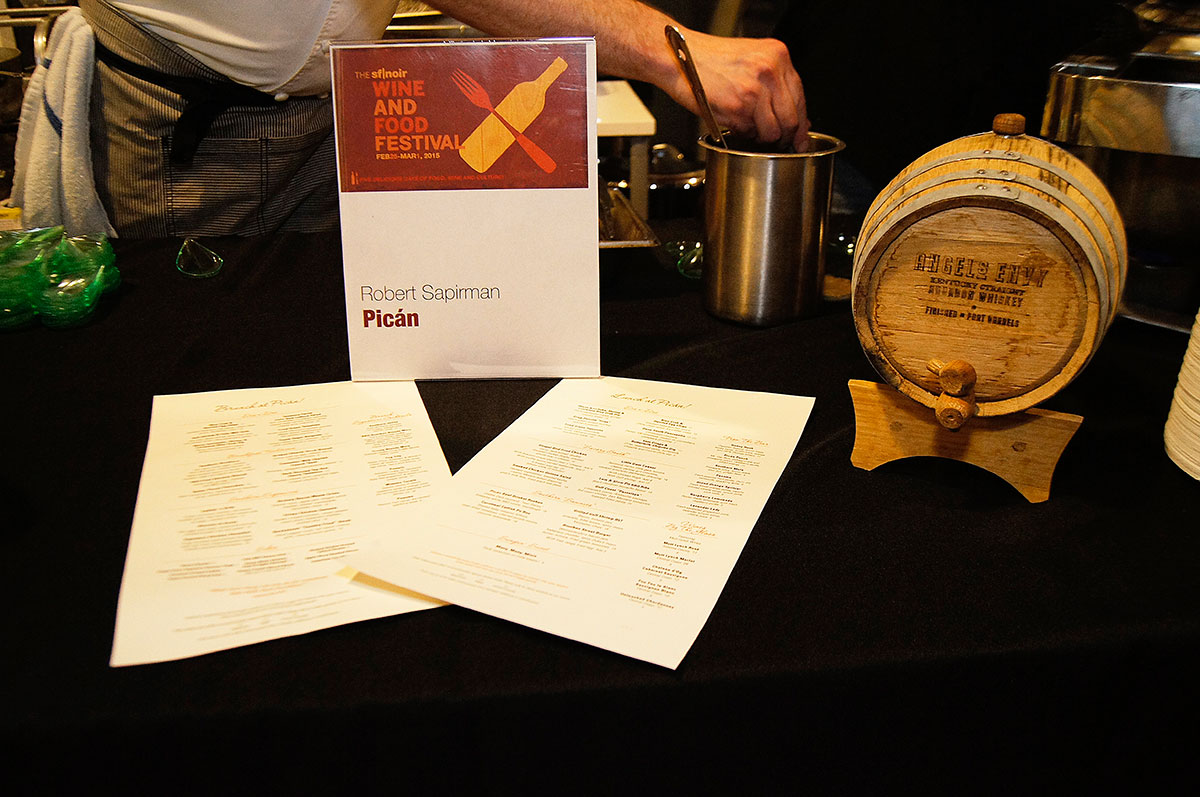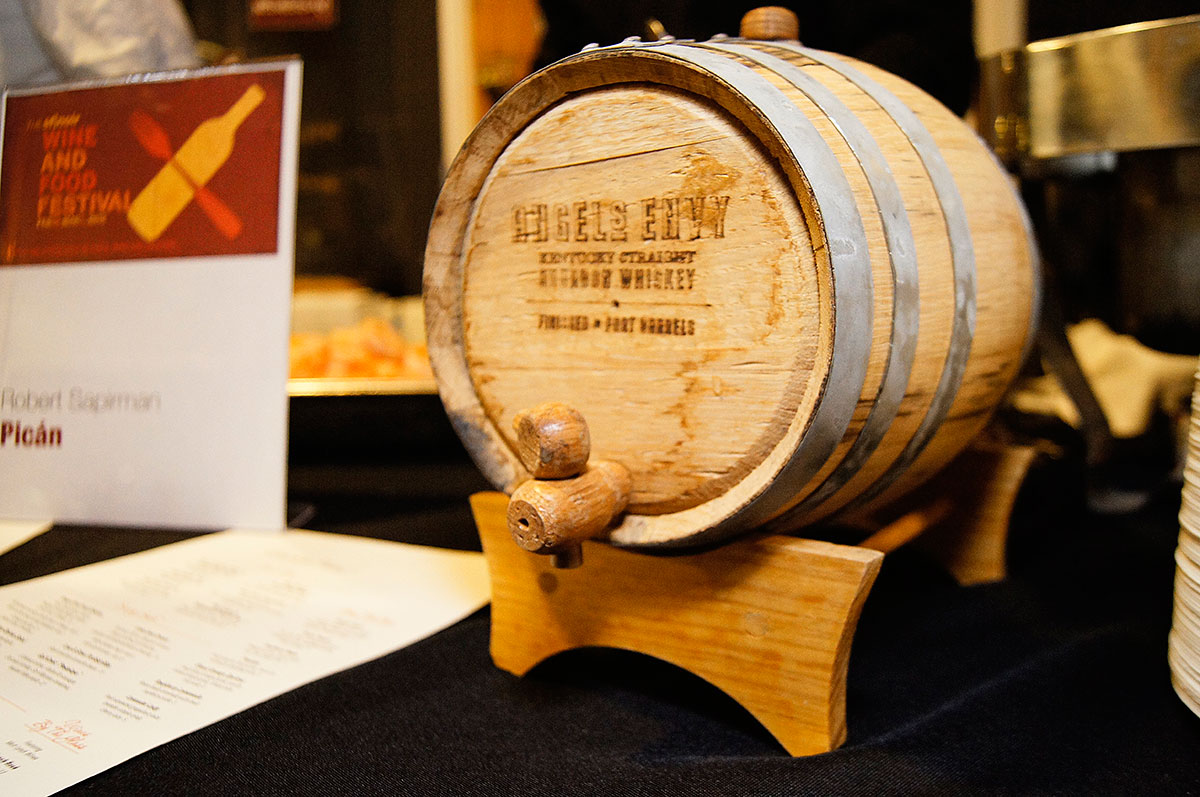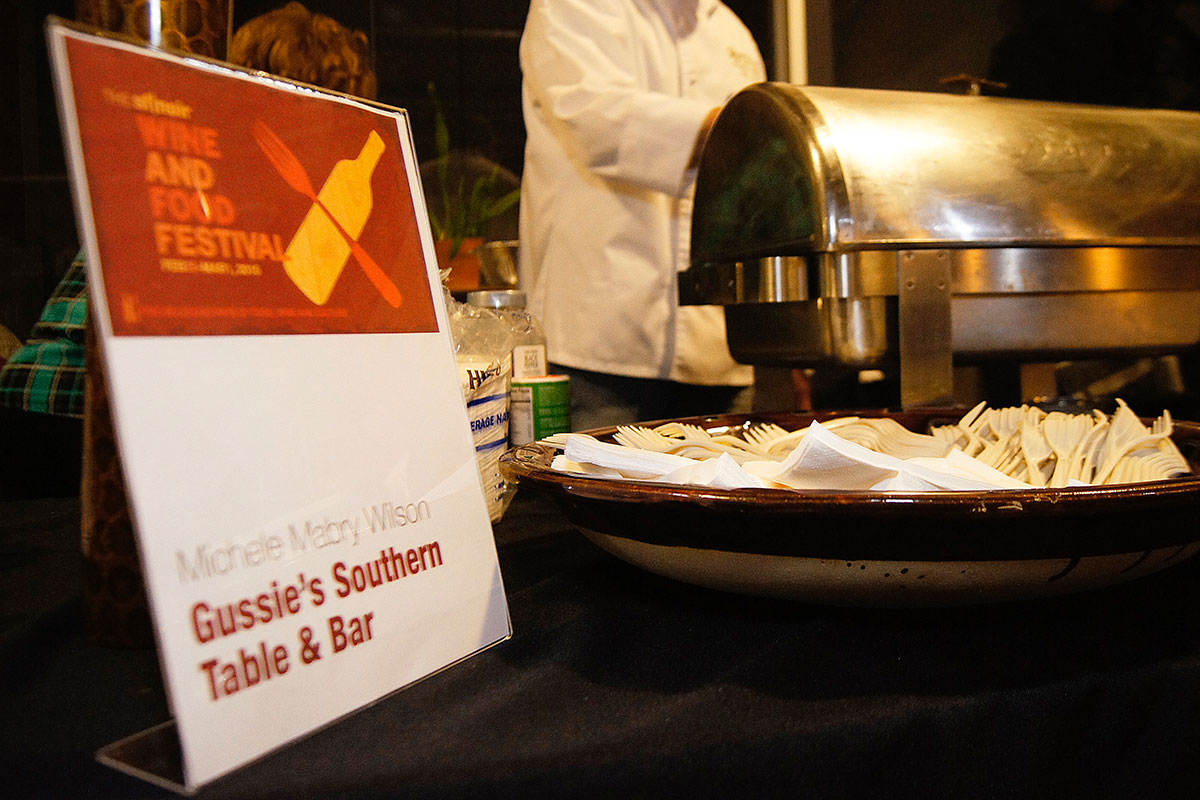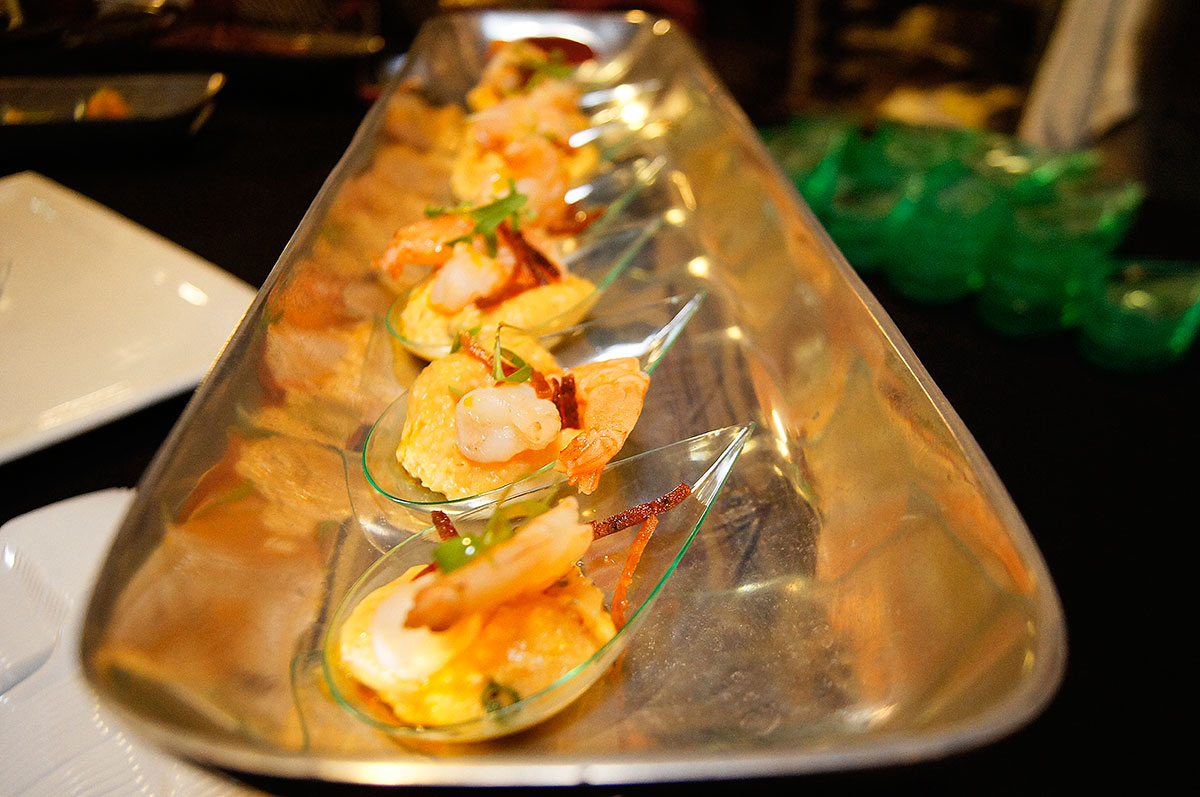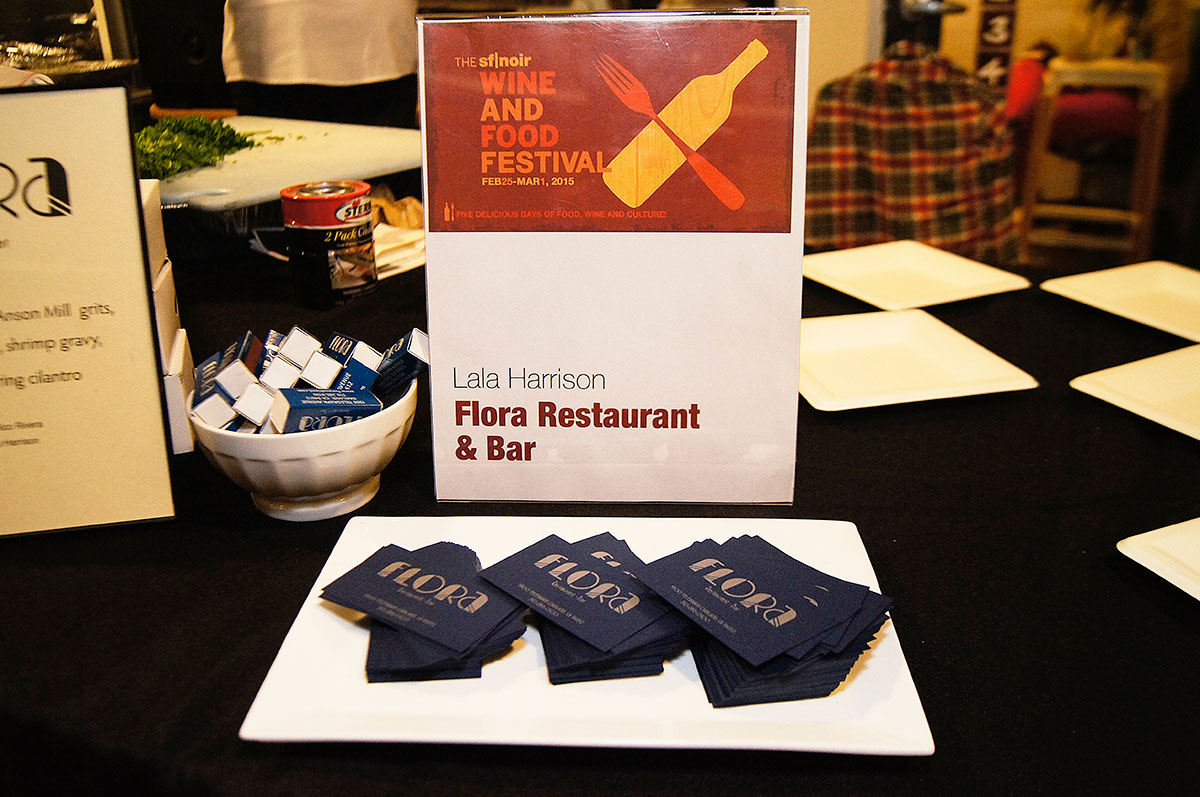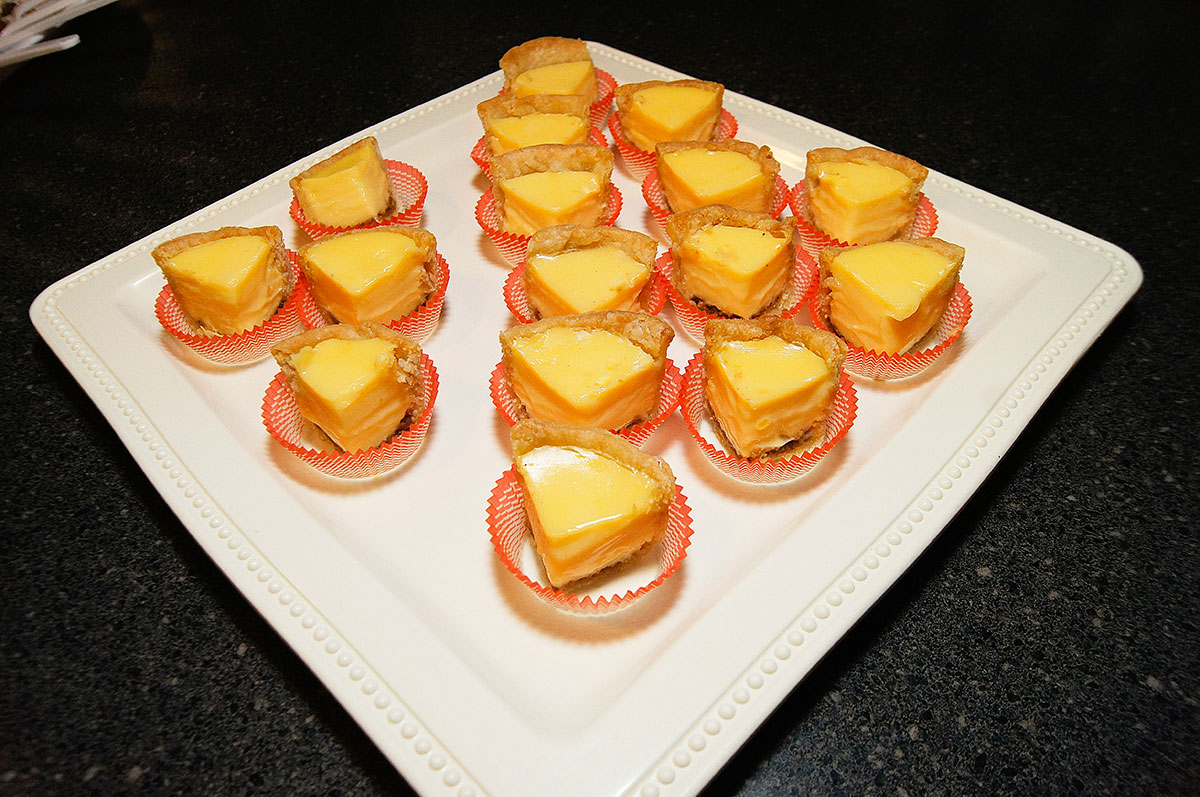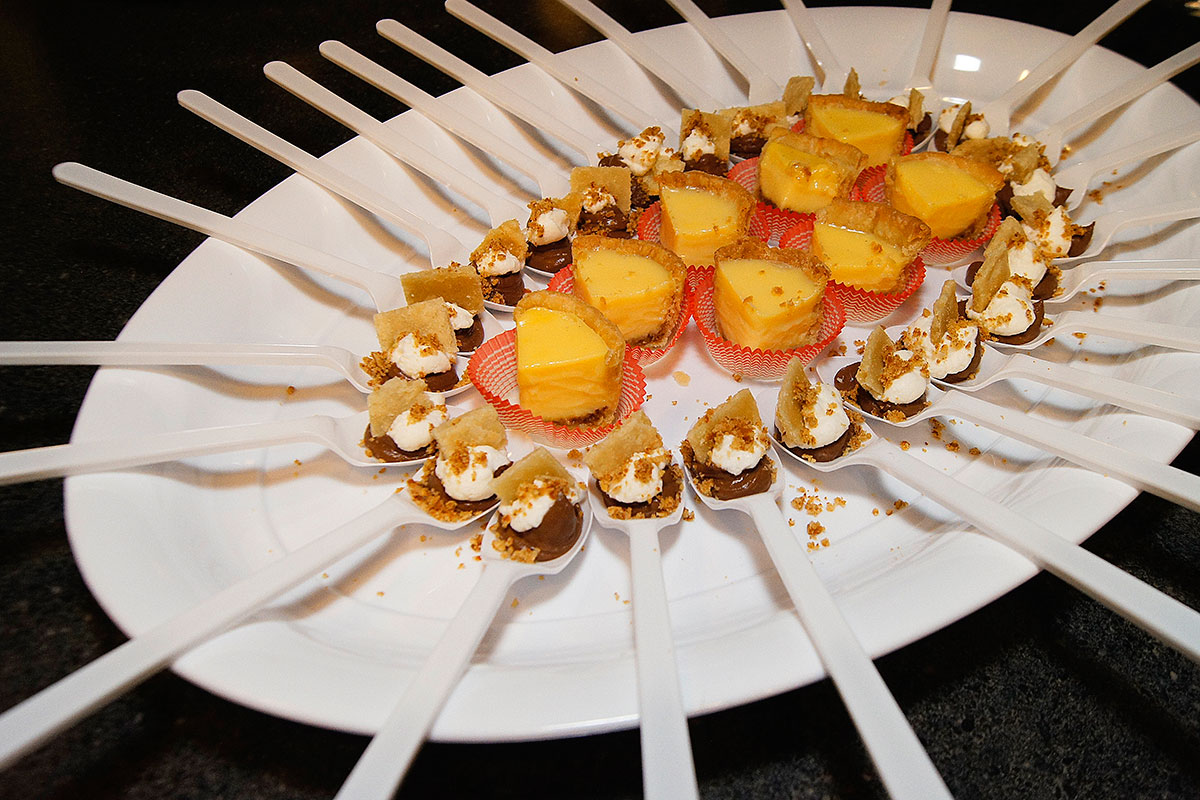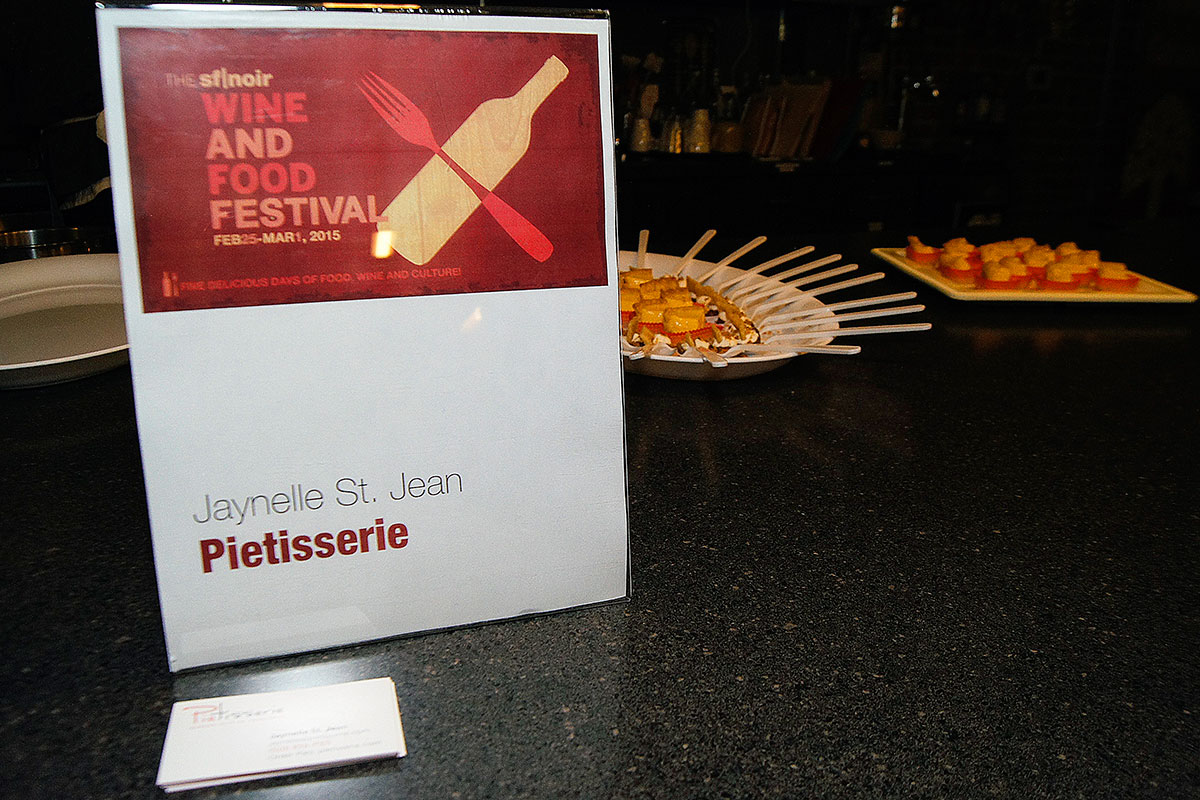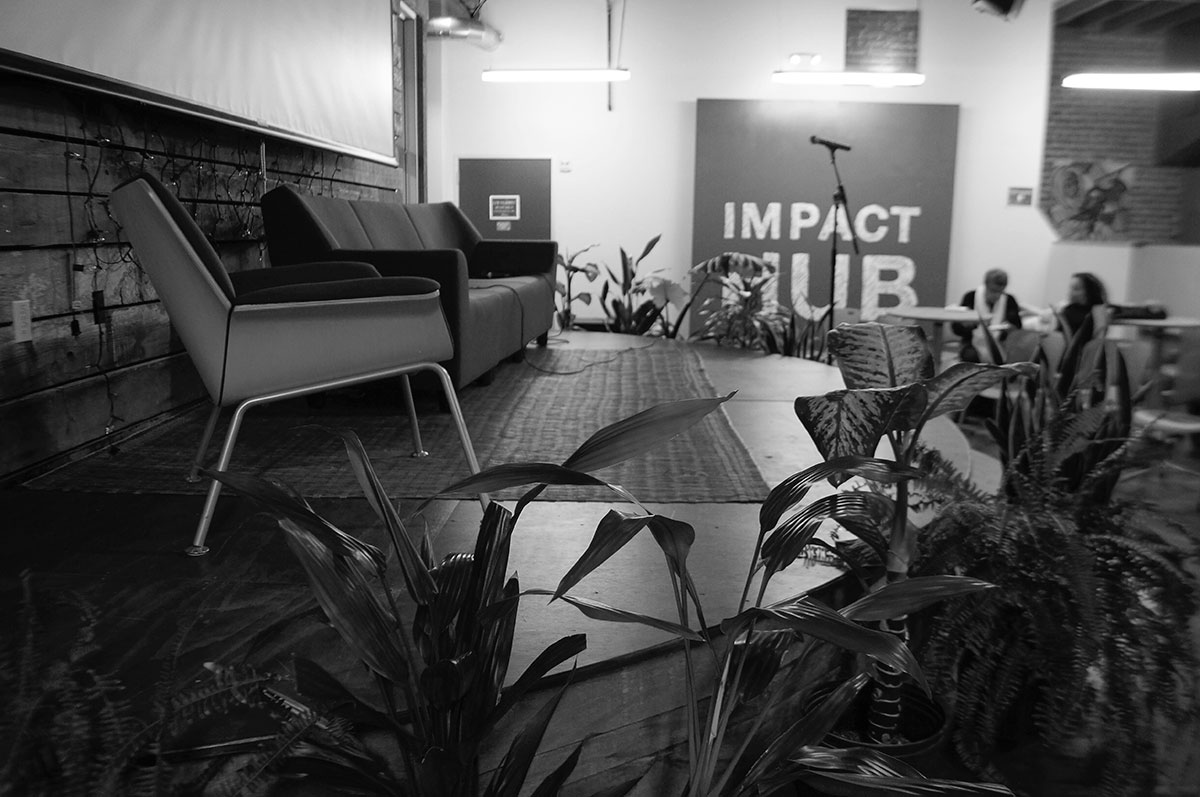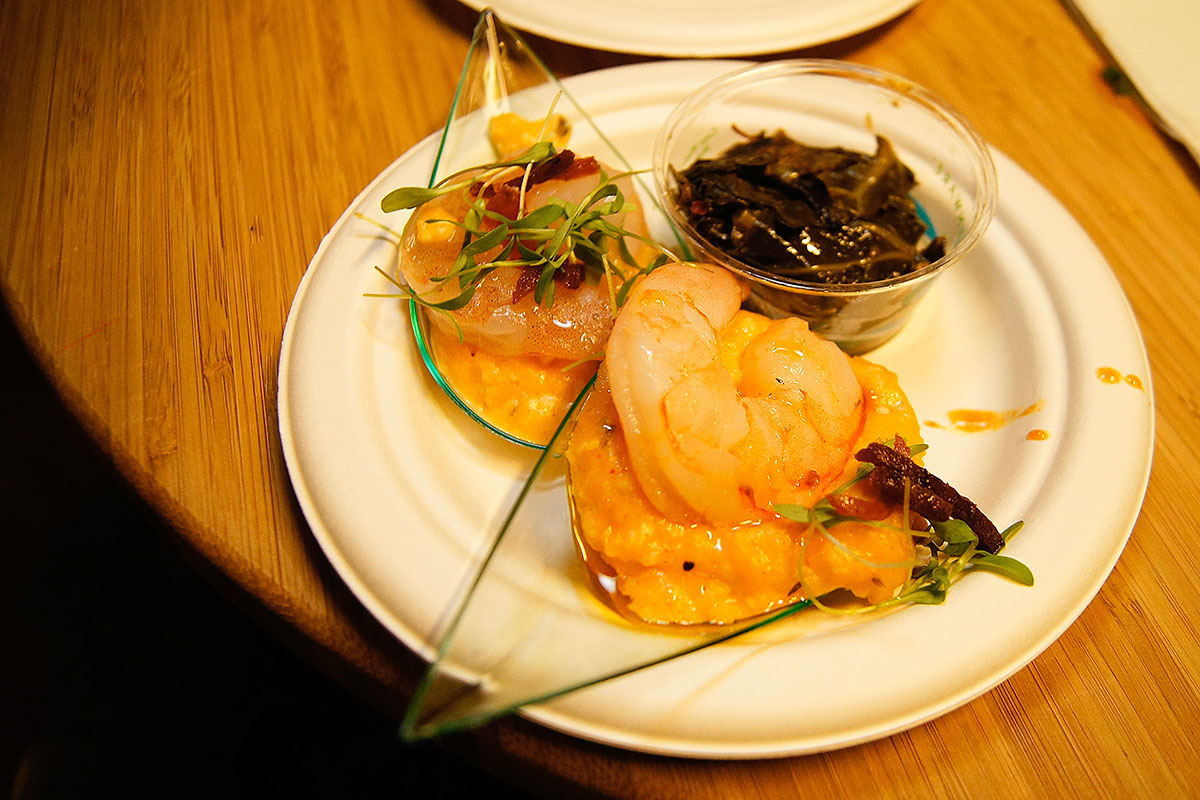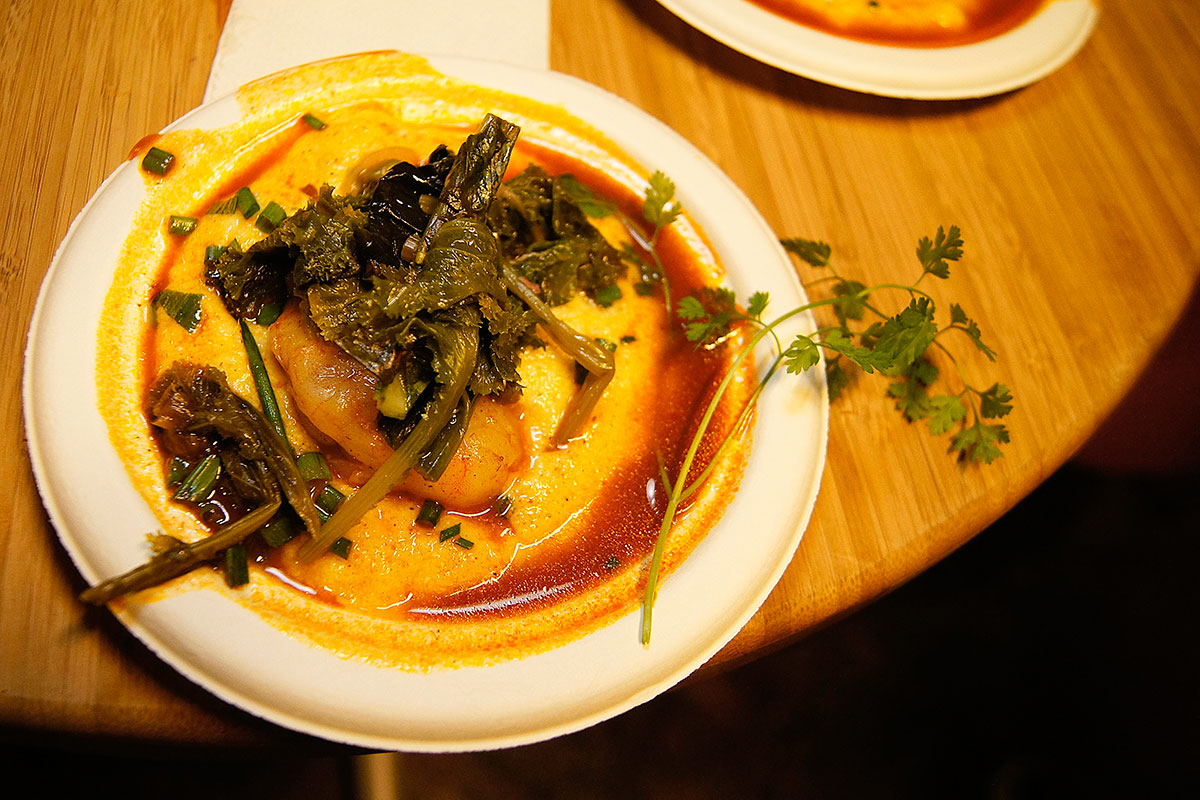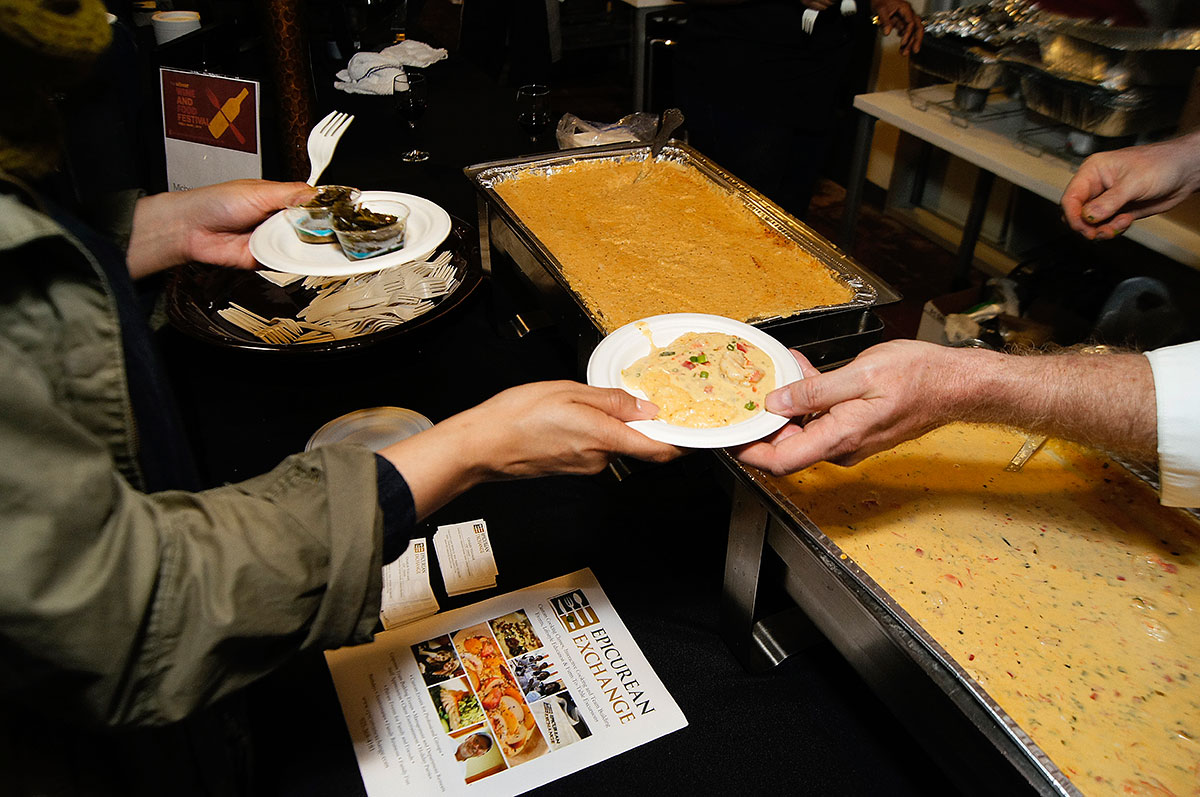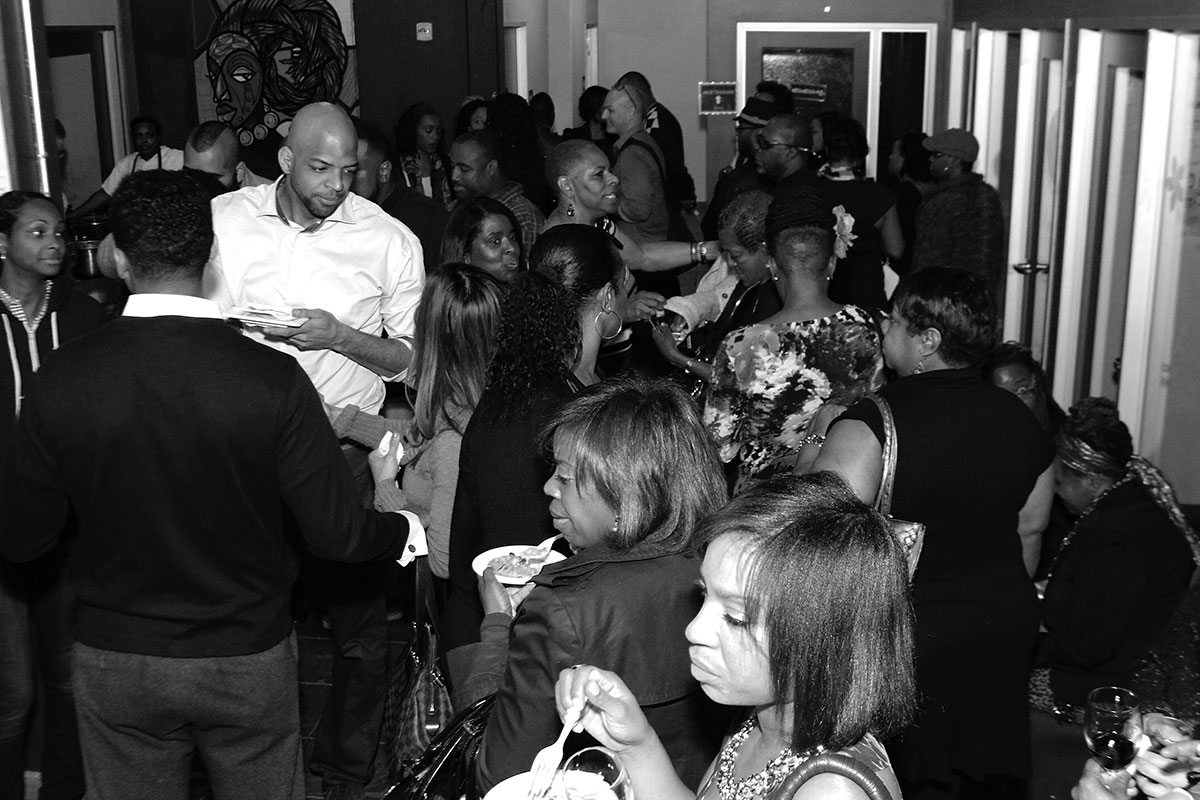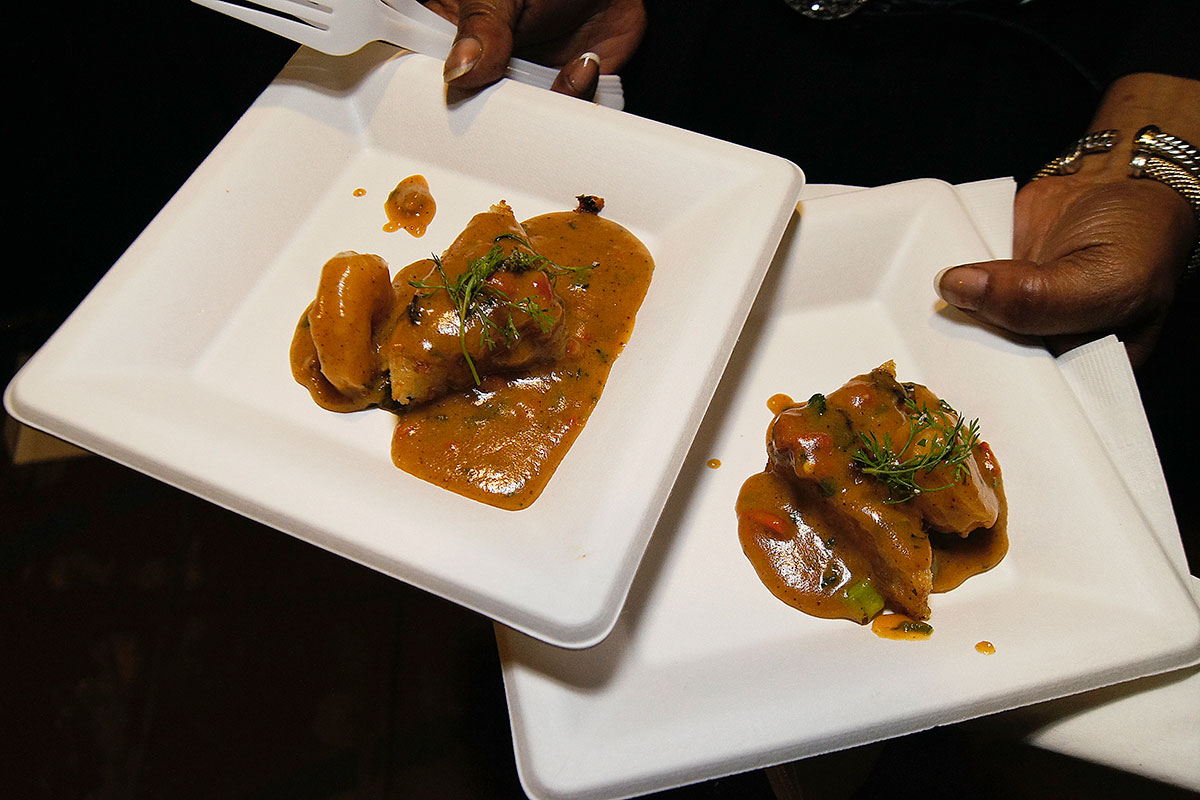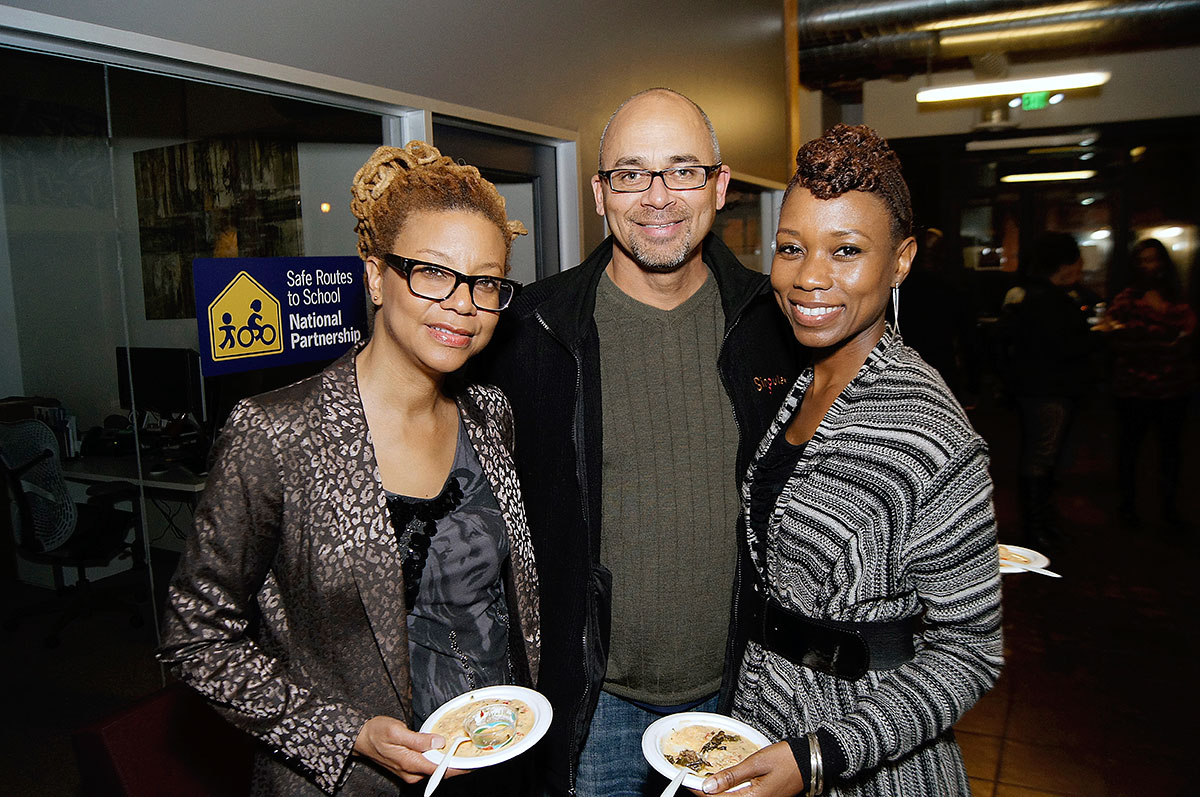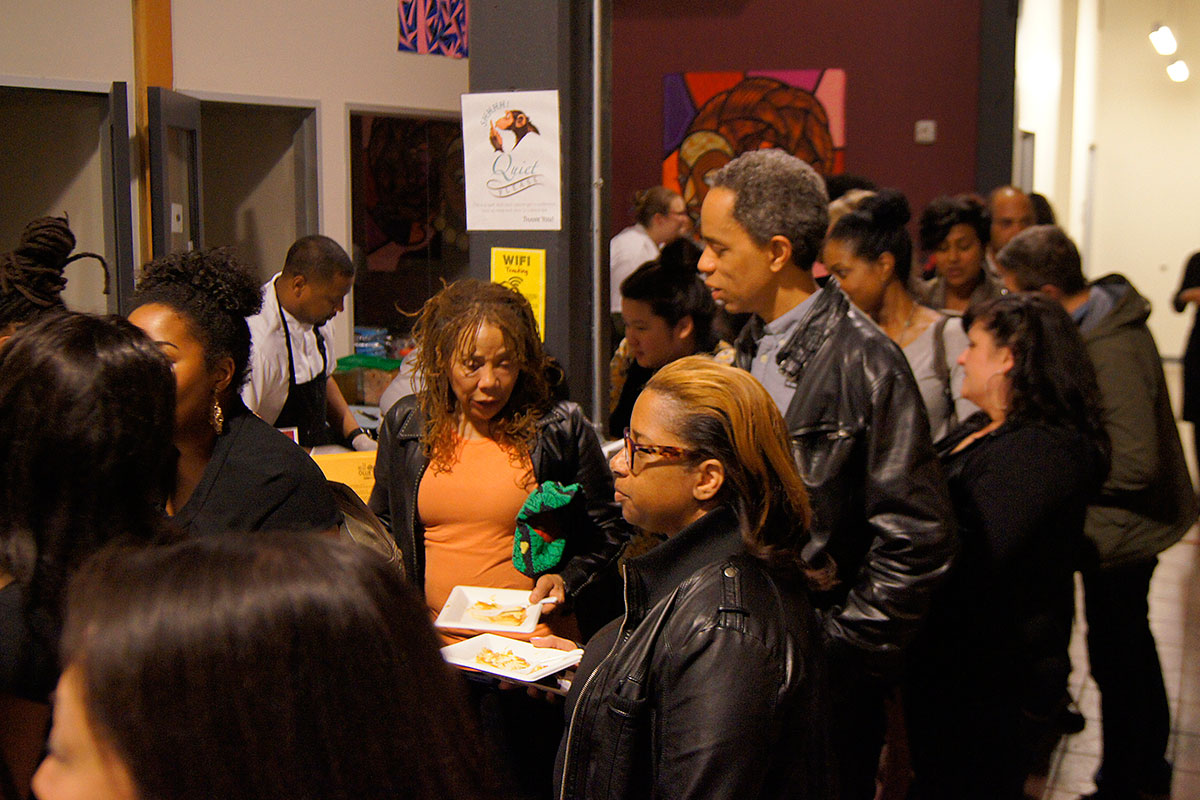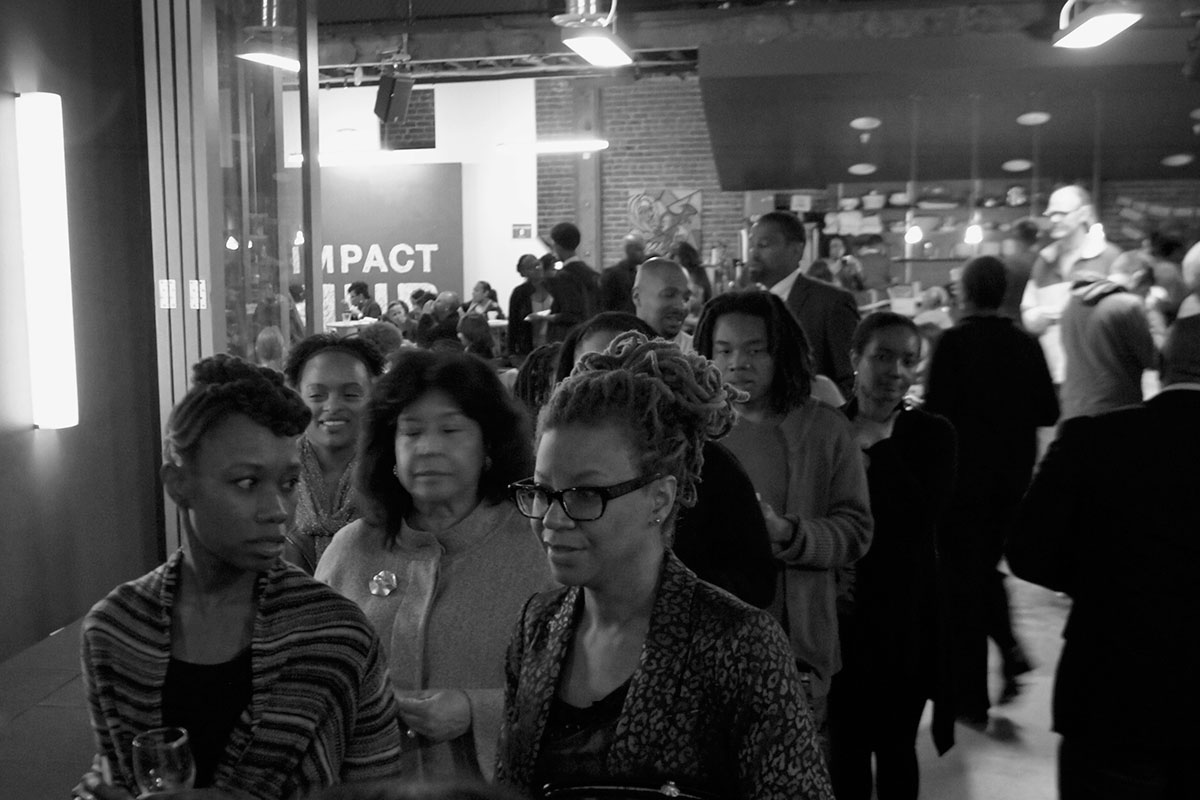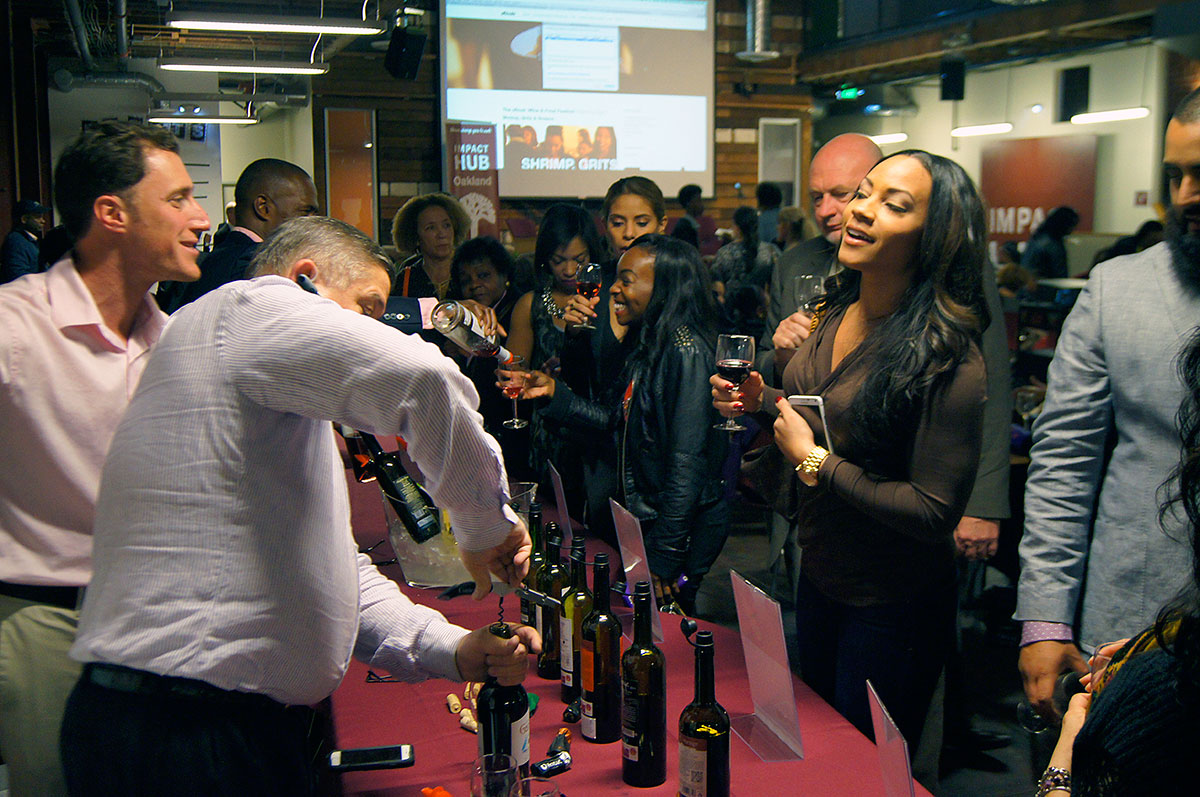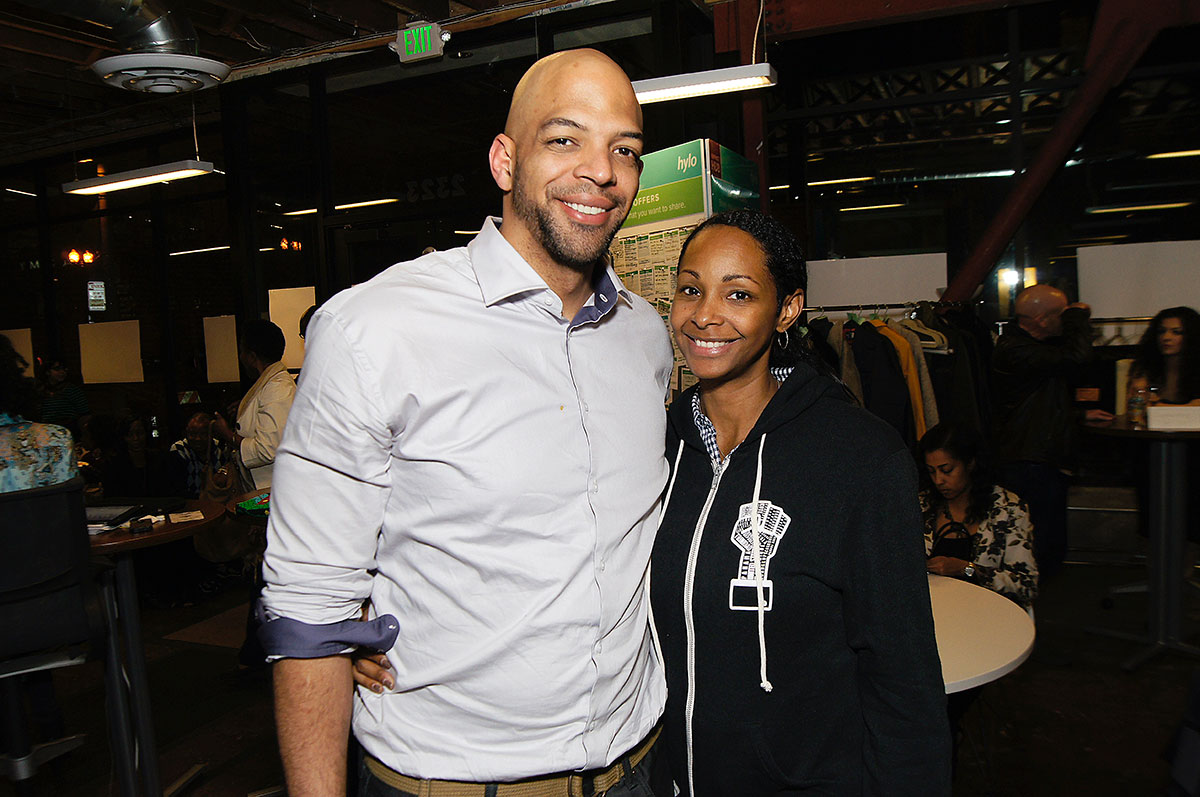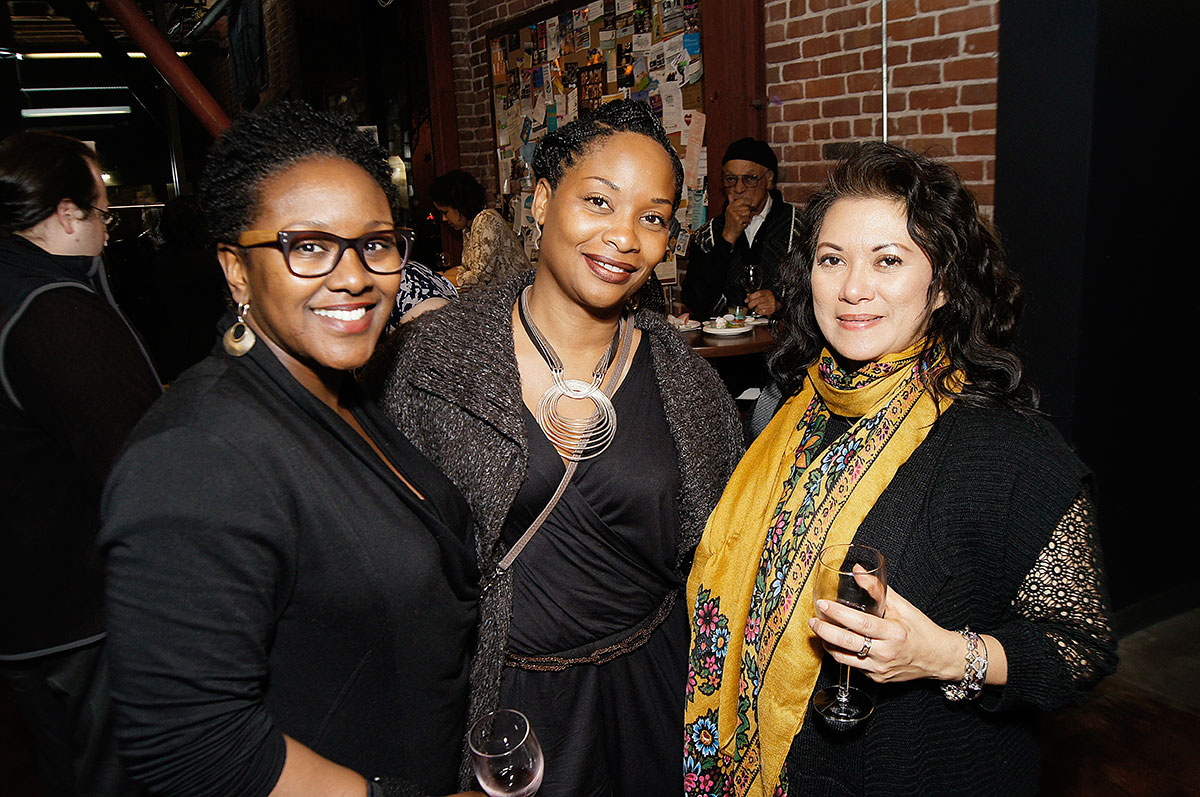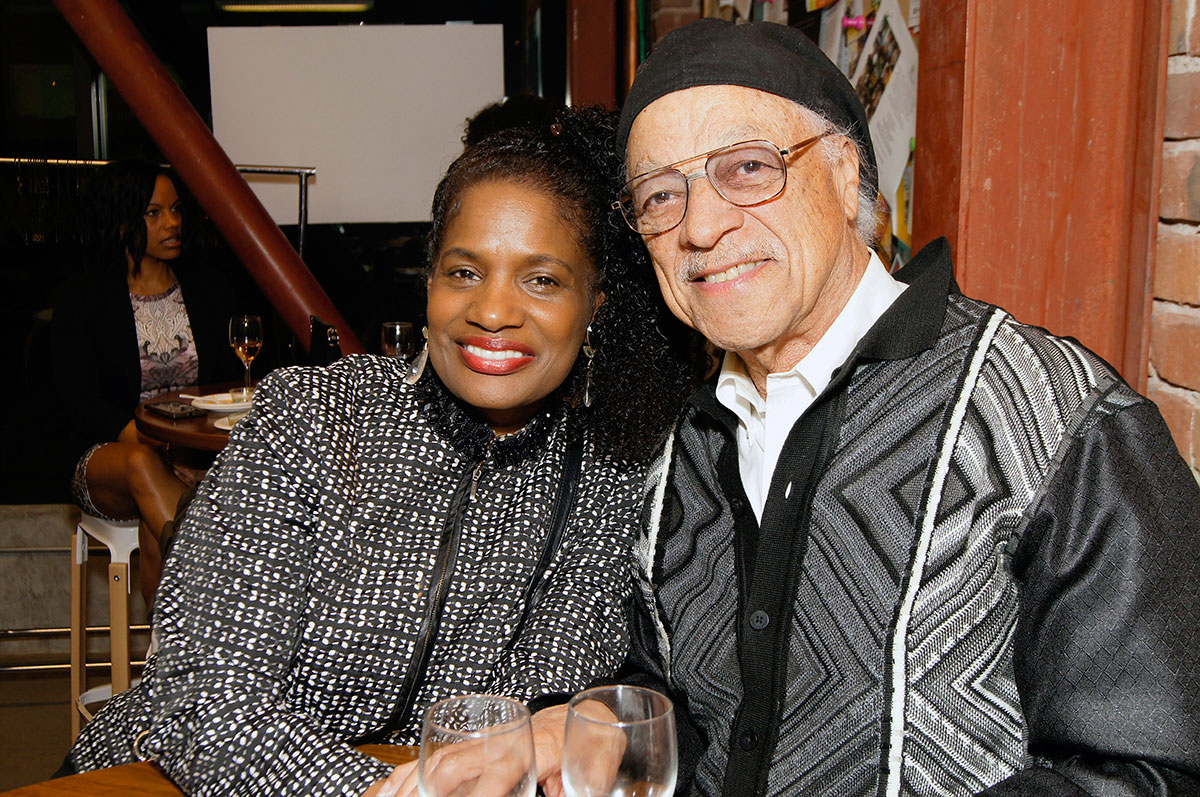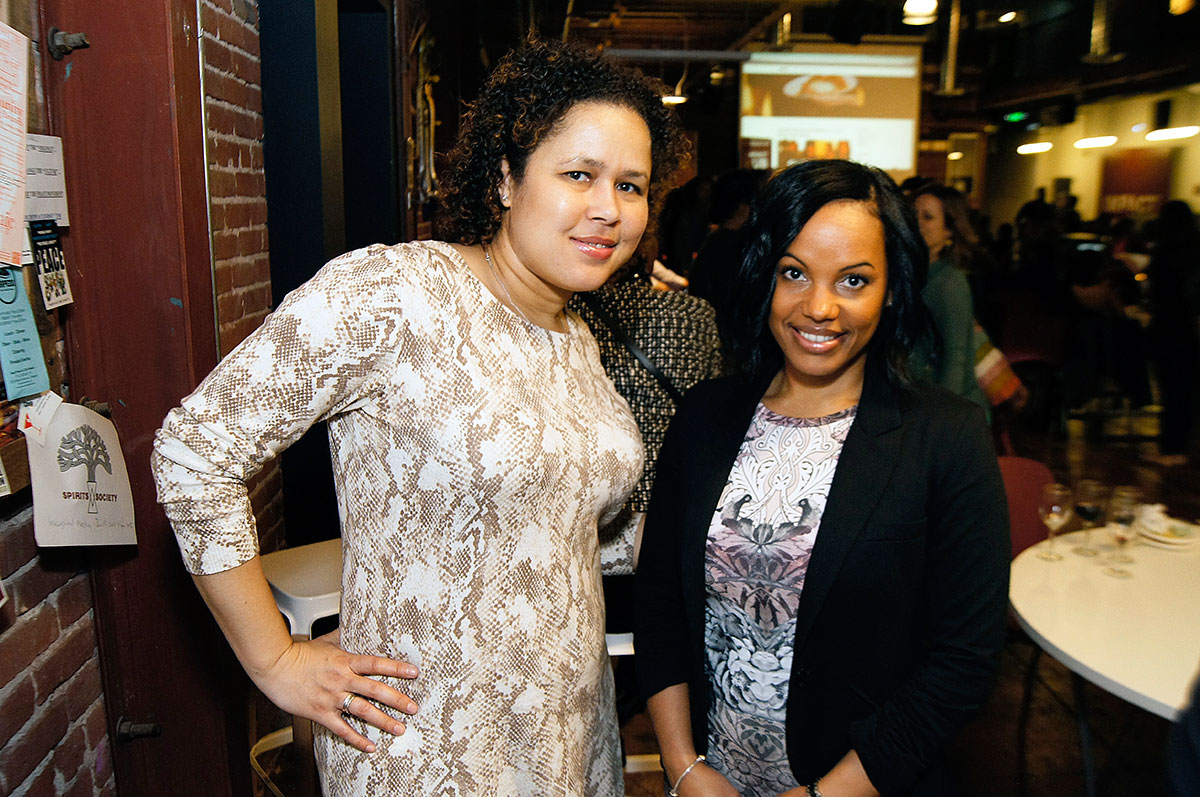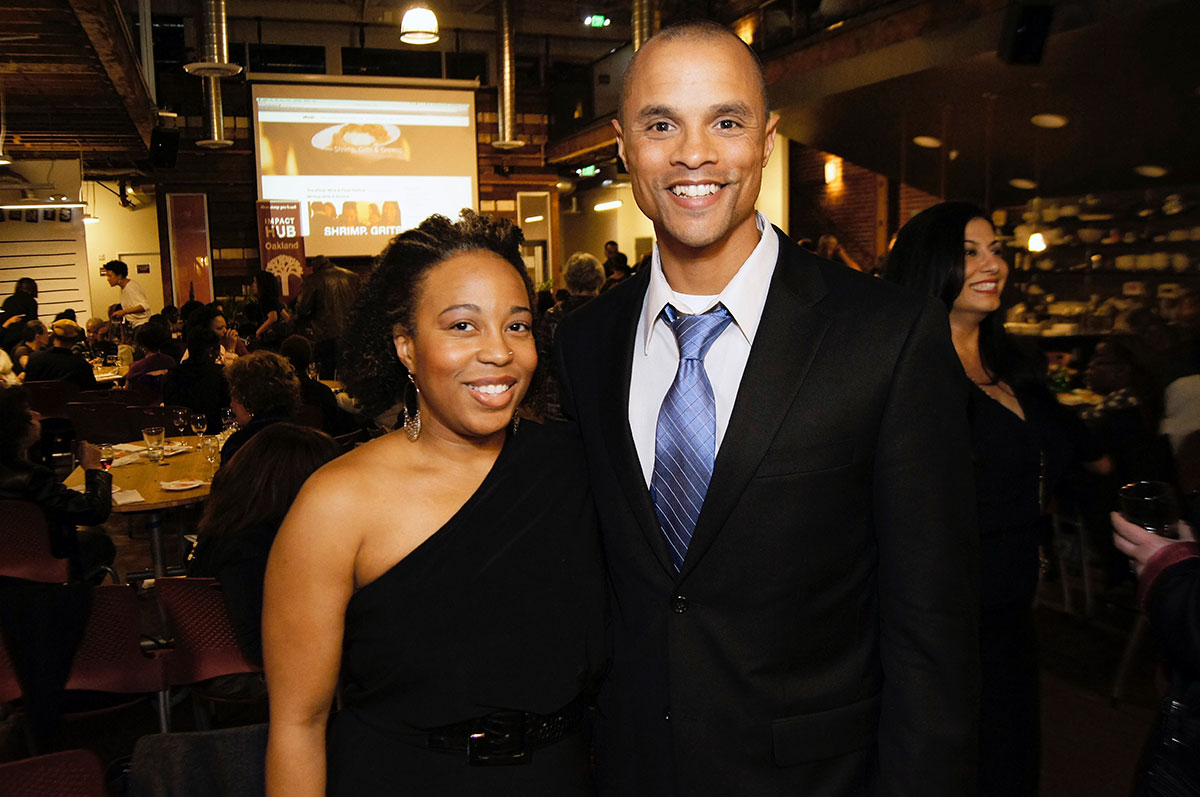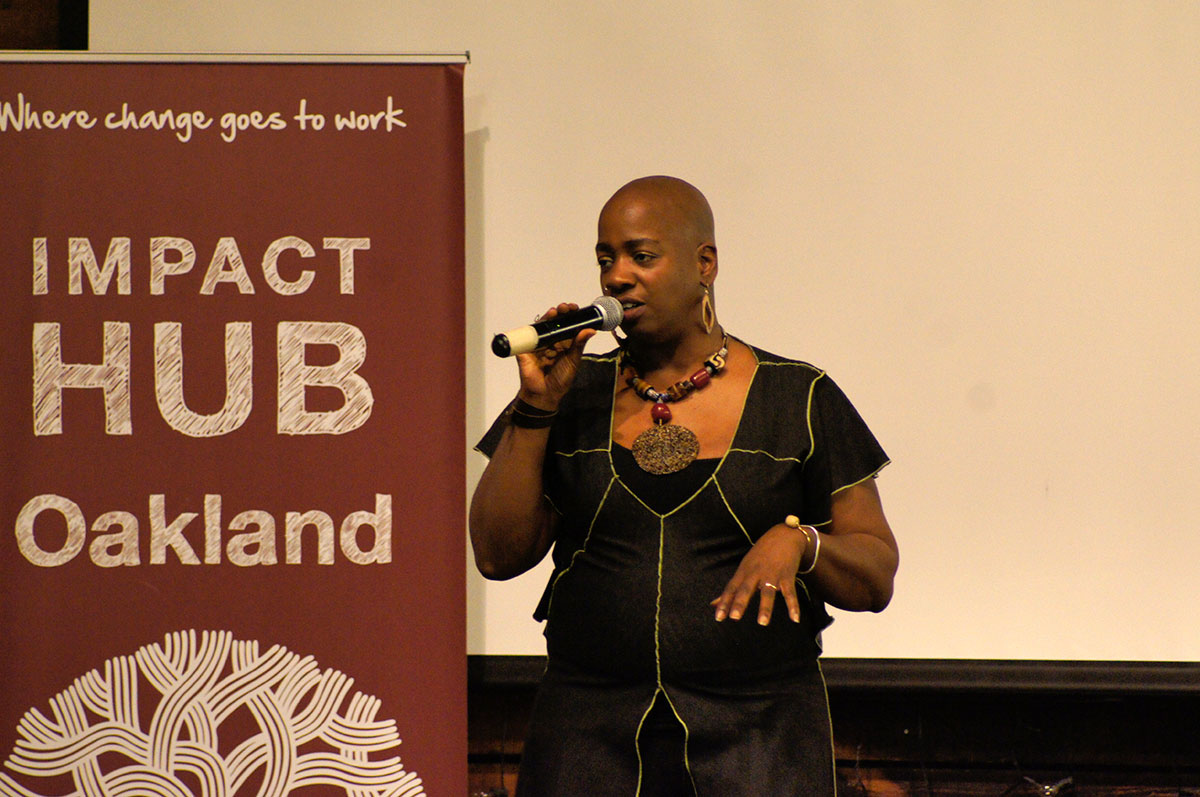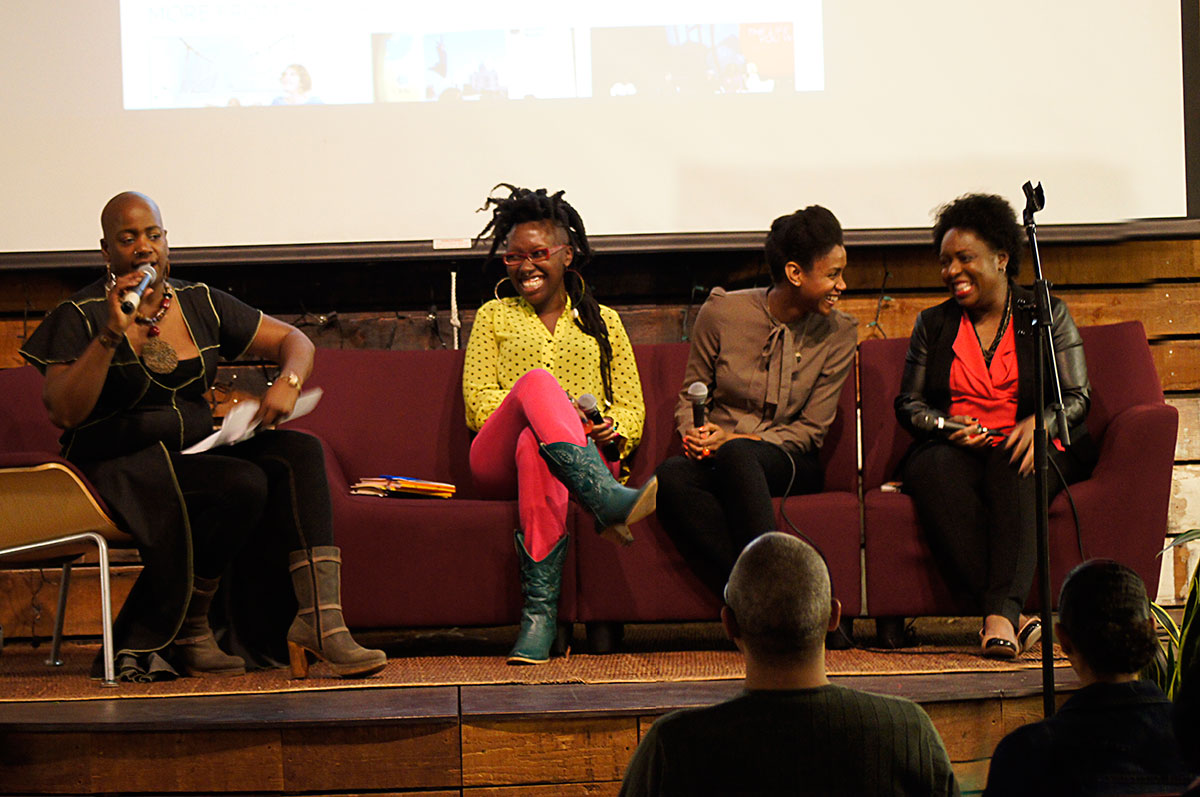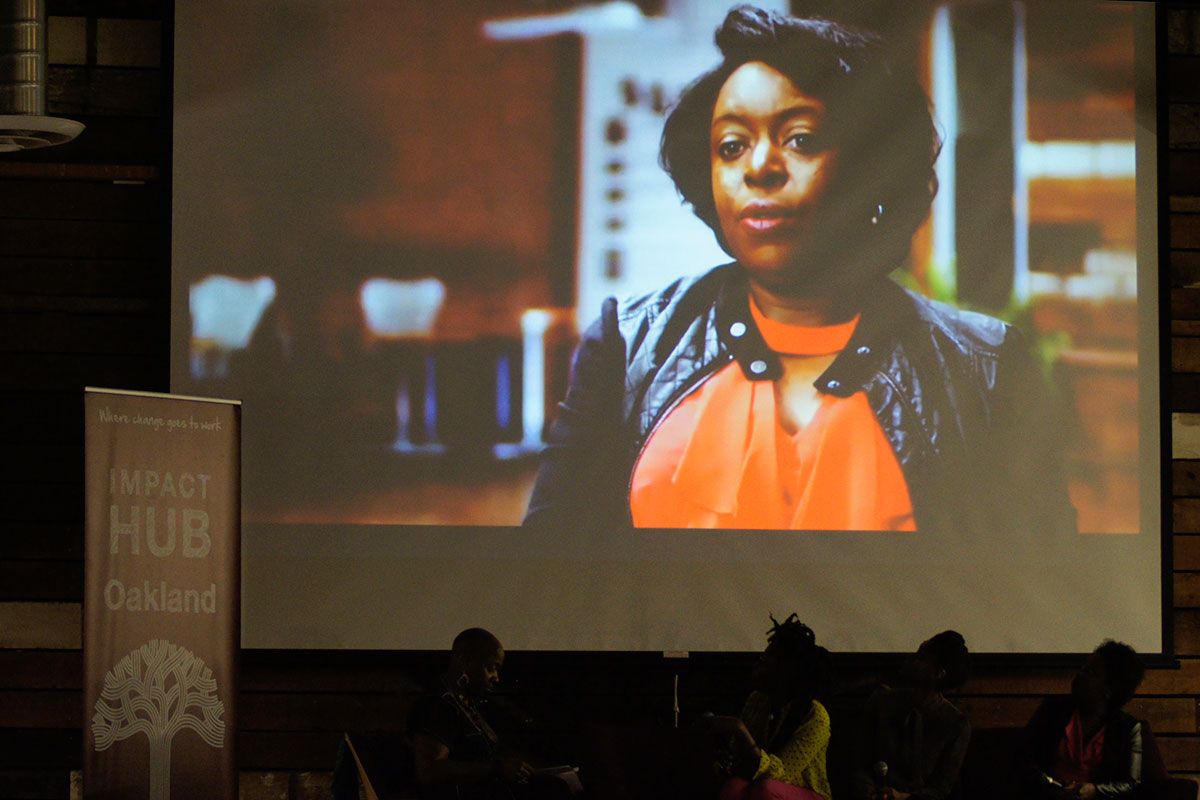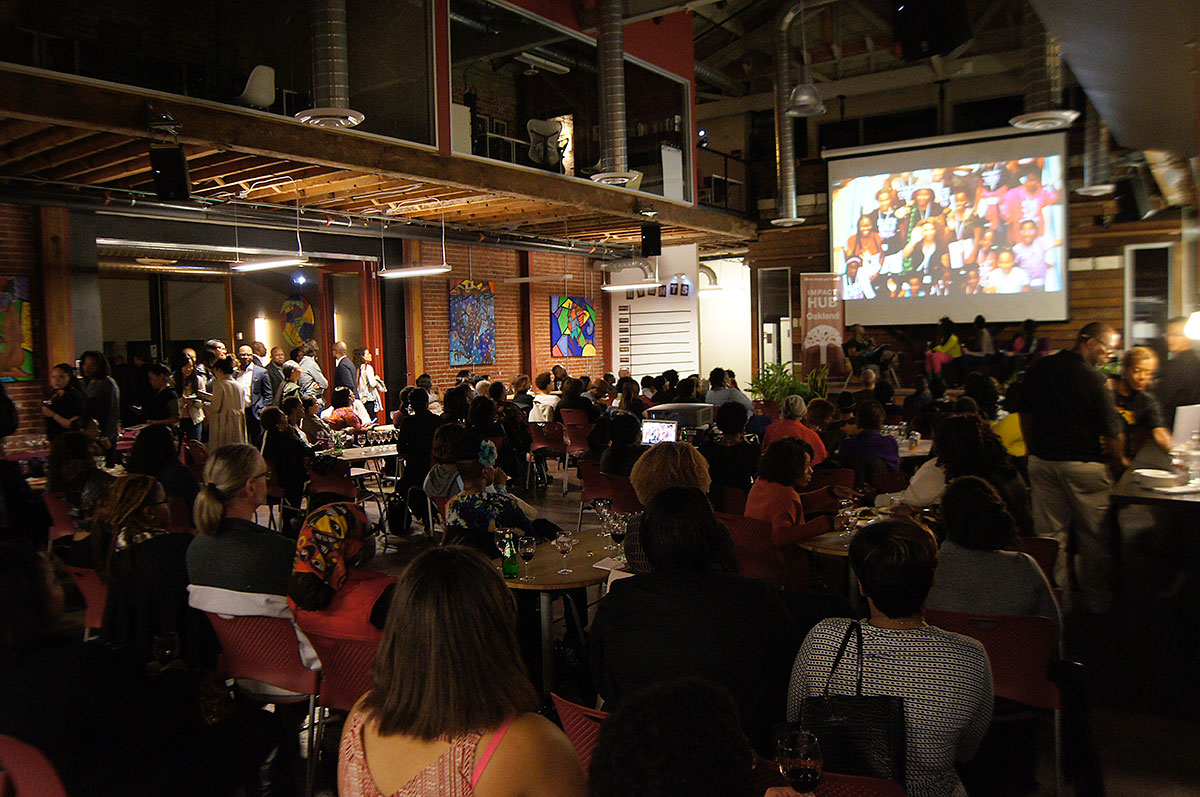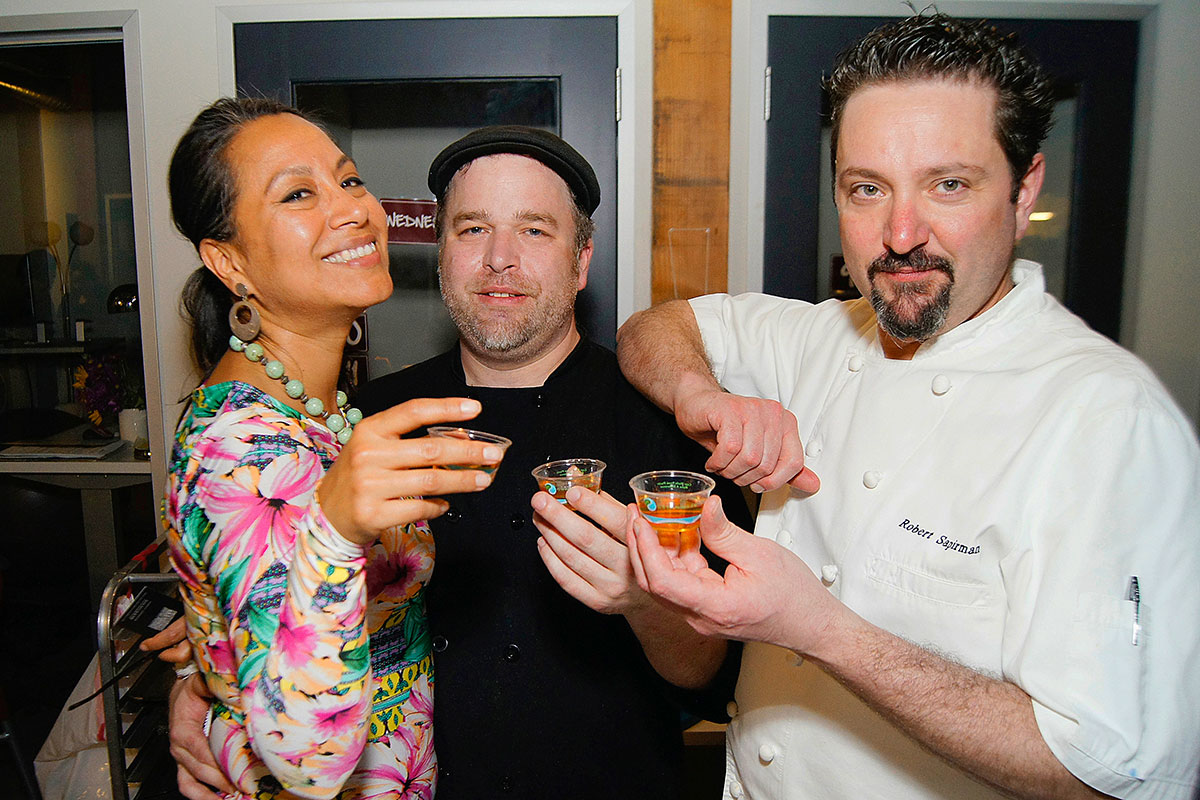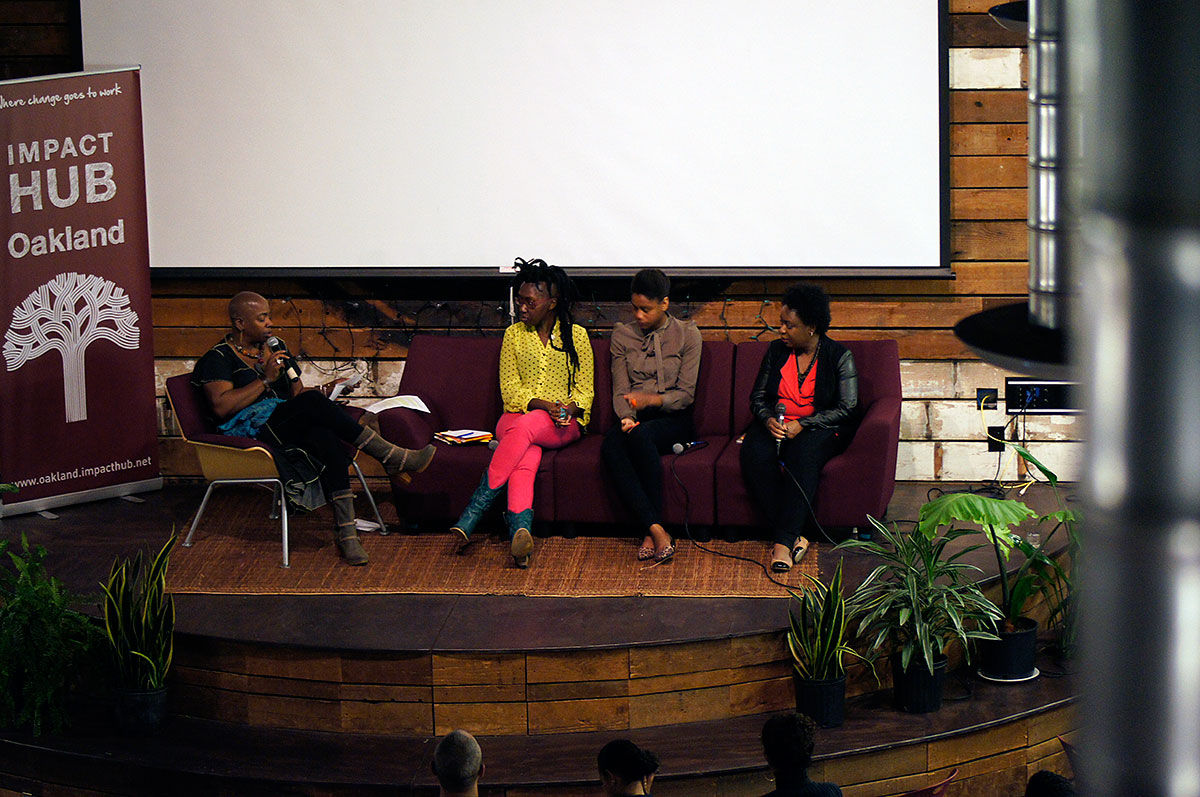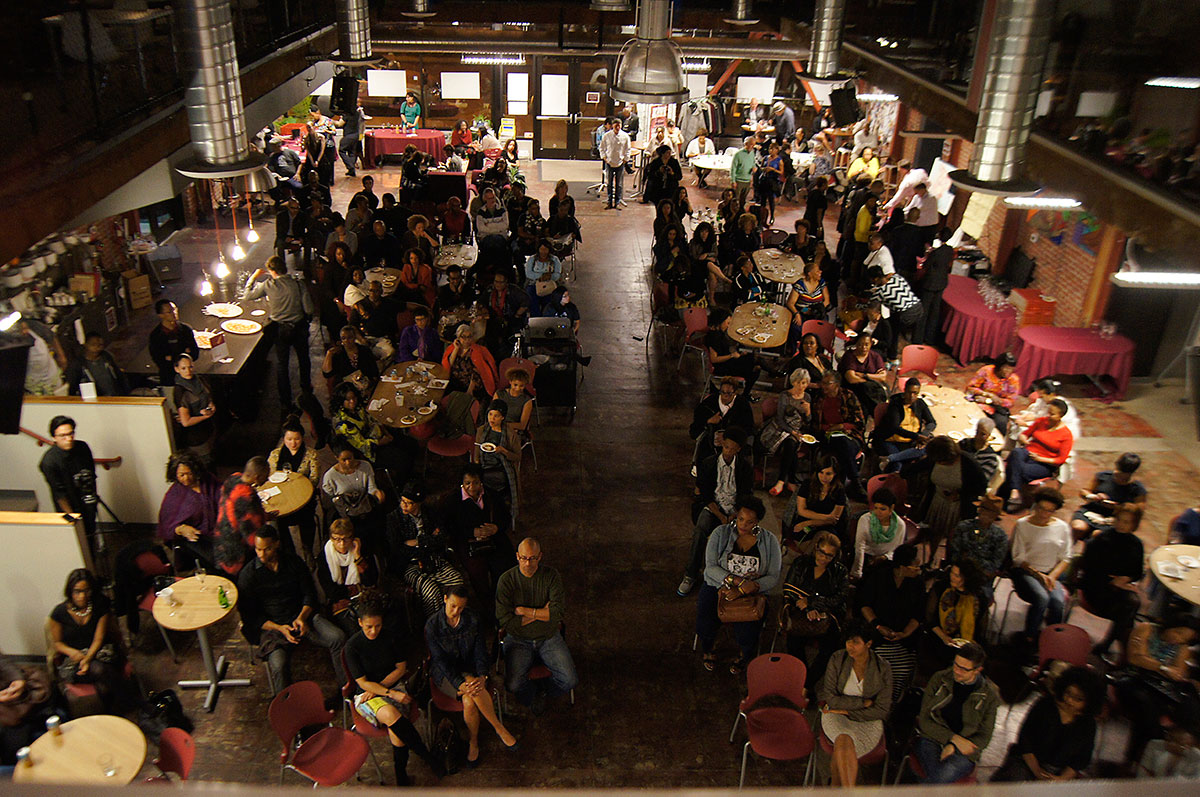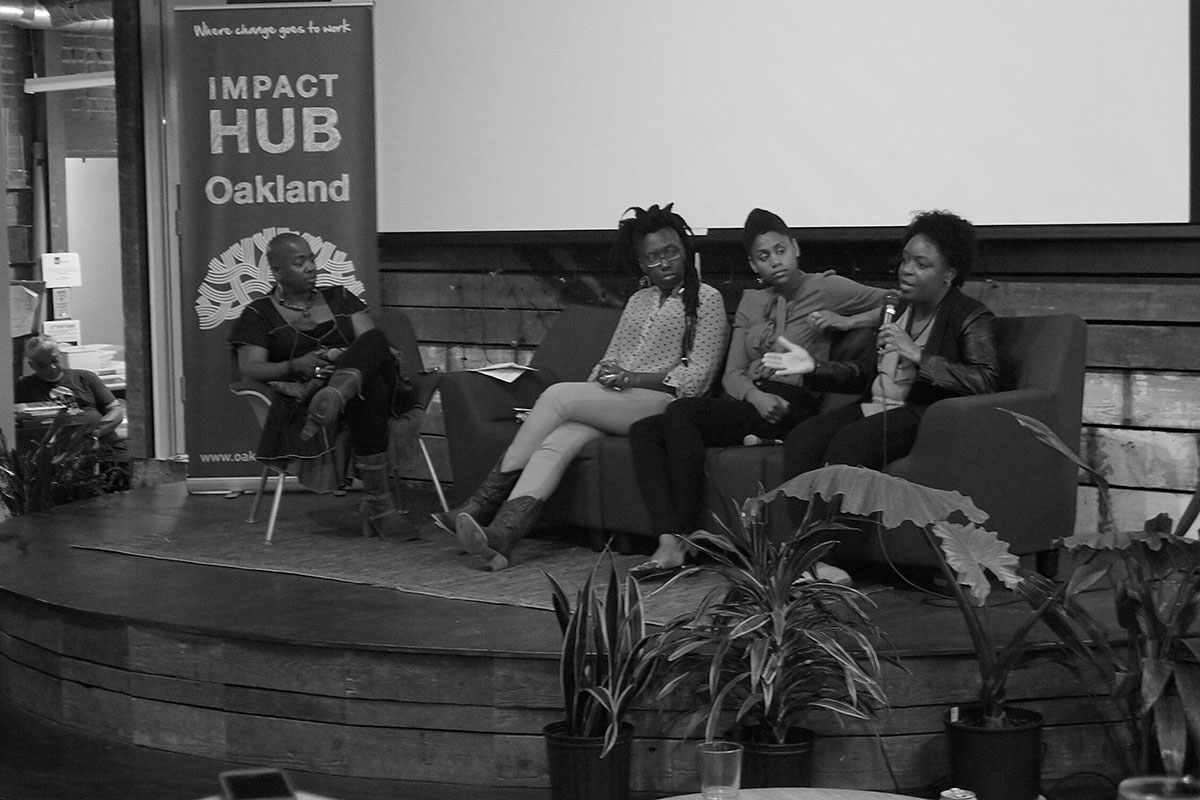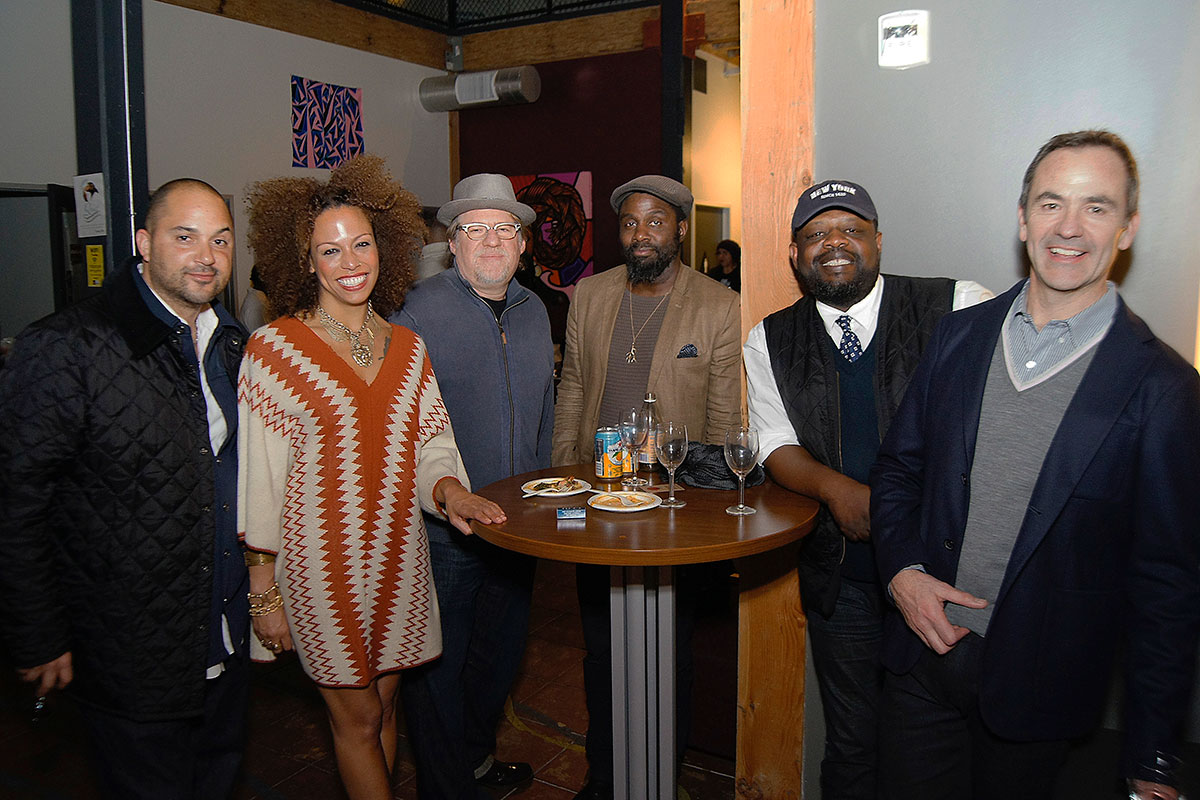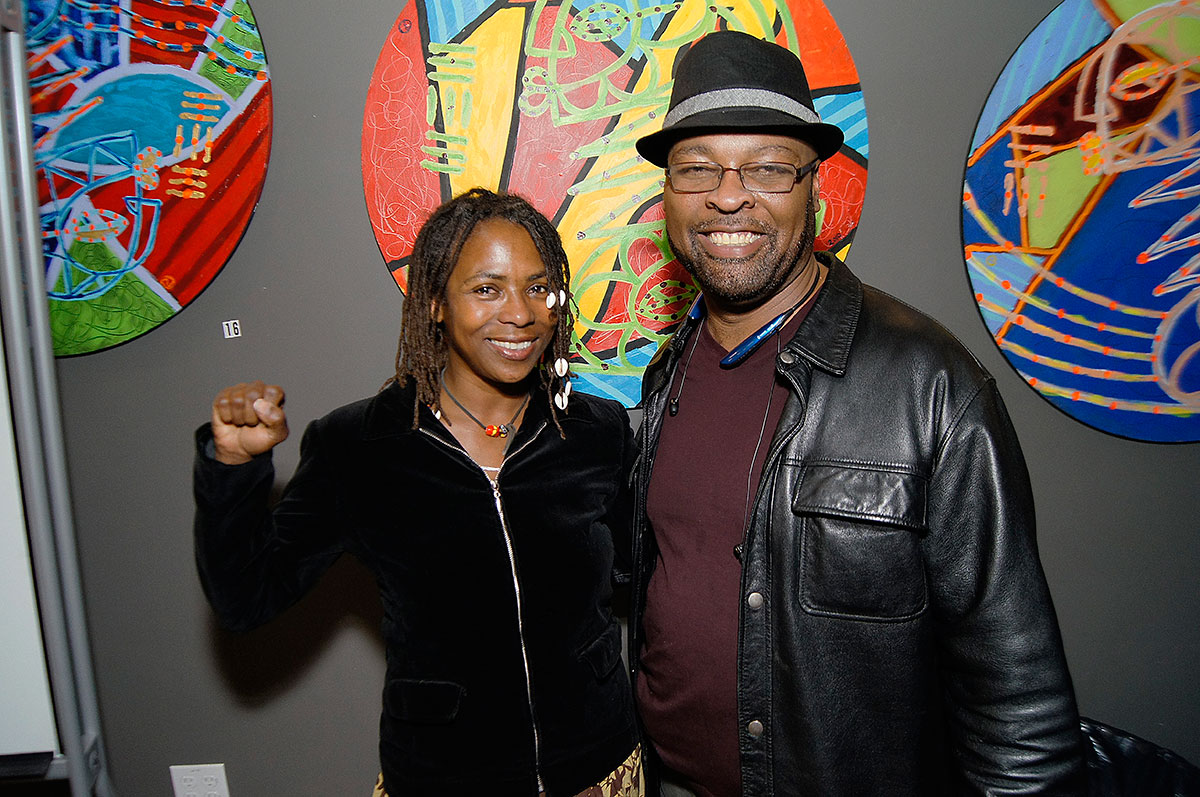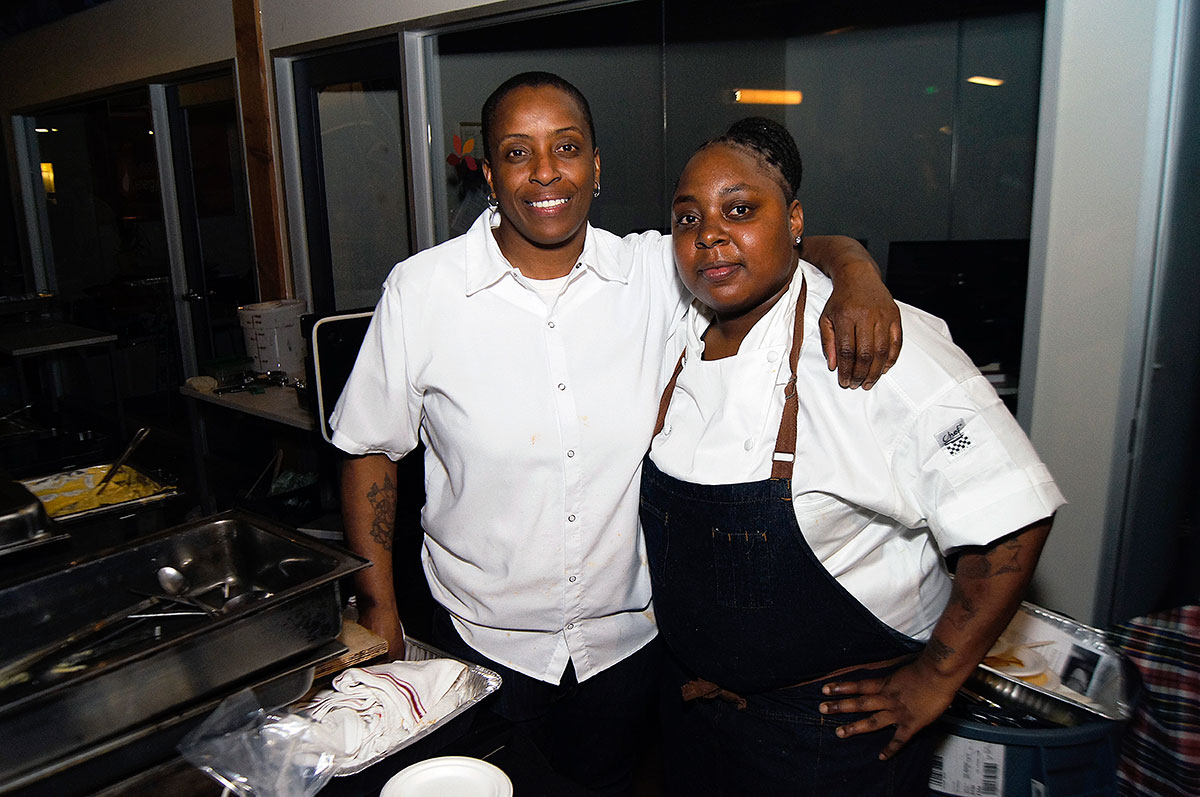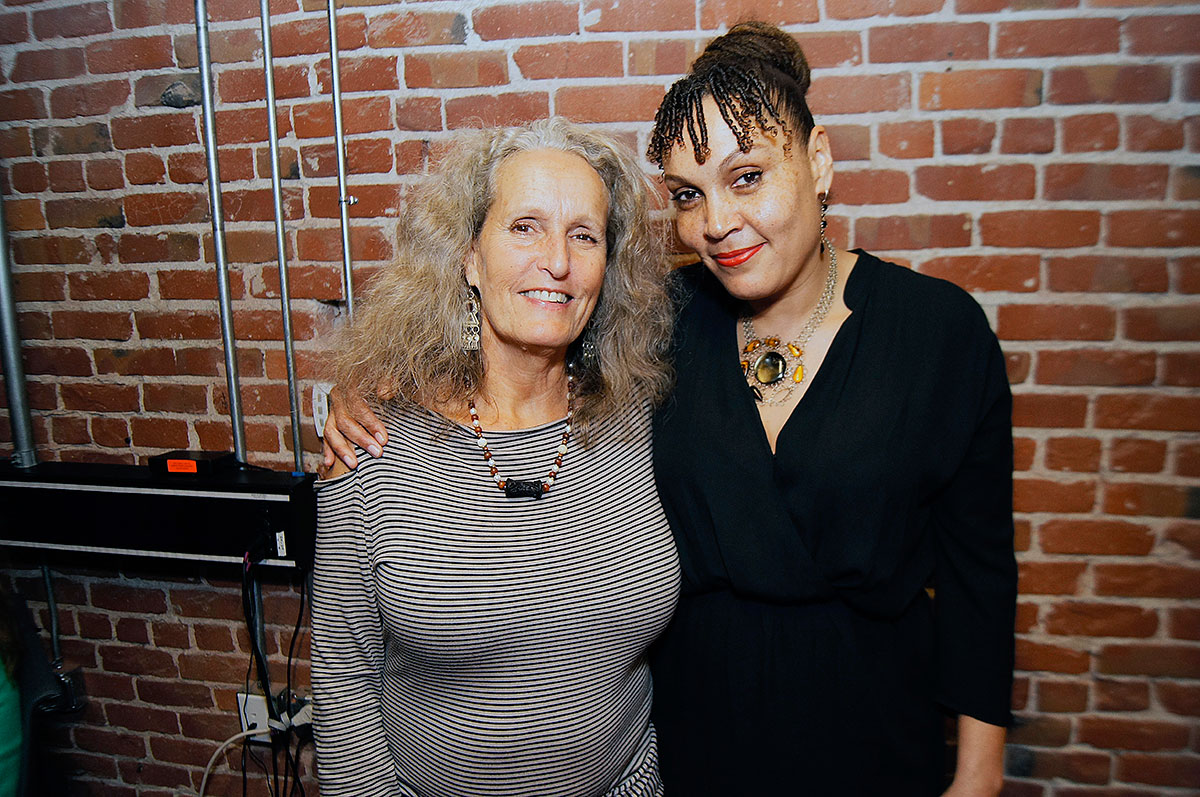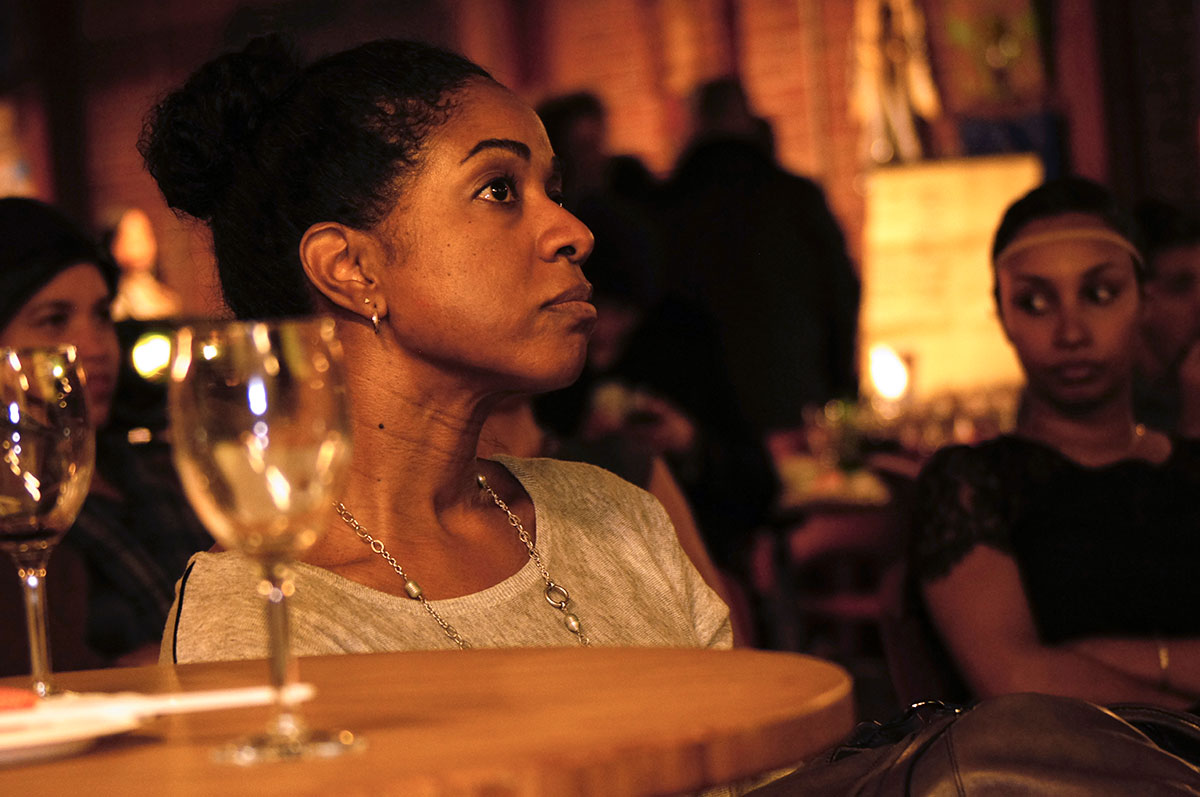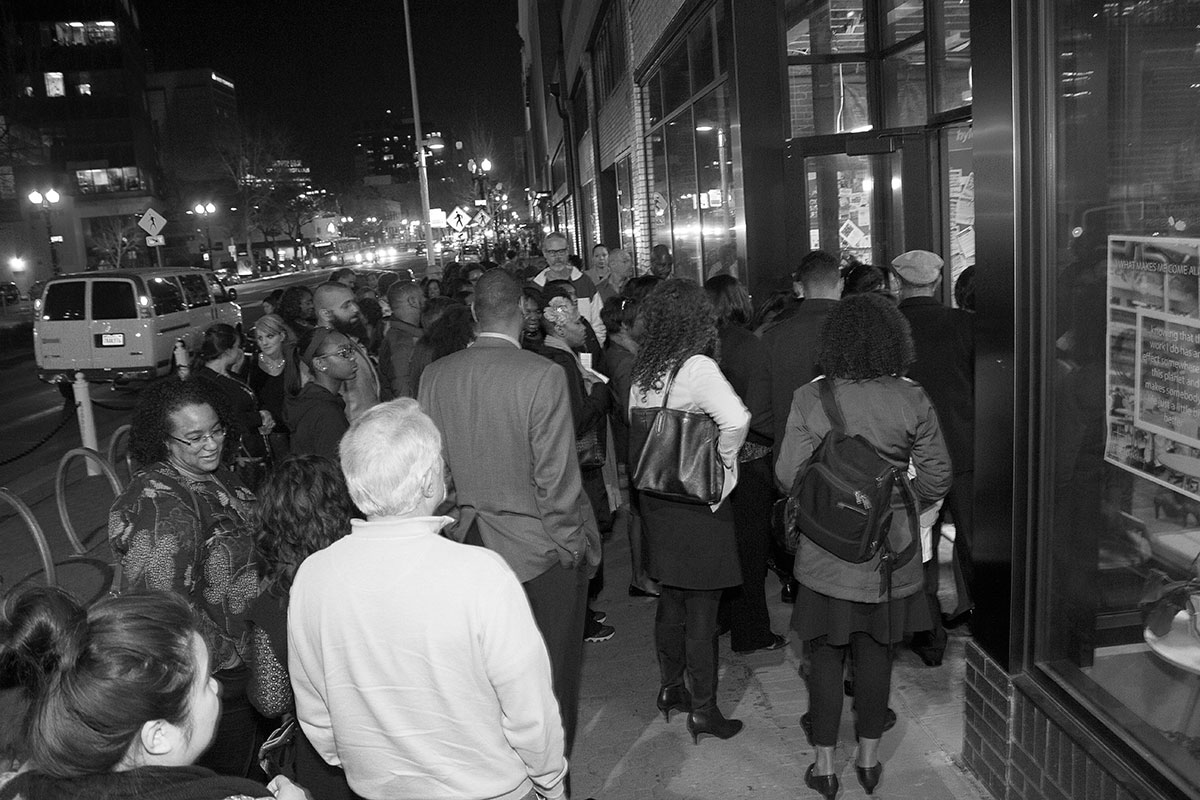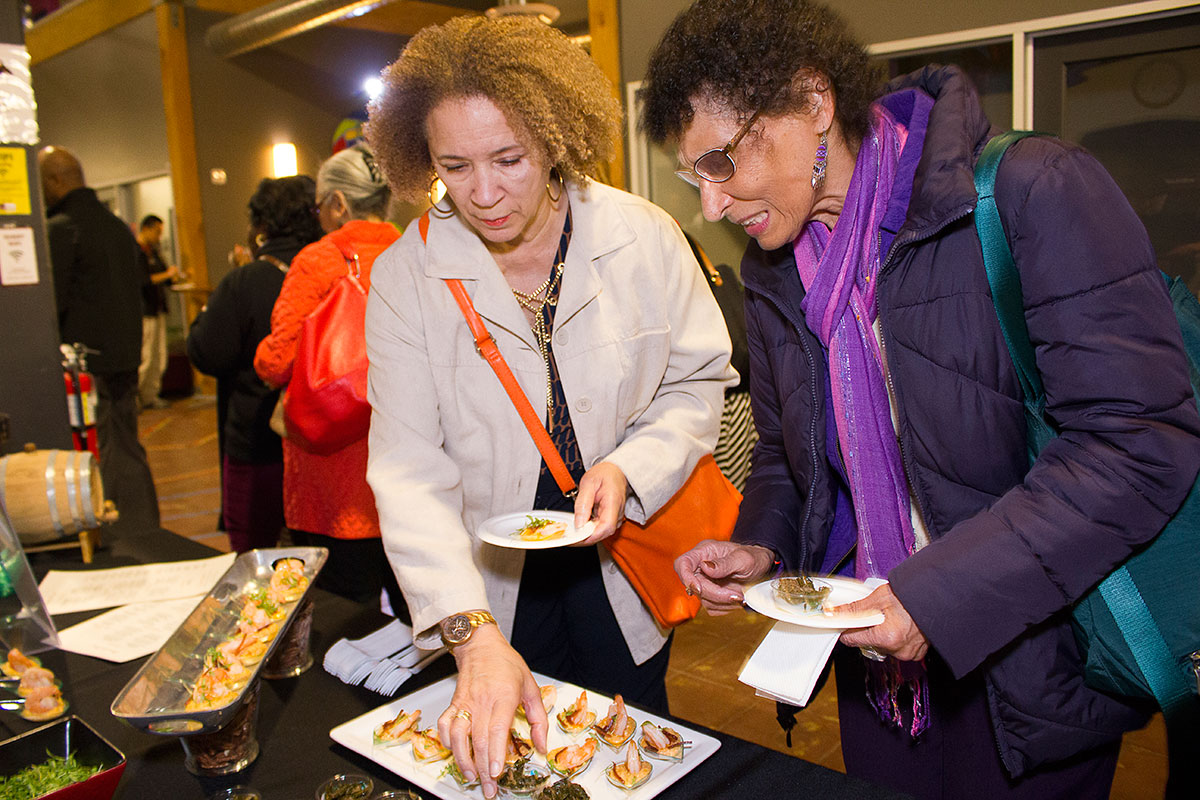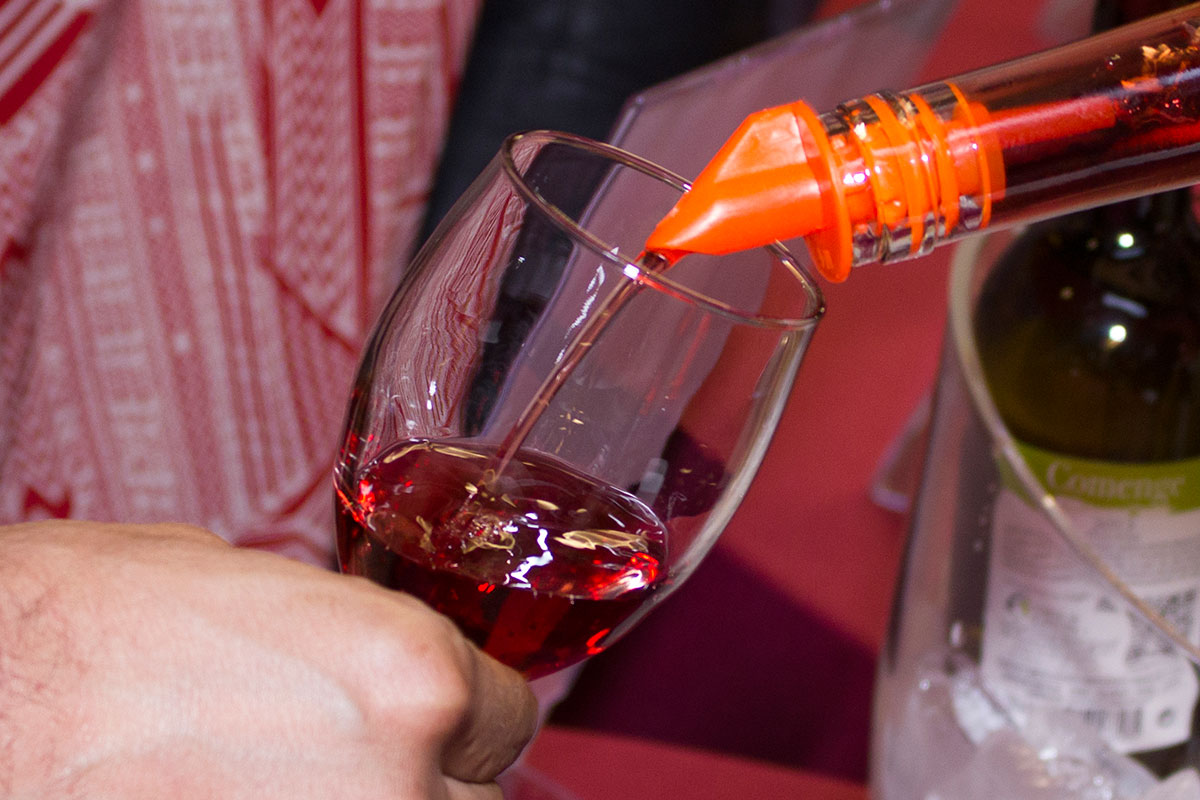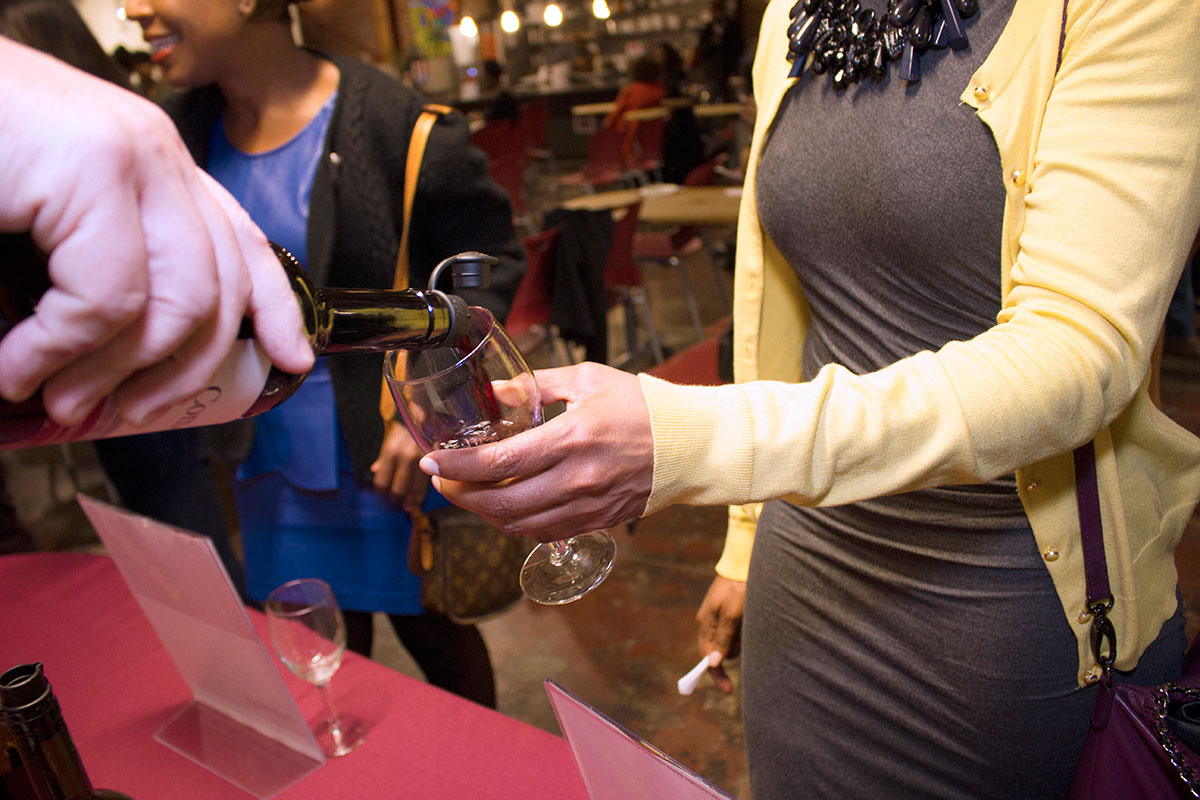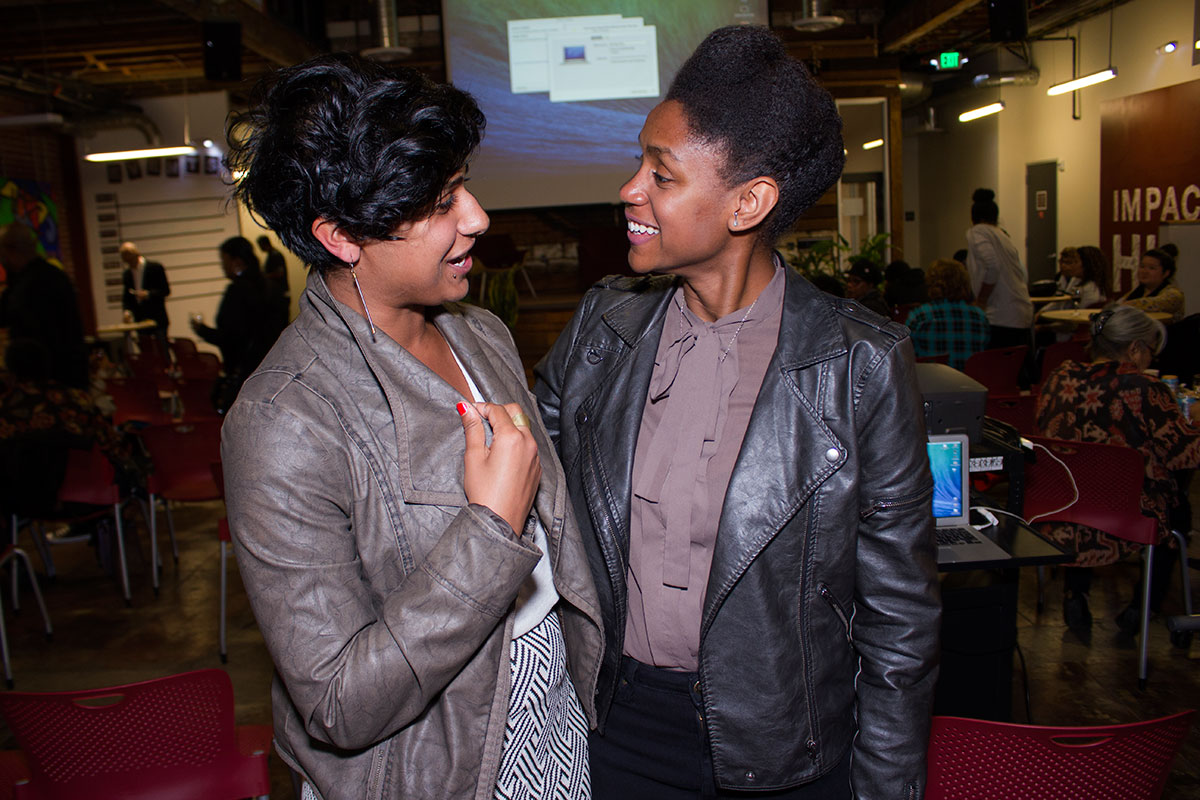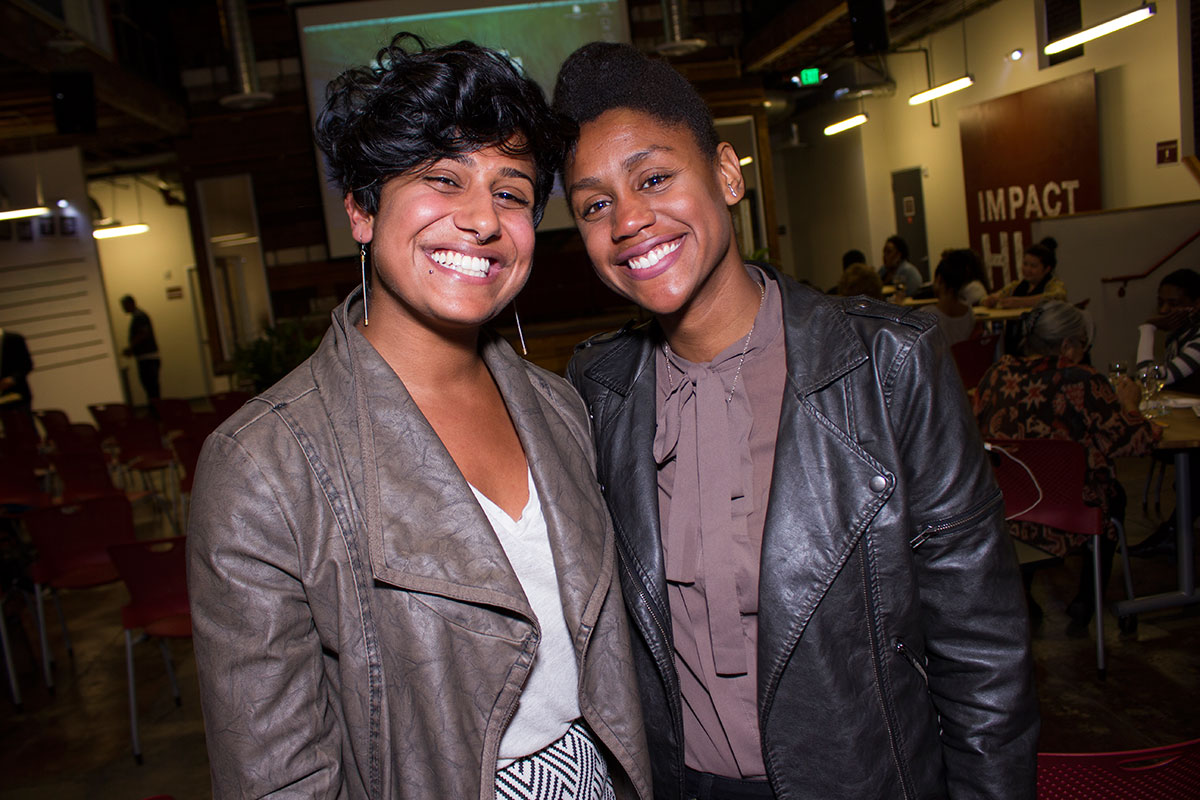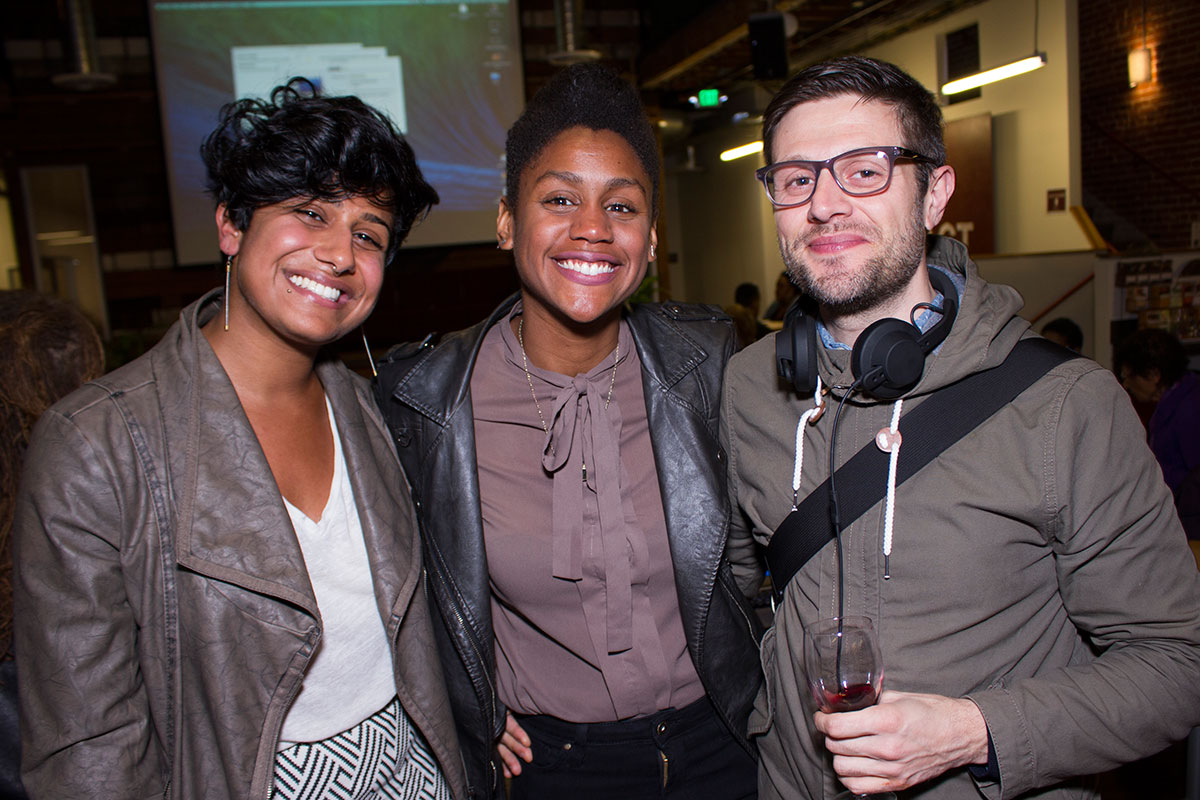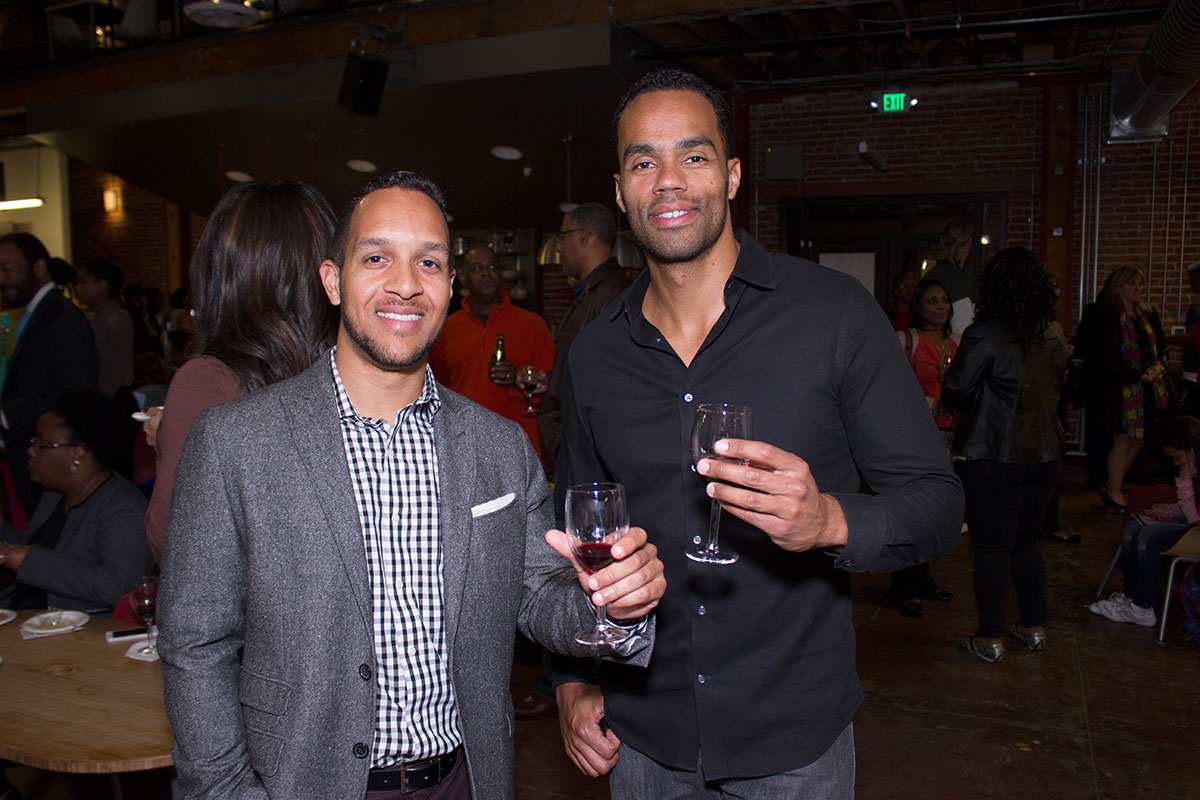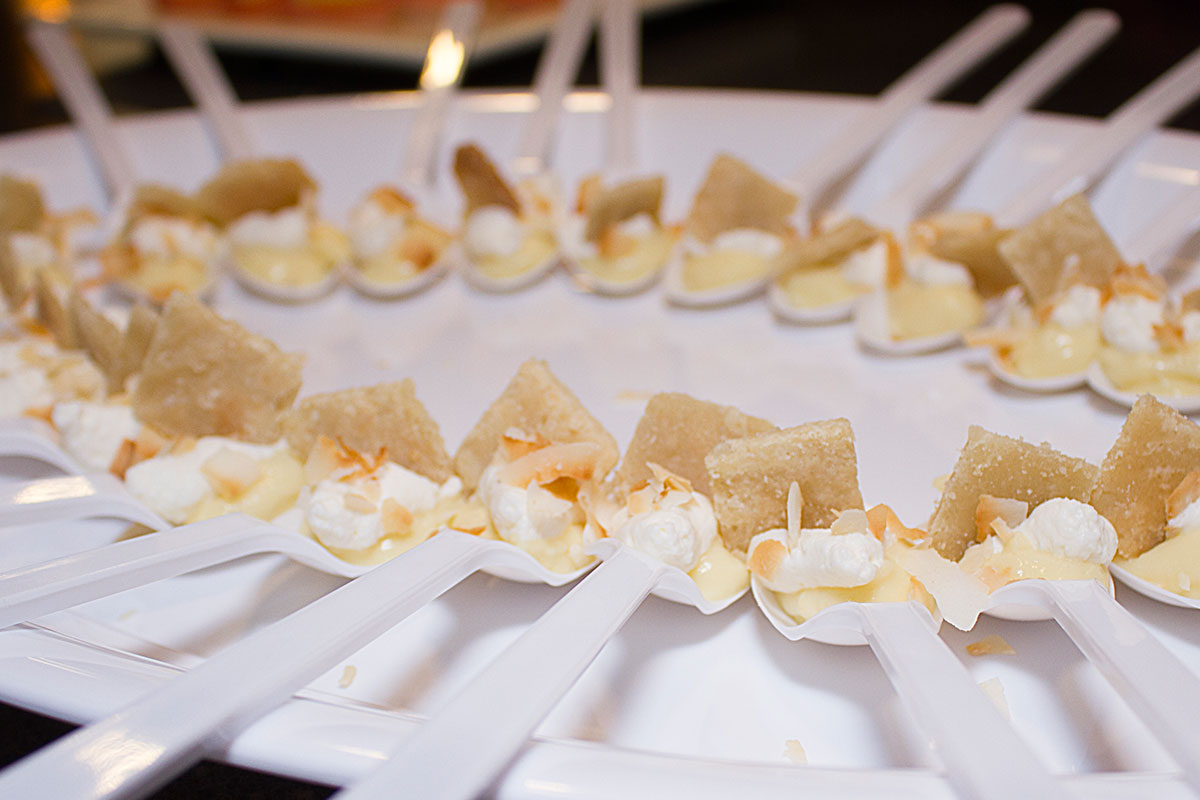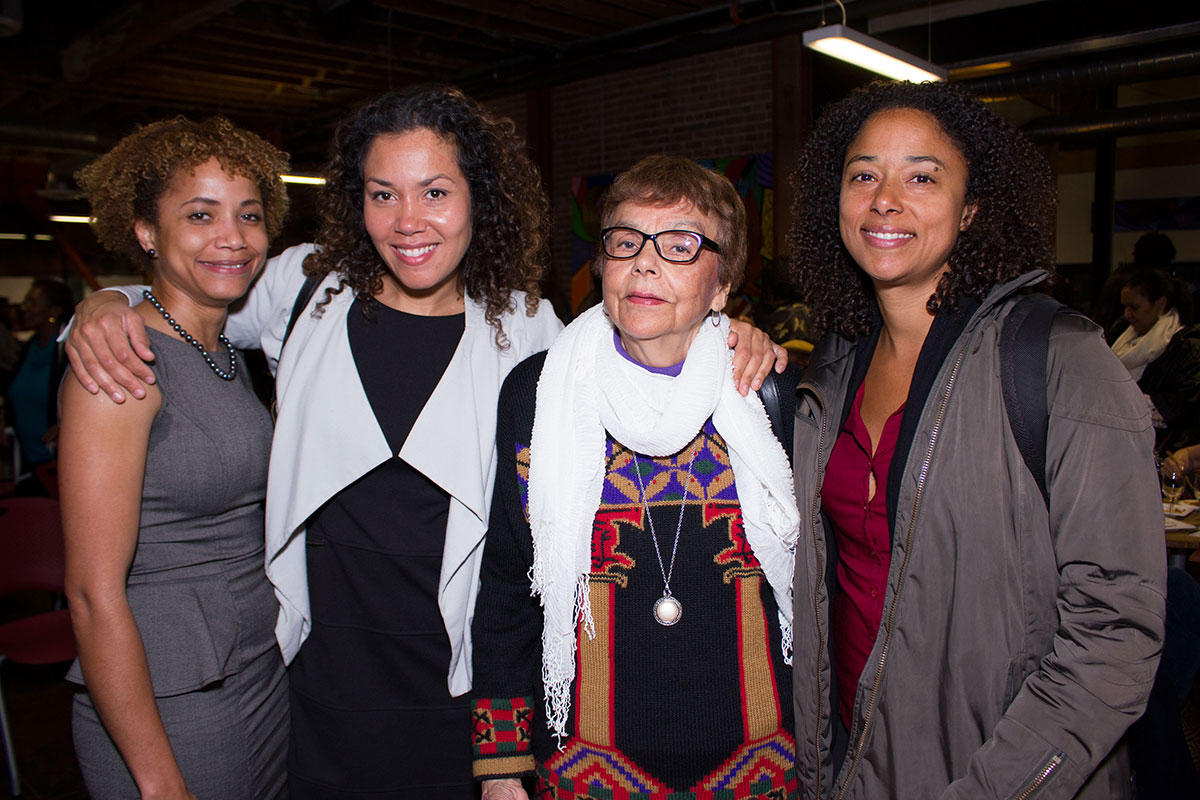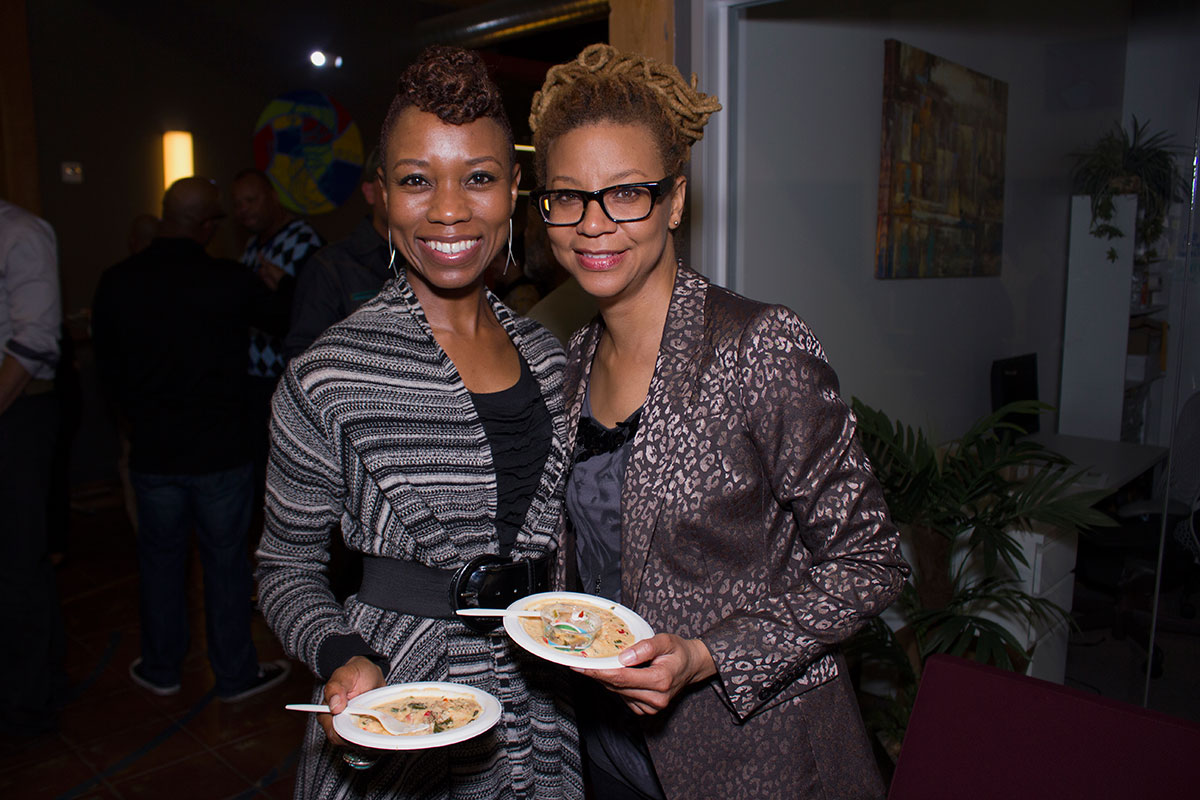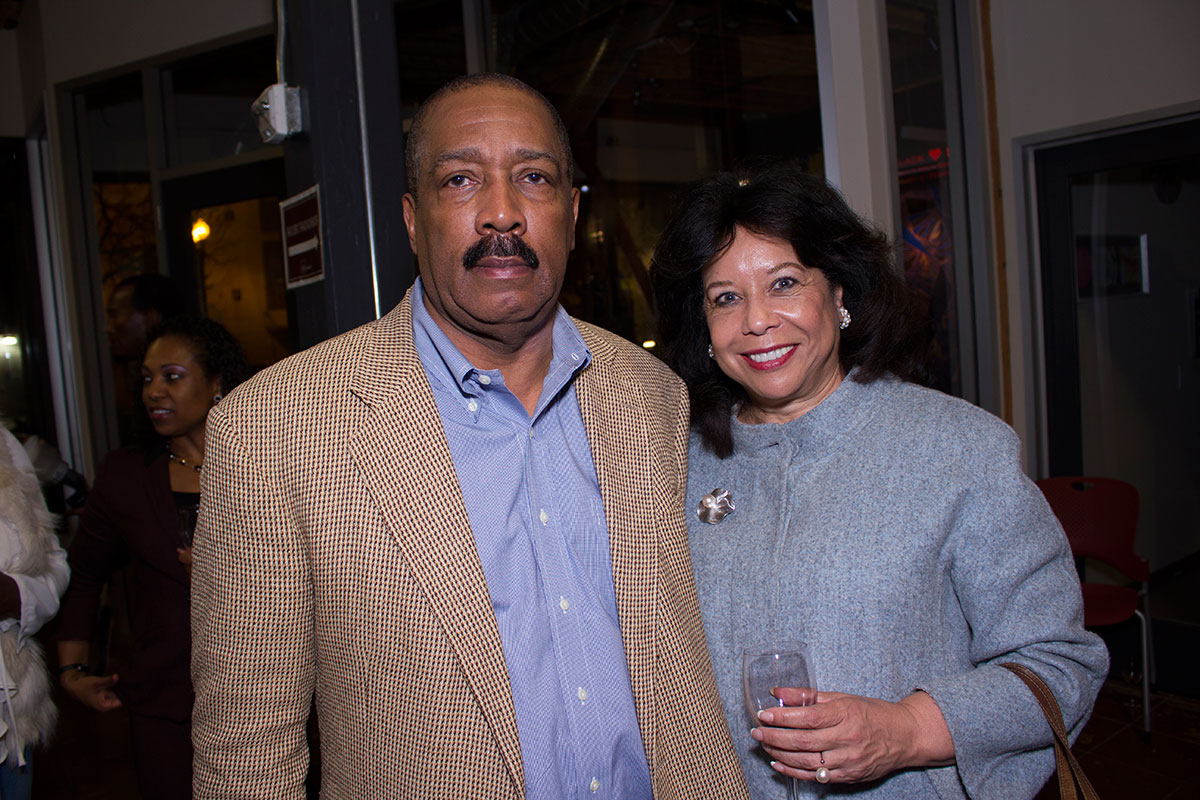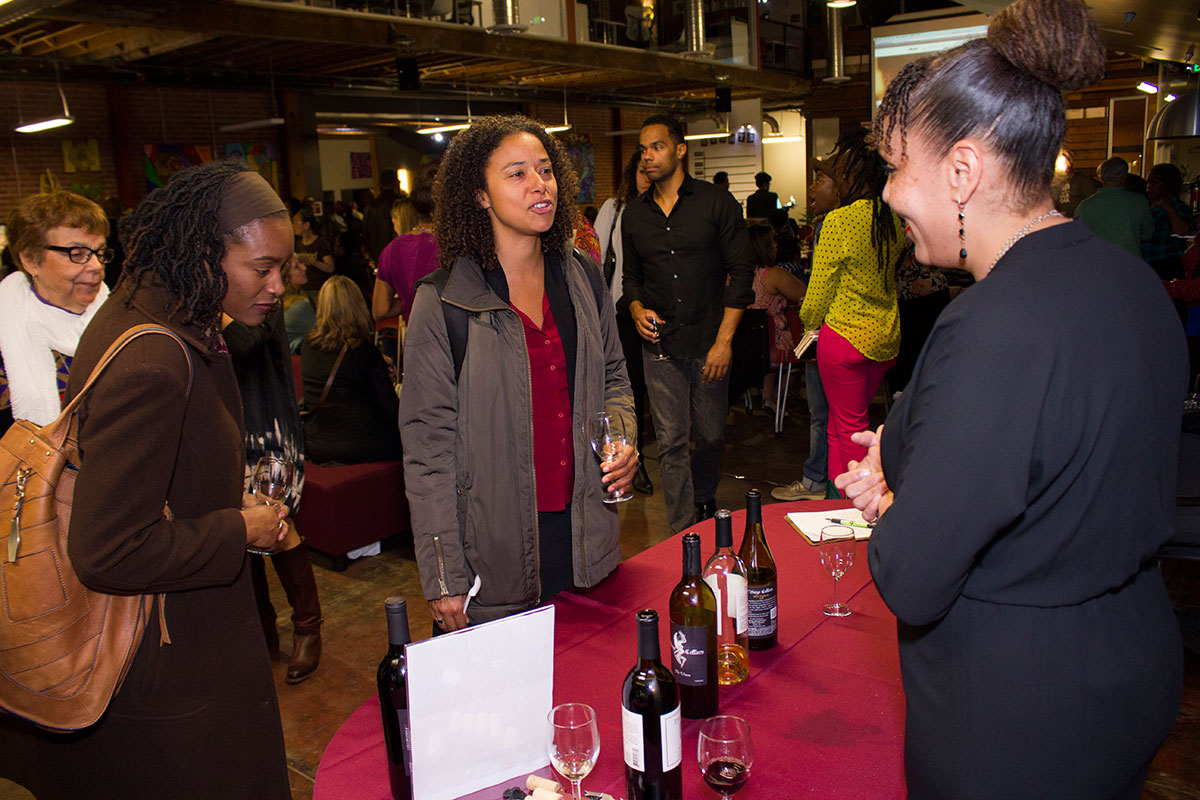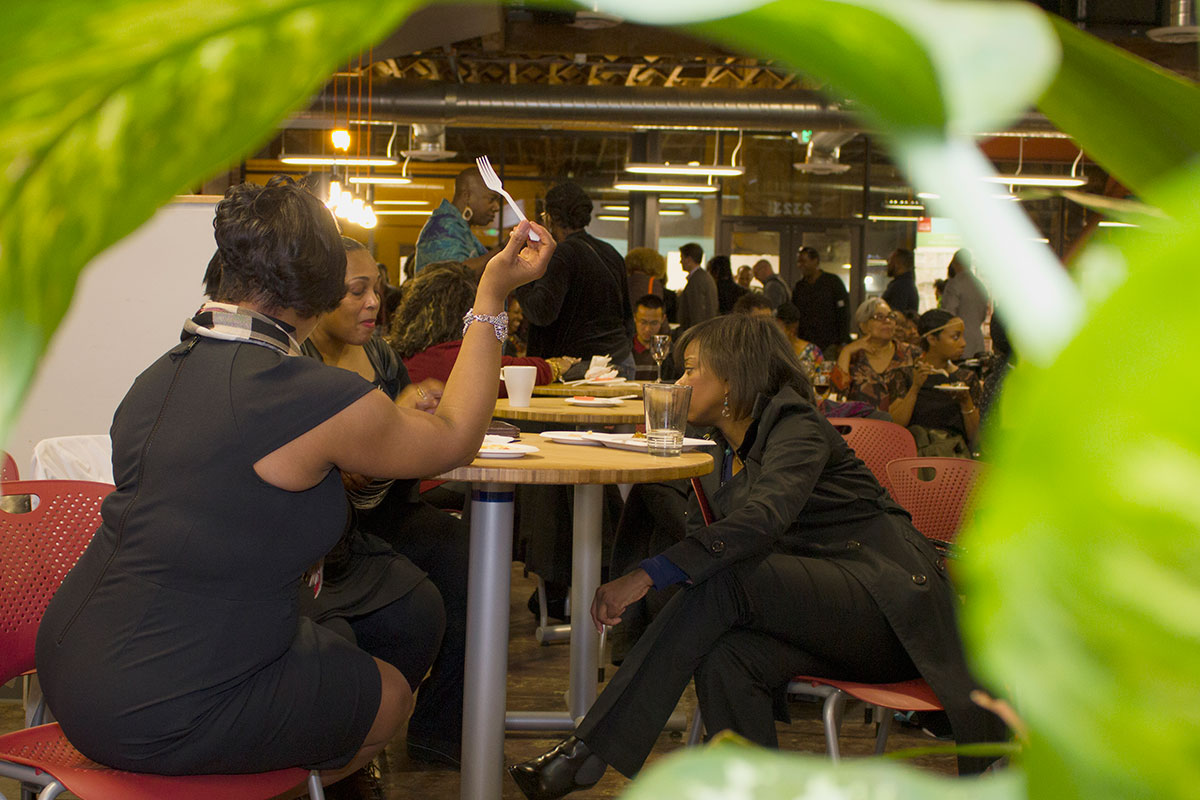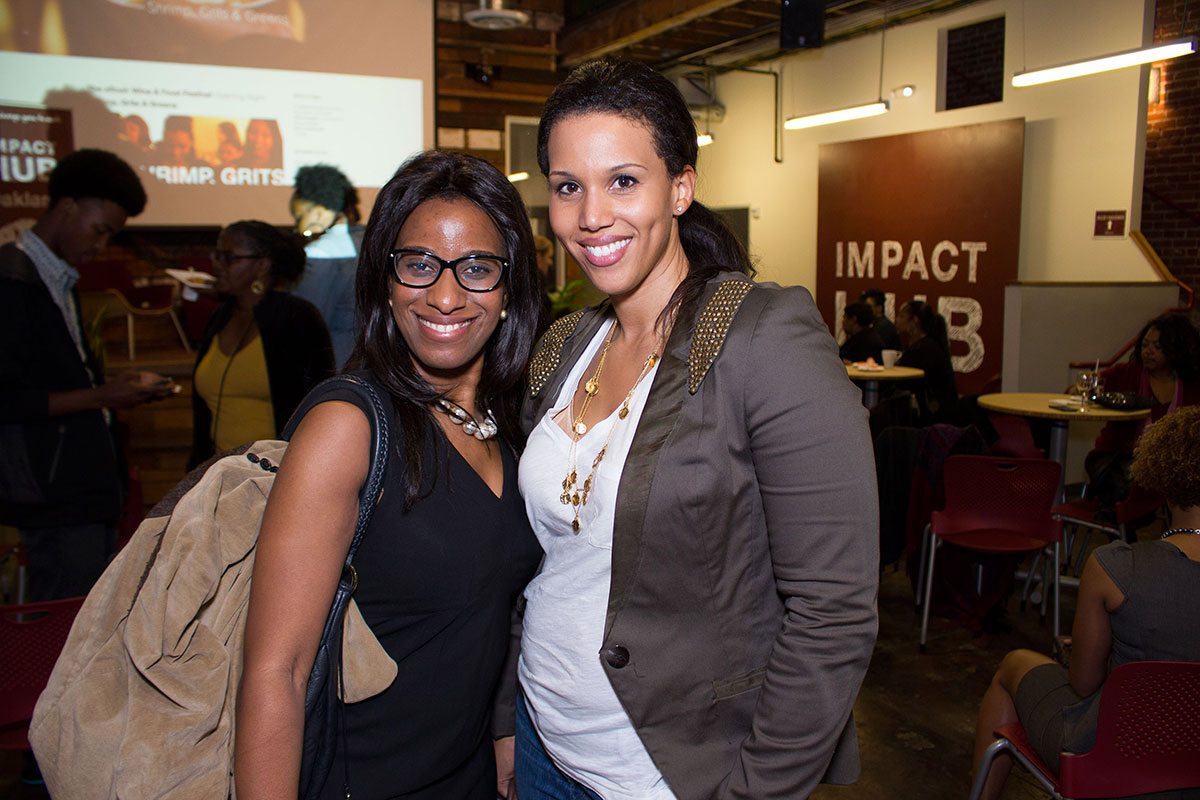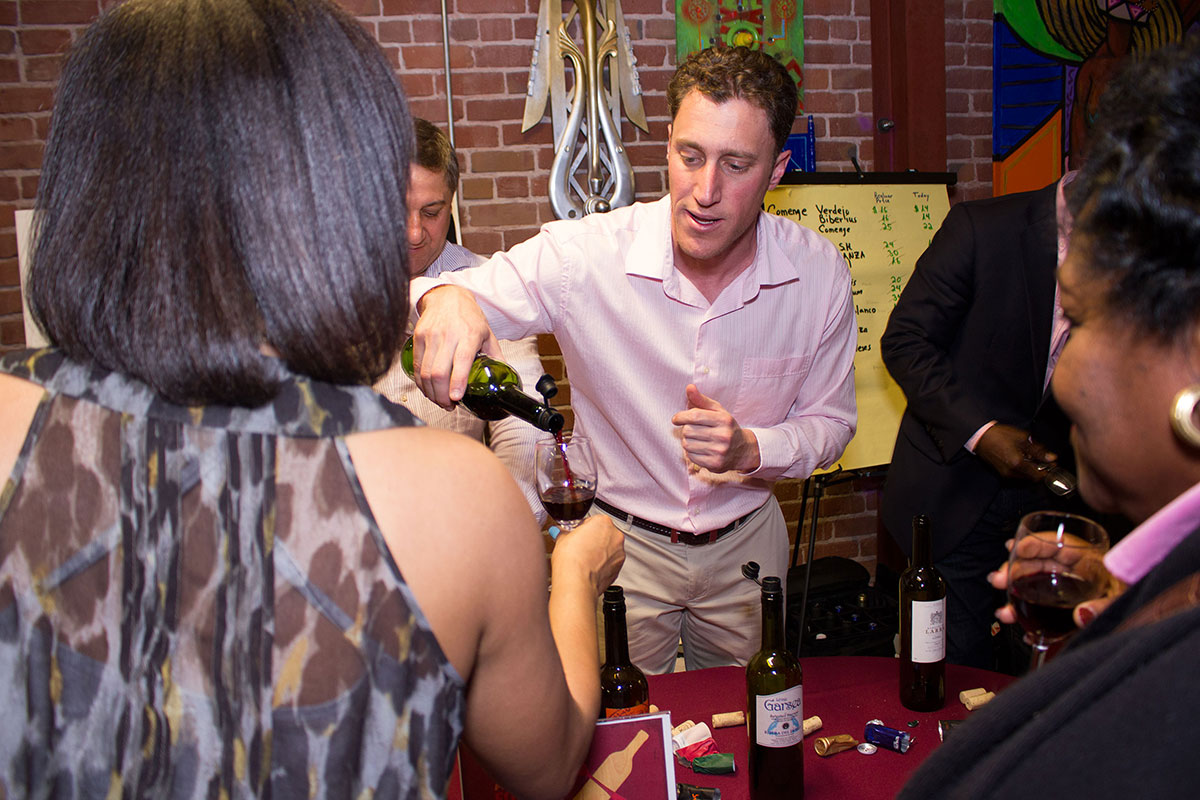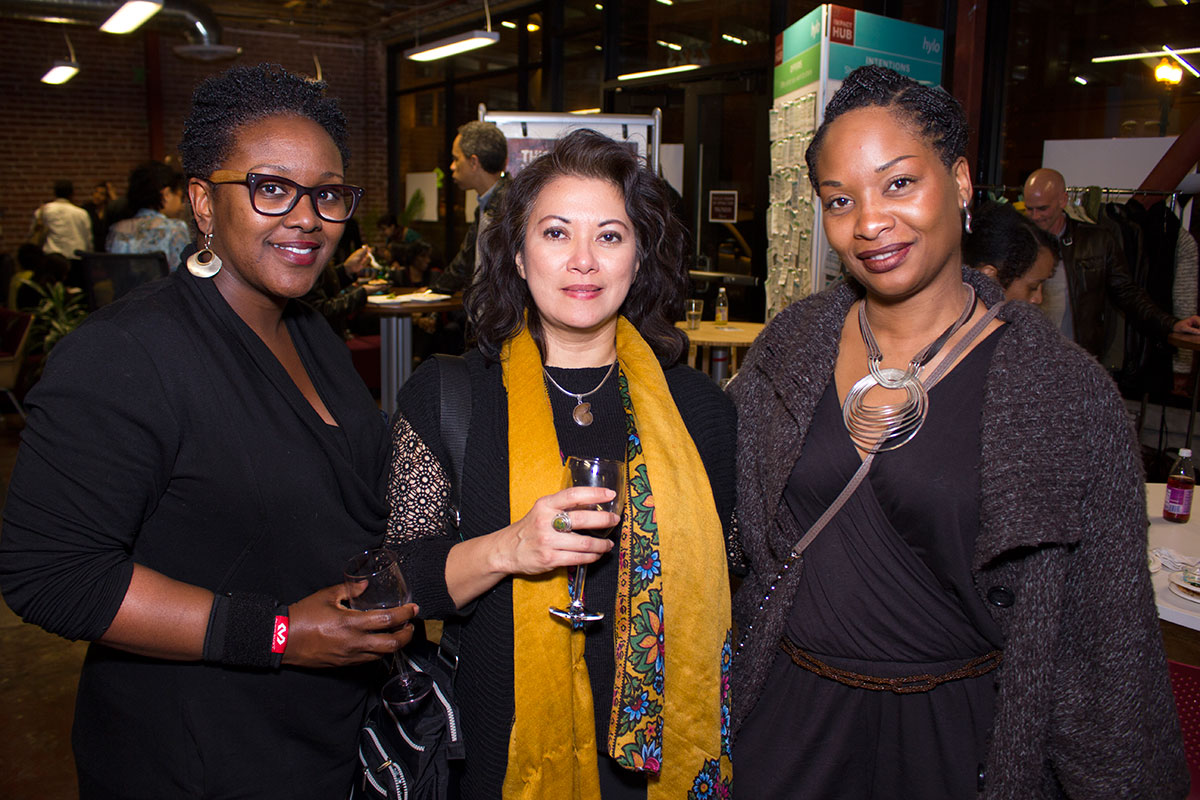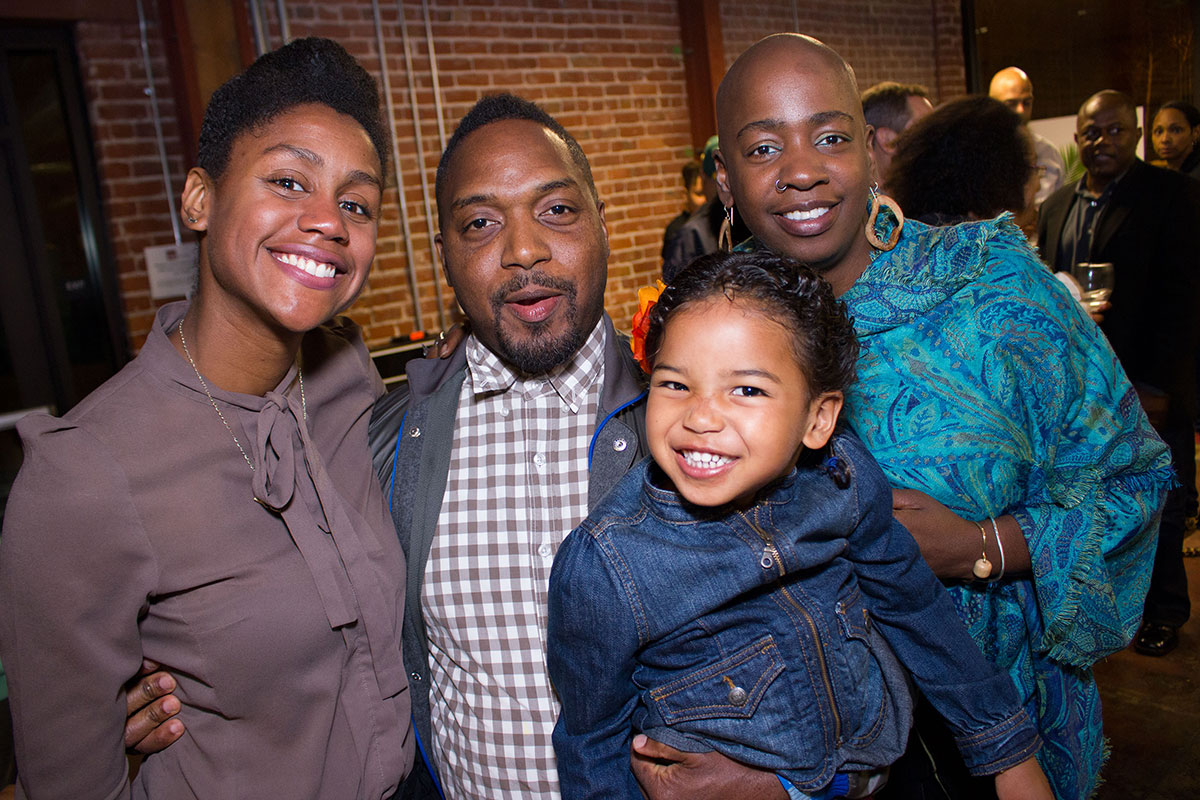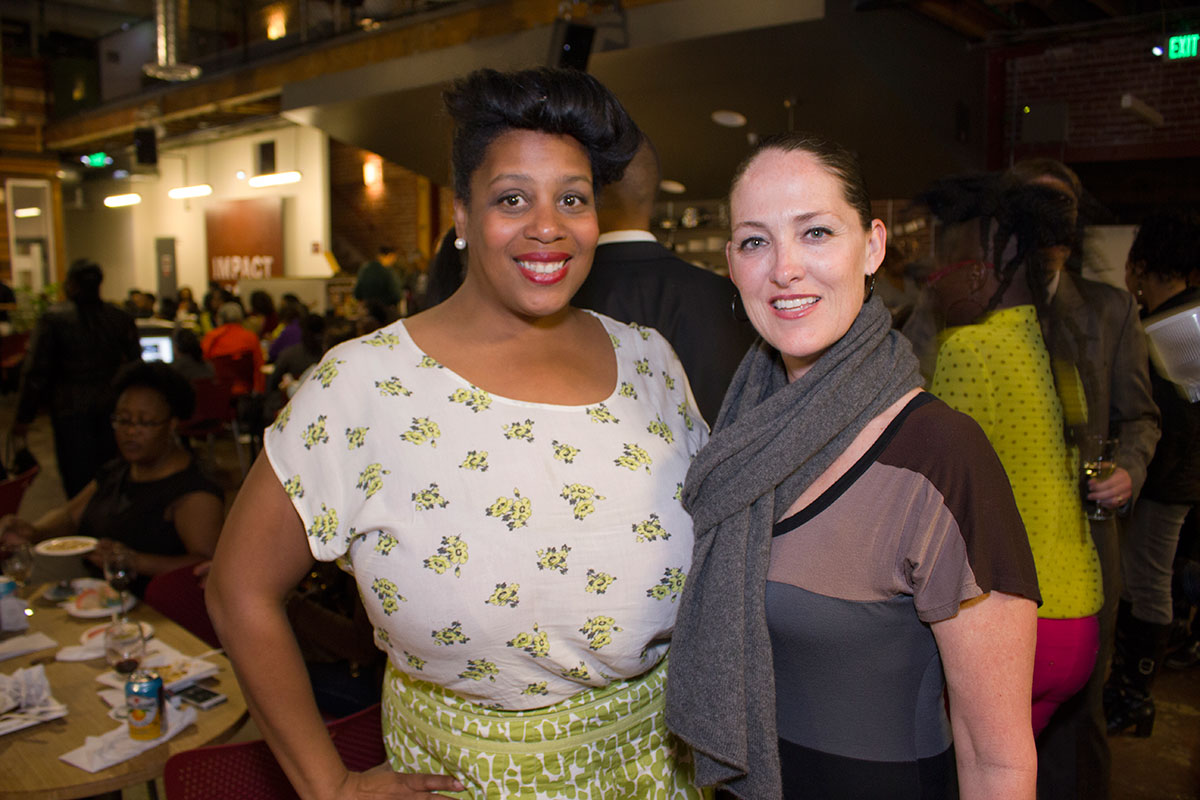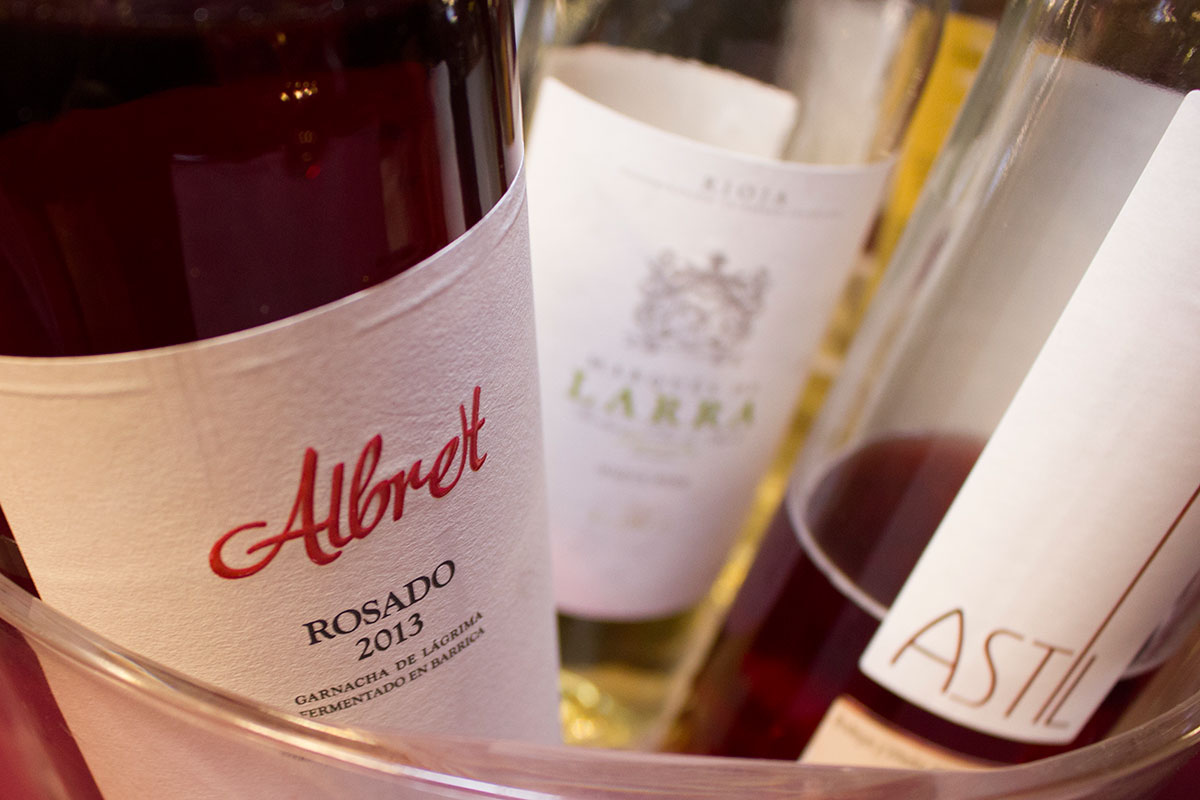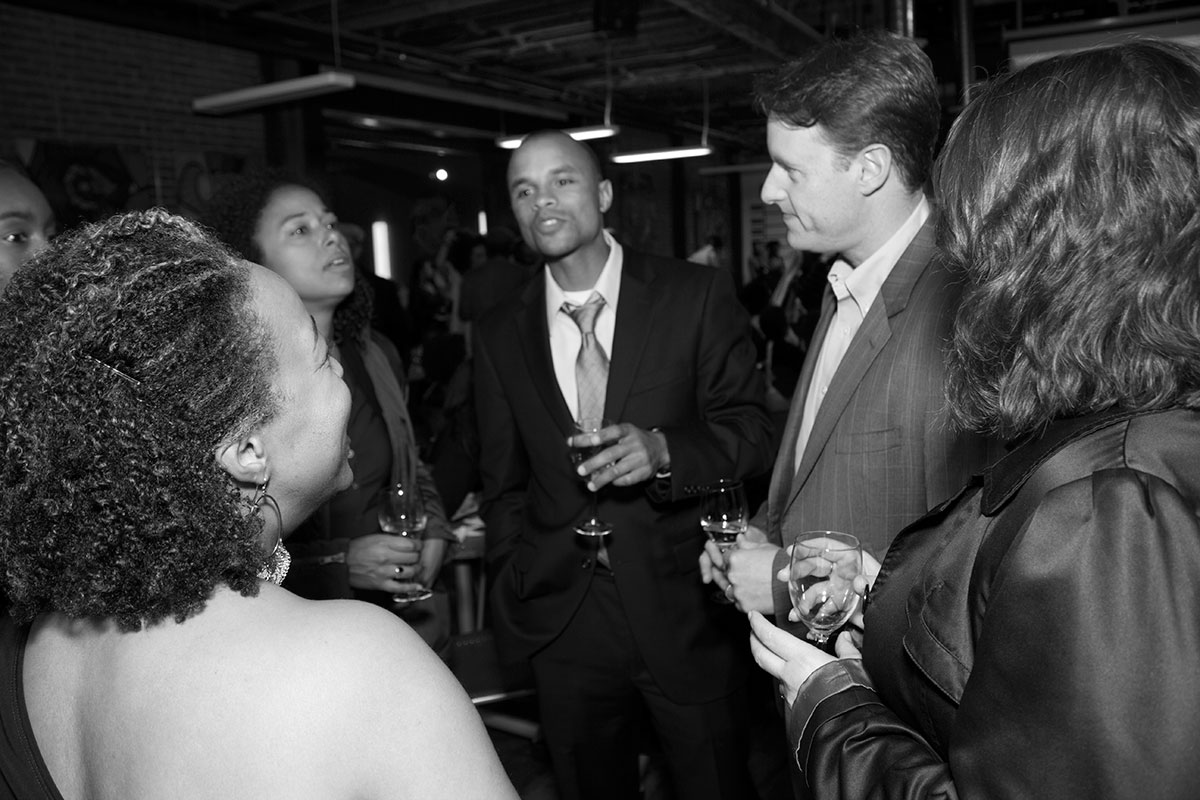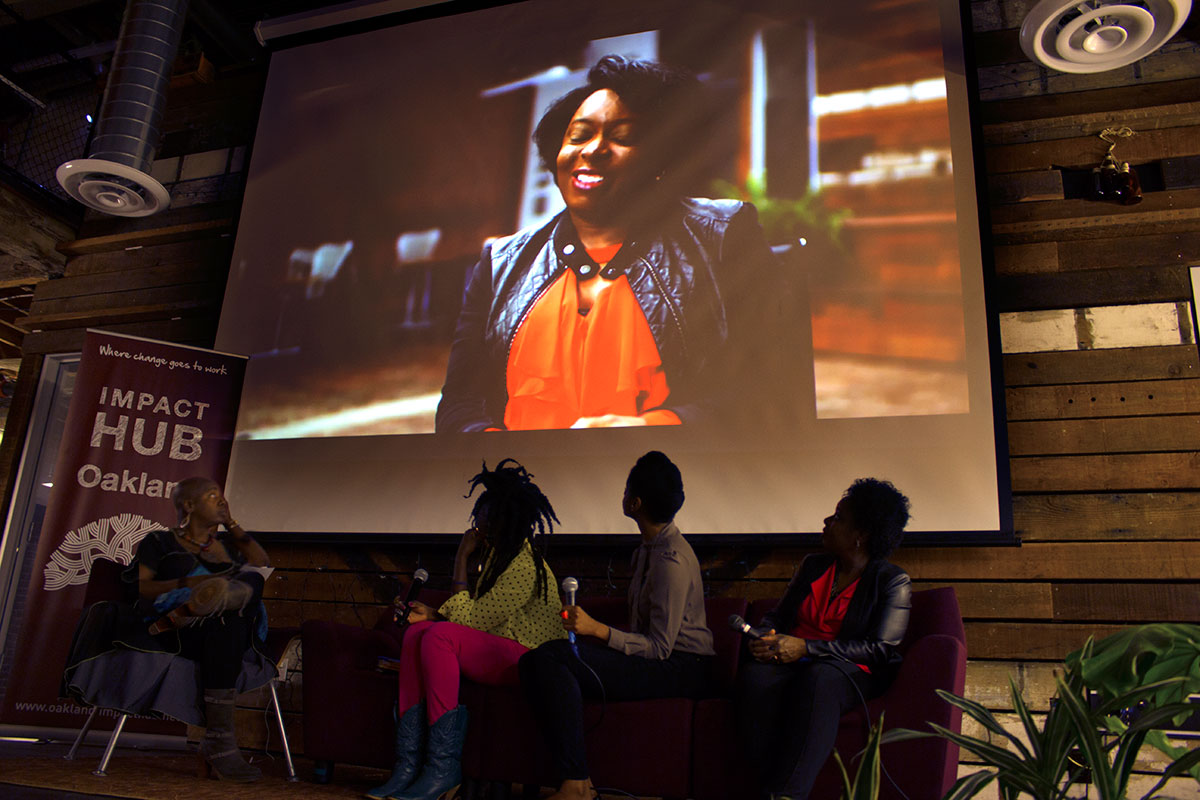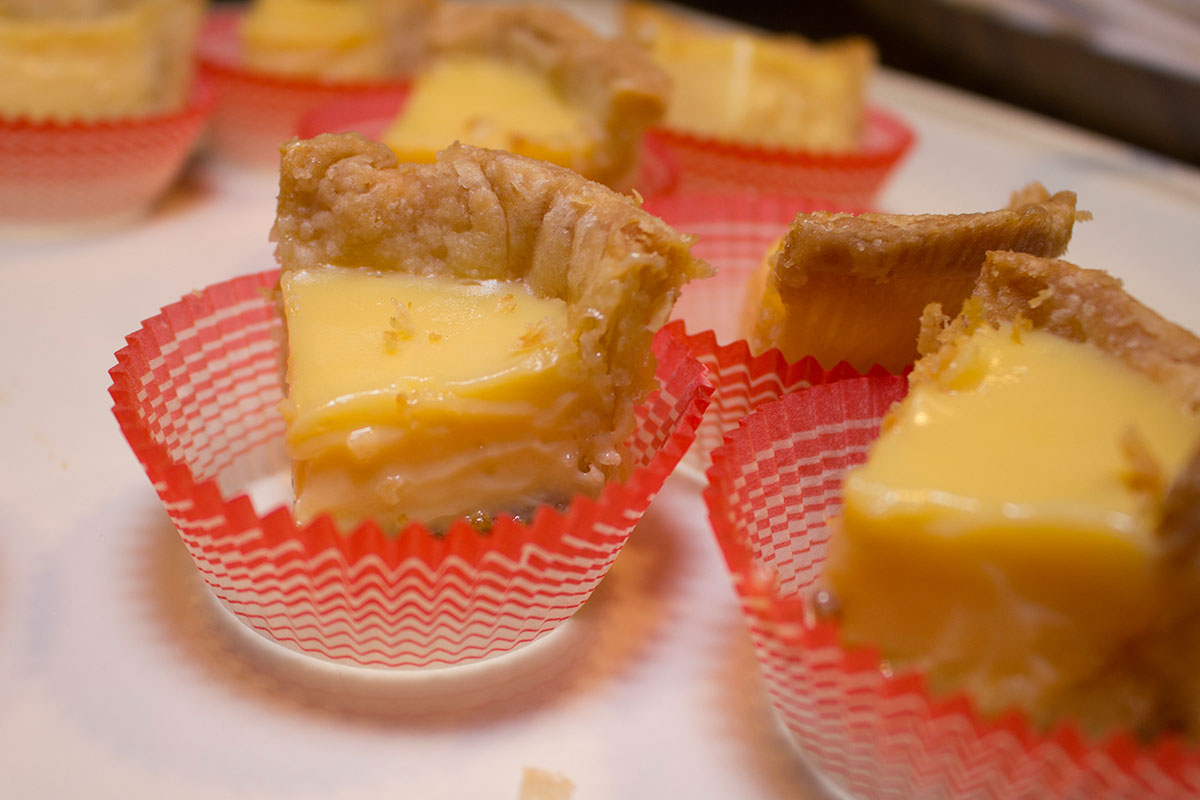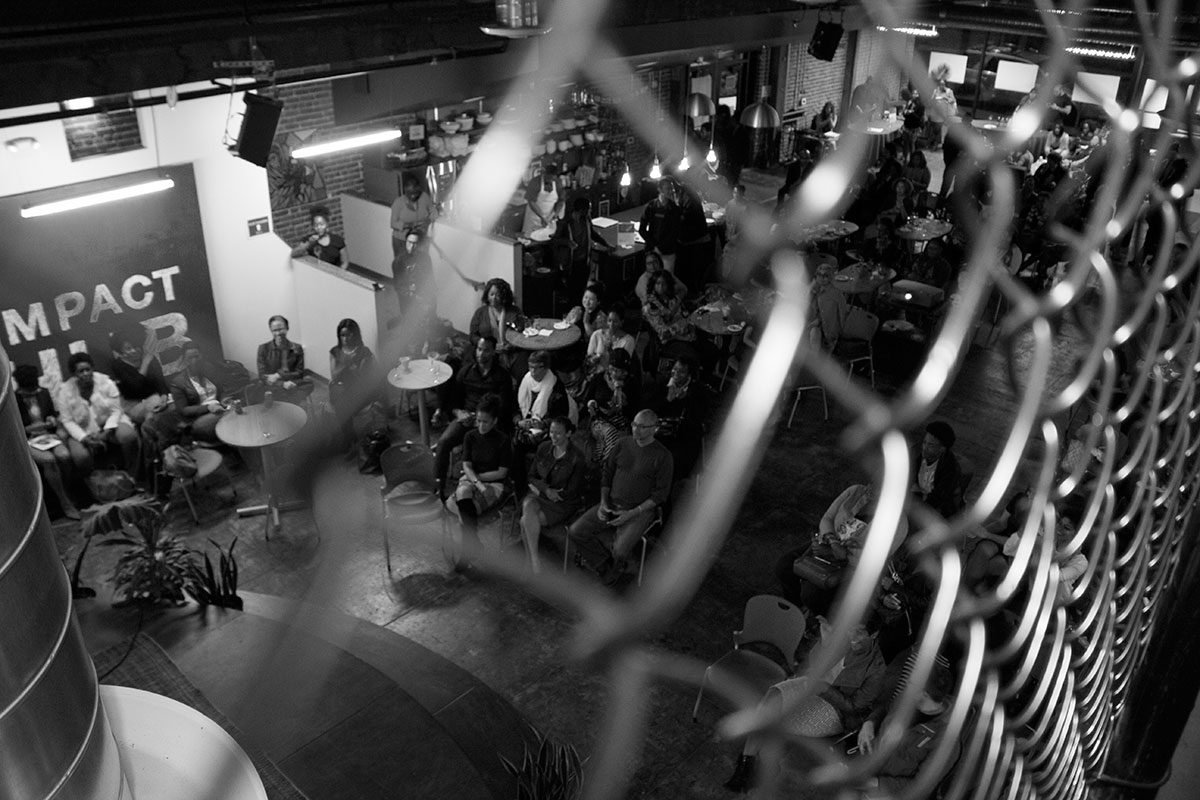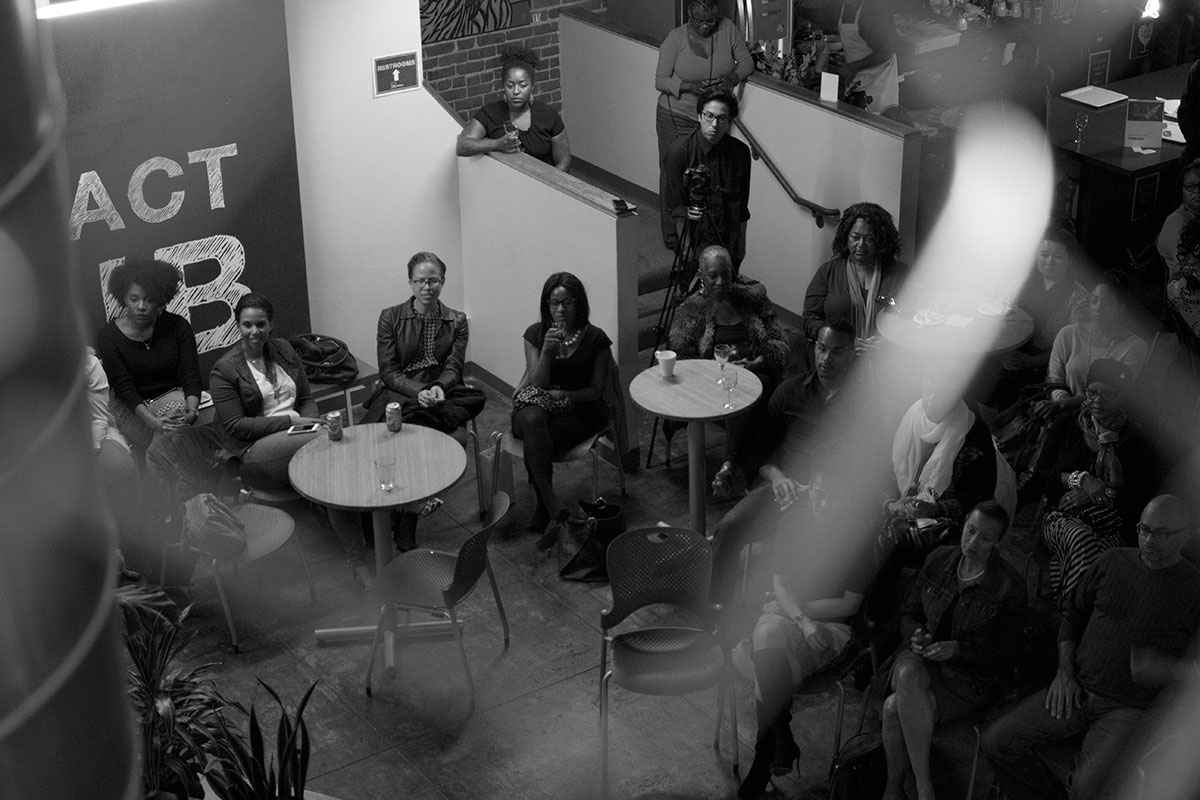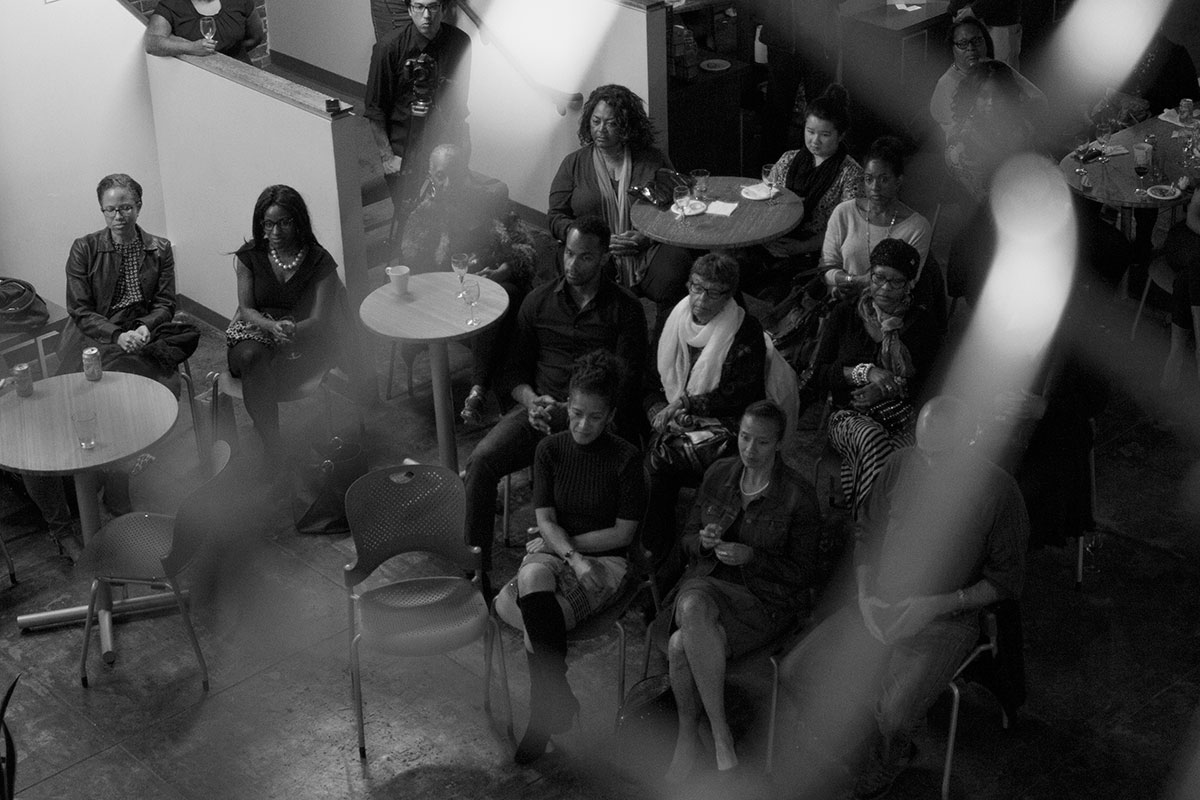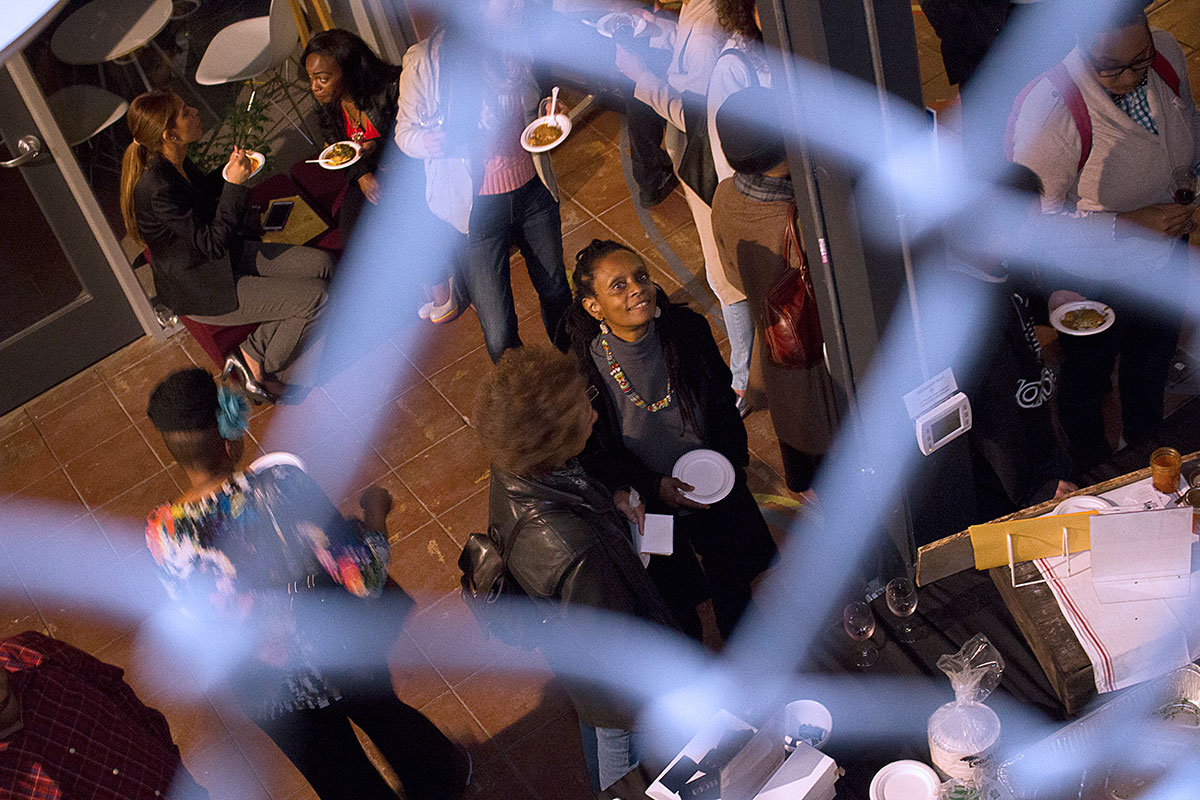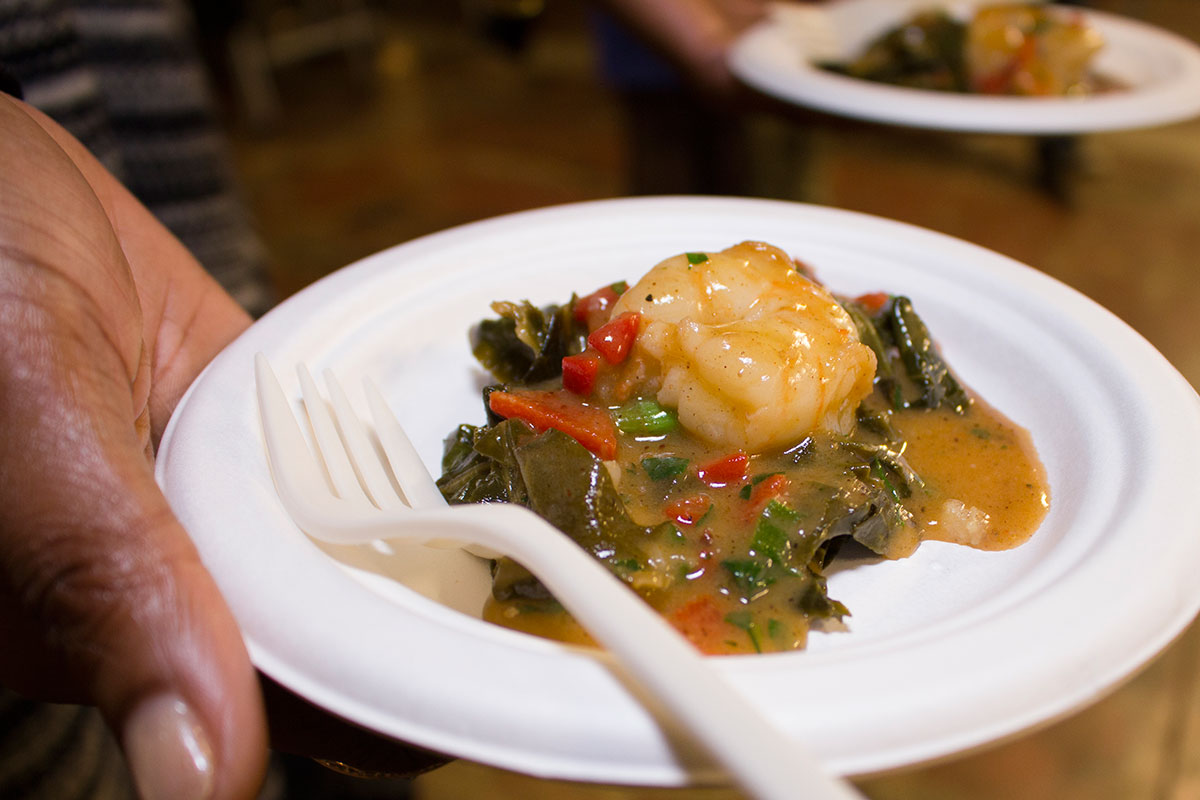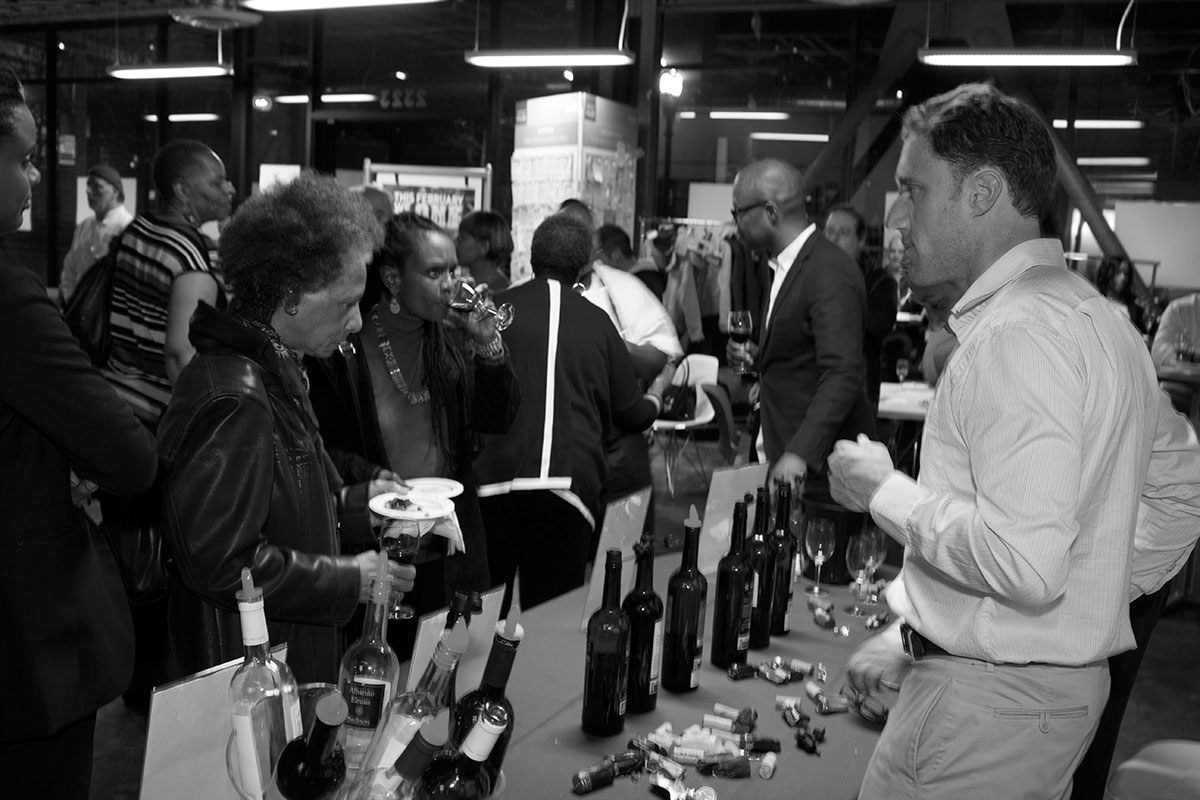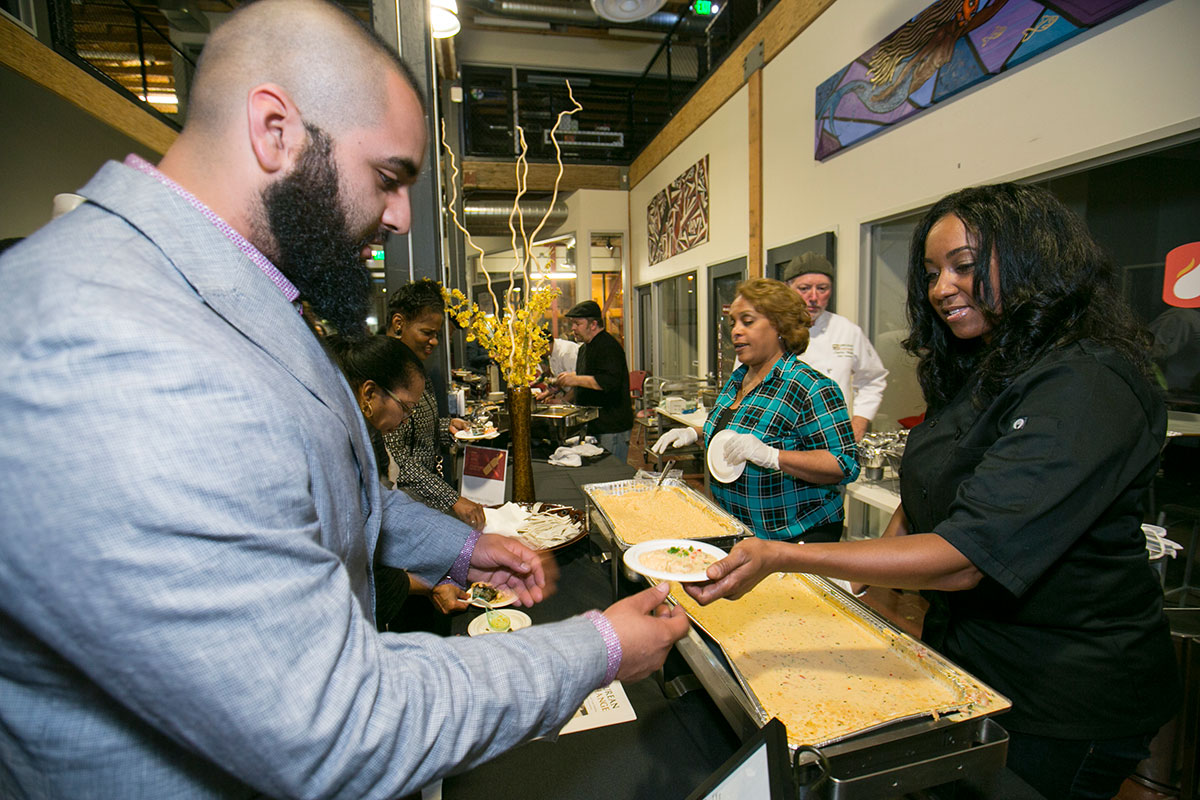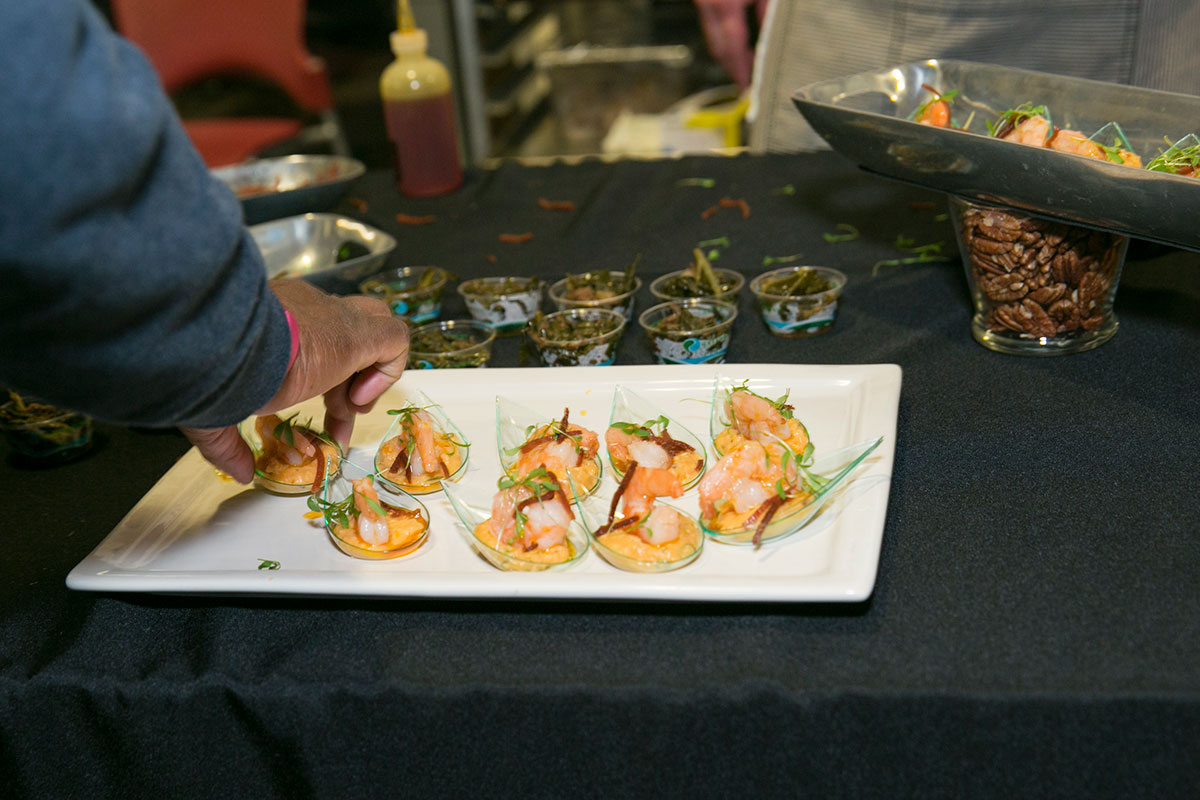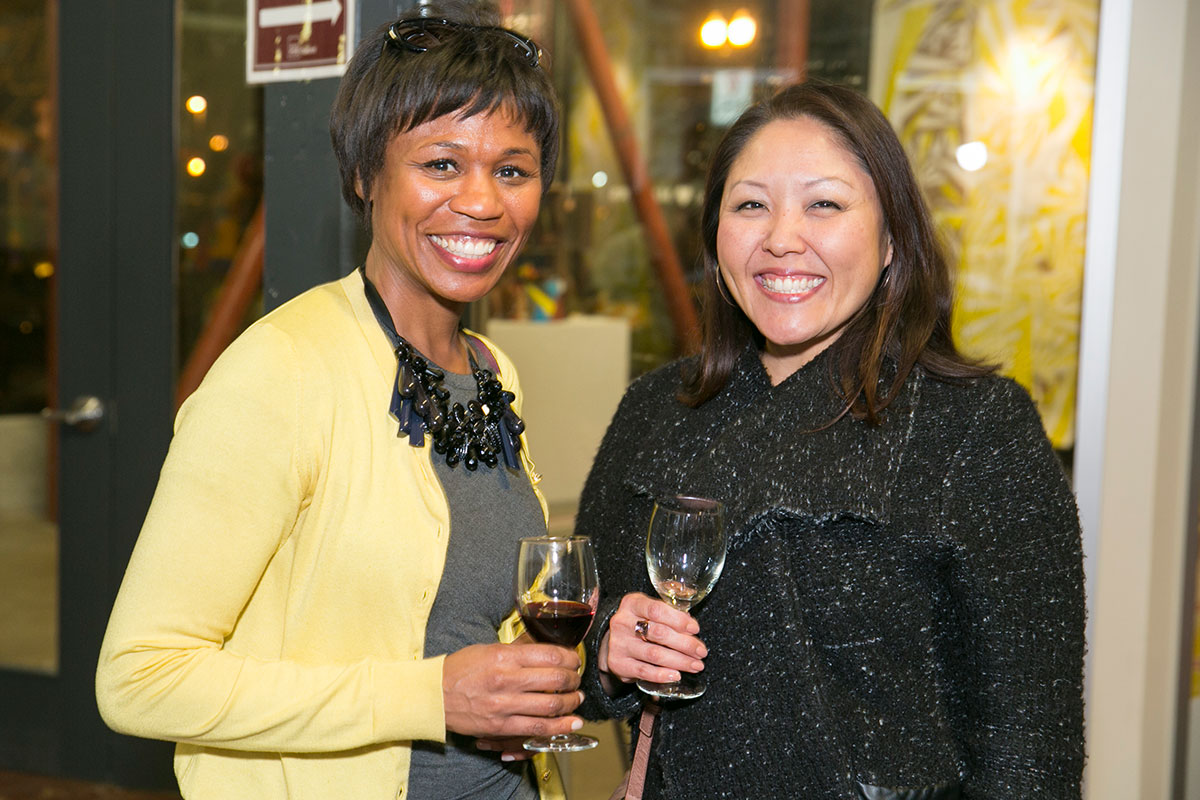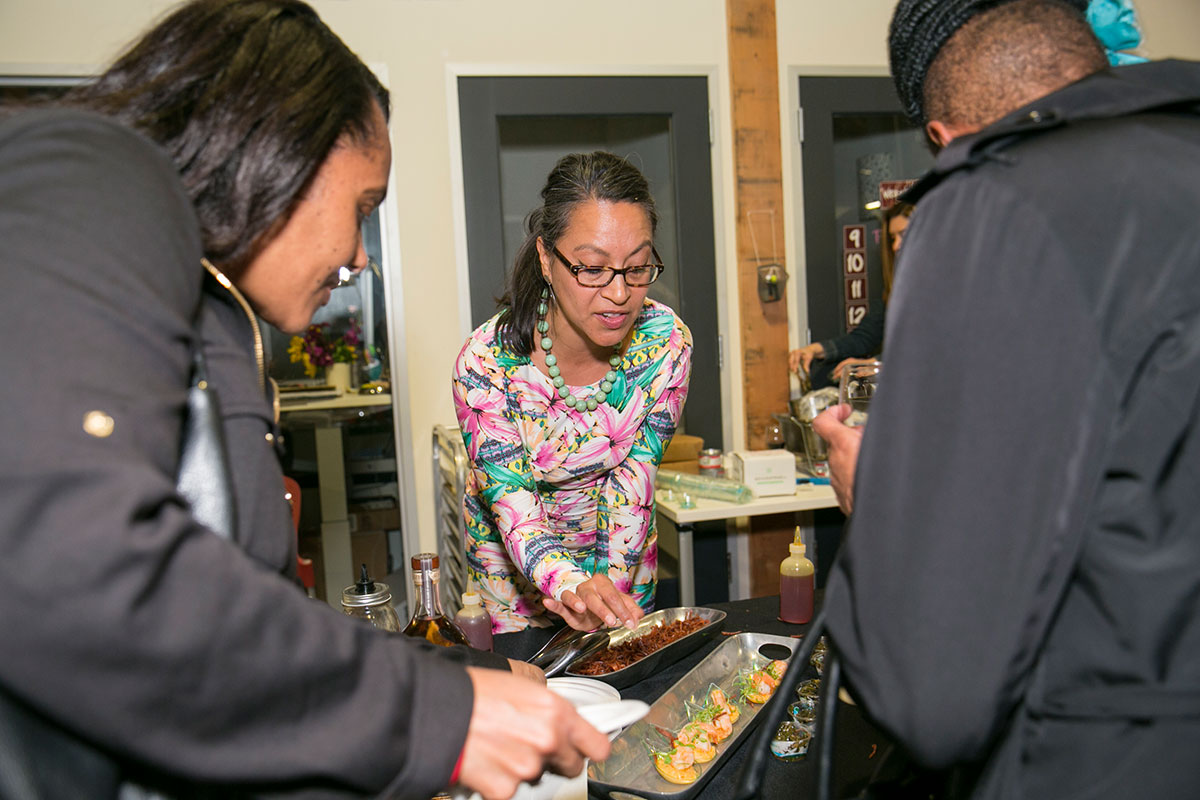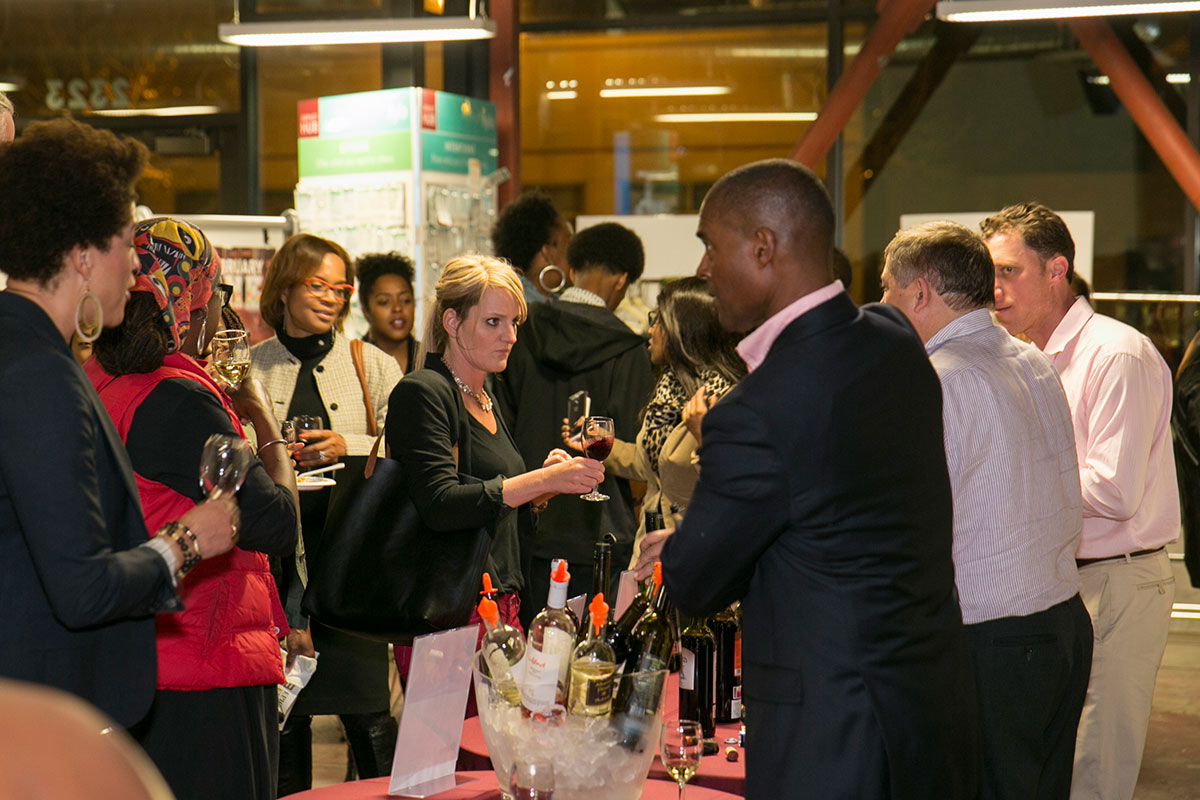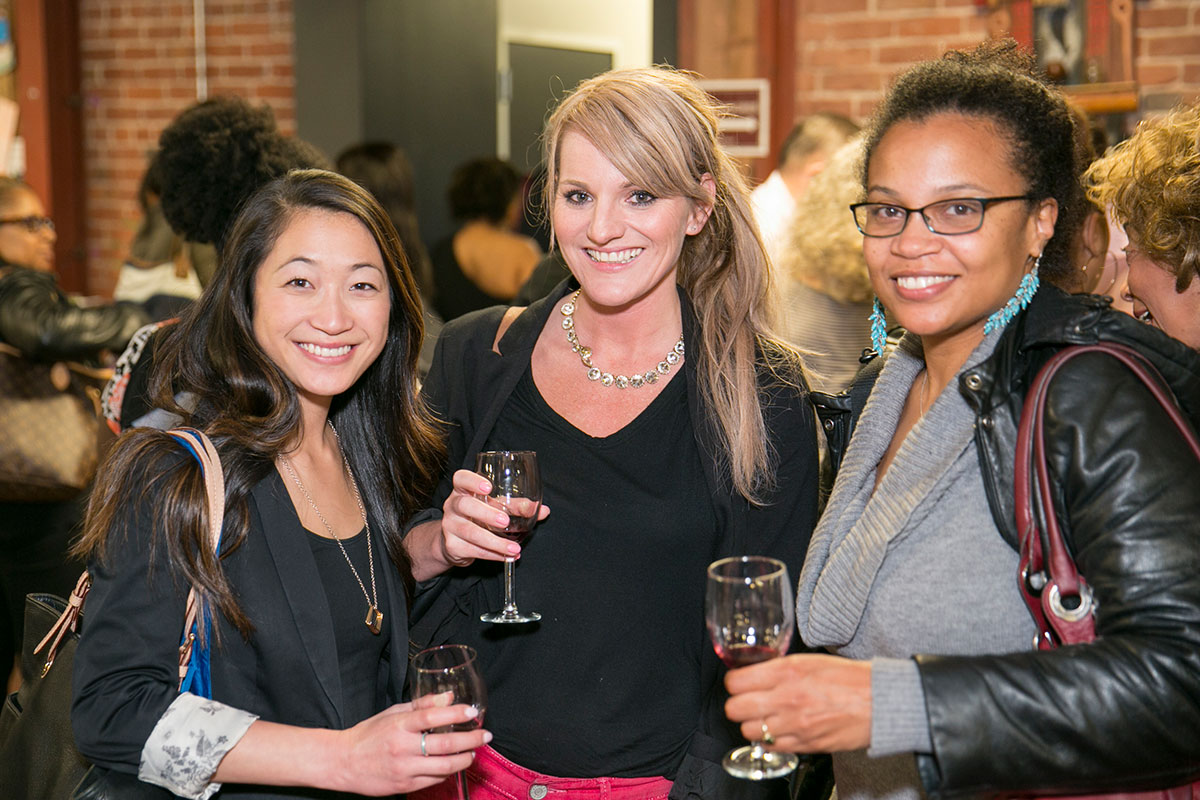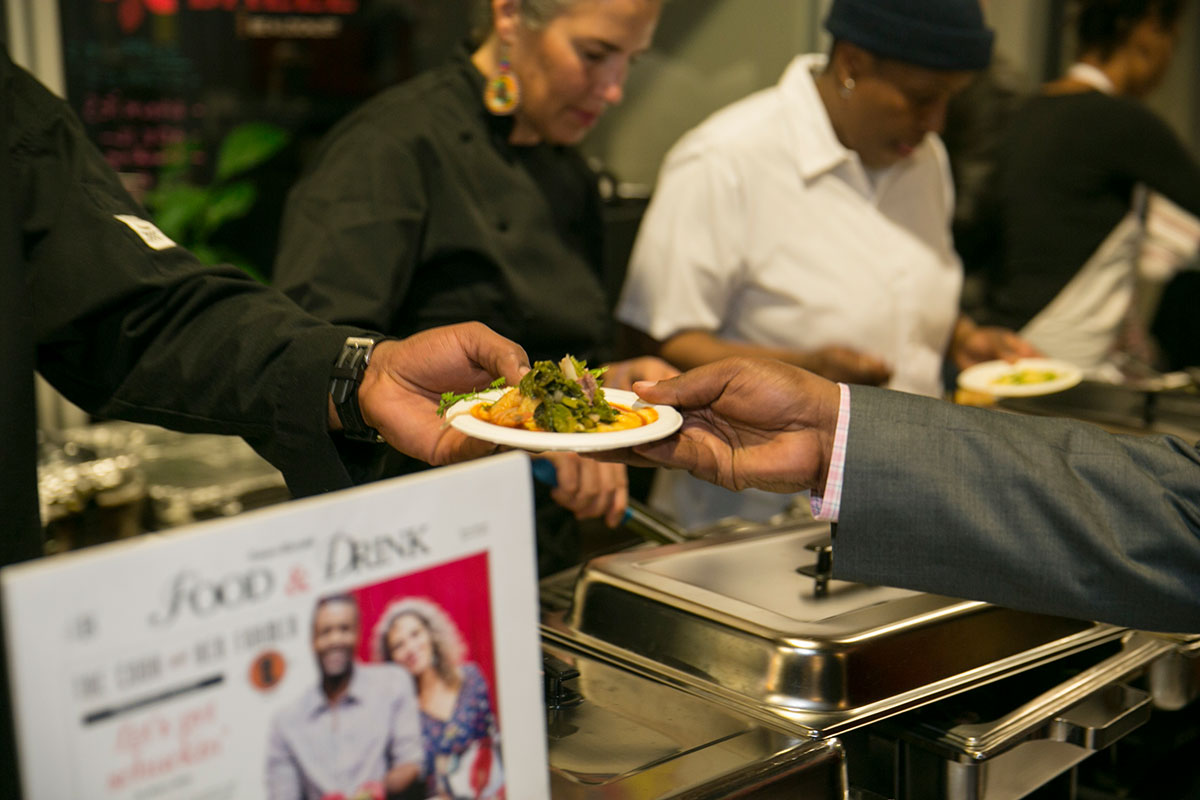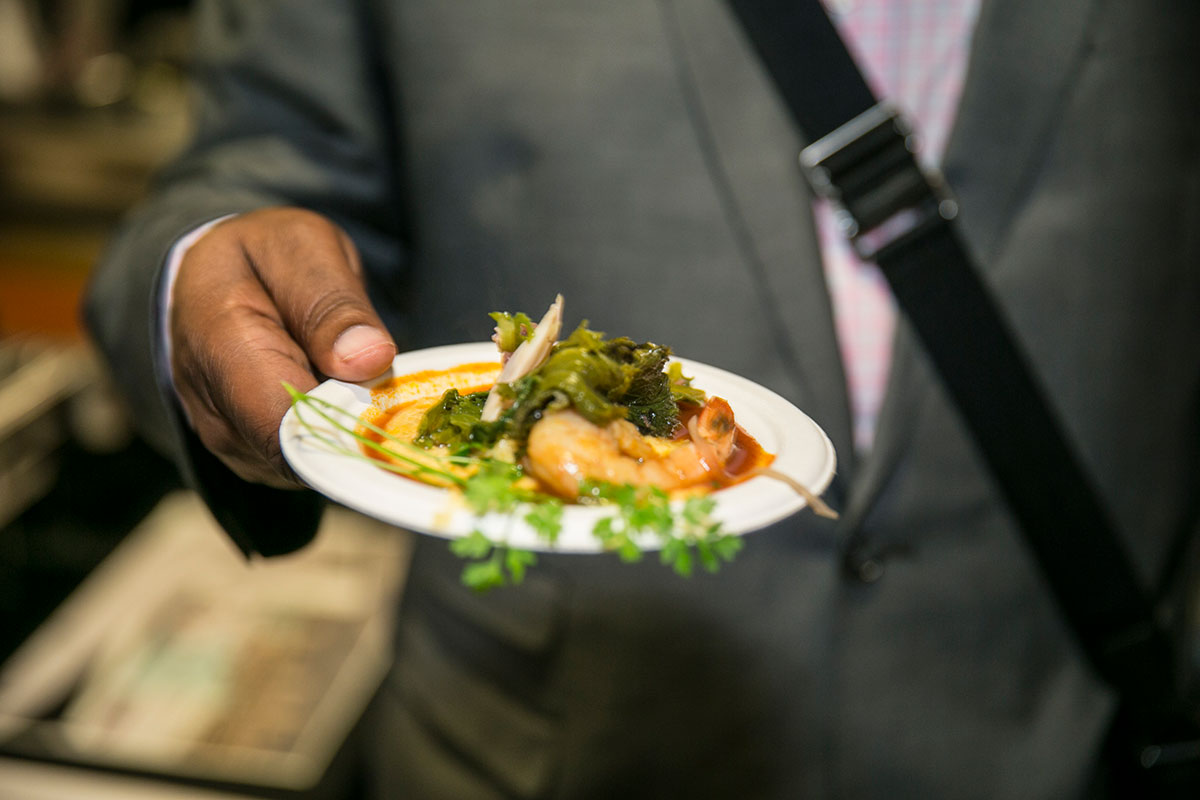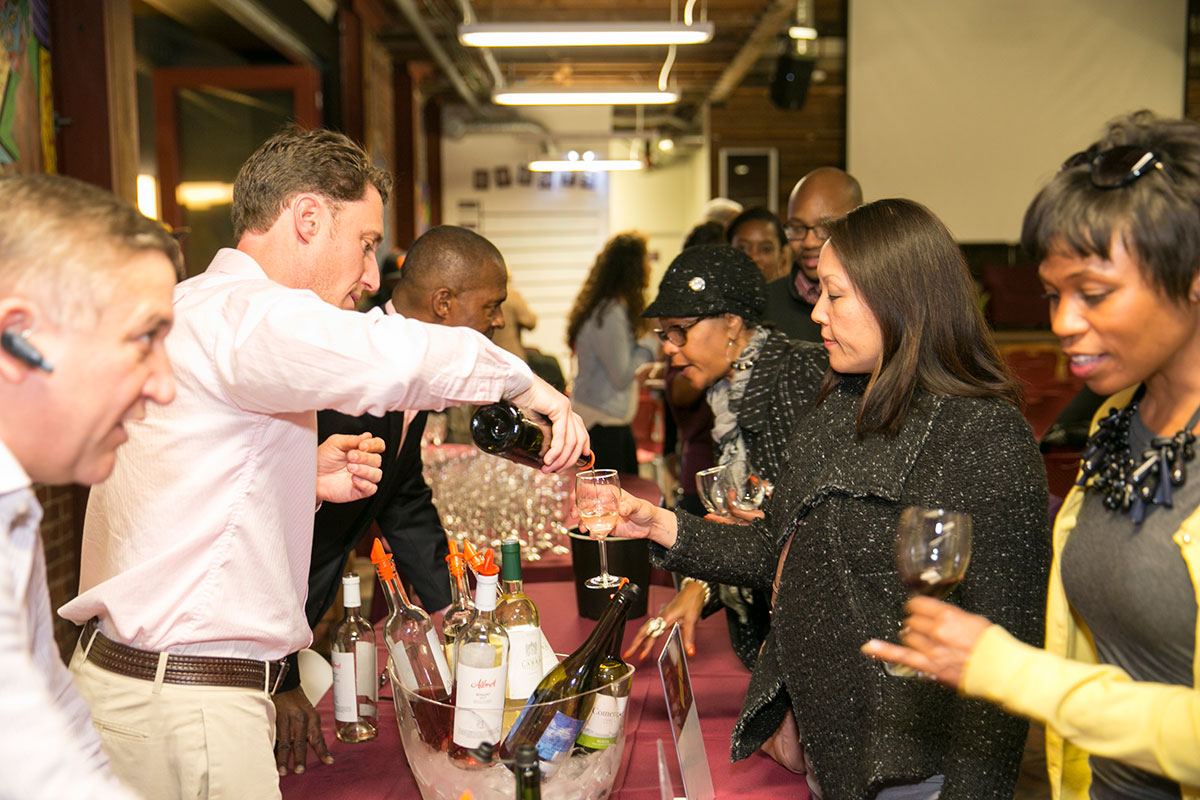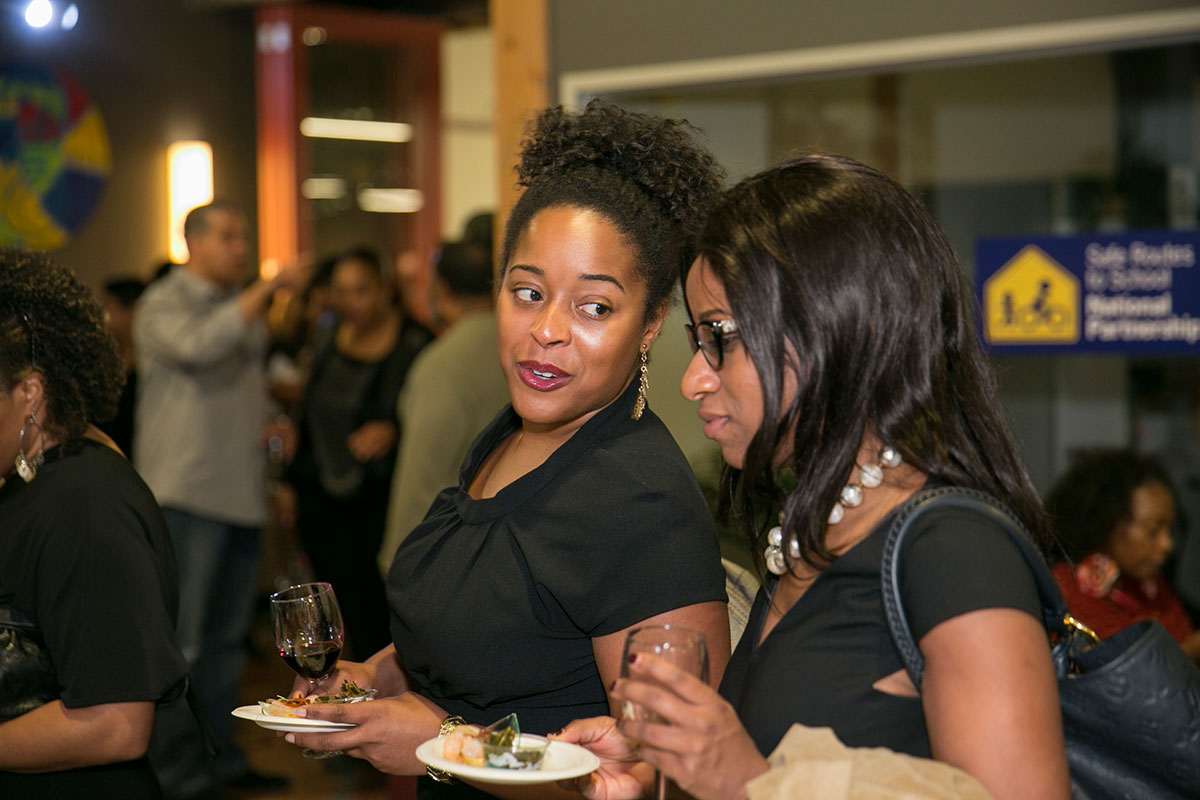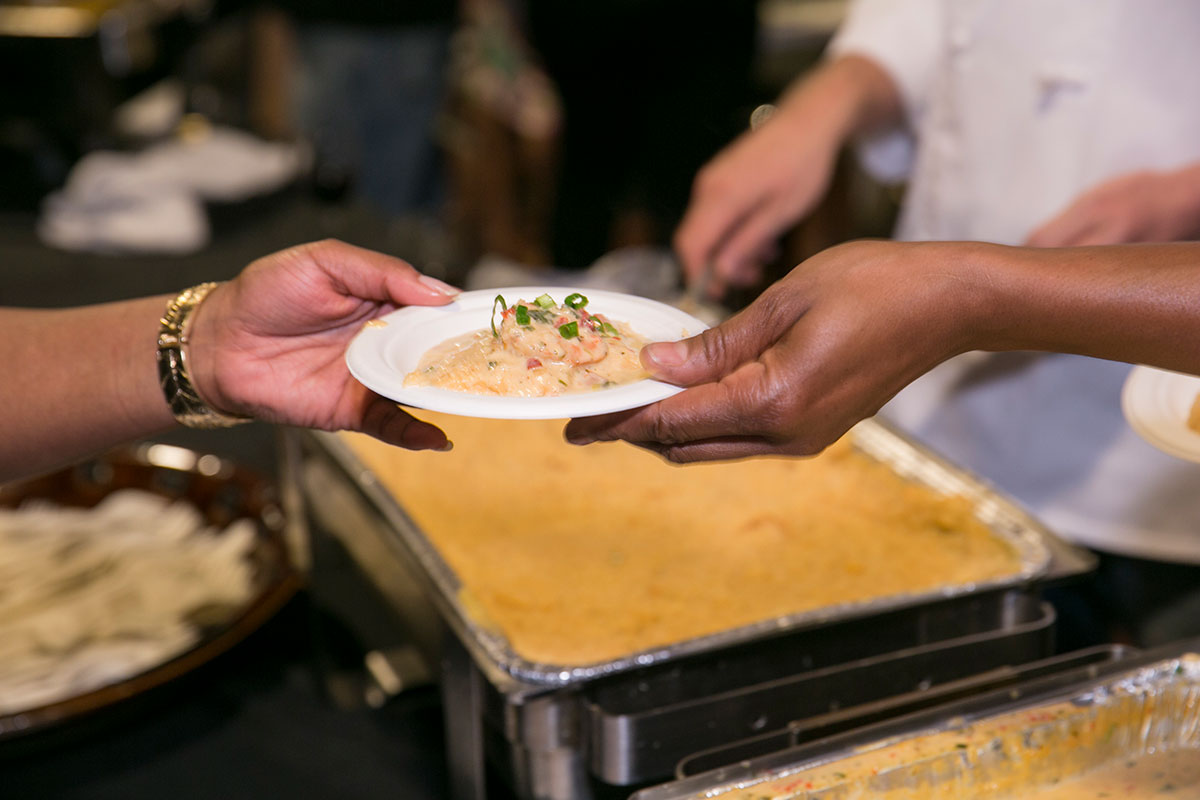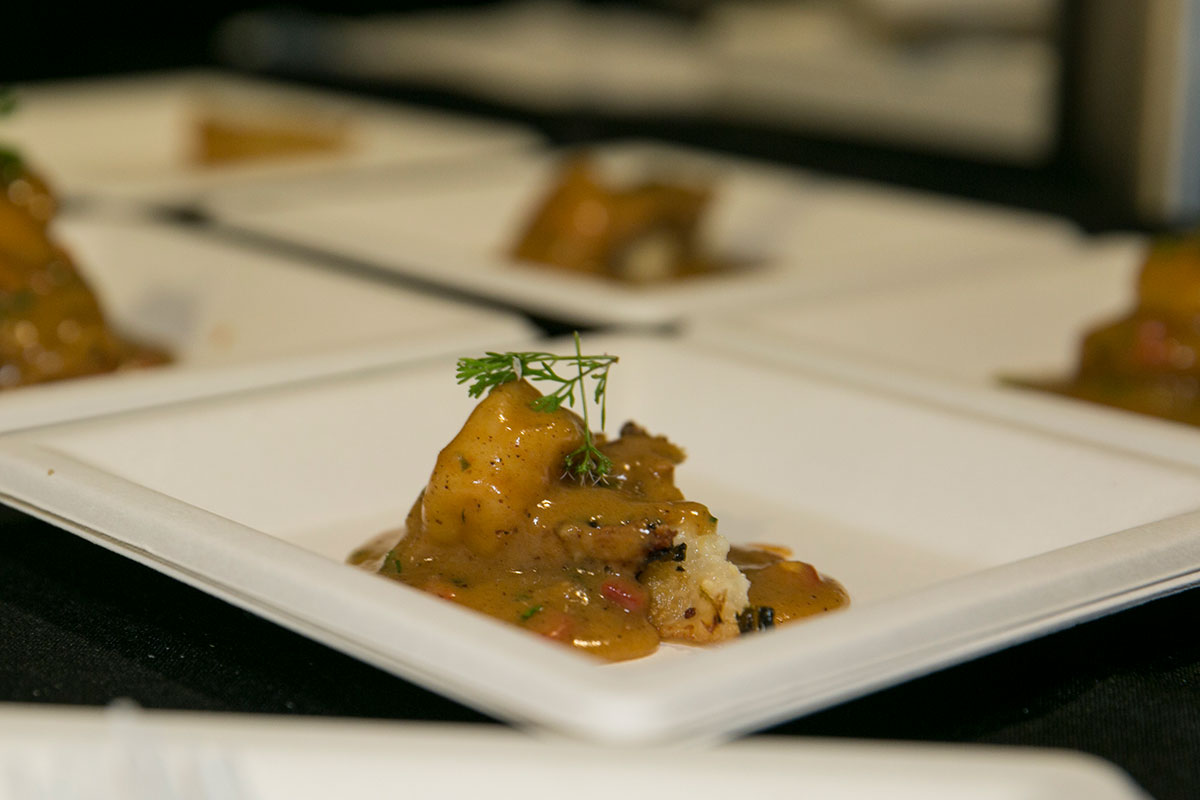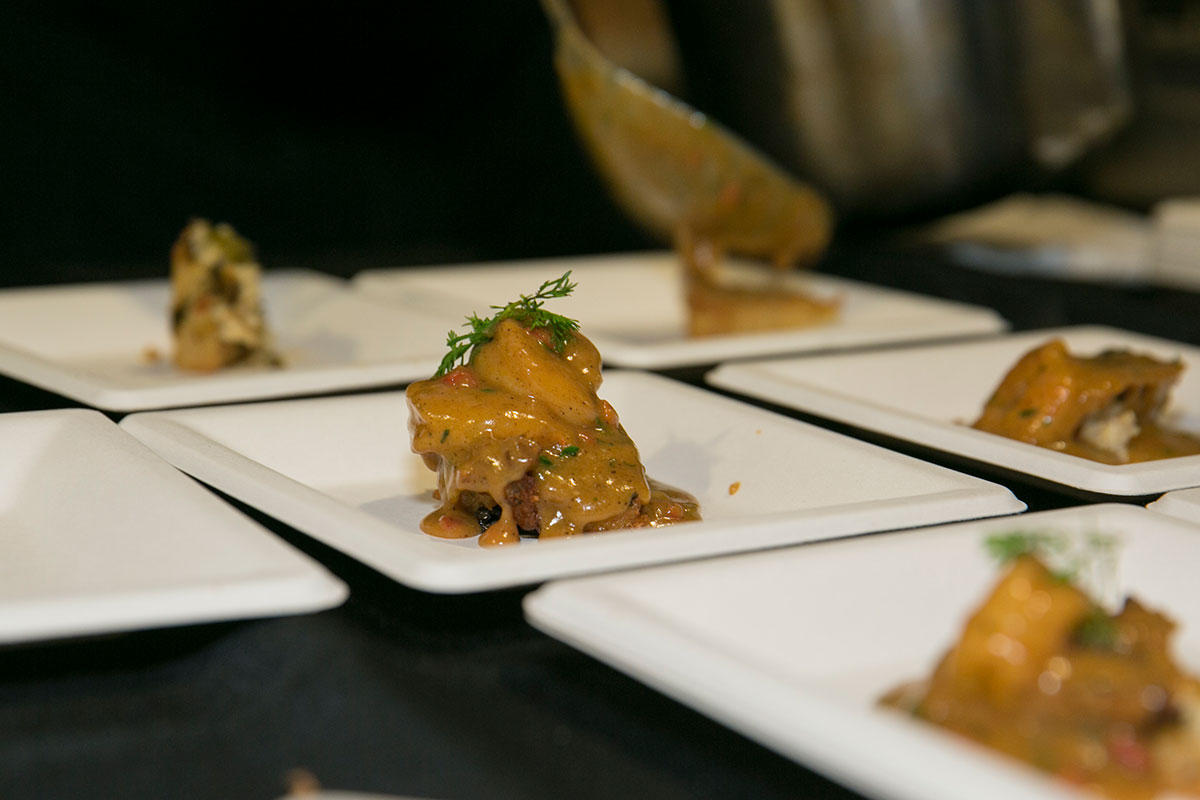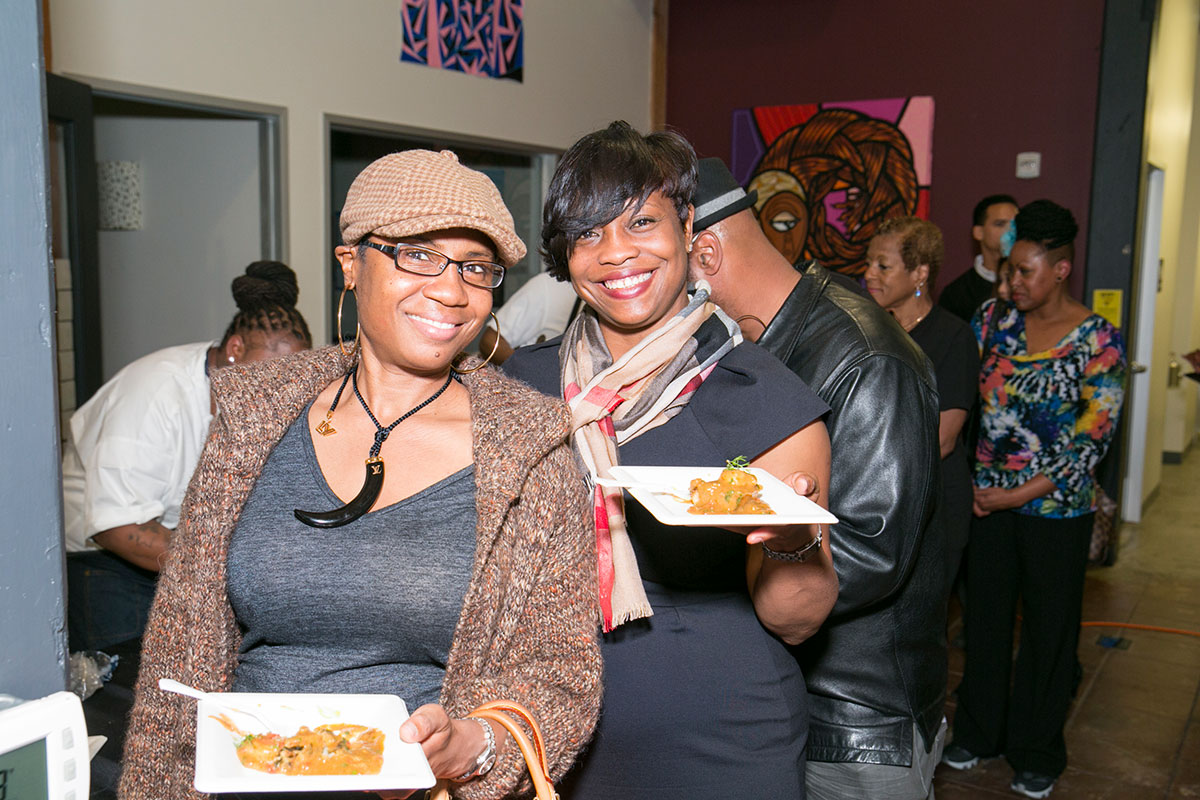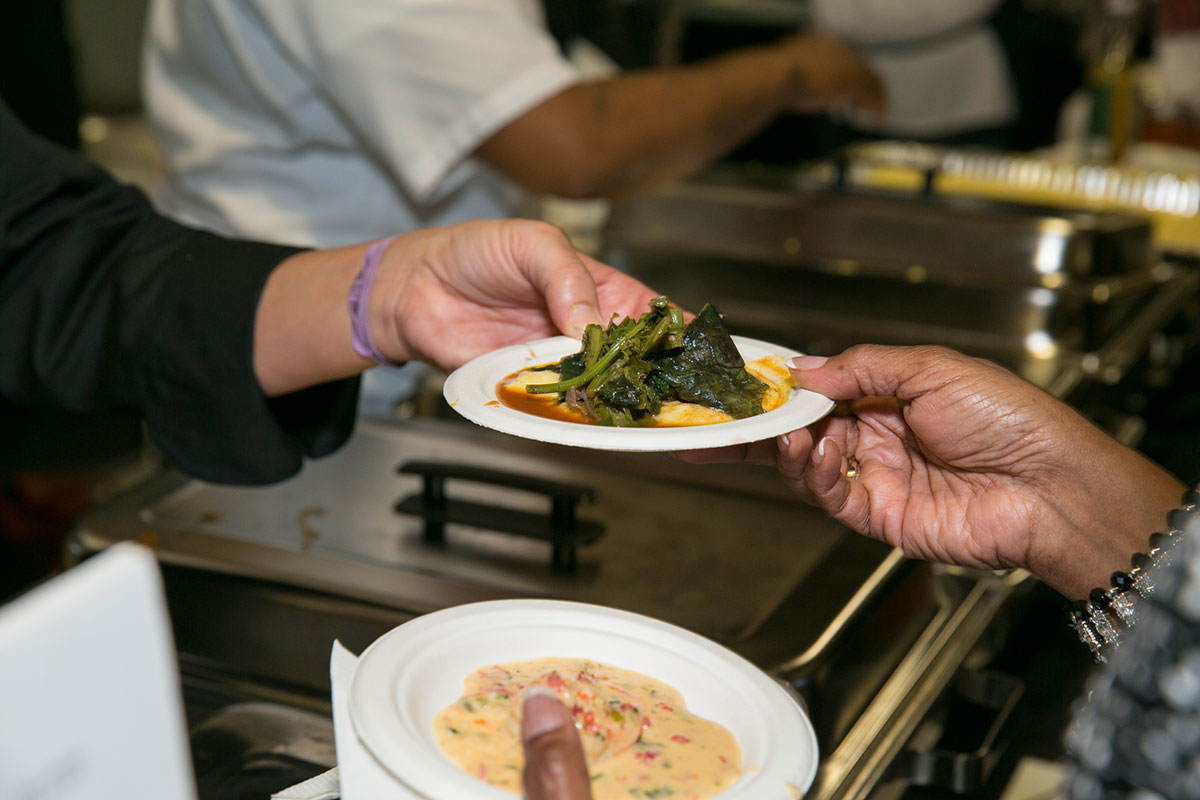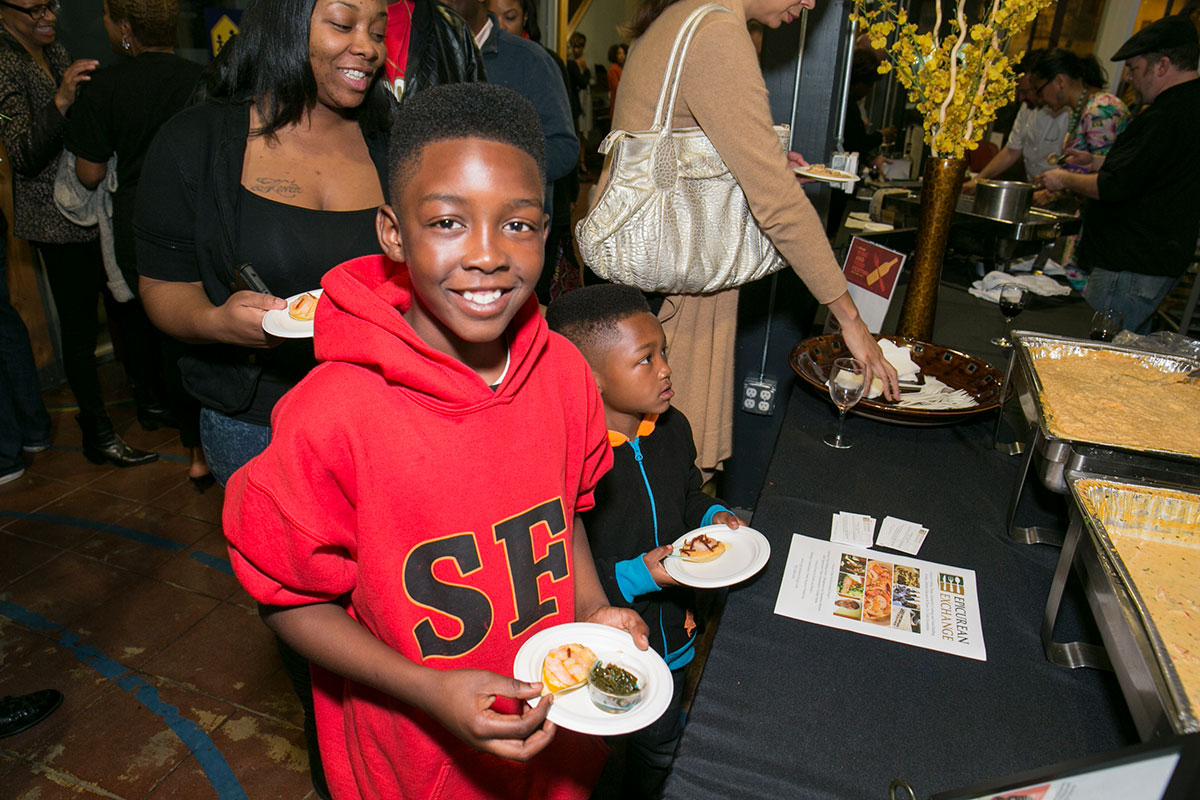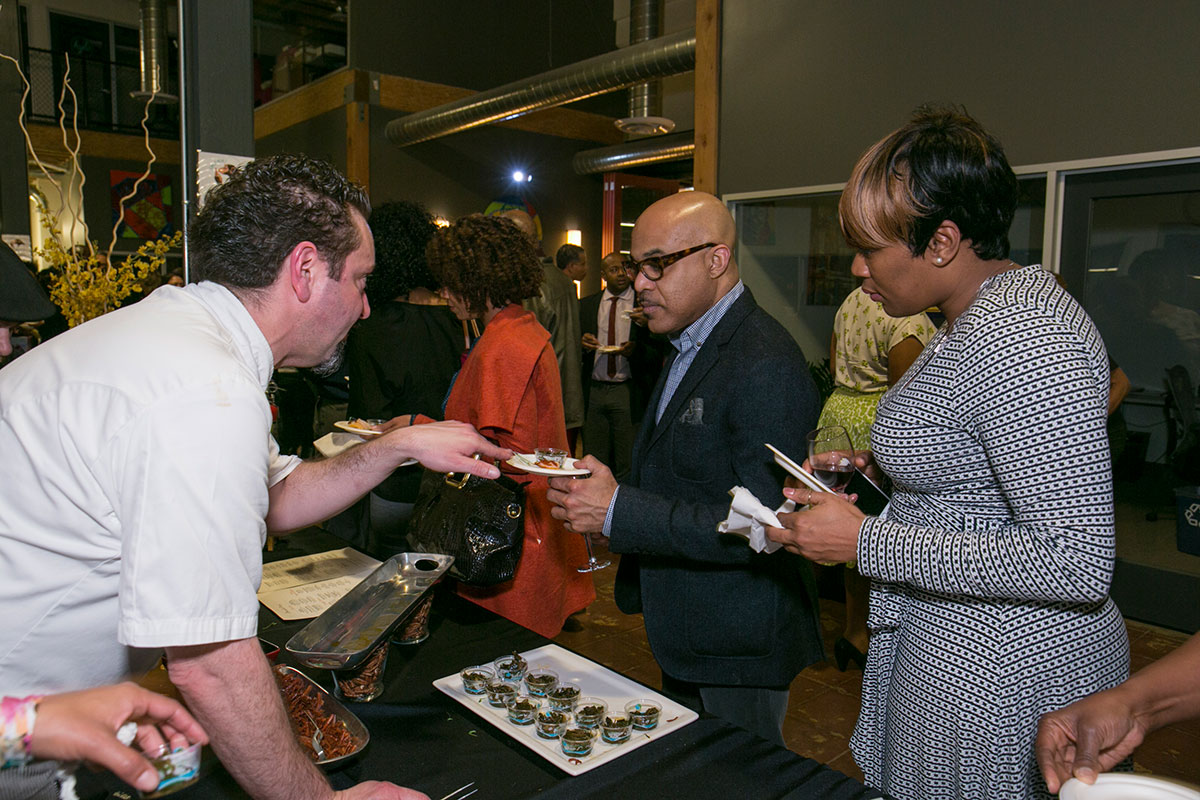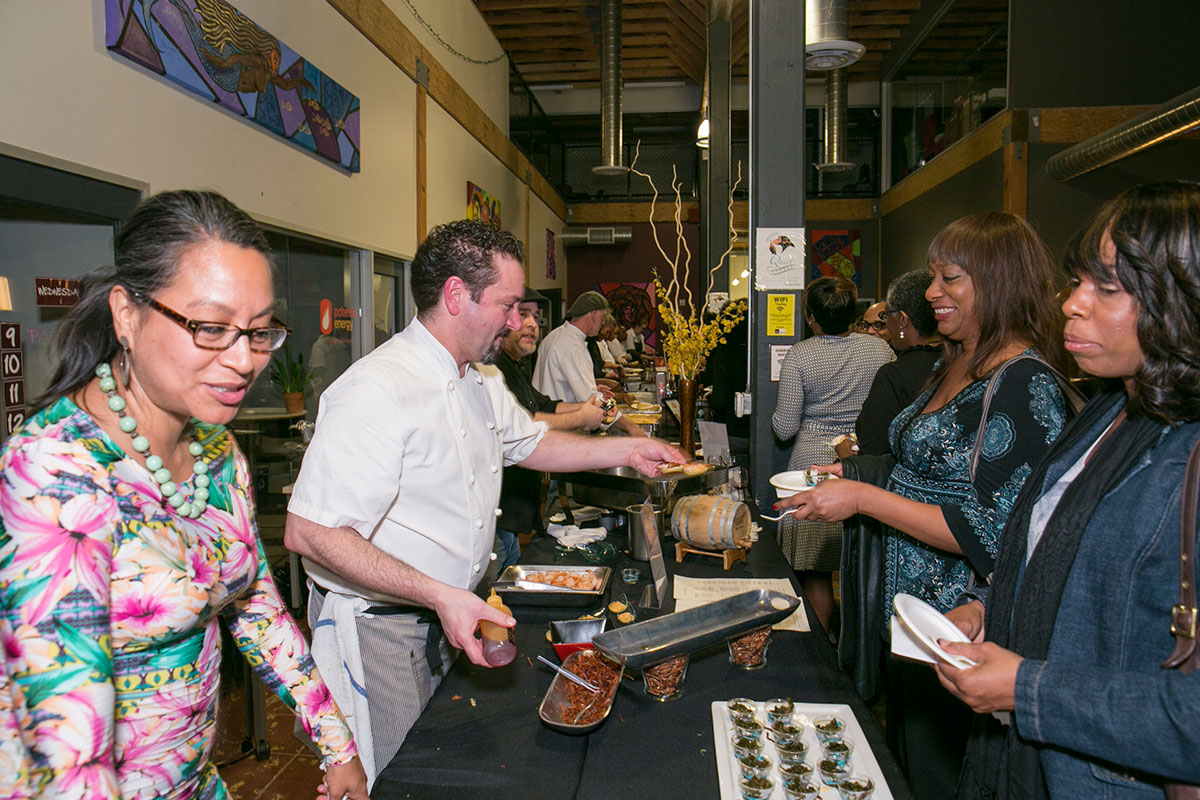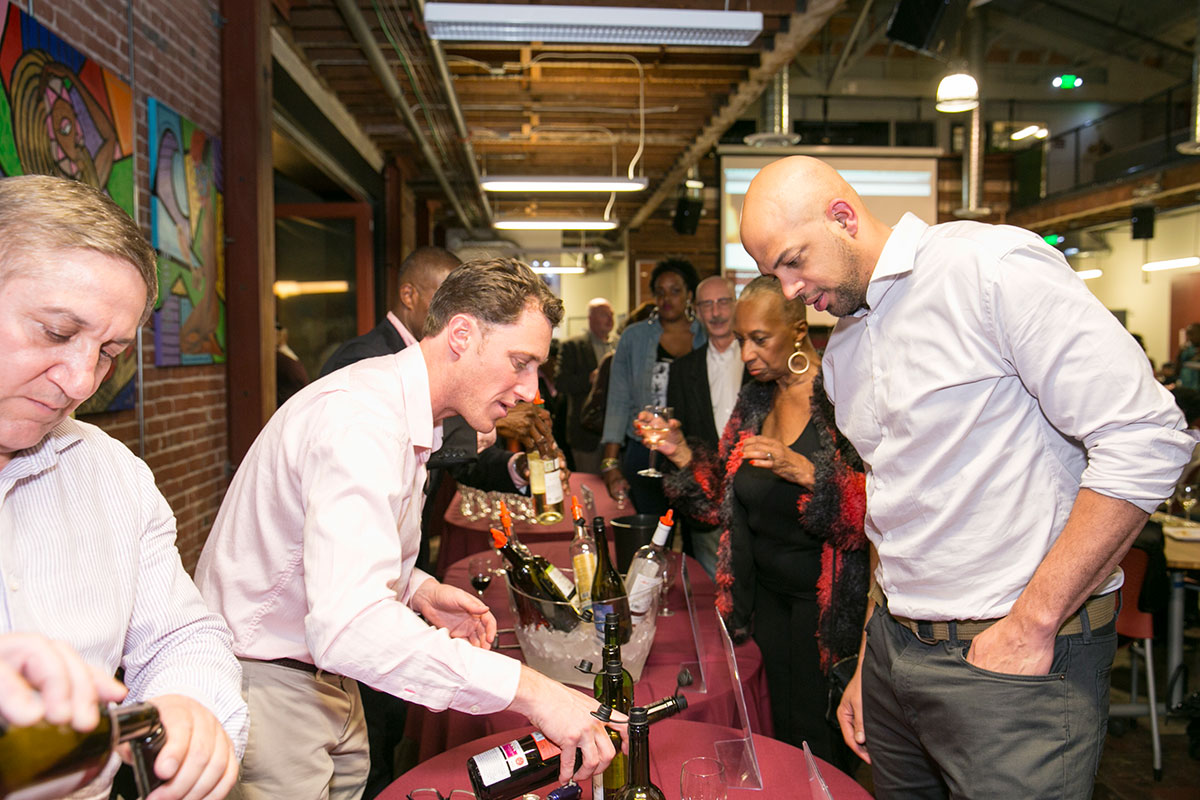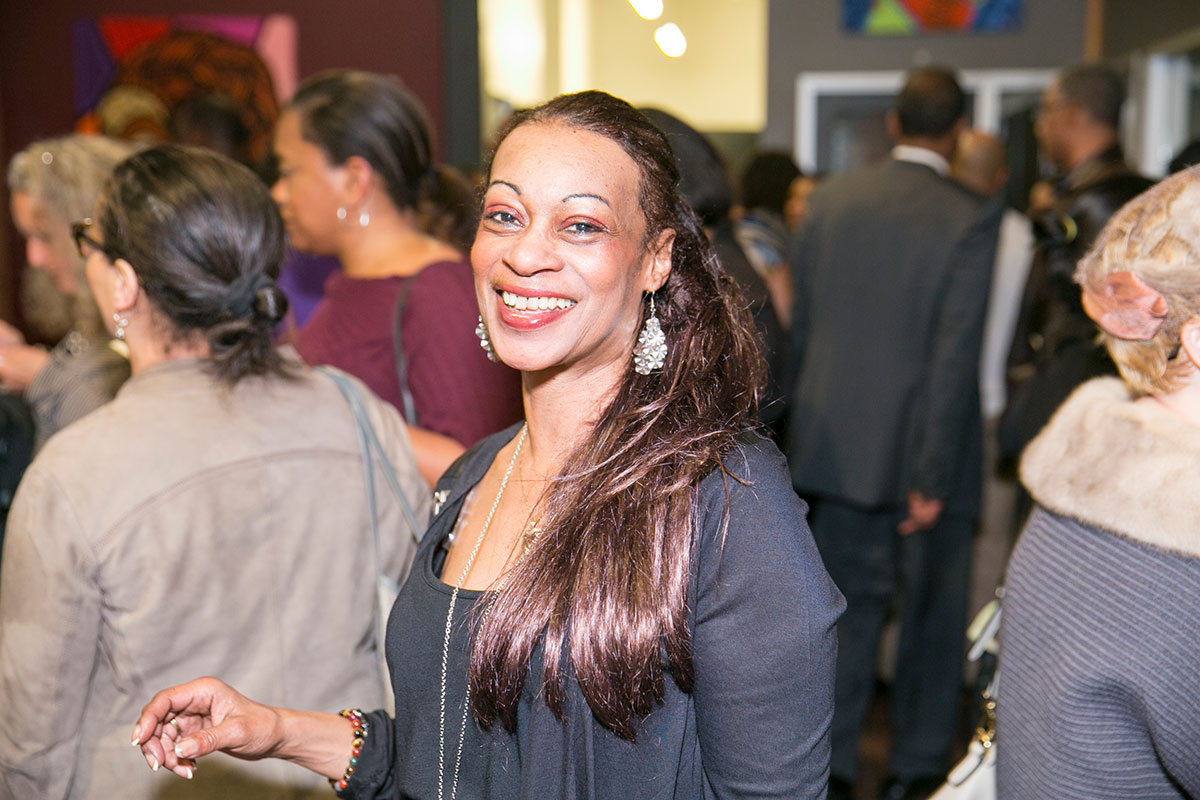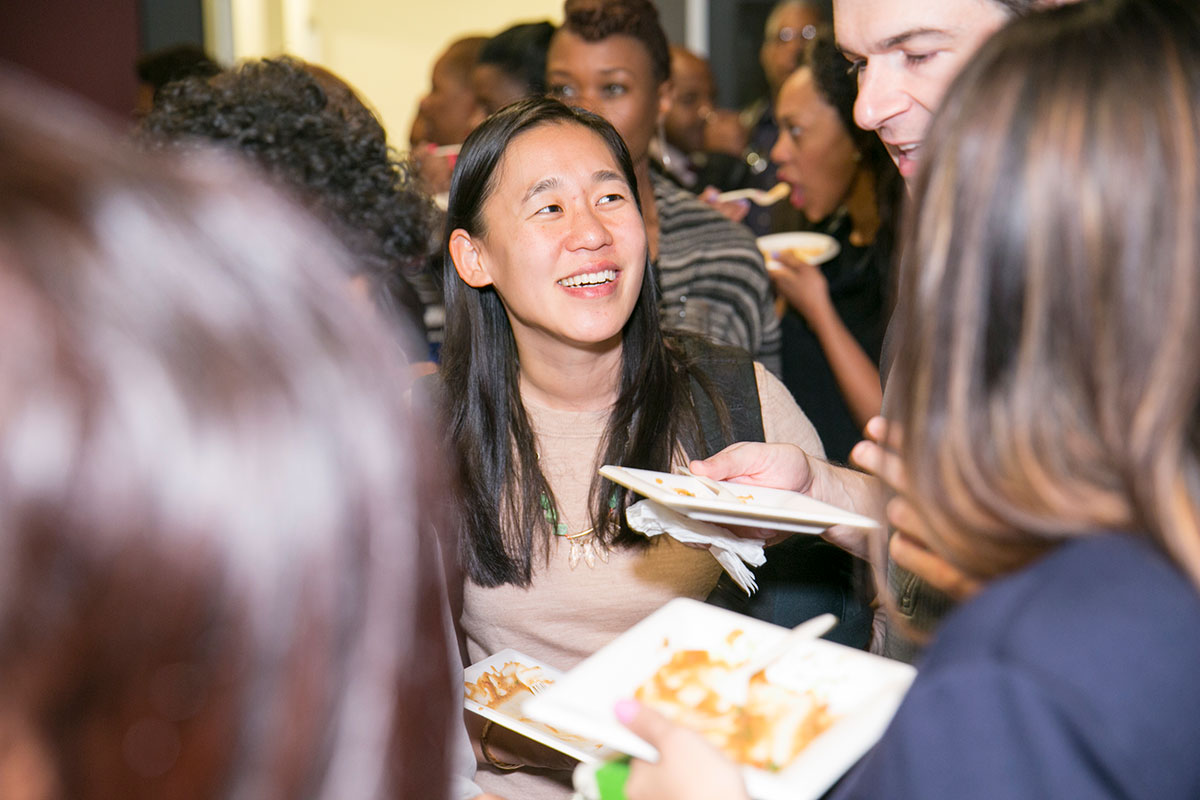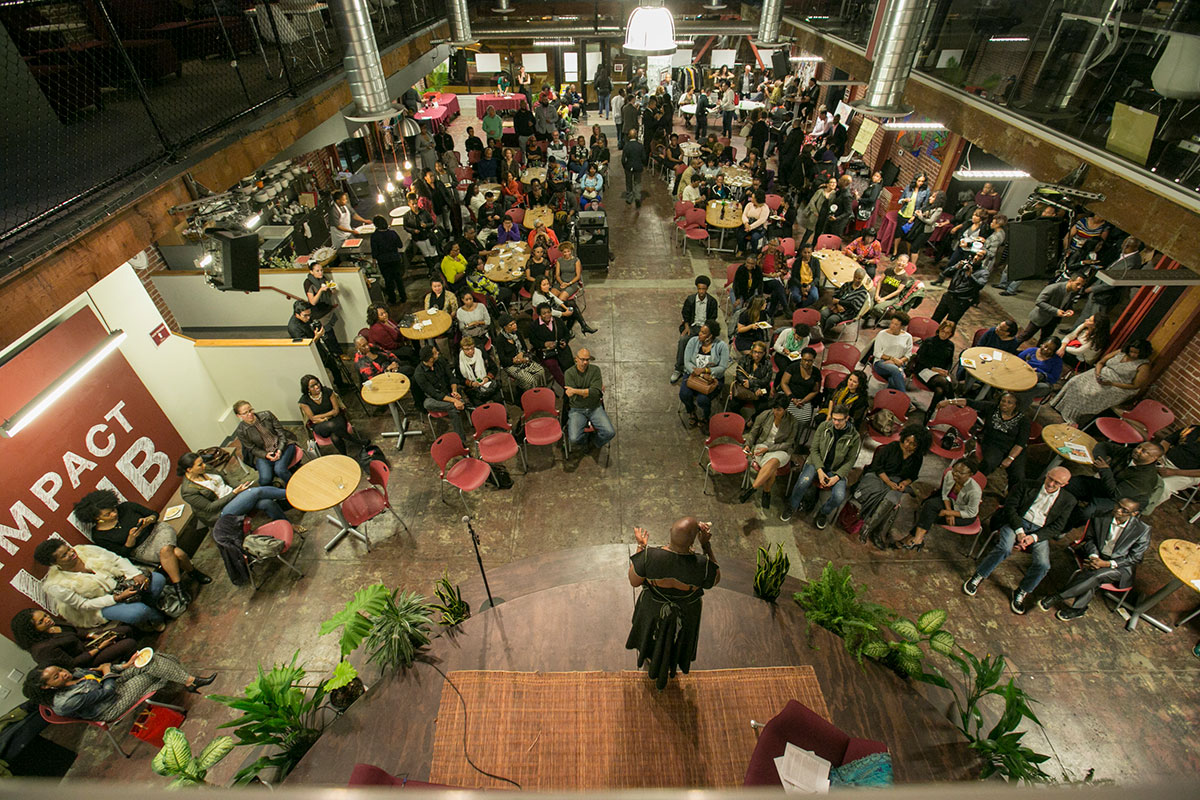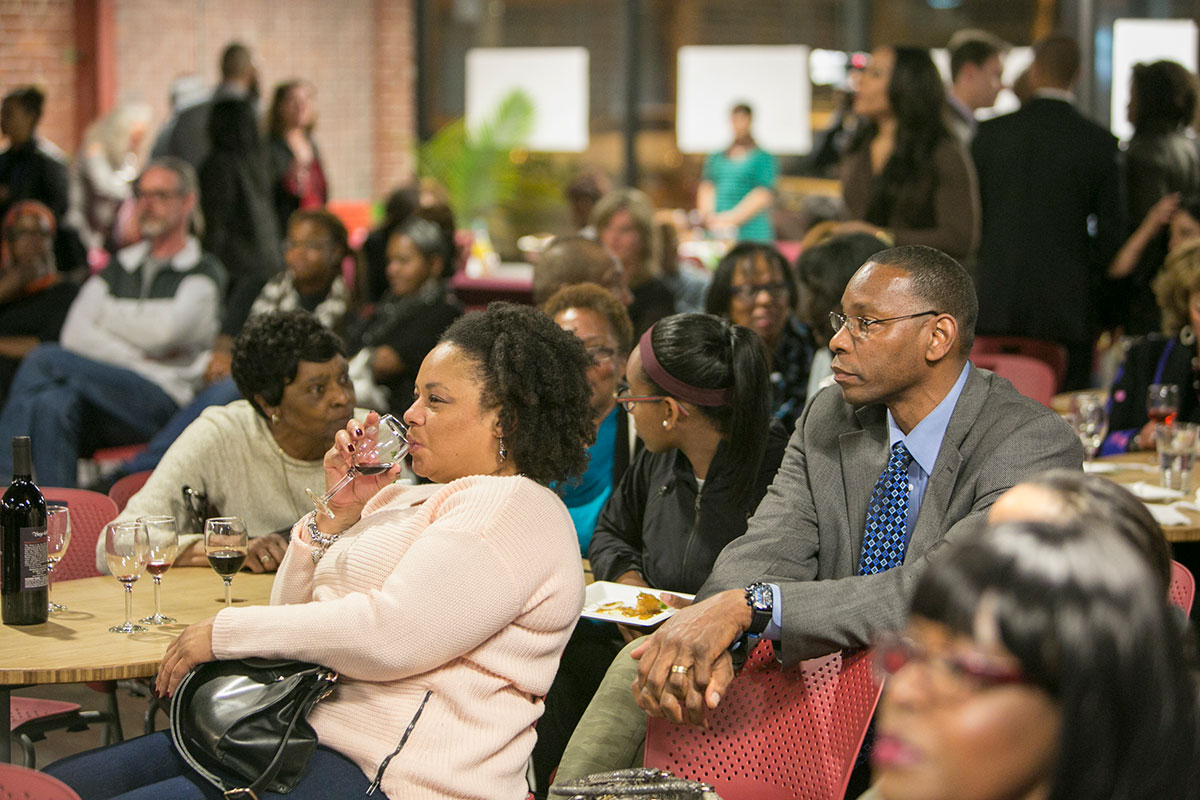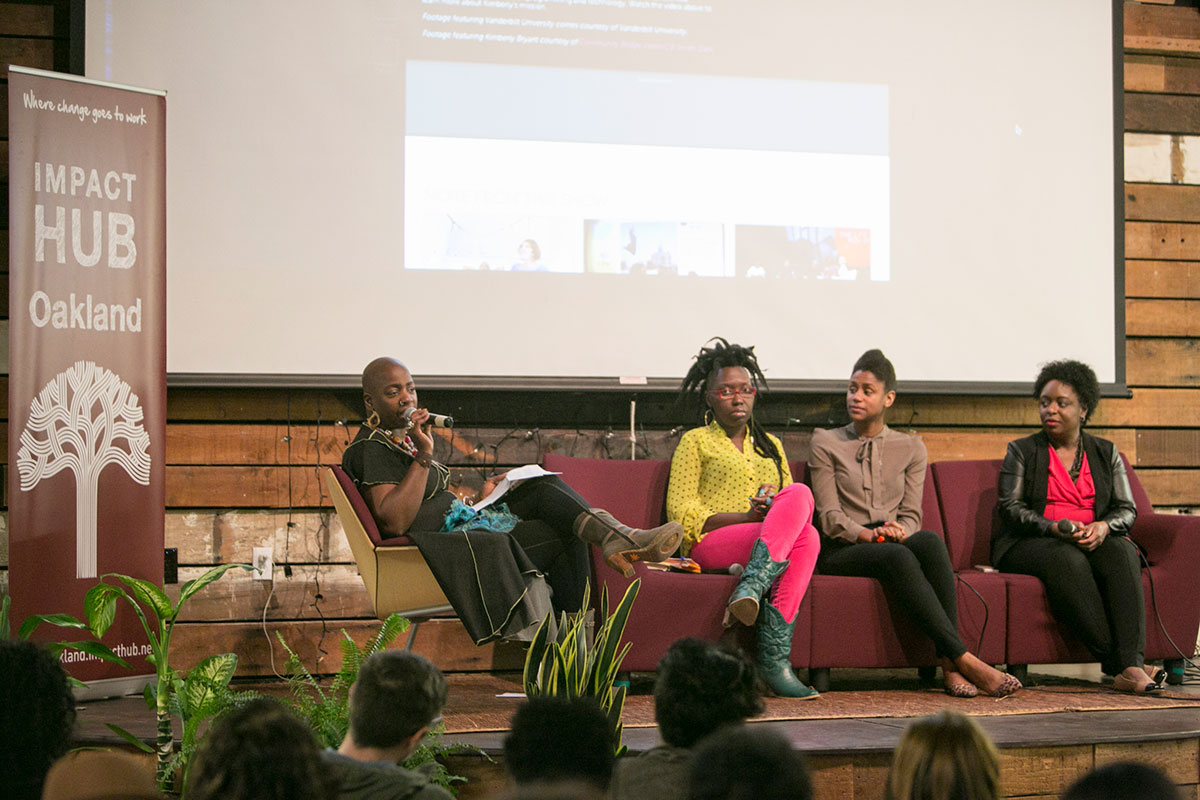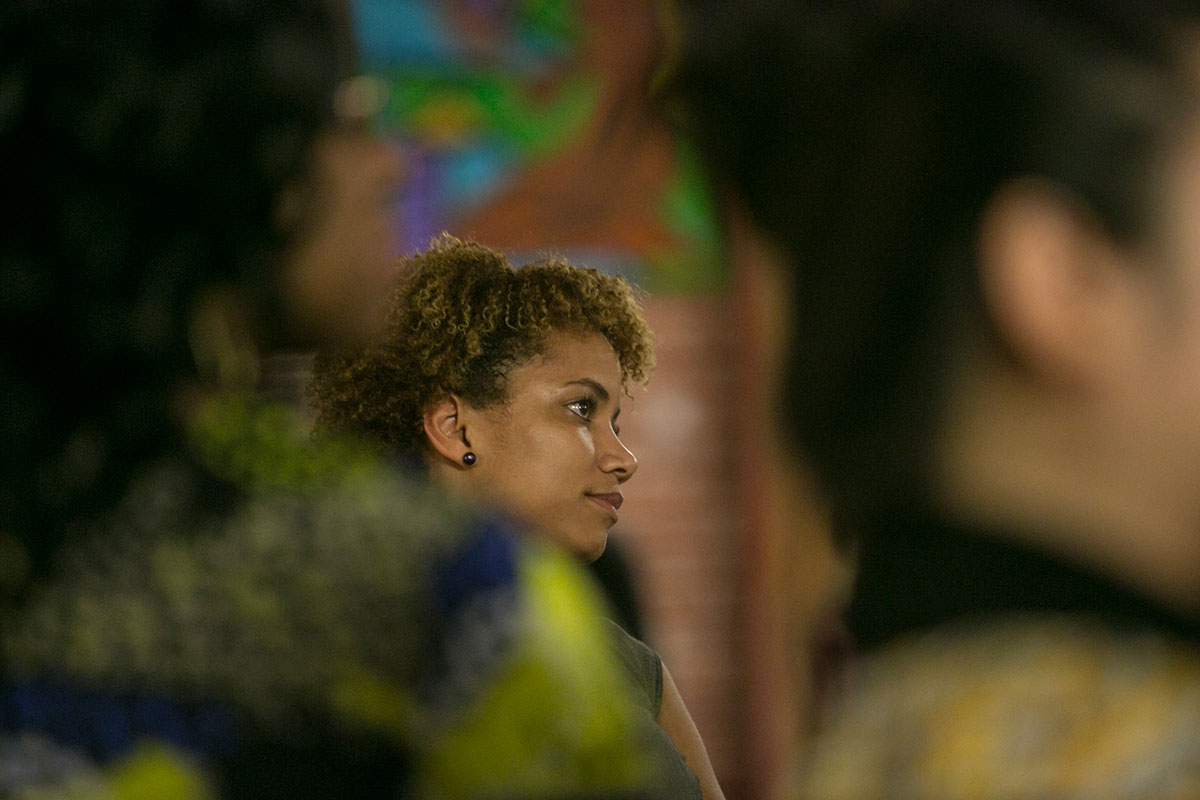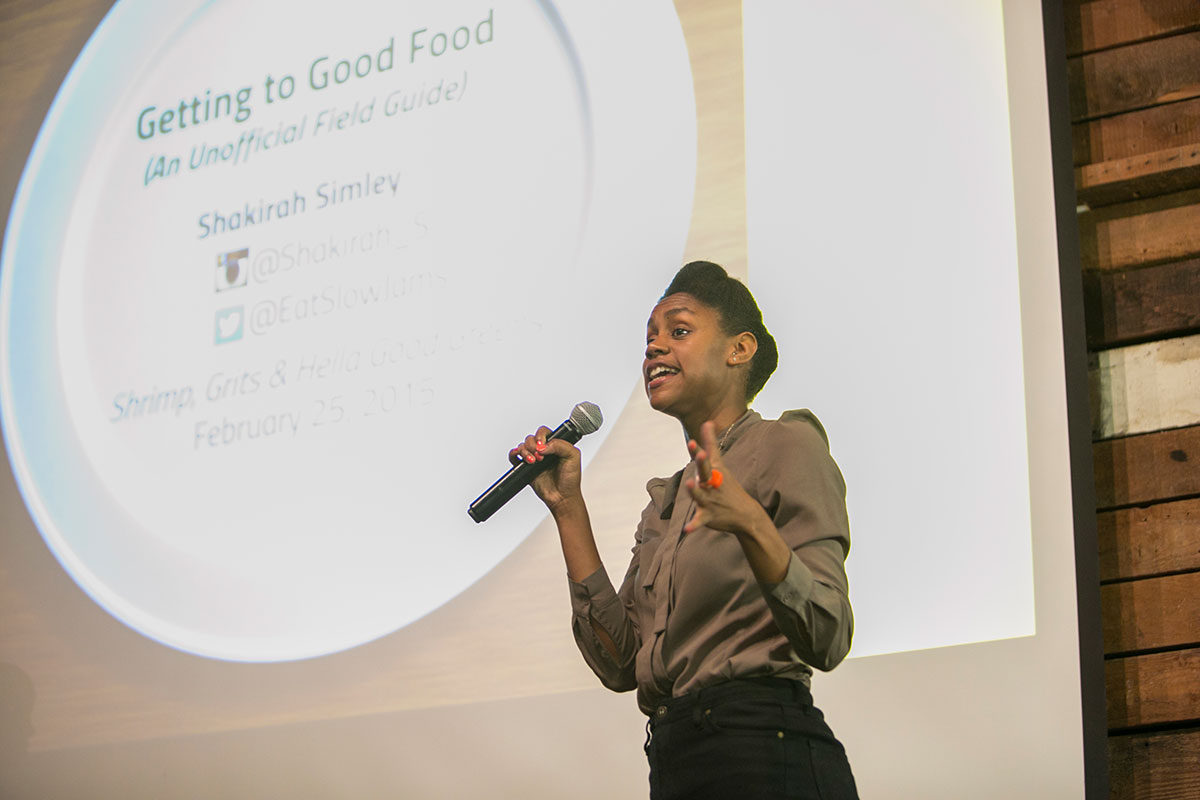 Like that perfect pinot to accompany a fine meal, The sf|noir Wine & Food Festival delivered the full palate of delightful experiences. Between insightful spoken word performances and invigorating discussions surrounding food equity and access, key innovators and social entrepreneurs pushed the envelope and introduced audiences to their game-changing work. A highlight from opening night, Yvonne Fly Onakeme Etaghene made sure everyone in the audience knew how to say her beautiful African name and then sent shivers down our spine with her tantalizing poem about a sweet, delicious mango. Hosted by Ashara Ekundayo (co-founder of Hub Oakland), Shrimp, Grits & Greens featured speakers Shakirah Simley – the stunning educator, food advocate, and entrepreneur; Kimberley Bryant – inspiring founder of Black Girls Code; and Yvonne Fly, gifted performance activist, poet, dancer, and writer.

Bryant Terry, a modern day Renaissance man of food (chef, educator, author and food justice activist) hosted In Defense of Food: A Spoken Word Affair presented in association with the Museum of the African Diaspora. The audience fell in love with their favorite foods all over again, suffered through tearful breakups, and then went on to have torrid affairs behind their favorite foods' backs inspired by the evenings' poets. Performers kept the beat going non-stop, with pieces from greats like Hadeel Ramdan, Brandon Santiago, Sarah O'Neal, Aaron Abelman and Simone Crew. Simone curated the evening, and, for her passionate poetry and performances, has been featured on NPR's "Talk of the Nation" and at the 2010 Sundance Film Festival.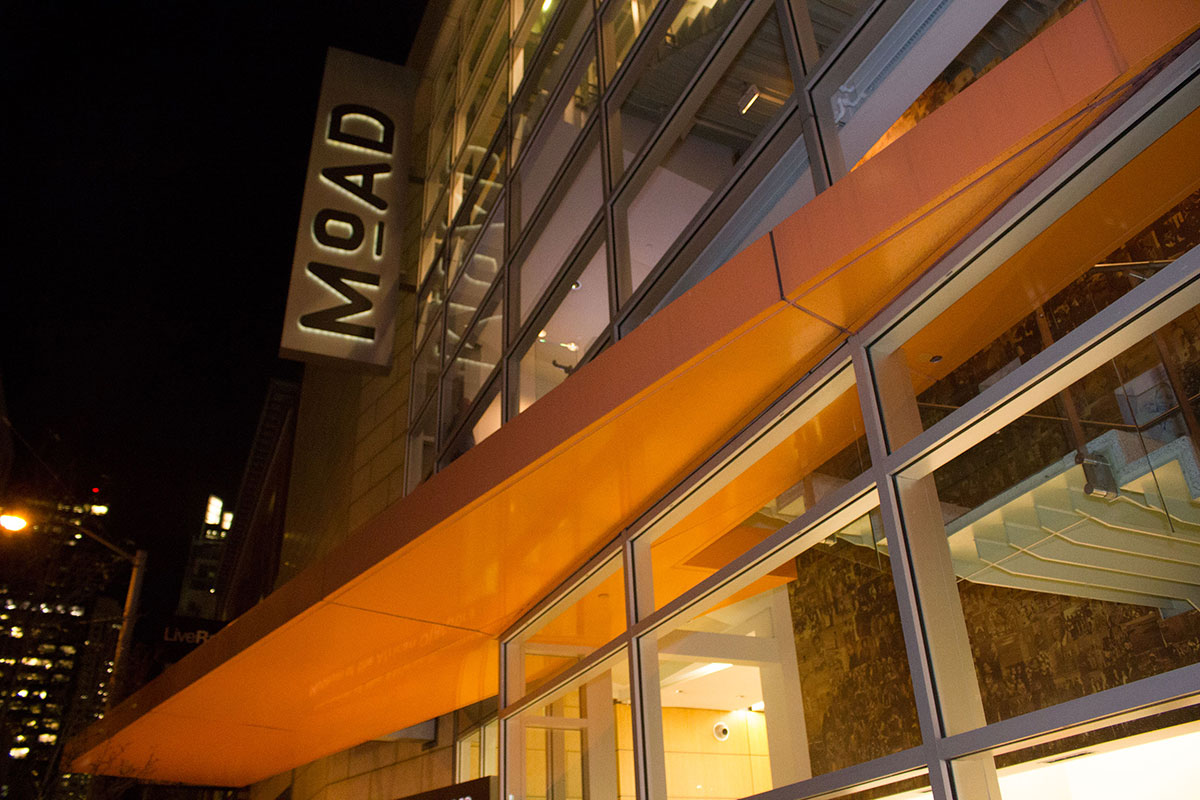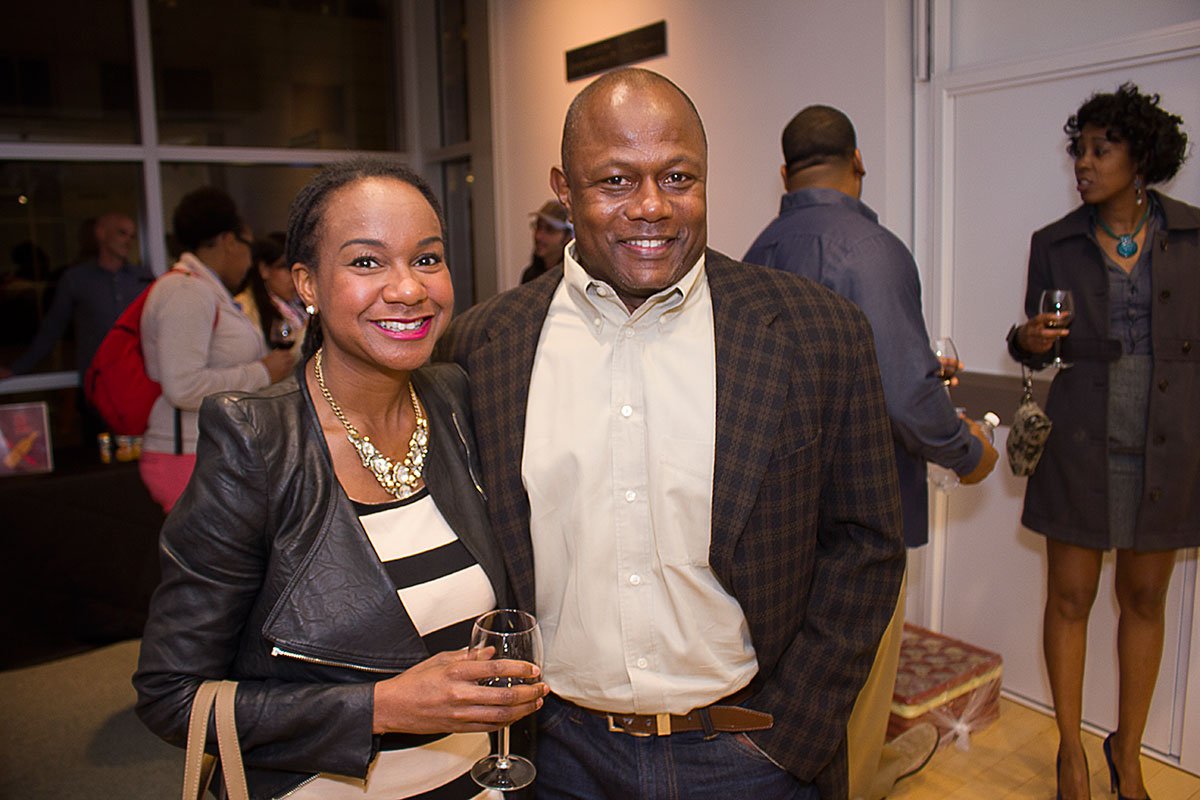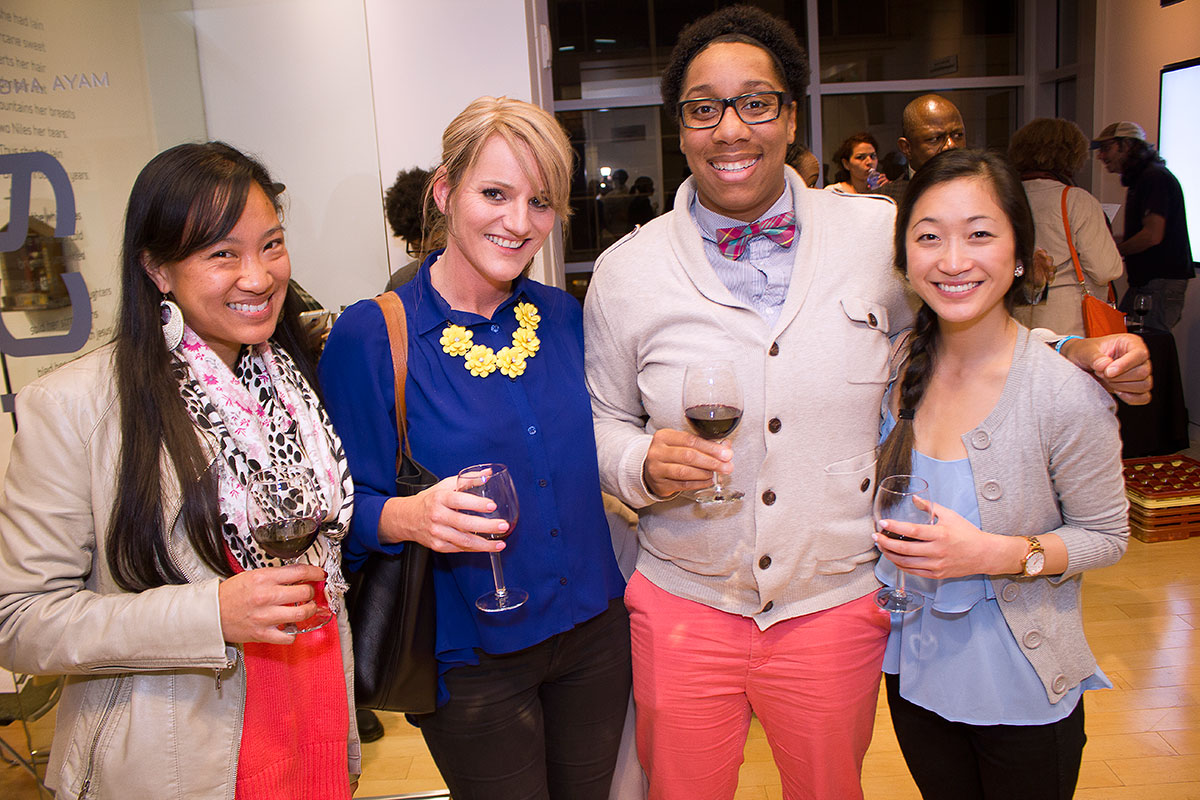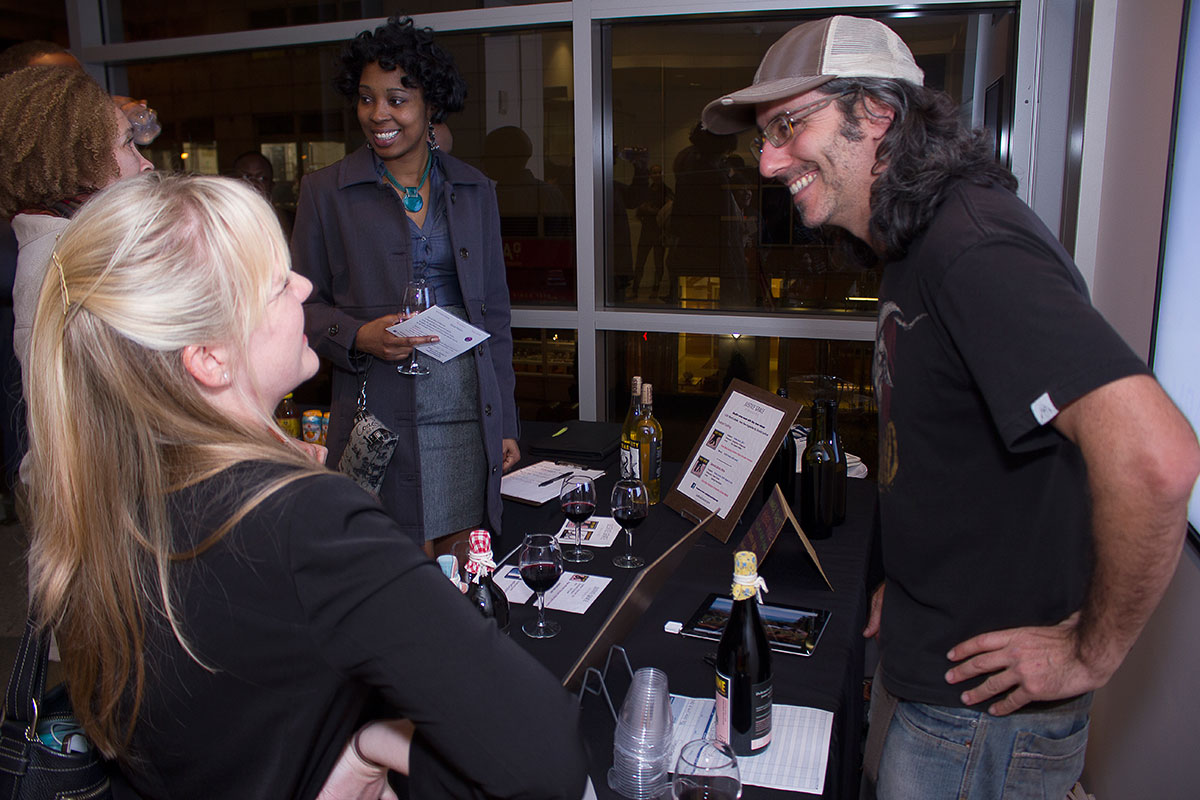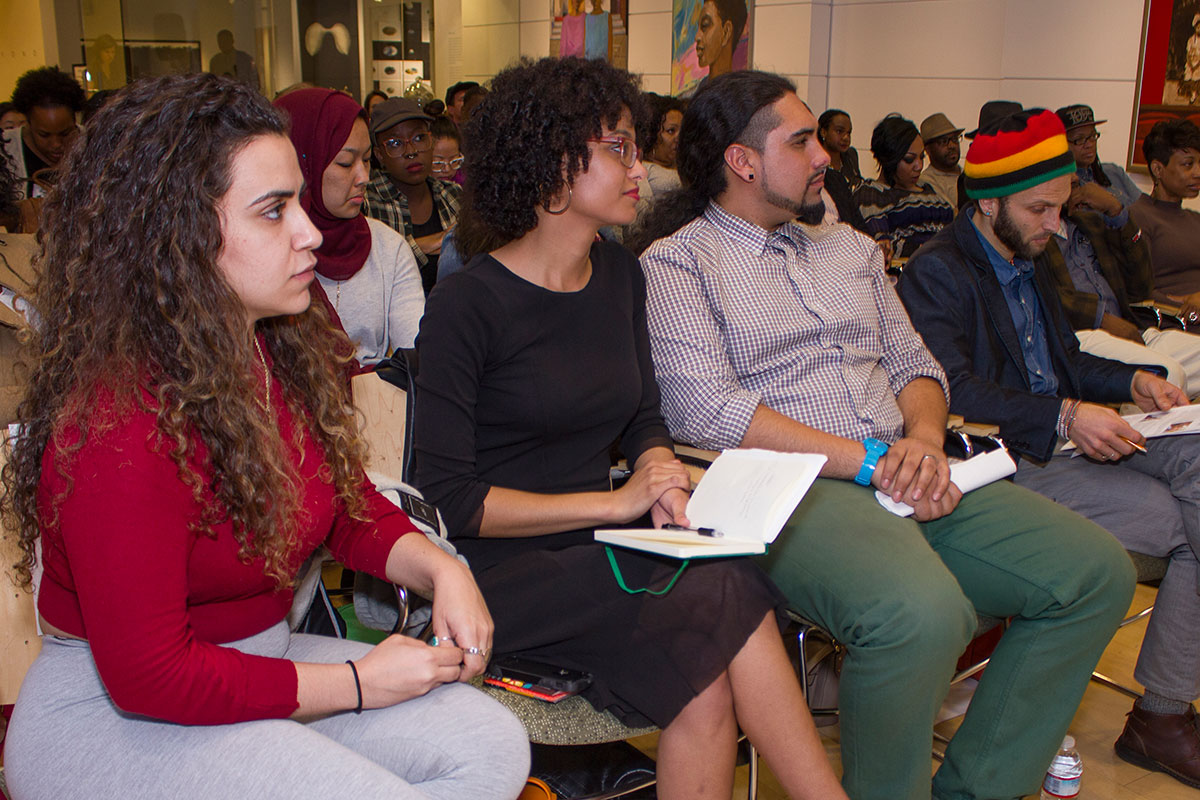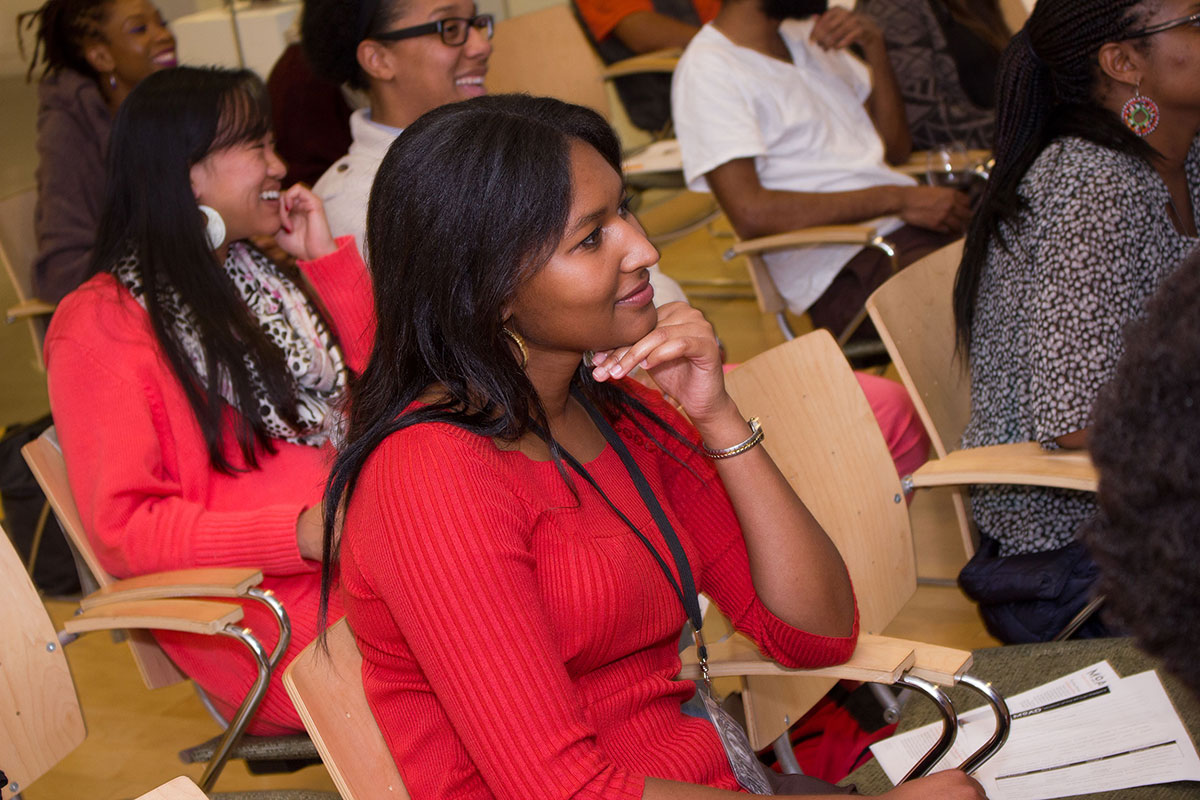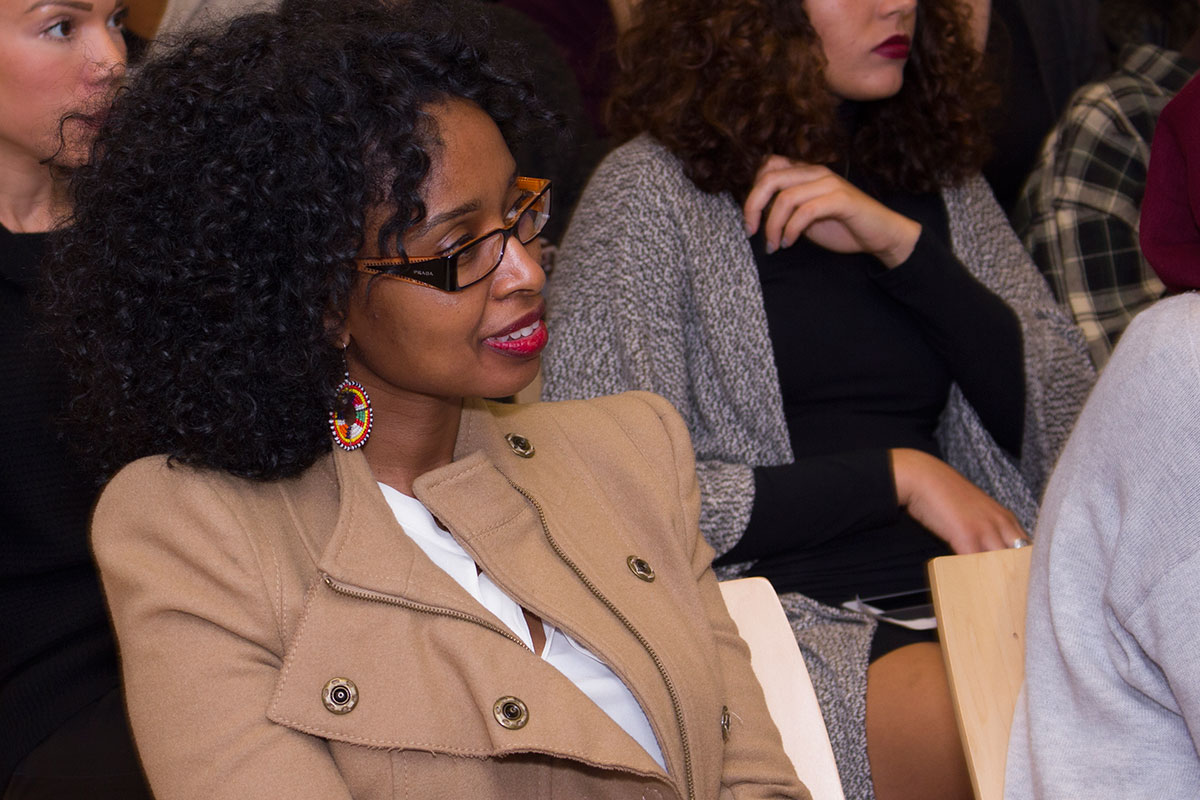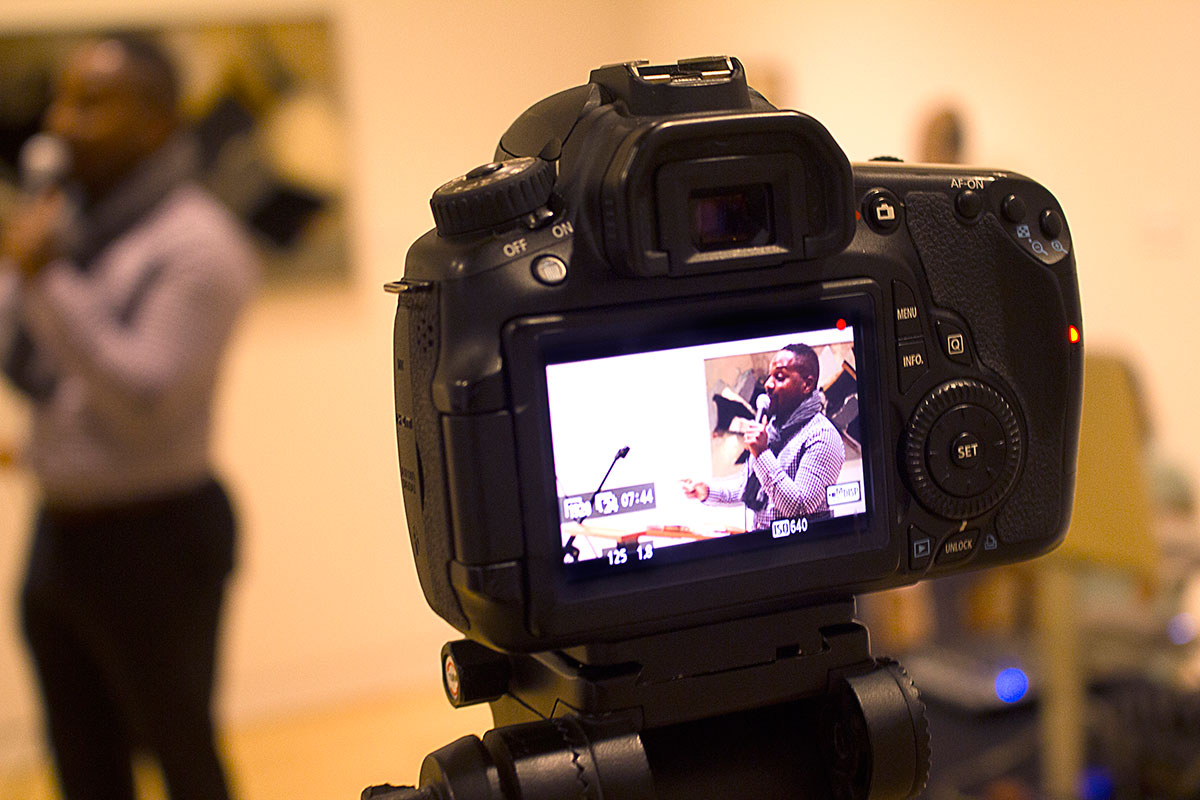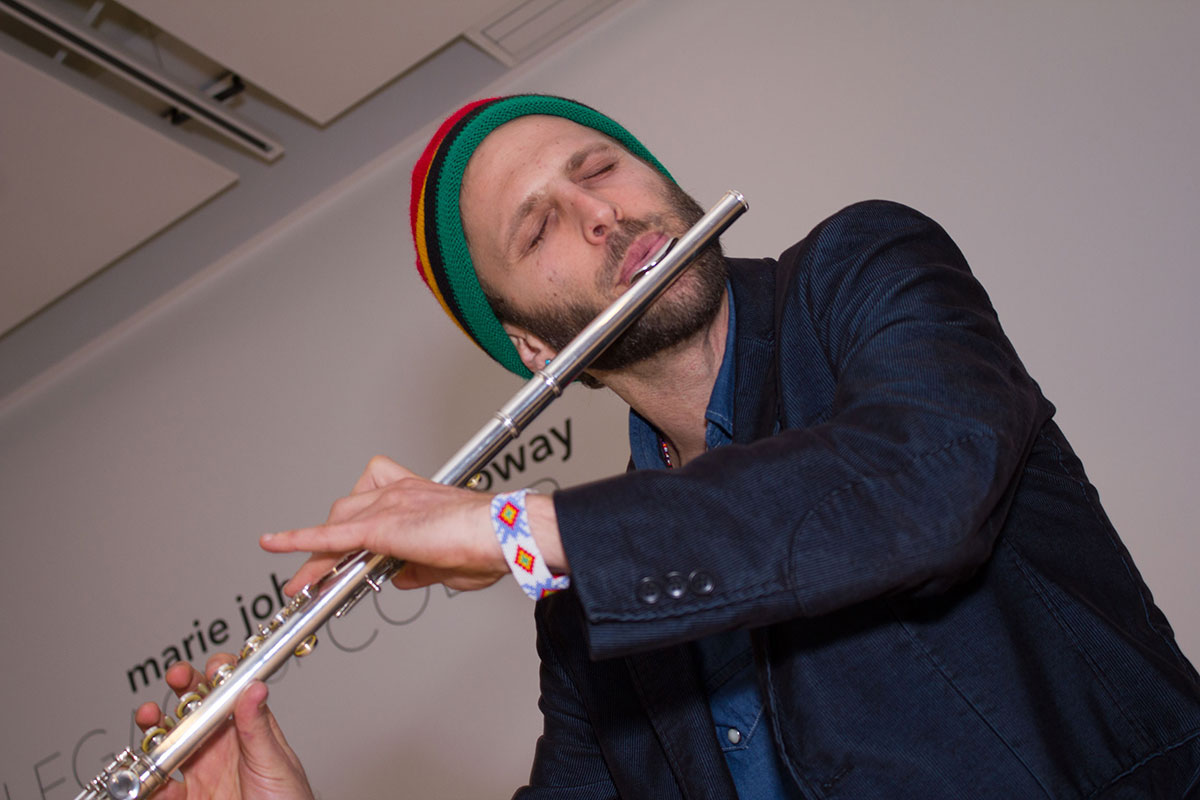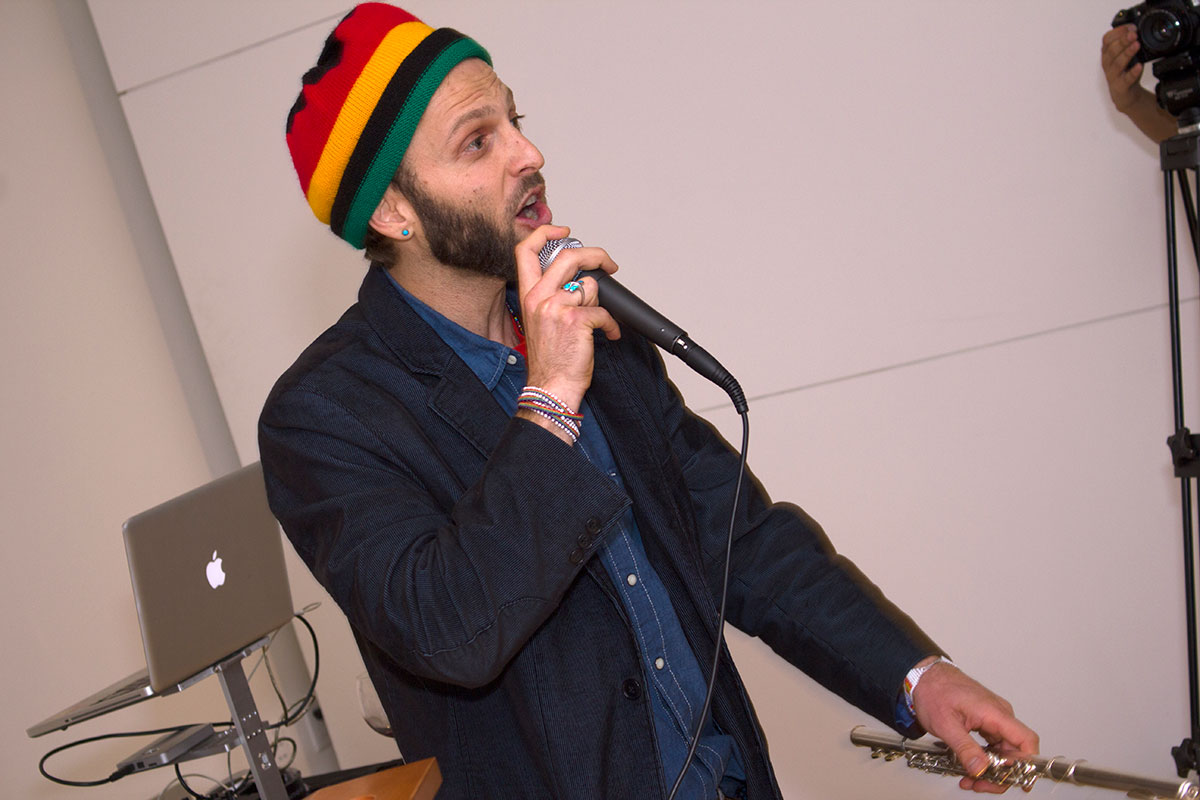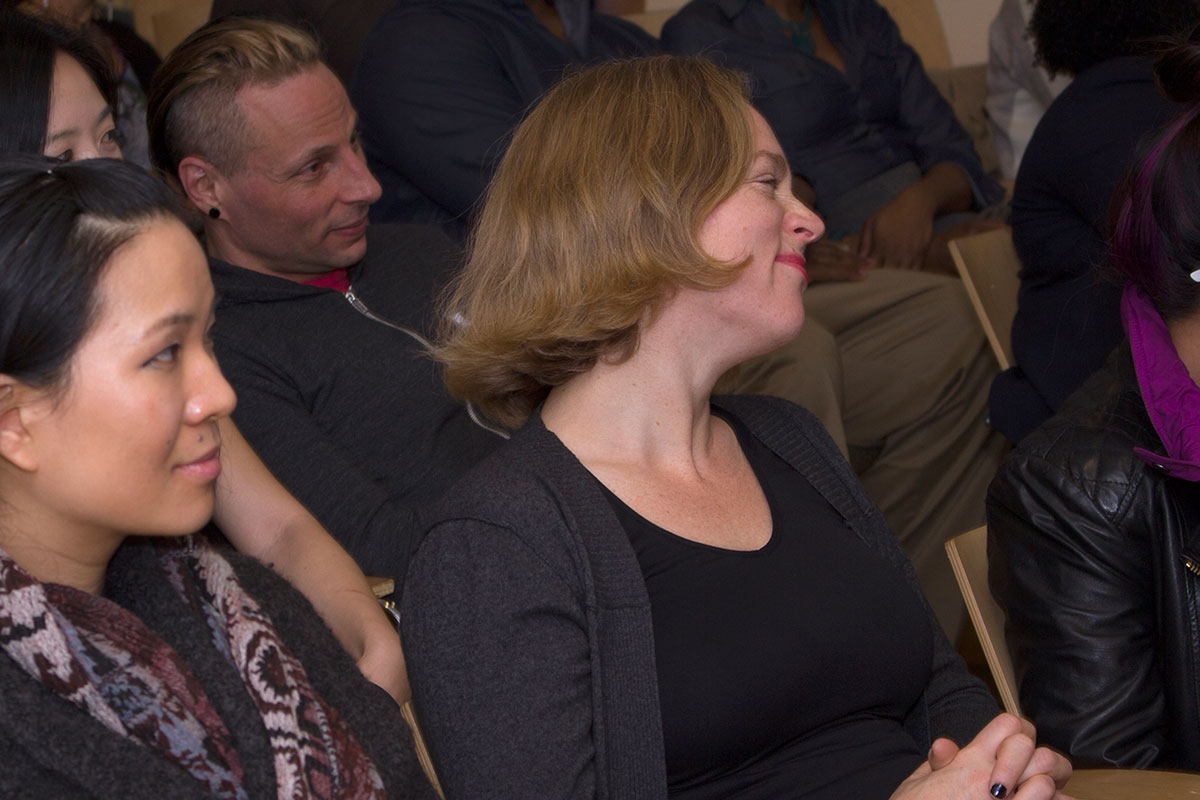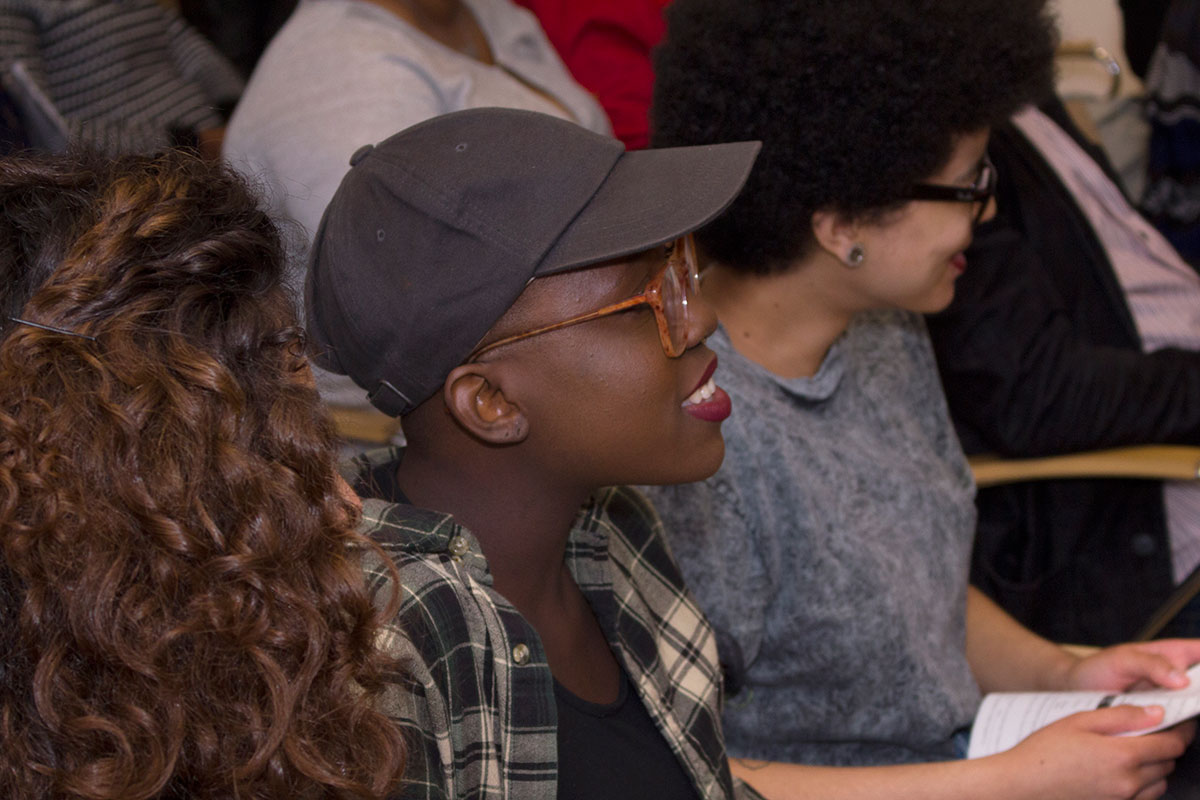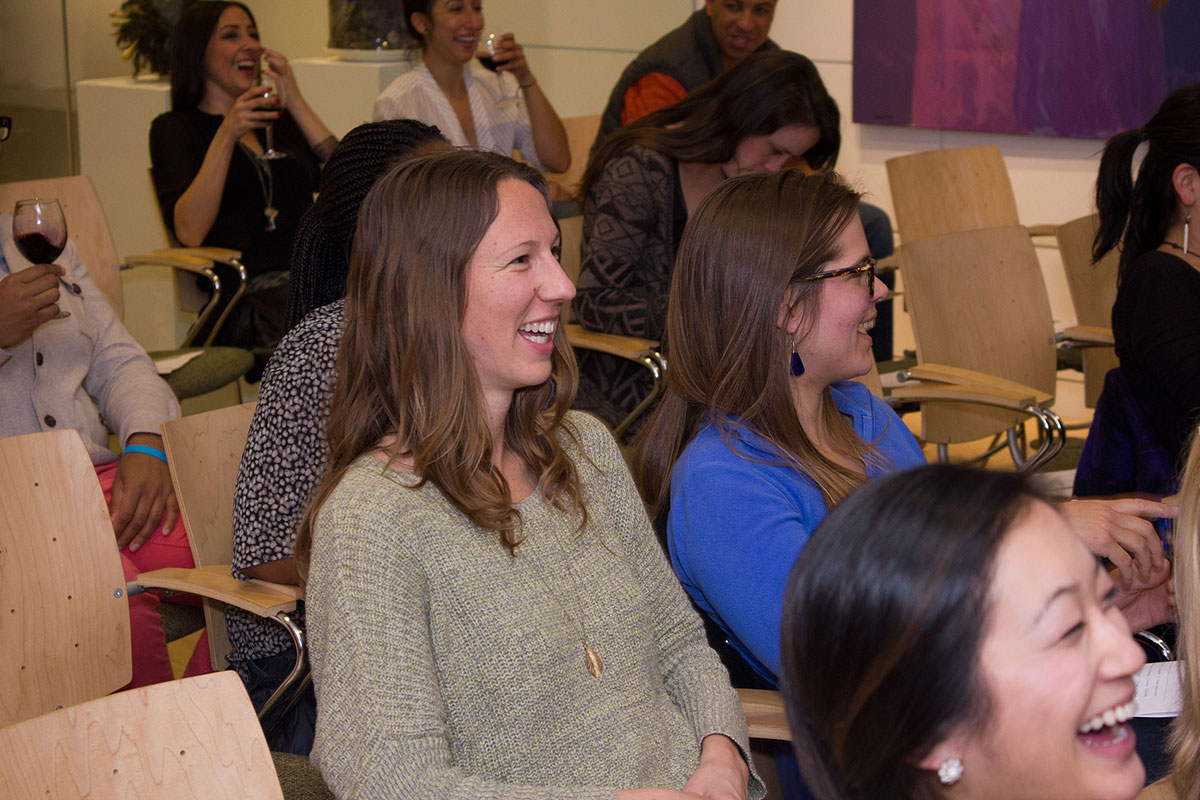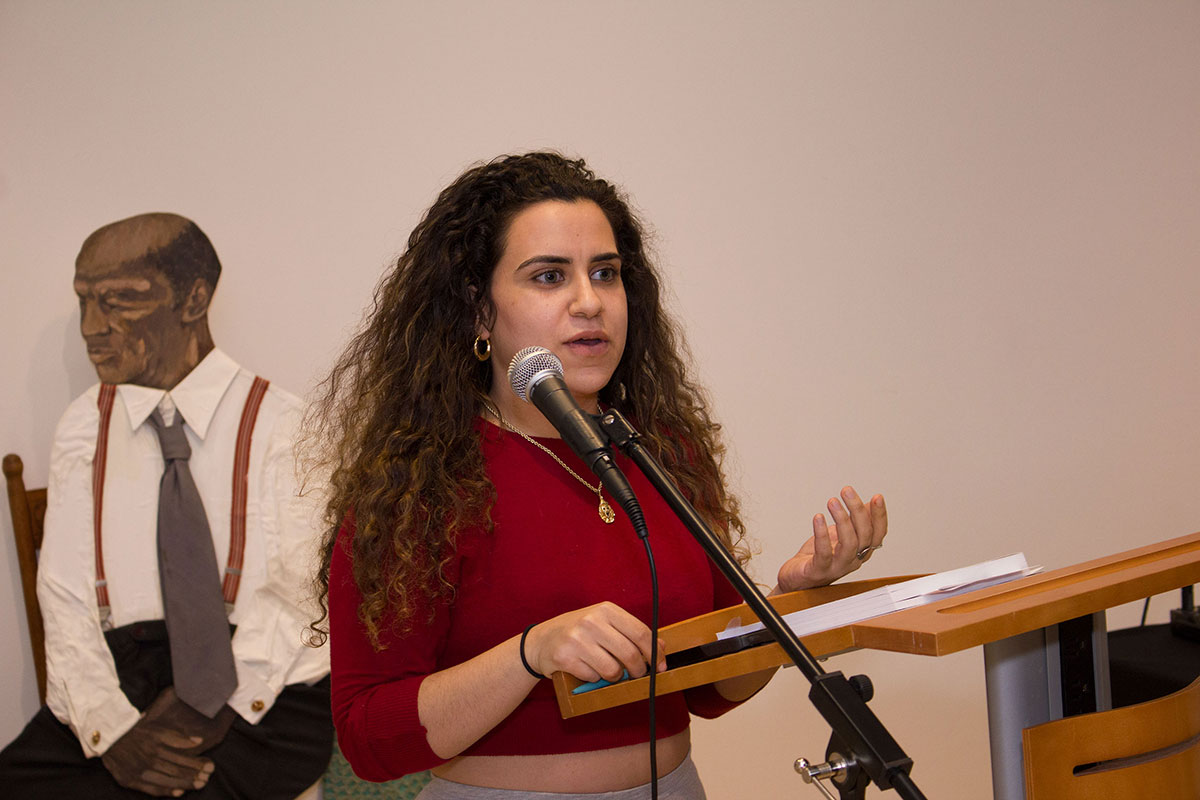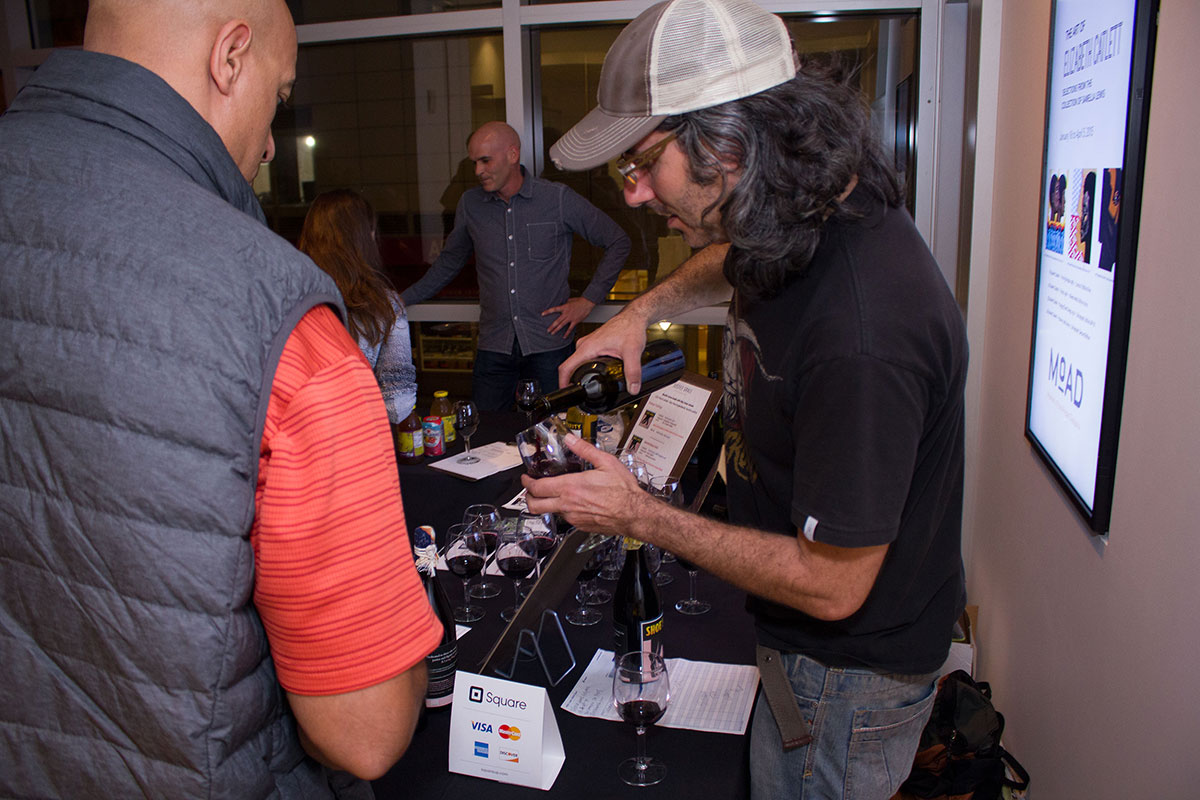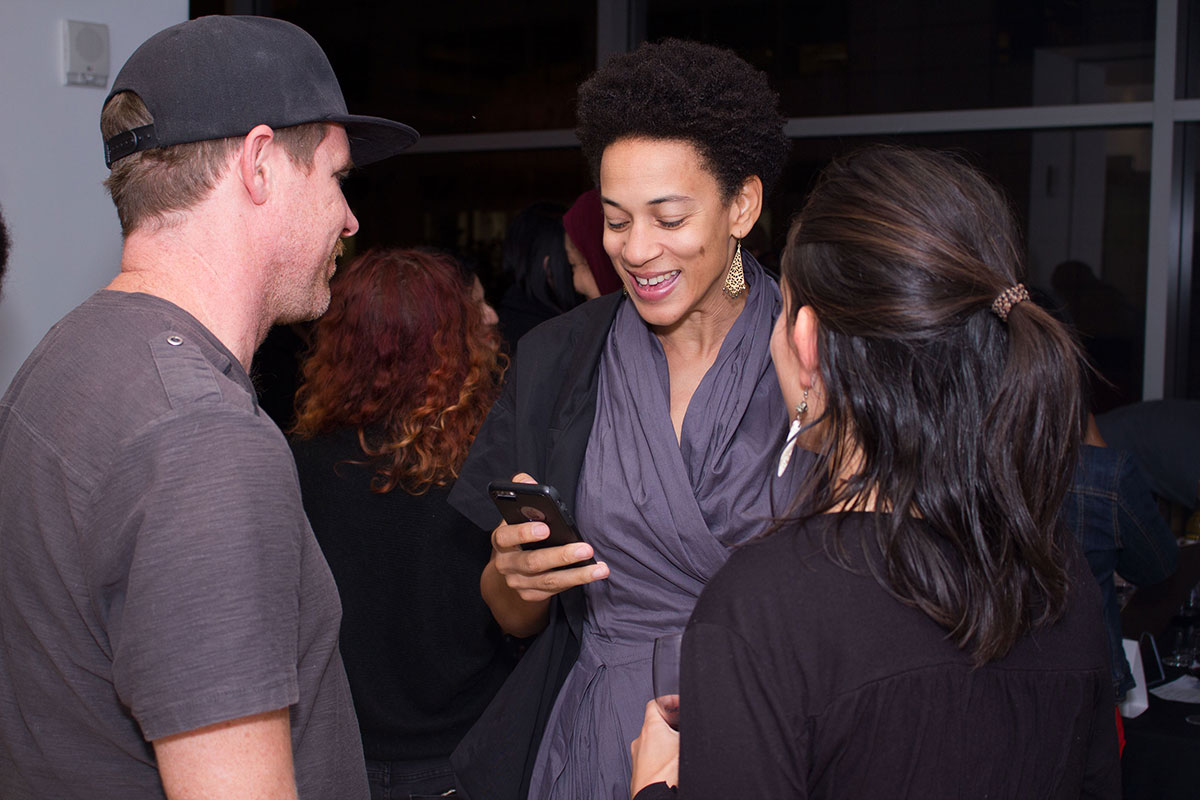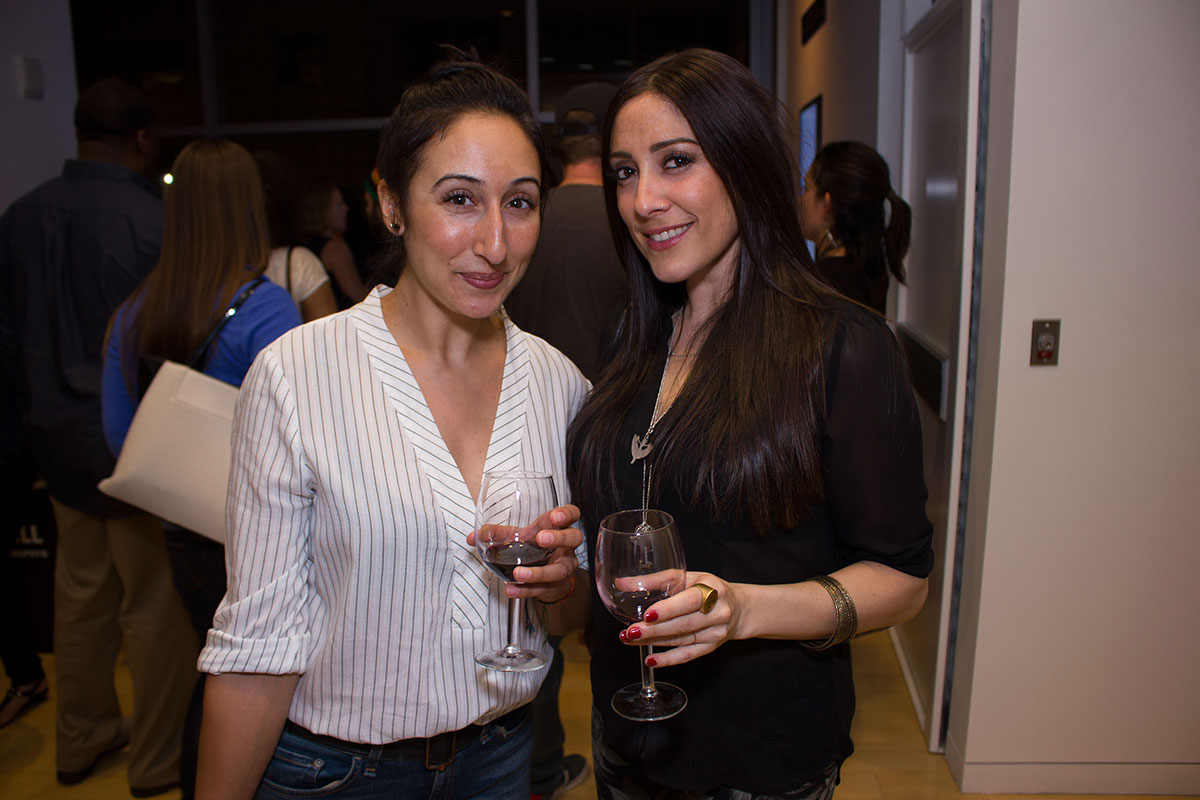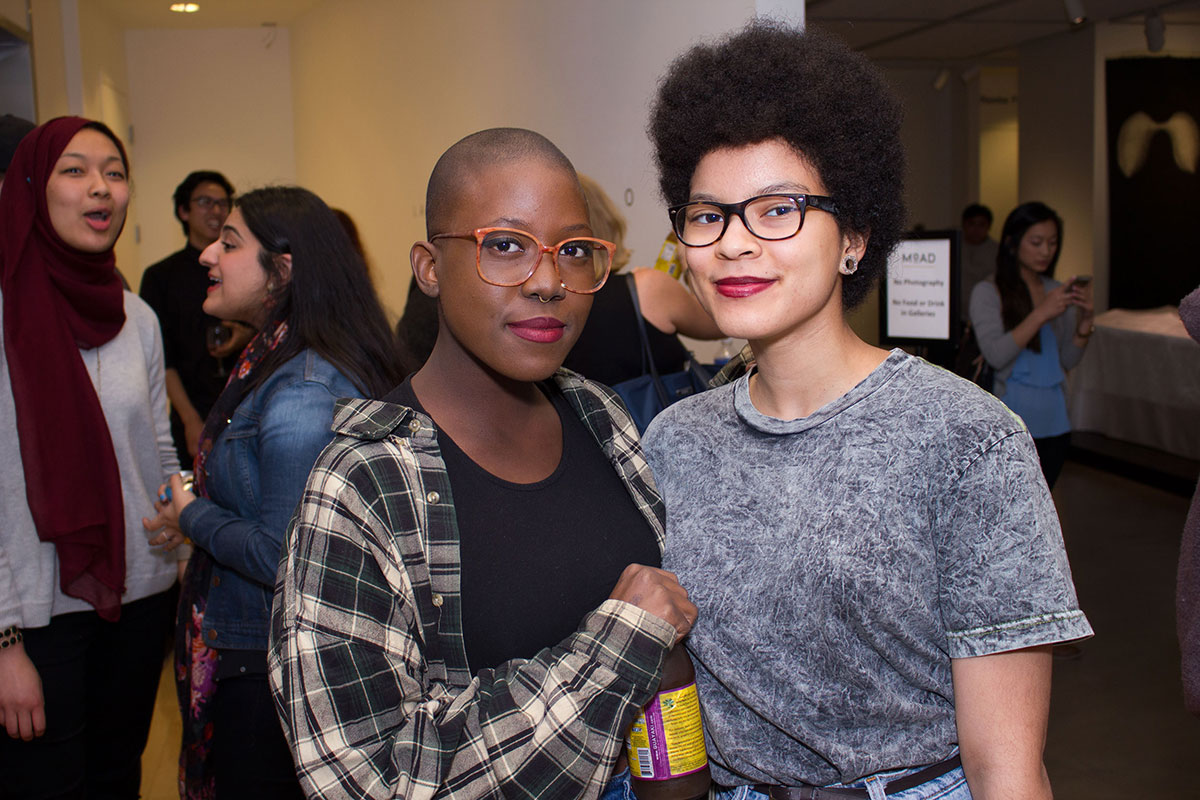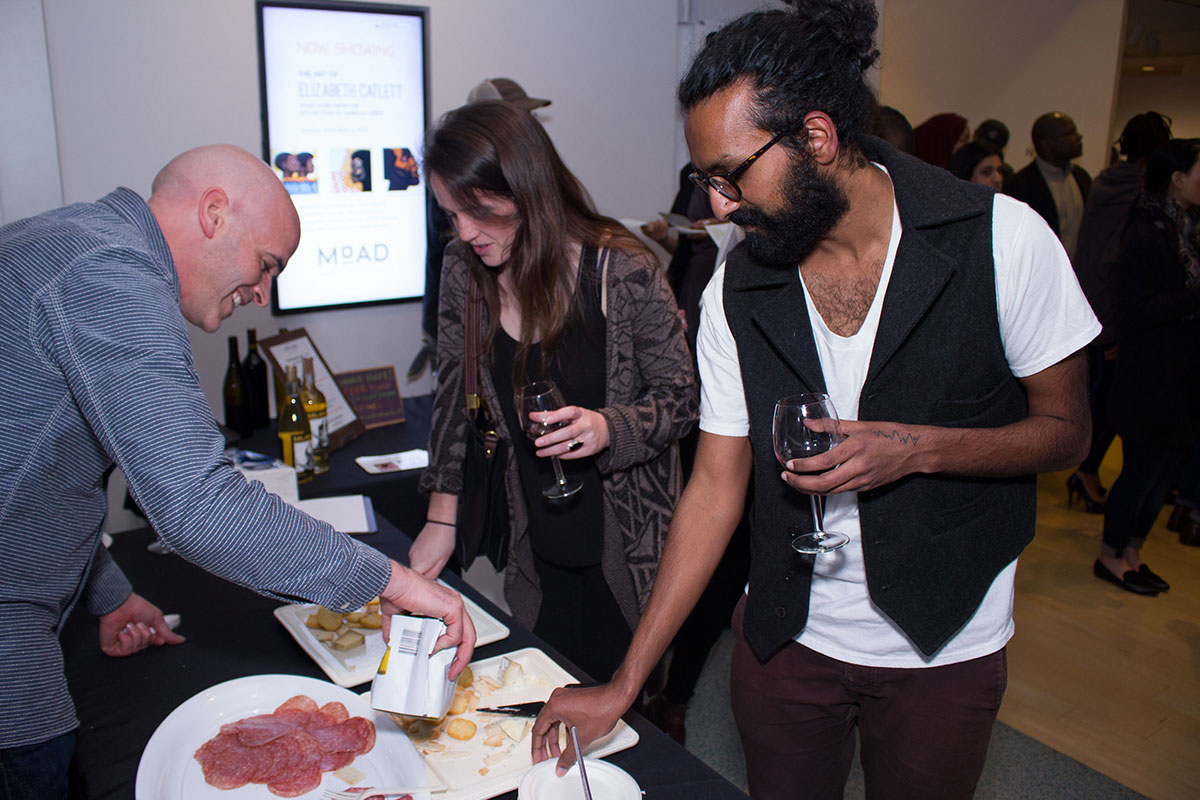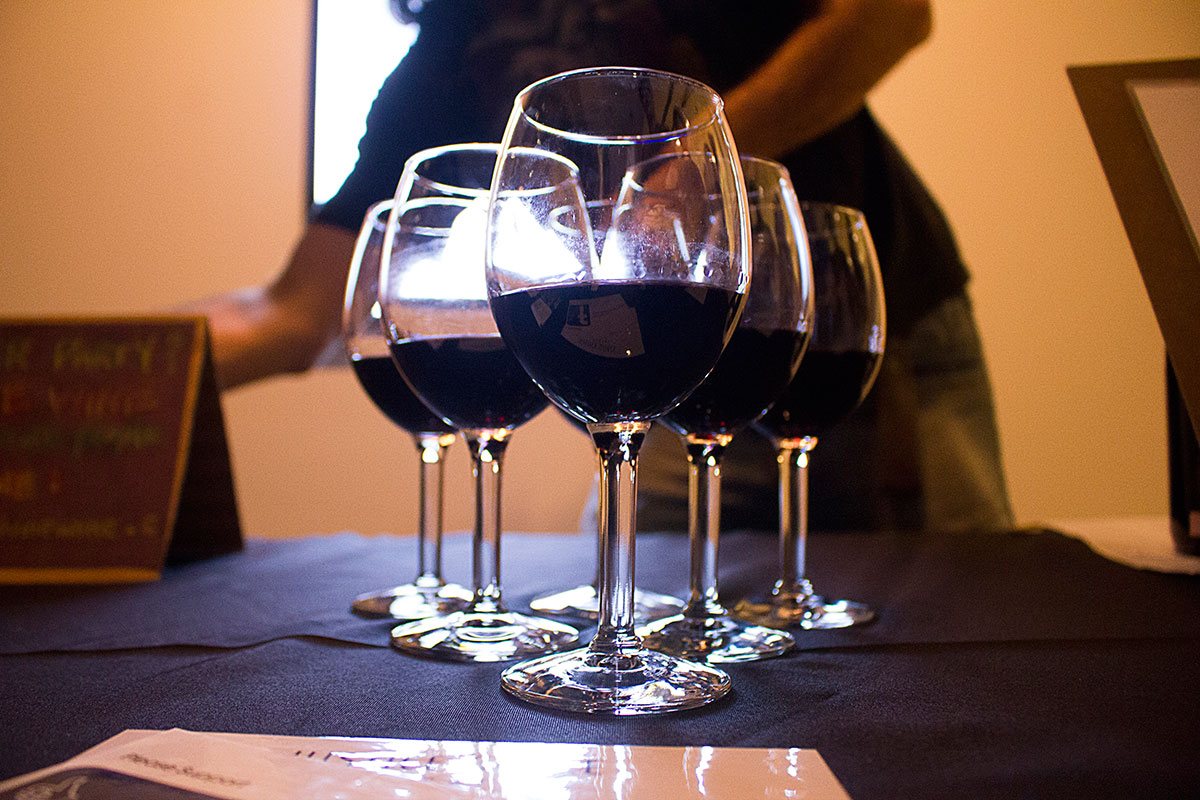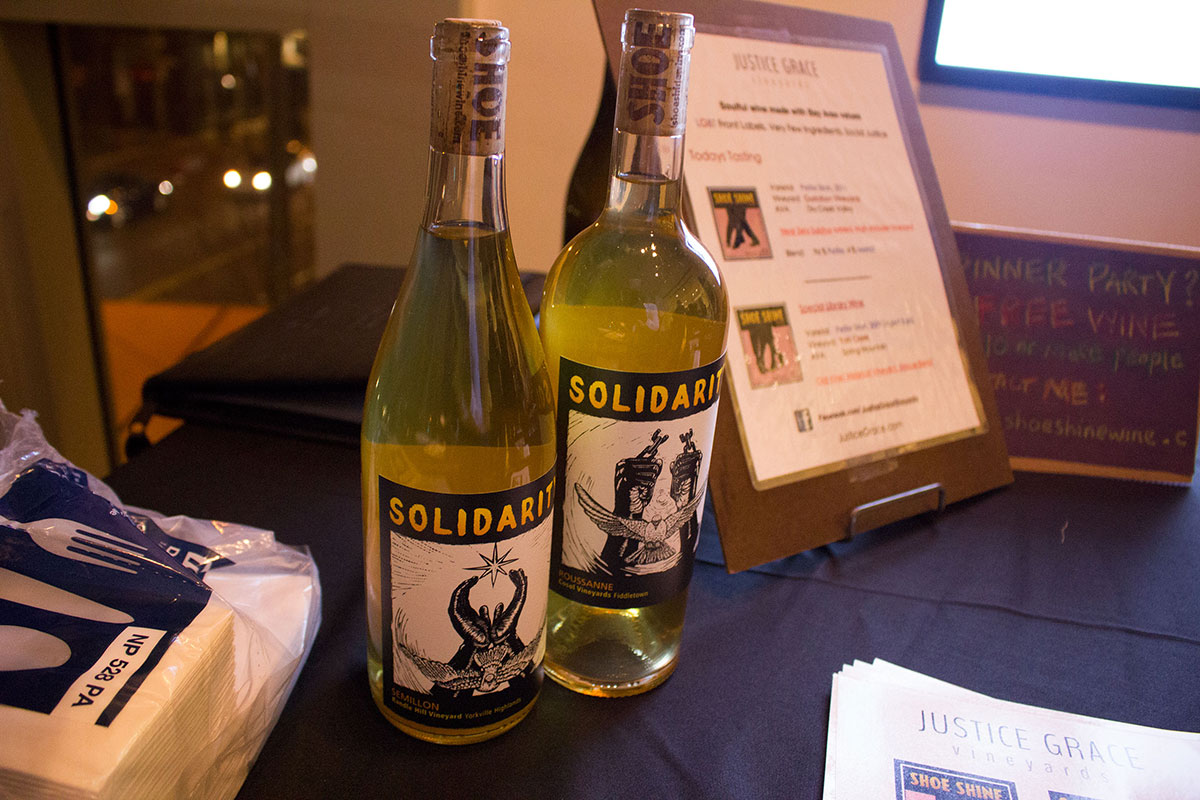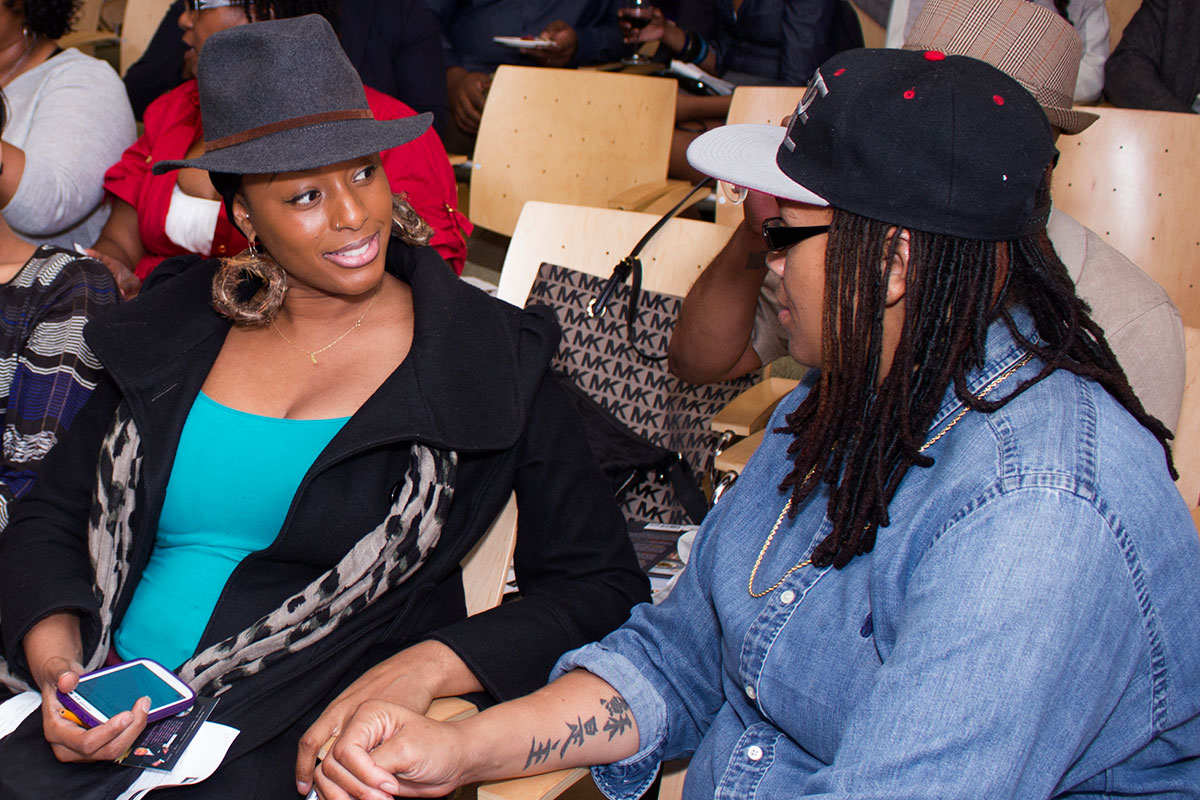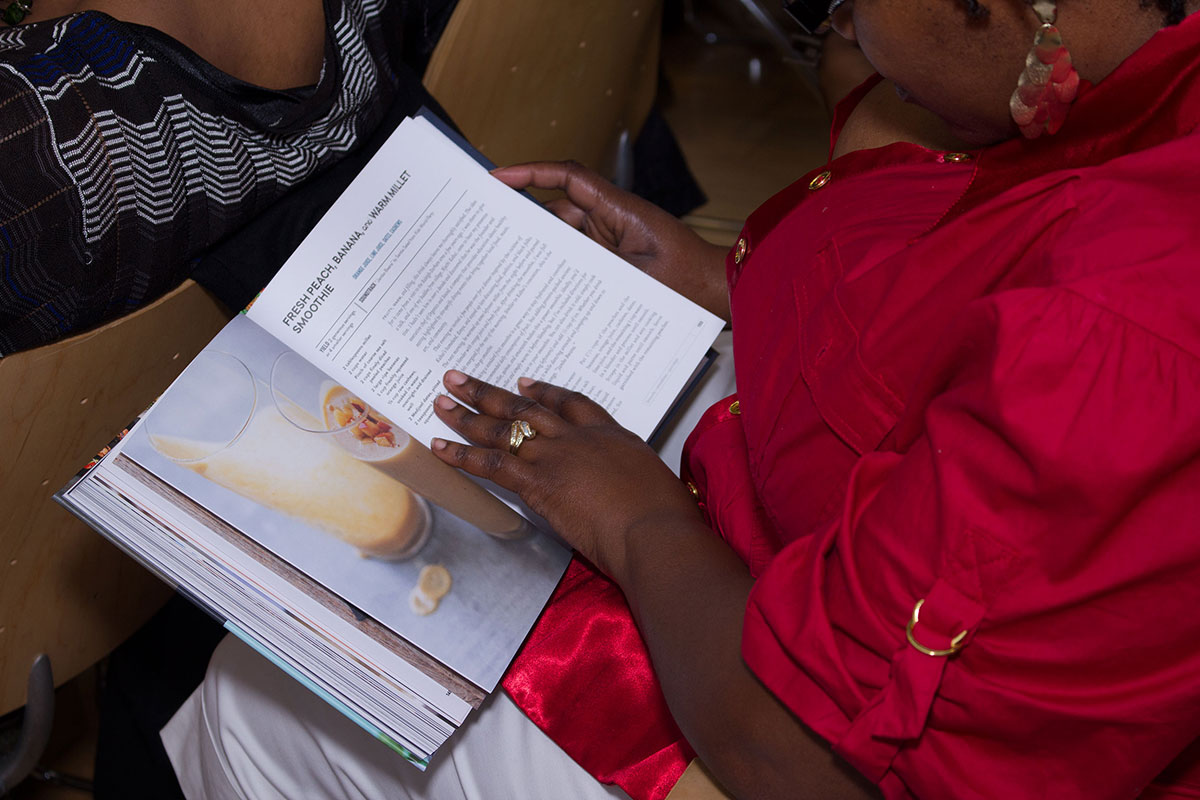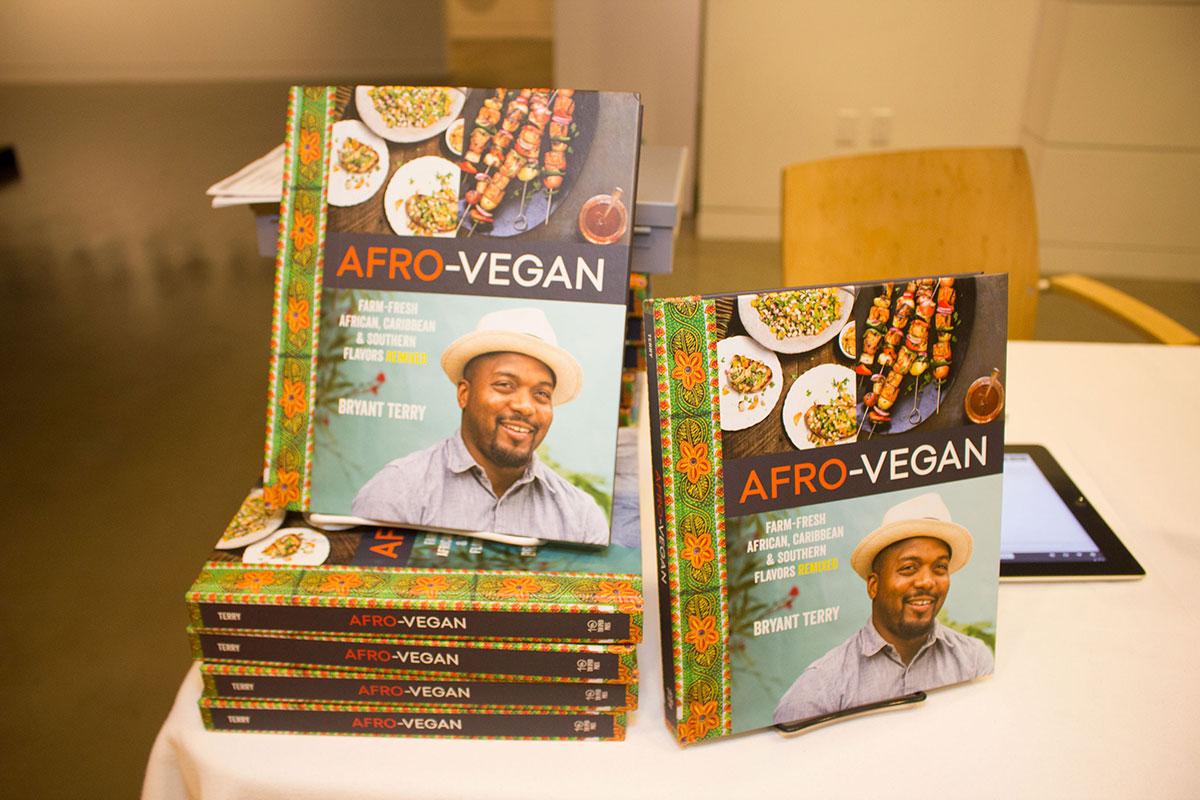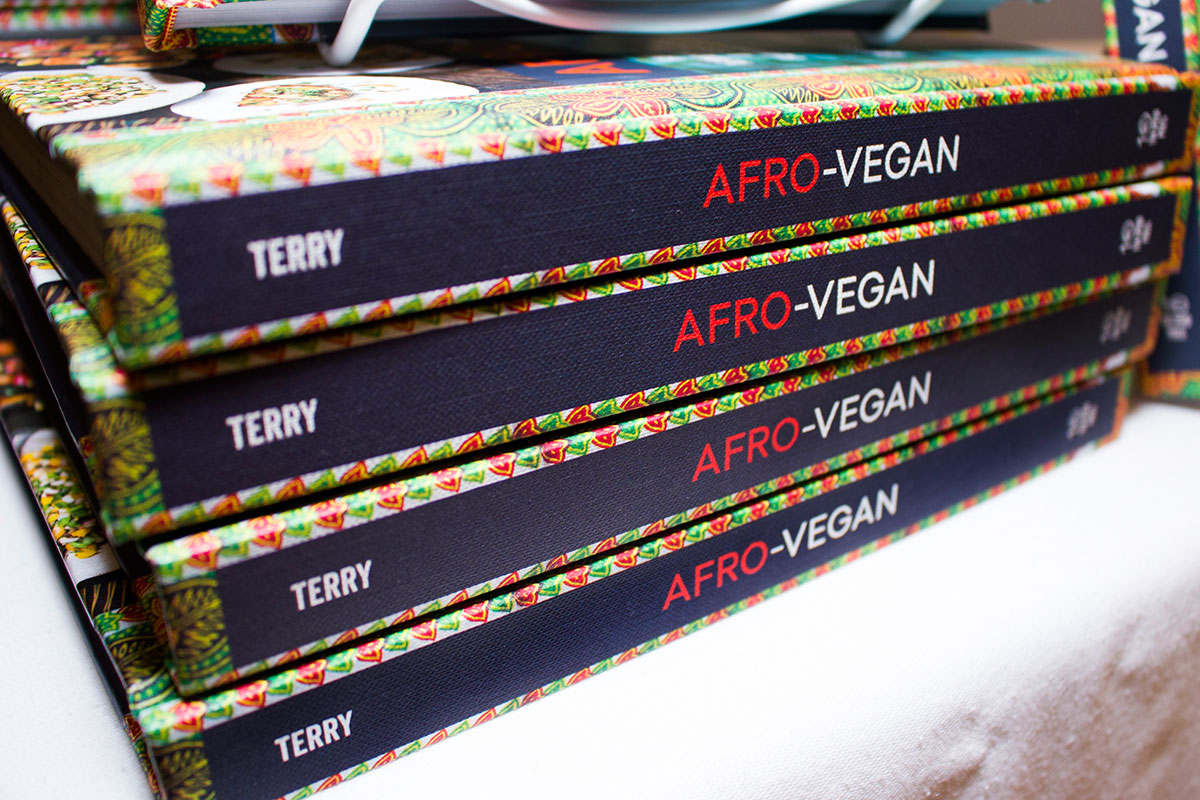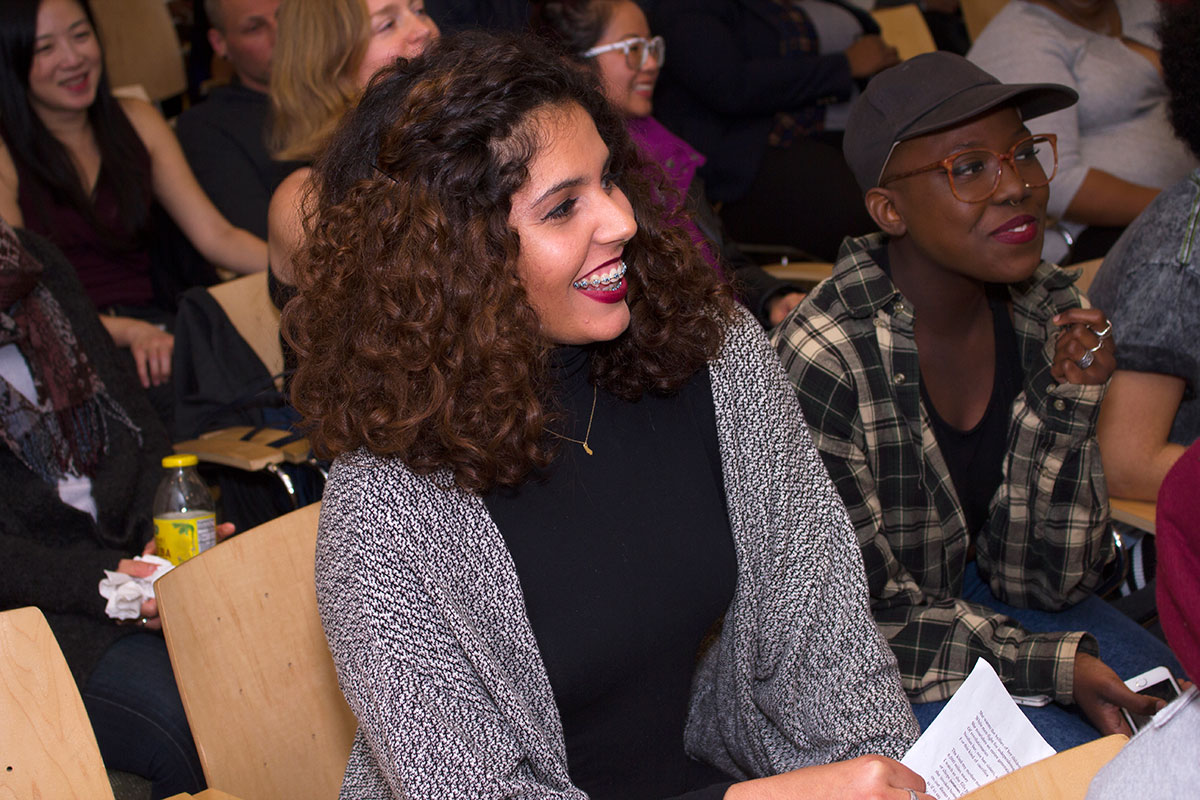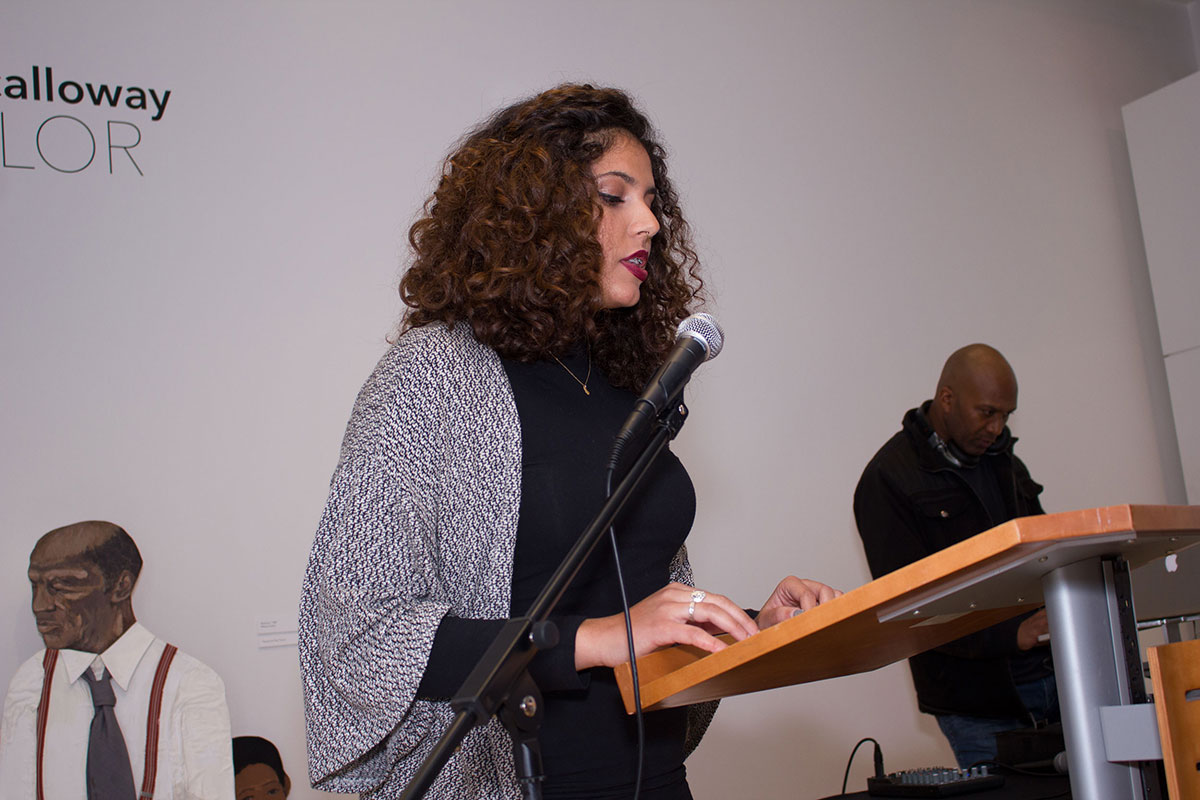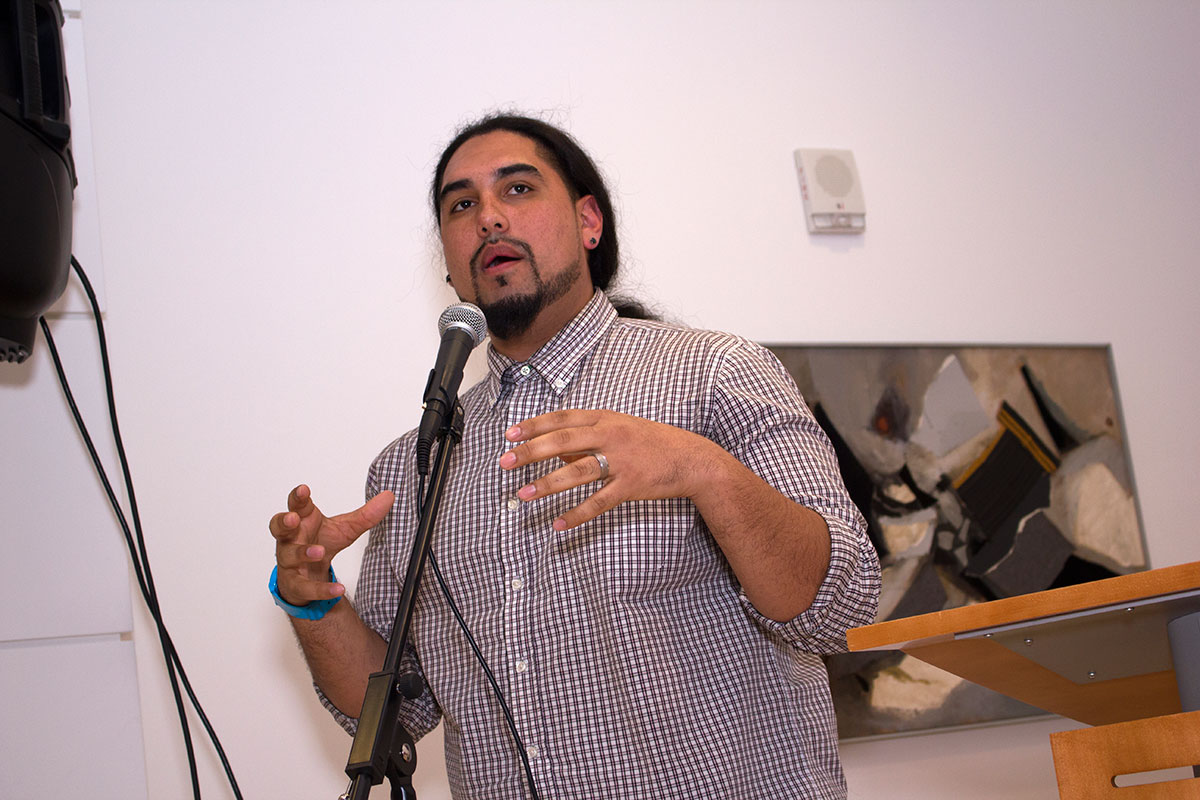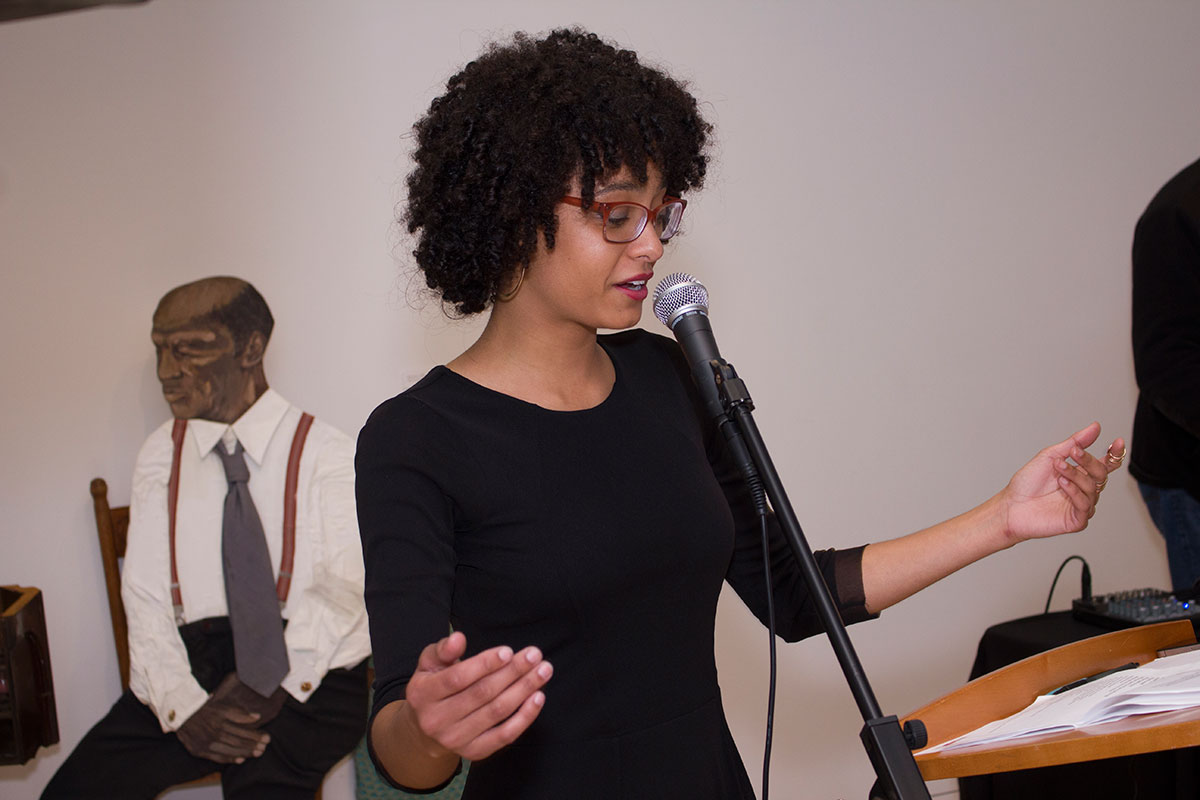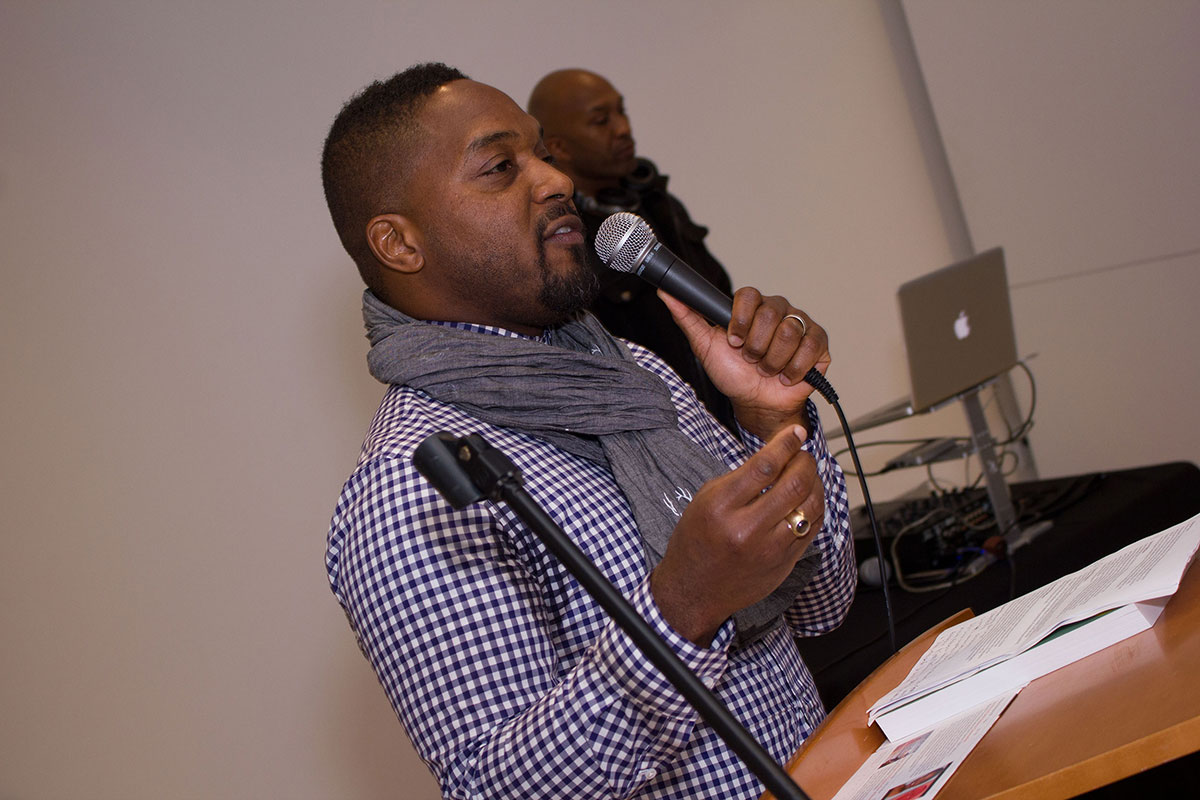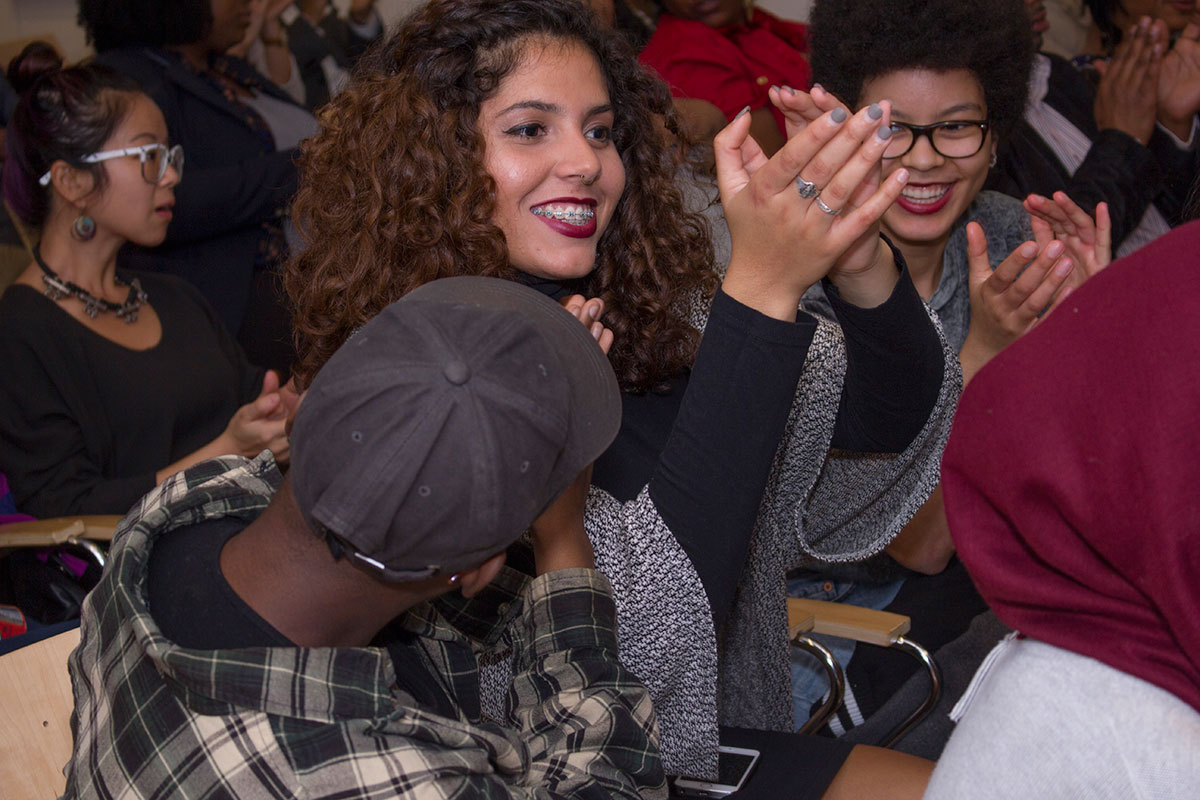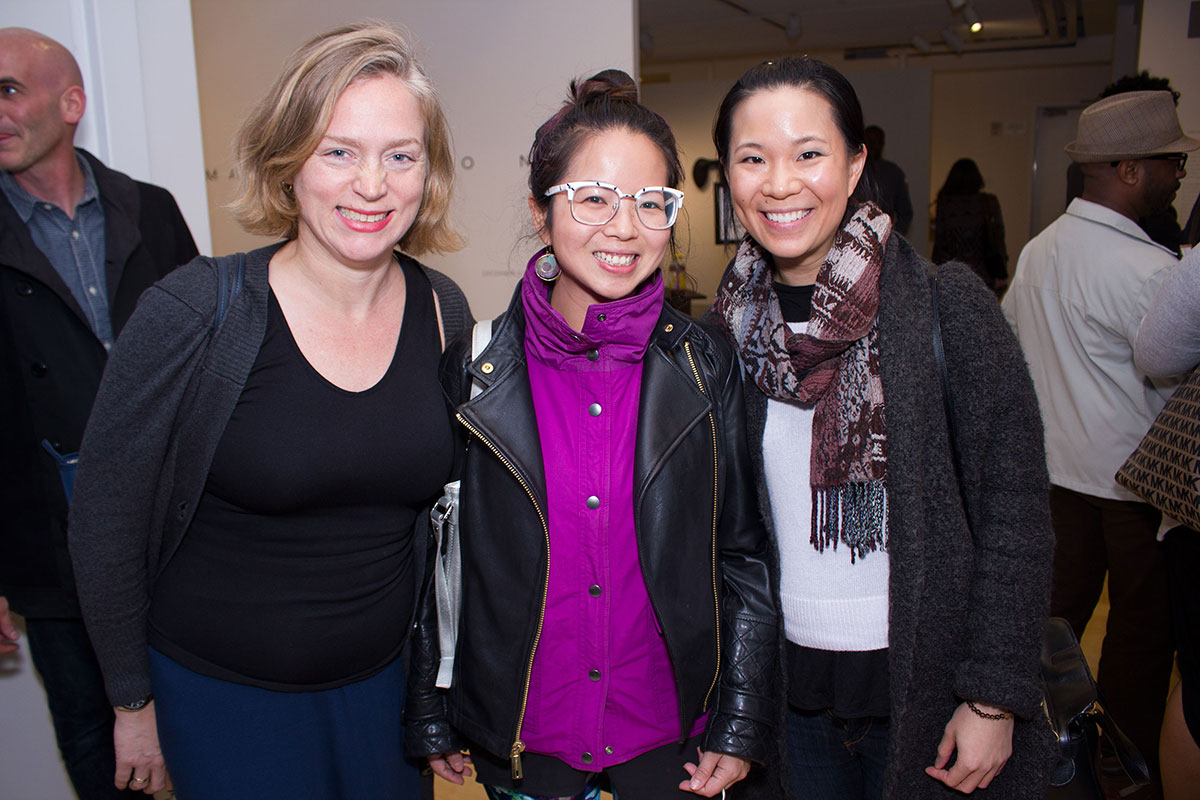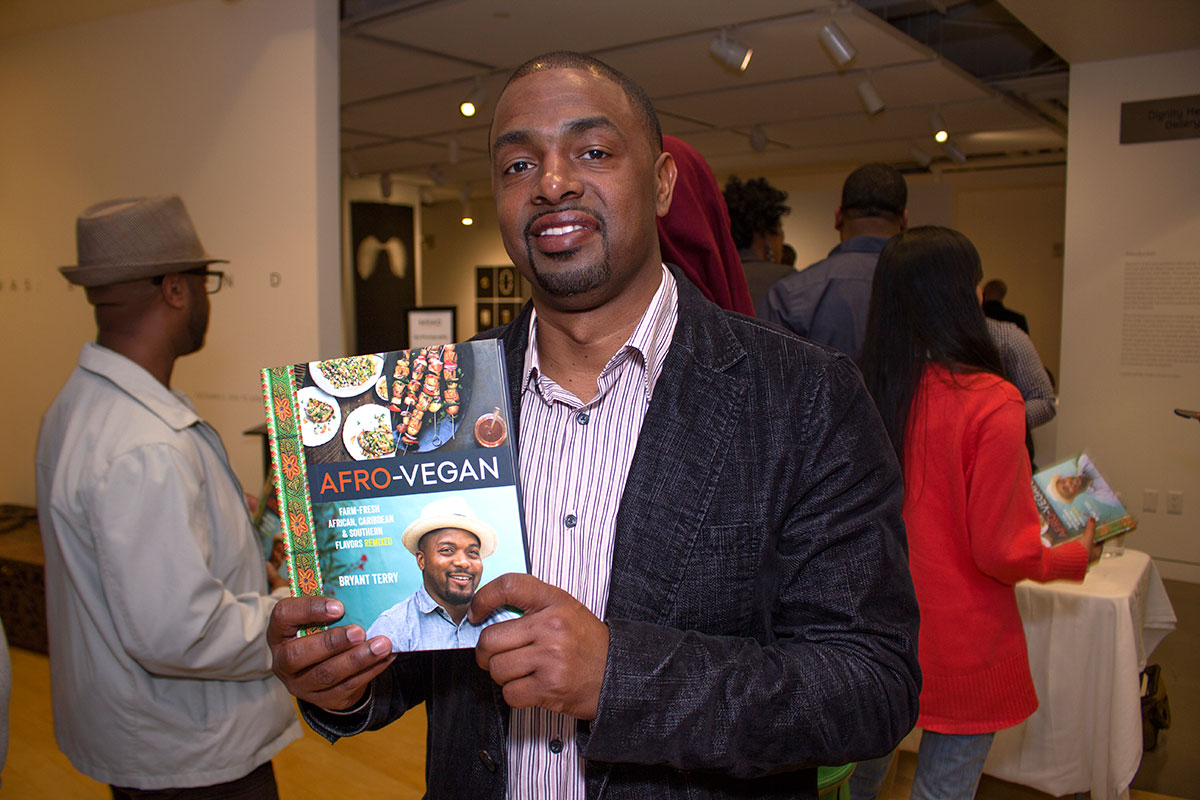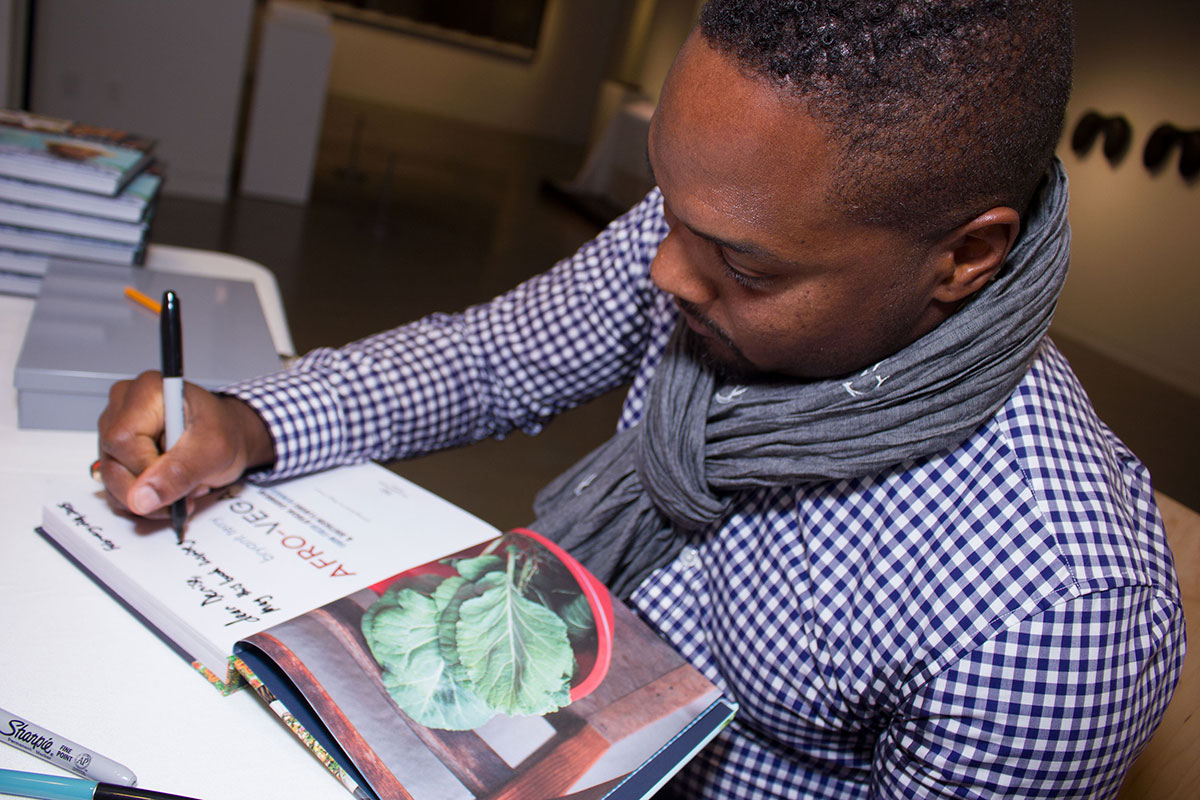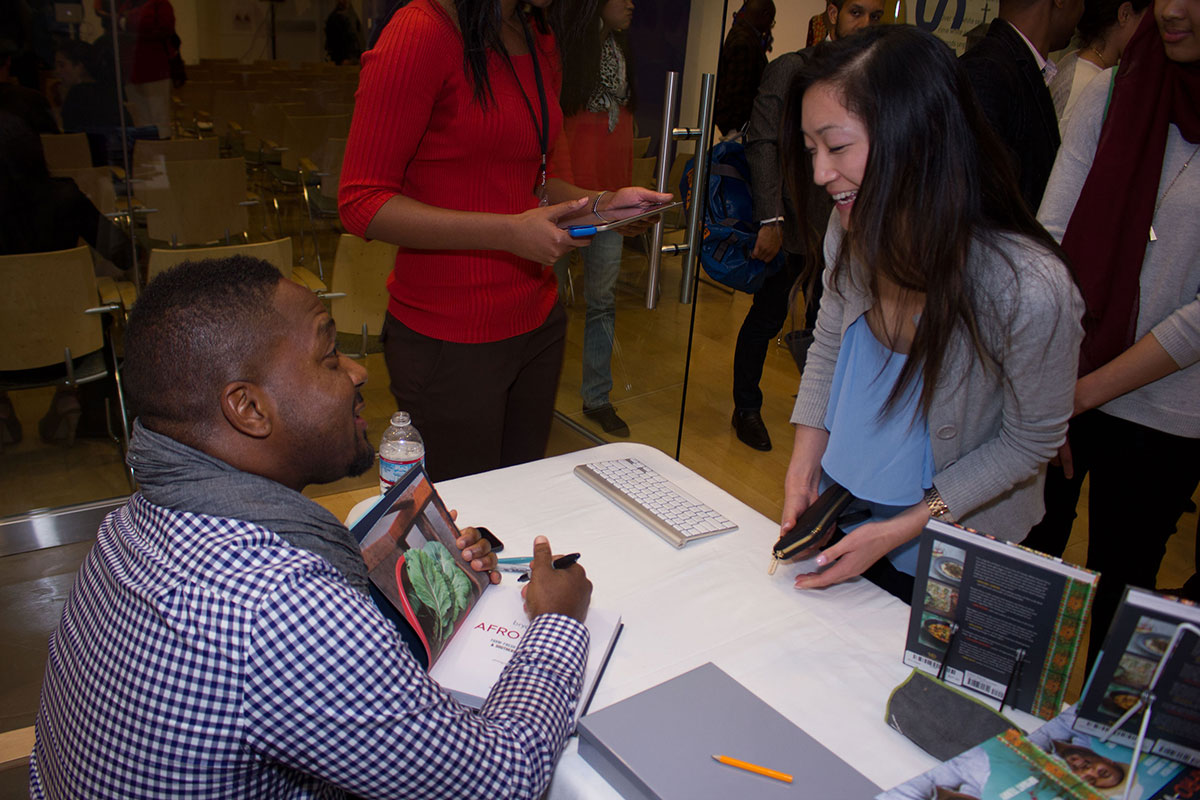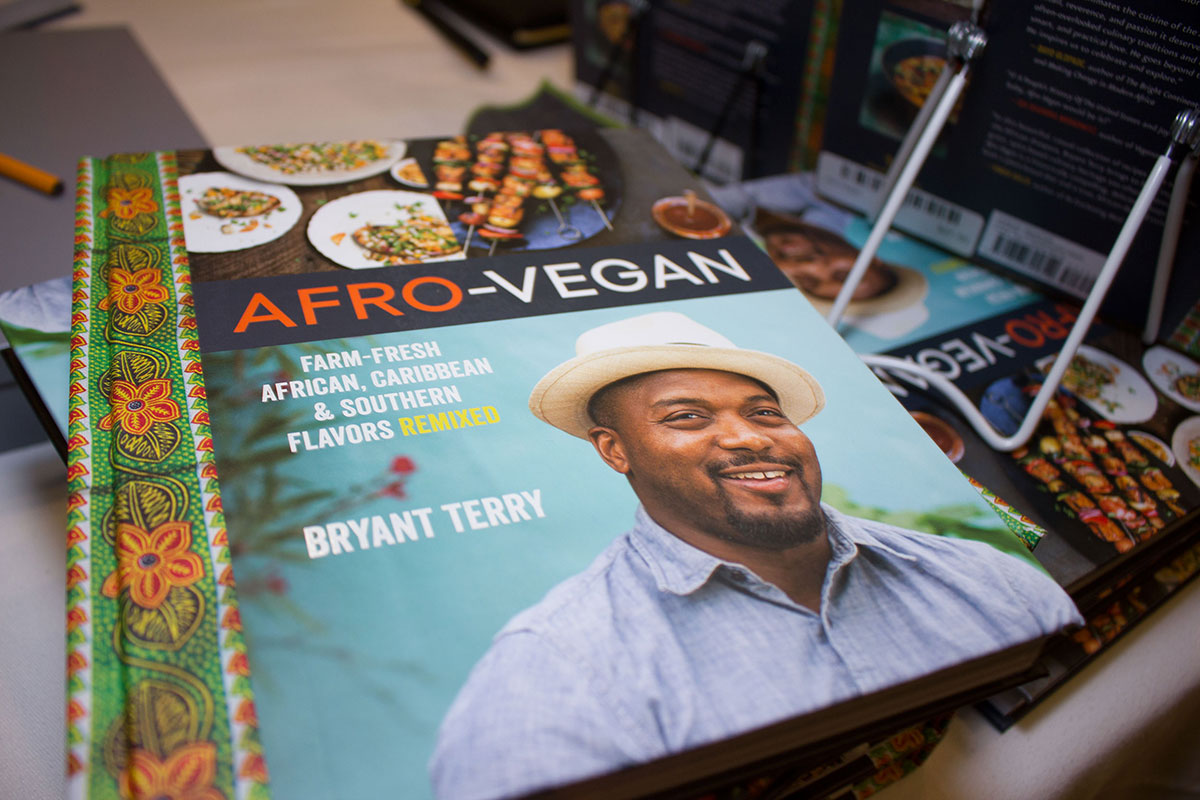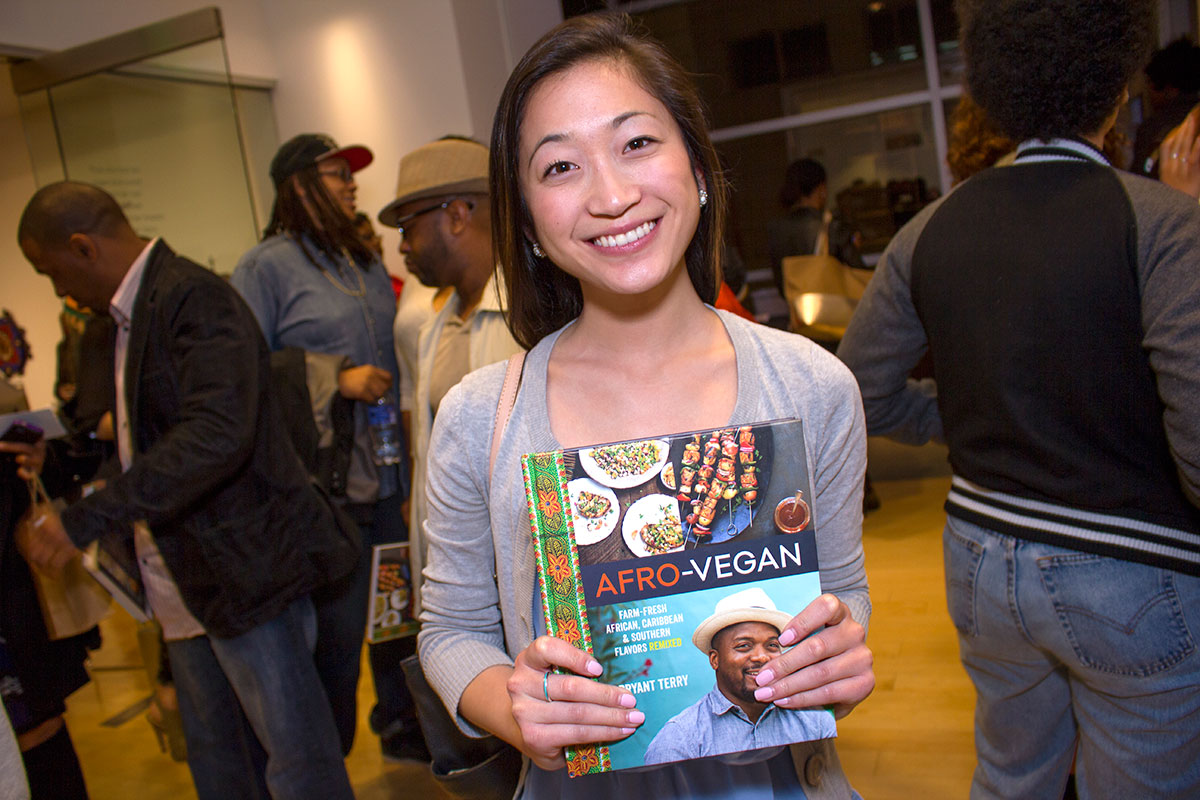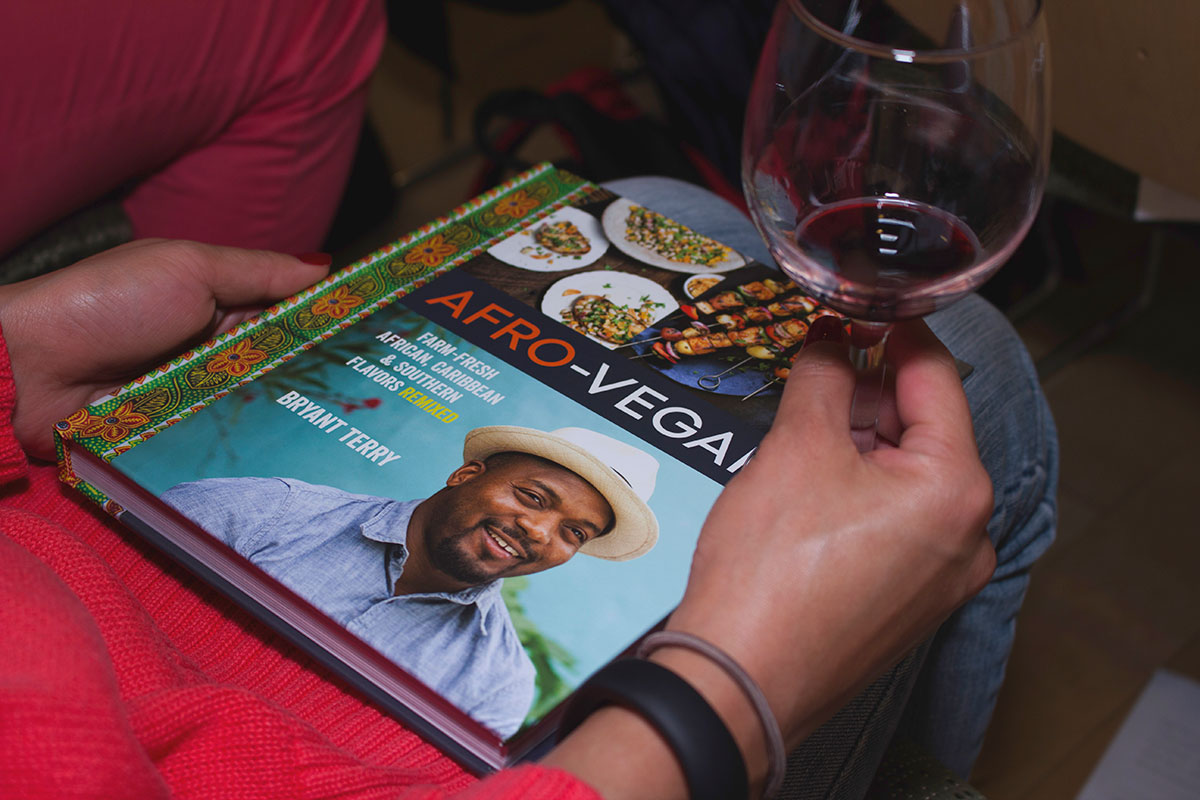 Serving up culinary education two ways, our In The Kitchen series began with Chef David Lawrence of 1300 on Fillmore, one of the most celebrated restaurants in San Francisco. He whet our appetite with smart tips, tasty bits, and sumptuous sips at Bloomingdale's on Friday night. The following afternoon we relaxed and took a stroll through the Ferry Building Farmer's Market, settling down for some seriously good eats by Chef Romney Nani Steele from The Cook and Her Farmer. Showing us quick tricks for tastier food, like how to keep those pesky bitter lemon seeds out of dishes that use bright and tangy fresh lemon juice, Nani kept it real at our Seasonal Cooking demonstration, in partnership with the Center for Urban Education about Sustainable Agriculture (CUESA).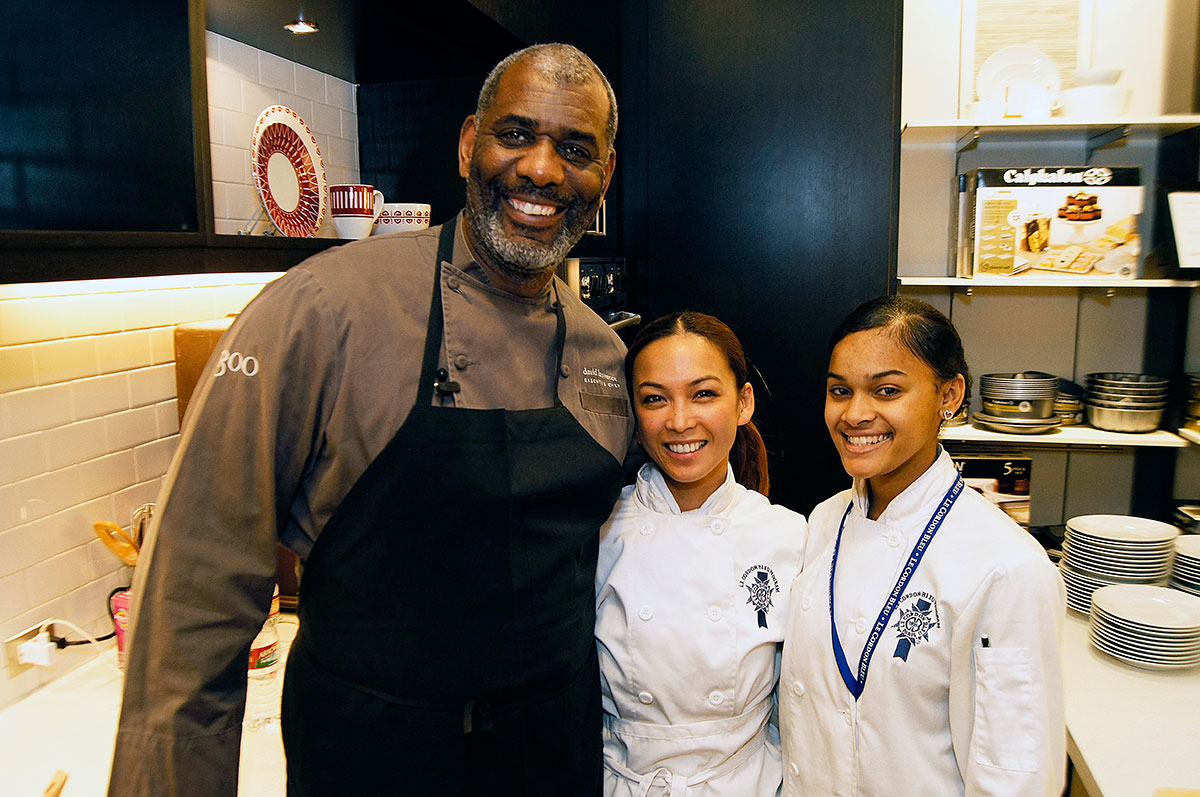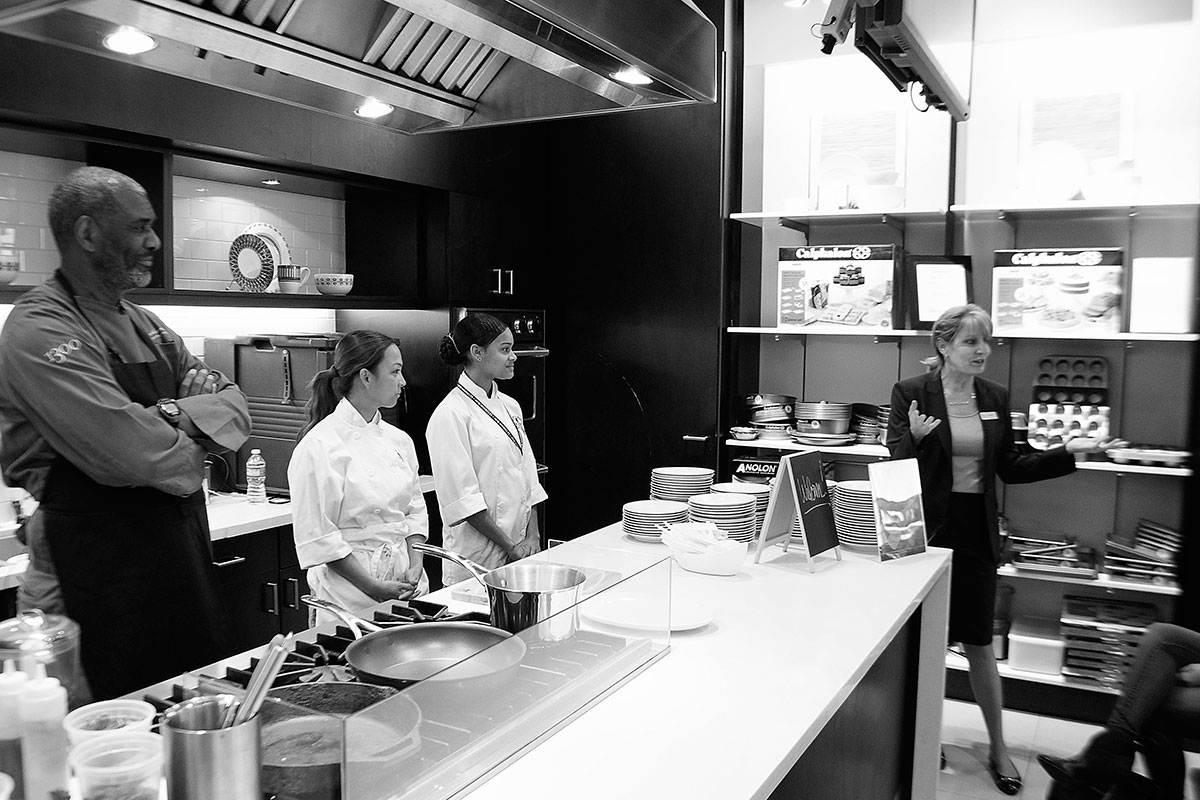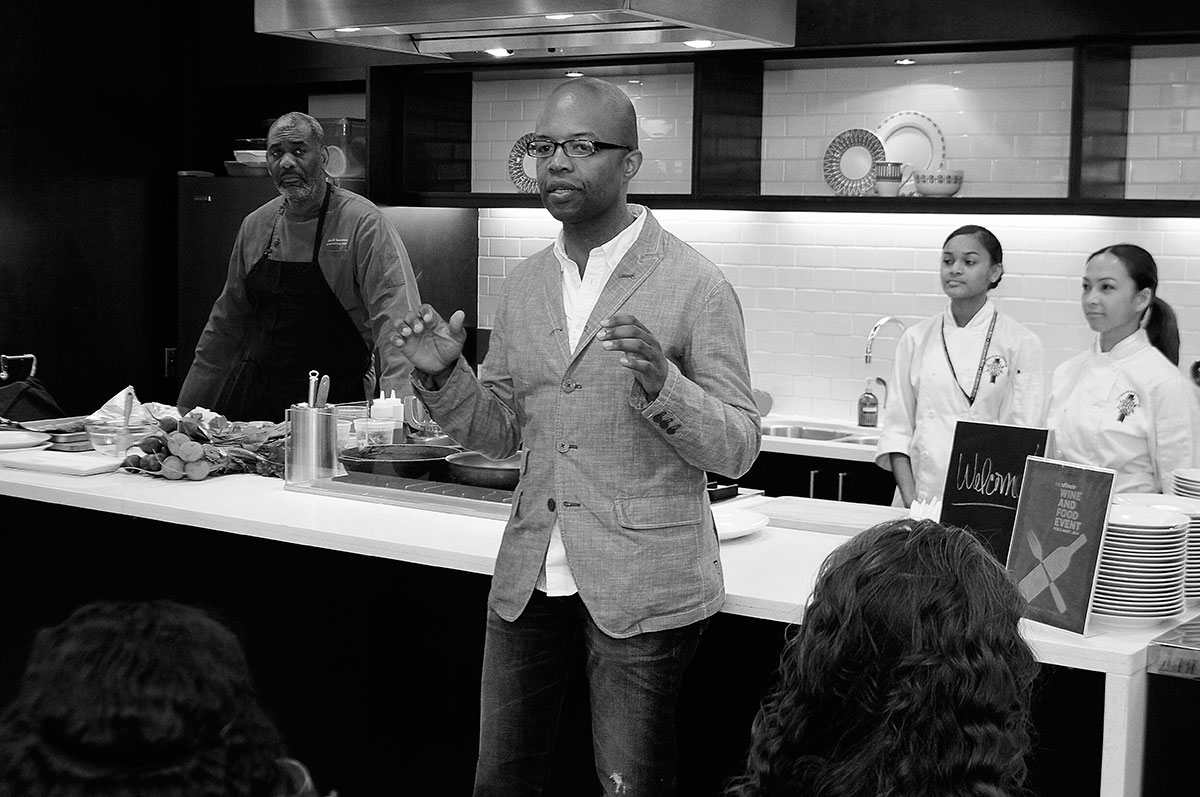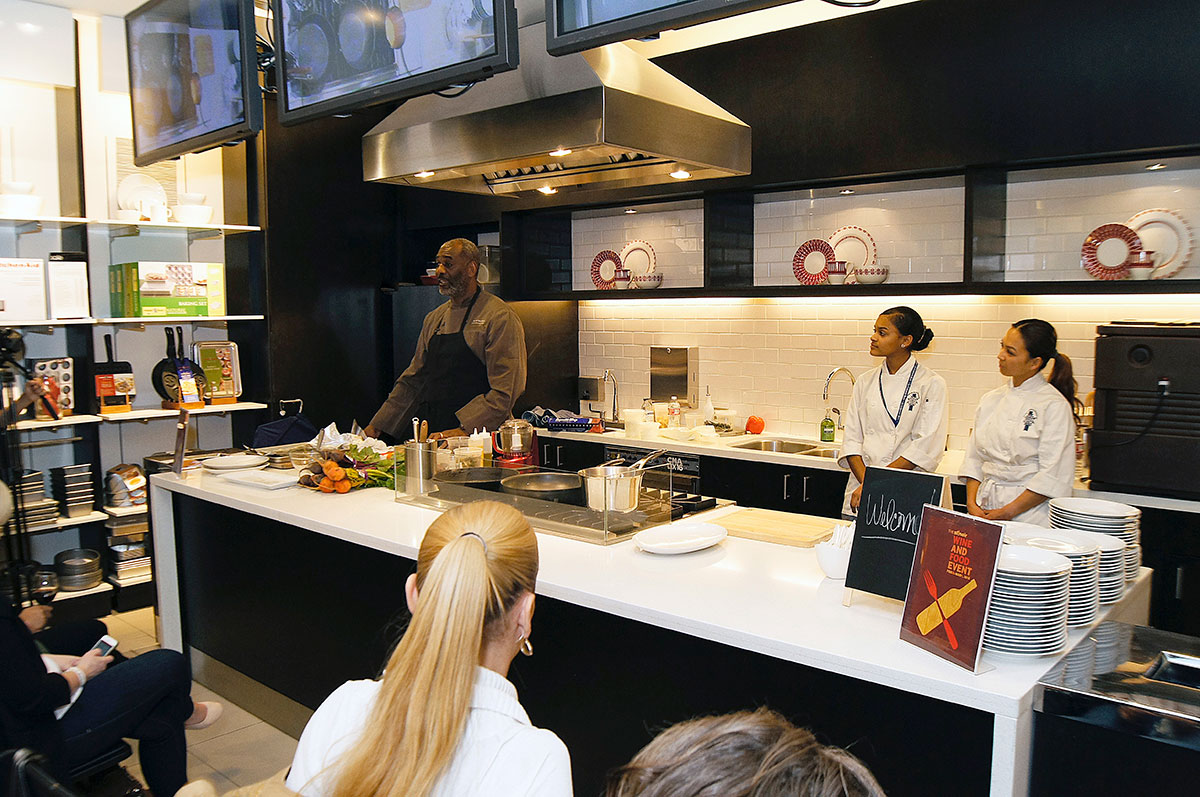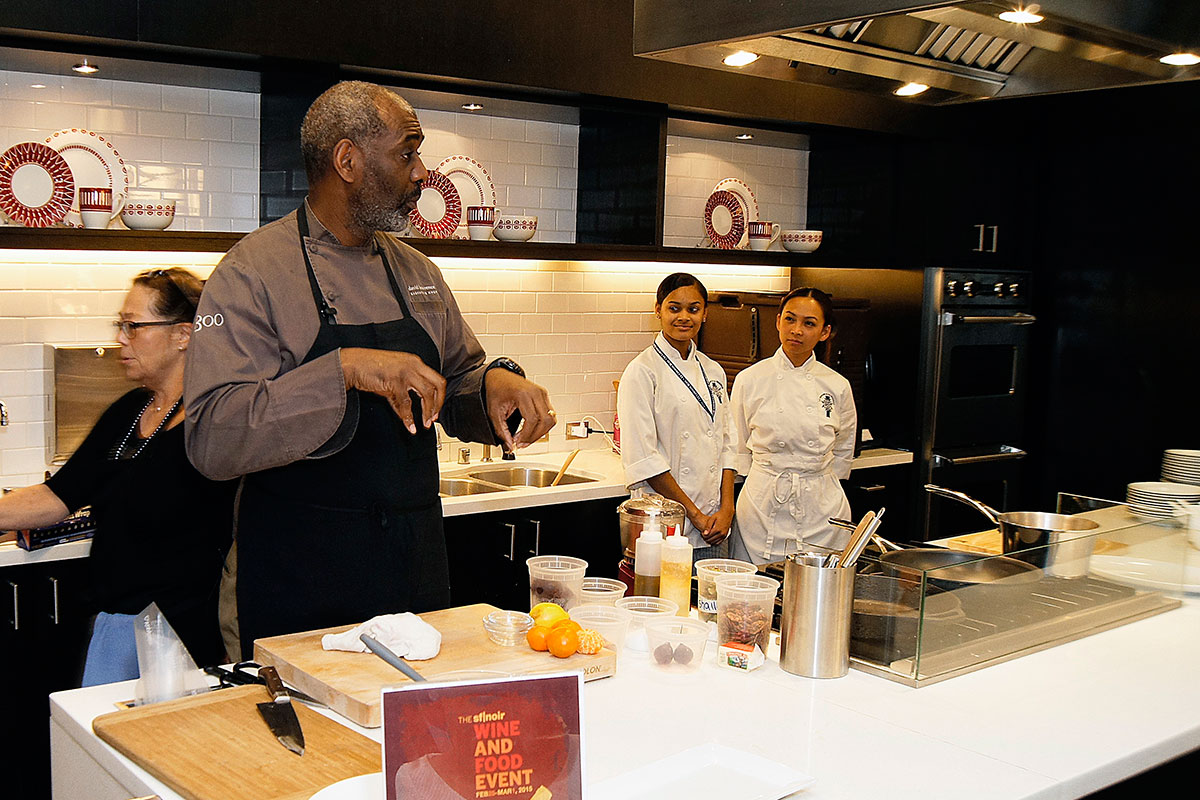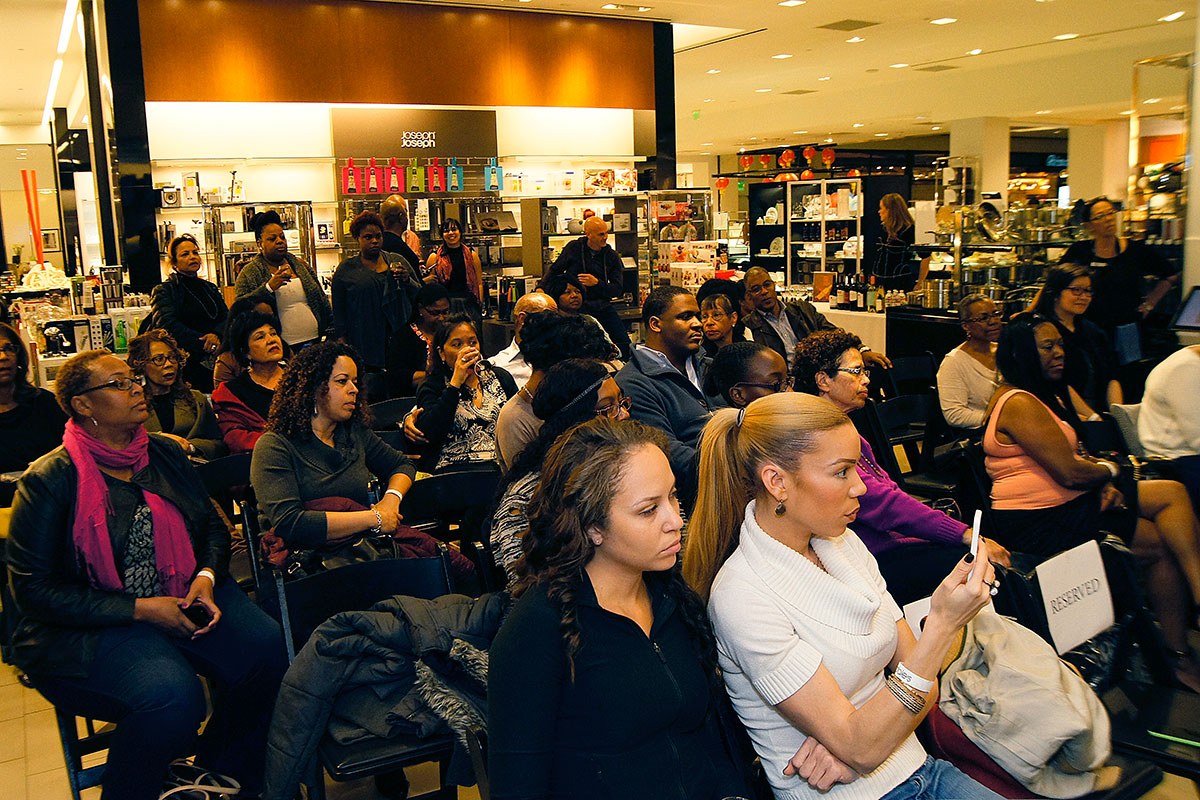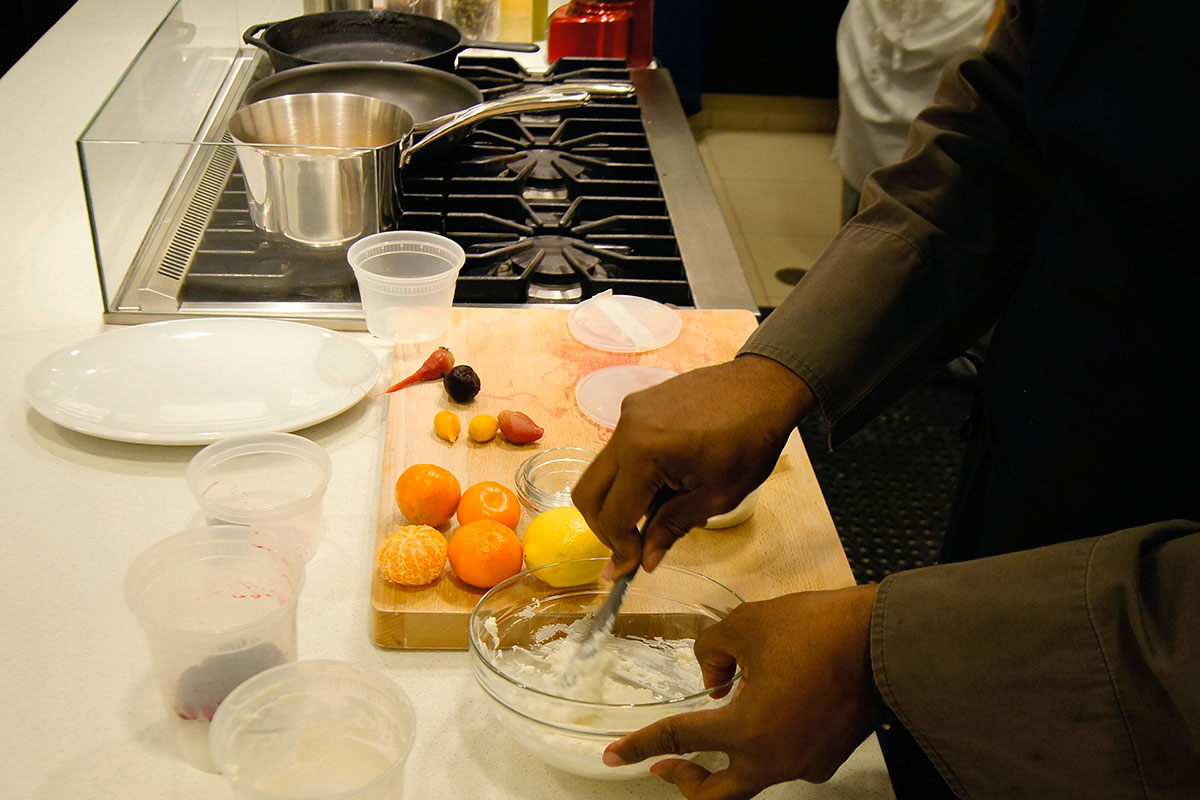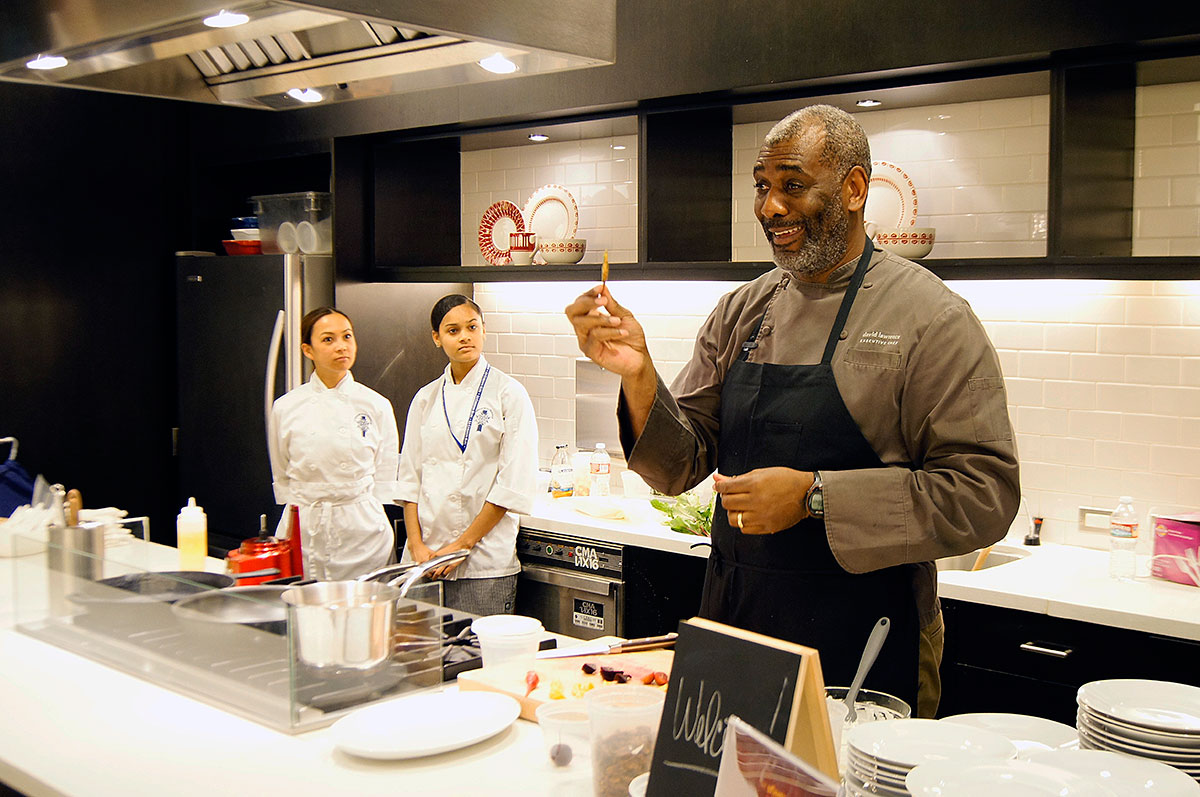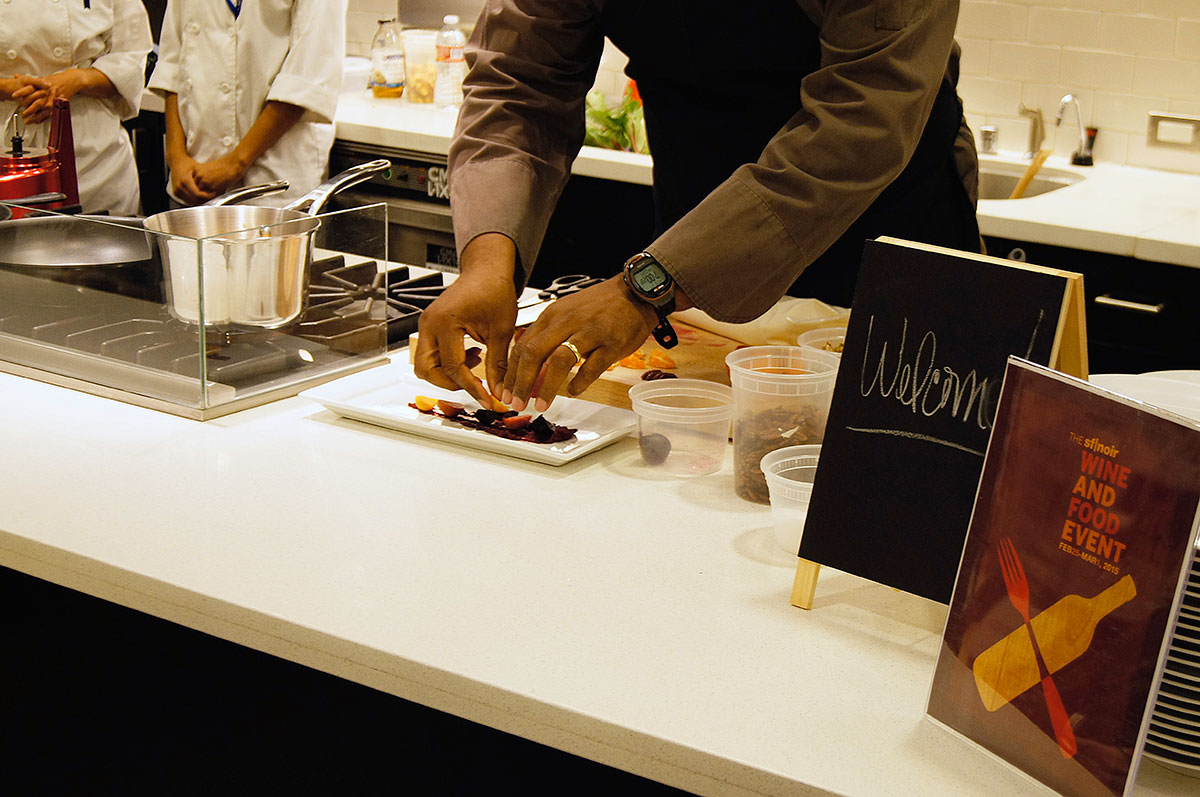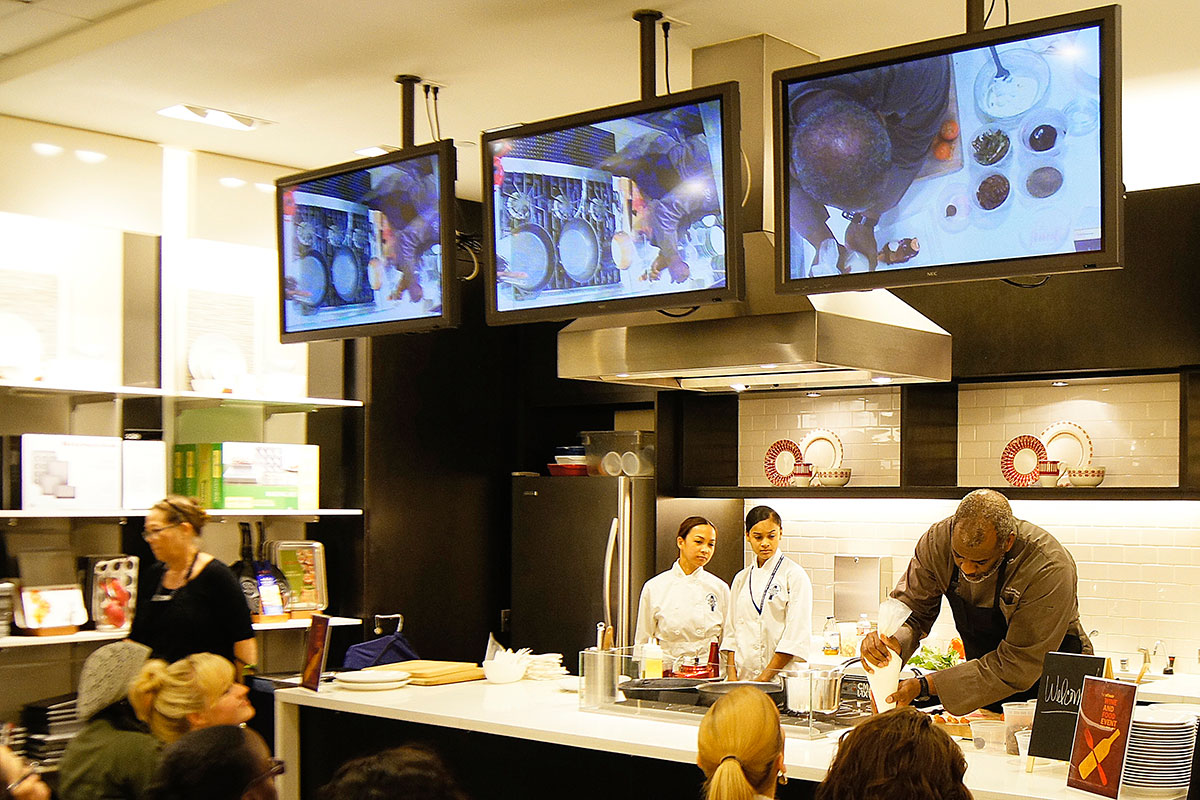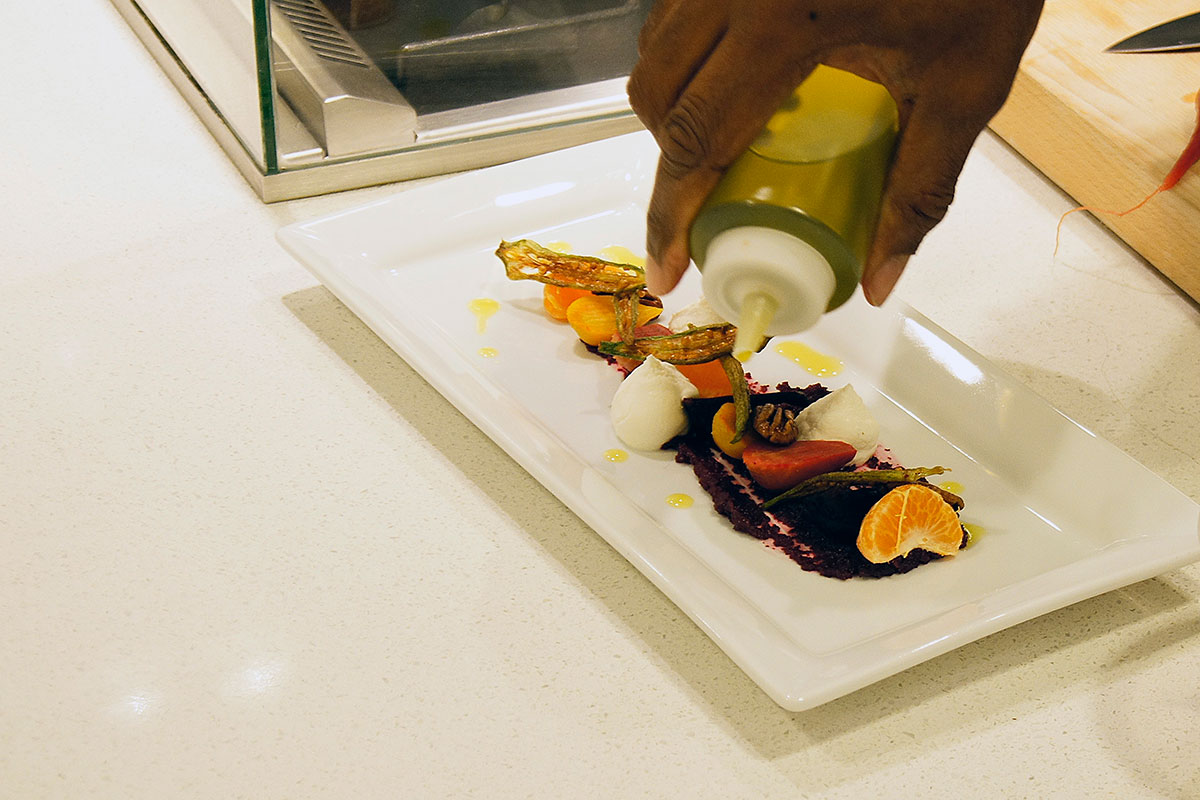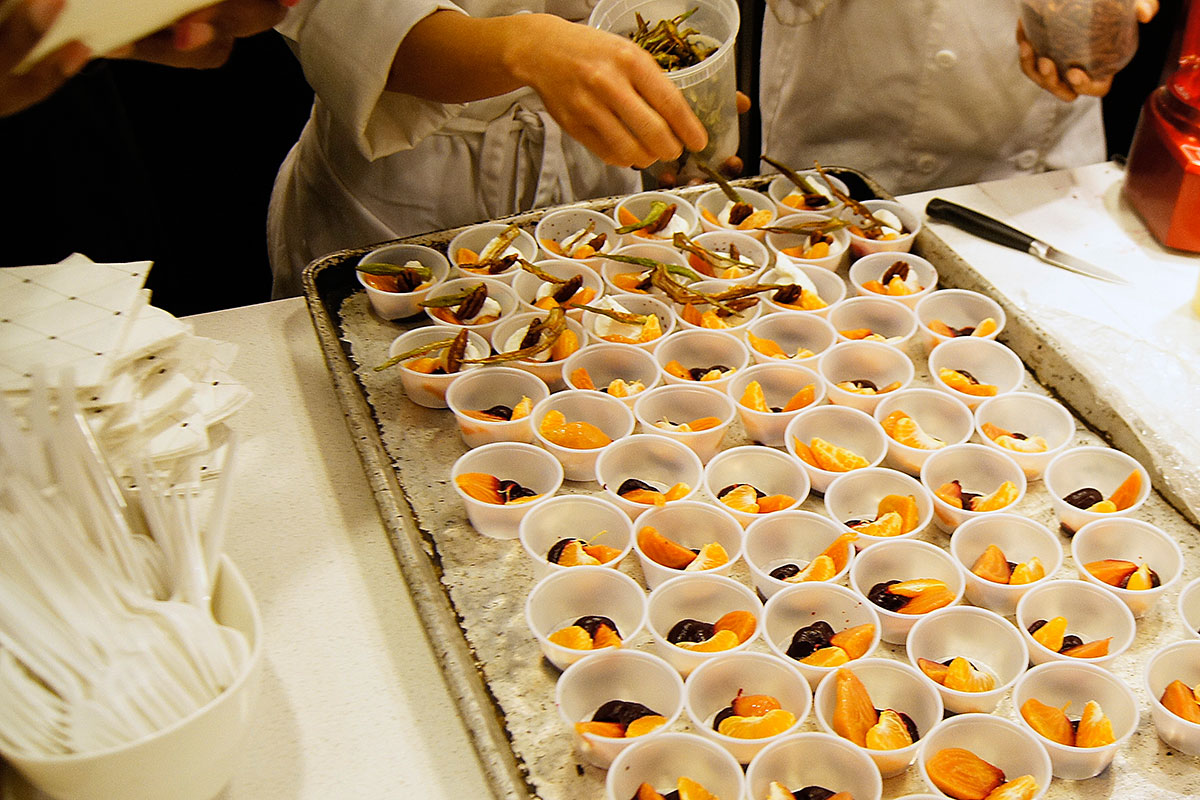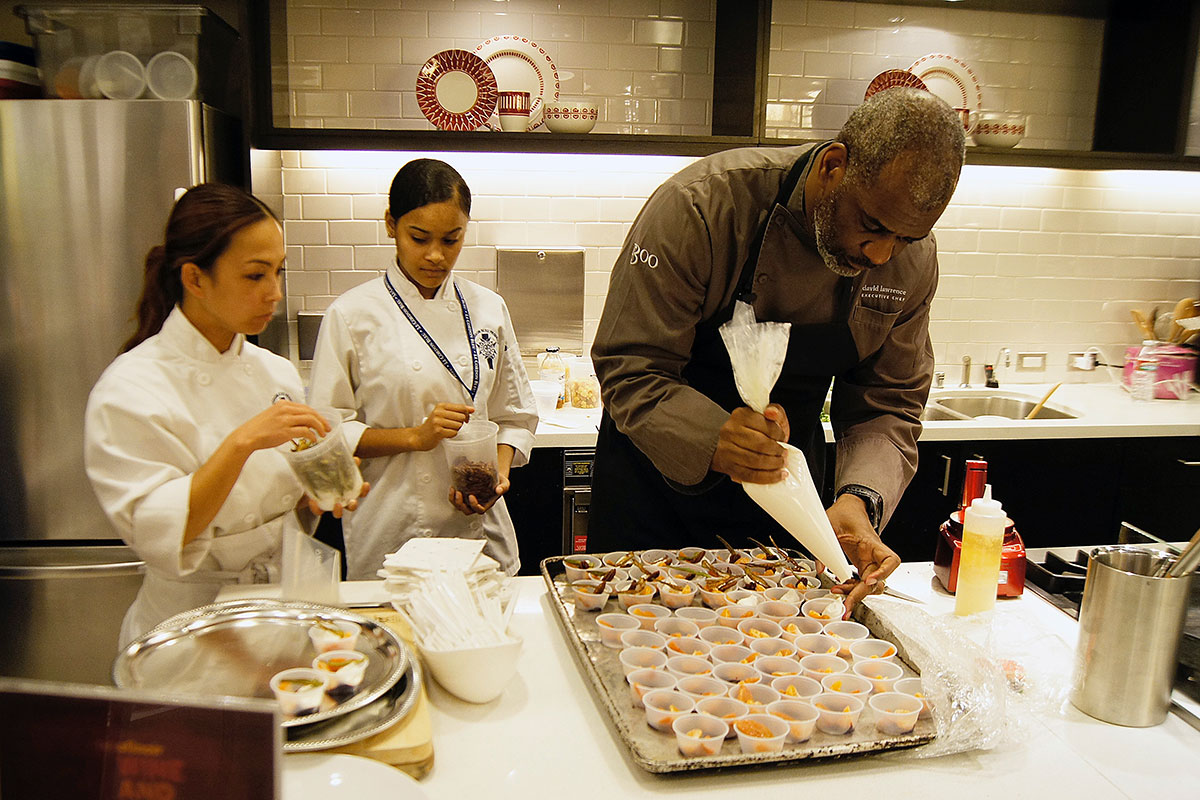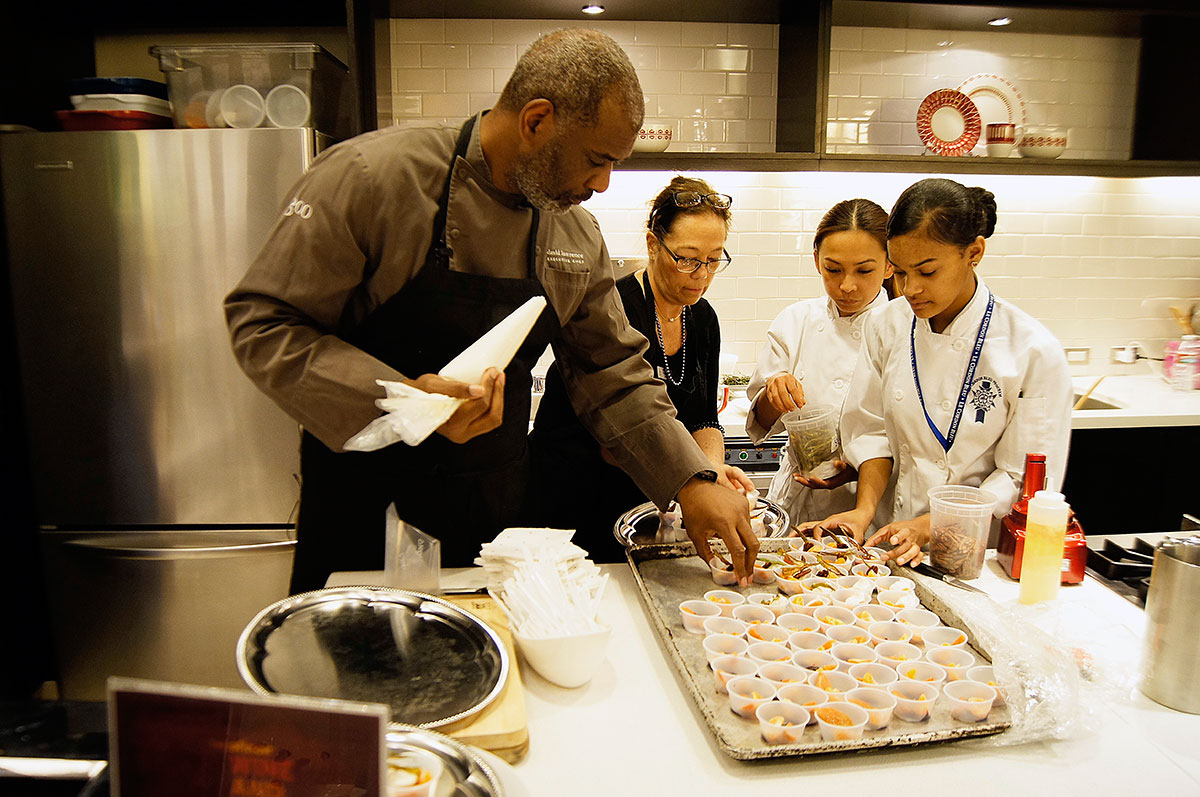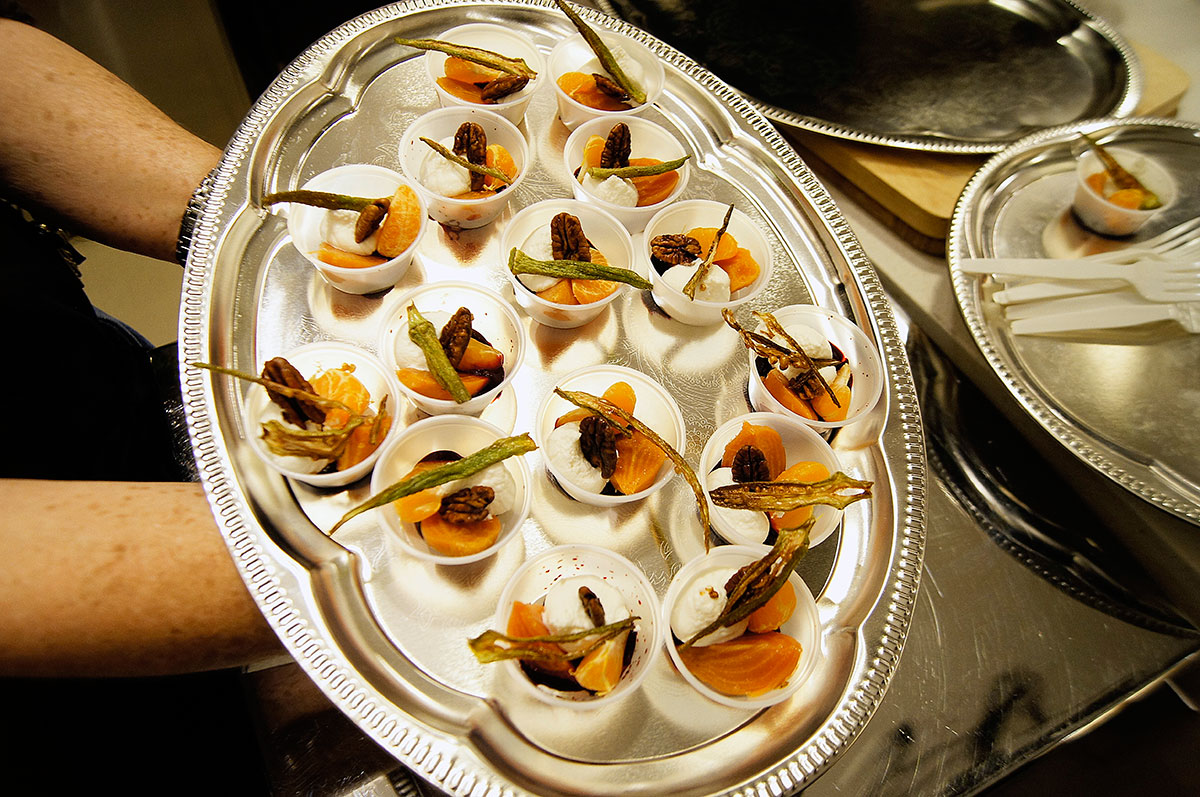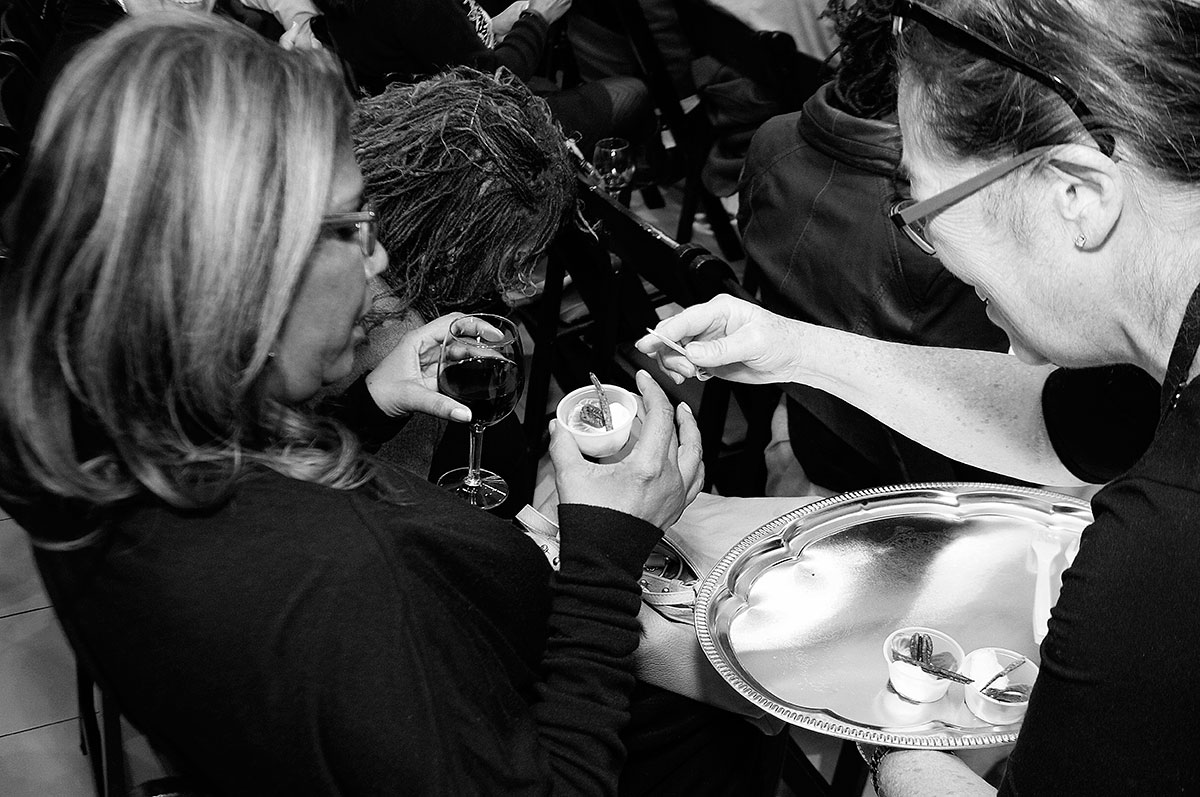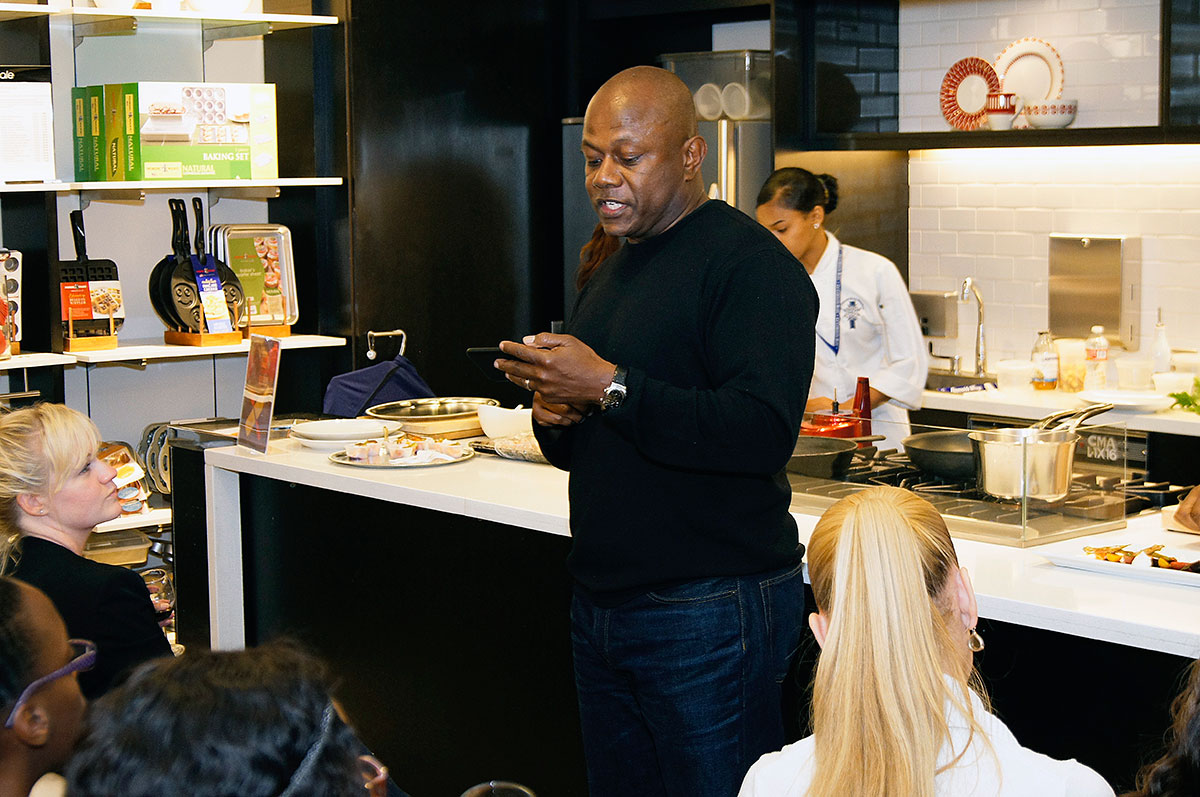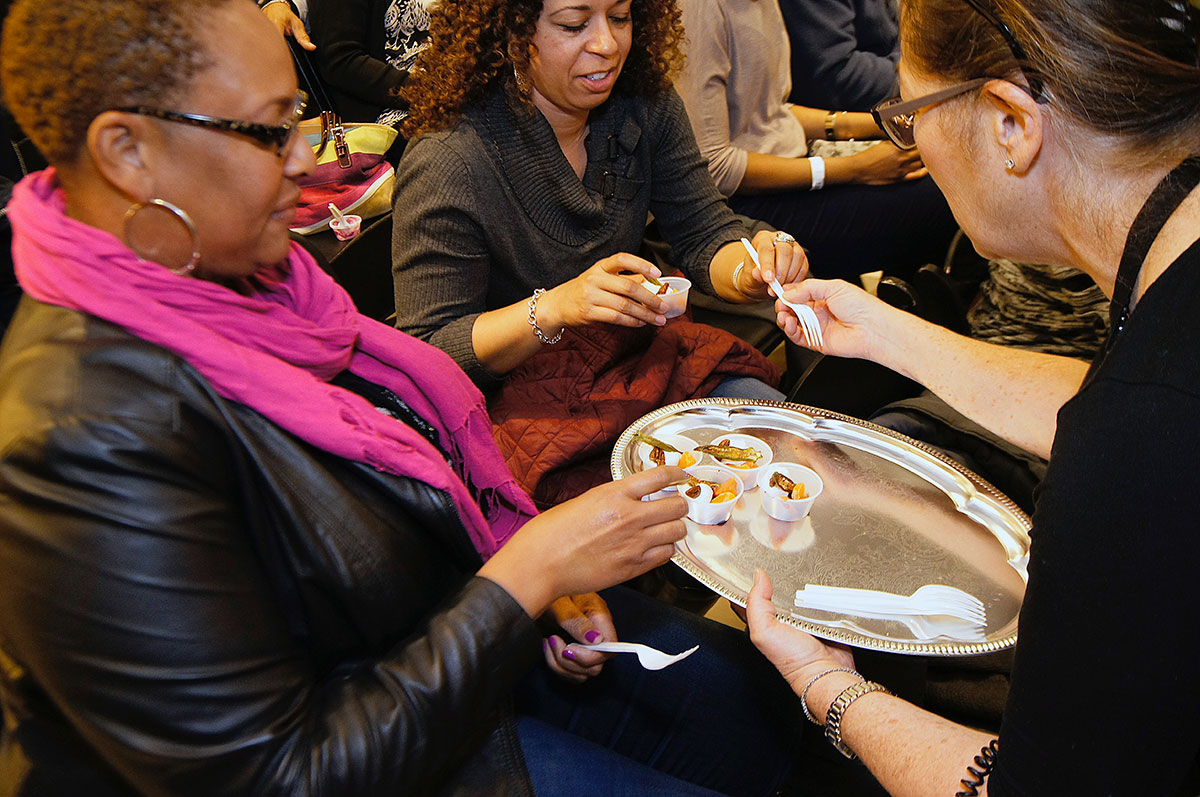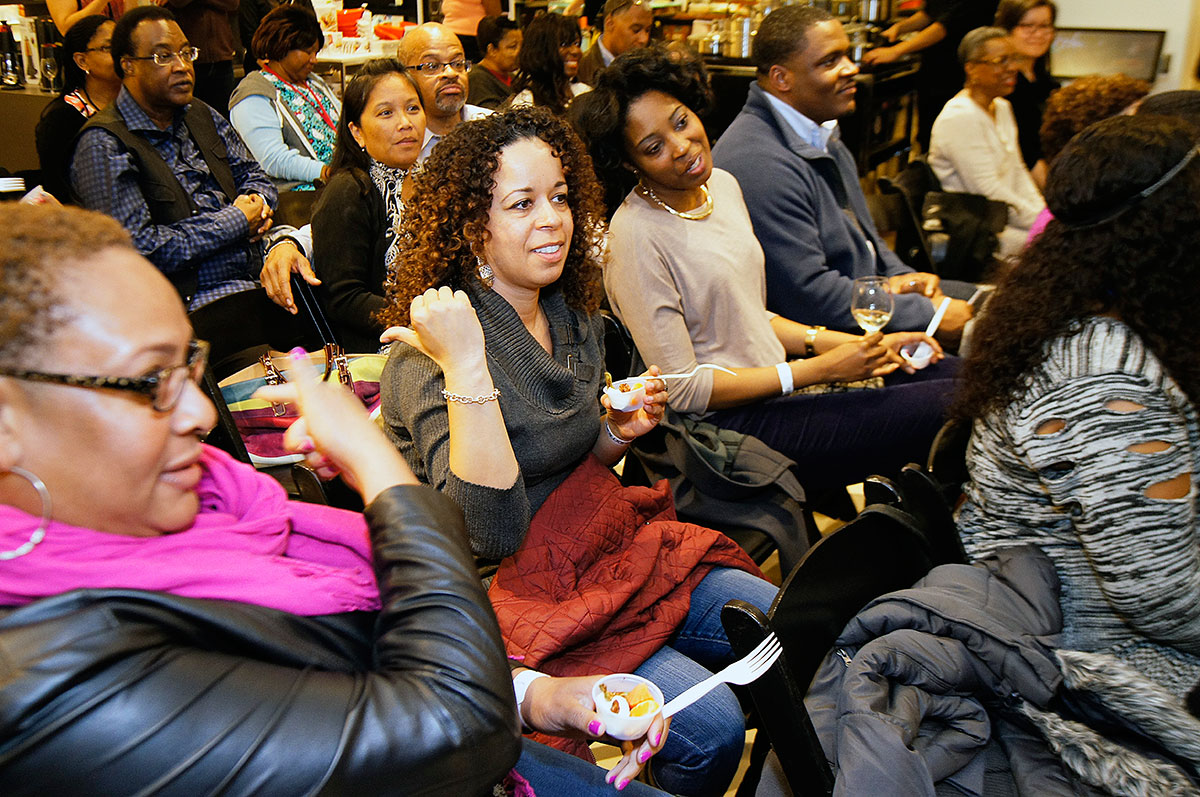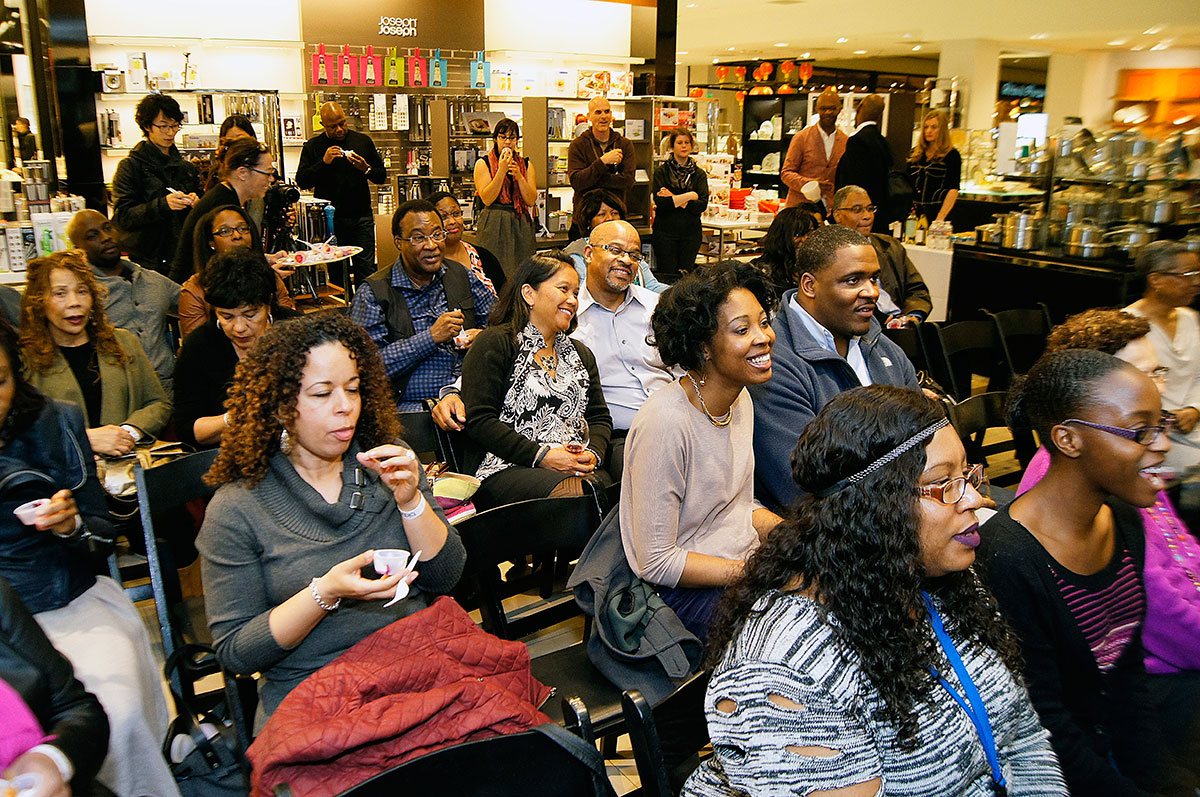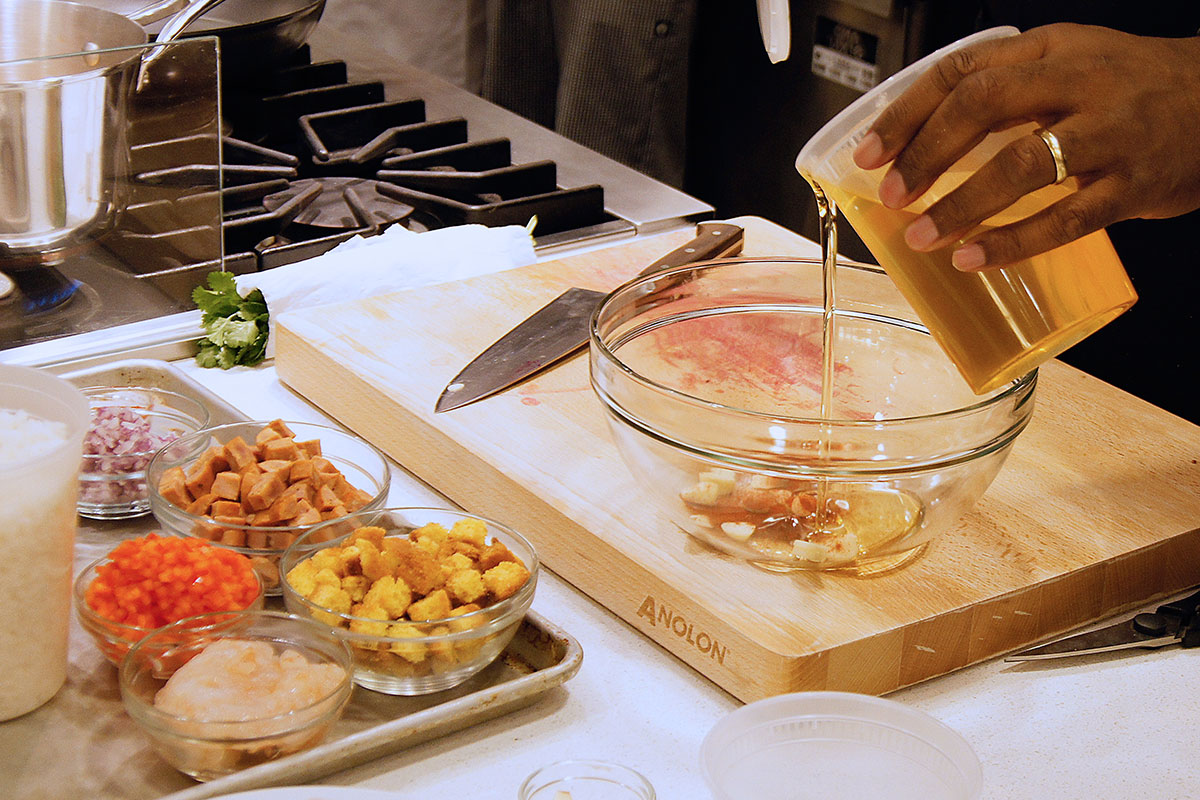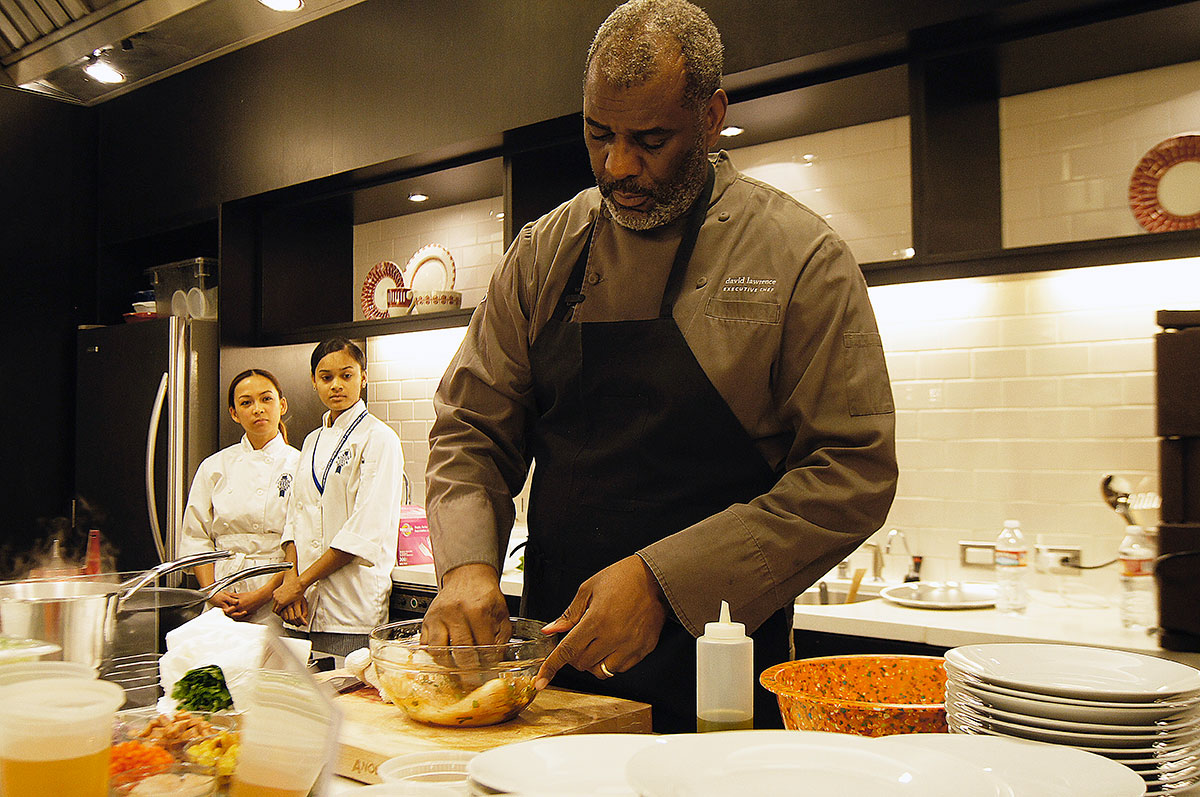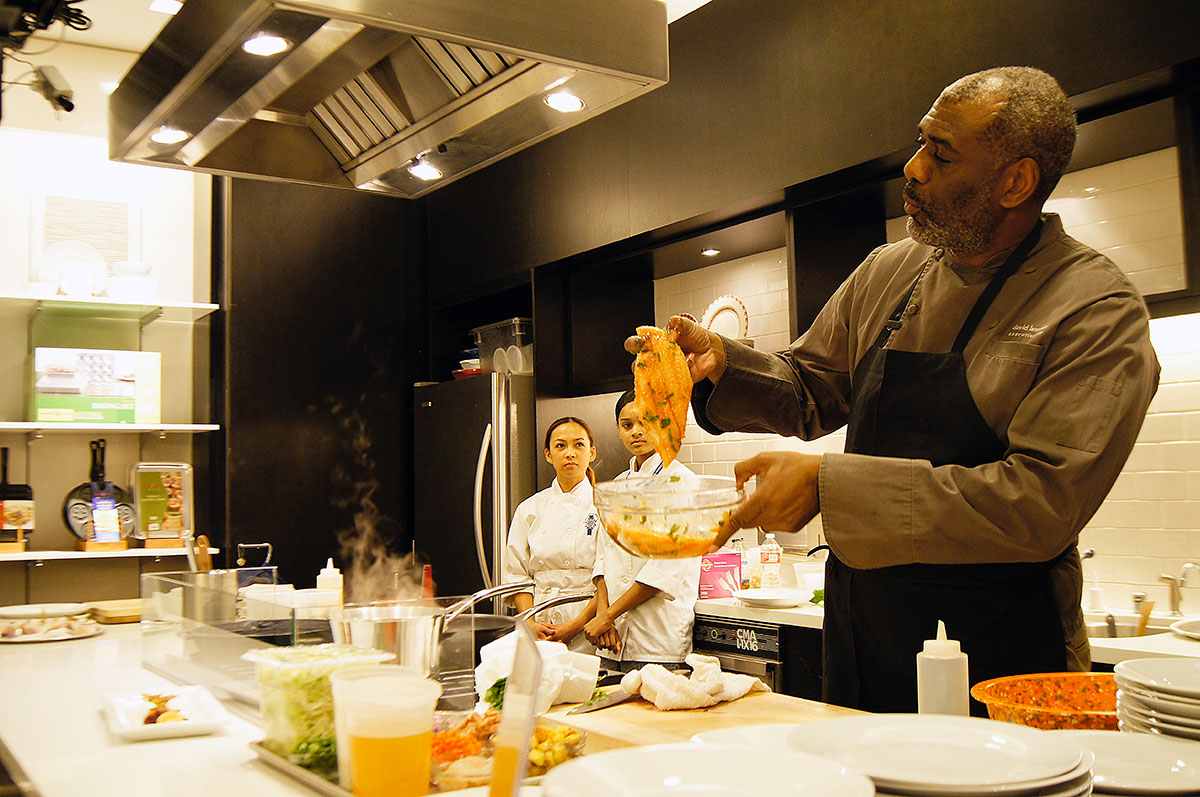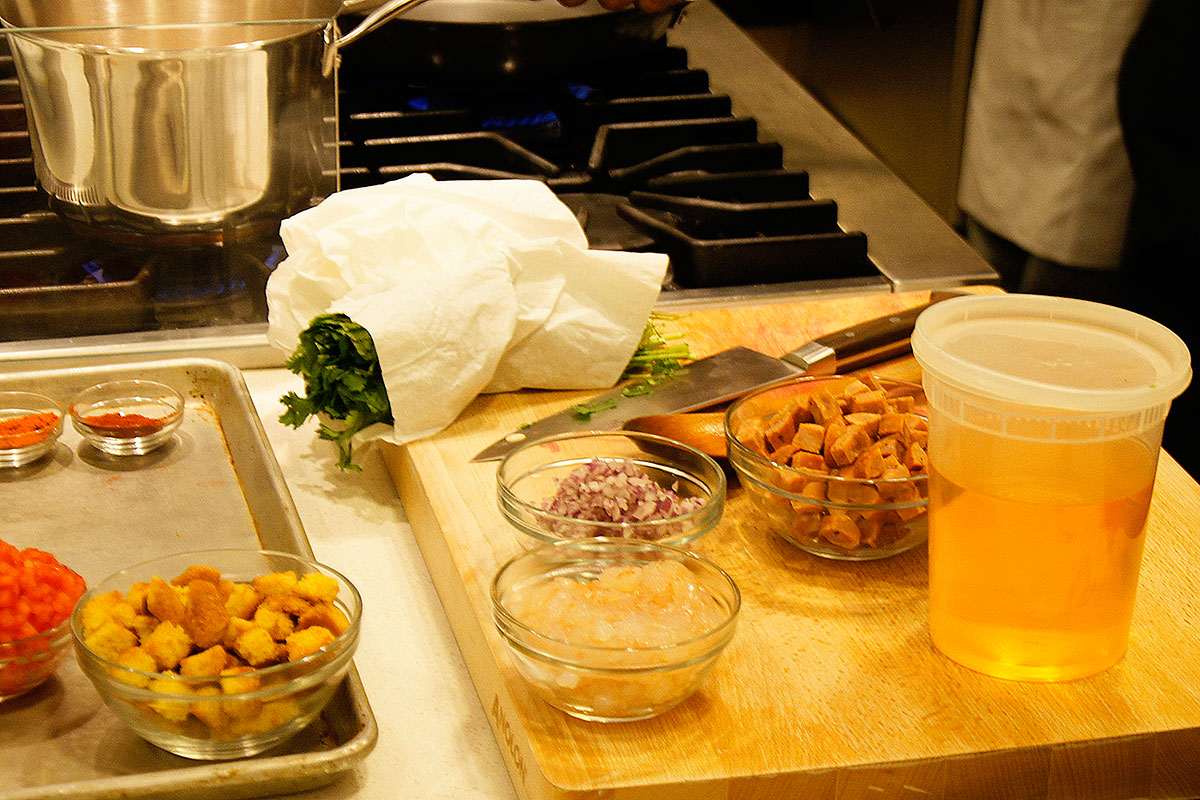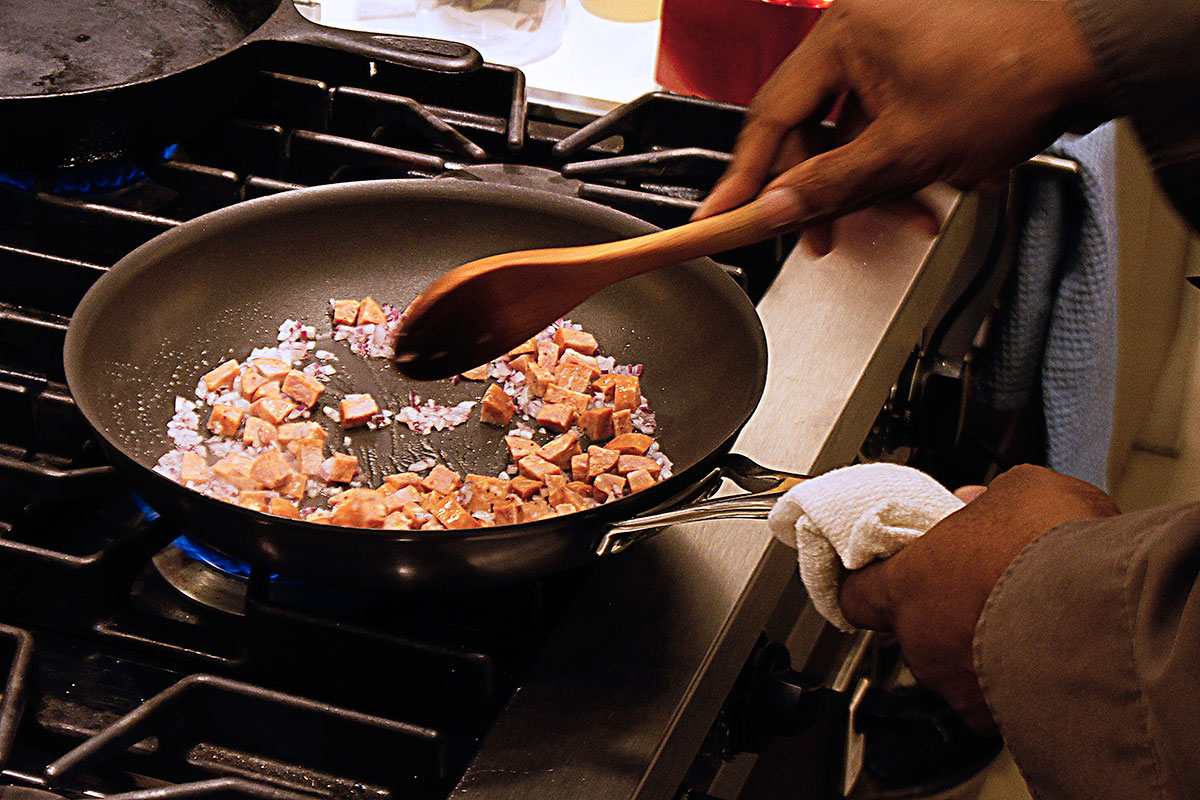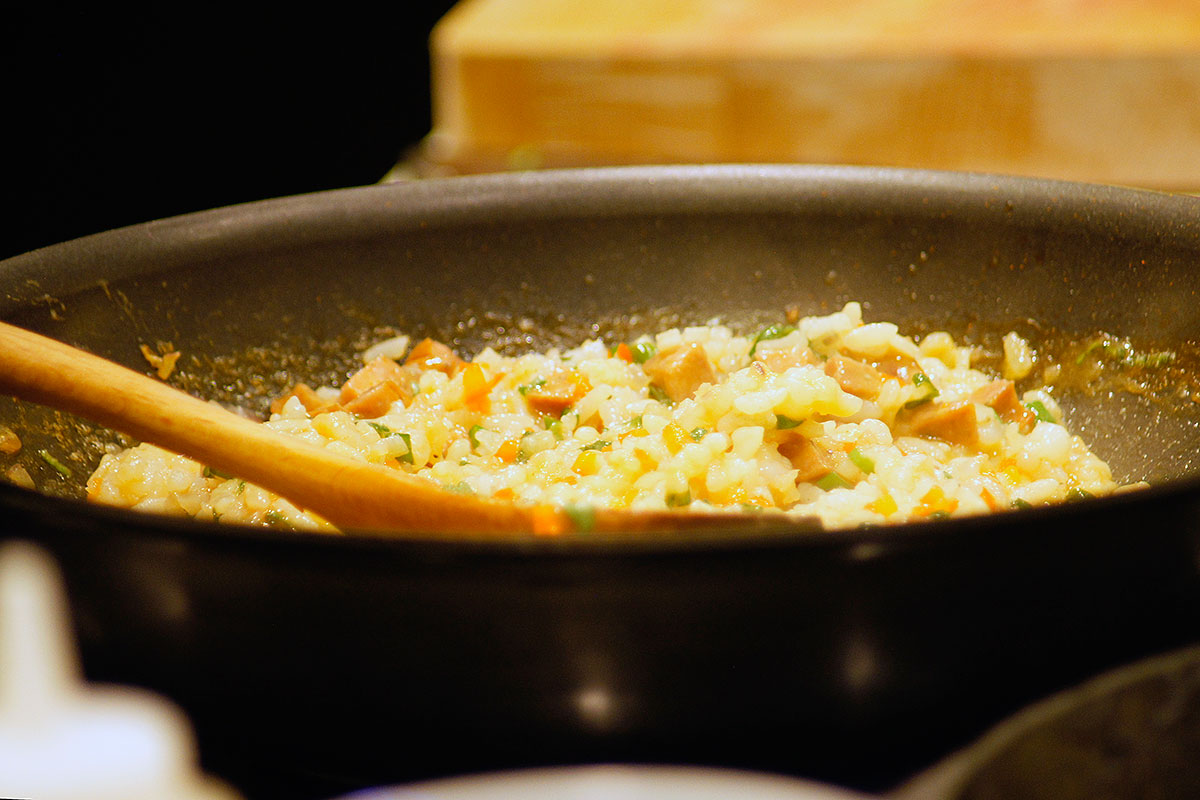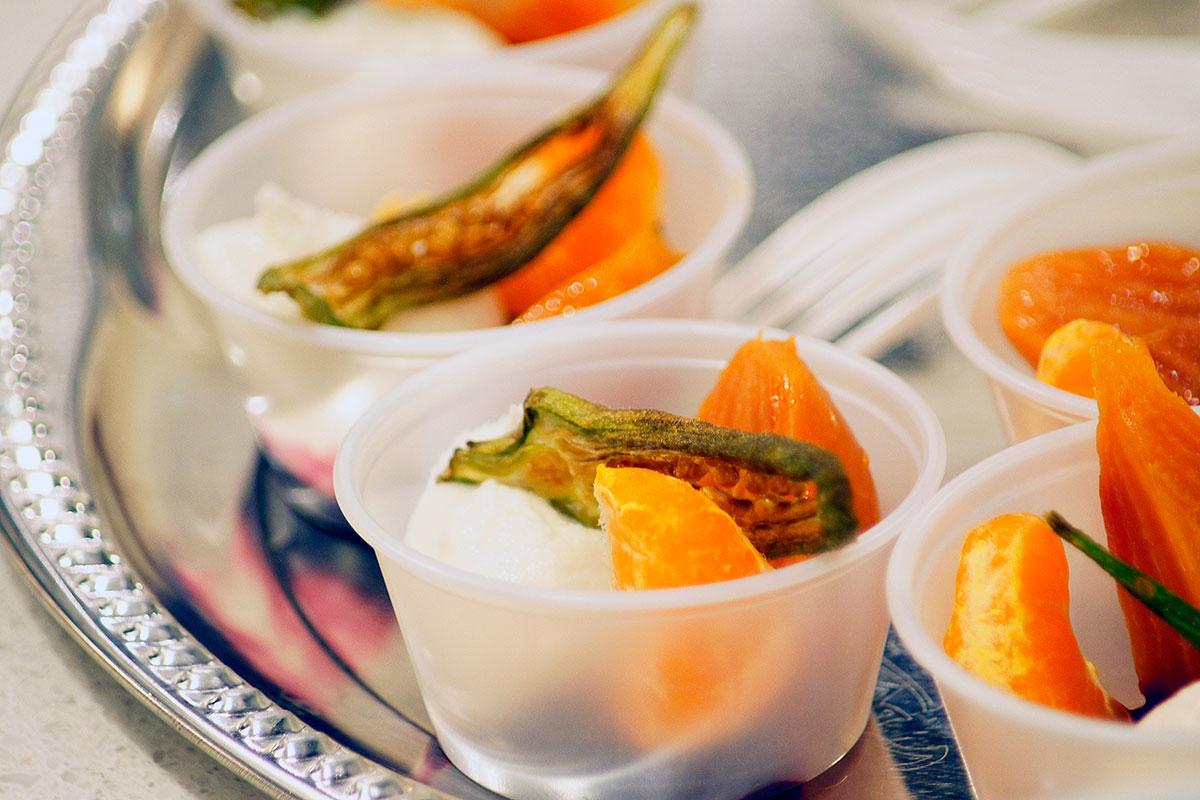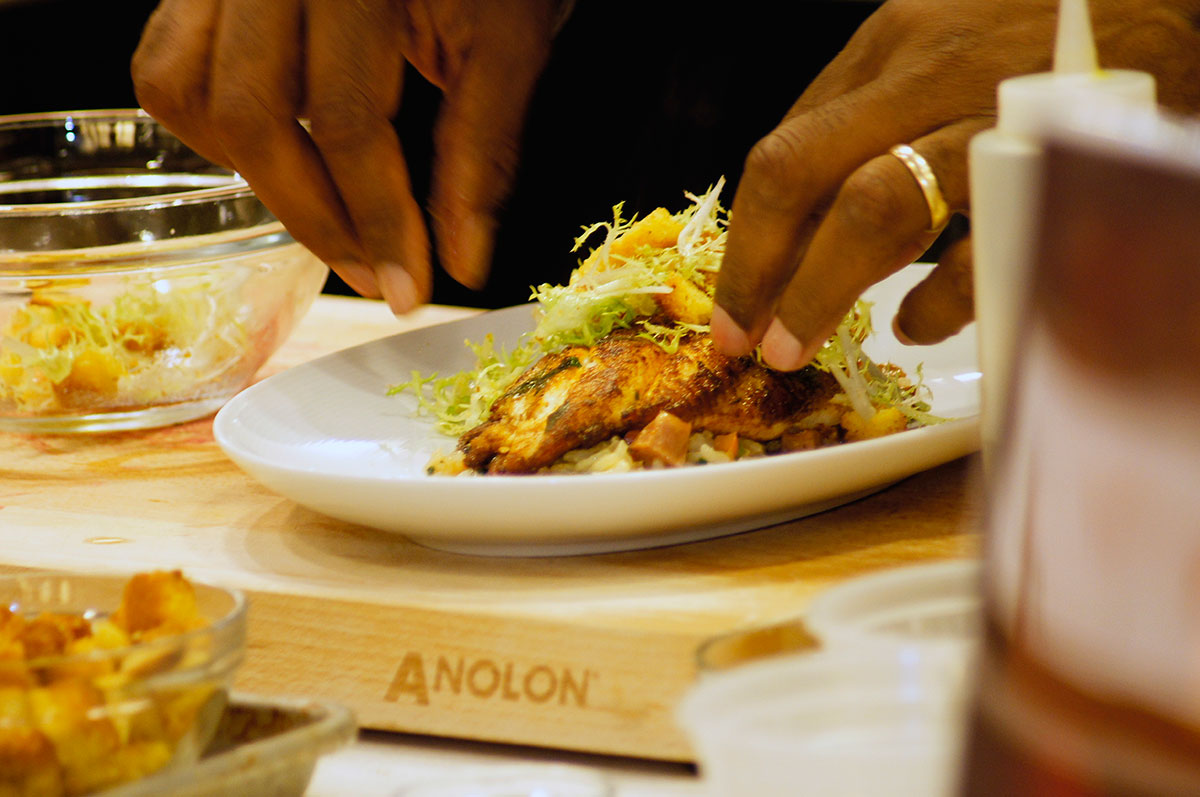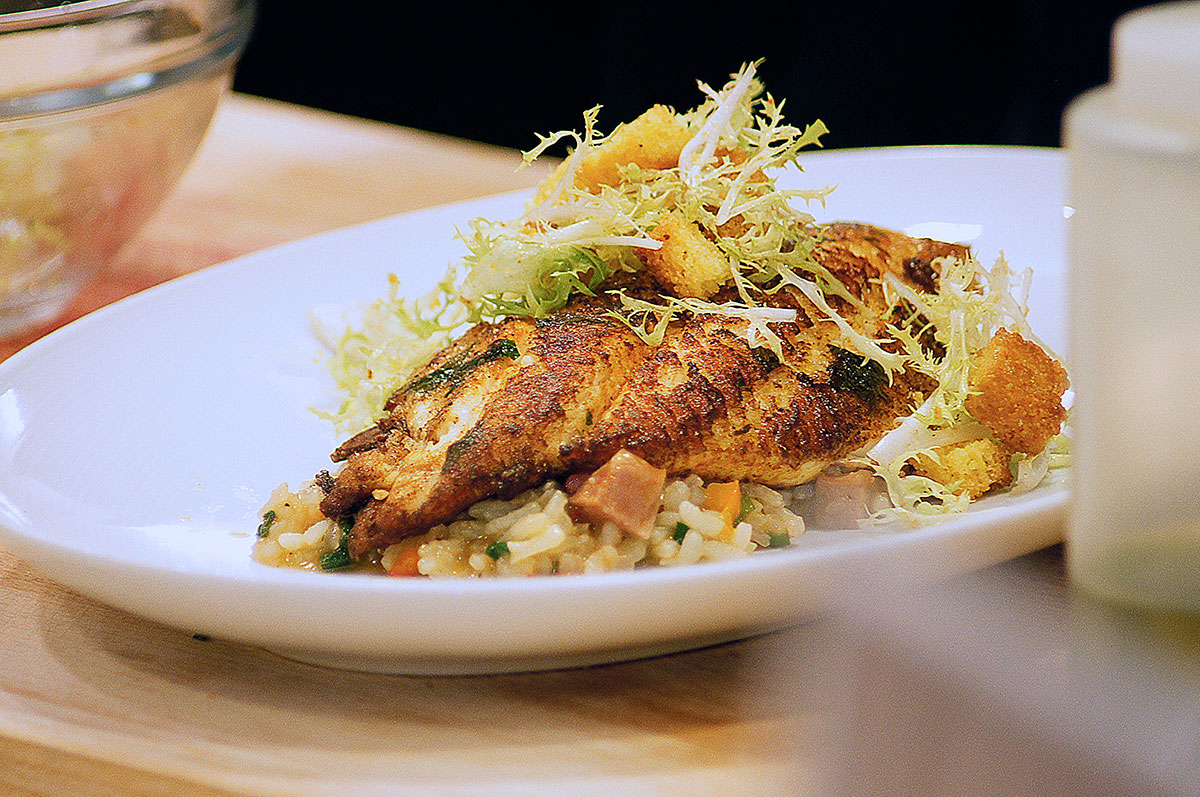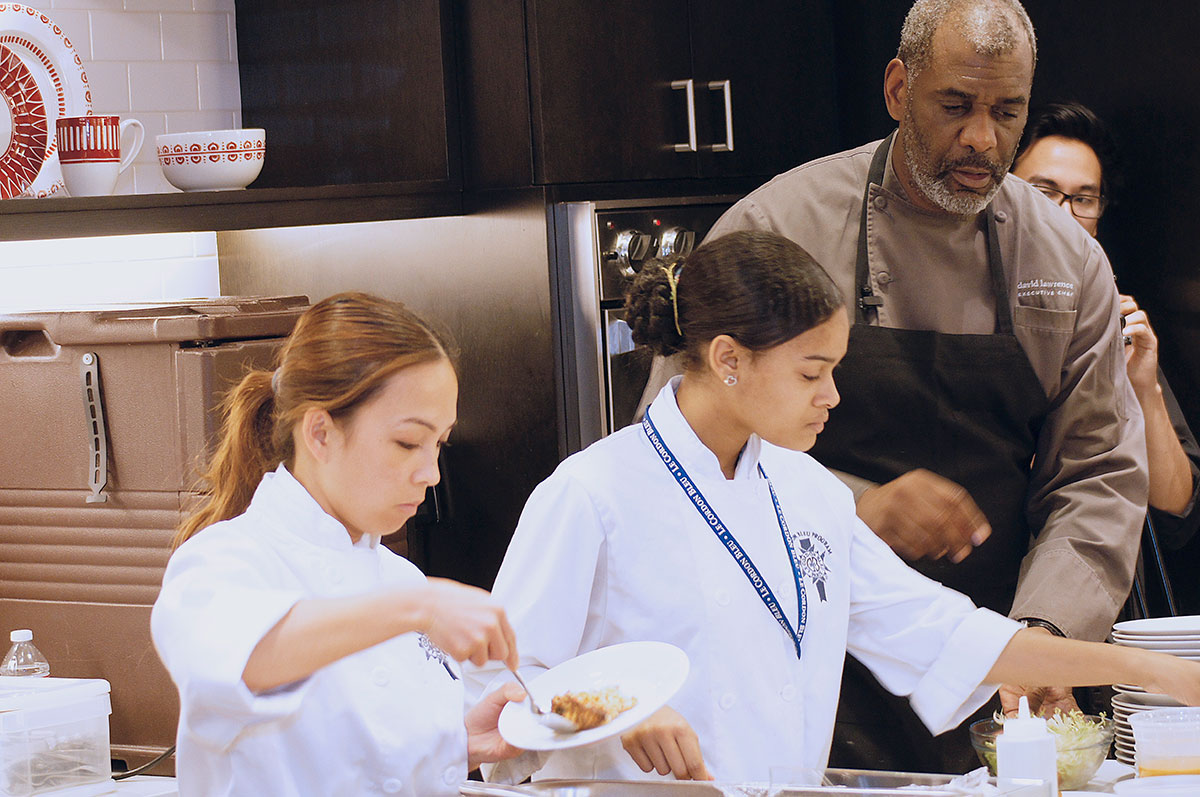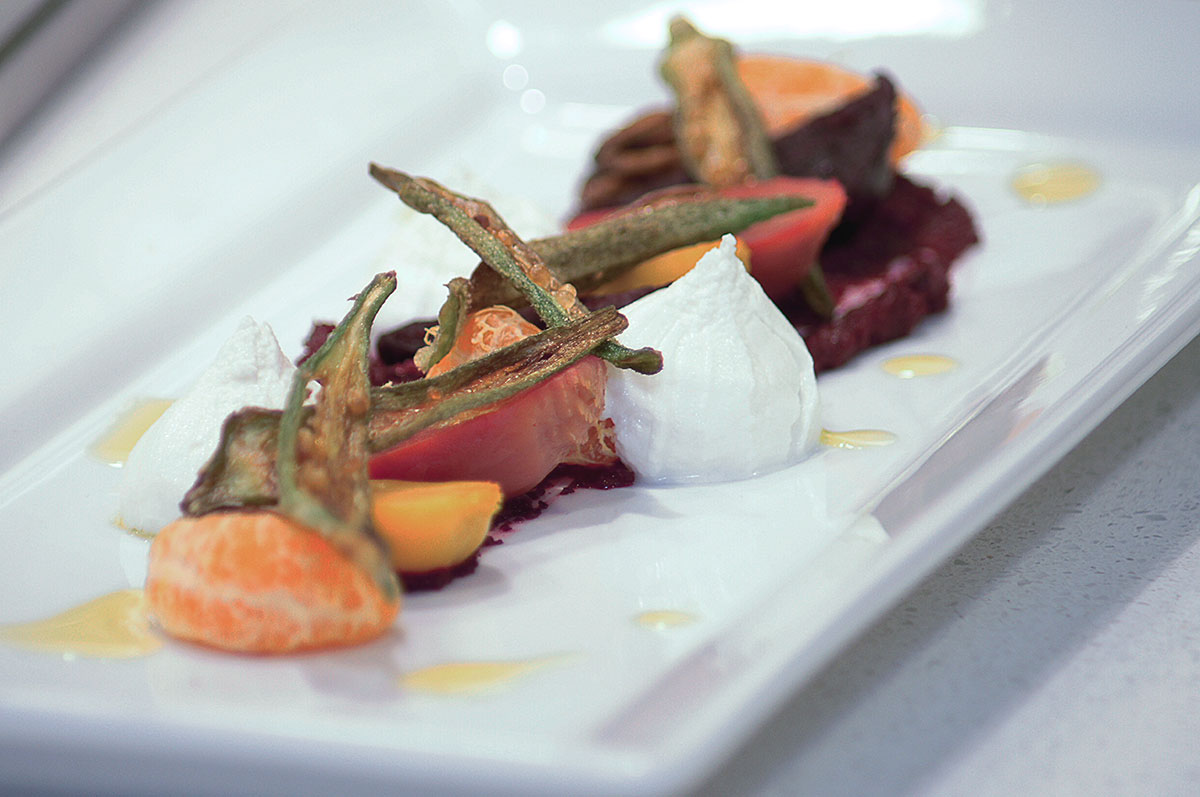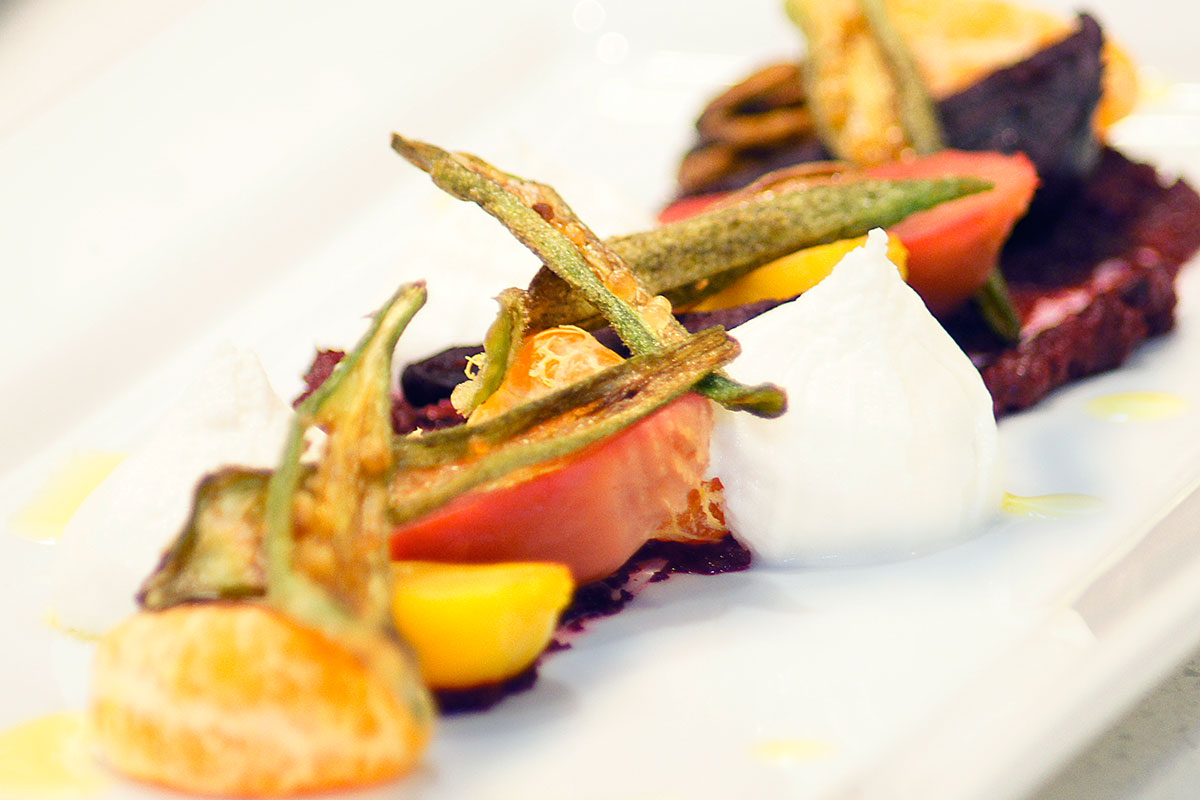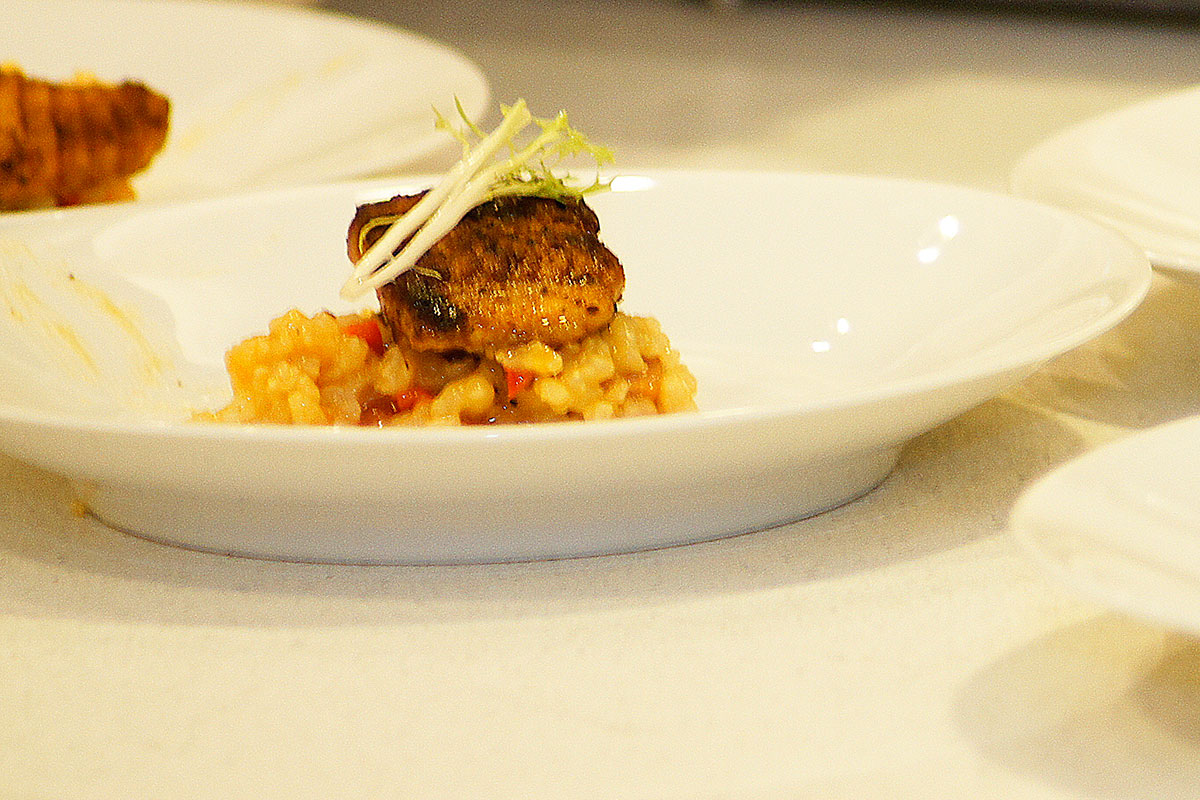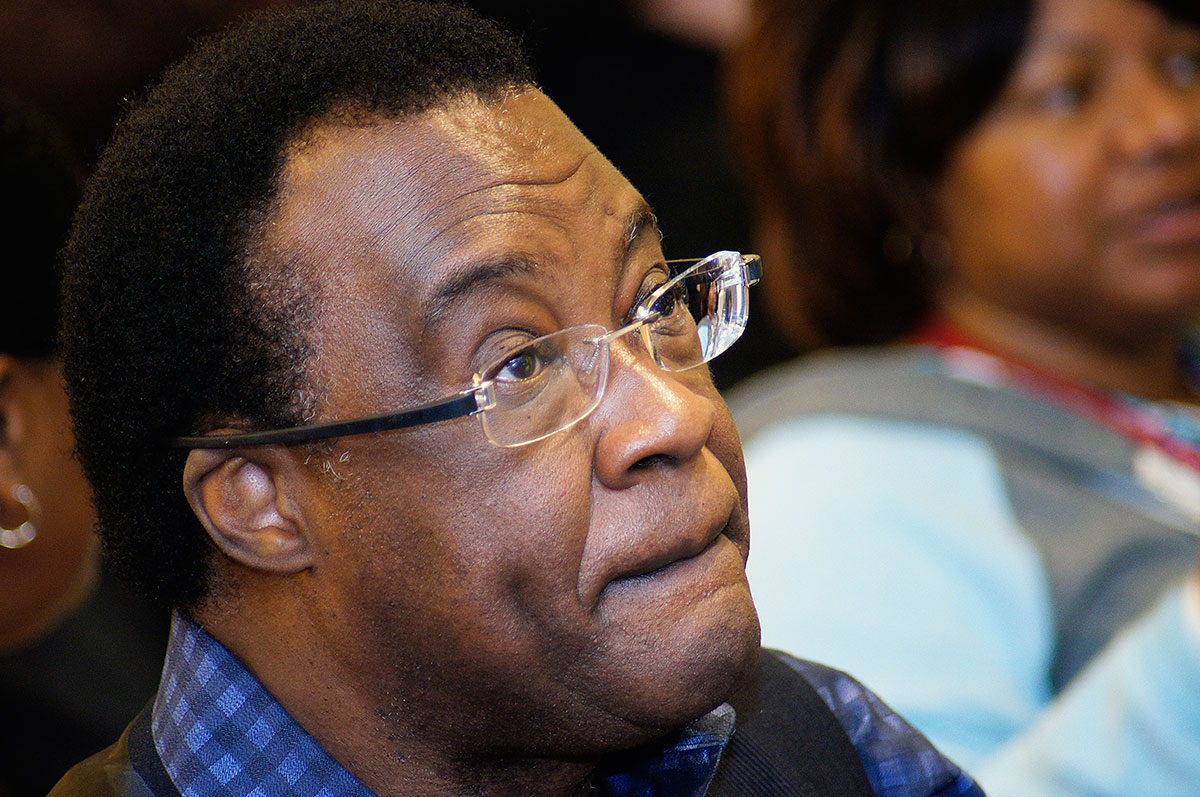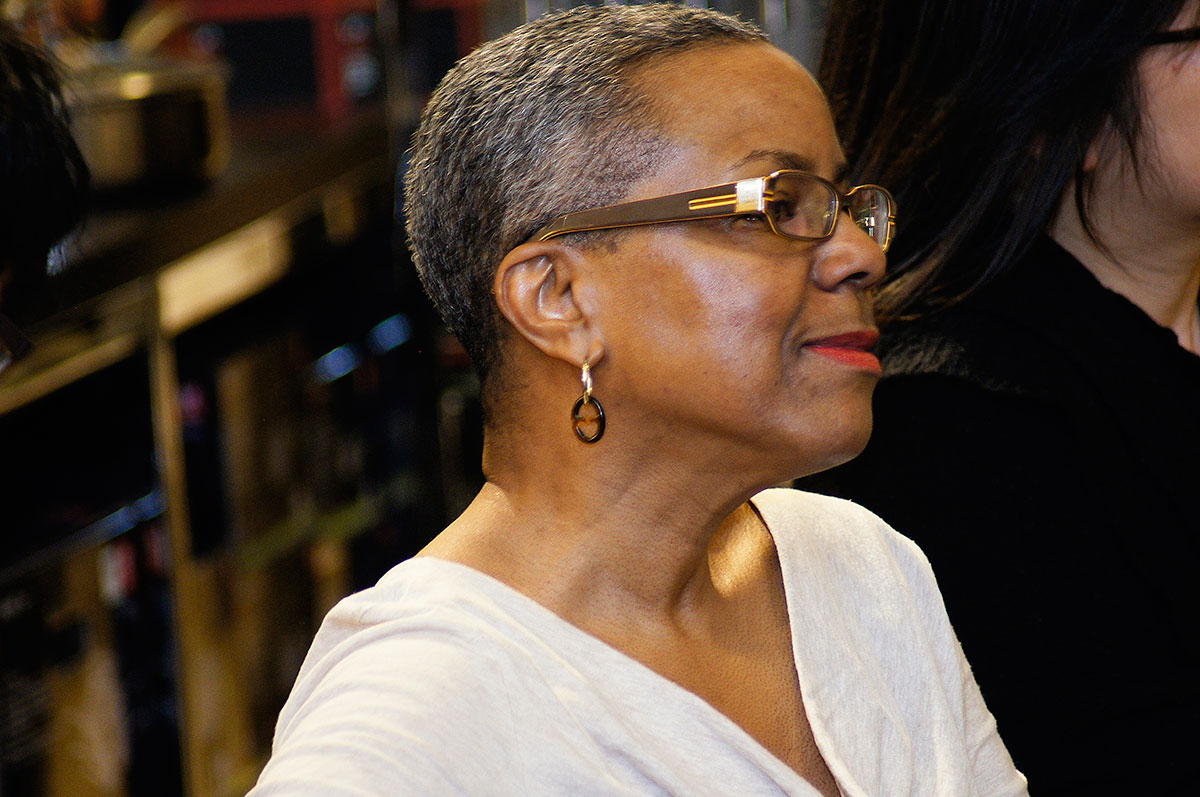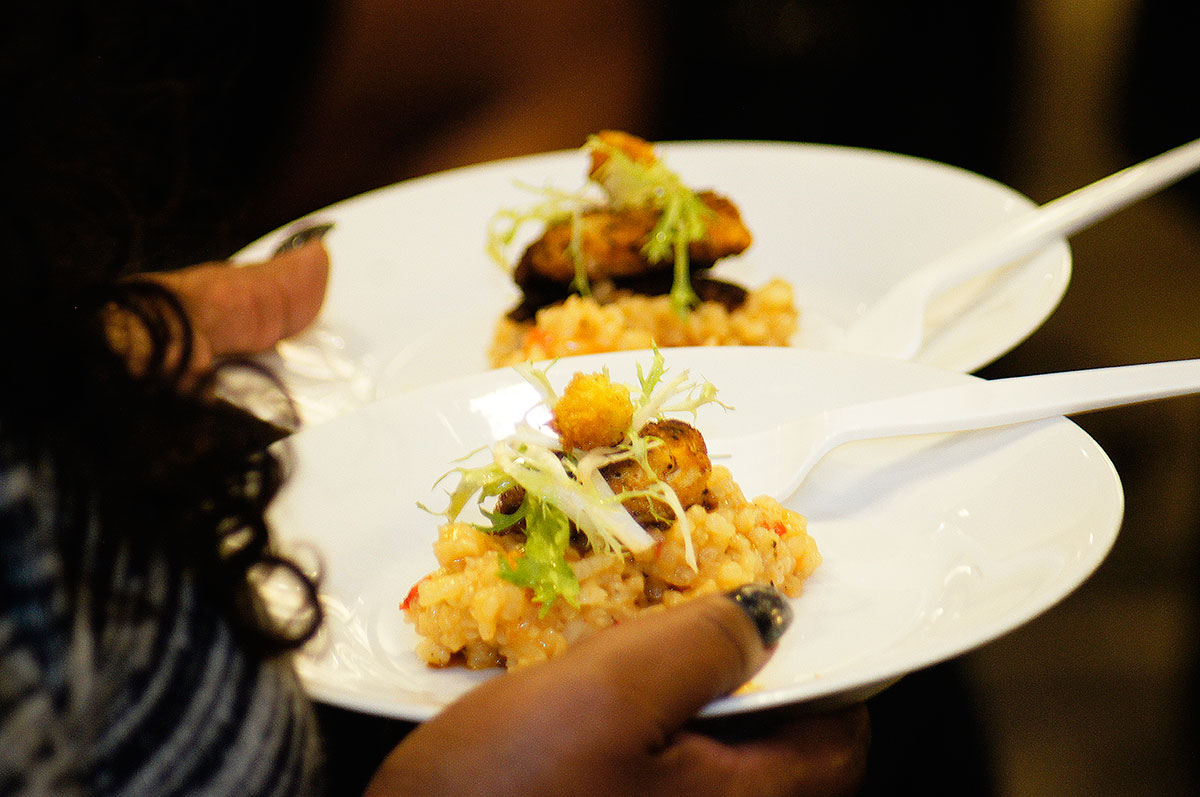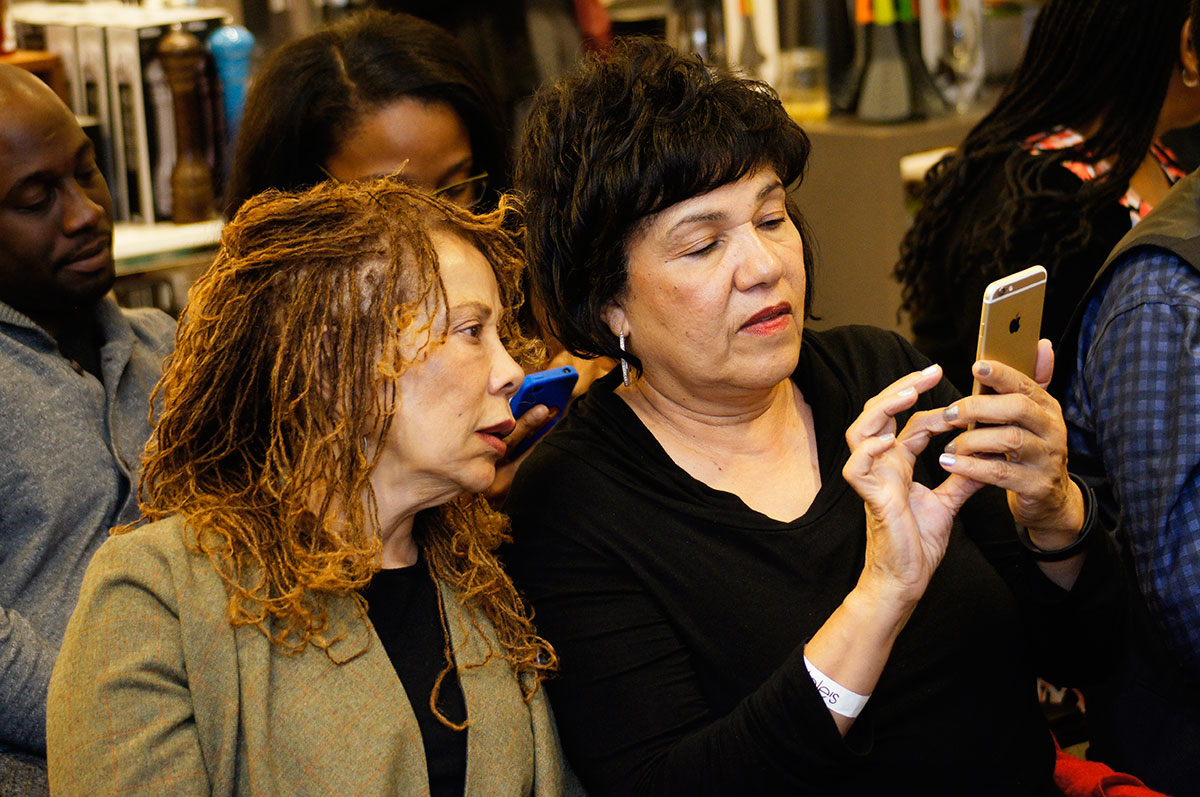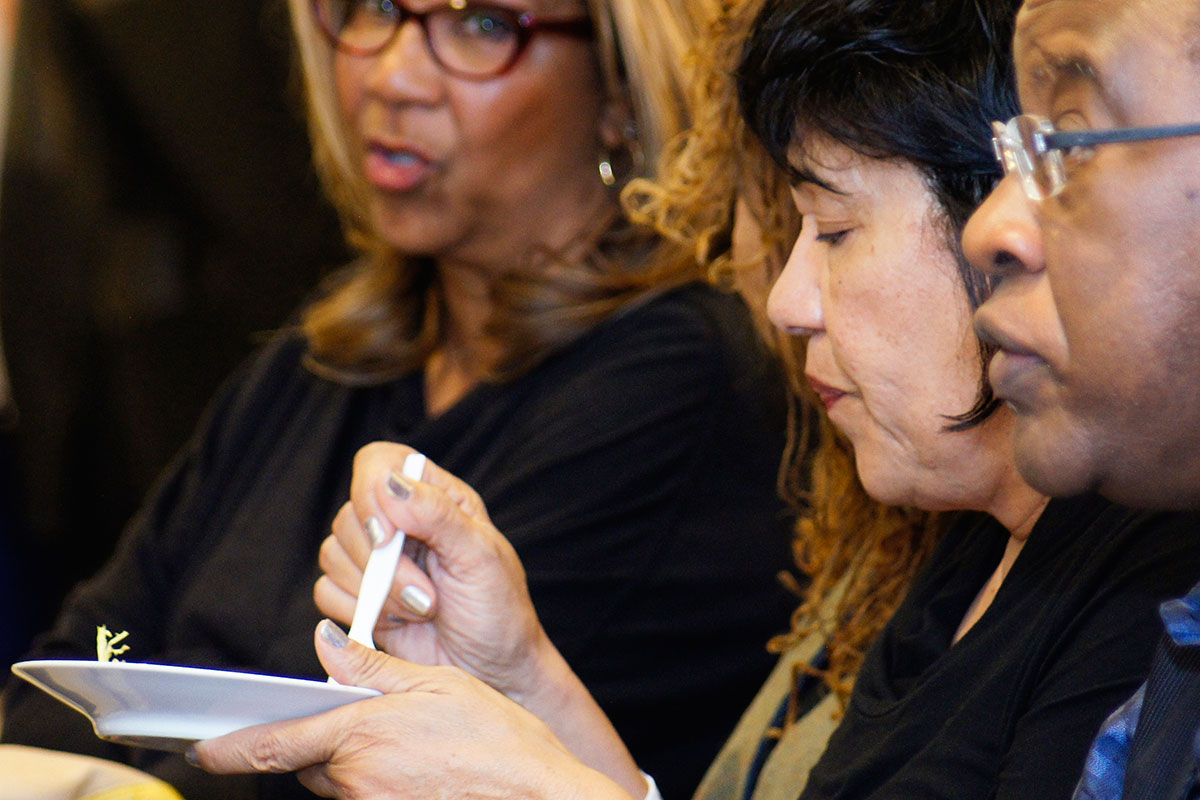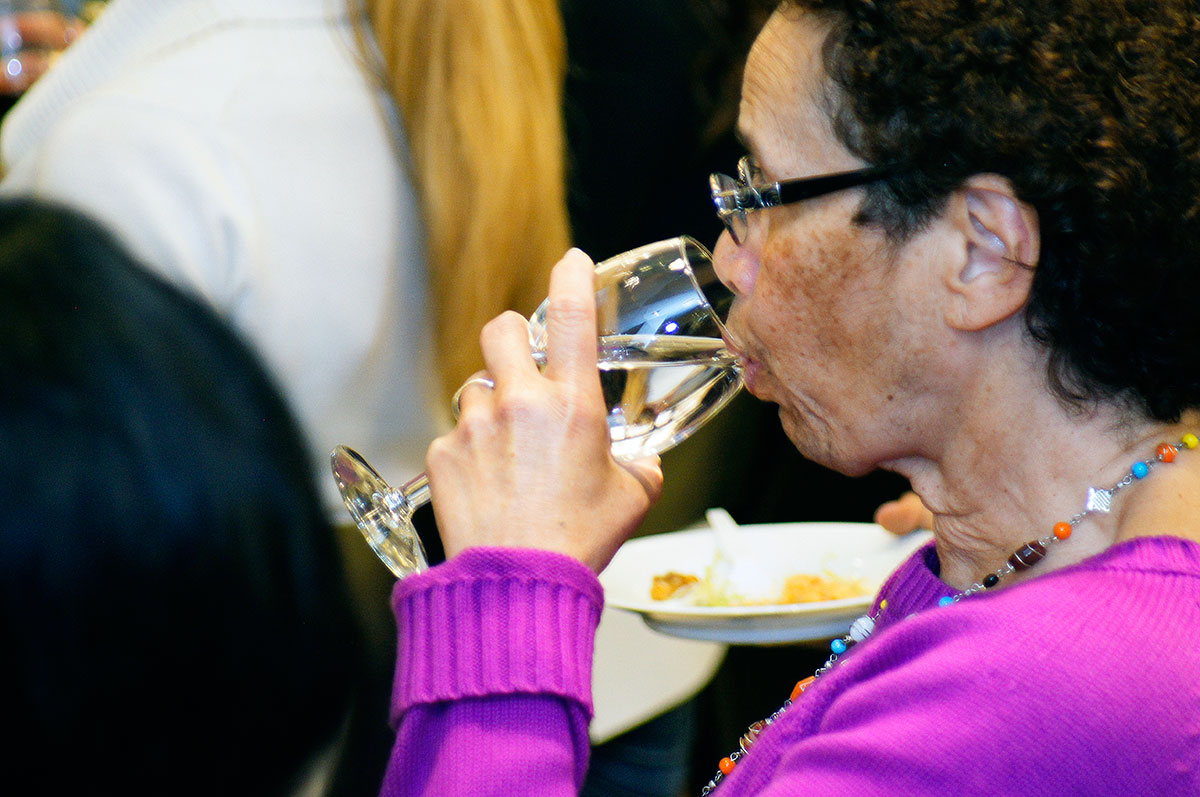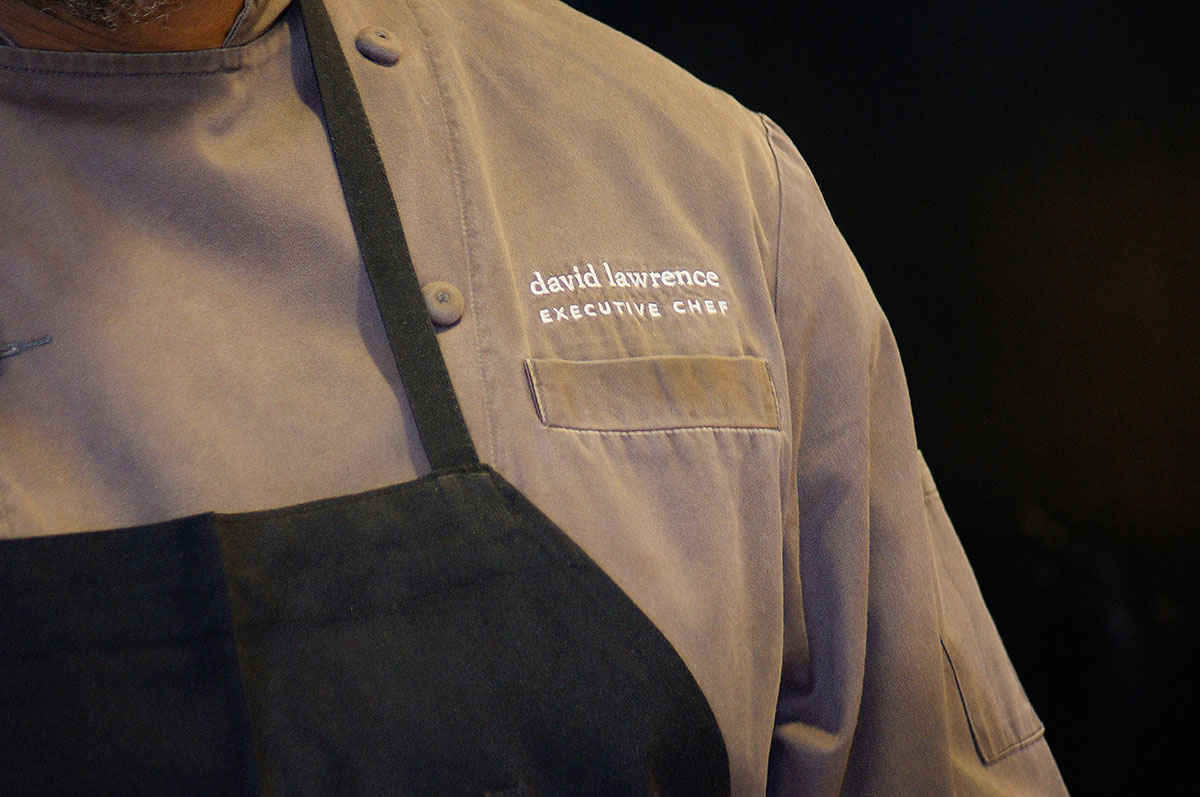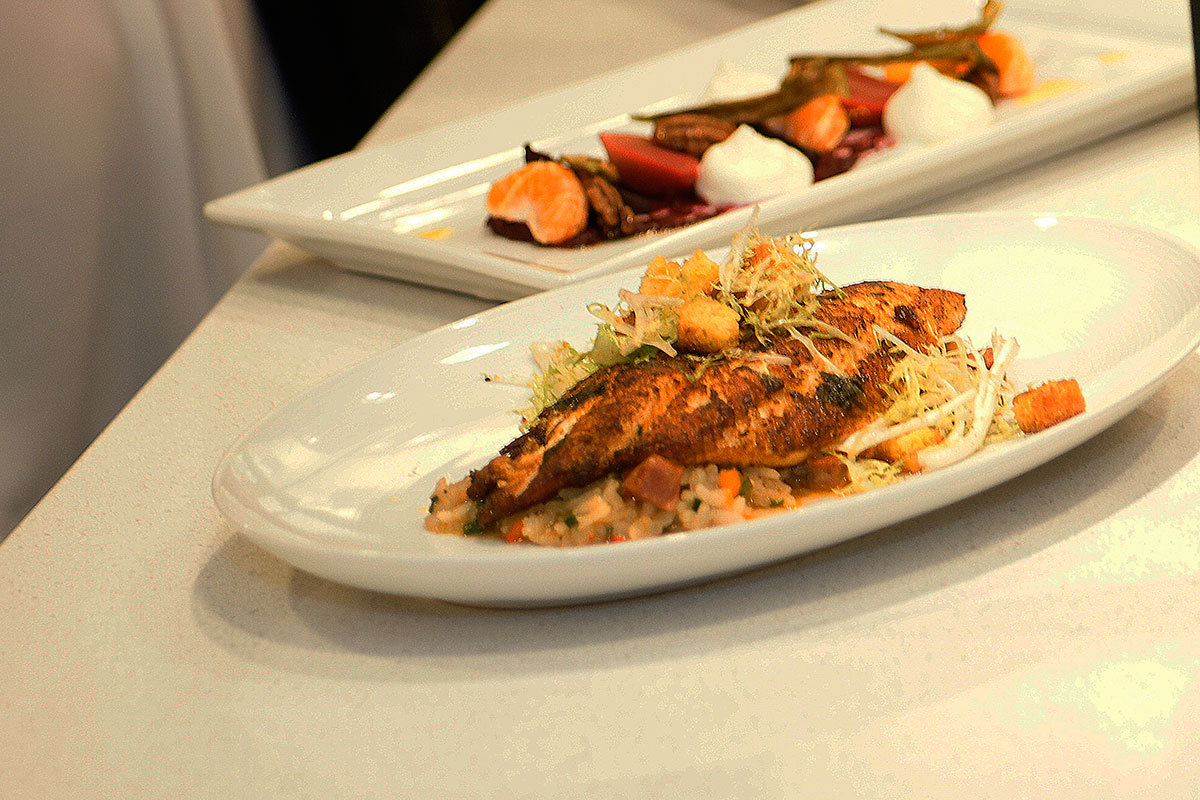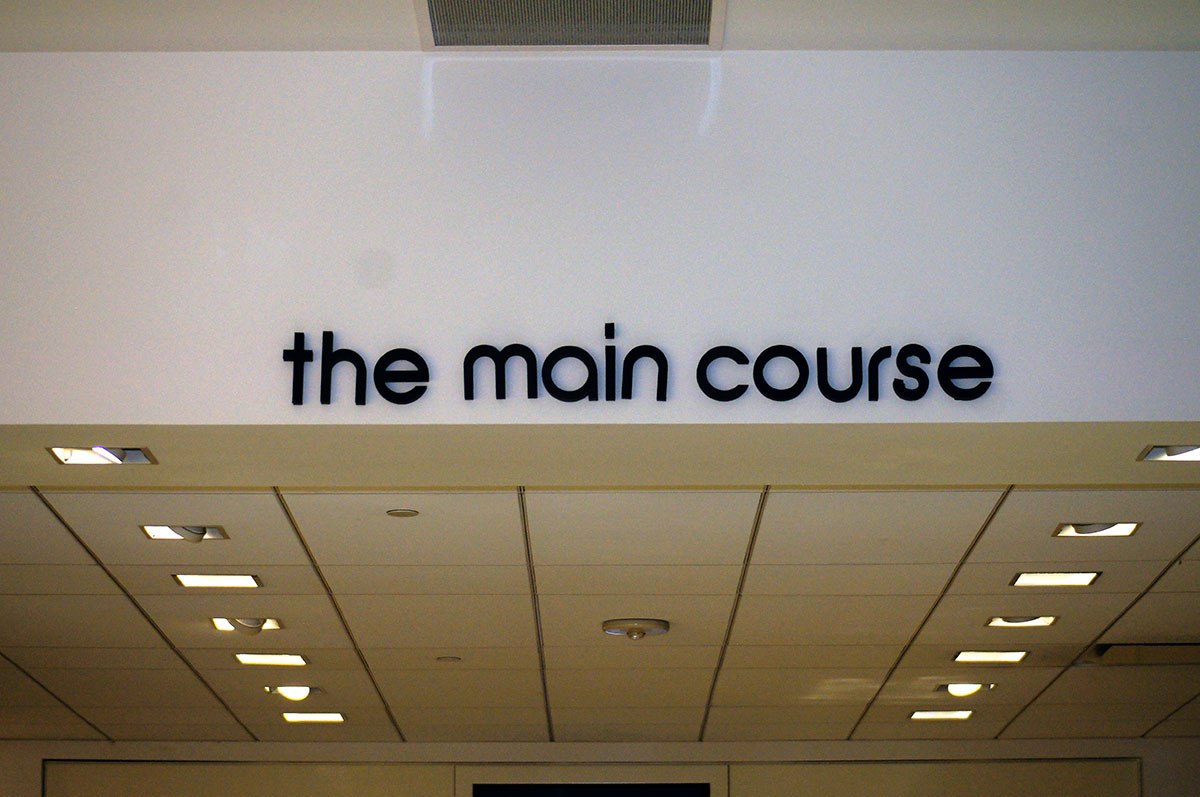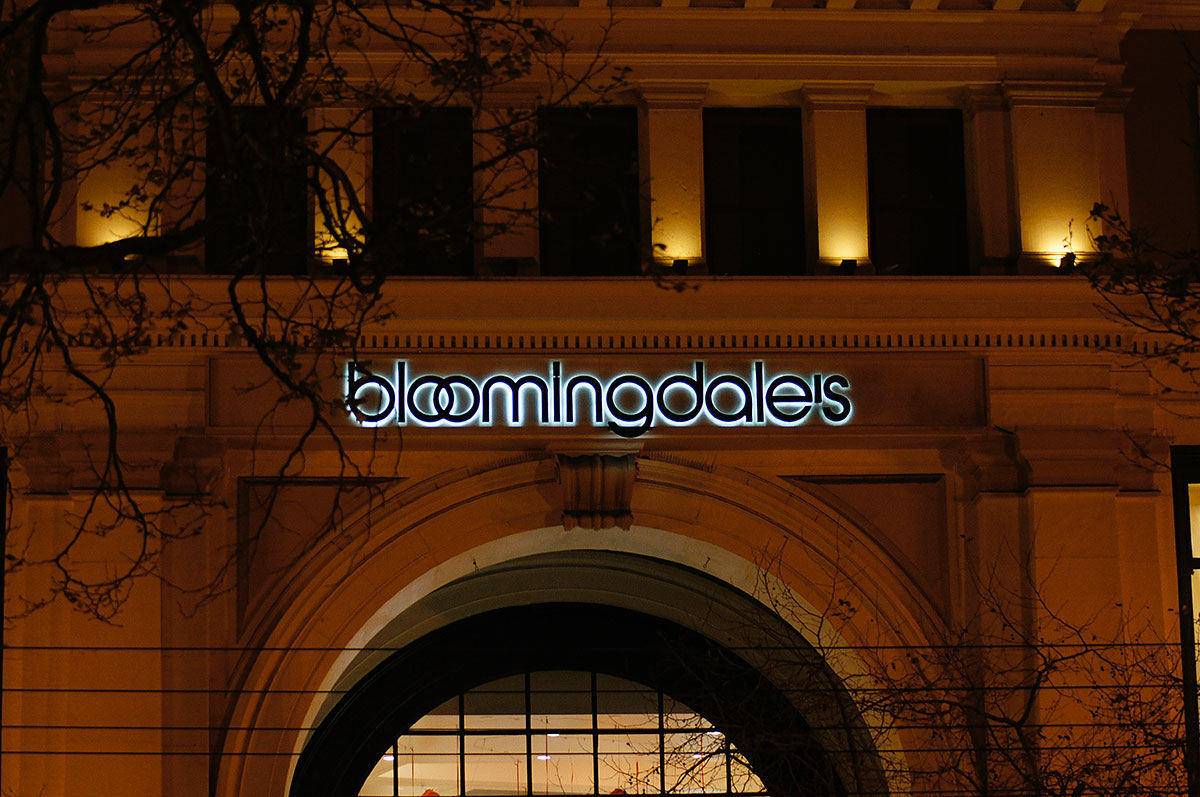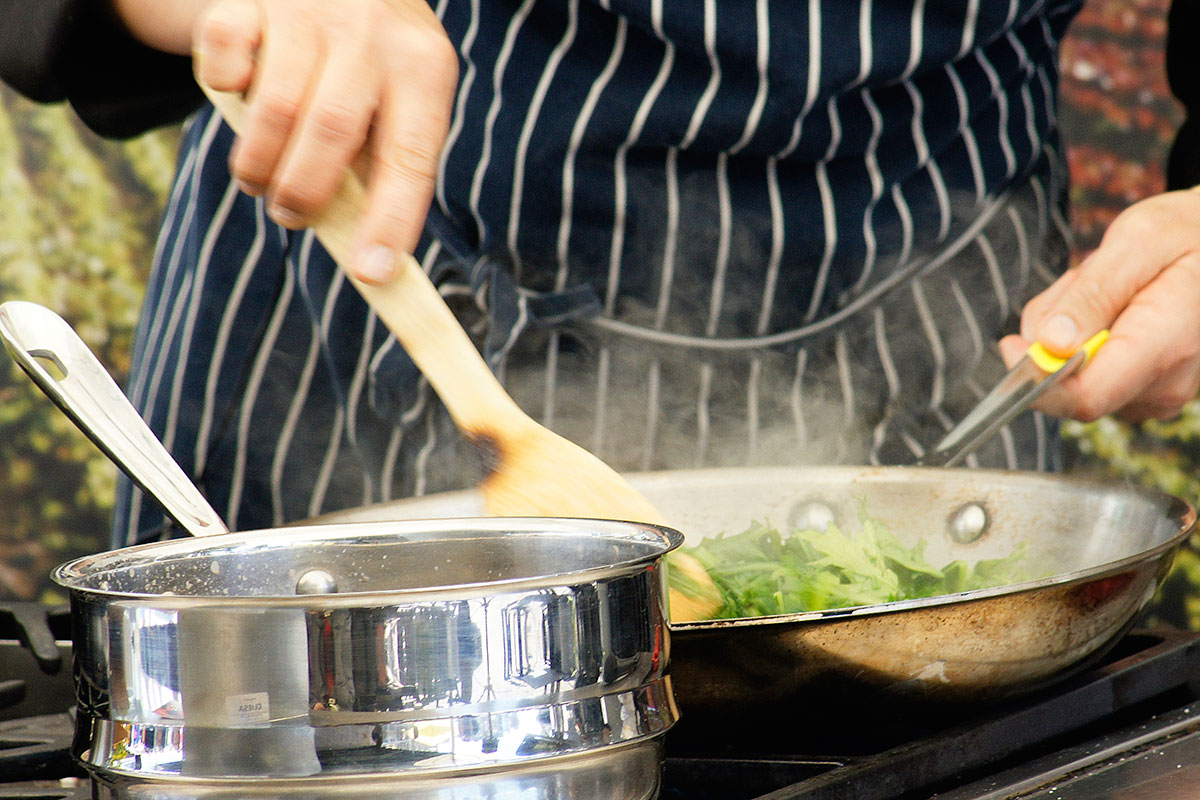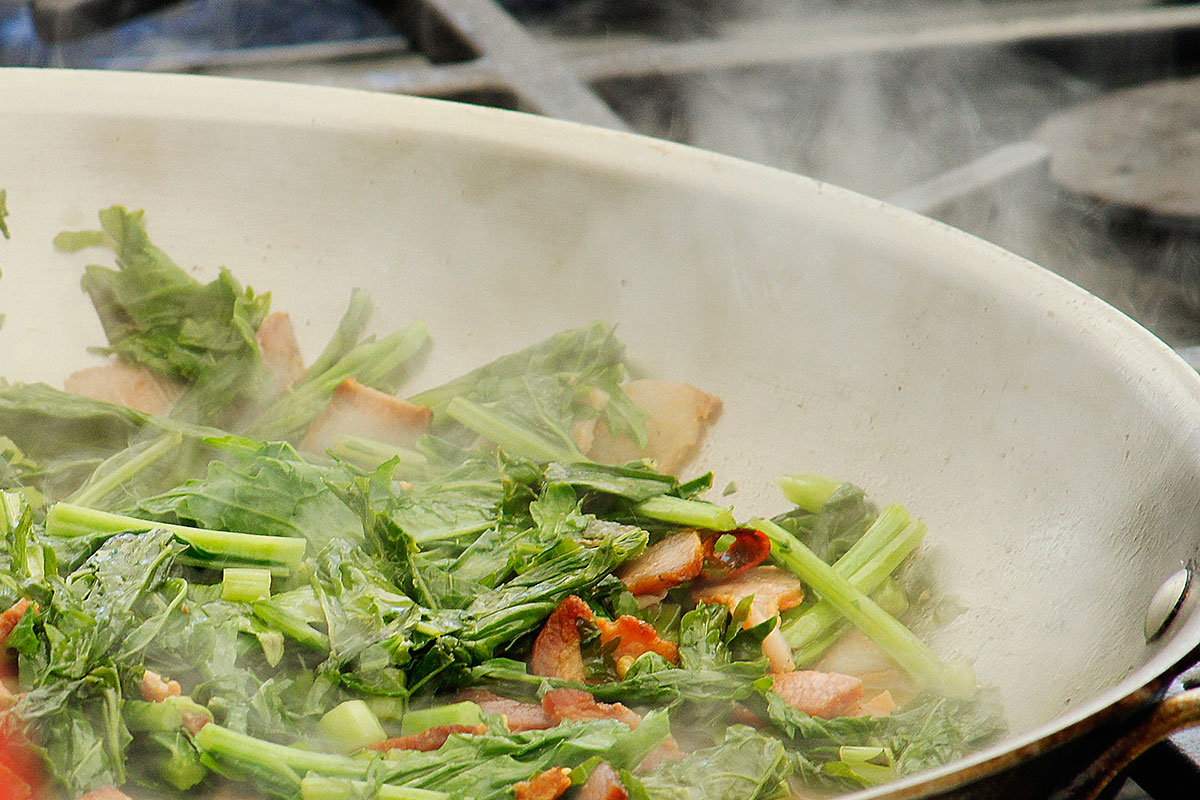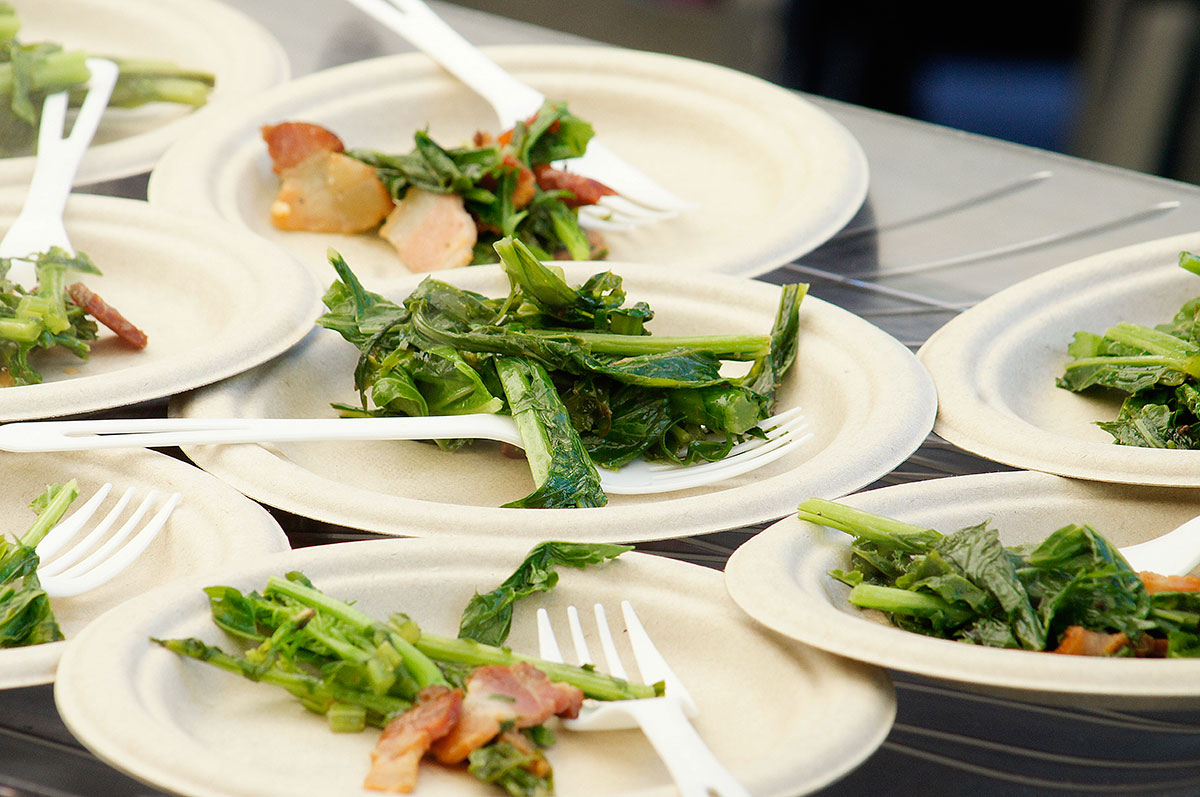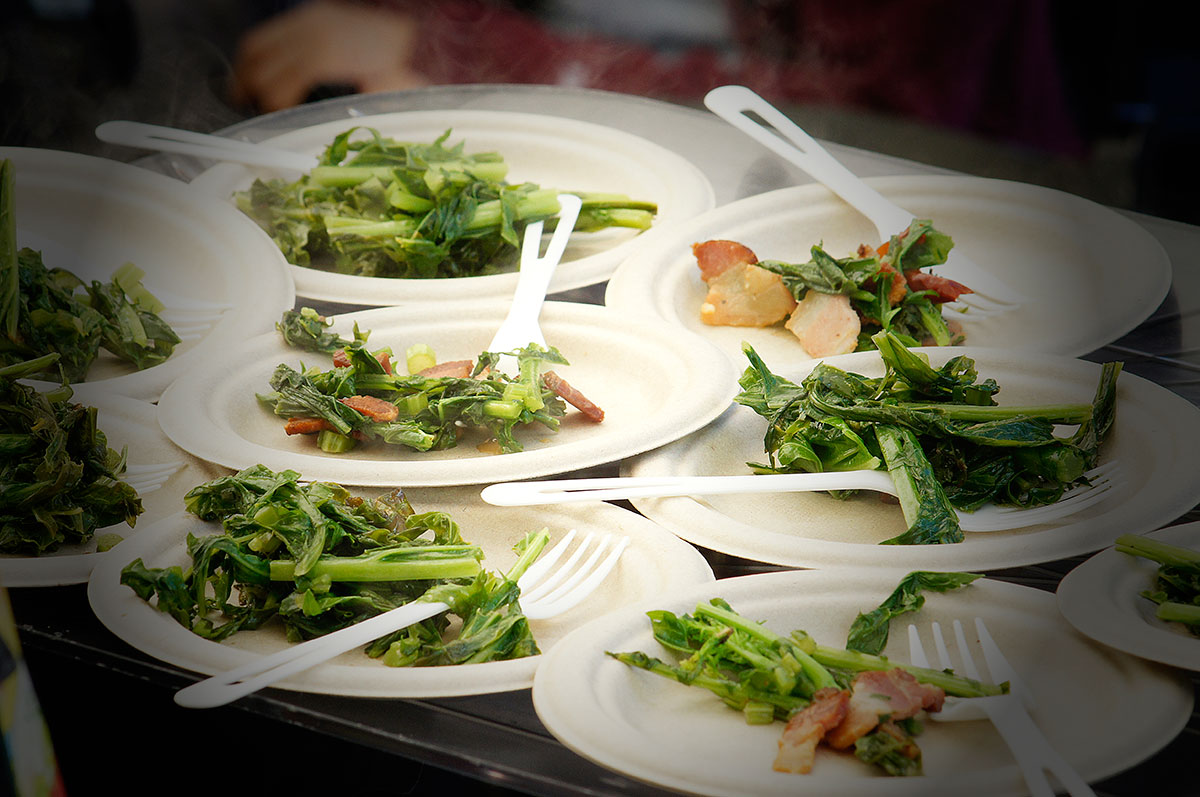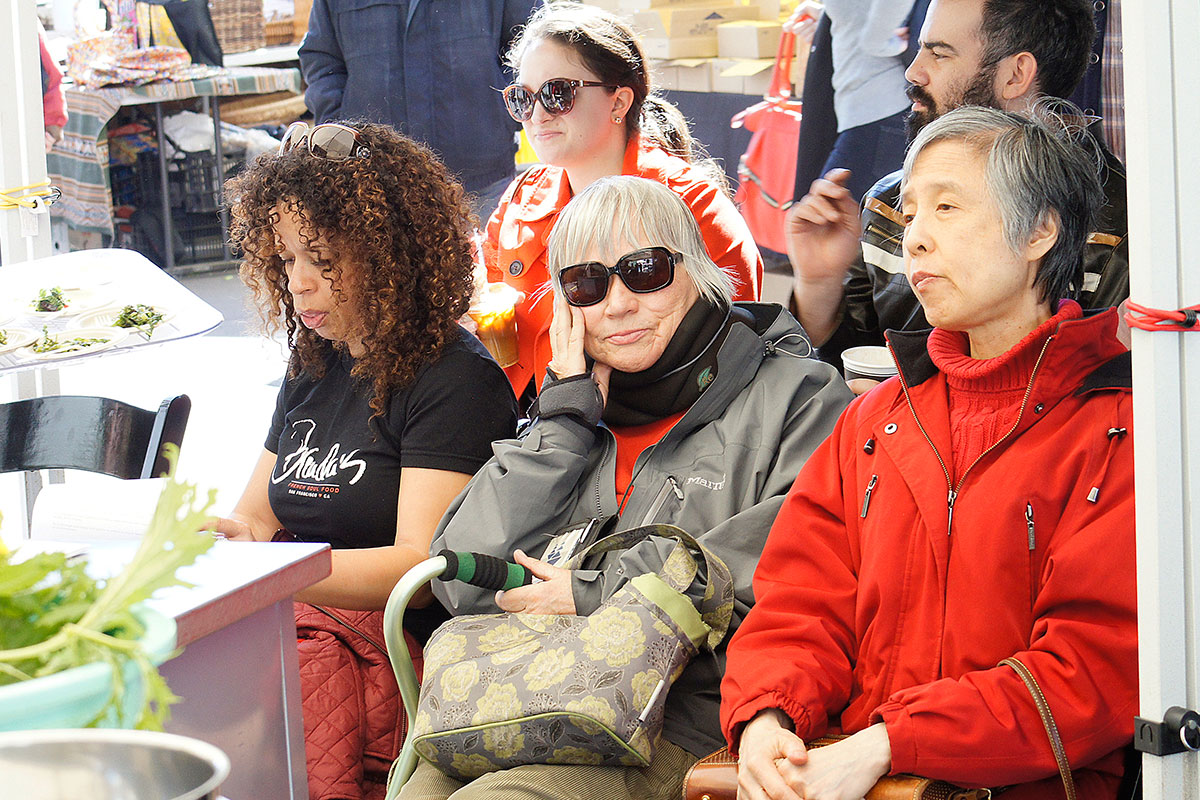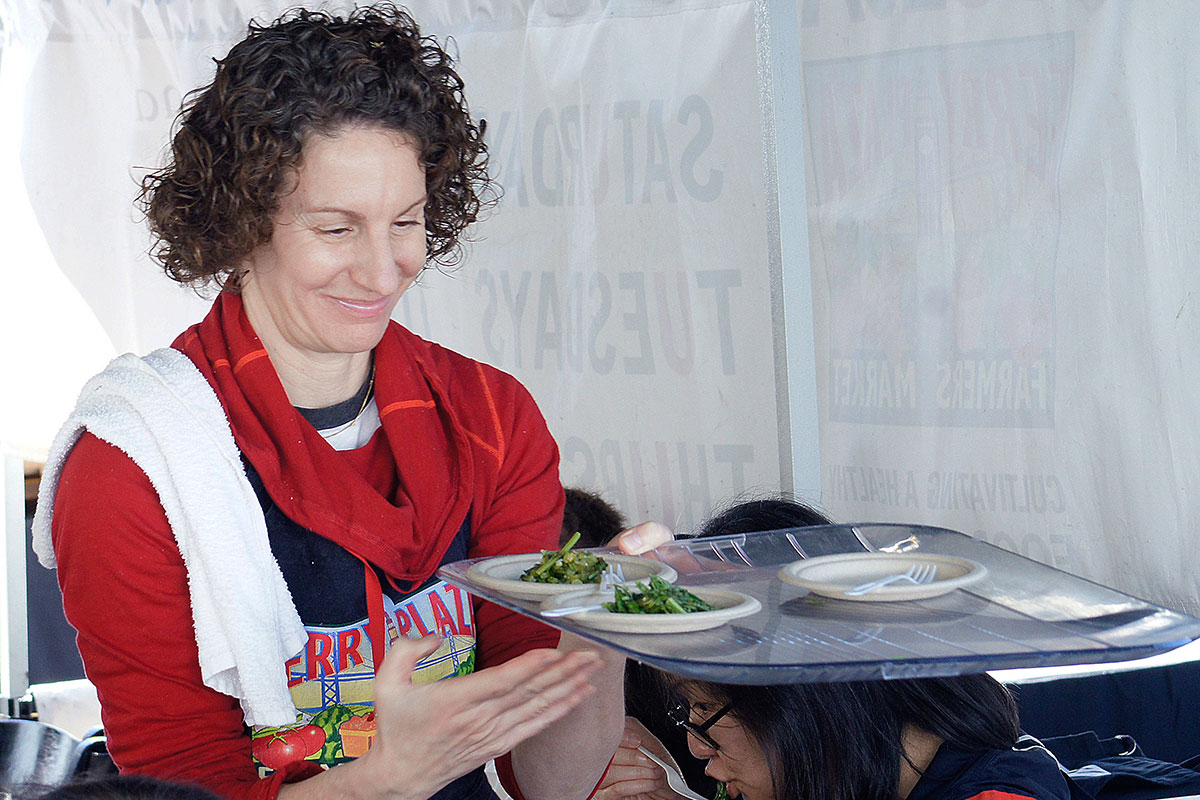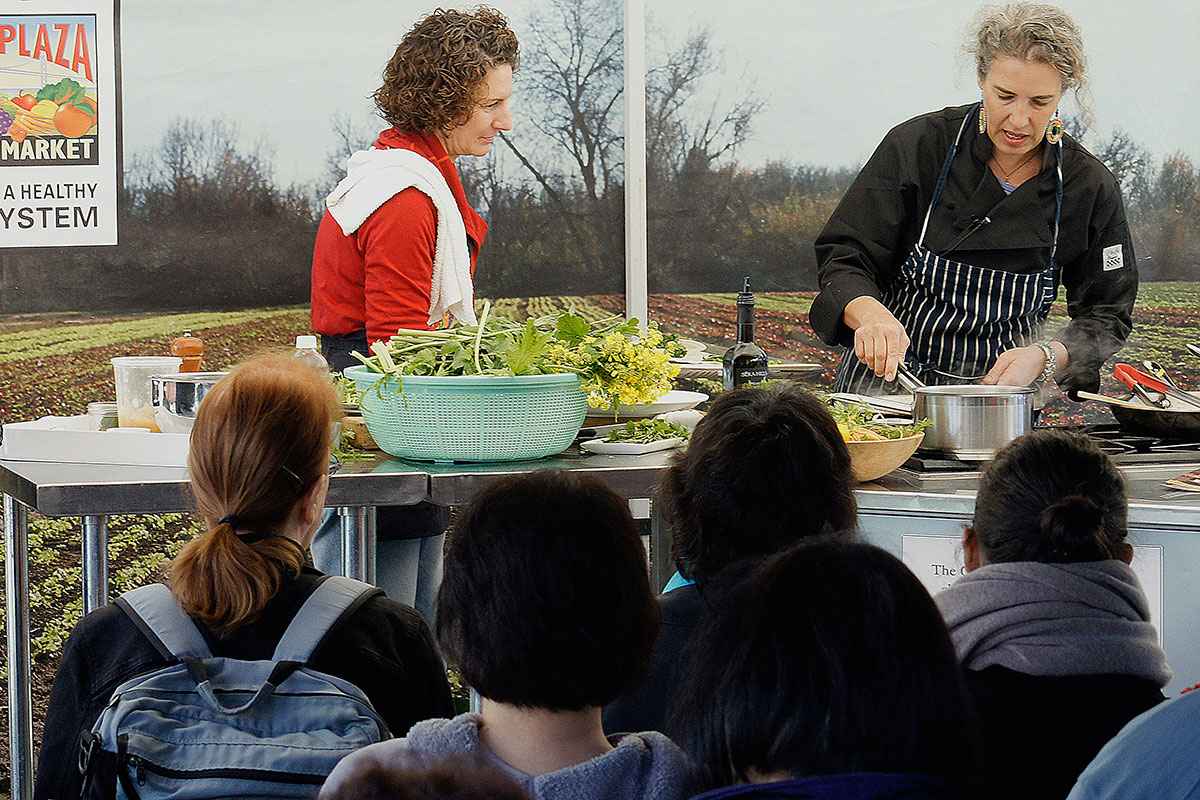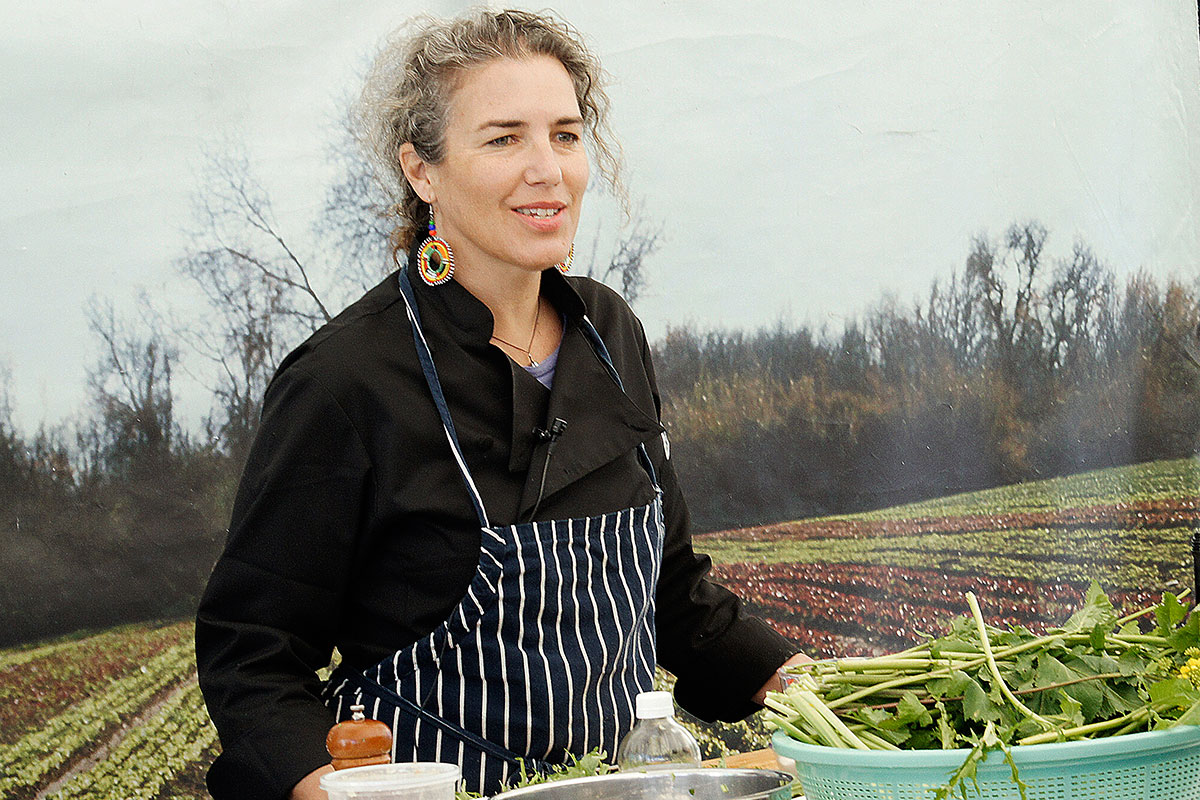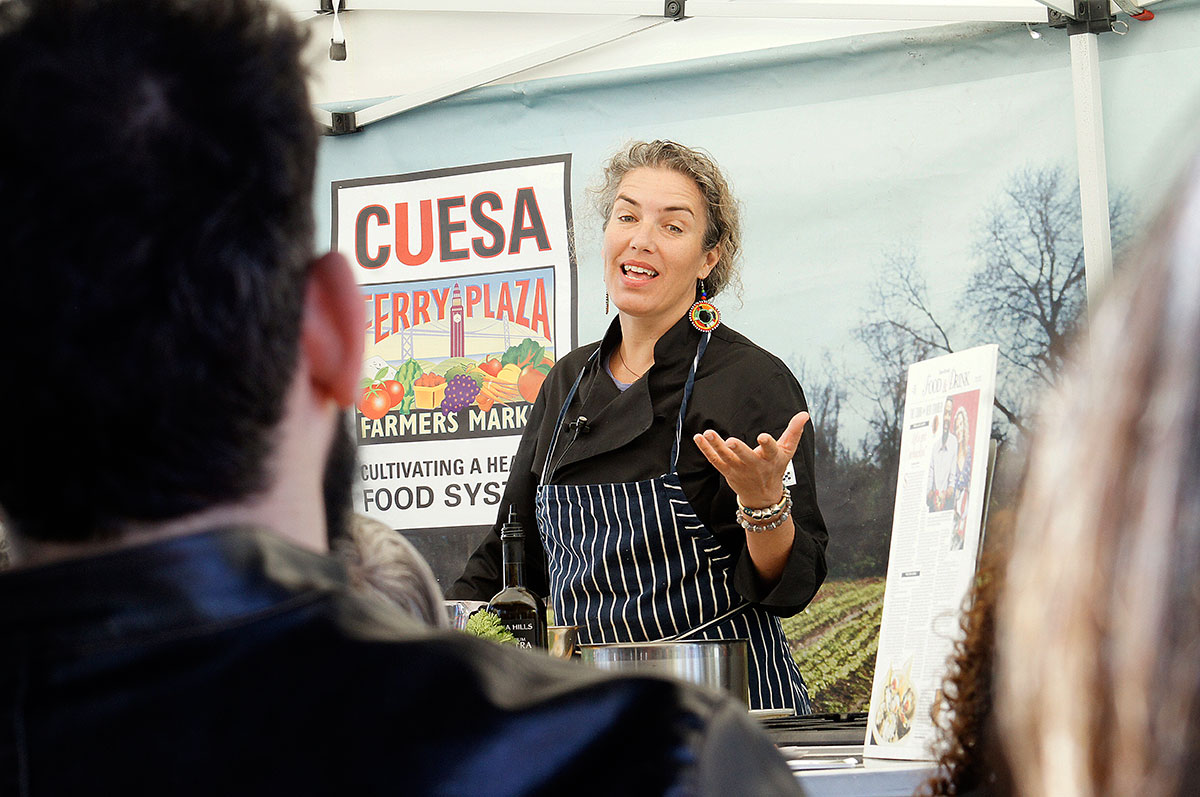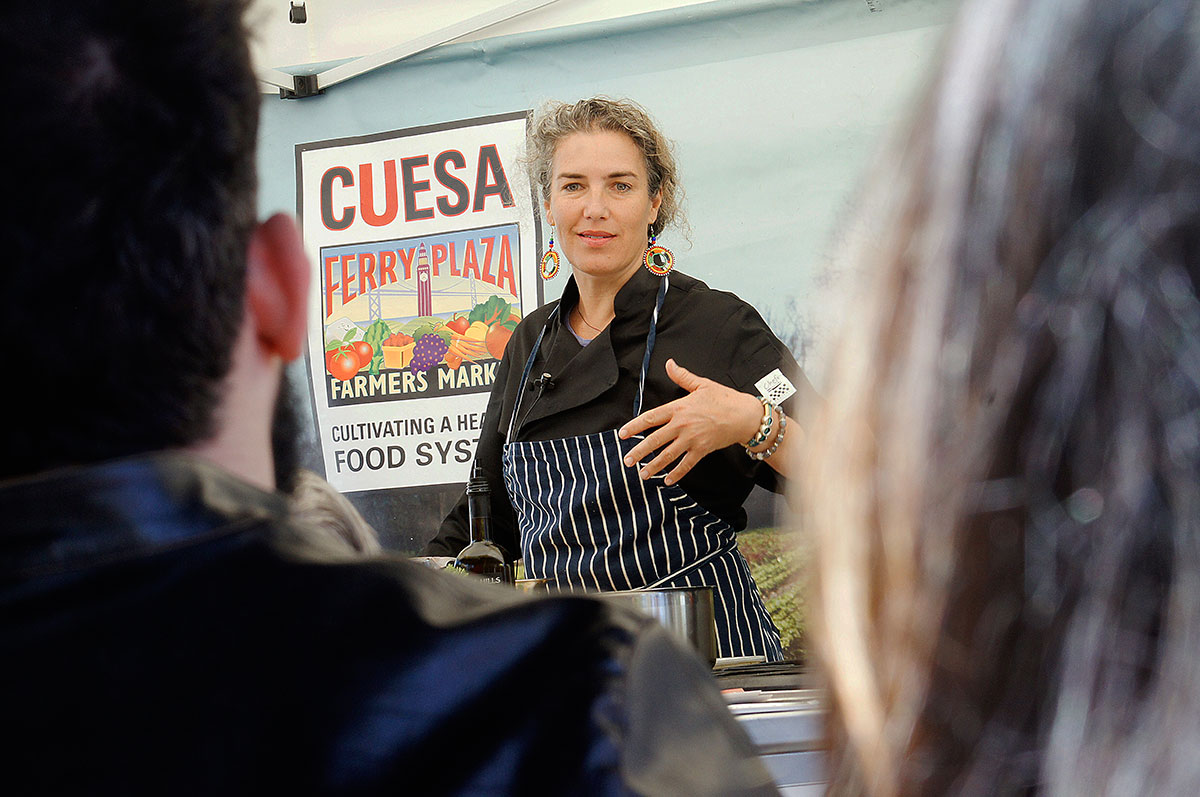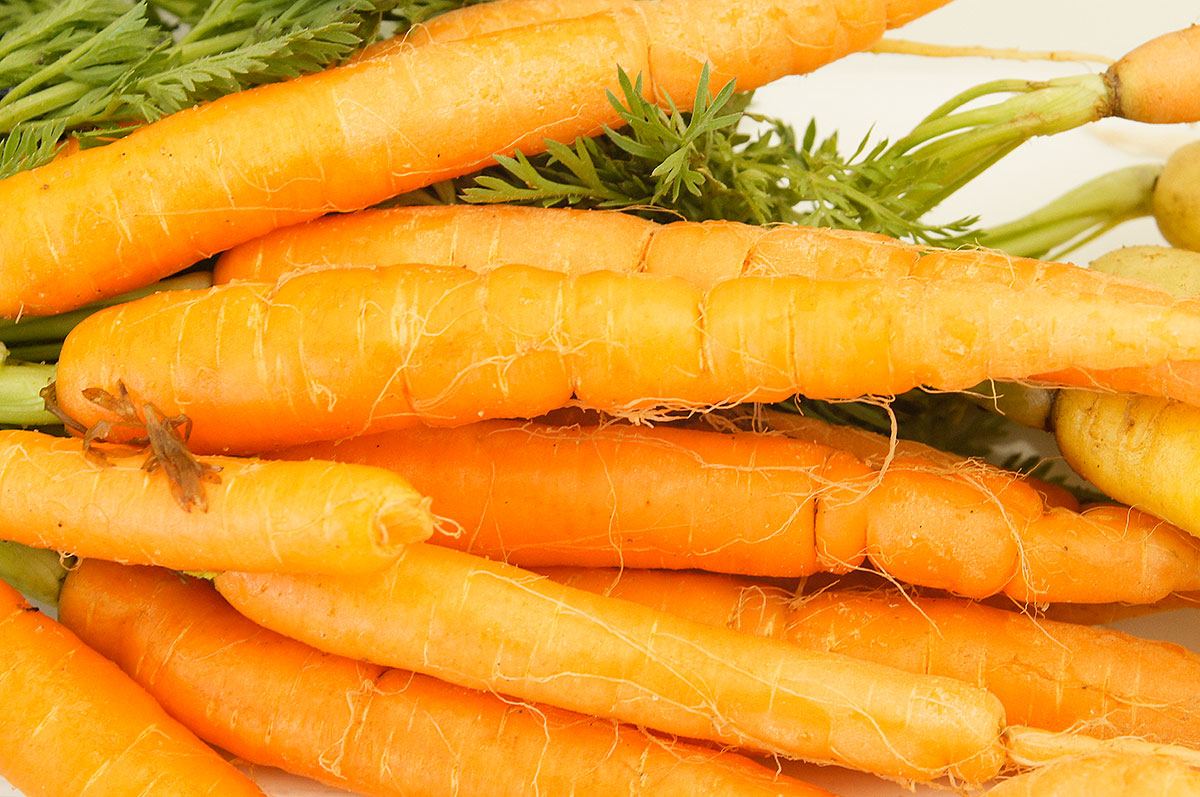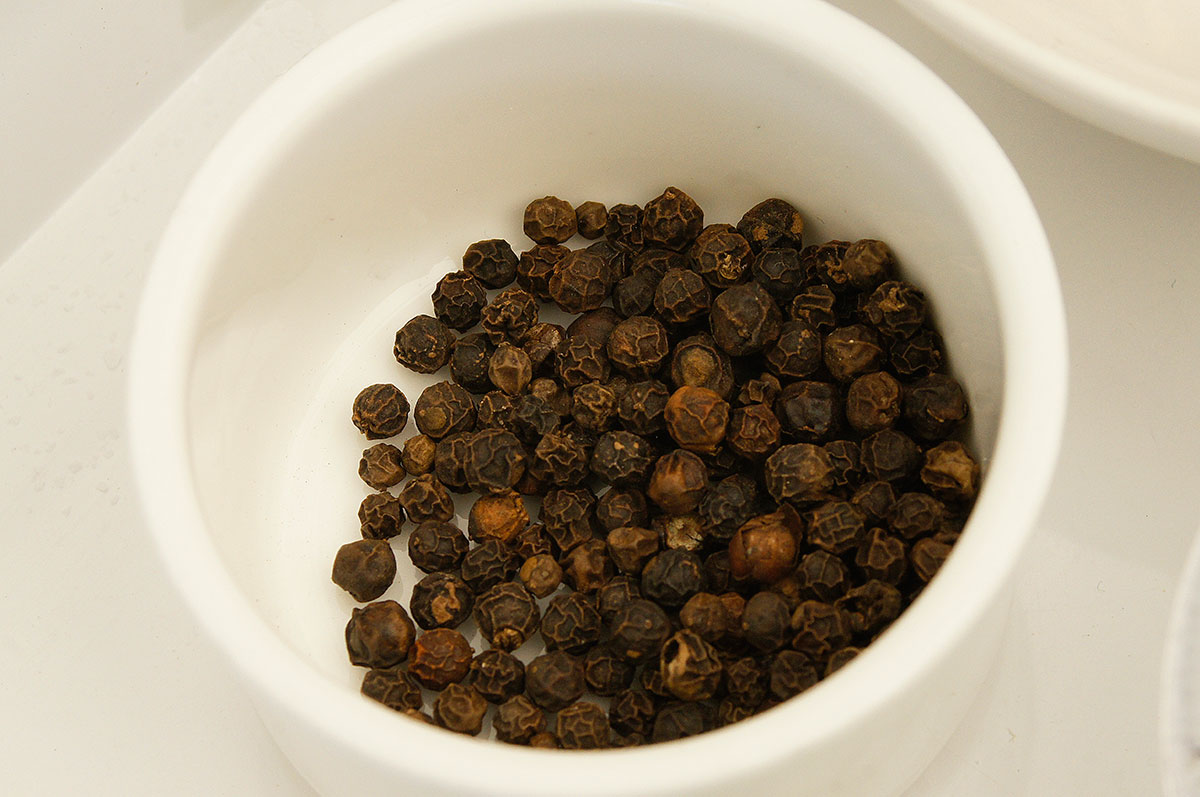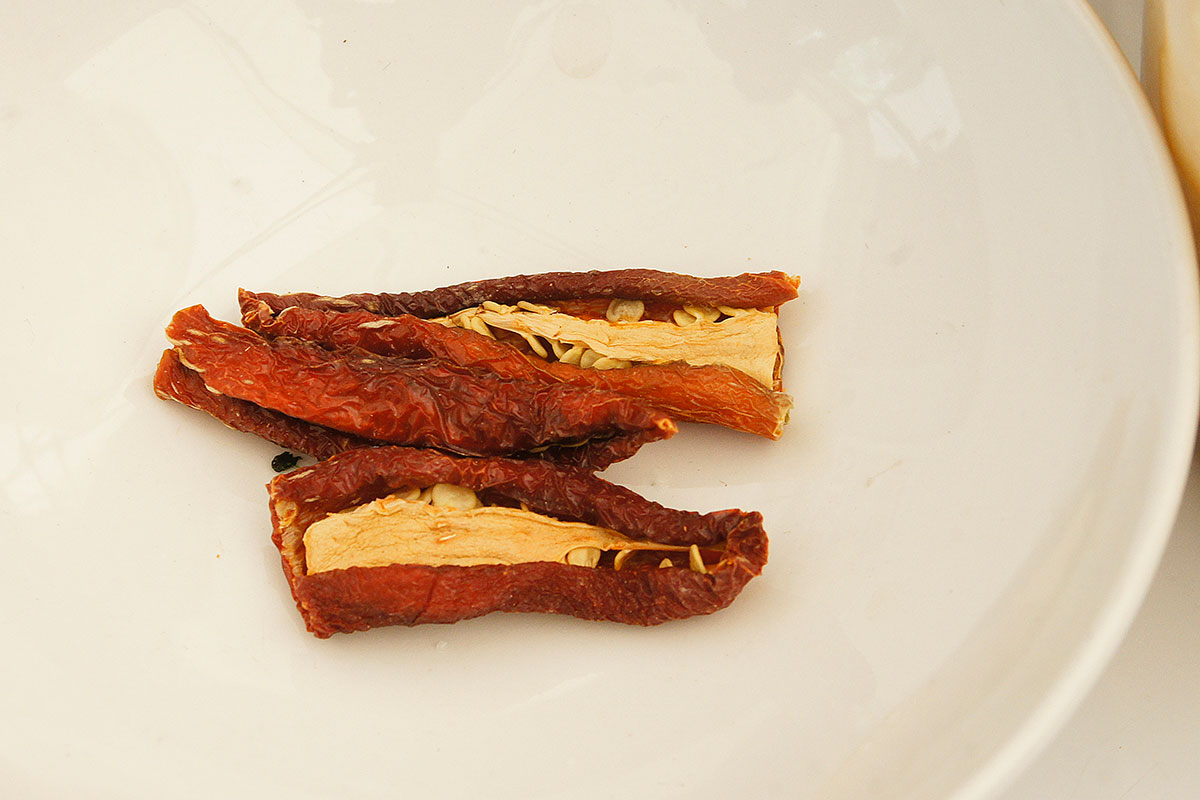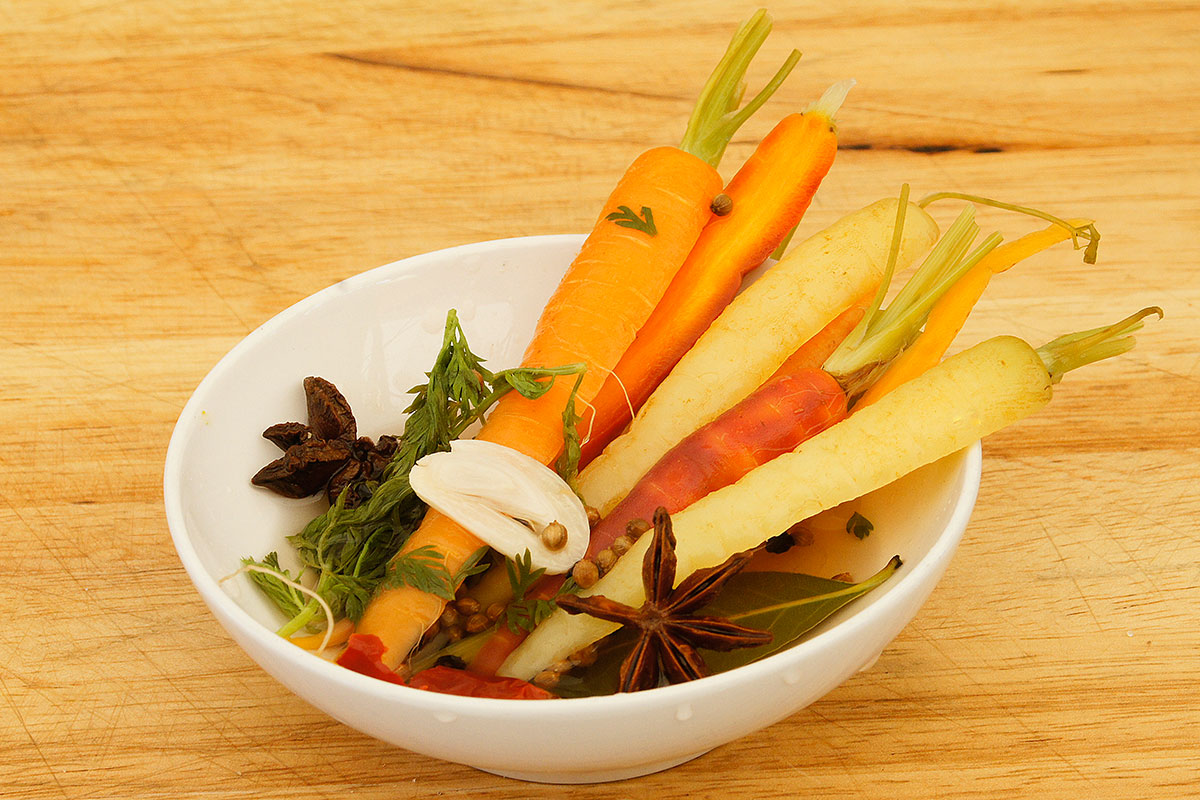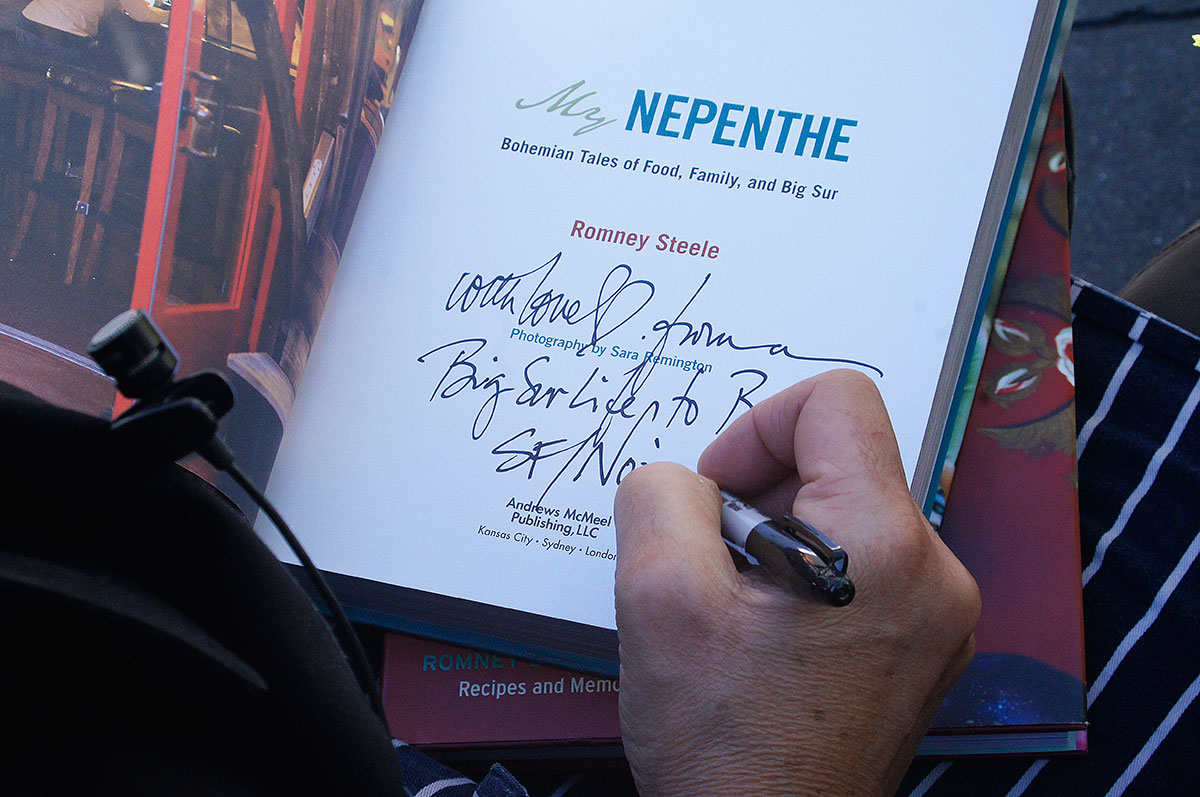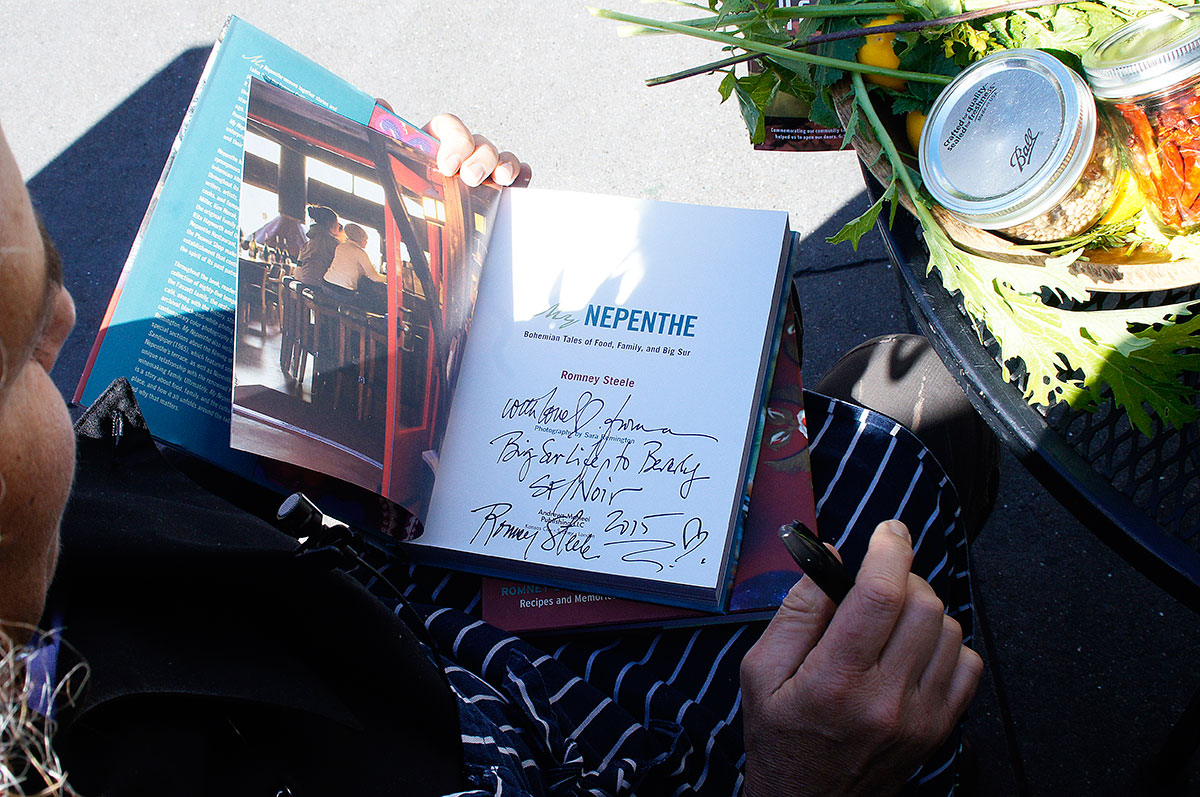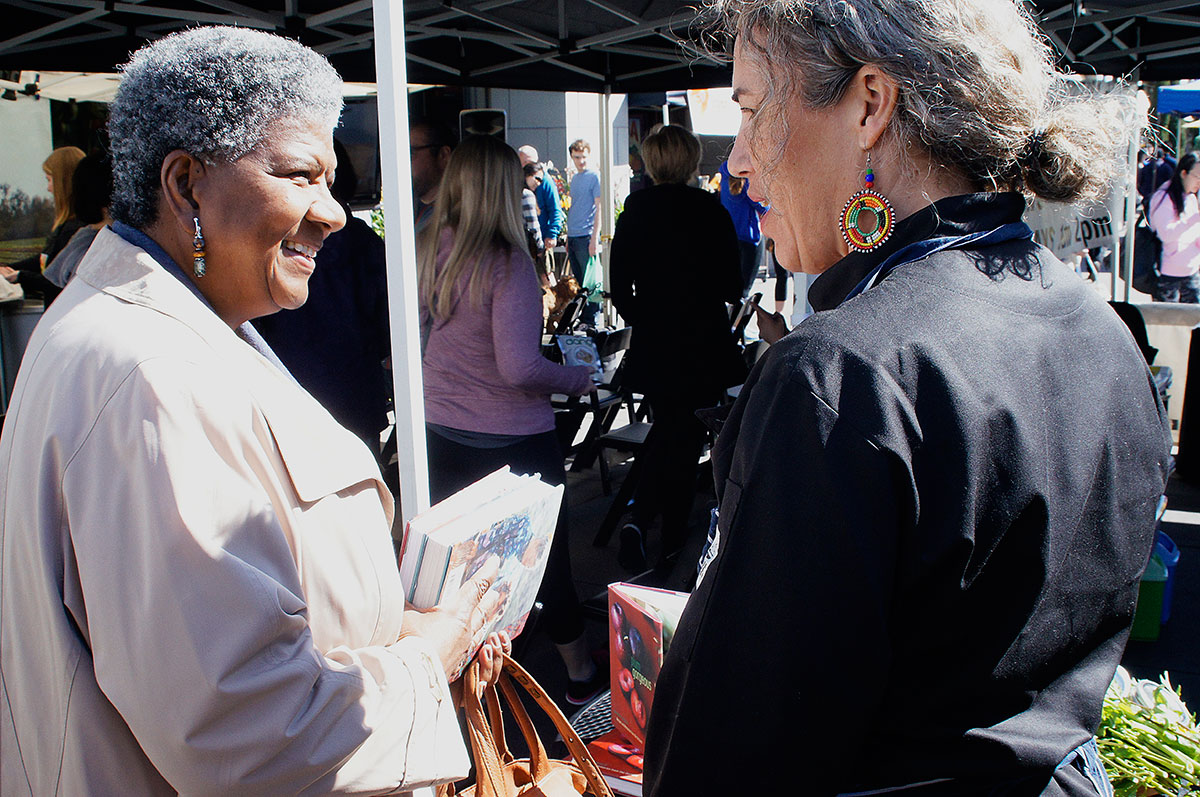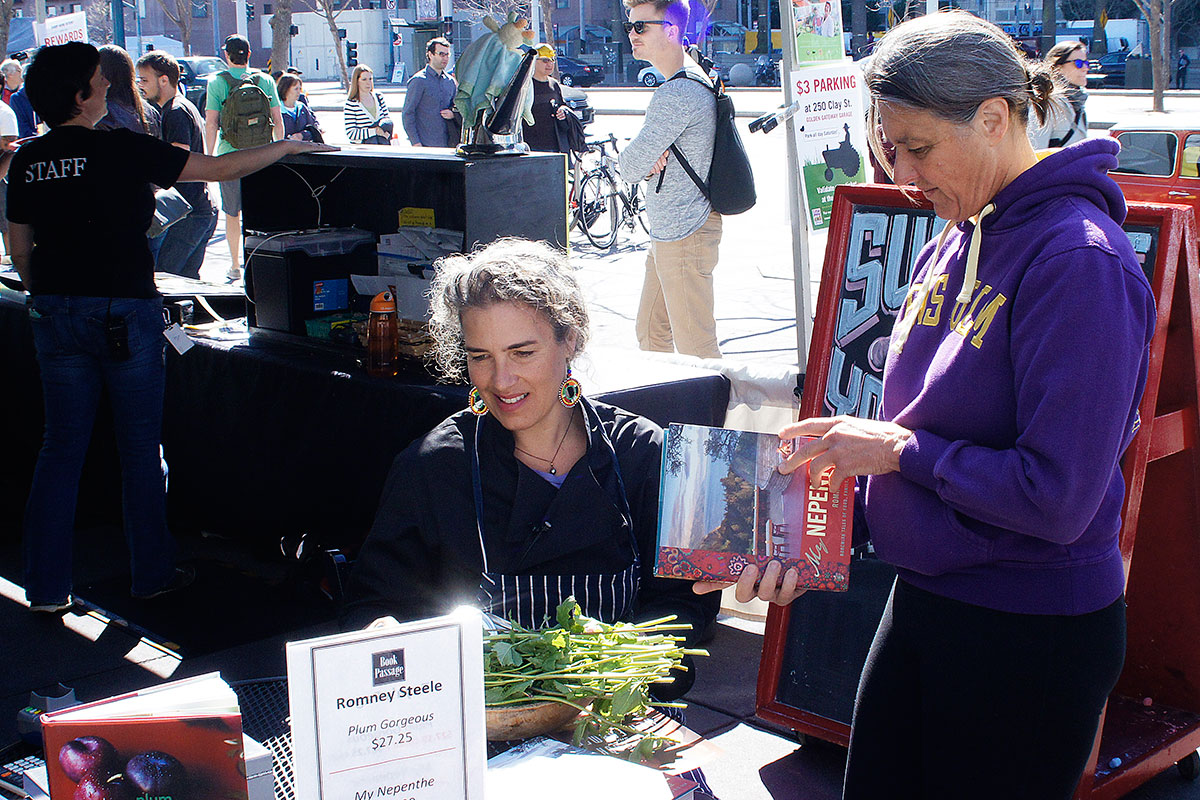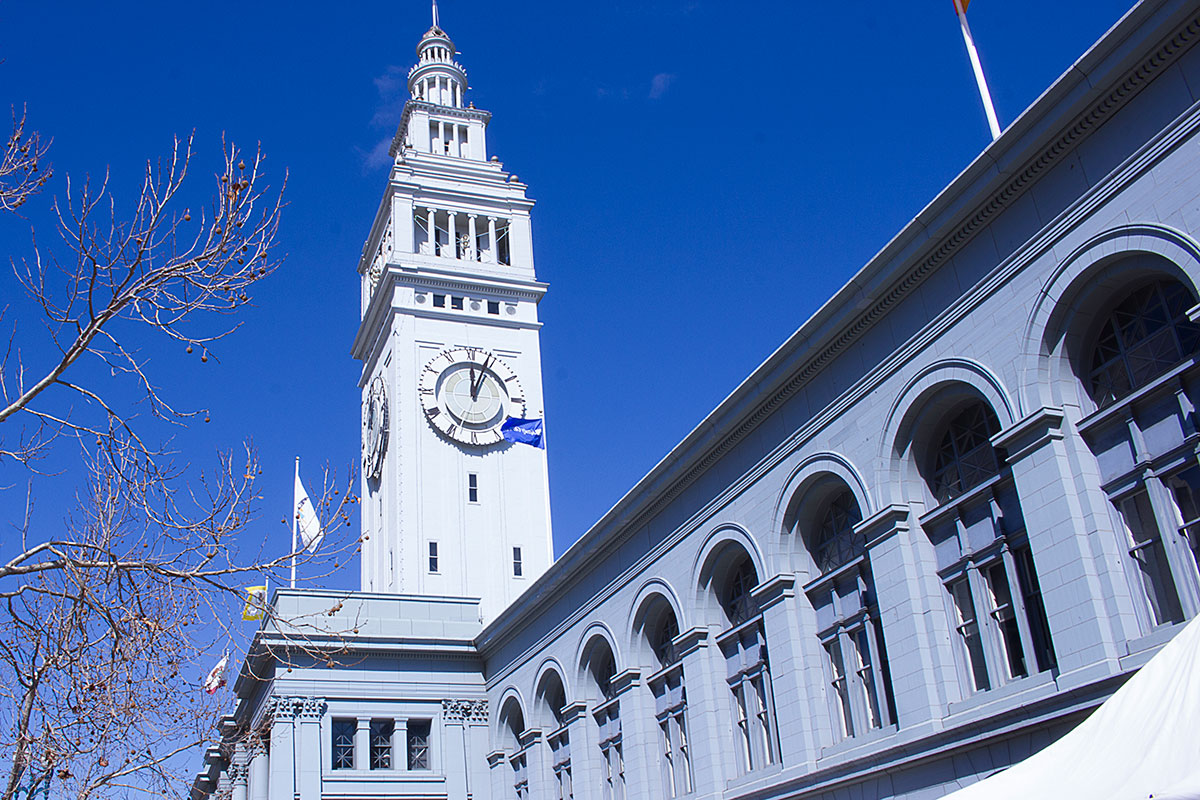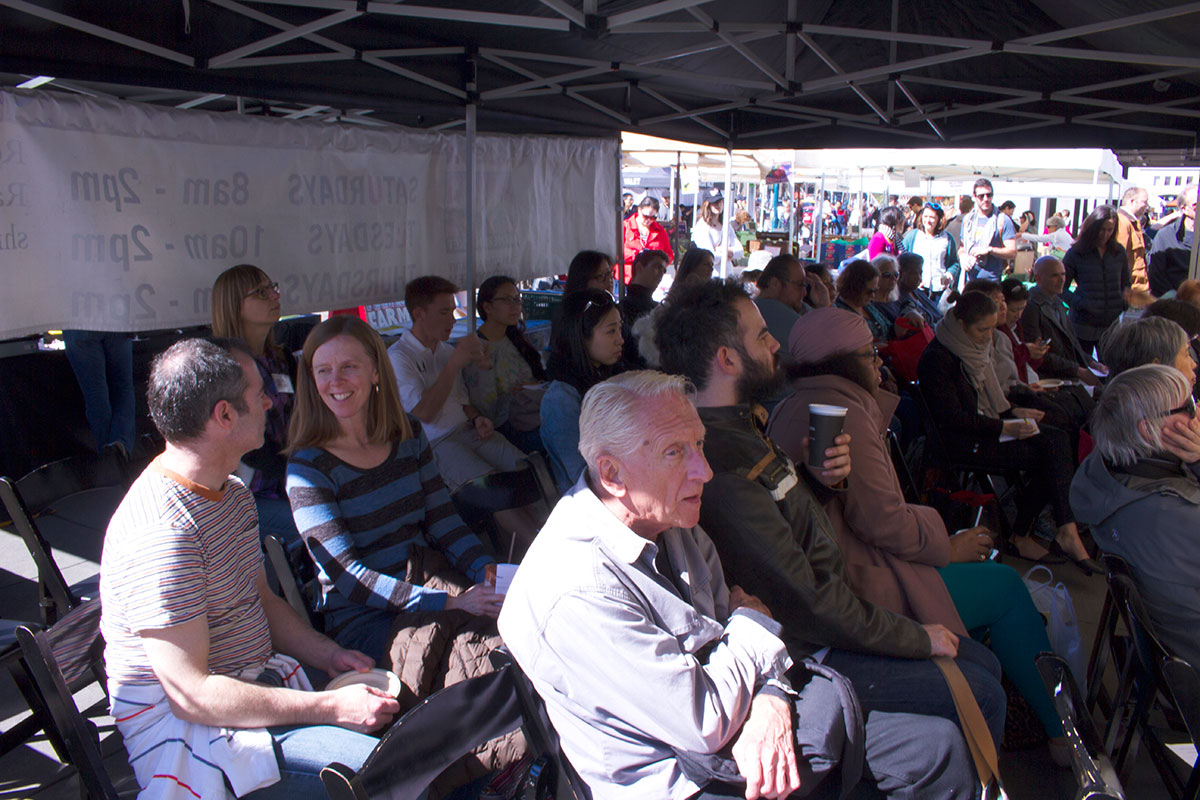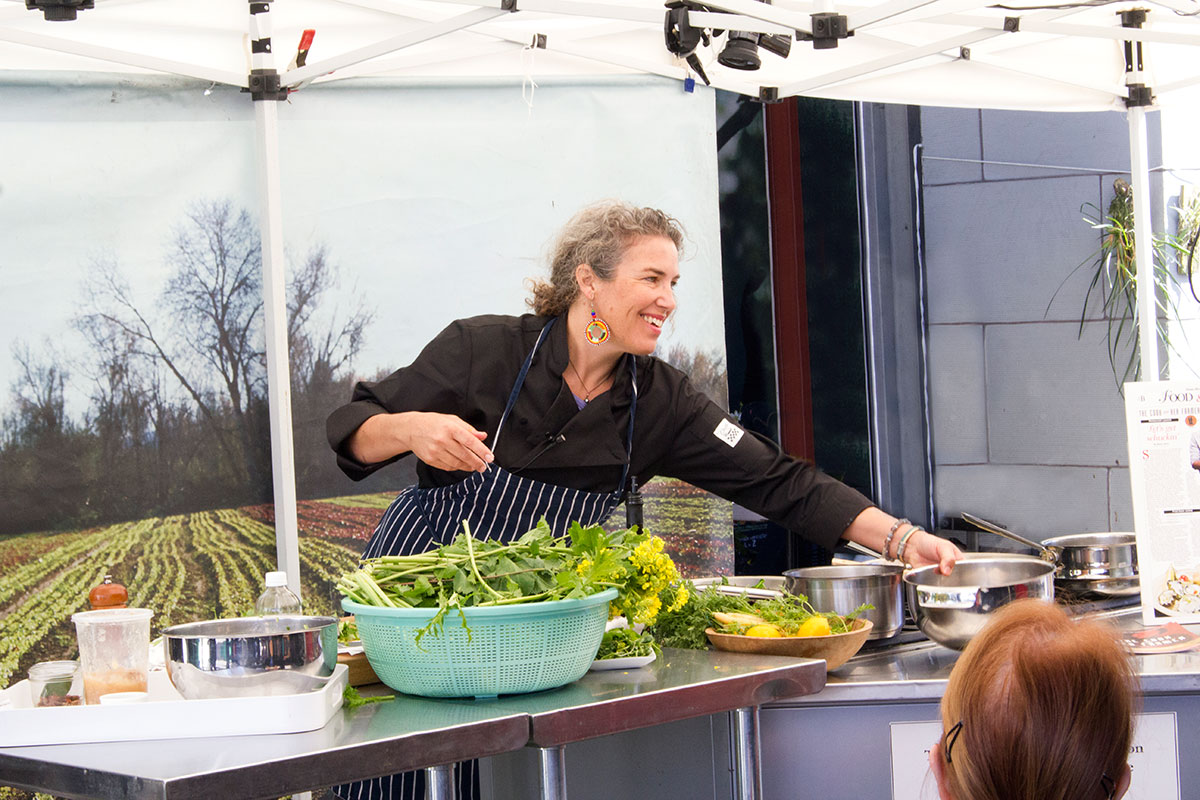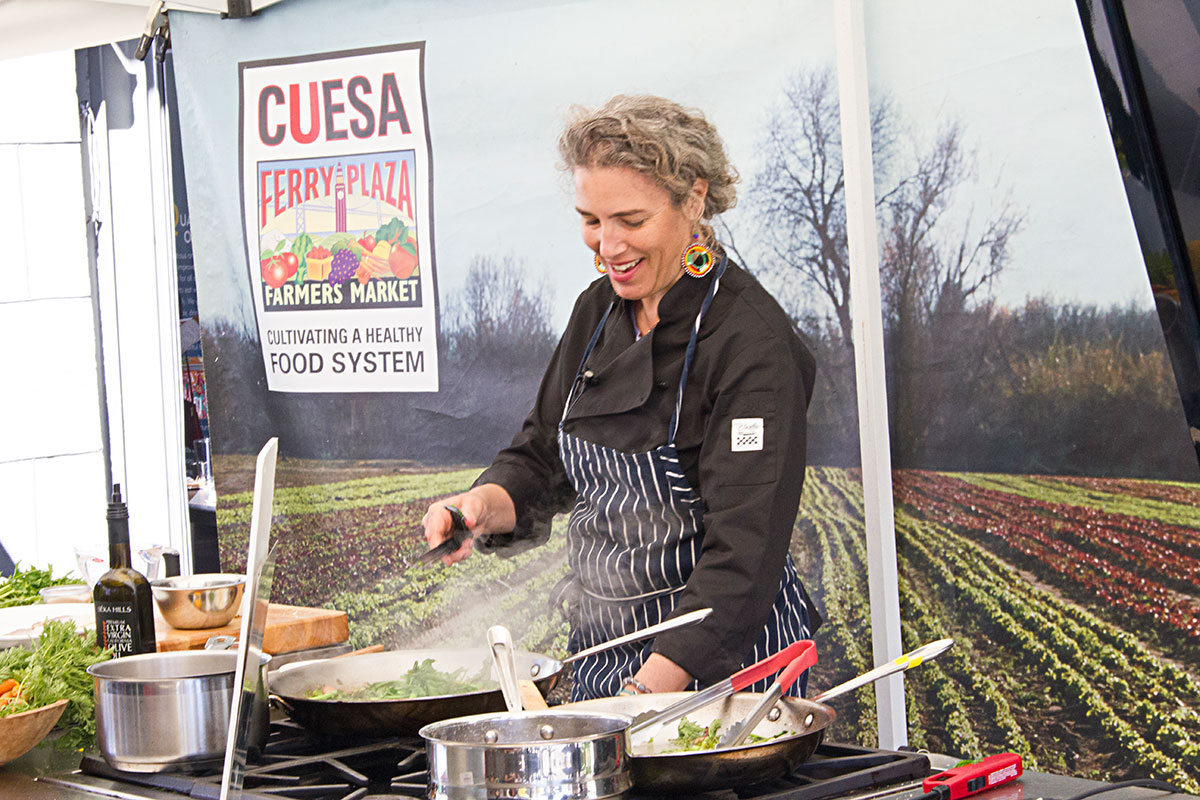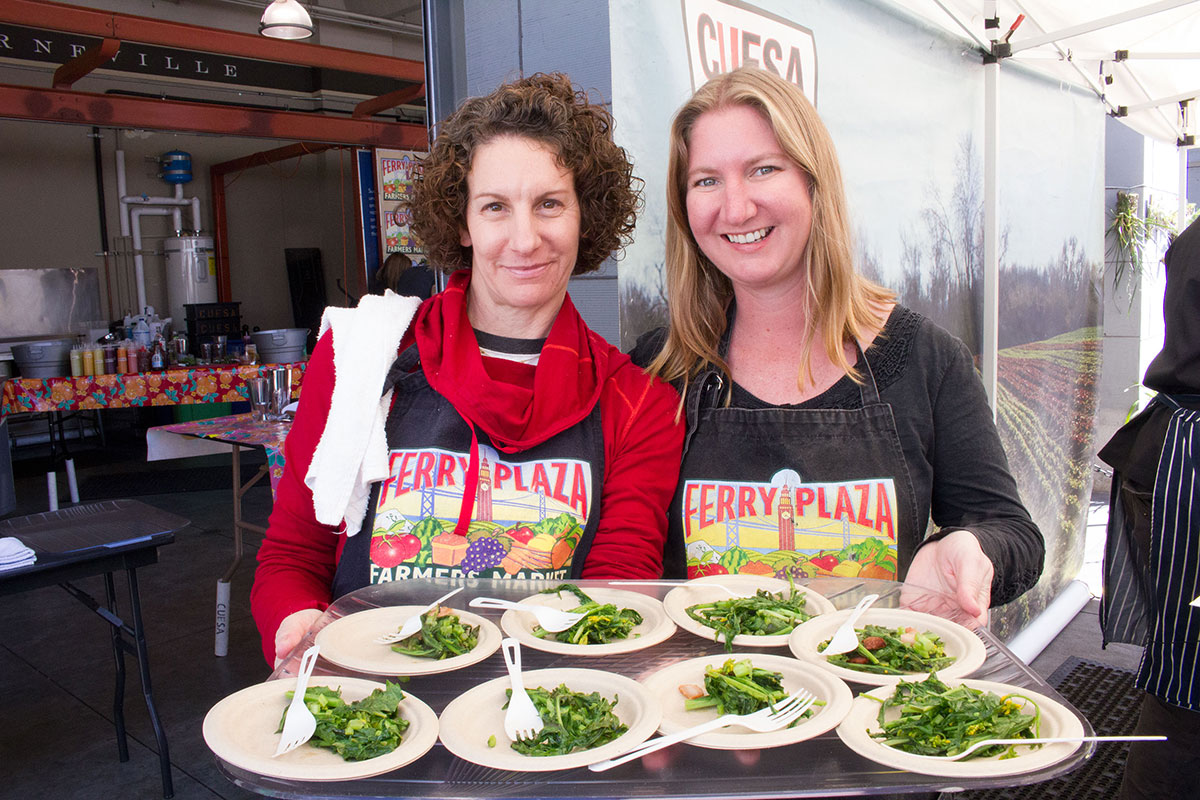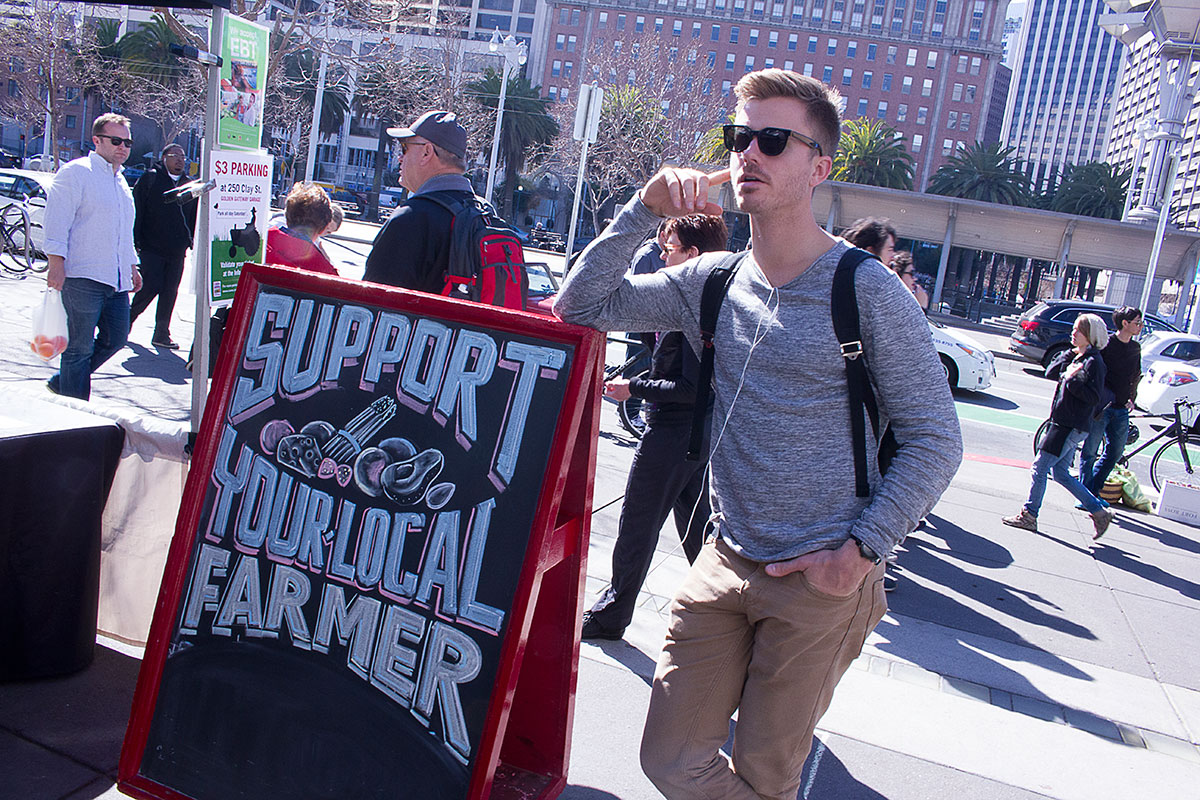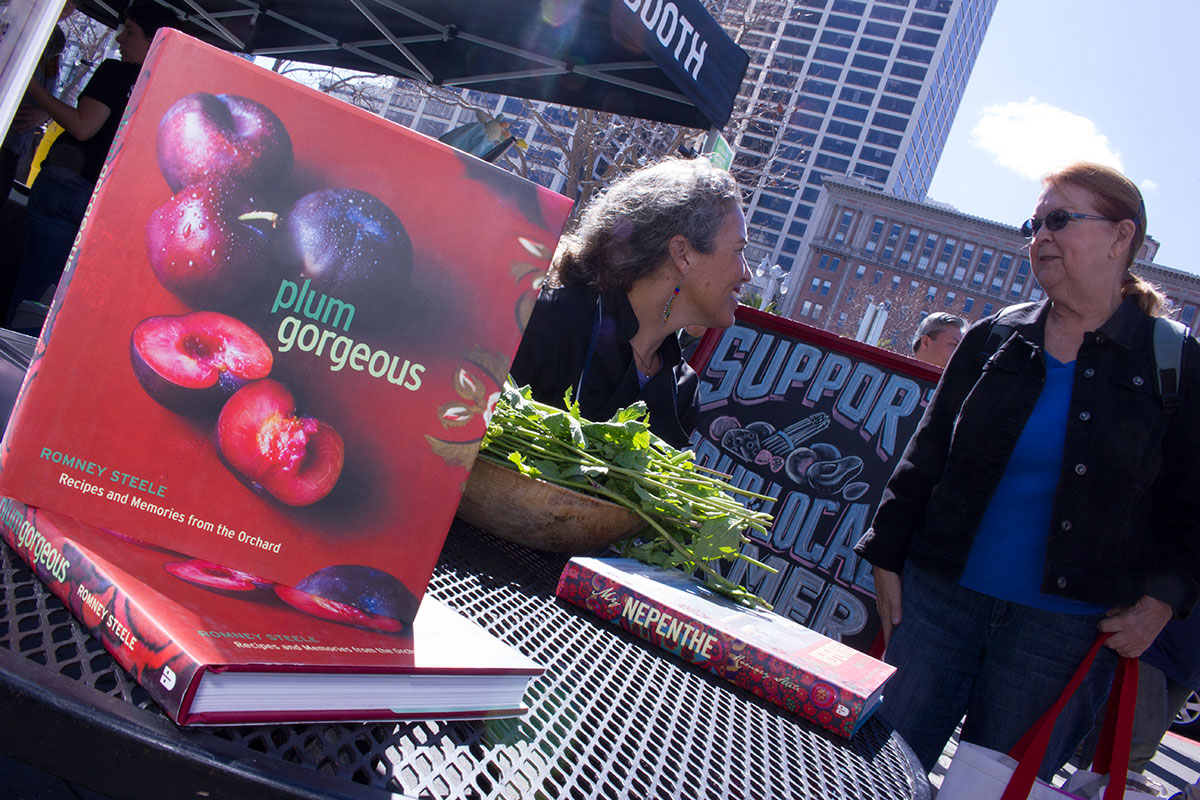 Closing out The sf|noir Wine & Food Festival brought us back to the East Bay for the Oakland Jazz Brunch at Kingston 11, a blissful voyage into home-made Jamaican soul-reviving cuisine. The afternoon featured Oakland's very own rising musical stars, the Oakland Future Trio. Check out pictures from the festival below and view highlights in the accompanying videos.
If you missed it this year, be sure you clear your busy plates –and calendars – and join us when we return next year!